Fresh berries, a lemony no-bake cheesecake, and pound cake combine for these delicious and delightful Individual Berry Cheesecake Trifles!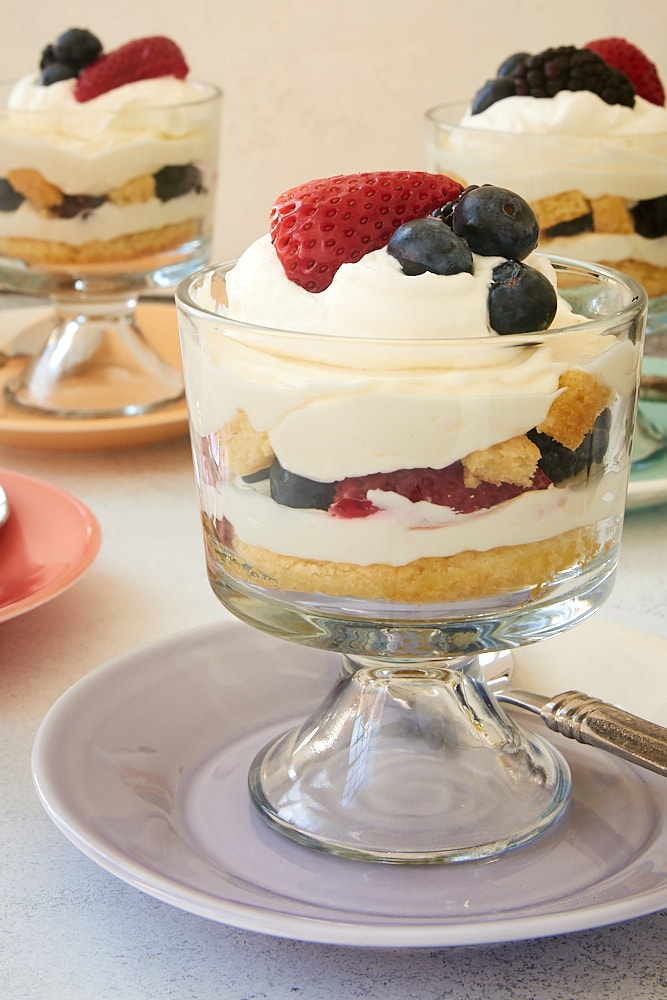 Individual Berry Cheesecake Trifles
These Berry Cheesecake Trifles are one of my favorites during the summer. They are such a magical combination of berries and cheesecake mixed in with a simple vanilla cake. They're just the kind of cool, creamy, make-ahead dessert that summer gatherings demand.

The cake is a nicely sturdy one that will hold up to all that cheesecake and all those berries on top without getting soggy. It's actually a scaled down pound cake recipe that I use as a base for another summer favorite, Strawberry Shortcake Cheesecake Bars. If you prefer or if you're short on time, you can use a store-bought pound cake.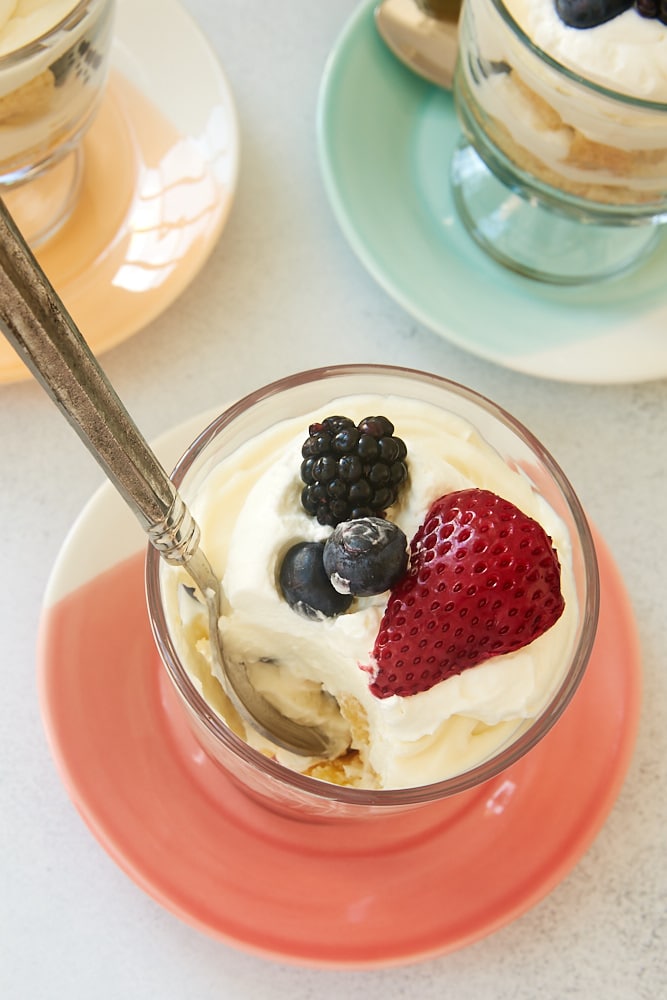 When it's time to assemble these trifles, I like to cut a round of cake to fit each glass so there's a nice solid layer in the bottom. I cube the rest of the cake for the next layer of cake, but you can cube all of the cake if you like. The layering begins with the cheesecake filling and berries. The number of layers you'll need may vary depending on what serving glasses you're using. The ones pictured here are mini trifle bowls. I like them for these trifles because of their straight sides and footed bottom. They really show off all those layers!
As for the berries, use any that you like. Stick with one kind or use a few. I often have a variety on-hand, so I usually go with mixed berries. Or how about mixing them up with a different single kind of berry in your trifles? Then you can offer a variety to your guests!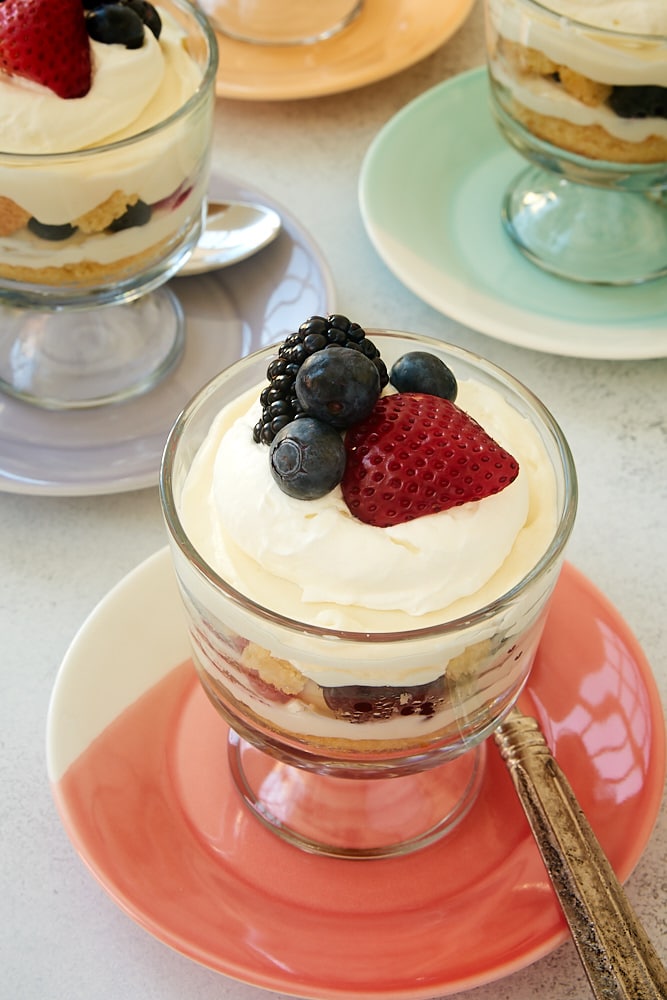 I think berries and cheesecake were made for each other, and these beauties are no exception. The cheesecake filling is a simple no-bake one with a hint of lemon flavor to complement all those berries. I could 100% just eat that as my dessert and be quite happy. Add in the cake and berries, and I'm positively giddy.
You'll need to chill these trifles for a bit before serving. That makes them a perfect make-ahead treat. I usually chill them overnight fully assembled. Make sure your berries are well dried after rinsing to prevent the colors bleeding into the topping. To be safe, you can wait to add those last berries until time to serve.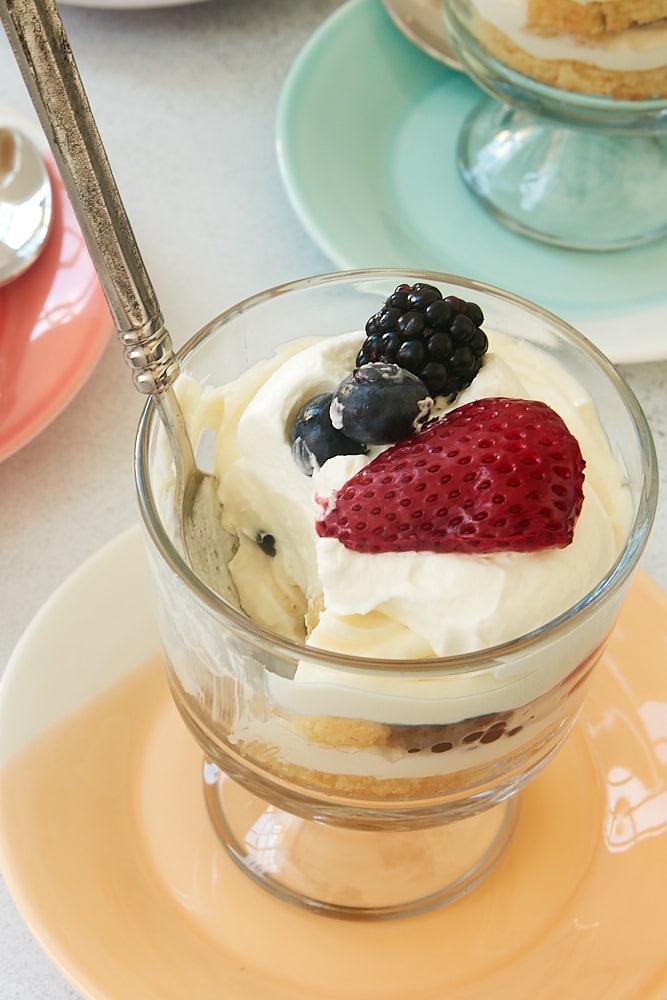 If you're a fan of berries and cheesecake, then I hope you'll try these Individual Berry Cheesecake Trifles. They're really just lovely and so very delicious. A summer favorite, indeed!
Find more individual desserts in the Recipe Index.
More Desserts in Glasses and Jars