May 8, 2014
Triple Peanut Triple Chocolate Chip Cookies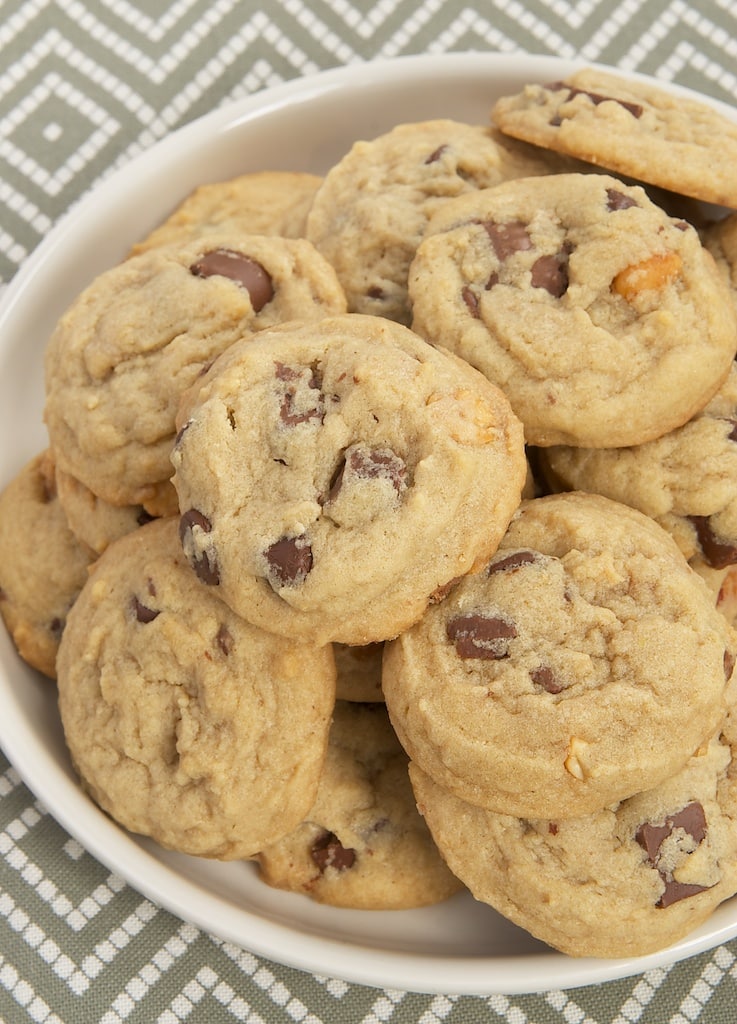 Sometimes I get in a baking slump. Despite my best of intentions, my list of recipe ideas or saved recipes to try just don't sound appealing. Anyone else have this problem? When I get that way, I try to focus on baking with my favorite flavors. My current slump had me turning to my favorite flavor combination – chocolate and peanut butter.
And, we're talking chocolate and peanut butter in a big way.
You see, these cookies may be small but they pack a lot of flavor. Both peanuts and chocolate are present in three ways each. There's peanut butter, honey roasted peanuts, peanut butter cups, semisweet chocolate, and milk chocolate. Oh, yeah.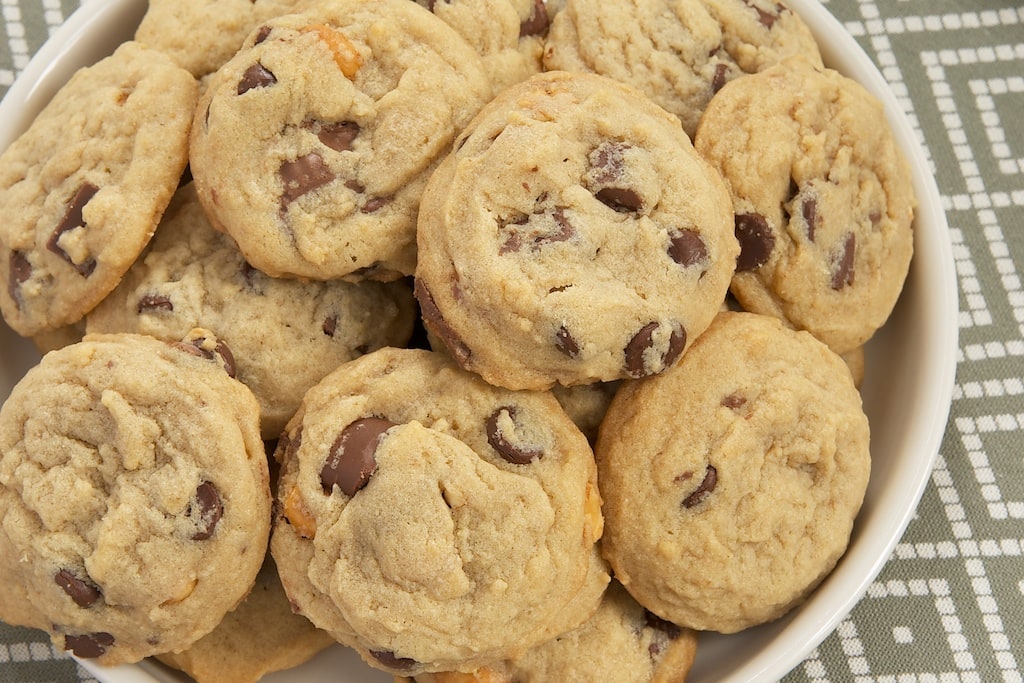 You'll get crunch from the peanuts, extra peanut flavor with the peanut butter in the dough, two kinds of chocolate chips, plus peanut butter cups. Be sure to go mini for the peanut butter cups. I used Reese's unwrapped minis, but I might have preferred the smaller size of Trader Joe's mini peanut butter cups if I'd had any on-hand.
The recipe makes a big batch of cookies, so be sure you have some friends handy who'll be willing to take some of these off your hands. Otherwise, you may be in big trouble if left alone with all this deliciousness.
Find more cookie recipes in the Recipe Index.
Triple Peanut Triple Chocolate Chip Cookies
Yield: about 5 dozen cookies
Prep Time:20 minutes
Cook Time:12 minutes per pan
Triple Peanut Triple Chocolate Chip Cookies are filled with peanut butter, peanuts, peanut butter cups, and lots of chocolate. A must for fans of chocolate and peanut butter!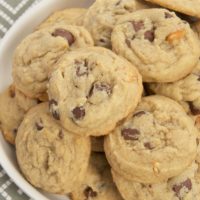 Ingredients:
3 cups all-purpose flour
1 teaspoon baking soda
1/2 teaspoon salt
1 cup unsalted butter, softened
1/2 cup creamy peanut butter
1 cup packed light brown sugar
1/2 cup granulated sugar
2 large eggs
1 teaspoon vanilla extract
1/2 cup mini peanut butter cups
1/2 cup semisweet chocolate chips
1/2 cup milk chocolate chips
1/2 cup honey roasted peanuts
Directions:
Preheat oven to 350°F. Line baking sheets with silicone liners or parchment paper.
Whisk together the flour, baking soda, and salt. Set aside.
Using an electric mixer on medium speed, beat the butter and peanut butter for about 30 seconds. Add the brown sugar and sugar. Beat until light and fluffy.
Add the eggs, one at a time, mixing well after each addition. Mix in the vanilla.
Reduce mixer speed to low. Gradually add the flour, mixing just until combined. The dough will be thick.
Stir in the peanut butter cups, both chocolates, and peanuts.
Drop the dough by tablespoonfuls onto the prepared pans. Bake 10 to 12 minutes, or until the cookies are golden brown. Place the remaining cookie dough in the refrigerator between baking batches.
Cool the cookies on the pans for 5 minutes. Then transfer to a wire rack to continue cooling.
Recipe slightly adapted from BHG.