These Black Bottom Cupcakes are moist, fluffy, and totally irresistible. Made with a fudgy chocolate base and a cream cheese center loaded with mini chocolate chips, these classic cupcakes are super easy to make.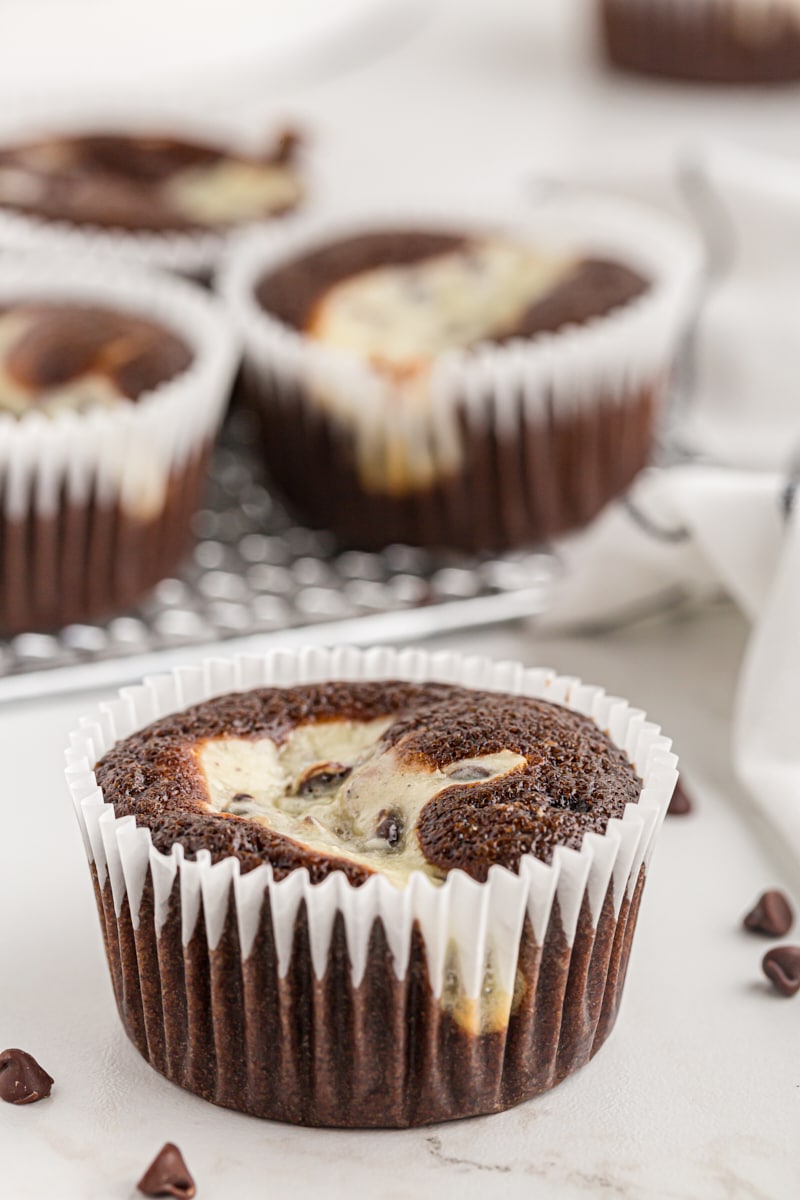 Easy Black Bottom Cupcake Recipe
Black bottom cupcakes (or "black bottoms") are one of my favorite treats to make. They hit all the things I'm looking for in a cupcake – fudgy chocolate, tangy cream cheese, and no frosting. If you've followed Bake or Break for a while, you know I'm a sucker for cakes and cupcakes that don't require frosting!
Black bottoms are easy to make, are a little decadent, and are packed with flavor. I love the contrast of flavors you get in a single bite and the subtle addition of texture from the mini chocolate chips.
If you love this combination of flavors as much I do, you must make these little chocolate cakes with their cheesecake filling. They're a massive hit at parties, bake sales, and family get-togethers.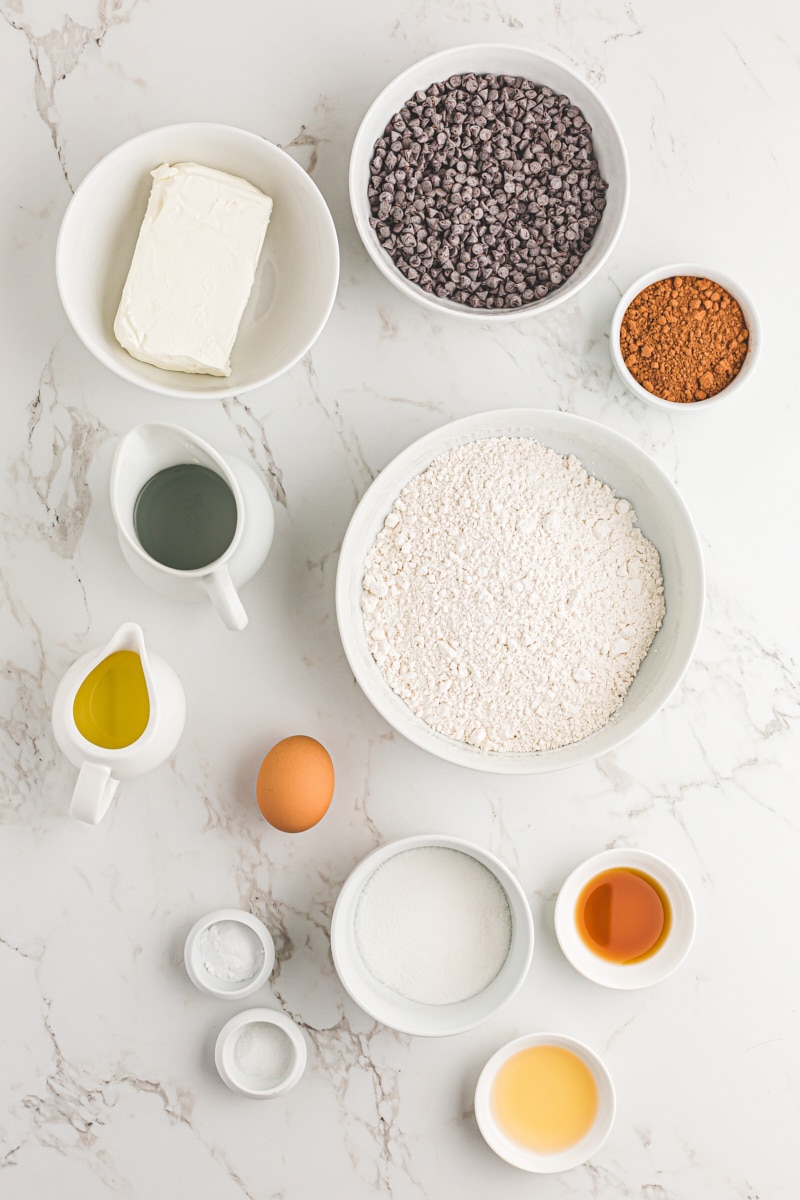 What You'll Need
These chocolate and cream cheese cupcakes come together easily and use ingredients you probably have in your pantry today. Scroll down to the recipe card for specific amounts.
Cream cheese – Bring the cream cheese to room temperature before mixing. You can expedite the softening (and make mixing a little easier) by cutting it into small squares while it's still cold. Full-fat cream cheese works best.
Egg – Bring the egg to room temperature before mixing. I recommend baking with large eggs.
Granulated sugar
Chocolate chips – Use mini chocolate chips for this recipe; larger ones won't work as well.
All-purpose flour – Measure by weight for best results. Otherwise, use the spoon and sweep method. Learn more: How to Measure Flour
Unsweetened cocoa powder
Baking soda
Salt
Water
Vegetable oil
Apple cider vinegar – This helps make your chocolate cupcakes fluffy and moist.
Vanilla extract: Store-bought vanilla extract is great, but you can also make your own. Learn more: How to Make Vanilla Extract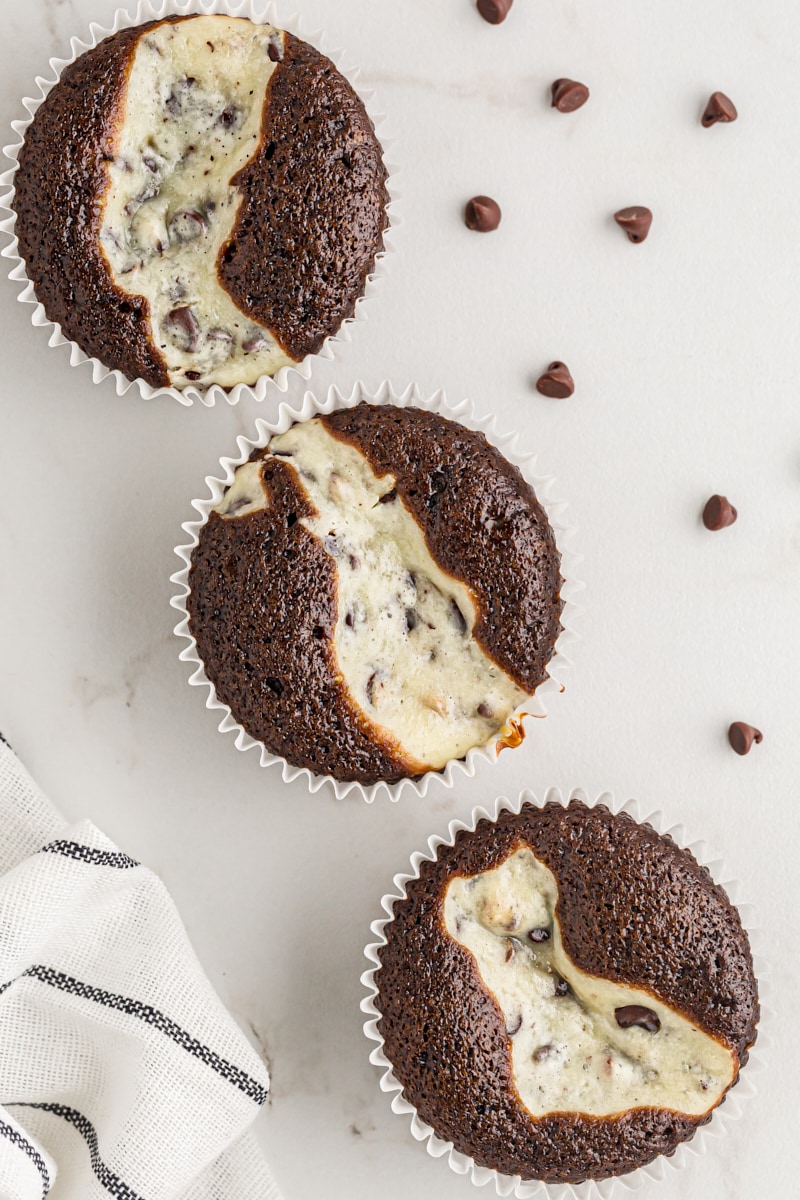 How to Make Black Bottom Cupcakes
If you've ever wondered how to make cupcakes, this section is for you. We'll break down every step you need to make these delicious chocolate cream cheese delights. These couldn't be easier since you don't have to worry about frosting!
Prepare for baking. Preheat oven to 350°F. Line two 12-cup muffin tins with cupcake liners.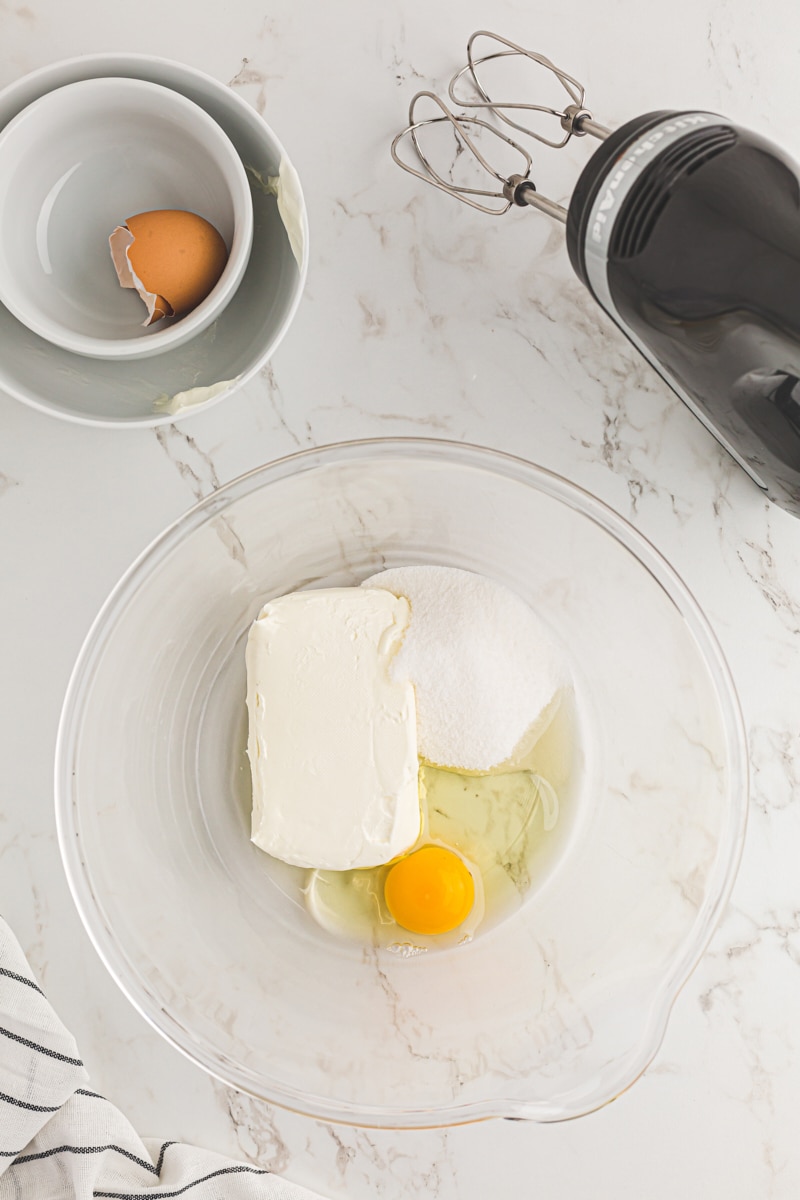 Make the cream cheese filling. Using an electric hand mixer or stand mixer on medium speed, beat the cream cheese, egg, and 1/3 cup of sugar until it becomes light and fluffy. This should take about 2 minutes.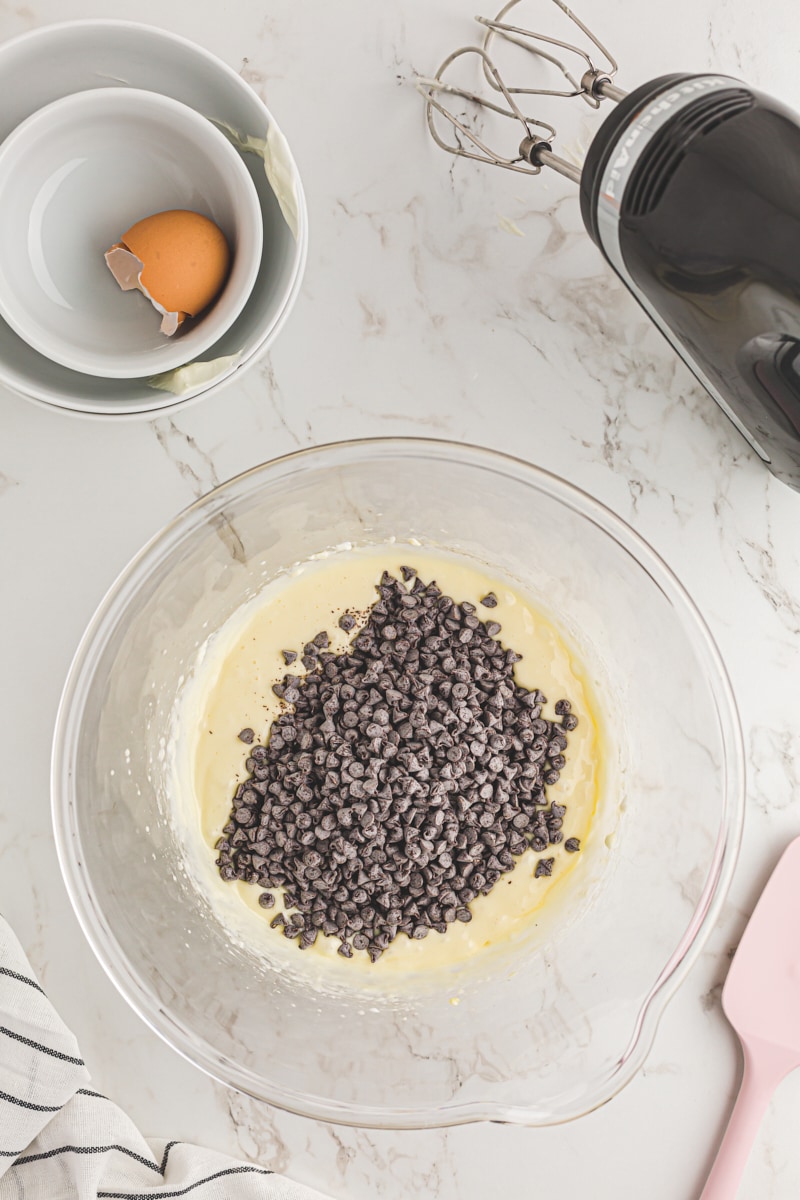 Stir in the chocolate chips. Add the mini chocolate chips to the cream cheese mixture and fold them in with a spatula. Set this aside.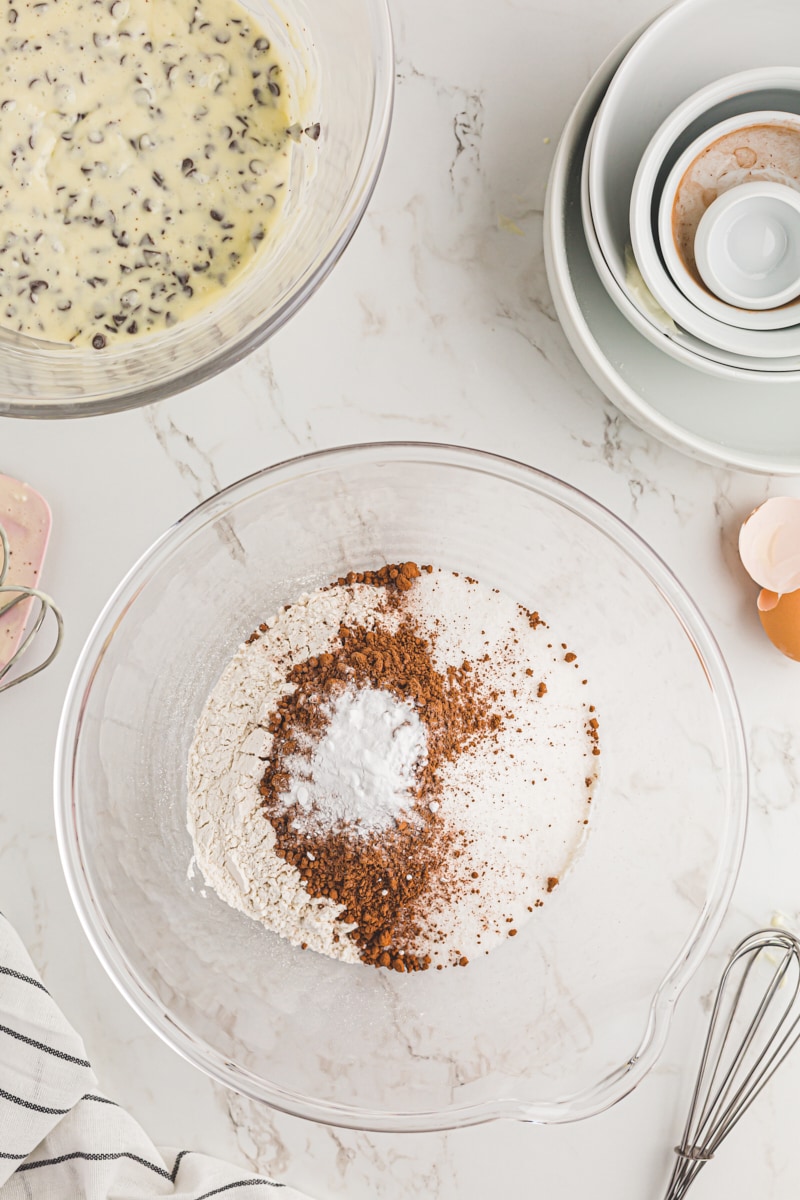 Mix the dry ingredients. In a large bowl, whisk together the flour, the remaining 1 cup of sugar, cocoa powder, baking soda, and salt.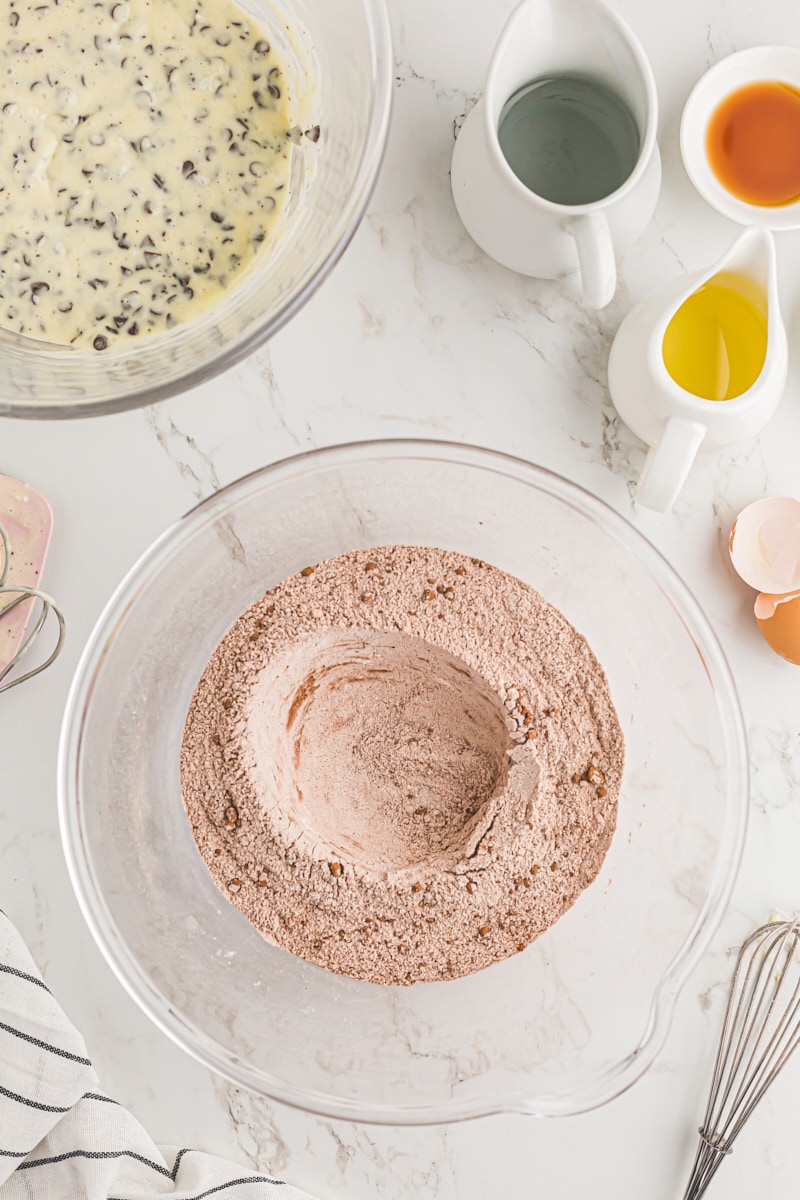 Add the wet ingredients. Make a well in the center of the flour mixture, and add the water, oil, vinegar, and vanilla. Mix everything together until well blended.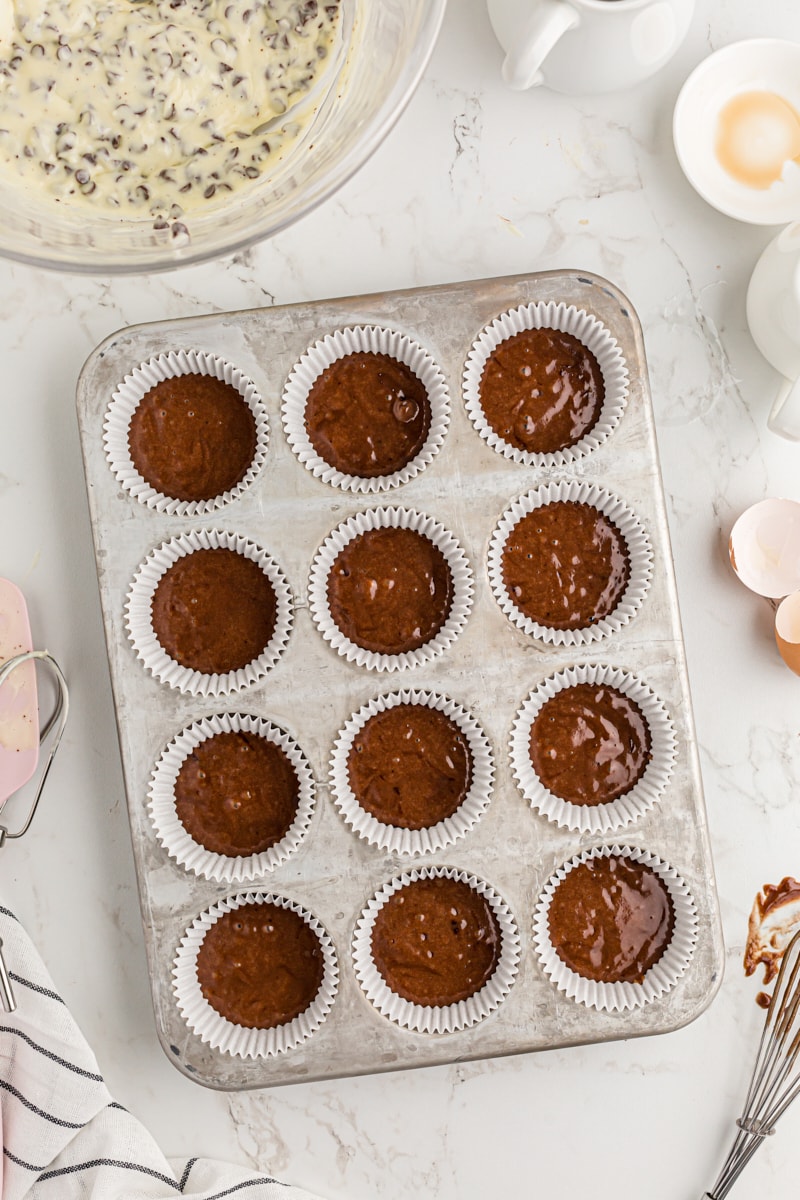 Fill the muffin cups. Fill each muffin cup one-third full with the chocolate batter. Top with a spoonful of cream cheese mixture until the cups are about two-thirds full. Do not overfill the cups or the batter will overflow when it cooks.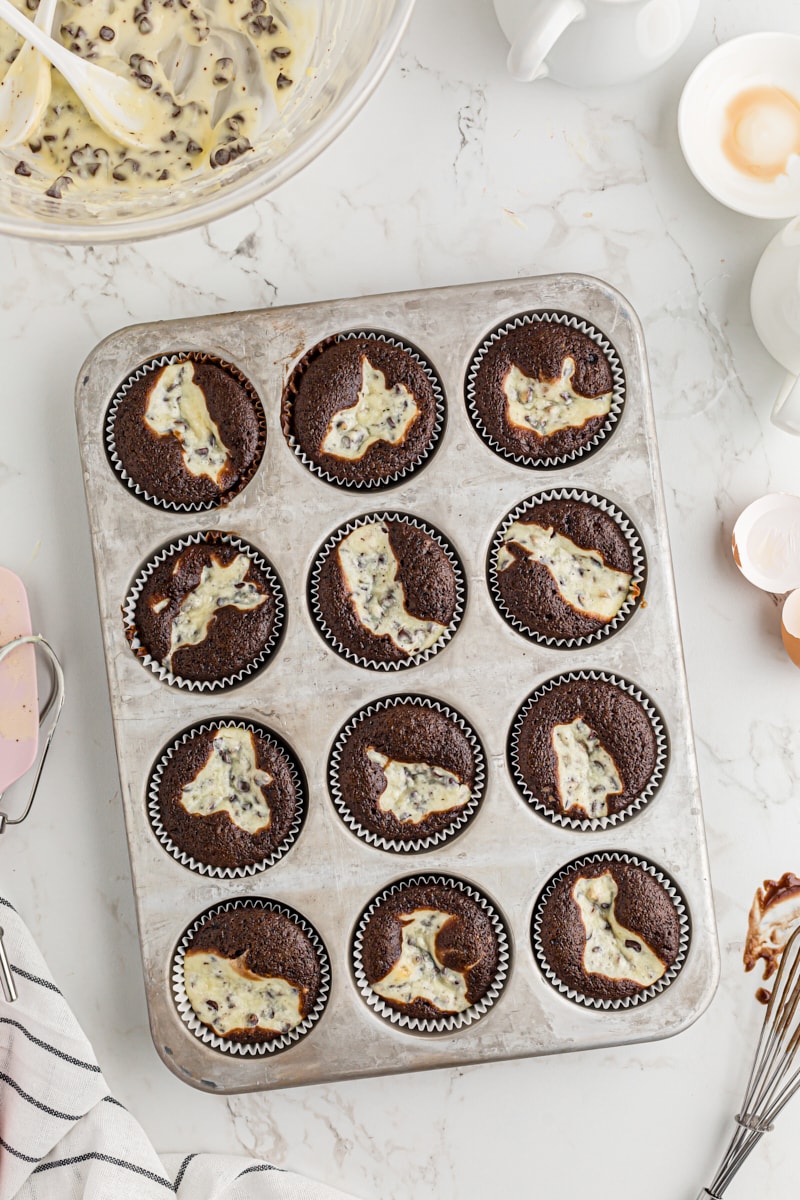 Bake. Bake one pan at a time for 22 to 28 minutes or until the tops spring back lightly when touched. Let the first pan cool while you cook the second pan.
Cool. Cool the black and white cupcakes in the pans for 10 minutes. Then, remove them from the pan and onto a wire rack to cool completely.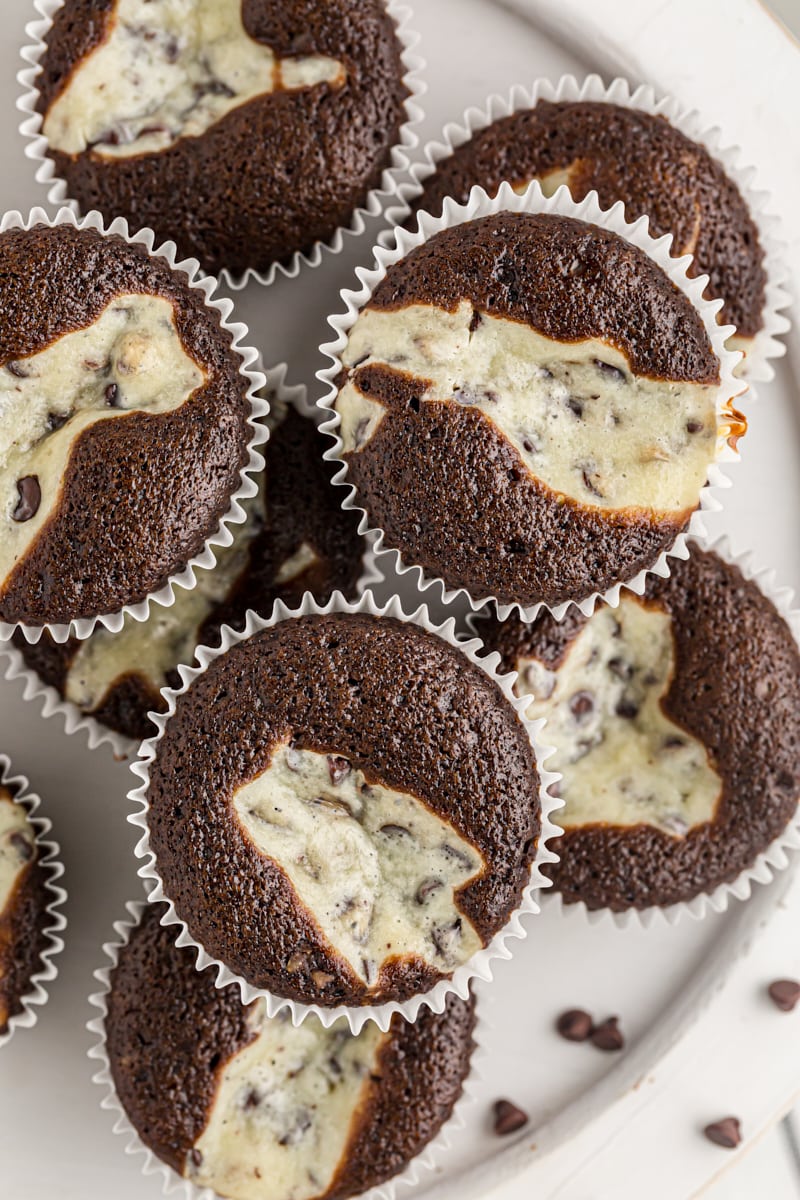 Tips for Success
This is one of those easy cupcake recipes you'll want to come back to again and again. Here are a few tips to make the process seamless from start to finish.
Measure the flour accurately. Adding too much four is the most common mistake that will cause your cupcakes to be dry and dense. Measure by weight for best results. Otherwise, use the spoon and sweep method. Learn more: How to Measure Flour
Don't skip the paper liners. Use paper liners to prevent the batter from sticking to the muffin pan. They also make the cupcakes more portable and more easily stored.
Use mini chocolate chips. The size of the mini chips is just perfect; larger ones won't work as well. With that said, use whatever size chips you have on hand if you're in a pinch. Chop them into smaller size pieces to simulate mini chips.
Don't fill the muffin cups too high. Black bottom cupcakes should have black bottoms and a slightly sunken cream cheese filling in the middle. To get this look, don't overfill the cupcake liners with chocolate batter or the chocolate will swell over the cream cheese layer and swallow it up.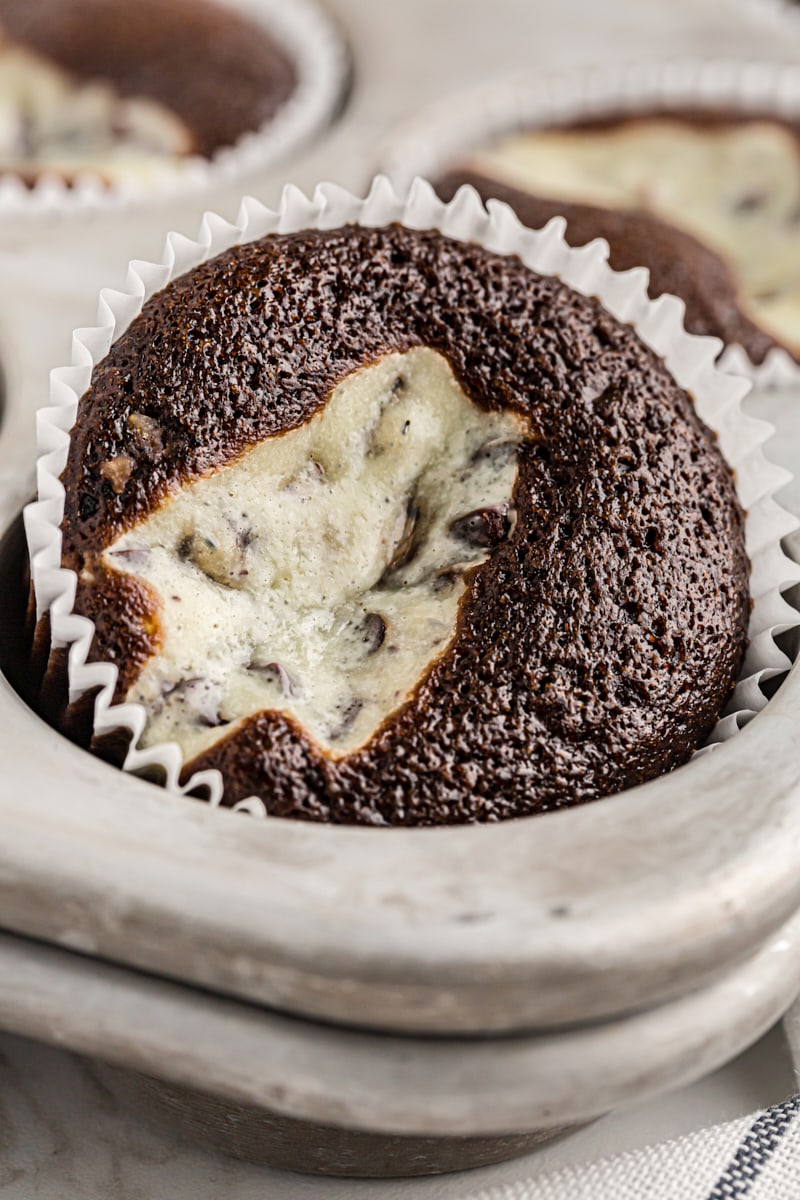 How to Store
These black and white cupcakes are really easy to store. Wrap up extras in an airtight container and store them in the refrigerator for 3 to 5 days. Make sure your container is well-sealed, or they may get dry. Let the cupcakes come to room temperature before serving.
How to Freeze Black Bottom Cupcakes
Place leftover cupcakes on a sheet pan in the freezer until they're frozen solid. After they're frozen, place the cupcakes in an airtight, freezer-safe container or zip-top bag. For an extra layer of protection, you can wrap each one in plastic to help stave off freezer burn. Properly stored, these cupcakes should keep in the freezer for up to 3 months. Thaw on the counter for an hour or two, or place them in the refrigerator overnight and then bring to room temperature before serving.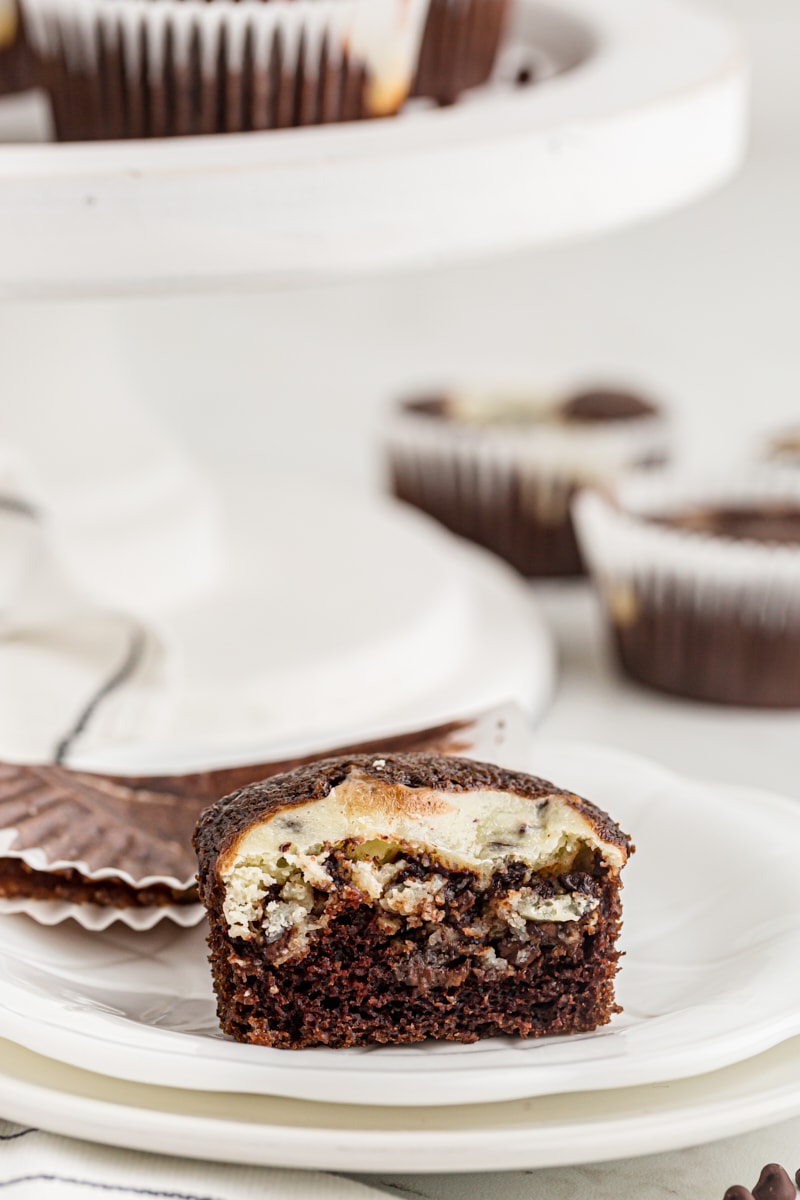 More Simple Cupcake Recipes