Coconut flavor is heavily polarizing: folks either love it or hate it. I'm firmly in camp "love coconut" and the only thing better than baking with coconut is baking with golden brown toasted coconut. If you'd like to learn how to toast coconut yourself, you've come to the right place!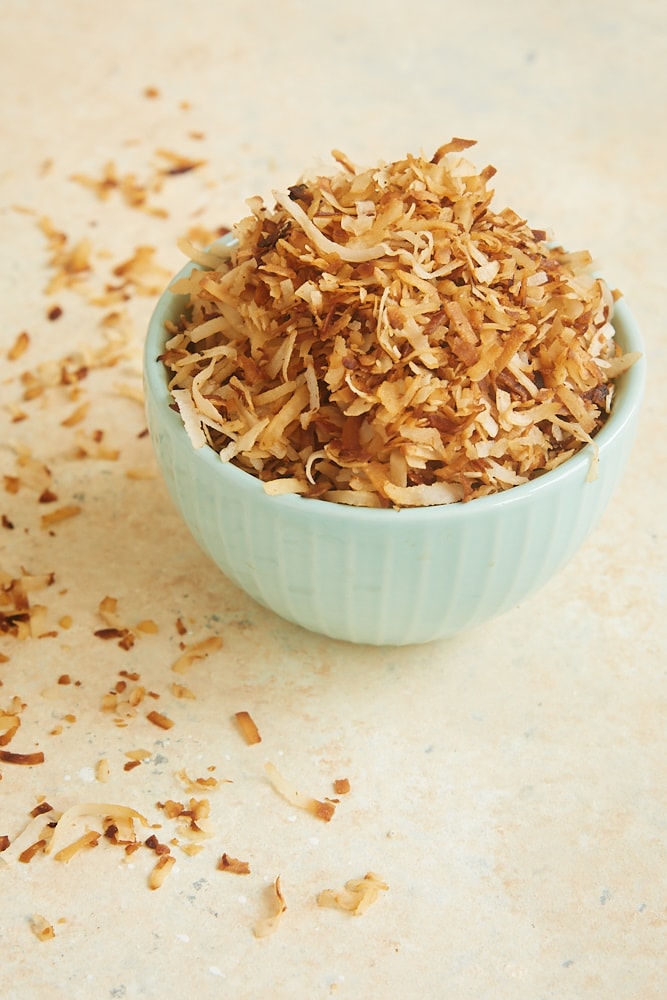 First things first. Toasting coconut is so easy. Sure, it's an extra step in a recipe, but I assure you that it is absolutely worth those few extra minutes.
Toasted coconut is the richer, bolder version with a nutty flavor that's a must for us coconut lovers. And it's easy to make, too! Read on for two simple methods to make sure you get evenly toasted coconut and that it has a wonderful flavor. You'll also find tips to get the best results every time and learn how to store it so that you can enjoy it for weeks.
Now, for the particulars… I recommend two different ways to toast coconut. It can be done in a large skillet on the stove top or on a sheet pan in the oven. Both are easy and quick, so it really comes down to personal preference and perhaps experience.
Why should I toast coconut?
One of the simplest things you can do to enhance the flavor of coconut baked goods is to toast the coconut. If you've browsed the coconut recipes here on BoB, you've seen that I often recommend doing just that. The rich, nutty flavor is really irresistible. If you're a coconut lover, then this is a simple skill you'll want to master.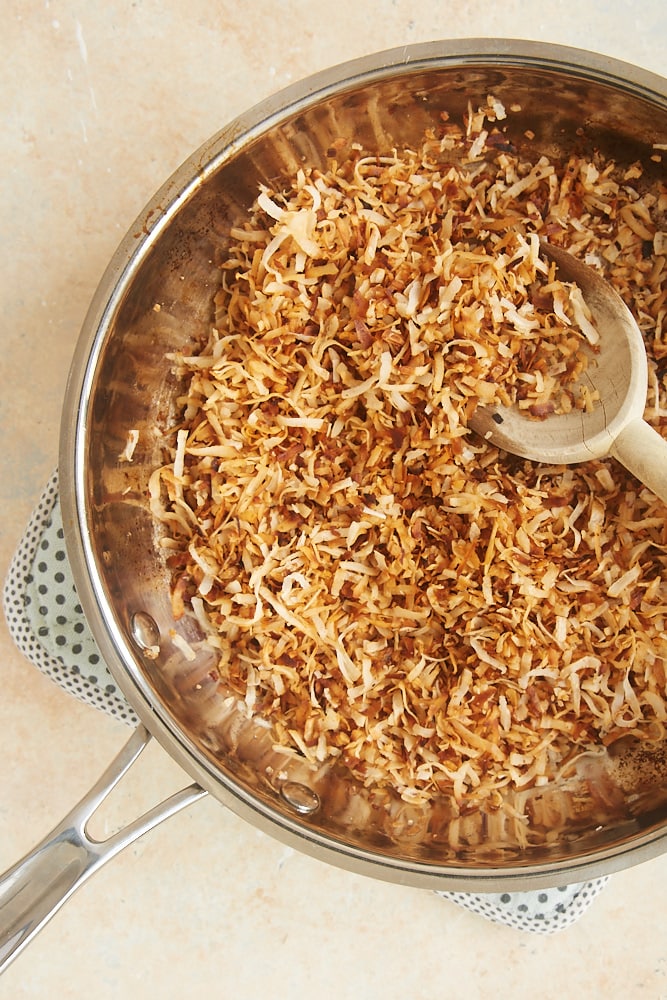 What are the benefits of toasted coconut?
Toasting coconut brings out its natural sweetness and flavor, making it a delicious and healthy addition to your diet. The process of toasting also helps to break down the cell walls of the coconut, making the nutrients within easier to digest. Additionally, toasted coconut is a great source of fiber, potassium, magnesium, and zinc. So if you're looking for a nutritious and tasty snack, give toasted coconut a try!
What is the best coconut for toasting?
Both sweetened coconut and unsweetened coconut can be toasted and both will yield wonderful results. Unsweetened coconut may take less time to toast, so definitely keep a close eye on it.
Fine or coarse flaked coconut can both be toasted, but the time it will take may vary. Thicker coconut flakes take longer to toast than finer flakes or shredded coconut. I love big coconut flakes on a cake while a fine flaked or shredded coconut works perfectly on cookies. One thing is certain: no matter the shape or type, coconut is better toasted.
How to toast coconut in the oven
Toasting coconut in the oven is a more hands-off approach and tends to yield more evenly toasted results. It requires a lined, rimmed baking sheet and a long-handled spoon or spatula. You'll just need to stir it a few times, maintaining an even layer, and keep a close eye on it in the last few minutes to prevent burning.
If you've toasted coconut a few times and feel comfortable with the process, then this is an easier option in my opinion. It frees you to do some other things in the kitchen while the coconut is getting all toasty.
How to toast coconut on the stovetop
To toast coconut on the stovetop requires a dry skillet and a spatula or wooden spoon. The coconut goes straight into the skillet where it cooks over medium-low heat until it is lightly browned.
The advantage of the stovetop method is that it is easier to keep an eye on the coconut so it doesn't burn. The drawback is that it takes a lot of attention and stirring frequently to achieve even toasting. If you don't have a lot of experience toasting coconut, then you may feel more comfortable with this method because you can keep a close watch on it.
Can I toast coconut in the microwave?
While there are instructions around for a microwave method for toasted coconut, I'm not a believer. While coconut can brown in the microwave, the process doesn't remove liquid like the dry heat of the skillet or oven method. Coconut from the microwave has a softer, chewier texture than toasted coconut that might not suit your needs or preferences. My preference is stovetop or oven.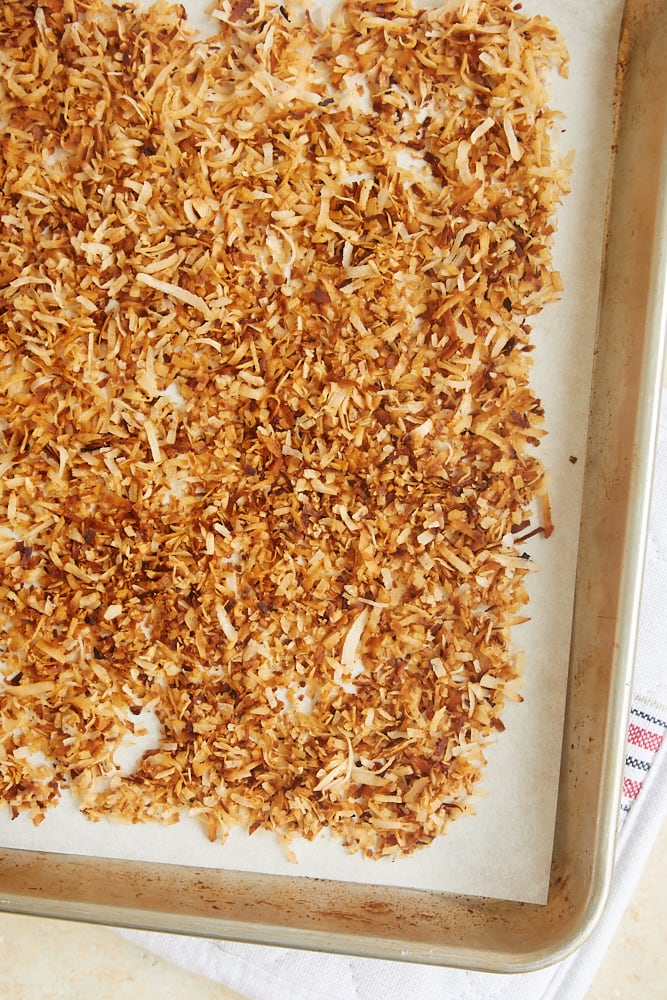 How long does it take to toast coconut?
This varies based on the type of coconut (sweetened takes a little longer) and the size of the flake (the bigger, the longer) and the method used. Very fine, unsweetened coconut can be toasted in as little as 5 minutes, but it usually takes somewhere between 10 and 15 minutes to toast coconut fully.
Coconut can burn quickly, so keep an eye (and a nose) open. This is an advantage of toasting on the stovetop since you're interacting with it more closely.
You may have a preference toward lightly browned toasted coconut which has a milder flavor. If you do, you'll need to get your coconut off the heat sooner.
How to store toasted coconut
To keep your toasted coconut fresh, let it cool completely, then store it in an airtight container at room temperature. It will last for up to two weeks. If you want to extend its shelf life, you can store it in the fridge for up to a month, or in the freezer for up to six months.
Tips on how to toast coconut to get the best results
Both methods yield the same result. Use whichever method you prefer that fits your comfort level.
The oven method is more hands-off, but the stovetop method requires more attention and stirring.
In the oven, spread it in a thin layer so that it will toast evenly.
Using parchment paper on a large baking sheet or sheet pan in the oven will prevent sticking to the pan.
Stir a few times while it's toasting in the oven for even coverage.
On the stove top, stir frequently and watch the coconut closely to prevent burning.
If you're using sweetened coconut, add a minute or two to the toasting time.
The size of the flake will also affect how long it takes to toast. Larger flakes will take longer than smaller flakes.
Store toasted coconut in an airtight container for up to 2 weeks.
To refresh toasted coconut, place it in a 350°F oven for 5-7 minutes.
Baking with toasted coconut
Now that you know how to toast coconut, give it a try in your baking recipes! Toasted coconut is a delicious and healthy addition to muffins, cookies, cakes, and more. It's also great as a topping for yogurt or oatmeal. Experiment and see what you come up with!
Here are some of my absolute favorite recipes on BoB that use toasted coconut.
Toasted Coconut Recipes
Find more coconut recipes in the Recipe Index.