August 21, 2018
Lemon Coconut Sugar Cookies
Lemon Coconut Sugar Cookies are a fantastic flavor twist on simple sugar cookies. Perfect for anytime you're craving a sweet, citrus treat!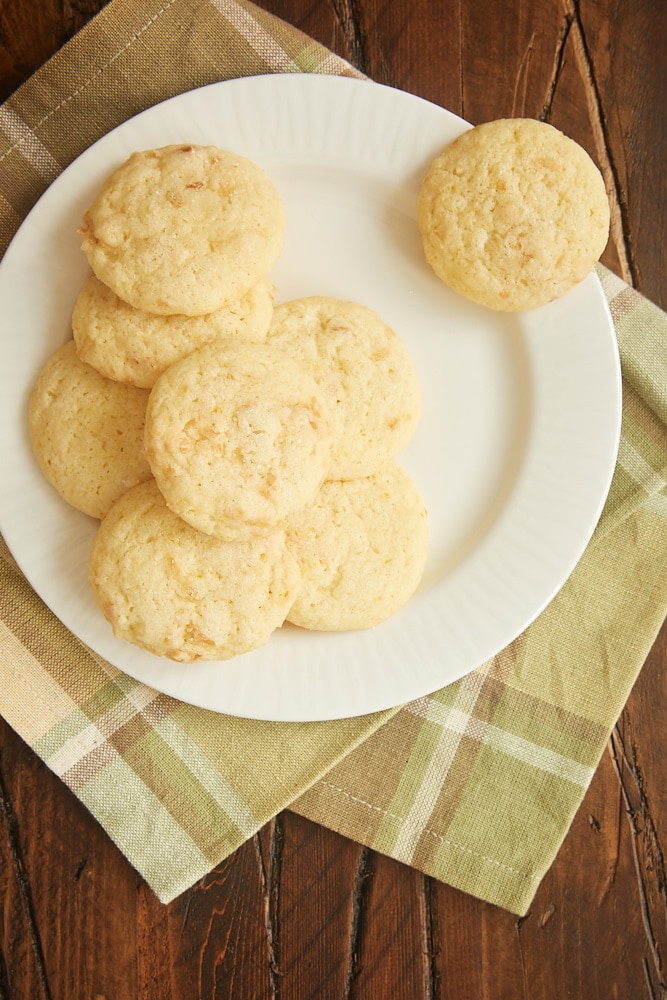 I can never resist the appeal of simple sugar cookies. They're just so wonderfully sweet and soft. Of course, I can't resist making variations of them, either. These Lemon Coconut Sugar Cookies are one of my favorite versions. By adding both coconut and lemon, you get so much great flavor added to an already tasty cookie!

These cookies have both the zest and juice of a lemon in them. If you're looking for something a little different, you can use lime instead of lemon. Or why not try a combination of lemon and lime for lots of citrus flavor?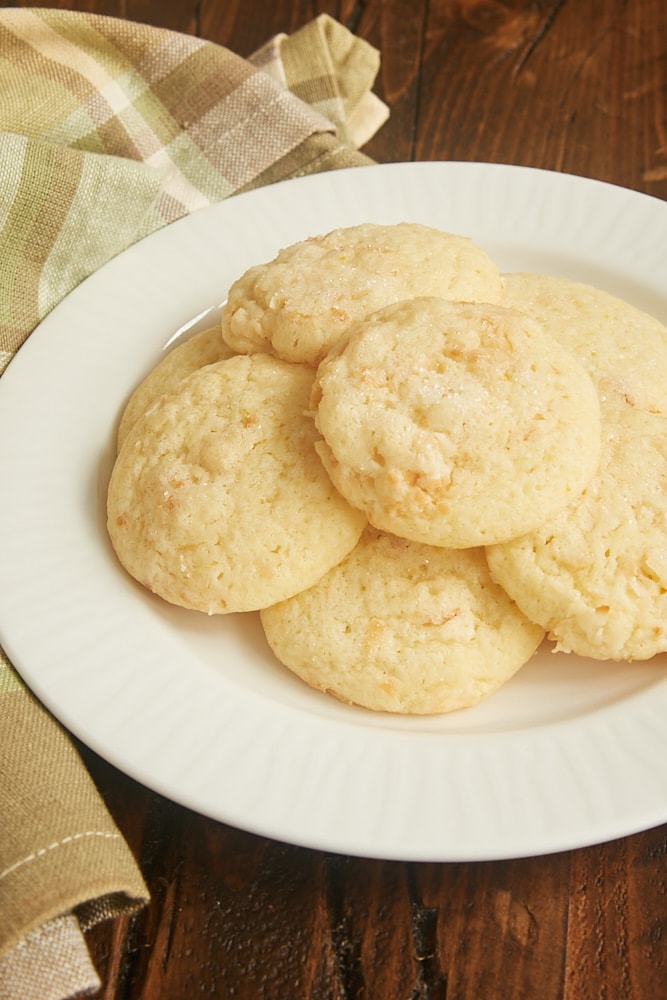 I like to make sugar cookies with a bit of cream cheese in the dough. It makes the cookies extra soft and provides amazing flavor, too. (If you like the idea of cream cheese in cookies, too, then be sure to try two of my favorites, Cream Cheese Chocolate Chip Cookies and Cream Cheese Peanut Butter Cookies.)
The coconut in these cookies is toasted for both flavor and crunch. They also add just a little darker color to an otherwise monochromatic cookie. You can skip the toasting step, but I highly recommend that you don't miss out on that toasty coconut flavor. And if you need a refresher, you can see my tips and methods for toasting coconut.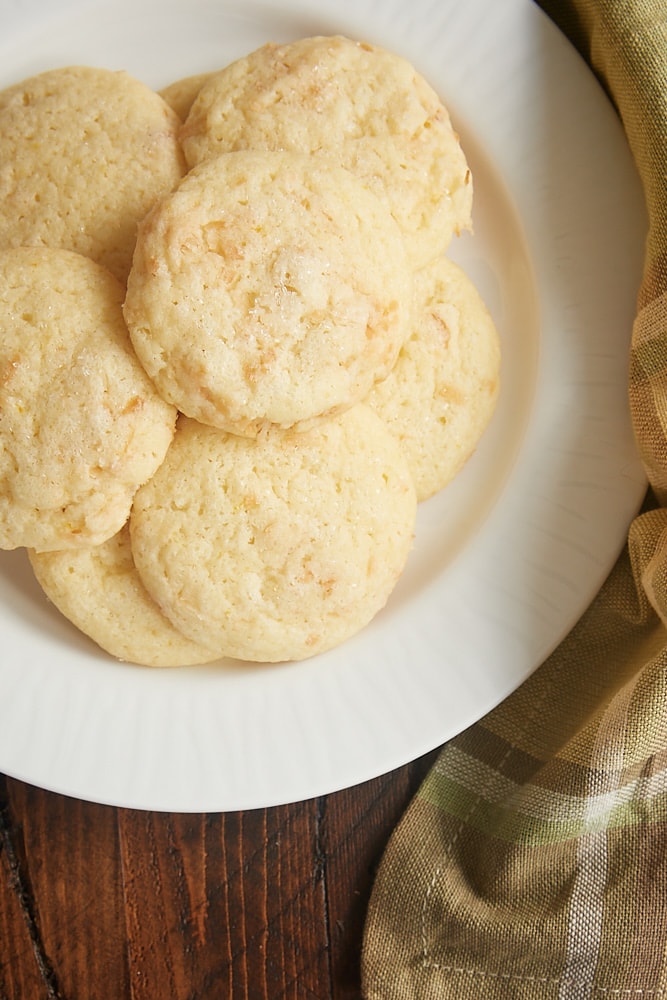 As I said above, these are fairly monochromatic cookies. I like to sprinkle a little coarse sugar on top of the cookies before they're baked just to give them a bit of sparkle. It's such an easy way to add some interest to baked goods that I always keep some in my kitchen.
These cookies will spread quite a bit, so be sure not to skip the chilling time. That will not only keep the cookies from spreading too much, but it will also help the flavors shine.
I love to bake these cookies year round. Their bright citrus flavor makes them a great choice for warm weather, while that same flavor is also welcomed on colder days, too.
Find more cookie recipes in the Recipe Index.
More Lemon Cookies
We are a participant in the Amazon Services LLC Associates Program, an affiliate advertising program designed to provide a means for us to earn fees by linking to Amazon.com and affiliated sites.
Lemon Coconut Sugar Cookies
Yield: about 36 cookies
Prep Time: 20 minutes
Cook Time: 12 minutes per pan
Lemon Coconut Sugar Cookies add wonderful citrus flavor and toasty coconut to a simple sugar cookie. Such bright, happy, fantastic flavor!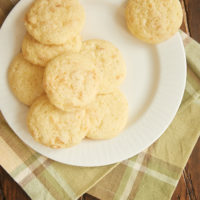 Ingredients:
3 cups (360g) all-purpose flour
1 & 1/2 teaspoons baking powder
1/2 teaspoon baking soda
1/2 teaspoon salt
zest of 1 medium lemon
1 cup (226g) unsalted butter, softened
4 ounces (113g) cream cheese, softened
1 & 1/2 cups (300g) granulated sugar
1 large egg
2 tablespoons lemon juice (from about 1 medium lemon)
1 cup (85g) sweetened shredded coconut, toasted
sanding sugar, for garnish (optional)
Directions:
Whisk together the flour, baking powder, baking soda, salt, and lemon zest. Set aside.
Using an electric mixer on medium speed, beat the butter, cream cheese, and sugar until light and fluffy. Add the egg and lemon juice, and mix well.
Reduce mixer speed to low. Gradually add the flour mixture, mixing just until combined.
Stir in the coconut.
Cover the dough and refrigerate for an hour.
Preheat oven to 350°F. Line baking sheets with parchment paper or silicone liners.
Using 2 tablespoons of dough at a time, roll the dough into balls. Or use a 2-tablespoon cookie scoop to portion the dough. Place 2 inches apart on prepared baking sheets. Flatten the top of each slightly. If desired, sprinkle each cookie with sanding sugar.
Bake 10 to 12 minutes, or until the edges are lightly browed. (These cookies won't brown too much, but they should appear set.)
Cool on pans on wire racks for 5 minutes. Then, transfer the cookies to wire racks to cool completely.