If you love all things cookies and cream, get ready for love at first bite with these Cookies and Cream Cheesecake Cookies!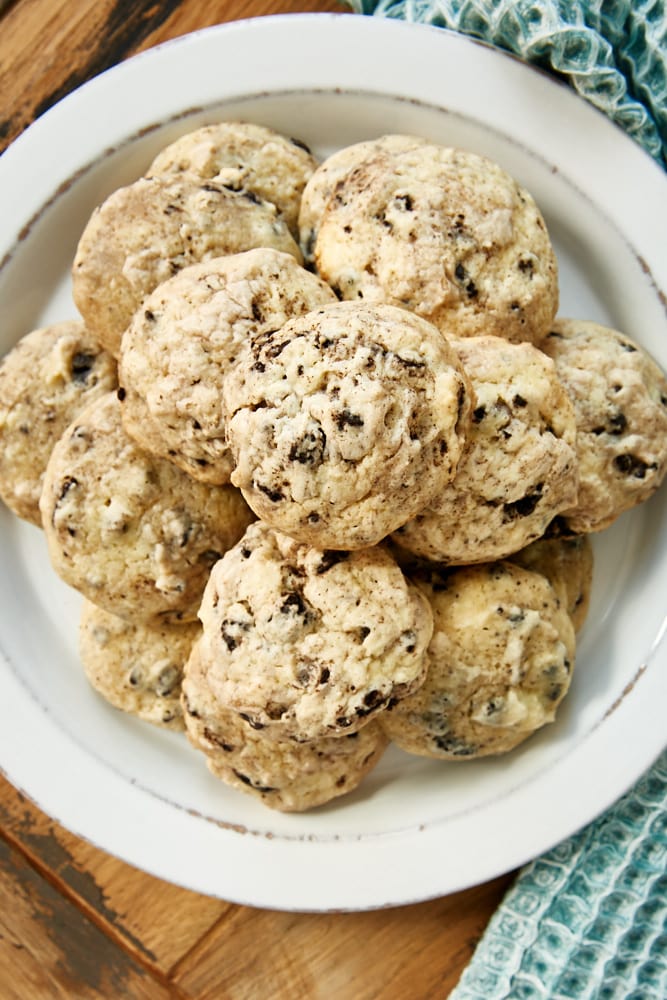 Oreo Cheesecake Cookies
Just hearing the phrase "cookies and cream cheesecake" gets my mouth watering. That's a flavor combination that's tough to resist. These Cookies and Cream Cheesecake Cookies take that popular flavor pair and turn it into a soft, sweet cookie that's every bit as irresistible as you'd think it would be.
It all starts with one of my favorite twists on a basic vanilla cookie. By substituting some cream cheese for some of the usual butter in that cookie, you get a super soft cookie with lovely flavor. Add in some crushed cookies and cream sandwich cookies, and you've really got something amazing.
Interestingly enough, these cookies smell and taste a bit like cookies and cream ice cream. I had that thought when I tried them, and then I got the same feedback from some of my taste testers. Yeah, these are some seriously good cookies.
Making cookies with even more cookies stirred into the dough may either seem a bit odd or perhaps like the best idea ever. I'm firmly on board with that latter line of thinking. These are some seriously good cookies!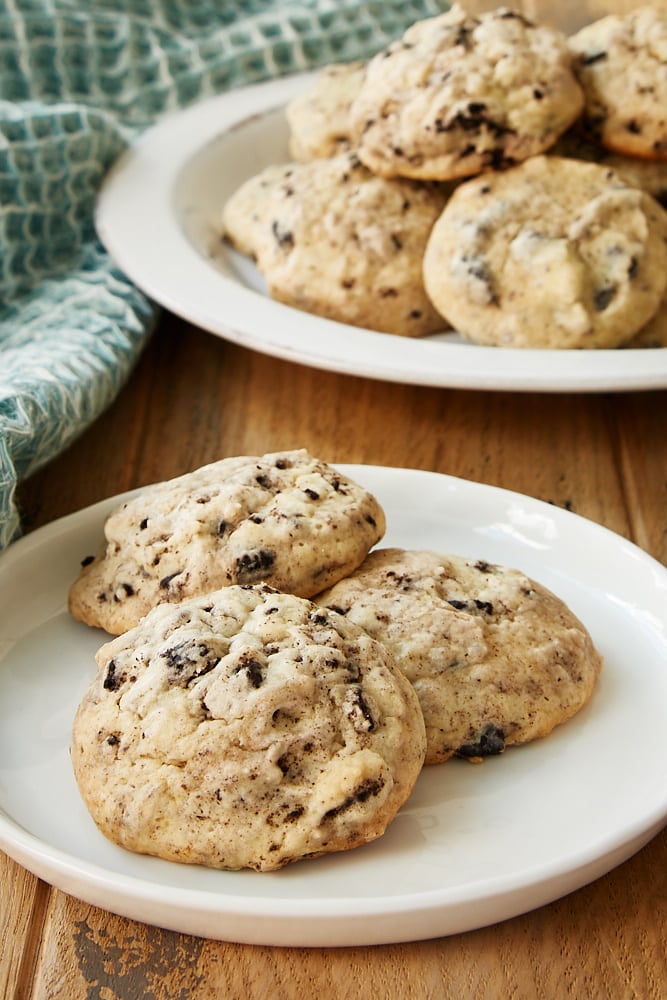 What You'll Need
Other than cream cheese and Oreos, you're likely to have everything you need to make these cookies!
All-purpose flour – Measure by weight for best results. If that's not possible, use the spoon and sweep method.
Baking powder
Salt
Unsalted butter – Set out the butter about half an hour before baking to allow it to soften properly.
Cream cheese – Full-fat cream cheese works best. Be sure to let it come to room temperature so it will mix smoothly.
Granulated sugar
Eggs – These also should be at room temperature.
Vanilla extract
Oreos – That's the most common brand, but any similar cream-filled chocolate sandwich cookie will work. Roughly chop them until you have about 1 & 1/2 cups. The weight can vary with the size of the pieces, but you'll need somewhere in the neighborhood of 5 ounces or 140g.
How to Make Cookies and Cream Cheesecake Cookies
These cookies are simple to make and don't require any special equipment or chilling time. Ready to get baking? Let's go!
Prepare for baking. Heat the oven to 350°F. Line baking sheets with parchment paper or silicone liners.
Combine the dry ingredients. Whisk together the flour, baking powder, and salt.
Combine the wet ingredients. With an electric hand mixer or stand mixer, beat the butter, cream cheese, and sugar until combined and fluffy. Mix in the eggs one at a time; then mix in the vanilla.
Add the dry ingredients to the wet ingredients. With the mixer on low speed, gradually add the flour mixture. Don't over-mix; mix just until combined or a few streaks of flour remain.
Stir in the cookies. Gently stir the chopped cookies into the dough.
Portion and bake. Drop the dough by 1 & 1/2 tablespoon portions onto the prepared pans. (I use a #40 scoop.) Leave about 2 inches between the cookies. Bake the cookies for 12 to 15 minutes, or until the edges are lightly browned. Be sure to refrigerate the dough between baking batches.
Cool the cookies. Remove the pan from the oven and place on a wire rack to let the cookies cool for about 5 minutes. Then transfer the cookies from the pan to a wire rack to cool completely.
Tips for Success
Chill the dough if necessary. While chilling isn't normally required for these cookie, it's a good idea to chill it if your kitchen is particularly warm. Otherwise, expect the cookies to spread more than usual.
Checking for doneness. It can be tough to tell when these cookies are done, as they don't brown like more traditional cookies. The bottom edges will brown a bit, but don't let them go too far. I like to use a cookie spatula carefully under the edge of a cookie to lift it and see if the bottoms have browned lightly. If they have, then it's time to take them out of the oven.
Use light-colored metal baking sheets. Dark pans will likely over-brown the bottoms and cause more spreading. Also remember to cool pans completely between batches if you're reusing pans.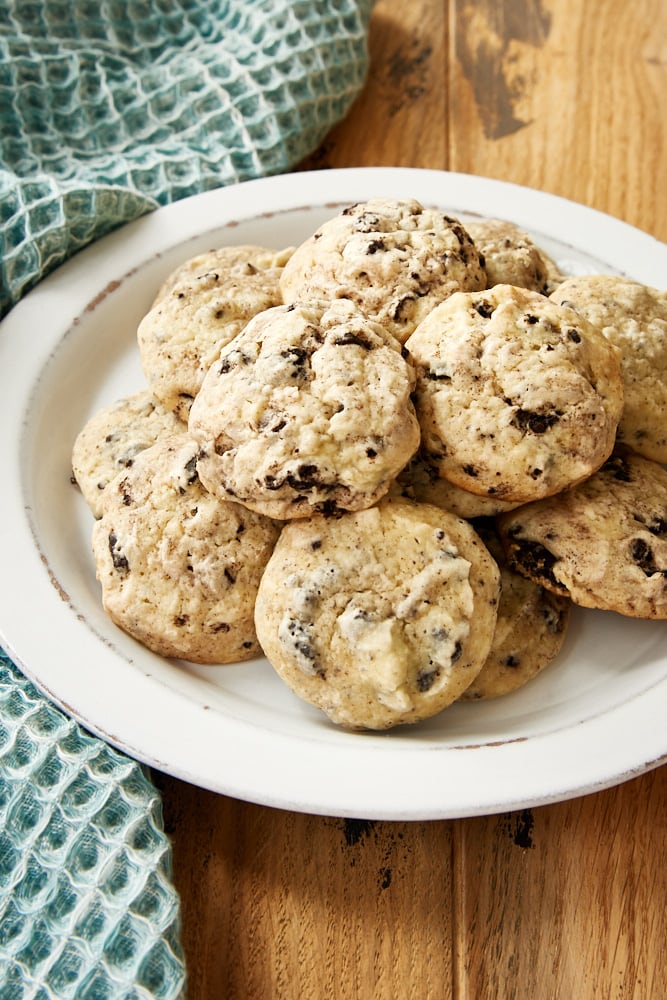 How to Store Leftovers
Store the cooled cookies in an airtight container at room temperature for up to 3 days. For a few more days of storage, refrigerate the container of cookies and bring them to room temperature before serving.
Can These Cookies Be Frozen?
Sure! To freeze the baked cookies, place the completely cooled cookies in an airtight, freezer-safe container. Properly stored, they should keep up to 3 months. Thaw them overnight in the refrigerator or for about an hour at room temperature.
To freeze the unbaked cookies, portion the dough as directed and place the balls of dough on a lined rimmed baking sheet. Freeze until solid (about 2 to 3 hours) and then place in an airtight, freezer-safe container or bag. Freeze up to 3 months. When you're ready to bake the cookies, place the frozen dough on a pan and bake as directed, adding an extra minute or two to the baking time.
Find more cookie recipes in the Recipe Index.
Video Tutorial: Cookies and Cream Cheesecake Cookies
More Cookies and Cream Desserts