Mini Chocolate Chip Doughnut Muffins are easy to make and definitely easy to devour! The combination of soft muffins, chocolate chips, and cinnamon is irresistible!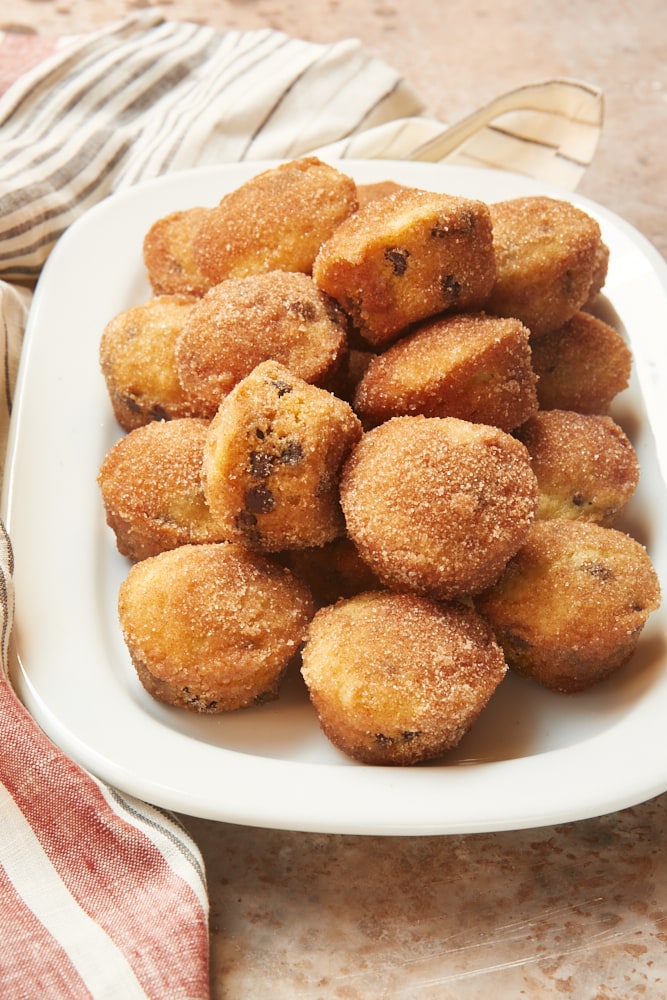 Mini Chocolate Chip Doughnut Muffins
I'm so smitten with these Mini Chocolate Chip Doughnut Muffins. These easy-to-make muffins get a big flavor boost from a roll in cinnamon-sugar and a nice dose of chocolate. The flavor is fantastic, and the texture is lovely, too.
As a general rule, I don't like my muffins to be overly sweet. But these muffins are an exception, as they're sweeter than most muffins I bake. But they're a fun treat for something a little different. They're perfect for a bite-size sweet snack when you've got a craving.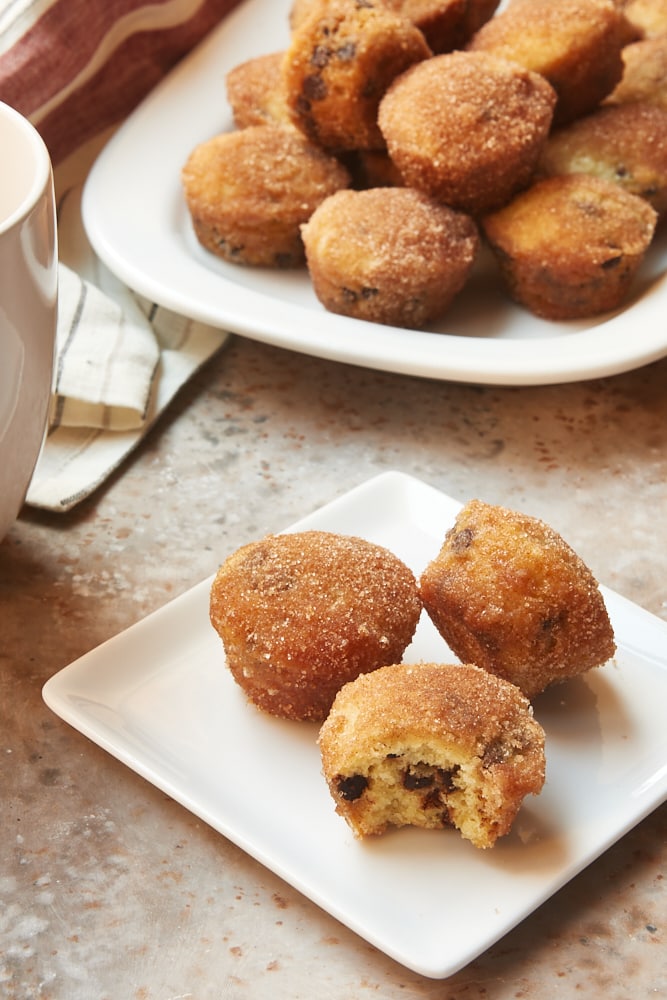 The presence of sour cream in the batter means you can expect soft muffins with a lovely crumb. The soft texture is a nice contrast with the crunch of the cinnamon-sugar that coats them.
When it's time to portion the muffin batter, a cookie scoop is your best friend. You'll need about a tablespoon of batter per muffin cup, and a #50 scoop will work well. Once you've scooped the batter into the cups, there's no need to spread the batter in the cup. Just leave it as is, and you'll get beautifully shaped muffins!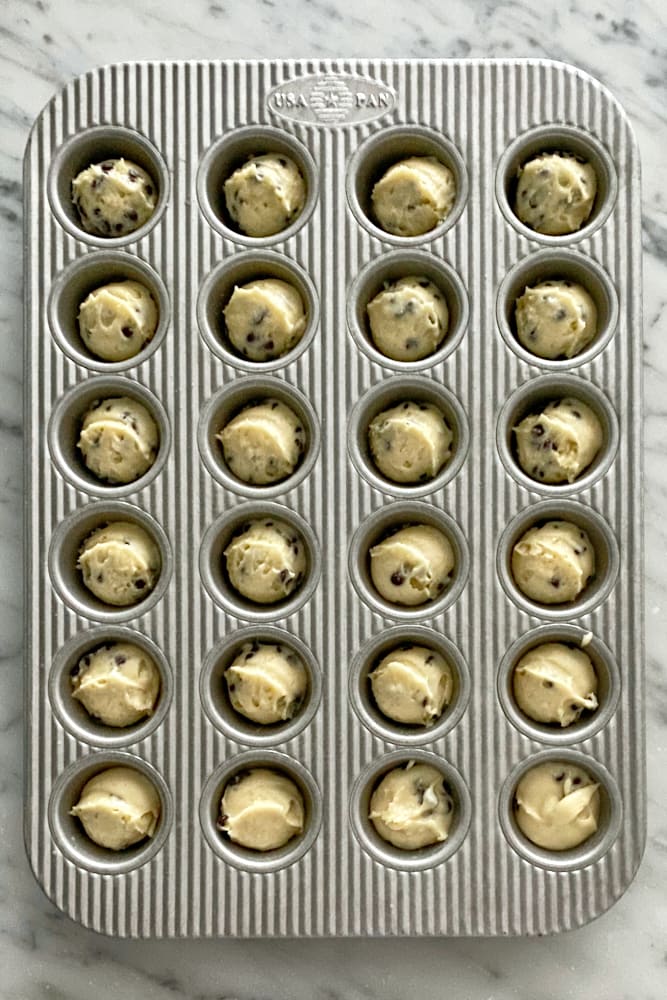 You can easily dial the cinnamon-sugar to suit your tastes by how diligent you are in coating them. With the sweet coating on them, you'll get a burst of sweetness with each bite. Learn more: How to Make Cinnamon Sugar
When you're ready to add the cinnamon-sugar, be sure you've got everything set up for this sweet assembly line. I like to line up everything in the order it will be used. So, next to the muffins, I have the butter and then the cinnamon-sugar. And next to that, I have a surface (like parchment paper or wax paper) for placing the finished muffins.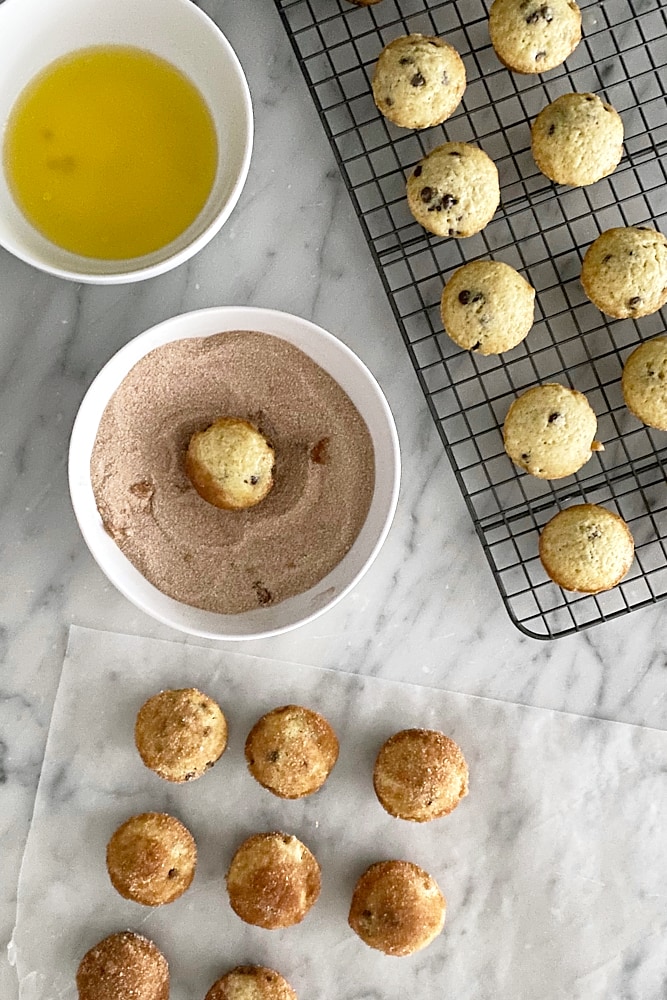 Because these are little muffins, be sure to use mini chocolate chips for the best results. Those small chocolate chips are just the right size to distribute nicely in the batter without being too heavy. If you don't have any mini chocolate chips, you can try chopping chocolate to get pieces of a similar size.
If you're looking for a simpler treat that focuses on cinnamon flavor, you can leave out the chocolate chips. Just keep in mind that you'll have a little less total batter without the volume added from the chocolate chips.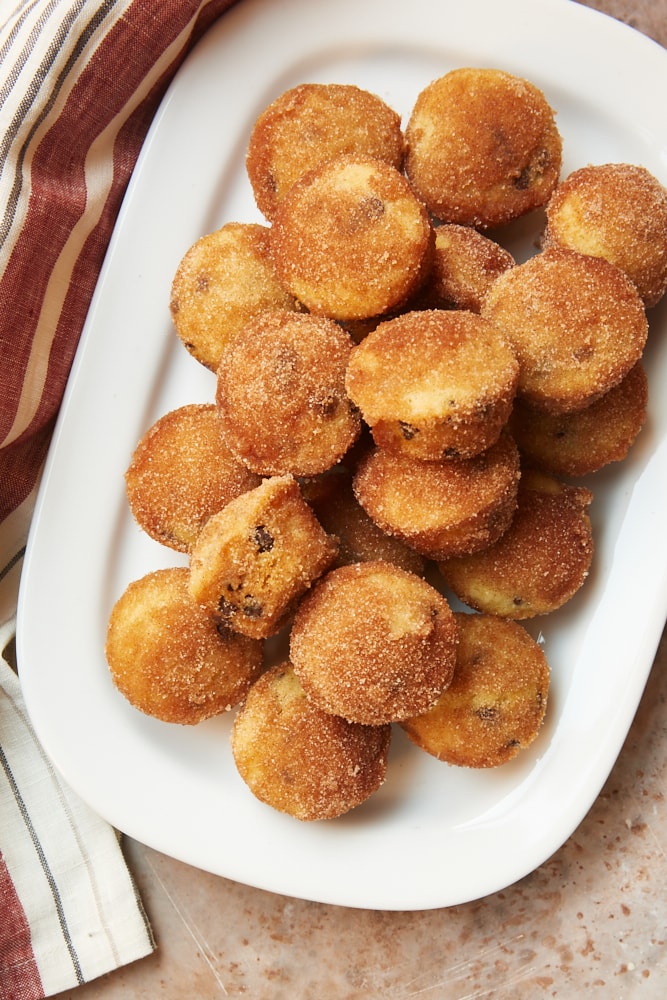 These Mini Chocolate Chip Doughnut Muffins are an instant favorite for us. The flavor, the texture, the adorableness… it's all just so good! I hope you'll give these a try and enjoy them every bit as much as we do!
For more cinnamon muffins, try Apple Cinnamon Muffins, Cinnamon Pecan Muffins, and Cinnamon Mini Muffins, too!