These simple Brown Butter Strawberry Muffins have such wonderful flavor. They make a great grab-and-go breakfast or a sweet snack.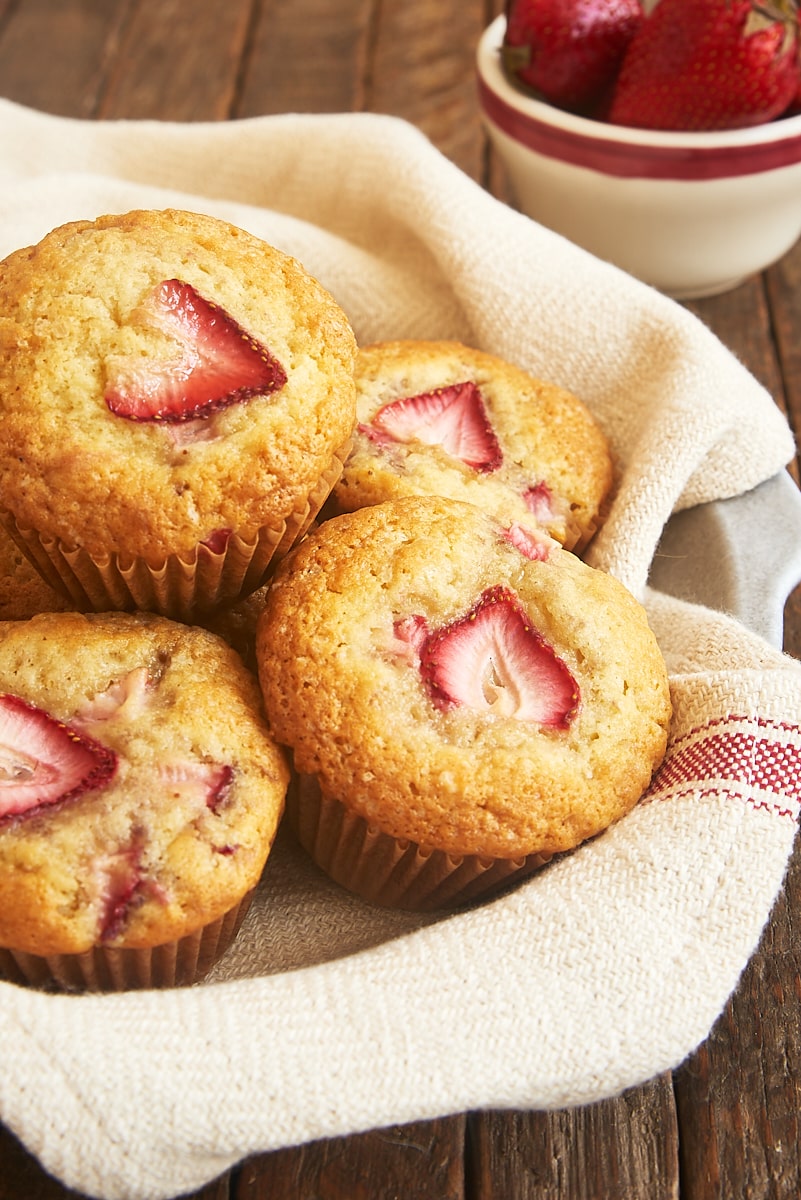 Strawberry Muffins with Brown Butter
Muffins are one of the first things that come to mind when I have fresh berries for baking. Berries just lend themselves so well to mixing into a simple muffin for a sweet, fruity breakfast, brunch, or anytime treat.
These Brown Butter Strawberry Muffins aren't your ordinary muffins, though. No, these have one thing going for them that sets them apart from the rest. There's brown butter in these beauties. Just that one additional step adds so much rich, nutty flavor to these muffins. Combine that with plenty of strawberries, and you've got a real winner.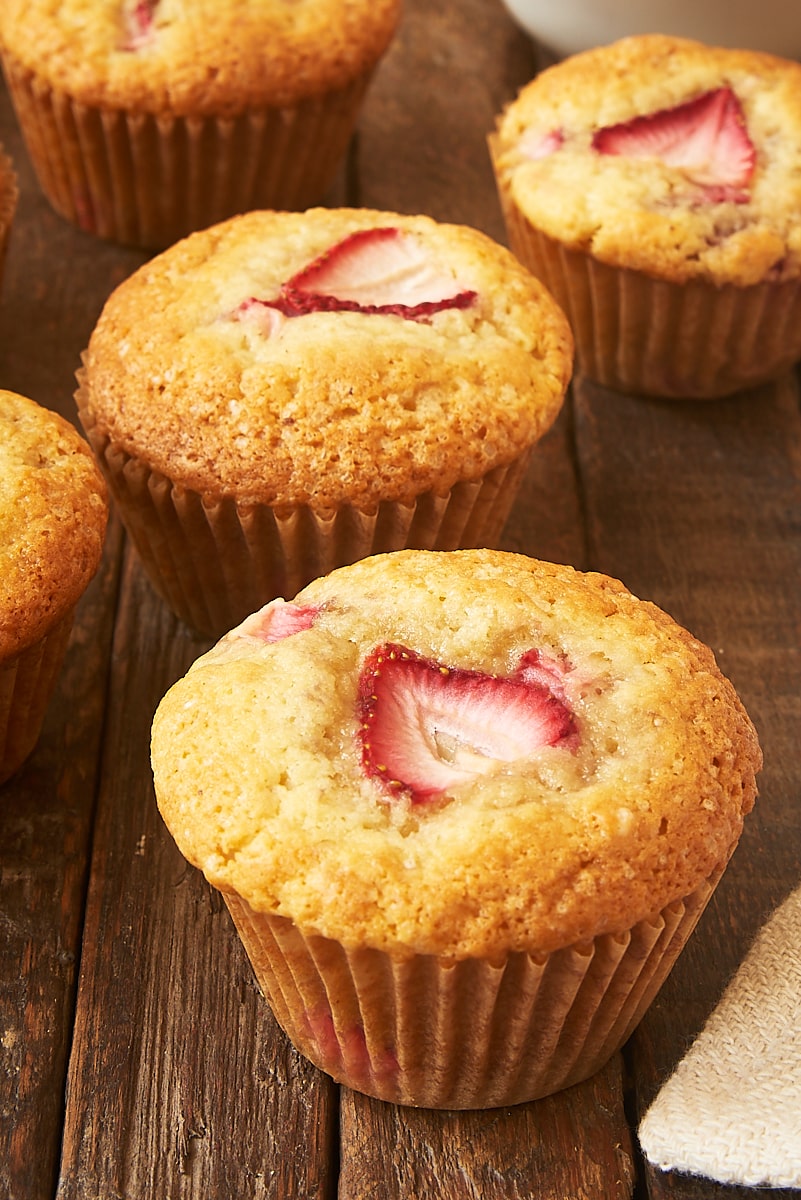 These muffins are filled with lots of chopped strawberries. For aesthetic purposes, I also like to place a strawberry slice on top of each muffin before baking. That (as well as the sprinkling of coarse sugar) is entirely optional, but it certainly dresses them up a bit.
I really, really love these muffins. They are easy to make, have lots of flavor, and are versatile enough to work for everything from breakfast to a snack. If you've got some strawberries just begging to get turned into really great baked goods, then give this Brown Butter Strawberry Muffin recipe a try!
What You'll Need
Scroll down to the recipe card at the bottom of this post for ingredient quantities and full instructions. Here are some notes about the ingredients you'll need to make these strawberry muffins.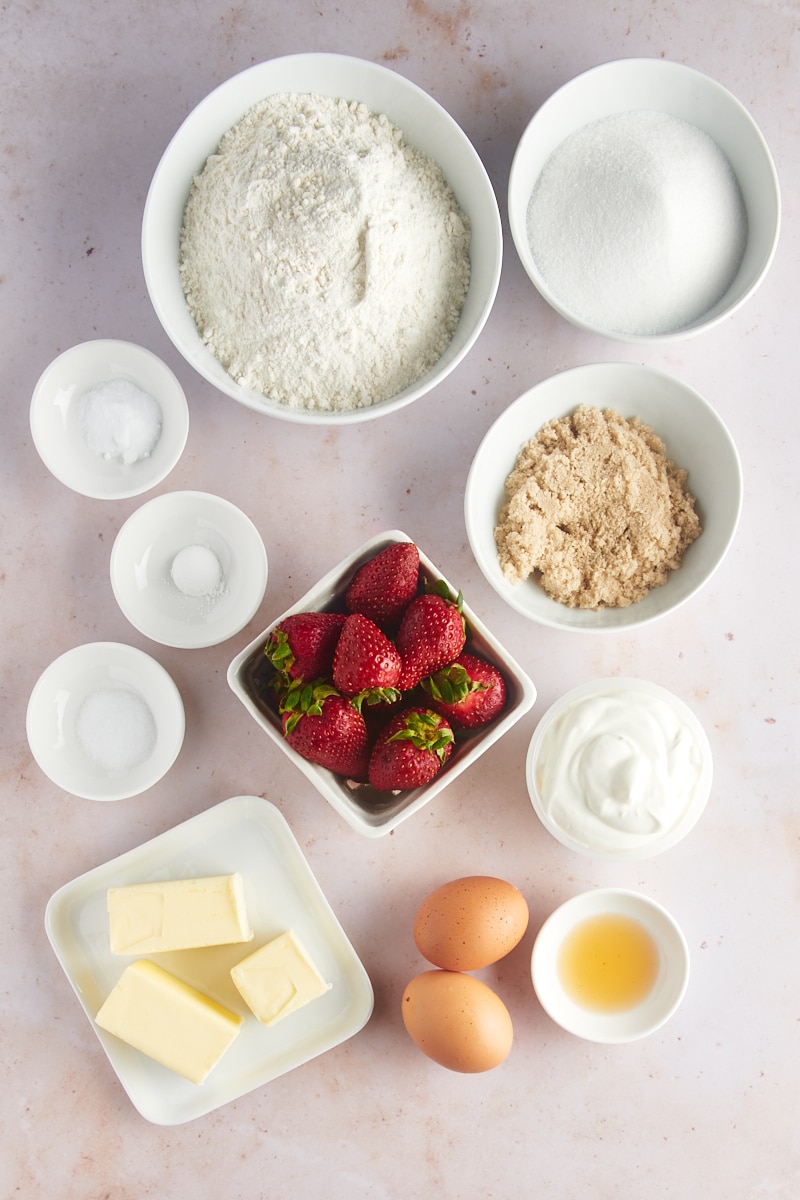 Unsalted butter – Browning butter gives these muffins wonderful flavor. As with most any melted butter used for baking, let it cool a bit before adding it to the other ingredients.
All-purpose flour – Measure by weight or use the spoon and sweep method.
Baking soda
Baking powder
Salt
Granulated sugar
Brown sugar – I prefer light brown sugar for these muffins.
Eggs – Allow these to come to room temperature.
Sour cream – Full-fat sour cream works best. Bring the sour cream to room temperature, too.
Vanilla extract
Strawberries – You'll need chopped fresh strawberries along with 12 strawberry slices for topping the muffins. You can certainly omit the slice on top, but I just love the look of it!
Coarse sugar – A sprinkle of coarse sugar on top of baked goods is one of my favorite little extras to add. While not required, that small addition adds some sparkle, a little crunch, and a sweet bite.
Can I use frozen strawberries?
Fresh strawberries will give you the best results in both flavor and texture. But if you need or want to use frozen, there are a couple of things you can do to make sure they work well. Don't thaw the strawberries before using them. To keep the color from bleeding into the muffins, rinse them in very cold water and dry them as thoroughly as possible. You can also toss them in a bit of flour to help counteract the extra moisture found in frozen berries. Learn more: Fresh vs Frozen Fruits in Baking
How to Make Brown Butter Strawberry Muffins
These muffins mix quickly and easily, with just an extra step for browning the butter. You won't need your hand mixer for these; just grab a big mixing spoon!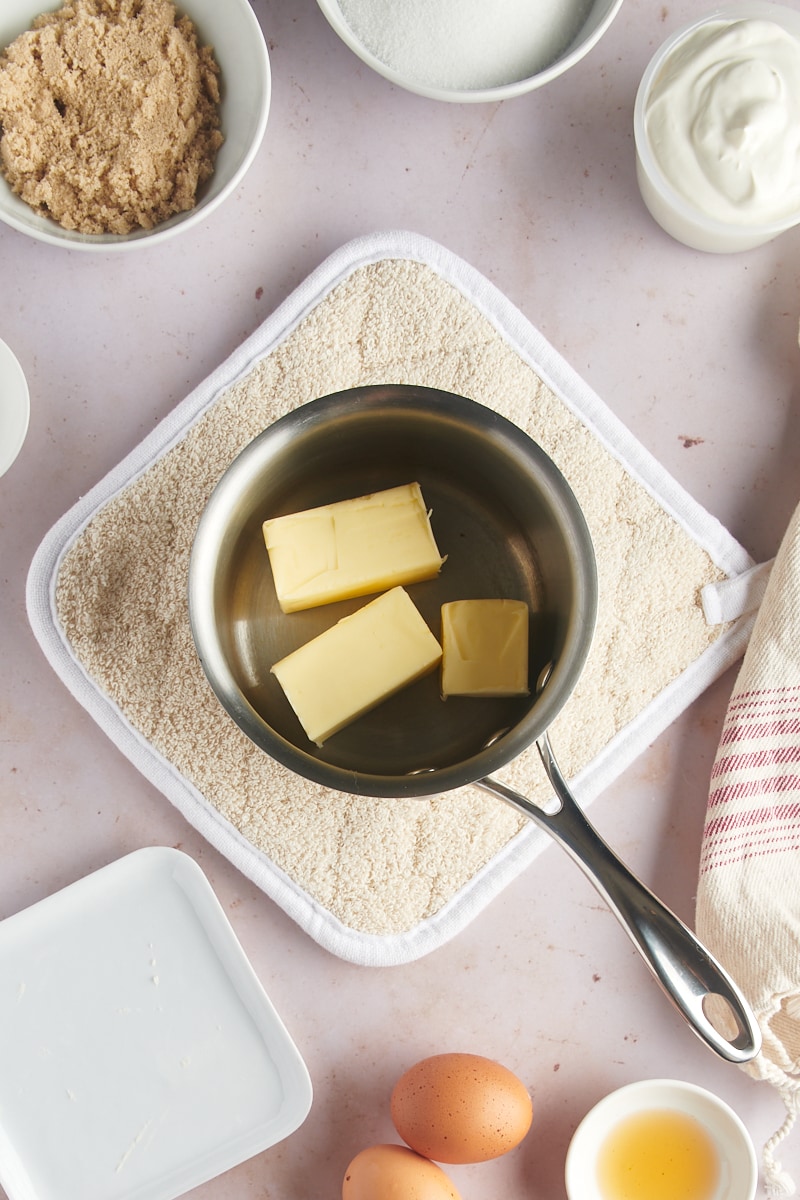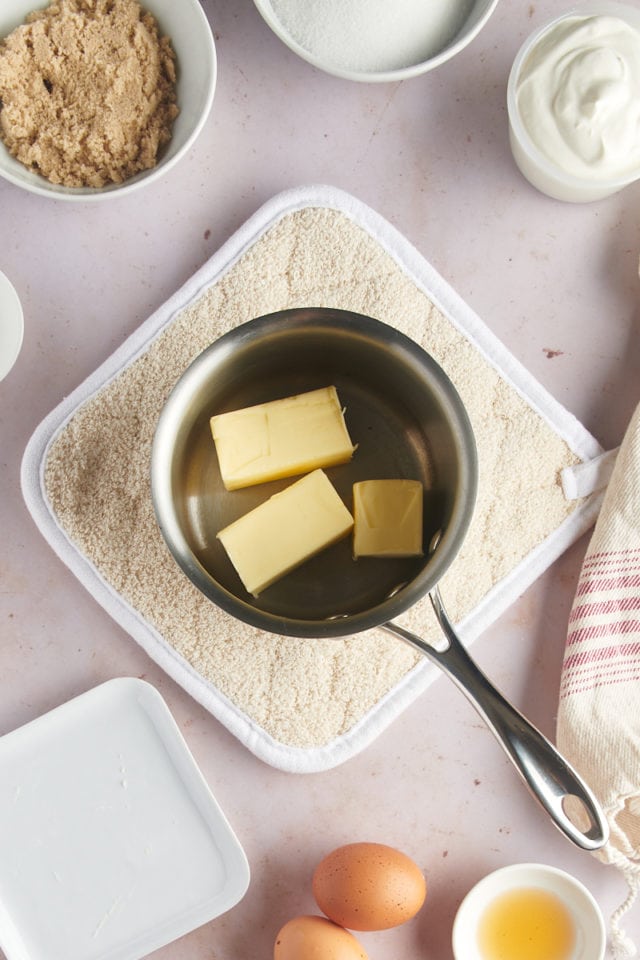 Brown the butter. Place the butter in a medium saucepan or skillet. Cook over medium heat until the butter melts and begins to foam. Continue cooking while stirring occasionally. When brown specks begin to form at the bottom of the pan and the butter has a nutty aroma, remove from the heat. Allow the butter to cool slightly.
Prepare for baking. Heat the oven to 400°F. Line 12 standard muffin cups with paper liners, or grease the muffin tins if you want to skip the liners.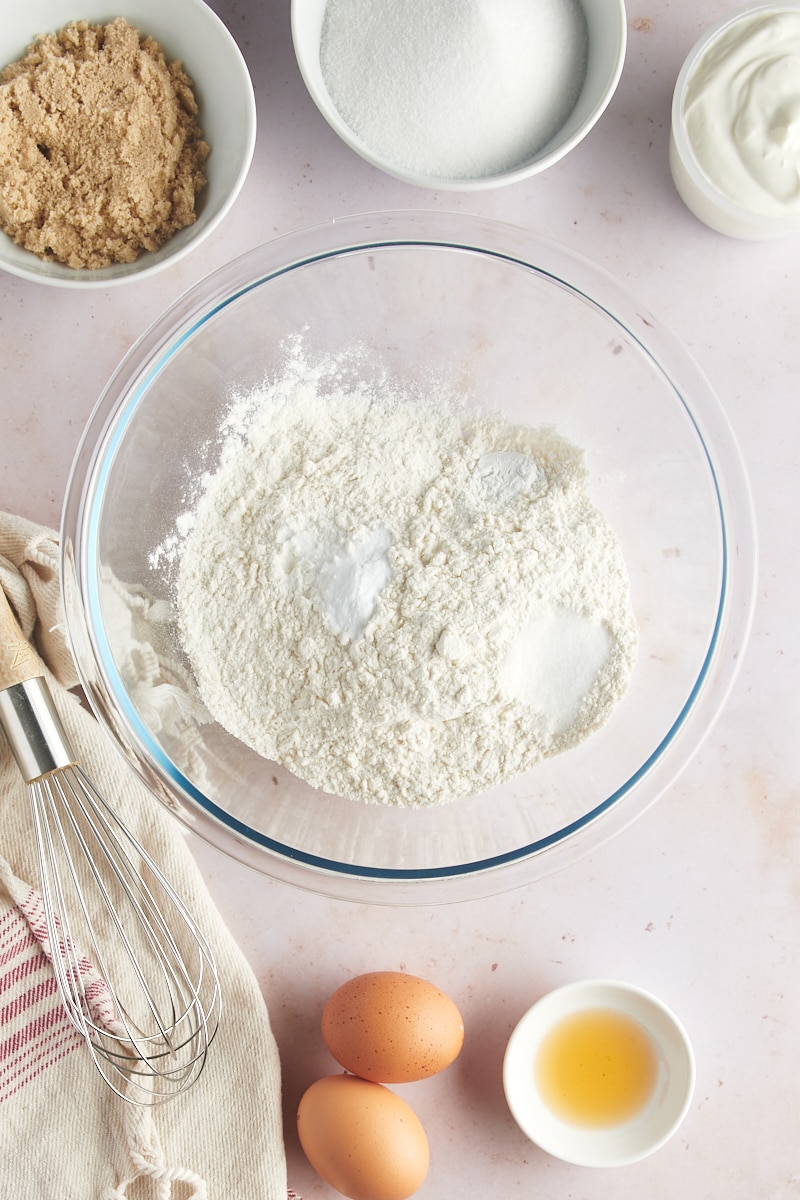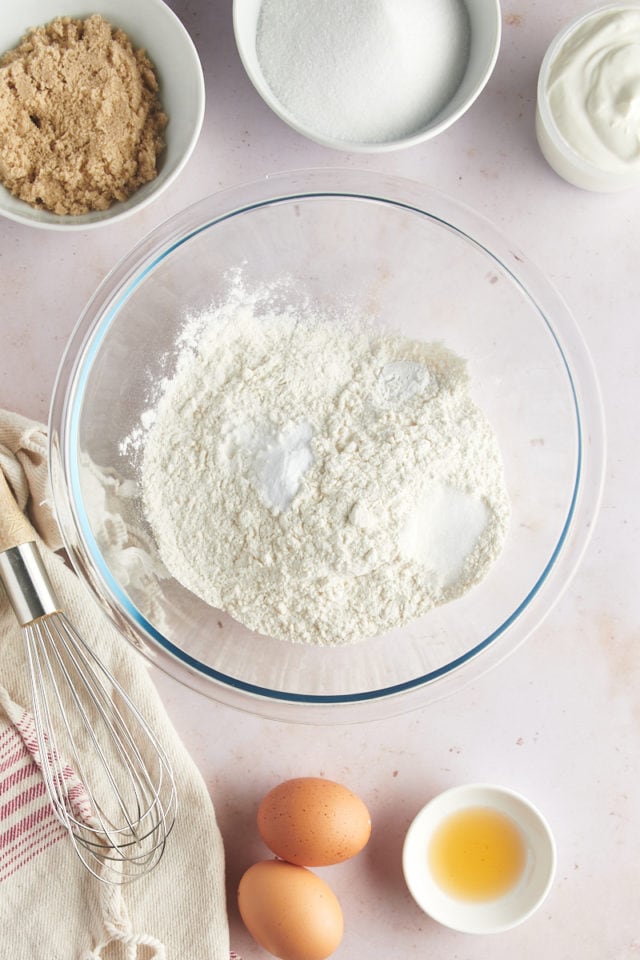 Combine the dry ingredients and sugars. Whisk together the flour, baking soda, baking powder, and salt in a large bowl. Stir in the sugar and brown sugar. Make a well in the center of the mixture.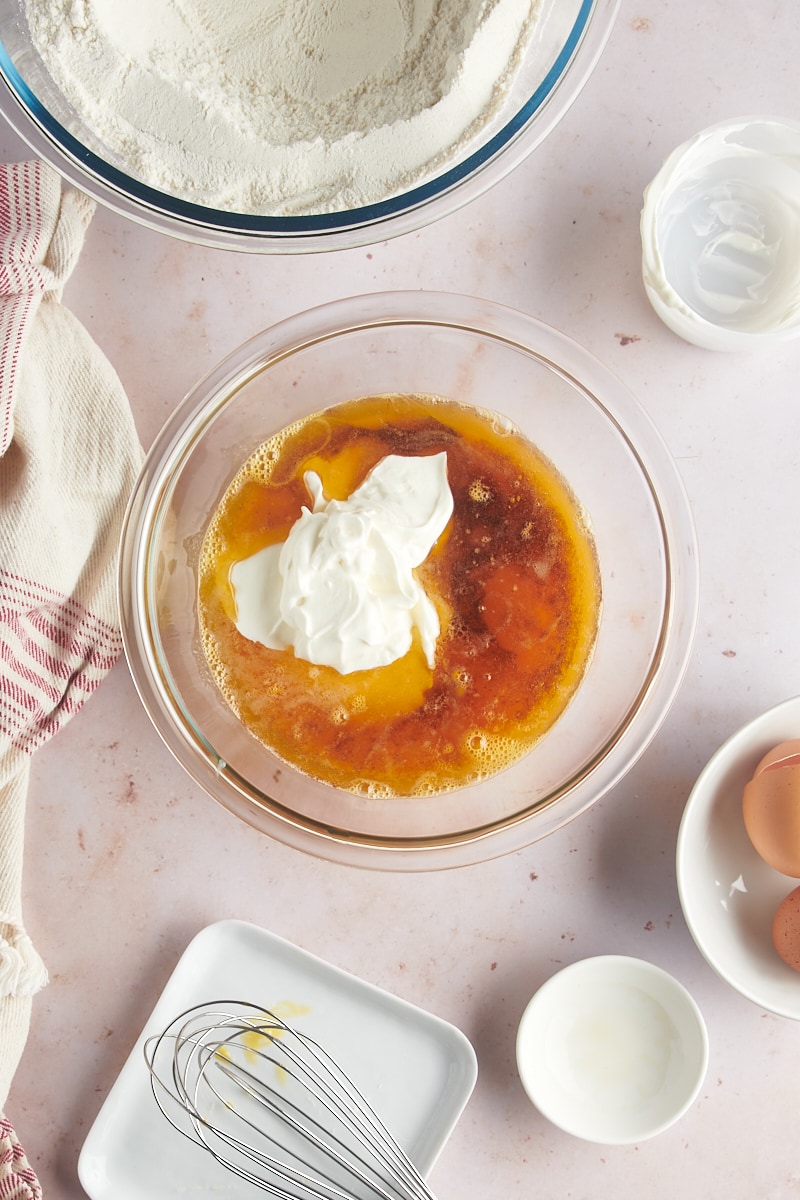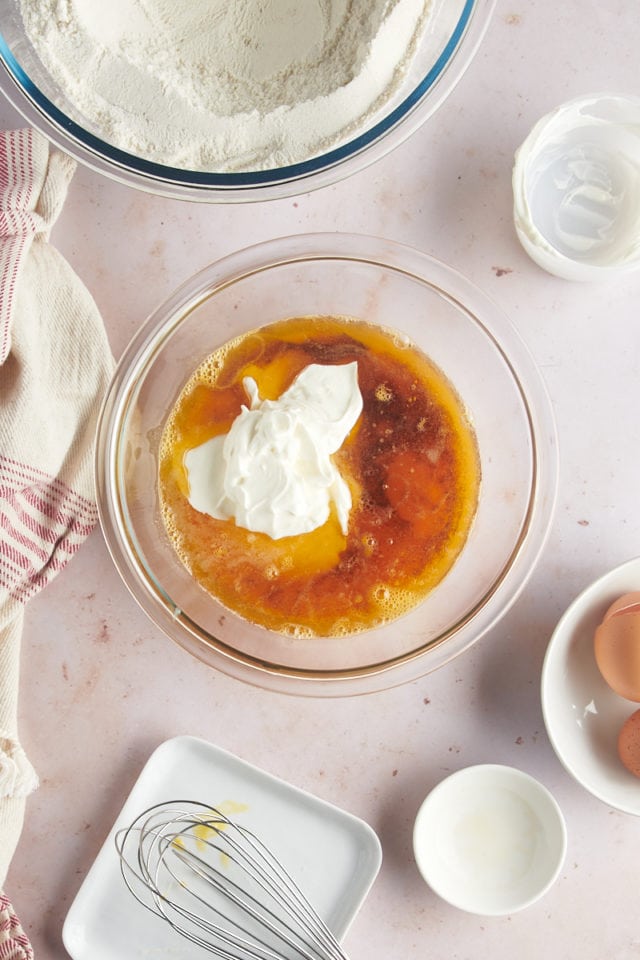 Combine the wet ingredients. Lightly beat the eggs in a small bowl. Add the cooled butter, sour cream, and vanilla. Mix well.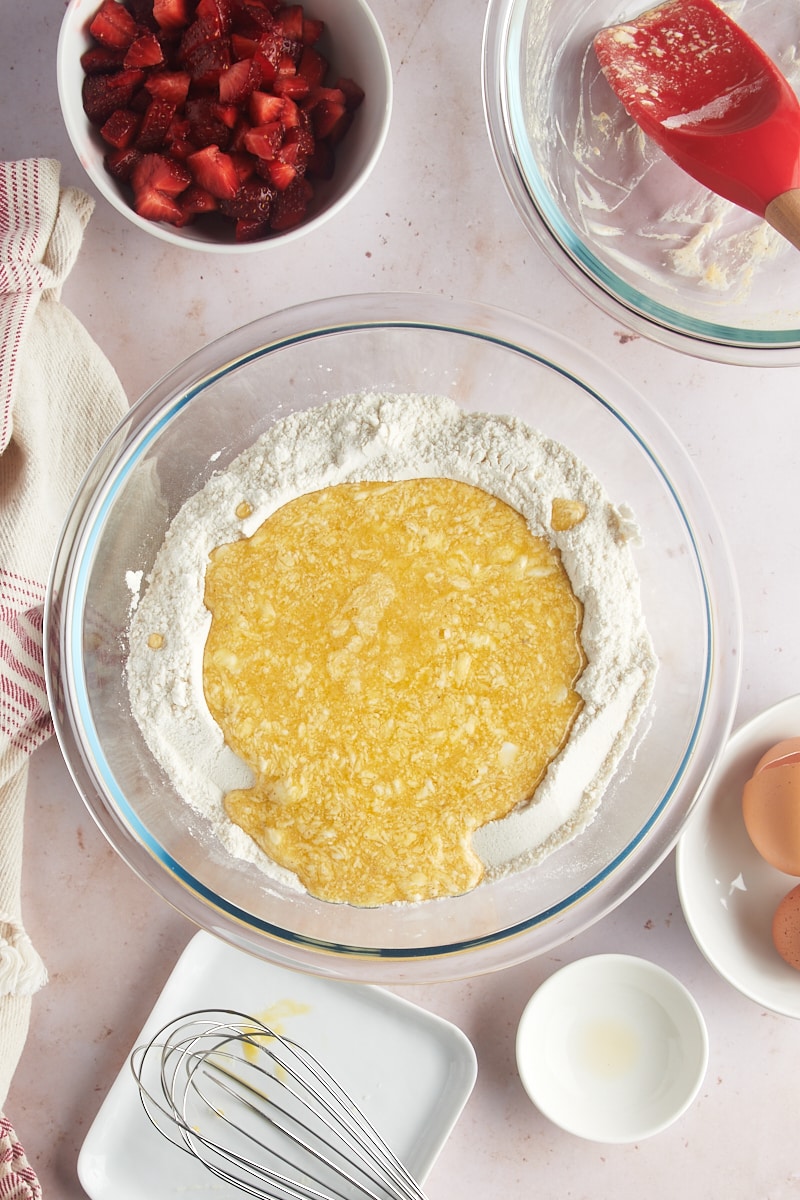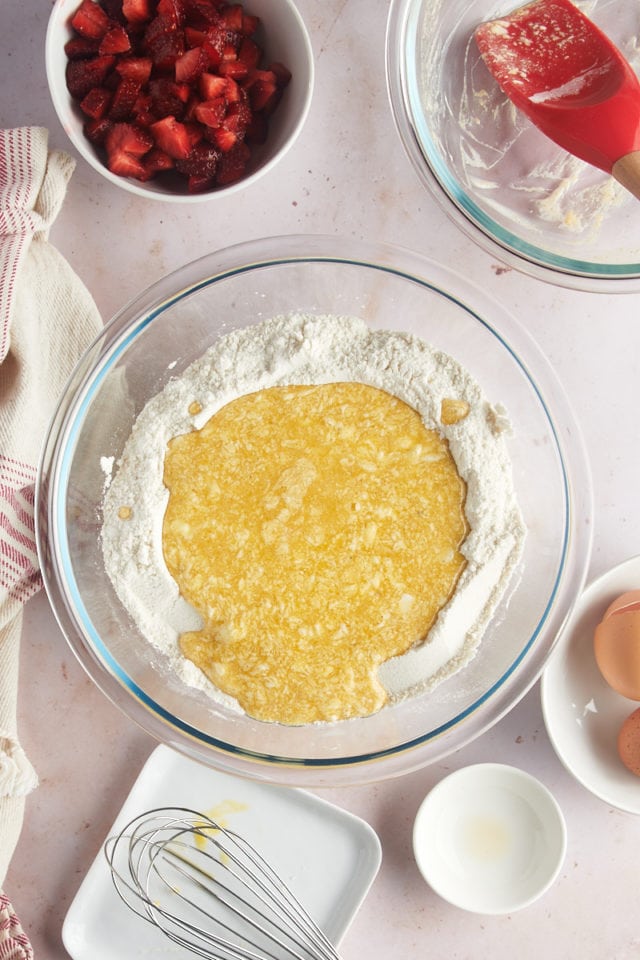 Add the wet ingredients to the dry ingredients. Pour the egg mixture into the well in the flour mixture. Stir just until combined or a few streaks of flour remain.
Add the strawberries. Gently fold the strawberries into the batter.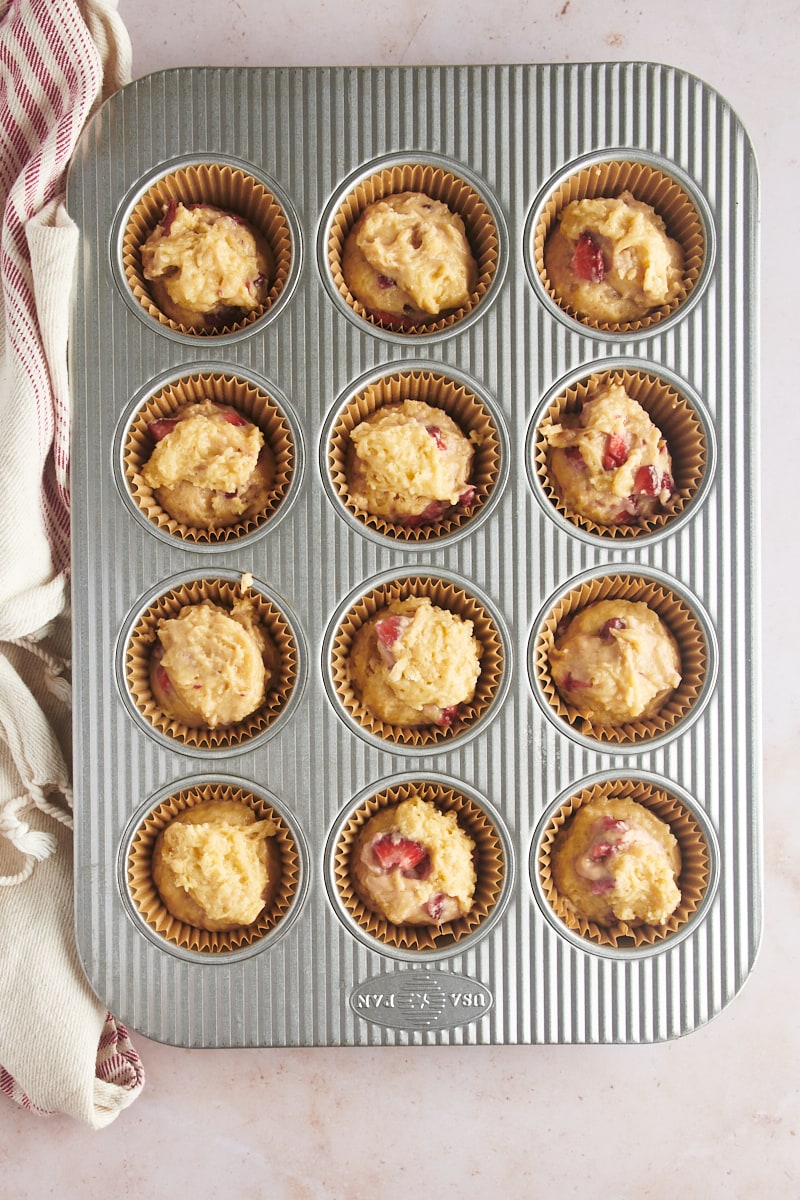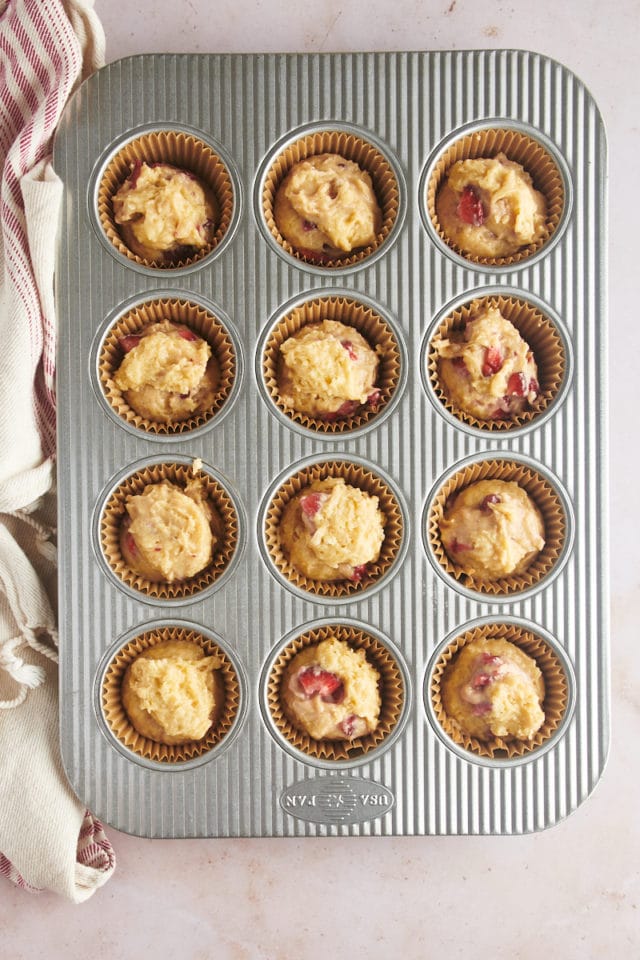 Portion the batter. Divide the batter evenly among the muffin cups, using about 3 tablespoons of batter to fill each cup about 3/4 full. A 3-tablespoon scoop works makes this easier and more accurate.
Bake. Place the pan in the oven, and bake 18 to 22 minutes. The muffins are done with a toothpick inserted into the center comes out clean.
Cool. Place the pan on a wire rack and allow the muffins to cool for 10 minutes. Then transfer the muffins from the pan to a wire rack to continue cooling.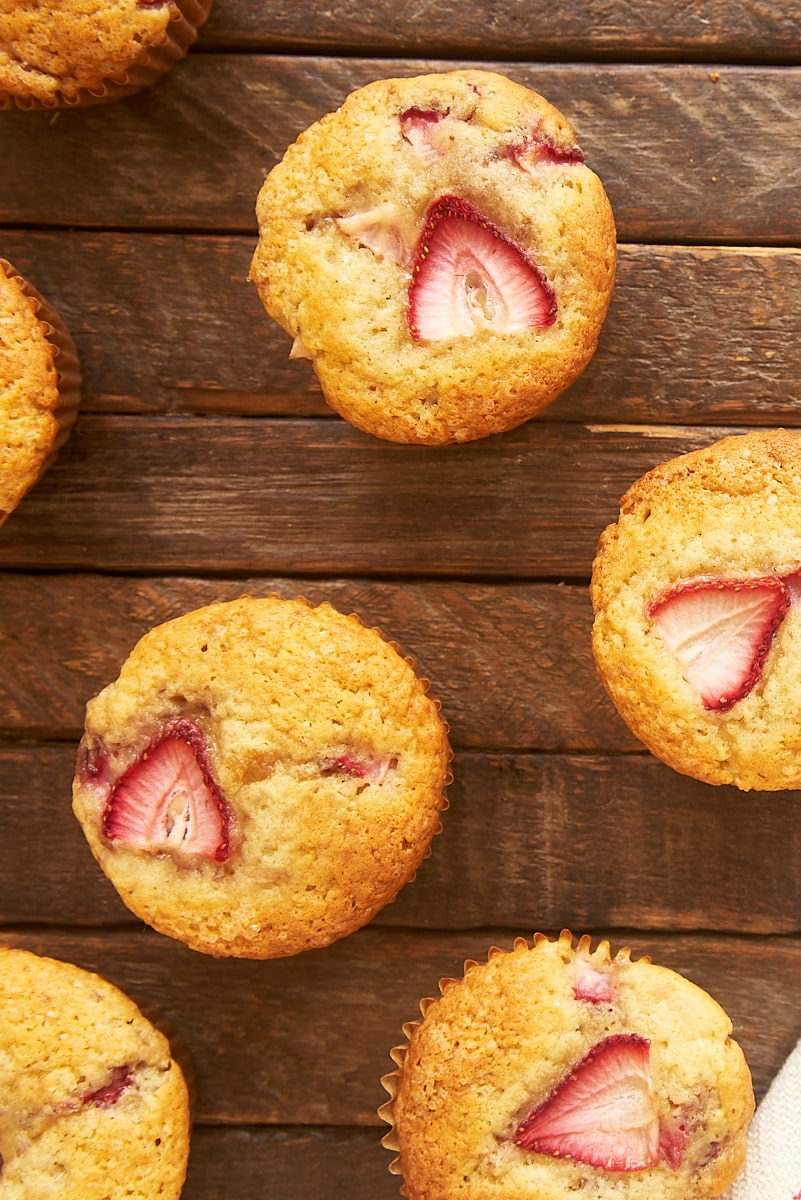 Should I line muffin pans?
I tend to use paper liners when I bake muffins to give them a little extra protection for those grab-and-go times. However, it's perfectly fine to skip the liners if you want. Just keep in mind that not using liners usually yields muffins with browner, crisper edges. Liners will give you lighter, softer edges.
Tips for Success
Keep an eye on the butter. It can go from browned to burned pretty quickly. Watch for the visual and aromatic queues described in the recipe.
Mind the muffin method. This mixing method works best to incorporate the ingredients without over-mixing. You can leave your electric mixer unplugged for these. To learn more, read The Muffin Method.
Use a scoop to portion the batter. Cookie scoops are great for portioning muffin batter. It simplifies the process and helps ensure that the muffins are all the same size so that they'll bake more evenly.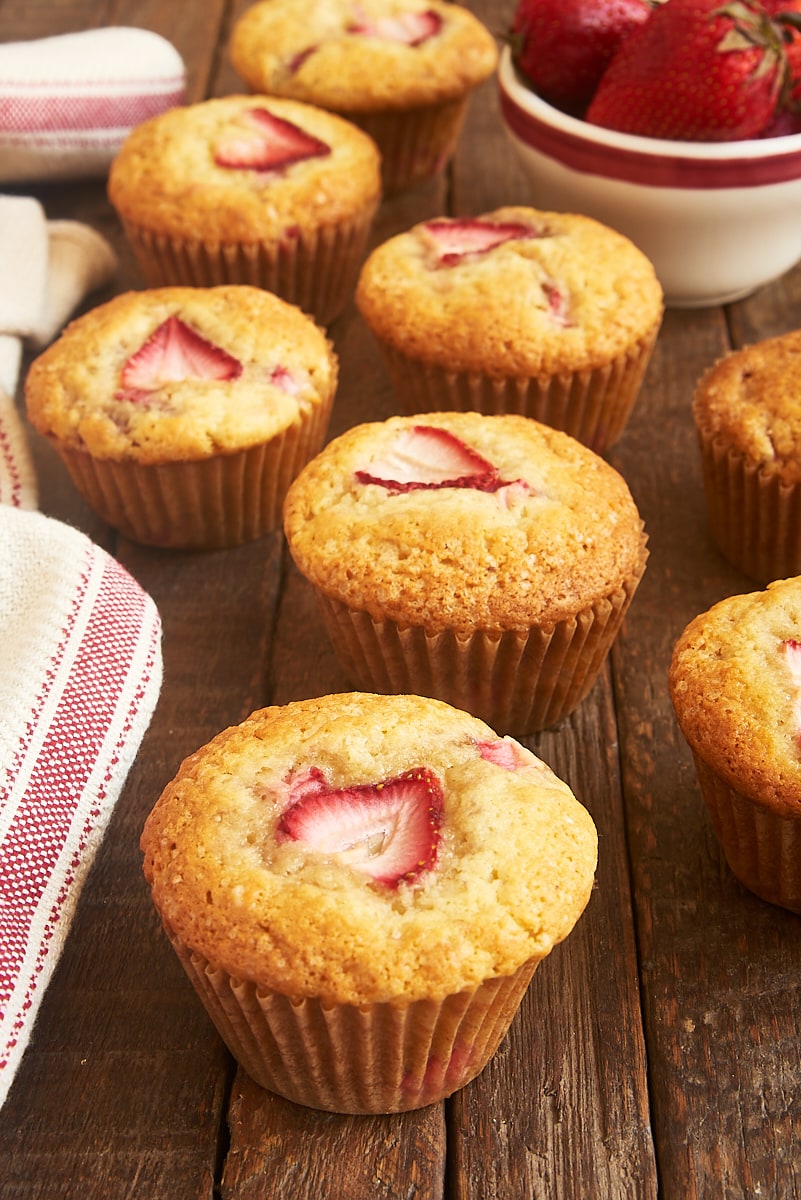 How to Store
Once the muffins have cooled, you can store them in an airtight container. Line the container with paper towels and add another layer of paper towels between layers of muffins and on top of the muffins before sealing the container. You can also store them this way in a single layer in a zip-top bag turned on its side. The muffins should keep for up to 3 days.
Can These Muffins Be Frozen?
Yes, you can freeze these muffins! After the muffins have cooled, place them in a freezer-safe container or freezer bags. It's a good idea to line the container with paper towels to absorb any extra moisture. Stored properly, they should keep in the freezer up to 3 months. Thaw at room temperature for an hour or so before serving. You can also warm them briefly in the microwave or oven.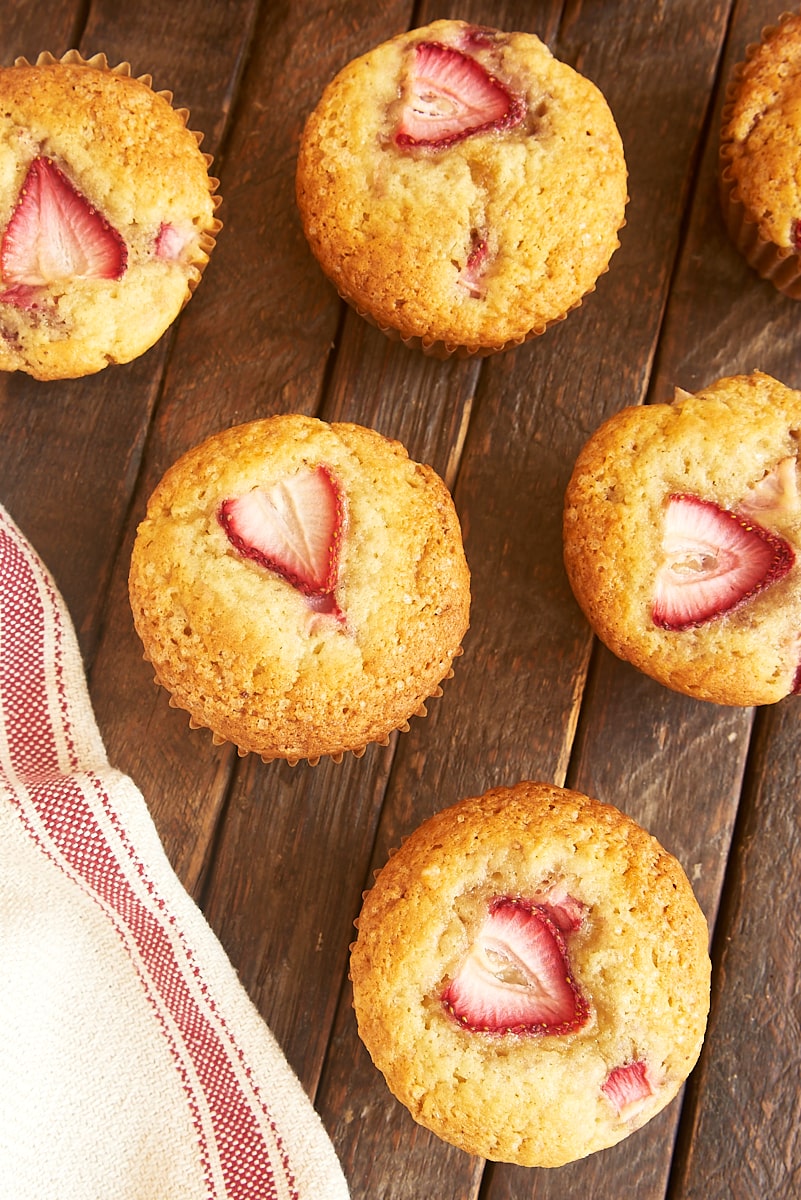 More Berry Muffin Recipes