May 24, 2018
Brown Butter Strawberry Muffins
These simple Brown Butter Strawberry Muffins have such wonderful flavor. They make a great grab-and-go breakfast or a sweet snack.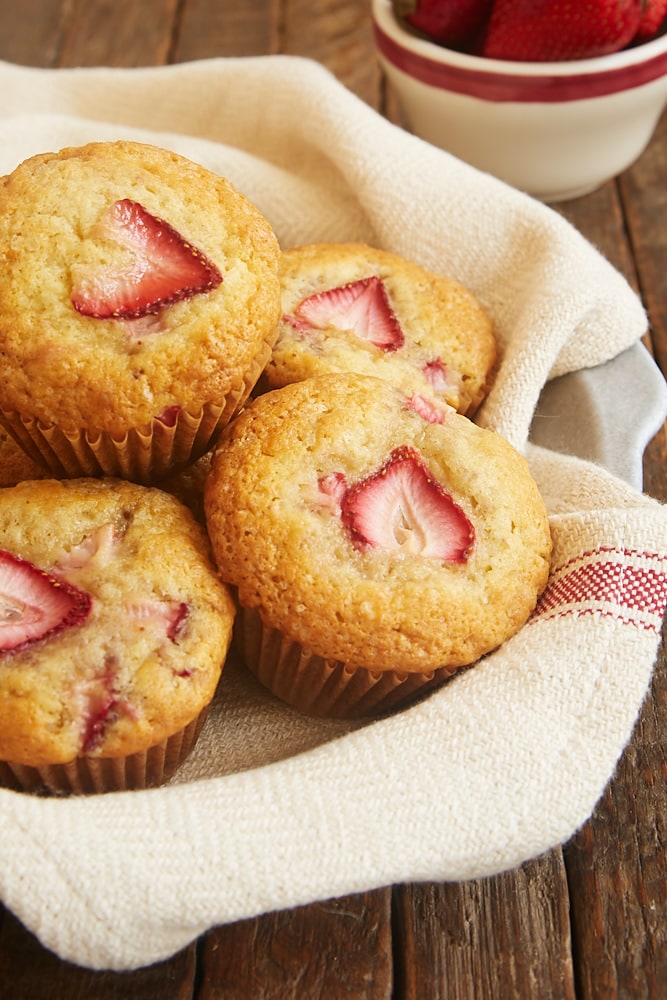 Muffins are one of the first things that come to mind when I have fresh berries for baking. Berries just lend themselves so well to mixing into a simple muffin for a sweet, fruity breakfast, brunch, or anytime treat.
These aren't your ordinary muffins, though. No, these have one thing going for them that sets them apart from the rest. There's brown butter in these beauties. Just that one additional step adds so much rich, nutty flavor to these muffins. Combine that with plenty of strawberries, and you've got a real winner.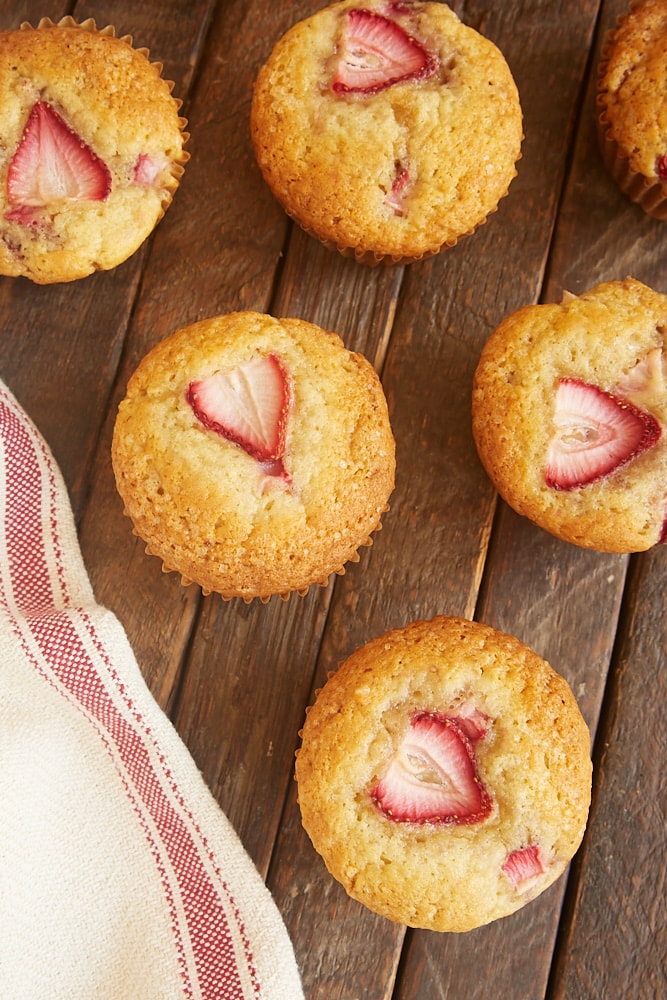 If you've made muffins previously, then you won't find any big surprises in making these muffins. They mix quickly and easily in one bowl with no mixer required. Once you've gathered all of your ingredients, you'll have these mixed and in the oven in short order.
I tend to use paper liners when I bake muffins to give them a little extra protection for those grab-and-go times. It's perfectly fine to skip the liners if you want. Just keep in mind that not using liners usually yields muffins with crisper edges than you'd get if you did use liners.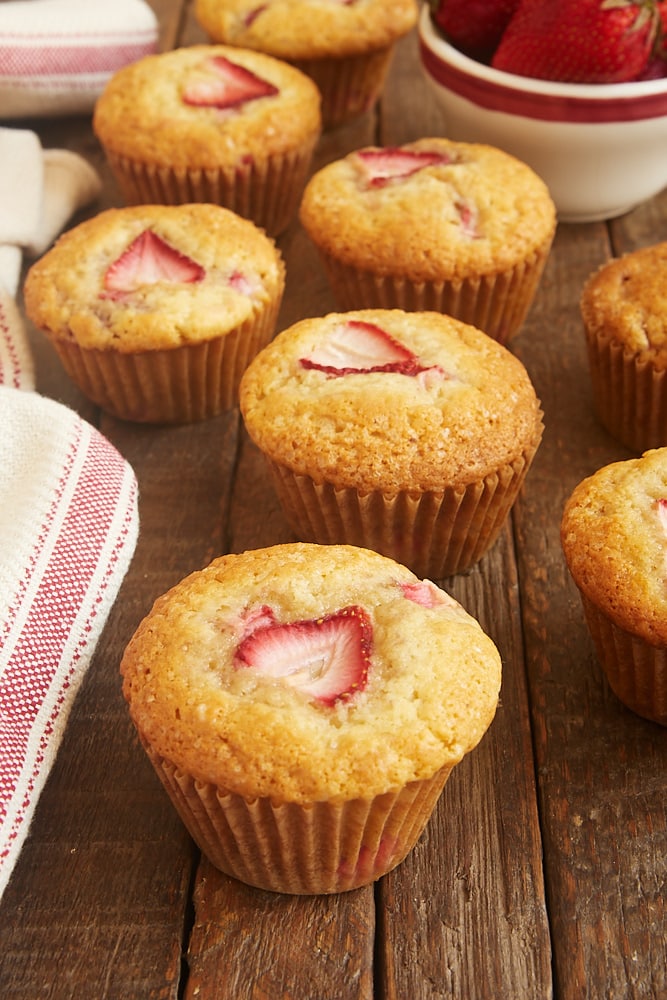 These muffins are filled with lots of chopped strawberries. For aesthetic purposes, I also like to place a strawberry slice on top of each muffin before baking. That (as well as the sprinkling of coarse sugar) is entirely optional, but it certainly dresses them up a bit.
I really, really love these muffins. They are easy to make, have lots of flavor, and are versatile enough to work for everything from breakfast to a snack. If you've got some strawberries just begging to get turned into really great baked goods, then give these Brown Butter Strawberry Muffins a try!
Find more muffin recipes in the Recipe Index.
More Berry Muffins
We are a participant in the Amazon Services LLC Associates Program, an affiliate advertising program designed to provide a means for us to earn fees by linking to Amazon.com and affiliated sites.
Brown Butter Strawberry Muffins
Yield: 12 standard-size muffins
Prep Time: 20 minutes
Cook Time: 22 minutes
These Brown Butter Strawberry Muffins combine fresh strawberries with the rich, nutty flavor of brown butter for a great grab-and-go breakfast or snack.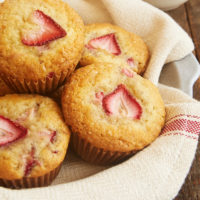 Ingredients:
10 tablespoons unsalted butter
2 cups all-purpose flour
1 teaspoon baking soda
1/2 teaspoon baking powder
1/2 teaspoon salt
3/4 cup granulated sugar
1/4 cup firmly packed light brown sugar
2 large eggs
3/4 cup sour cream
1 teaspoon vanilla extract
1 cup chopped strawberries
12 strawberry slices
sanding sugar or turbinado sugar
Directions:
Place the butter in a medium saucepan or skillet. Cook over medium heat until the butter melts and begins to foam.
Continue cooking, stirring occasionally, until brown specks begin to form at the bottom of the pan and the butter has a nutty aroma. Set aside to cool slightly.
Preheat oven to 400°F. Line or grease 12 standard muffin cups.
Whisk together the flour, baking soda, baking powder, and salt. Stir in the sugar and brown sugar. Make a well in the center of the mixture.
Place the eggs in a small bowl and beat lightly. Add the cooled butter, sour cream, and vanilla, and stir to combine.
Add the egg mixture to the well in the flour mixture. Stir just until combined.
Stir in the chopped strawberries.
Transfer the batter to the prepared pan, using about 3 tablespoons of batter to fill each cup about 3/4 full. (I like to use a 3-tablespoon scoop for easy portioning.)
Top each muffin with a strawberry slice and sprinkle with a pinch of sanding sugar or turbinado sugar.
Bake 18 to 22 minutes, or until a pick inserted into the center of a muffin comes out clean. Cool in the pan for 10 minutes before transferring to a wire rack to cool completely.