Perfect your brownie baking with these simple tips for baking brownies from scratch!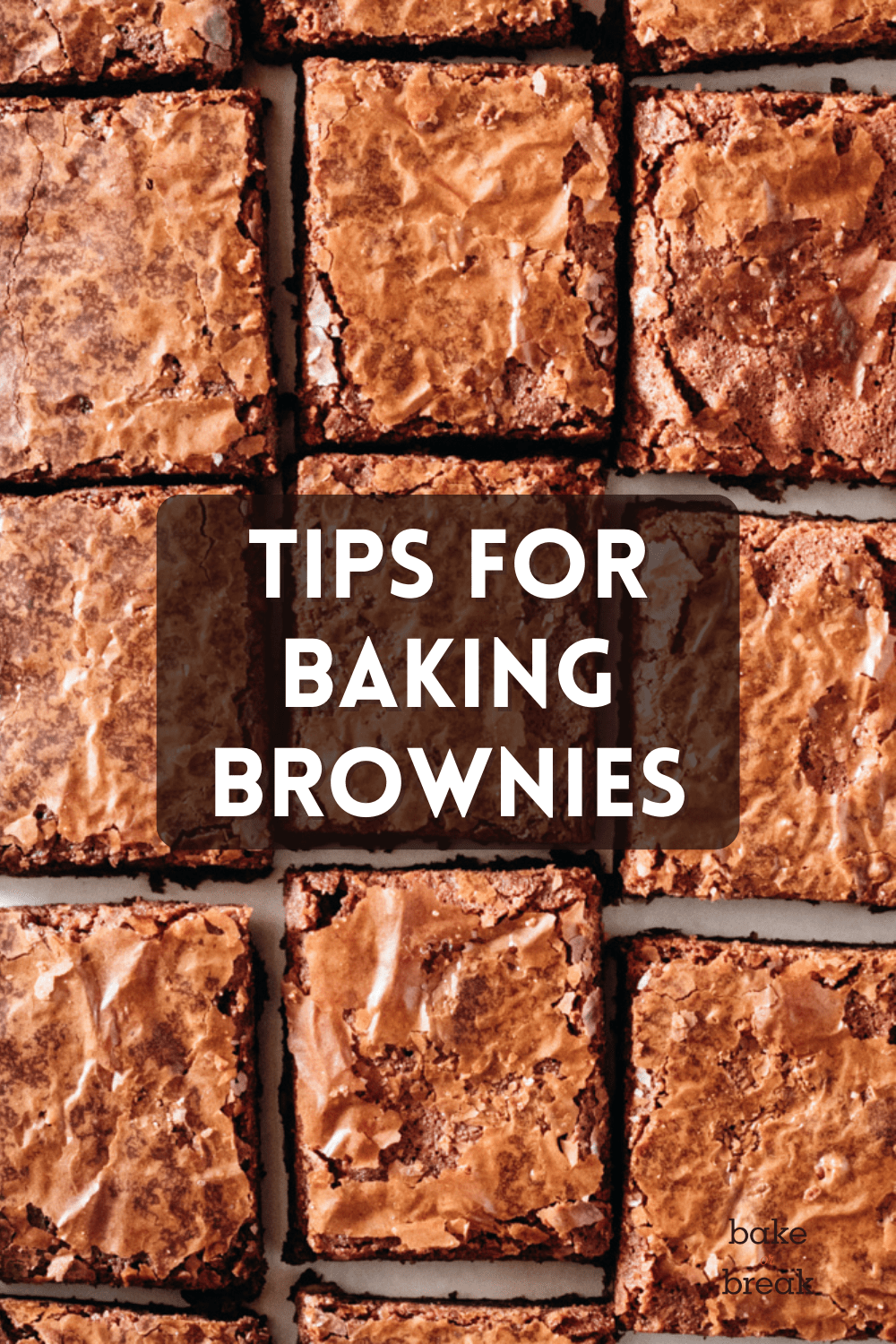 My Best Tips for Baking Brownies from Scratch
Brownies are one of the most popular baked goods, so it's really handy that they are also one of the simplest to make. I've made countless brownies over the years, and I never cease to be amazed at how quickly and easily they come together. In fact, I usually point new bakers toward brownies, as they're generally easy to make and lacking in fussiness.
Despite their simplicity, there are some easy tips and tricks to make your brownies the best they can be. Some of these you will have heard before if you've followed me for a while and made any of my brownie recipes. I hope these tips will help you learn how to make perfect brownies!
Use Good Quality Chocolate
This may seem obvious, but there's a very good reason I start with this. Whether you are using chocolate, cocoa powder, or a combination of the two, chocolate is the star of your brownies, making the top of my list of tips for baking brownies. If you put in quality chocolate, you will get a quality result. You don't have to buy expensive chocolate to get good quality. Simply find a chocolate that tastes good to you, and you're likely to make brownies that you enjoy.
Learn more: A Home Baker's Guide to Chocolate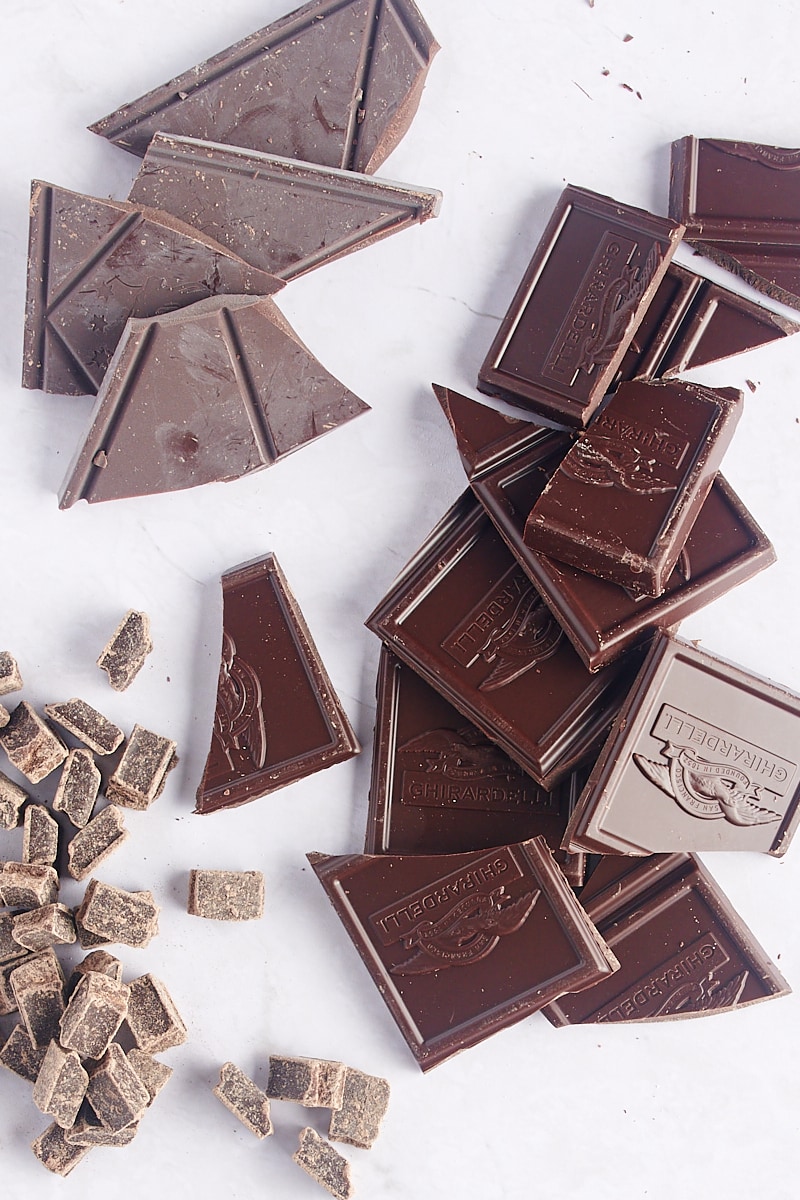 Measure Your Ingredients Accurately
This rule applies to all baking, as accuracy is the best first step toward a good result. If possible, weigh your ingredients for best results. If you don't have a kitchen scale, be consistent in your method of measurement. If you want to brush up on your measuring techniques, be sure to see my tips in How to Measure Flour.
Temperature Matters
Pay attention to any details of the recipe about the temperature of the ingredients. When melting chocolate and butter for brownies, you'll often need to cool it slightly before mixing. Usually, you want the mixture to be warm enough to melt the sugar when it's added, but not so hot that the eggs get partially cooked when they're added to the batter.
Also, if your recipe uses eggs, odds are they need to be at room temperature before mixing so they'll mix more easily and smoothly.
Choose the Correct Pan for Baking
Use the size of pan specified in your recipe. Changing the size will alter the thickness and consistency of brownies. That will also affect baking time, as thicker brownies will need more oven time and thinner brownies will need less.
I almost always recommend light-colored metal pans for baking brownies. Using a dark pan will often lead to over-baked, thin brownies. Glass pans are often used for brownies, but glass absorbs heat more than a light metal pan. That can mean over-baked brownies with tough edges unless the recipe is specifically written for a glass pan. You can try to offset that by lowering the temperature and adjusting the baking time, but my best recommendation is to get a light metal pan if you plan to bake brownies with any regularity.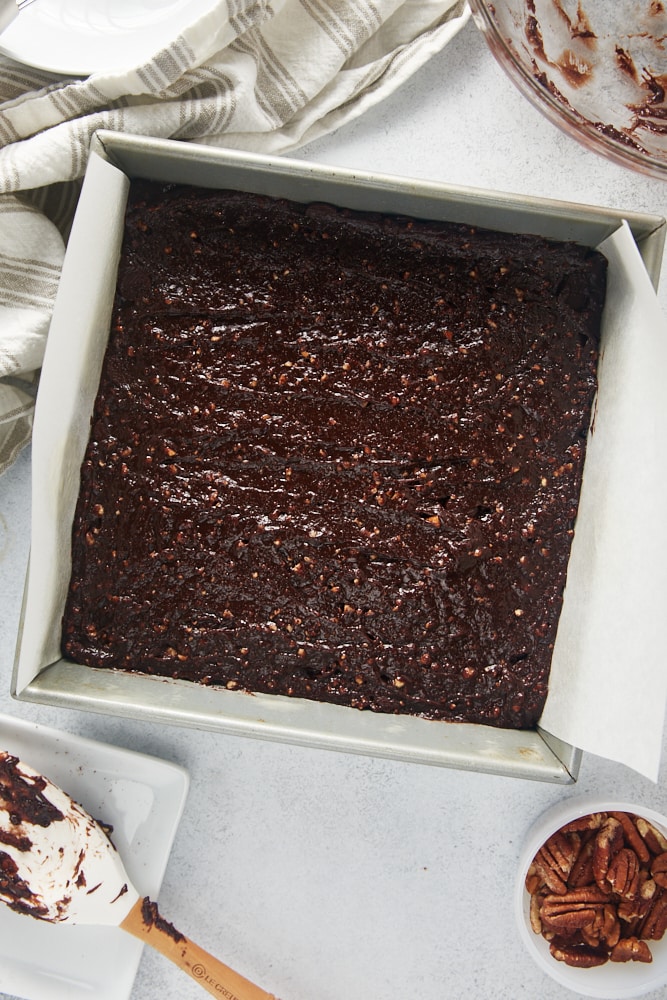 Line the Pan with Parchment Paper
This one is optional, but it's certainly something to consider. After greasing your baking pan, cut parchment paper about 6 inches longer than needed to cover the bottom and two opposite sides of your pan. Allow the excess paper to overhang the pan on the two sides like a sling.
After your brownies have cooled, you can use the paper to lift the brownies out of the pan and onto a cutting board before cutting into bars. This makes it so much simpler to cut the brownies evenly, and you'll avoid scratching your pan when making cuts in the pan with your knife.
Melt the Butter and Chocolate Properly
Many brownie recipes will direct you to melt butter and chocolate together as a first step. This is traditionally done in a double boiler or in a heavy saucepan. Keep in mind that you can also melt butter and chocolate in the microwave in a microwave-safe bowl. Heat at half power in 30-second increments until the butter has melted and chocolate melts when stirred. That's my go-to technique for doing this because I find it the simplest and quickest. Do whichever works well for you.
Generally speaking, I don't like to try melting chocolate chips for brownies. They're really not designed to melt easily, so there's more risk of the chocolate seizing when trying to melt them. This is certainly one of those "your mileage may vary" things, but I prefer to use chocolate discs or chocolate baking bars if at all possible.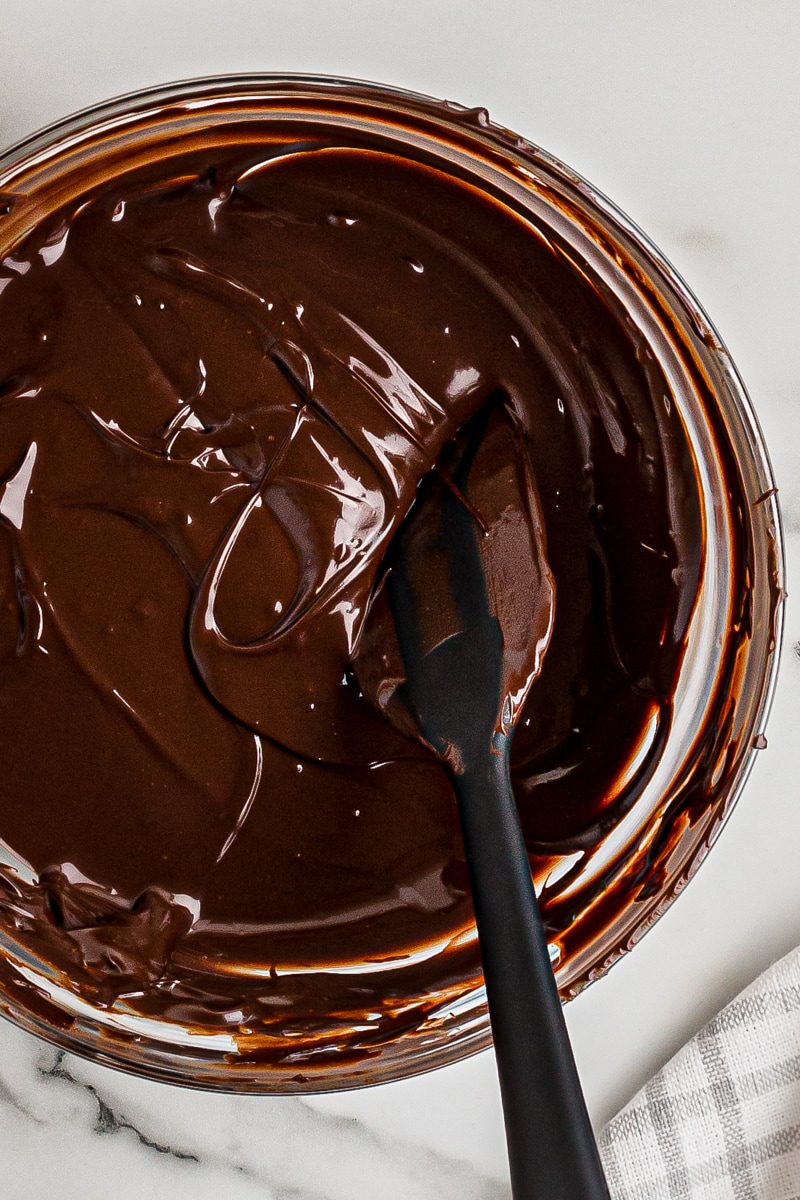 Sift the Cocoa Powder
Okay, so here's some real talk. I don't like to sift. It's just so tedious that I only do it when I must. The lovely Dorie Greenspan once told me that she only sifts cocoa powder and confectioners' sugar. And as much I dislike sifting, I am a believer when it comes to those two ingredients. Sifting the cocoa powder for your brownies will help prevent that clumping and, in turn, make your brownie batter smoother.
Don't Over-Mix the Batter
Compared to most baking recipes, brownies are pretty foolproof. But, over-mixing is one of the most common errors made when baking brownies. If you over-mix the brownie batter, you're likely to end up with tough brownies.
As I said previously, using good quality chocolate is what I consider most important. Coming in second on my tips for baking brownies list is this one. The simplest way to avoid over-mixing is to mix your brownies with a spoon instead of a mixer. I won't say that I always skip the mixer, but I do make the effort to mix the batter only as much as necessary. Be sure to mix the eggs just until incorporated. (If you think you tend to over-mix, then you might consider lightly beating the eggs before adding them to the batter.) Once the dry ingredients are added to the wet ingredients, mix only until the dry ingredients are incorporated.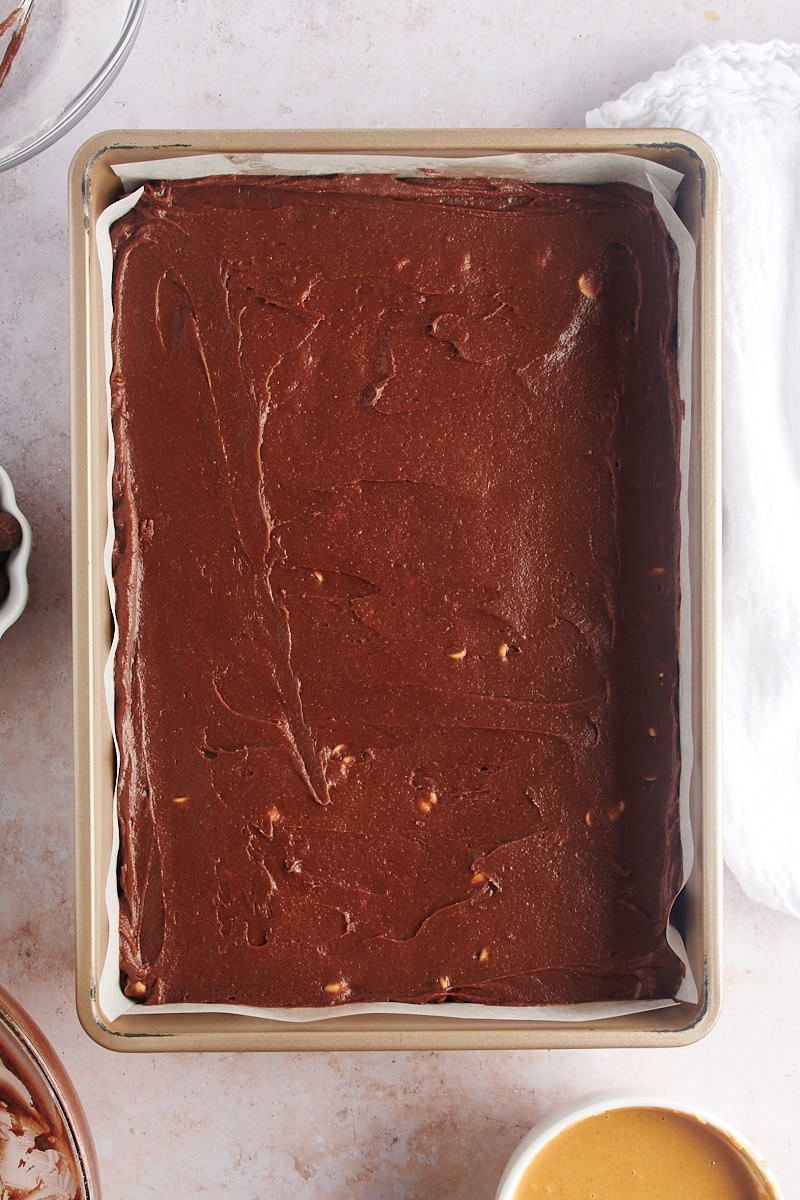 Spread the Batter Evenly in the Pan
After transferring the batter to your prepared pan, use a spatula to spread the batter evenly. If you have an offset spatula, this is the time to use it. Making sure your brownie batter has an even surface will produce thoroughly and consistently baked brownies.
Don't Over-Bake
If brownies are baked too long, they're likely to be dry. Follow the recipe's prompts for testing for doneness. You can usually test for doneness by inserting a pick into the center of the brownies. The pick should come out of the brownies with a few moist crumbs attached. Remember that taking the pan out of the oven doesn't magically stop the baking process. The carryover heat from the pan will continue baking the brownies.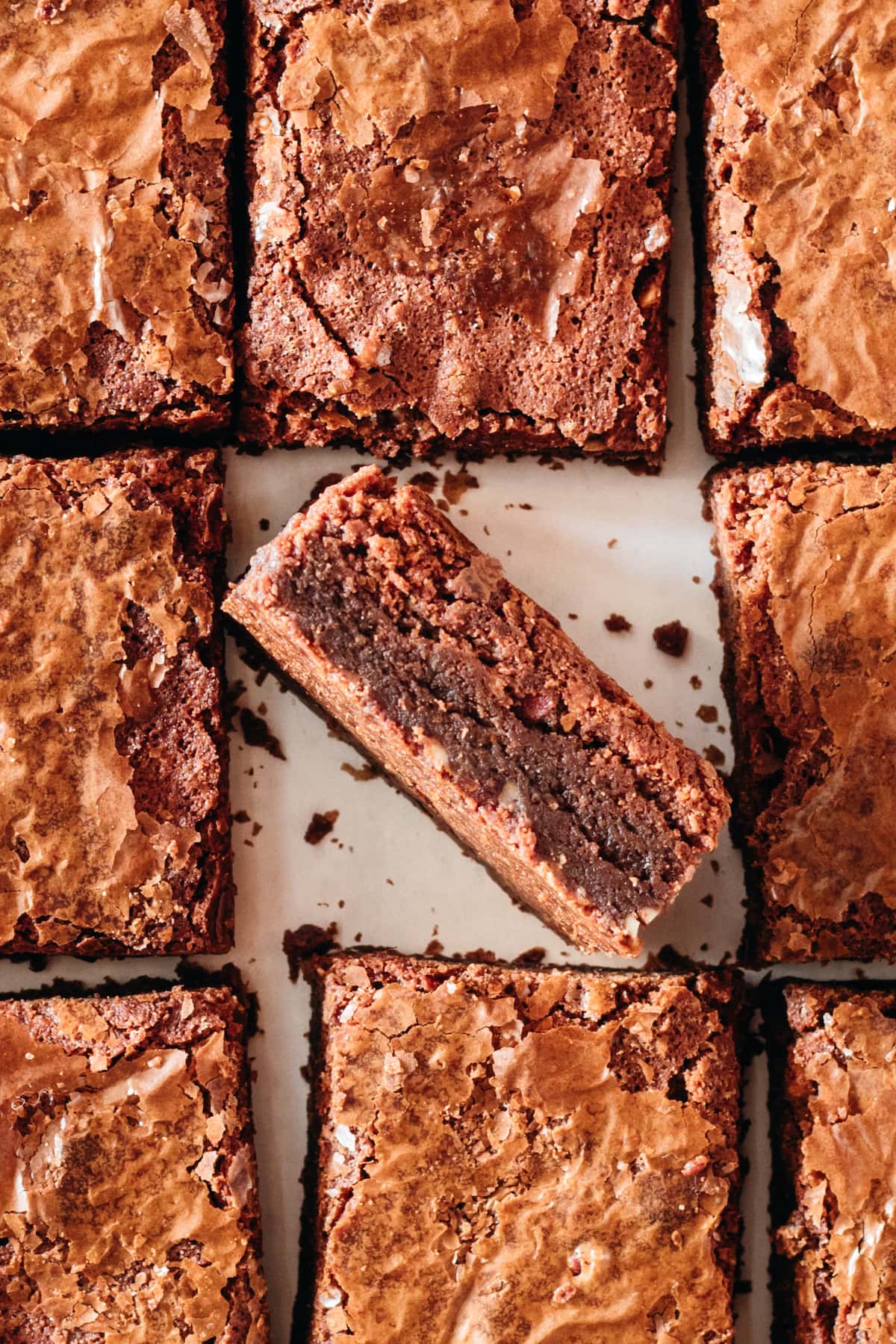 Cool Before Cutting
With a freshly baked pan of brownies sitting on your counter, patience may not be at the front of your mind. But cutting the brownies before they are completely cooled will likely lead to crumbly brownies.
Getting Clean Cuts
After allowing the brownies to cool completely, remove them from the pan. If you used parchment paper to line the pan, you can easily lift the brownies onto a cutting board. Use a smooth motion with sharp serrated knife to cut the brownies. Wiping the knife with a damp cloth or running it under warm water between cuts will help produce cleaner cuts.
For even cleaner cuts, place the pan in your refrigerator or freezer after they've cooled. After about 30 minutes in the fridge or 15 minutes in the freezer, they'll slice like a dream.
I often use a pizza rocker to cut brownies, as it makes long, clean cuts. I've also read many times that a plastic knife works well for cutting brownies. I don't usually keep any plasticware, so I can't attest to this. If you have any tricks for getting great brownie slices, please share them in the comments below.
Brownie Recipes You'll Love
Now that we've covered these tips for baking brownies, I'm sure we're all craving some of that chocolate-y deliciousness! It's time to put these tips and tricks to work for you and make some brownies! These are some of my best and most popular brownie recipes that I think you'll love. And if you need even more inspiration, be sure to see all of my brownie recipes in the Recipe Index.
Happy baking!