If you love how a little extra salt can really elevate a dessert, then be sure to add these sweet and salty dessert recipes to your to-bake list!
I absolutely adore sweet and salty desserts. There's just something about a little extra salt that really takes some sweet treats over the top. I've amassed quite a collection of these treats here on BoB, and these are some of the best and most popular sweet and salty recipes I've ever shared.

Many of these recipes include coarse salt or sea salt in the ingredients. These are large flake salts that not only add a visual appeal to baked goods but they also add little pockets of saltiness and often a bit of crunch. Look for these salts alongside the other salts in your supermarket.
Sweet and Salty Dessert Recipes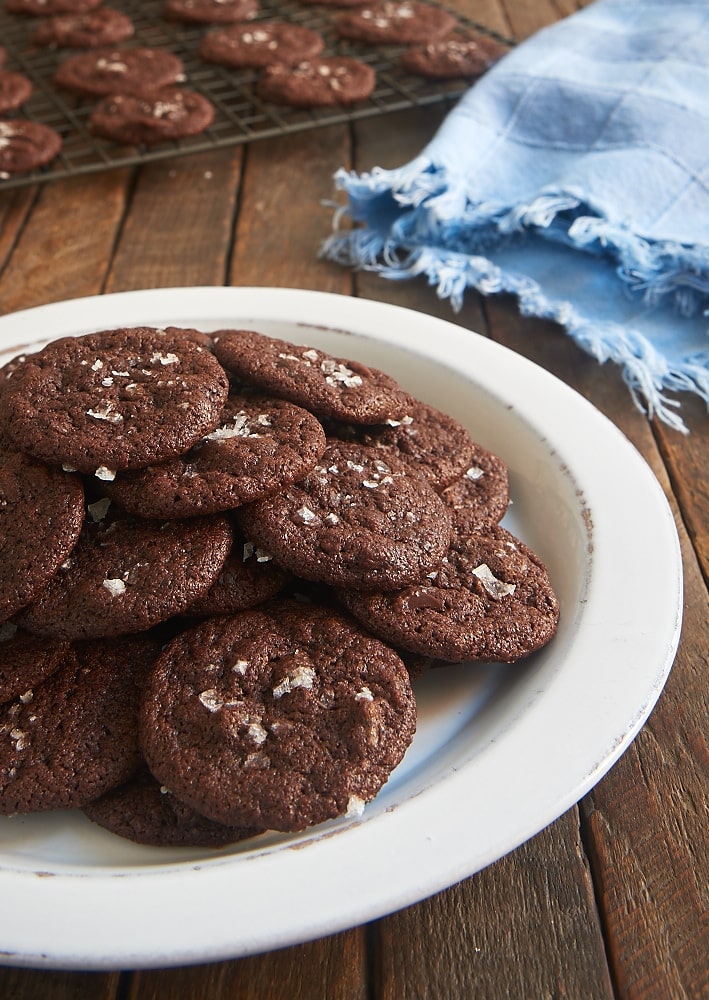 Perhaps my favorite sweet and salty ingredient is chocolate, and that may not be any better showcased than in these Salted Double Chocolate Cookies. These little cookies pack a big flavor punch with two kinds of chocolate plus a little salt on top.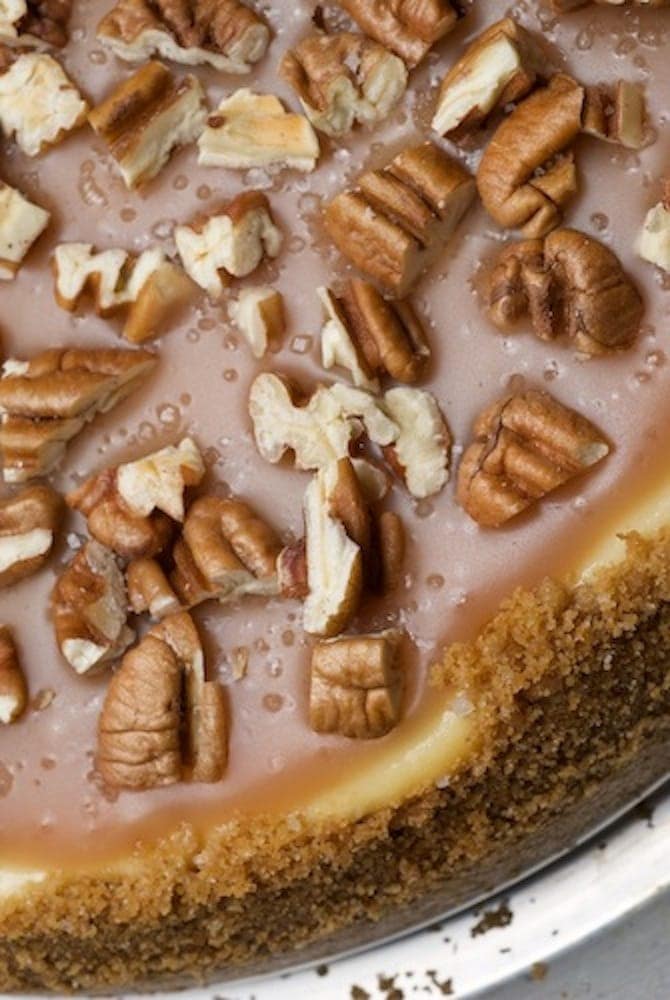 No sweet and salty dessert collection is complete without some salted caramel. I've been making this Pecan and Salted Caramel Cheesecake for years, and it's always a crowd-pleaser. That nutty, salted caramel topping really transforms traditional cheesecake into something spectacular!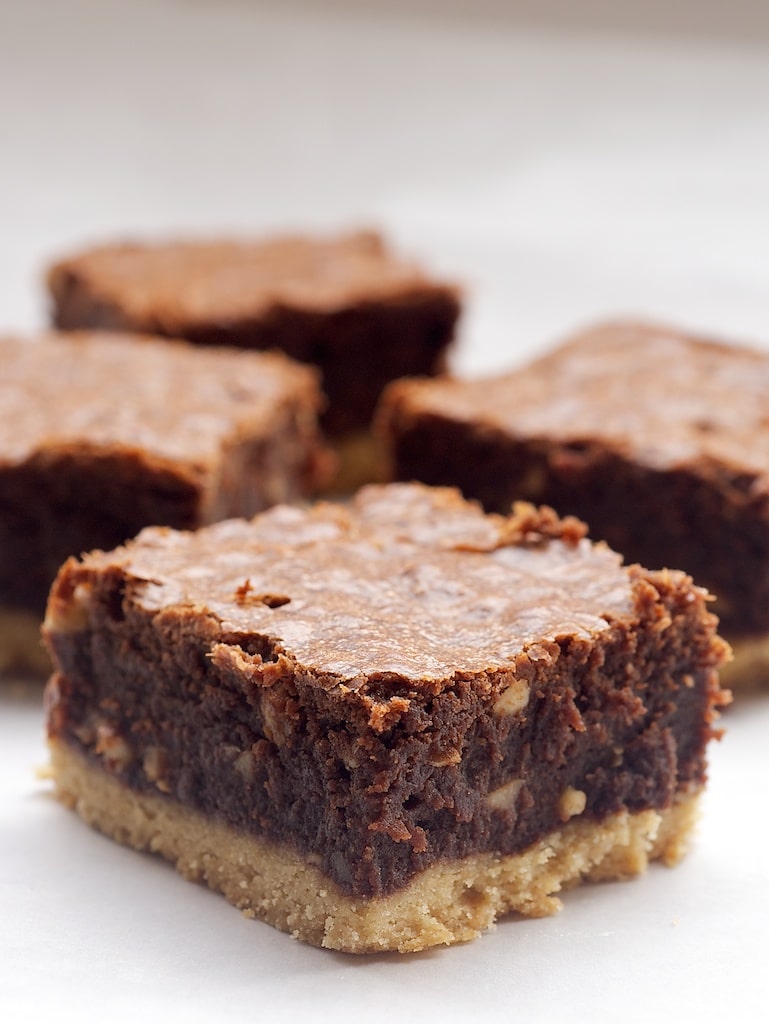 There's so much good stuff going on with these Nutella Salted Shortbread Brownies. The rich brownies are made with Nutella and hazelnuts, and the salty shortbread crust offsets some of that sweetness with its own amazing flavor.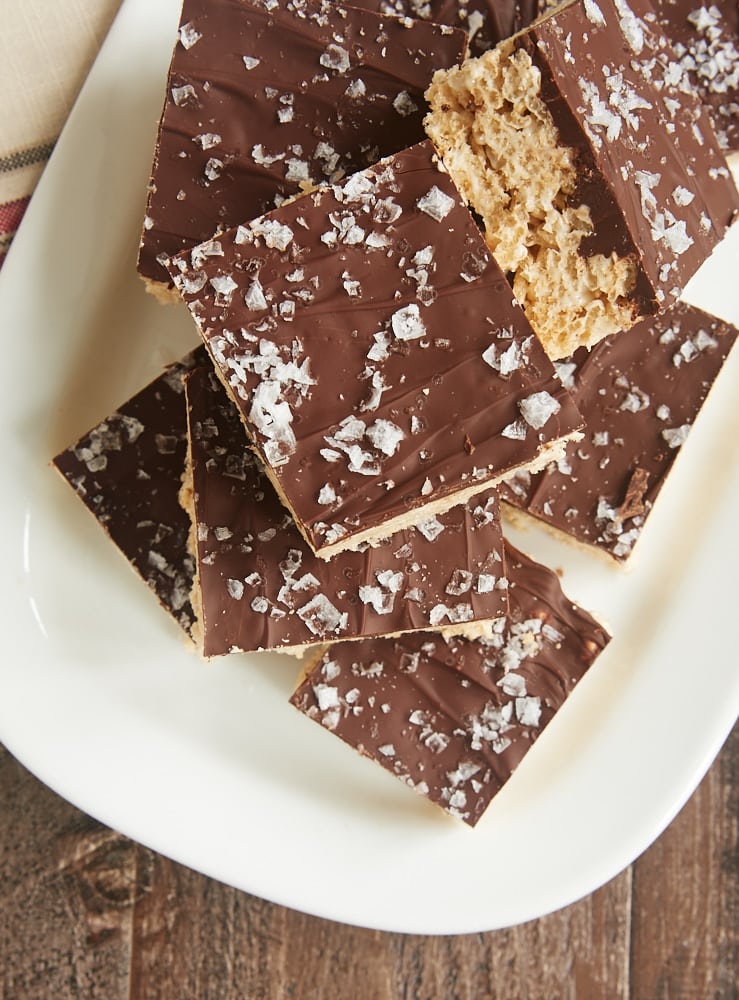 Salted Chocolate Brown Butter Crispy Treats are most definitely not the rice crispy treats you remember from your childhood. No, these beauties are made with brown butter and topped with chocolate and a sprinkling of coarse salt. And they're absolutely fantastic.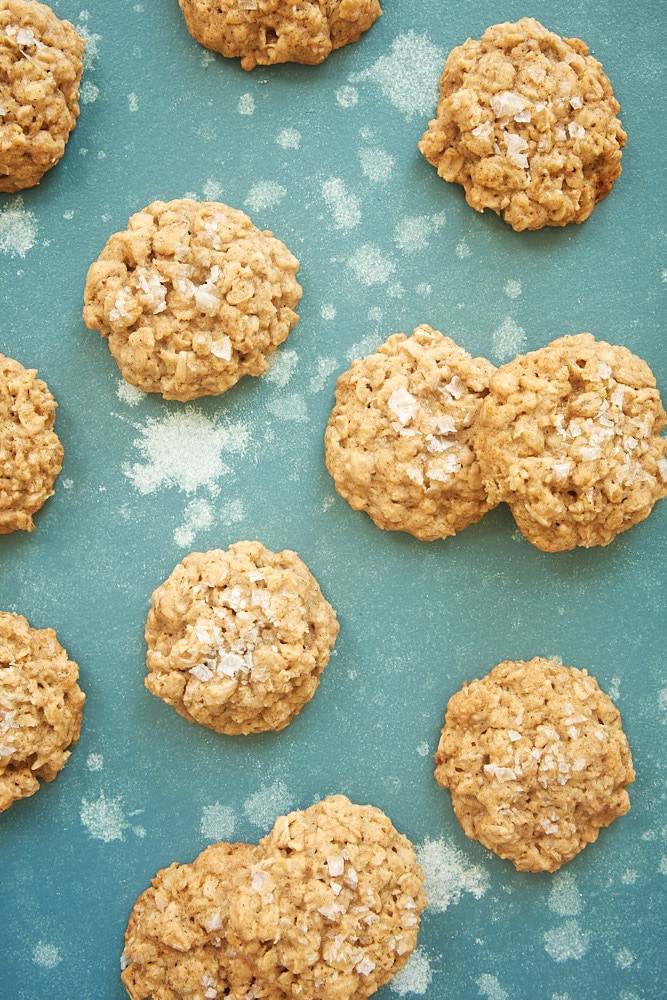 Salted Oatmeal Cookies are a sweet and salty twist on classic oatmeal cookies. You get that soft, chewy cookie you've always loved but with a salty bite that makes them something really special.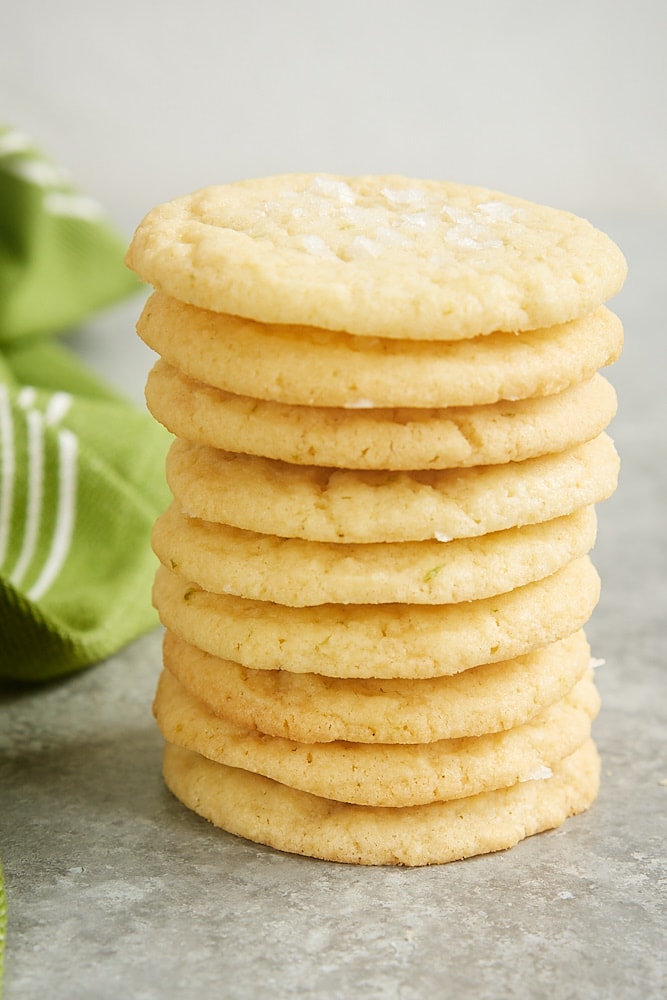 If you love margaritas, you'll adore these Sea Salt Lime Cookies. A little salt on top is the perfect complement to the zing of lime in these cookies.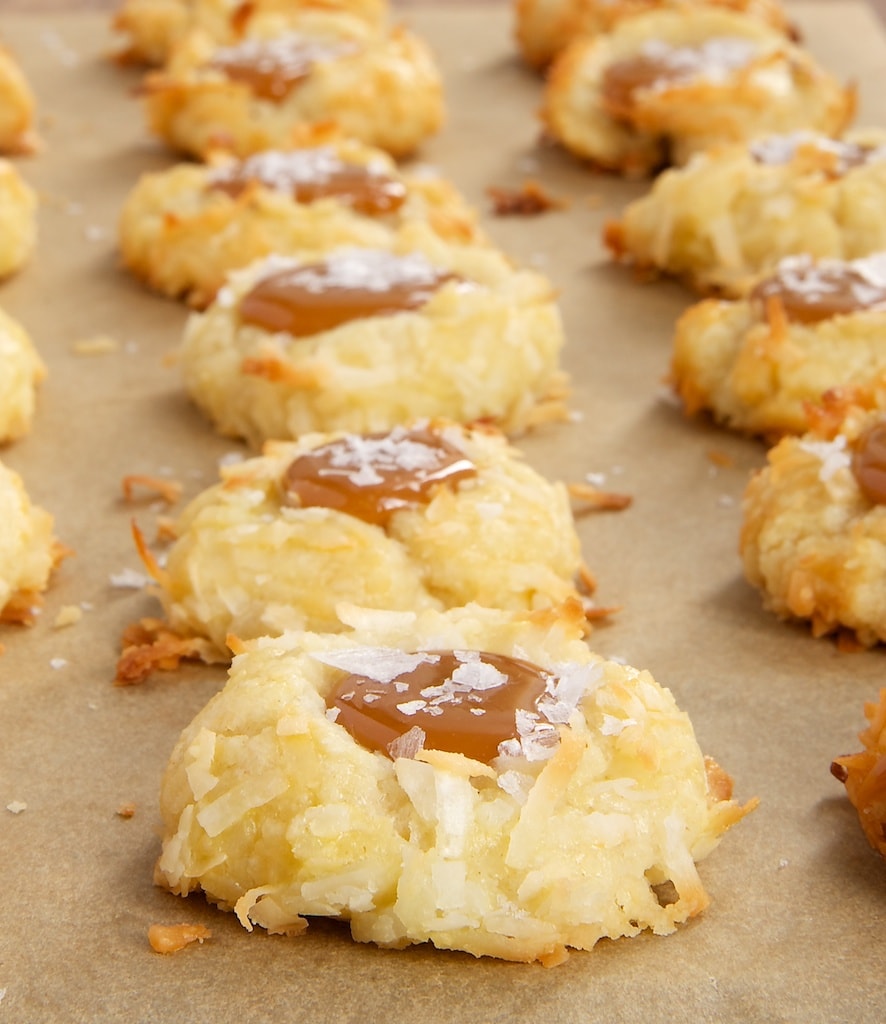 Coconut Salted Caramel Thumbprint Cookies combine toasted coconut and salty caramel with a simple cookie for a sweet treat that's eye-catching and wonderfully delicious. One of my all-time favorite cookies!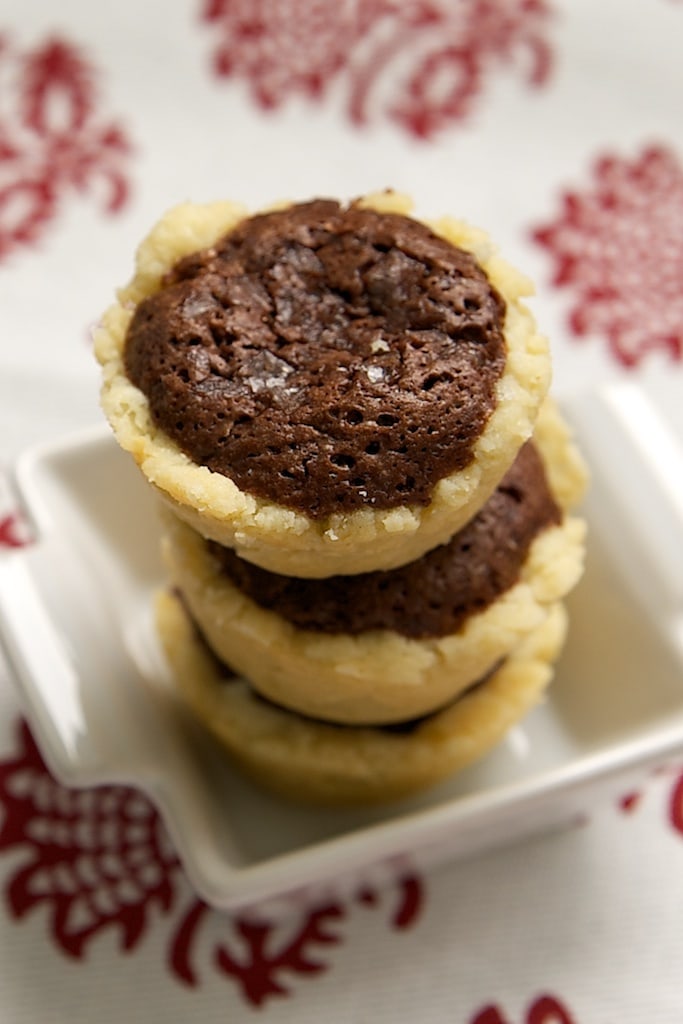 Salty Brownie Tassies combine pie and brownies for little bites of deliciousness! I love to make these for entertaining and for homemade gifts.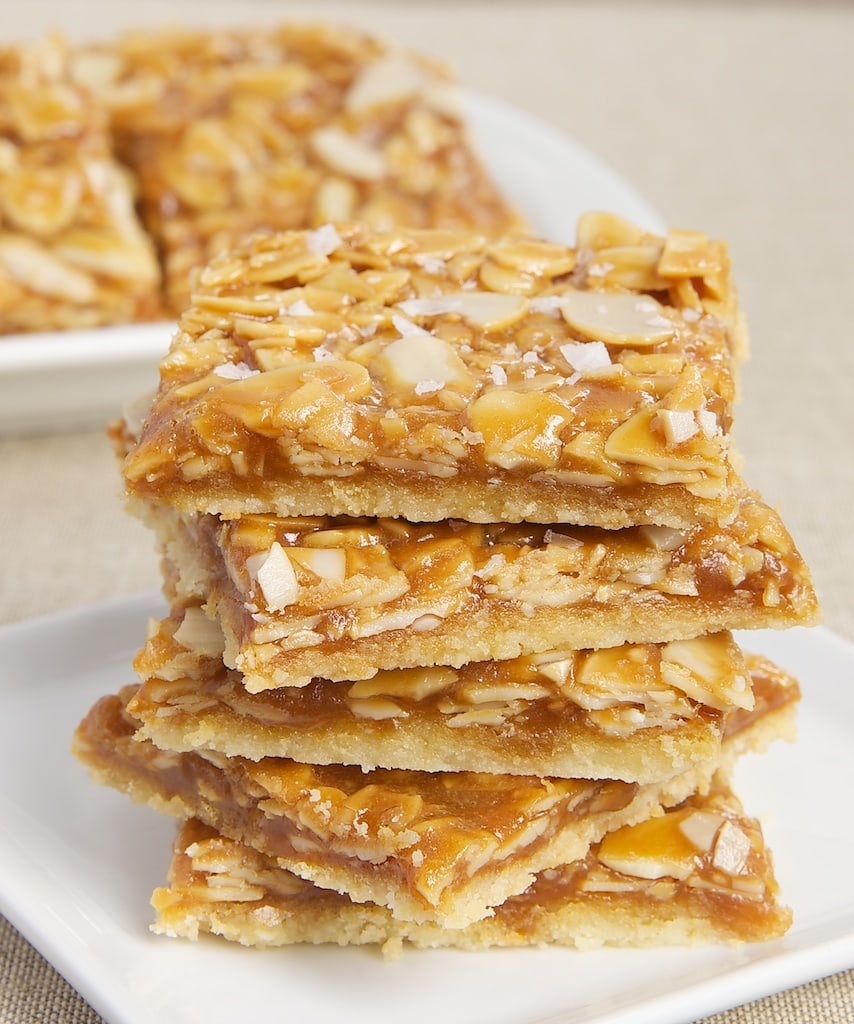 Salted Caramel Almond Bars start with a buttery crust, then a layer of caramel, some crunchy almonds, and a little salt on top. They're lovely little bars with wonderful flavor!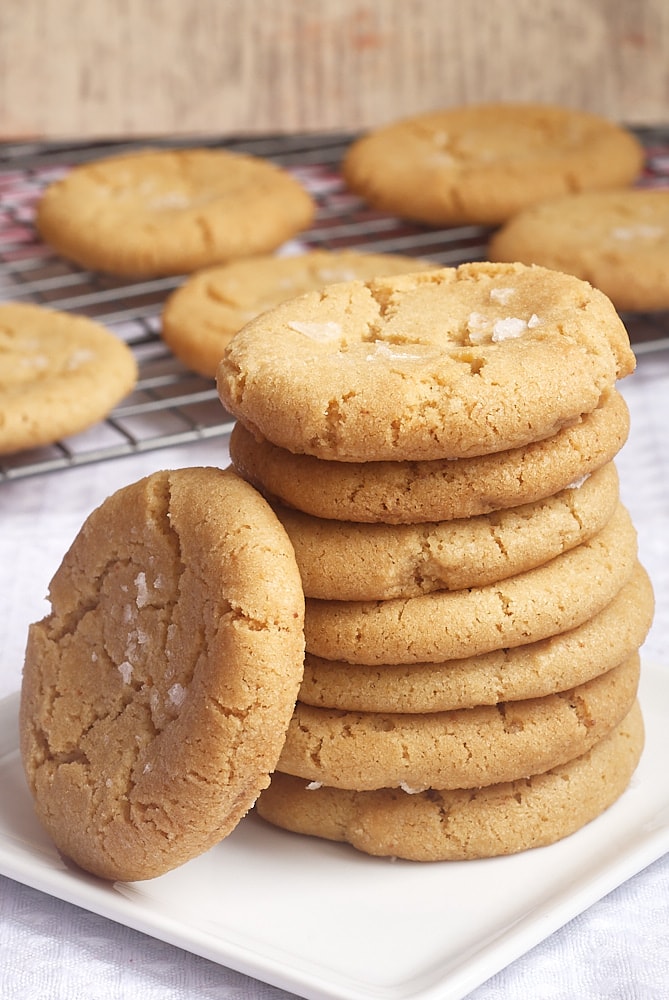 Brown Butter Salty Sugar Cookies were inspired by a store-bought cookie I encountered and promptly devoured. These cookies are an excellent example of making a lot out of basic ingredients. At any given time, you probably have everything you need to make a batch of these fantastic cookies.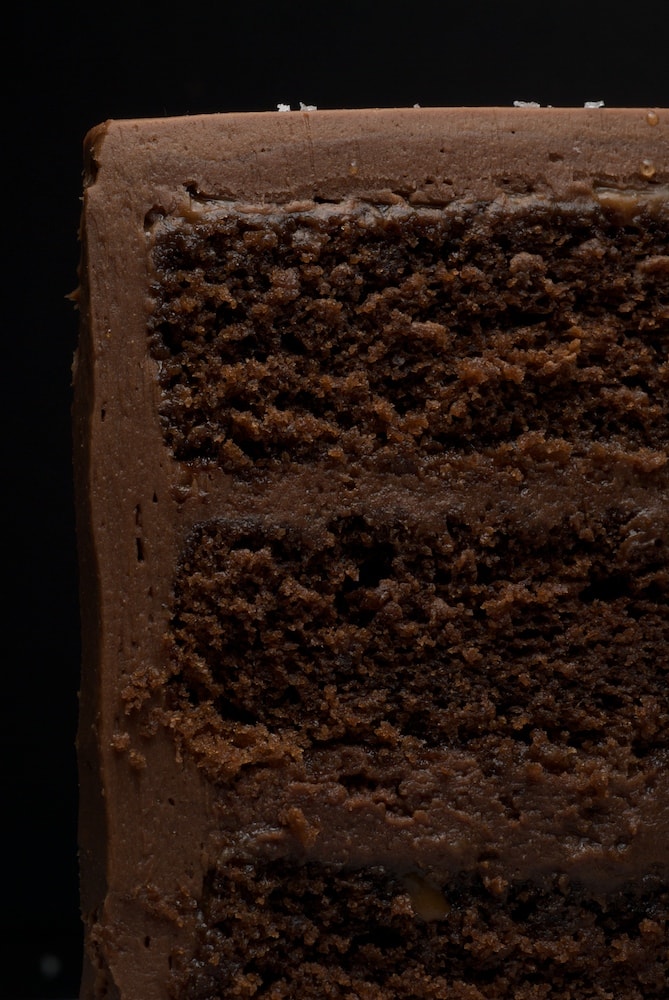 Sweet and Salty Cake is perhaps the grand dame of sweet and salty desserts. The chocolate cake layers are soaked in salted caramel and frosted with caramel chocolate ganache. Add a sprinkle of coarse salt on top to finish. It's so decadent and delicious!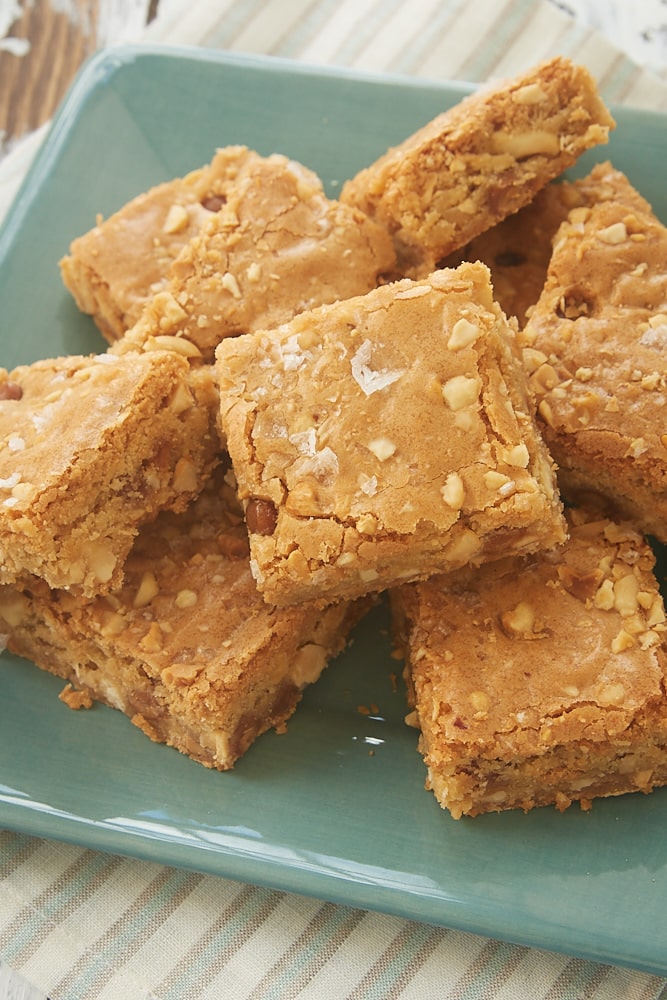 Taking a turn back to something quicker and easier than that gorgeous cake, Caramel Peanut Blondies are just the thing when you want a sweet and salty treat with little fuss. They're crunchy and gooey and just so tasty!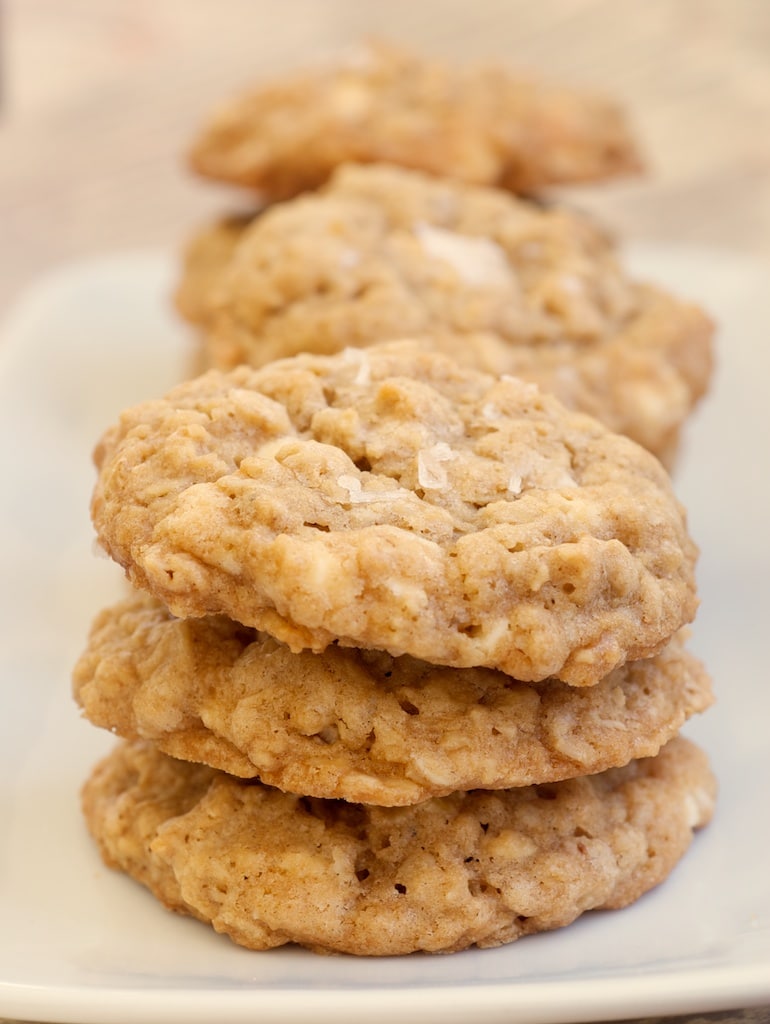 Salted Vanilla Chip Oatmeal Cookies are, at least for me, an unexpected place to find sweet and salty at work. Sure, I love a little salty bite with dark chocolate, but it's also a welcome addition to white chocolate. These cookies look so unassuming, but the flavor is wonderful.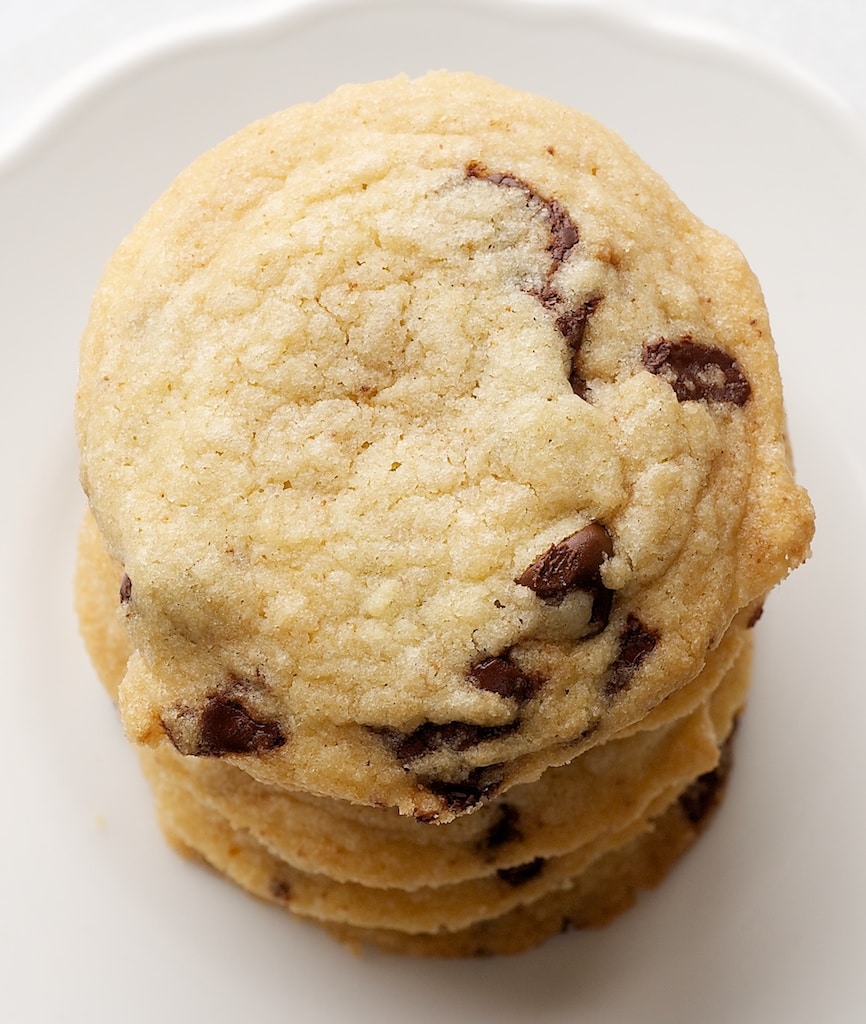 Of course, we need a chocolate chip cookie to round out this collection. While you could certainly add a sprinkling of salt to any chocolate chip cookie, taking the extra step to brown the butter is well worth it for these Brown Butter Salted Chocolate Chip Cookies.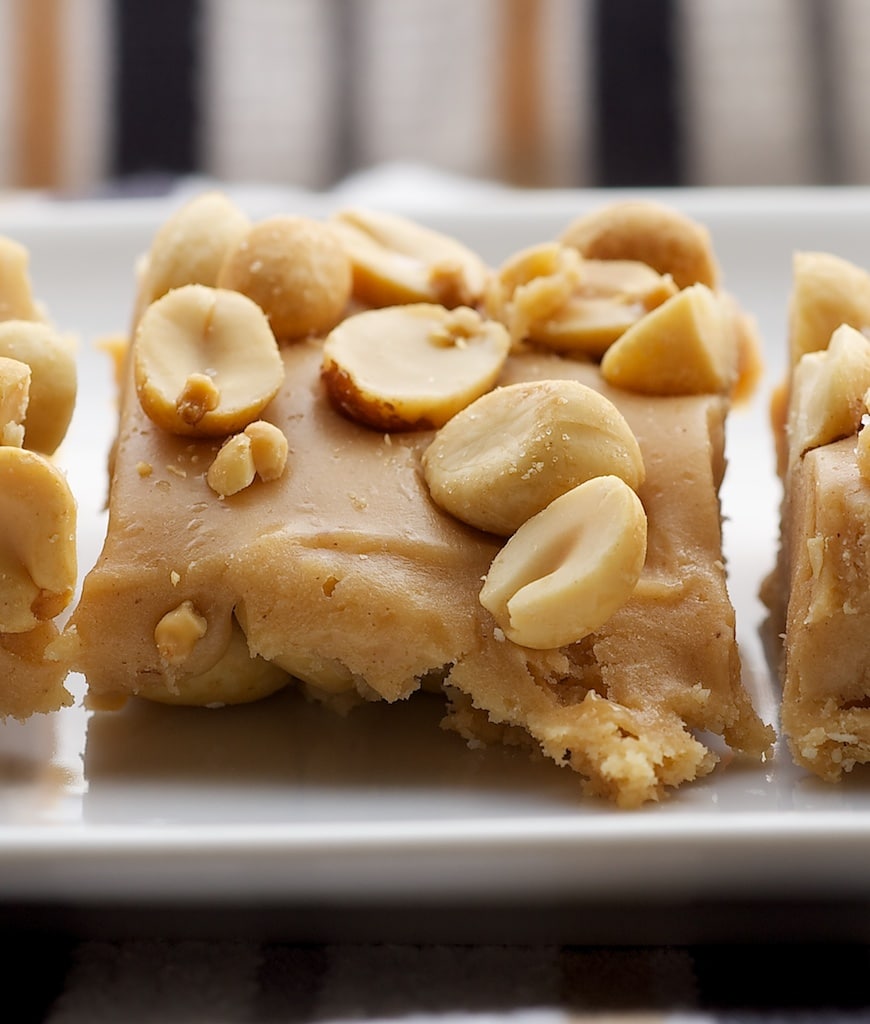 These no-bake Salted Nut Squares are a magical combination of just five ingredients and some stovetop time. They may remind you a bit of making rice crispy treats, but with lots of peanut flavor. And, of course, a salty topping!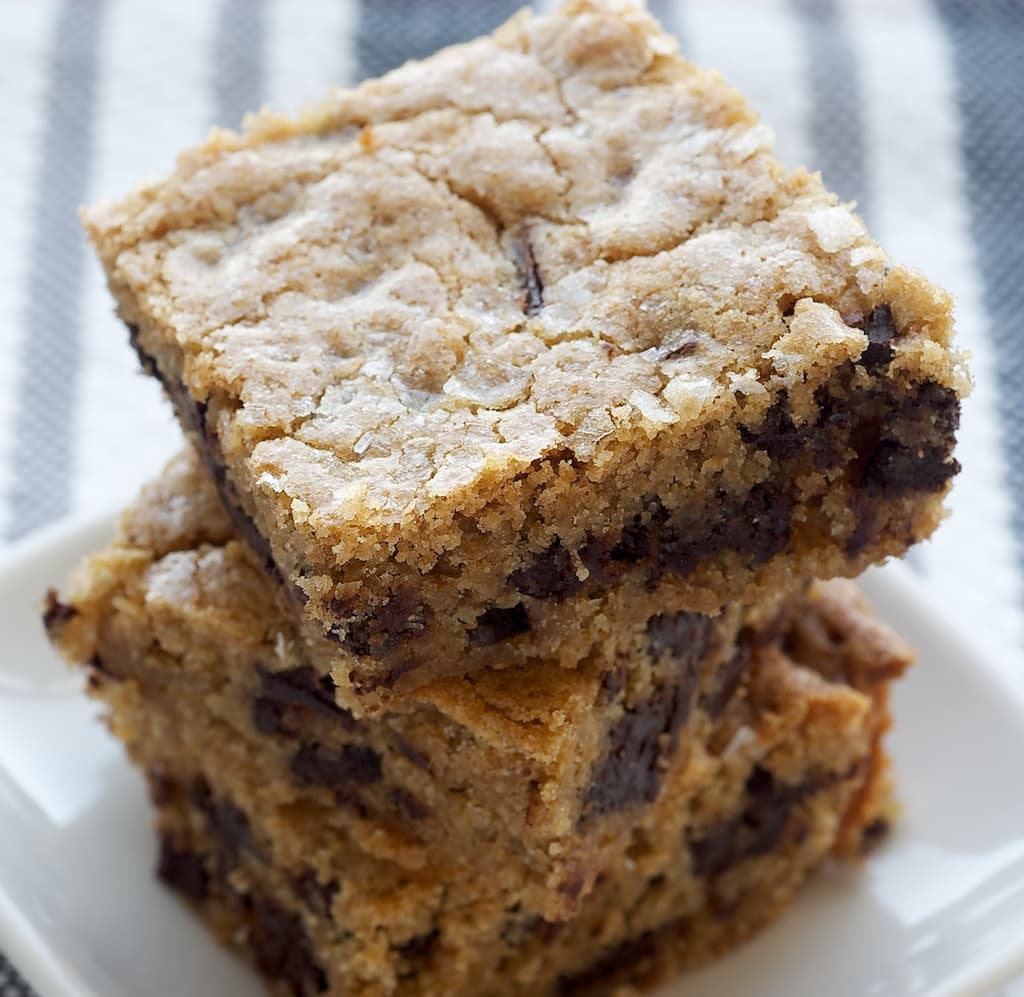 Salty Chocolate Chunk Blondies are quick and easy bars that are jam-packed with chunks of chocolate. I like to make these with whole wheat flour for a little different taste and texture. And that salt on top really makes them something special.
I hope these recipes have sufficiently awakened your sweet and salty cravings! If you want even more sweet and salty goodness, be sure to visit the Recipe Index.
Happy baking!