August 18, 2014
Caramel Nut Blondies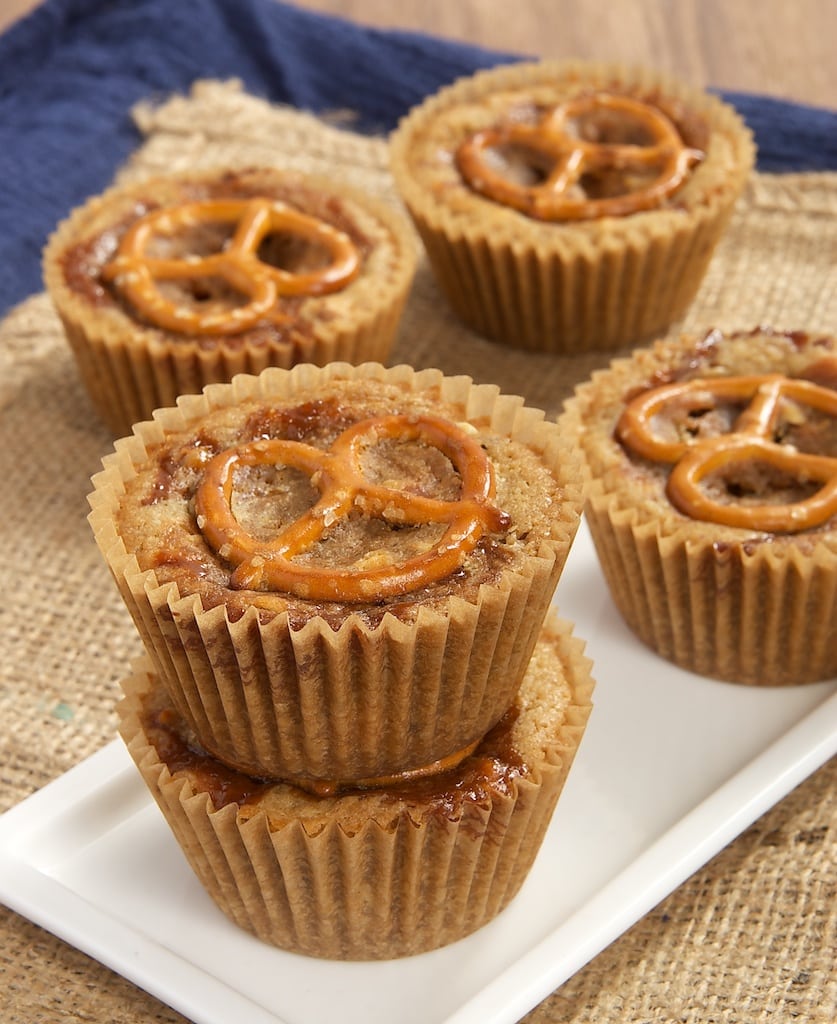 While it may be mid-August, my baking brain is already shifting toward fall. I find myself thinking about pears and apples and all of those warm, comforting desserts that I love.
And caramel! Lots of warm, gooey caramel. Please tell me I'm not alone!
As I've been trying to balance the fact that it's still summer with my longing for all things fall, I thought these blondies-slash-cupcakes would be the perfect transition. They have that small, portable, picnic-y feel to them that makes them a great summer choice. But, they also have plenty of nuts and a nice swirl of gooey caramel, which always makes me think of fall.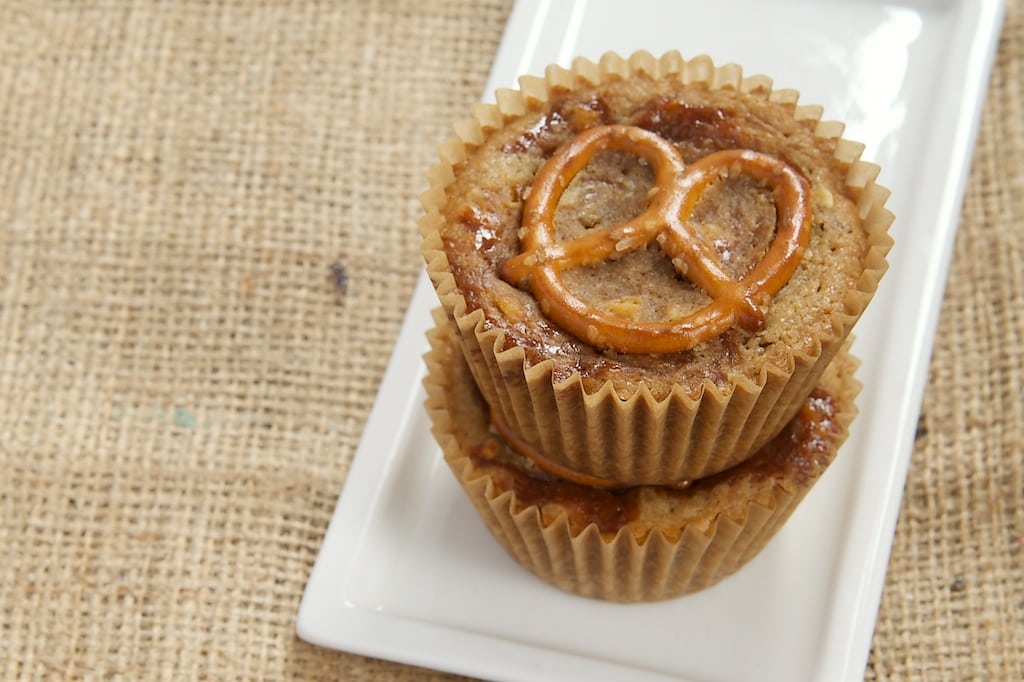 Another mark in the plus column for these blondies is their great sweet and salty flavor. We all know how much I love sweet and salty desserts, and these blondies are no exception. I incorporated salted nuts into the batter and then topped each blondie with a salty, crunchy pretzel. If you're feeling especially salty, you can even sprinkle a little coarse salt over the top of each one before you bake them.
These little guys are a great grab-and-go sweet snack. Baking them in muffin pans as opposed to in a rectangular pan gives the simplicity of single serving, no cutting involved dessert. Of course, if you prefer to make these in more traditional bar form, they will work just as well. Just follow the suggestions I made in the recipe for adapting them.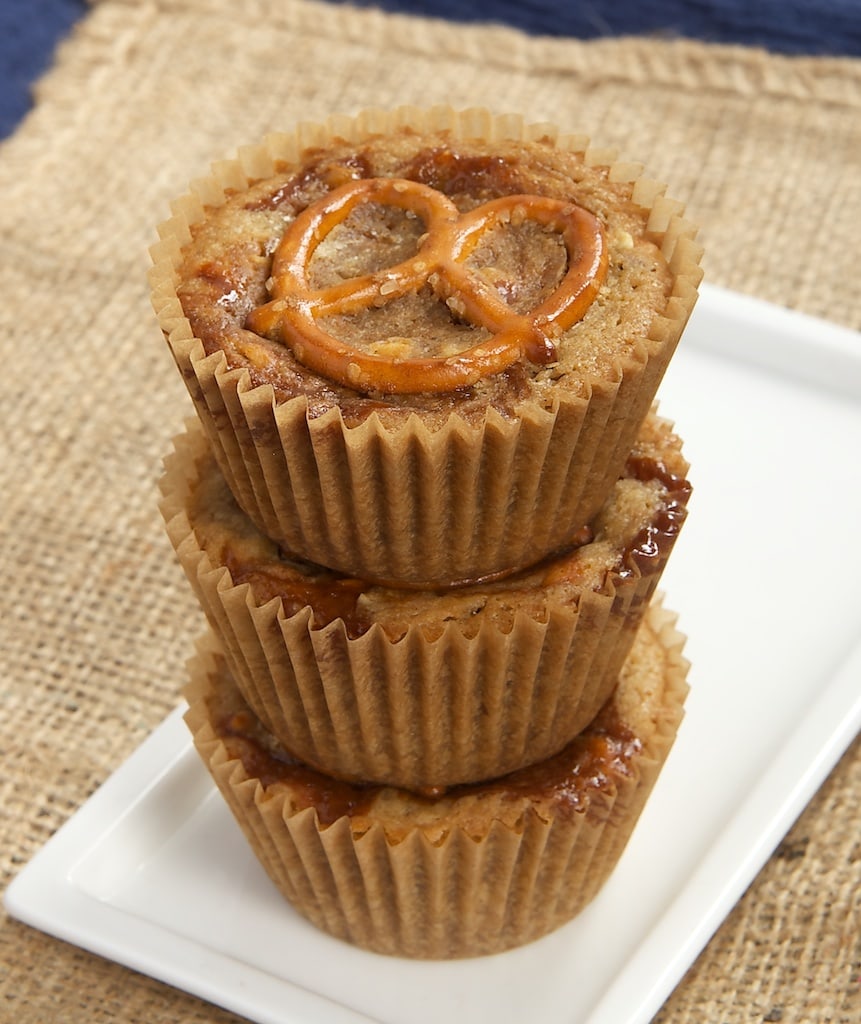 I just love the flavors in these blondies. And, they're so soft and chewy, too. If you're a fan of all things nutty, caramel-y, sweet, salty, and all-out delicious, then you're sure to love them, too!
Find more caramel recipes in the Recipe Index.
Caramel Nut Blondies
Yield: 18 blondies
Prep Time:20 minutes
Cook Time:25 minutes per pan
These sweet and salty blondies are packed with nuts, swirled with caramel, and topped off with a salty, crunchy pretzel for an irresistible sweet and salty treat.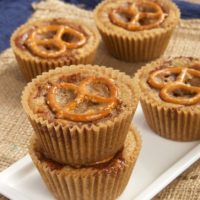 Ingredients:
2 cups all-purpose flour
1/2 teaspoon baking powder
1/2 teaspoon salt
2 cups packed light brown sugar
1 cup unsalted butter, melted
2 large eggs
1 teaspoon vanilla extract
1 & 1/2 cups chopped salted mixed nuts
about 5 tablespoons store-bought thick caramel sauce or dulce de leche
18 mini pretzels*
Directions:
Preheat oven to 350°F. Line 18 standard-sized muffin cups with paper liners.**
Whisk together the flour, baking powder, and salt. Set aside.
Stir together the brown sugar and butter until combined. Stir in the eggs and vanilla, mixing until well-blended.
Stir in the flour mixture, mixing just until combined. Stir in the nuts.
Transfer the batter to the prepared pans, filling each cup with about 3 tablespoons of batter. Place about 1 teaspoon of caramel on top of each. Use a thin knife to swirl the caramel into the top third of the batter. Place a pretzel on top of each.
Bake 20 to 25 minutes, or until the blondies are browned and a pick inserted into the center comes out with a few moist crumbs.
Cool in pans for 5 minutes. Then, remove the blondies to a wire rack to continue cooling.
Notes:
*I used Rold Gold Tiny Twists, and they were the perfect size.
**These can also be made in a 9″x 13″x 2″ pan. Just dollop the caramel over the top and swirl as directed above. Then, place the pretzels over the surface of the batter so that there will be one on top of each cut bar.