Coconut Cashew Toffee Cookies combine some really great flavors in a thick, chewy cookie that's anything but ordinary!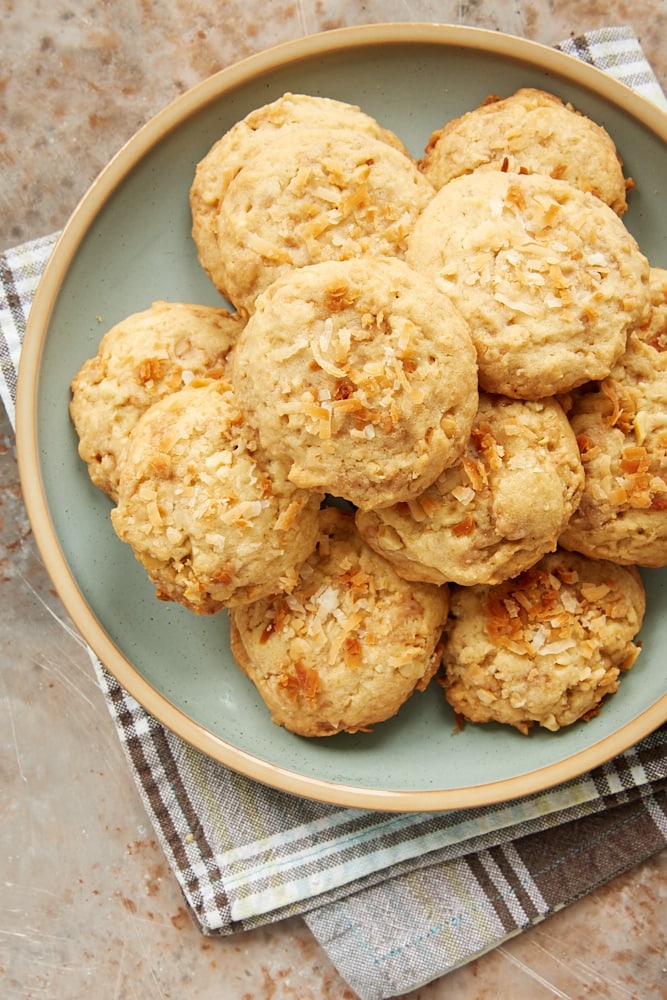 Coconut Cashew Toffee Cookies
I have a running list of recipe ideas that I've amended and edited over many years. It's a nice way to attempt to stay organized and a good spot to find some baking inspiration when I'm otherwise uninspired.
These Coconut Cashew Toffee Cookies came to be because of that list. I have no recollection of what inspired me to add them to that list, but I'm so glad I did!
These cookies feature an interesting flavor combination for those times you want something other than the traditional cookie flavors. With coconut, cashews, and toffee bits added to a vanilla cookie, there's no shortage of flavor plus some great crunch from all three add-ins.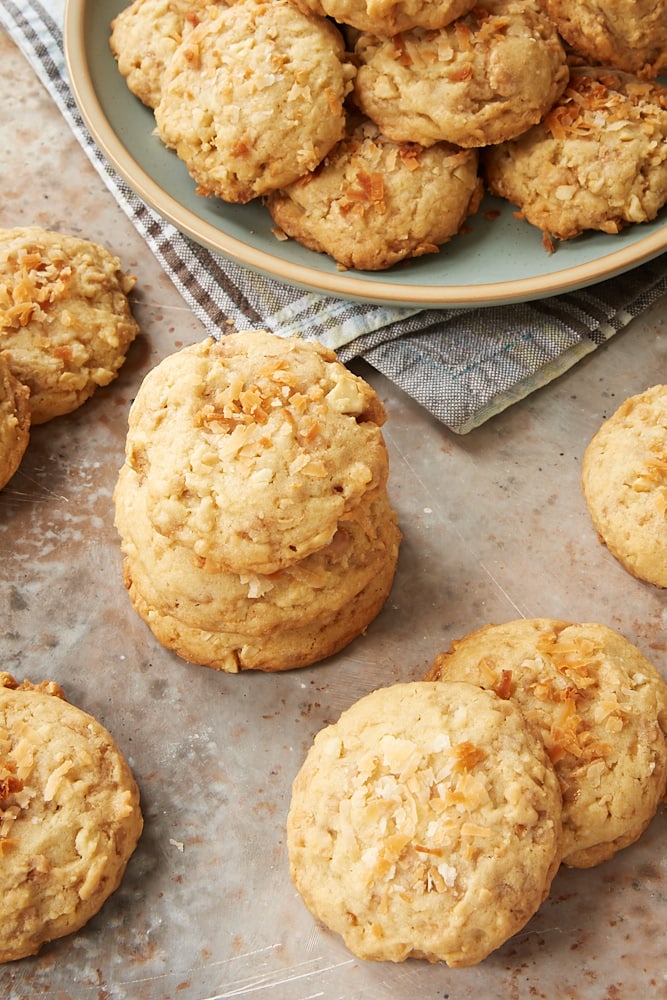 What You'll Need
All-purpose flour
Baking powder
Baking soda
Salt
Butter – Set out the butter about half an hour before baking so it can soften.
Brown sugar – For flavor and softness
Granulated sugar
Eggs
Vanilla extract – Try almond extract or coconut extract for a little different flavor.
Toffee bits – I prefer the plain toffee bits versus the chocolate-covered ones for these cookies. If you'd like a little chocolate mixed into these cookies, using the chocolate toffee bits is an easy way to do that.
Coconut – I use sweetened shredded coconut. If yours is unsweetened, your cookies will just be less sweet. Toasting the coconut gives it a richer flavor. (See How to Toast Coconut if you need some tips for toasting.) Toast a little extra or reserve some for topping the cookies if you like.
Cashews – These can be roasted or unroasted, whichever you prefer. If your cashews are salted, you may want to dial back the salt in the recipe.
How to Make Coconut Cashew Toffee Cookies
Prepare for baking. Heat the oven to 350°F. Line baking sheets with parchment paper or silicone liners.
Combine the dry ingredients. Whisk together the flour, baking powder, baking soda, and salt.
Mix the wet ingredients. Use a hand or stand mixer to beat the butter, brown sugar, and sugar until the mixture is light and fluffy. Add the eggs, one at a time. Then mix in the vanilla.
Add the dry ingredients to the wet ingredients. With the mixer on low speed, gradually add the flour mixture to the butter mixture. Mix just until combined or a few streaks of flour remain.
Add the toffee, coconut, and cashews. Stir in the add-ins with a few turns of a mixing spoon. Don't over-mix the dough.
Portion the dough. I use a #30 scoop to portion the dough. (A cookie scoop is a cookie baker's best friend!) Place the cookies about 2 inches apart on the baking sheets. Flatten each cookie slightly. If you like, sprinkle a little more toasted coconut on top of each cookie.
Bake. These cookies will need 14 to 16 minutes to bake. The edges should be browned. Let them cool on the pan on a wire rack for 5 minutes. Then transfer them from the pan to a wire rack to cool completely.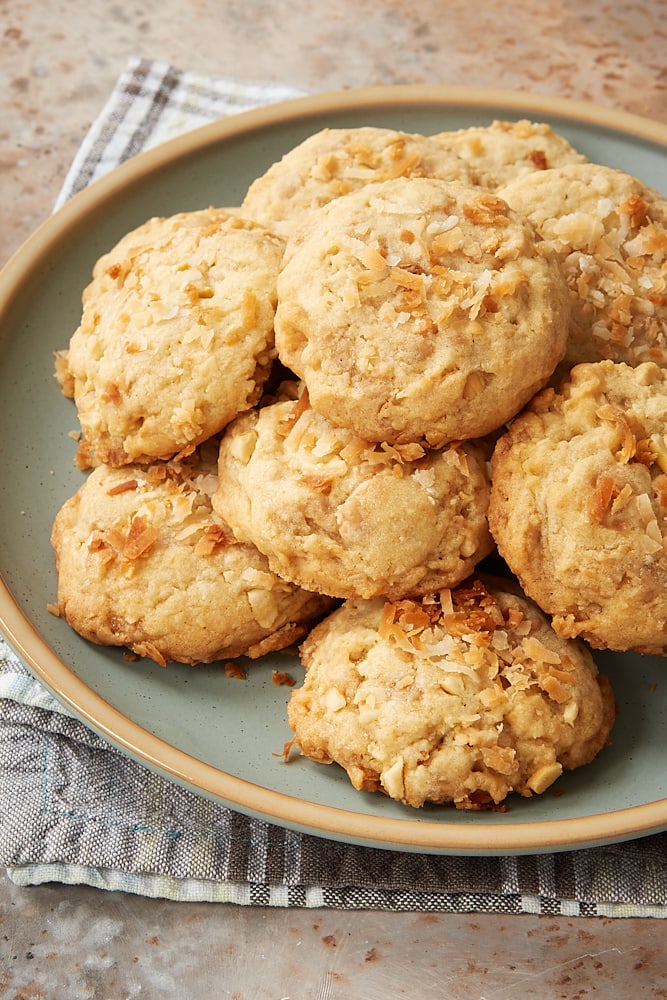 Tips for Success
These Coconut Cashew Toffee Cookies are an easy baking project for bakers of all skill levels. I've got a few tips to help make your cookies the best they can be!
Measure accurately. As you probably know, there's a fine line between this sort of texture and dry, crumbly cookies. Be sure you measure your ingredients correctly for the best results. Measuring by weight is the most accurate, but the spoon and sweep method will work, too.
Toast the coconut. That little bit of extra time is well worth it for the flavor it adds. And that's not to mention that toasted coconut is just so pretty! I like to toast a little extra for the tops of the cookies. That's completely optional, but it gives them a more interesting look. Plus more coconut is always good in my book!
Use a cookie scoop. Evenly portioned cookies will bake more evenly. And using a scoop will speed the portioning process.
How to Store Coconut Cashew Toffee Cookies
These cookies will keep in an airtight container for up to 3 days. For longer storage, you can freeze the cookies in a freezer-safe container or bag for up to 3 months.
You can also freeze the unbaked cookie dough. After portioning the dough, place the cookies on a baking sheet and place in the refrigerator until frozen. Then transfer the cookie dough to a freezer-safe container or bag. When you're ready to bake, there's no need to thaw before baking. You'll just need to add a couple more minutes to the baking time.
These Coconut Cashew Toffee Cookies are a great choice for those times you want something just a little different in the cookie baking world. The flavor combination is wonderful, and the crunch of those add-ins is a really great addition to a thick, chewy cookie. I hope you'll give them a try!
Find more cookie recipes in the Recipe Index.
More Cookie Recipes with Great Flavor Combinations