October 22, 2012
Salted Vanilla Chip Oatmeal Cookies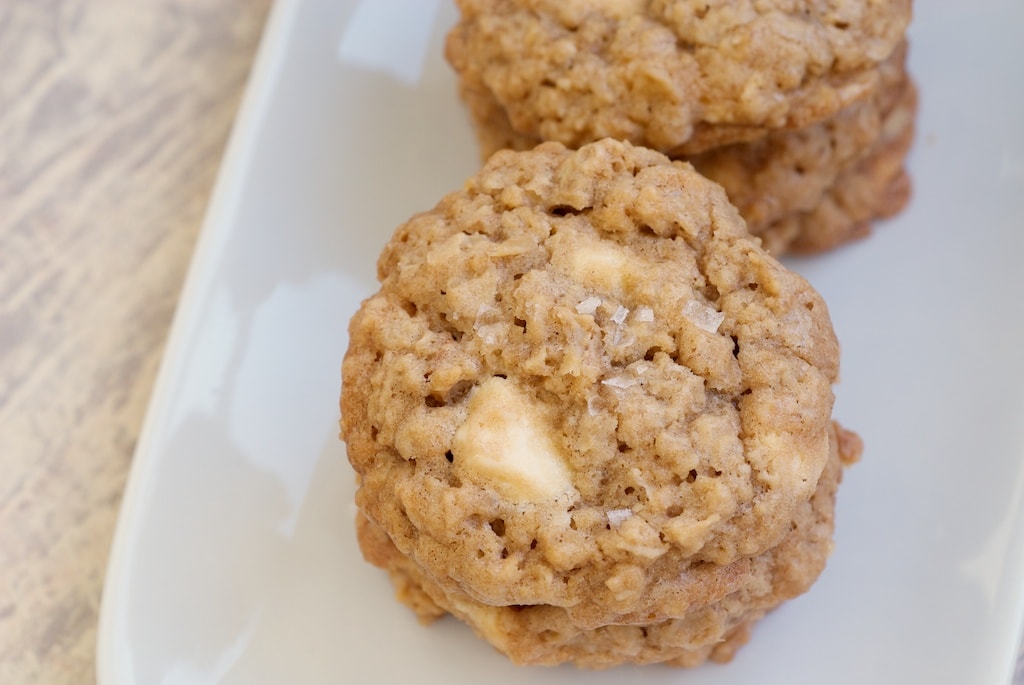 Recently, I was thrilled to receive a copy of Pure Vanilla by Shauna Sever. You may know Shauna from her blog, Piece of Cake, or from her first book, Marshmallow Madness.
This book is dedicated to all things vanilla. Despite the connotation that word has taken on over the years, vanilla is anything but boring. I immediately found several recipes I wanted to try, but I kept coming back to these cookies.

I am such a sucker for sweet-and-salty that I just couldn't resist. I know I just made some salty sugar cookies last week, but please indulge me in these as well.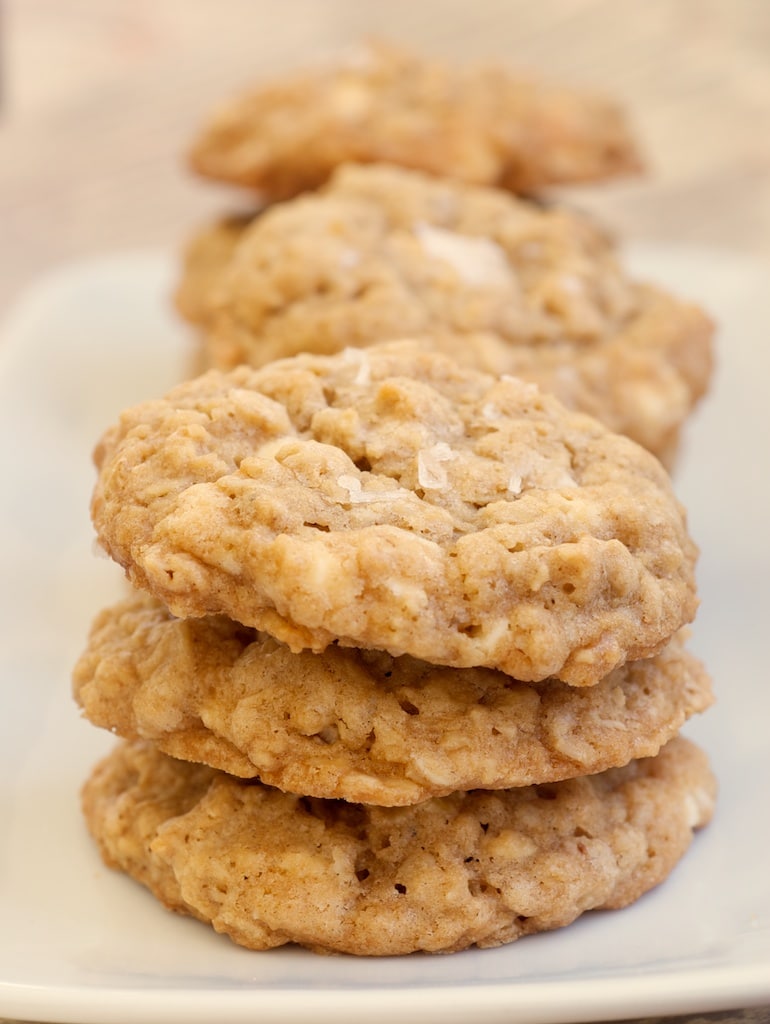 So, what we have here is an oatmeal cookie, which is always a winner with me. Add to that some good quality white chocolate. I used Lindt's Touch of Vanilla that the good people of Lindt sent me a couple of months ago when I made those Browned Butter Salted Chocolate Chip Cookies. Top all that off with a light sprinkling of coarse salt, and you get these amazingly delicious beauties.
I did make a couple of changes to Shauna's recipe. First of all, I made my cookies a bit smaller than she suggested. Also, she recommends making vanilla salt using a vanilla bean and a container of coarse salt. As that would take a few days, and I'm not known for my patience, I elected to go with unaltered salt for the tops.
Now, for something exciting for all of you! Quirk Books, the publisher of this cookbook, has graciously offered to send a copy of Pure Vanilla to a Bake or Break reader!
UPDATE: Giveaway has closed. Congratulations, Aimee!
A copy of Pure Vanilla was provided to me by Quirk Books, as is the copy for the giveaway. The white chocolate was provided by Lindt. All opinions are my own.
Salted Vanilla Chip Oatmeal Cookies
Yield: about 60 cookies
Prep Time:20 minutes
Cook Time:14 minutes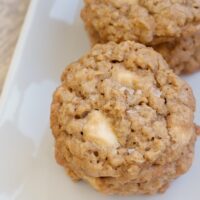 Ingredients:
3 cups old-fashioned rolled oats
1 & 1/2 cups all-purpose flour
1 teaspoon baking soda
3/4 teaspoon salt
3/4 cup (12 tbsp) unsalted butter, softened
1 tablespoon vanilla extract
2/3 cup packed dark brown sugar
2/3 cup granulated sugar
2 large eggs
8 ounces white chocolate, chopped
coarse salt, for sprinkling
Directions:
Preheat oven to 350°. Line baking sheets with parchment paper or silicone liners.
Whisk together oats, flour, baking soda, and salt. Set aside.
Using an electric mixer on medium speed, beat butter and vanilla until creamy. Add brown sugar and sugar, beating until fluffy. Add eggs, one at a time, mixing well after each addition.
Reduce mixer speed to low and gradually add oat mixture. Stir in white chocolate.
Scoop batter by tablespoonfuls onto prepared pans. Sprinkle each with coarse salt. Bake 12-14 minutes, or until edges are browned but centers are slightly soft.
Cool cookies on pans for a few minutes. Then, transfer to wire racks to cool completely.