February 18, 2009
Pecan and Salted Caramel Cheesecake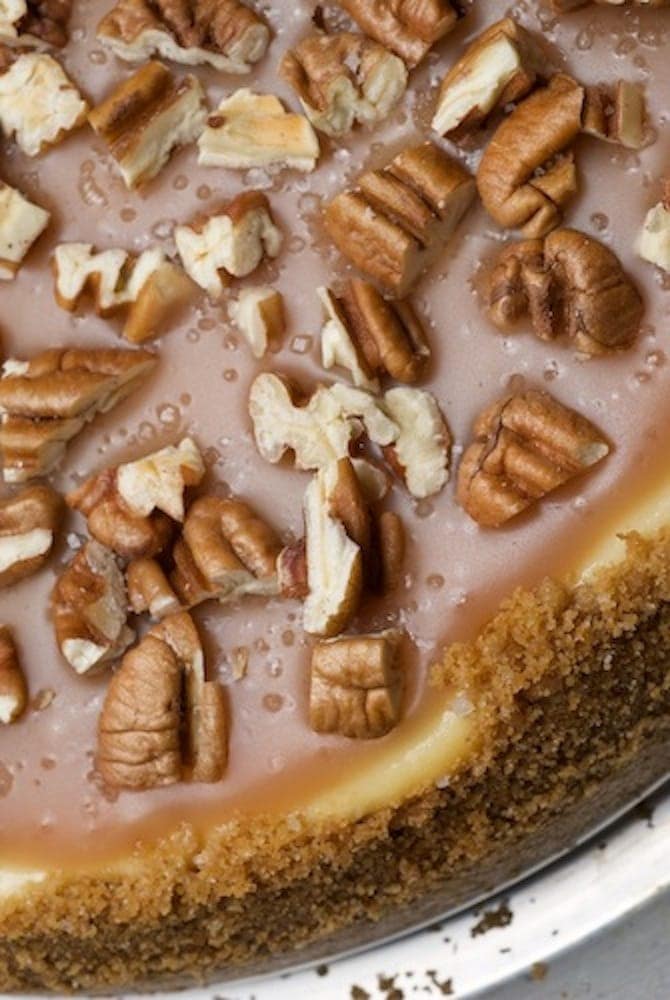 Recently, I read somewhere that 2008 was a big year for salted caramel. I don't think I'm in any position to agree or disagree with that, but I will say that I had a little love affair with it myself. (Hello, salted caramel hot chocolate!)
This cheesecake is a prime example of salted caramel at its finest. I actually found the recipe while looking for something else. Of course, once I found this I was immediately so smitten that whatever I was looking for was quickly forgotten.

I'm not a big fan of candy-making, and that includes making caramel. It's all too temperamental for me, and I'm much too temperamental for it. Luckily, I can usually talk Quinn into doing these kinds of things. So, he was responsible for that portion while I made the cheesecake.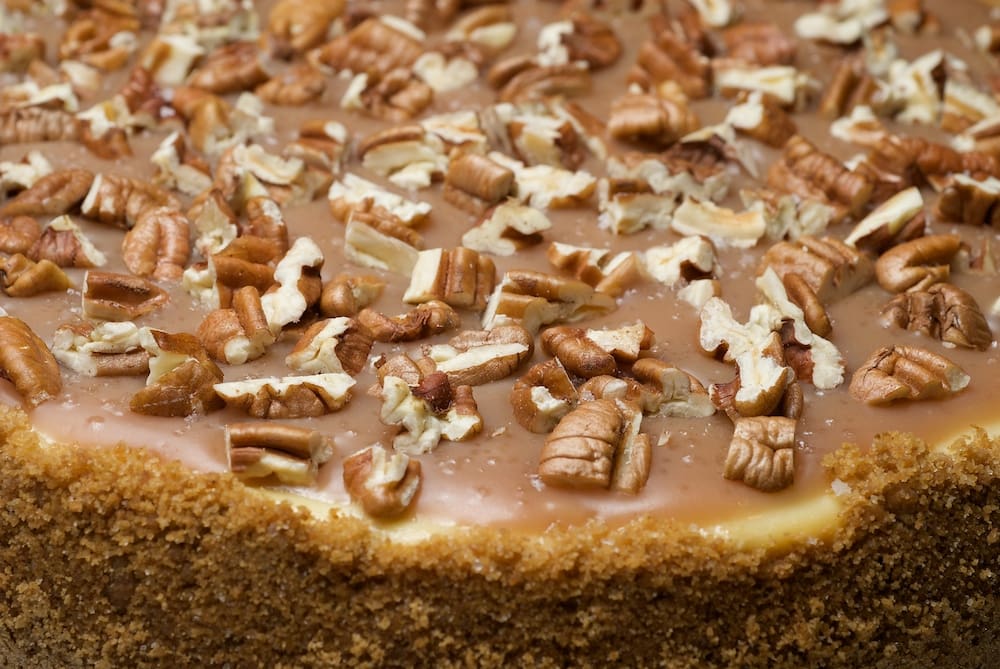 On its own, there is nothing exceptional about the cheesecake. The difference is the caramel. The salt portion is sprinkled on top, so you can use as little or as much as you like. Keep in mind whether or not the pecans are salted when adding the sea salt. I used unsalted, so I added a little extra salt for our tastes.
Pecan and Salted Caramel Cheesecake
Yield: 12 to 16 servings
Prep Time:45 minutes
Cook Time:45 minutes
Up the cheesecake ante with rich caramel, toasty pecans, and a sprinkling of salt.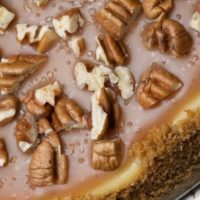 Ingredients:
For the crust:
1 & 1/4 cups graham cracker crumbs
4 tablespoons unsalted butter, melted
3 tablespoons granulated sugar
For the filling:
32 ounces cream cheese, at room temperature
1 cup granulated sugar
1 large egg yolk
3 large eggs
1 teaspoon vanilla extract
For the caramel:
1 cup granulated sugar
1 tablespoon water
4 tablespoons unsalted butter
1/2 cup heavy cream
1 cup coarsely chopped pecans
1 large pinch sea salt
Directions:
To make the crust:
Preheat the oven to 325°F. Butter the bottom and sides of a 9-inch springform pan.
Mix the graham cracker crumbs, butter, and sugar in a medium bowl until thoroughly combined. Press into the bottom of prepared pan. Set aside.
To make the filling:
Mix the cream cheese and sugar with an electric mixer at medium speed until light, airy, and smooth. Add the eggs, one at a time, mixing completely after each addition. Add the vanilla extract and mix until blended.
Pour the mixture into the prepared pan. Bake about 40 minutes or until a toothpick inserted into the cake comes out clean and the center of the cheesecake is just set. Turn off the oven, leave door slightly ajar, and let the cheesecake cool completely.
To make the caramel:
Stir together the sugar and 1 tablespoon water in a small saucepan. Bring to a boil over medium-high heat. Let boil until amber in color, about 3 minutes. Immediately stir in the butter. Remove from heat and stir in the cream. Set aside and let cool to room temperature.
Pour the caramel over the cooled cheesecake. Sprinkle with pecans and sea salt.
Recipe slightly adapted from Chow.