These oatmeal butterscotch cookies are chewy and buttery, with plenty of oats for a hearty texture and butterscotch chips for an old-fashioned flavor that's irresistible!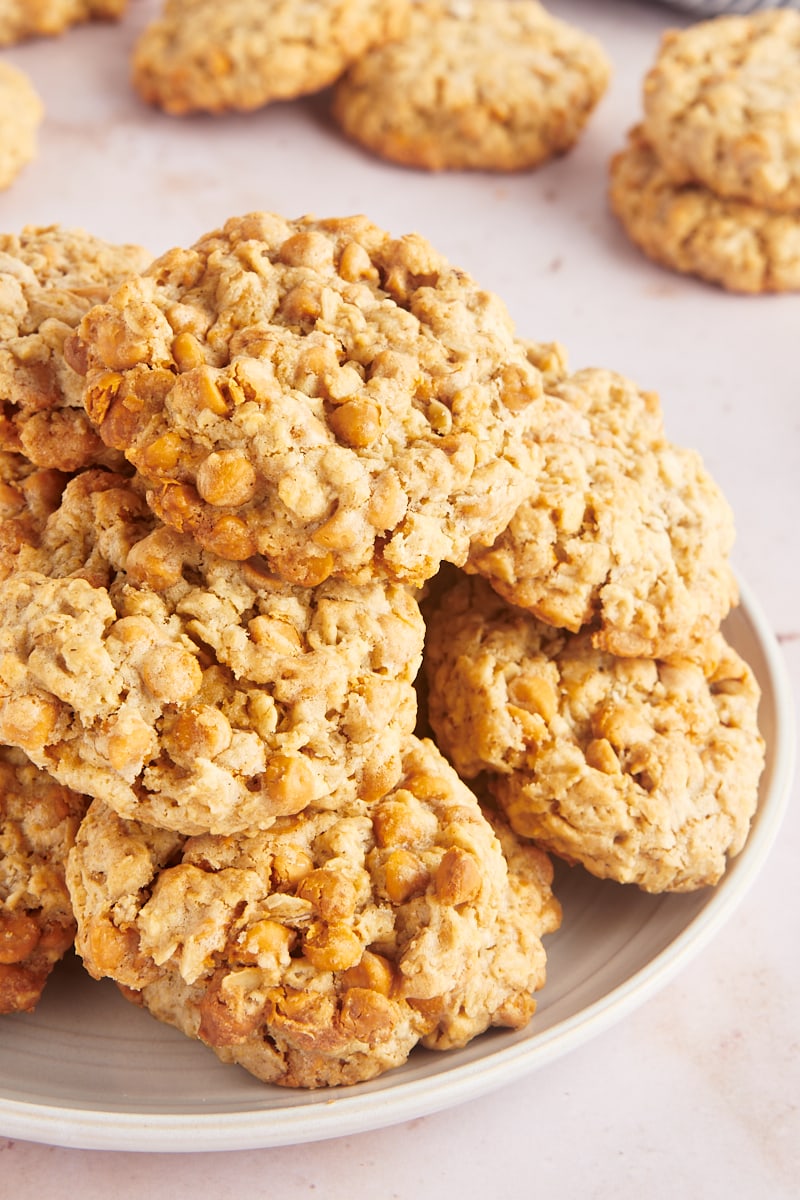 Chewy Butterscotch Oatmeal Cookies
While I love a creative or unique cookie recipe like Strawberry M&M Cookies and Gingerdoodle Cookies, sometimes nothing beats a classic. And these oatmeal butterscotch cookies are the perfect treat for when you're craving something simple yet scrumptious.
But don't be fooled by their simplicity—these cookies still have layers of flavor and texture. The chewy, buttery base is loaded with oats for heartiness, and the sweet butterscotch chips give these cookies a nostalgic touch, with notes of caramel and brown sugar.
And the best part? Butterscotch oatmeal cookies are ridiculously easy to make. Just a few simple ingredients and some quick mixing and you'll have a batch of warm, chewy cookies ready to devour!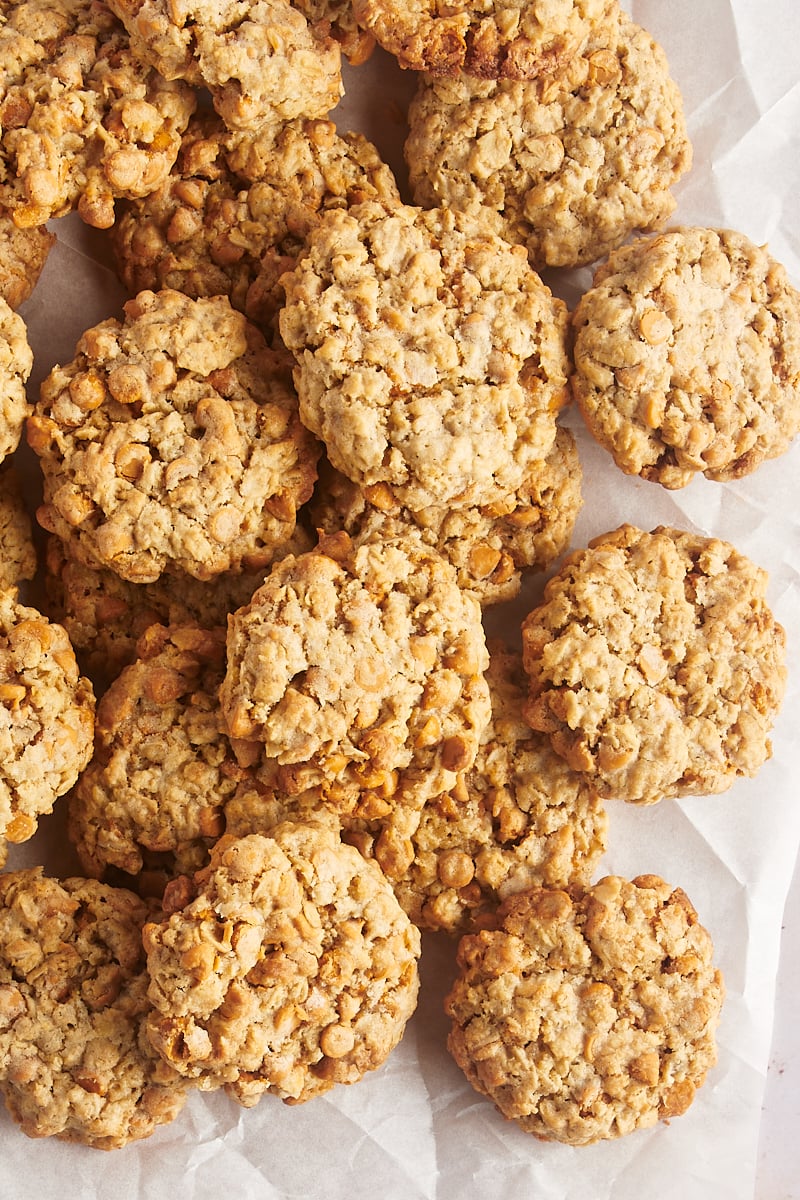 Why You'll Love This Oatmeal Butterscotch Cookie Recipe
Here's what makes these oatmeal butterscotch cookies a classic:
Old-fashioned butterscotch flavor. Somehow caramel has surpassed butterscotch in popularity, but the rich, buttery flavor of butterscotch is worth revisiting. These cookies taste like a throwback, but in the best kind of way—they're cozy and nostalgic!
Chewy texture. The combination of oats, brown sugar, and butter in this recipe creates a thick, soft, chewy cookie that's hard to resist.
Simple ingredients and easy method. You don't need any fancy or hard-to-find ingredients for this recipe, and the method to make these cookies is no harder than making Chewy Chocolate Chip Cookies. It's perfect for beginning bakers!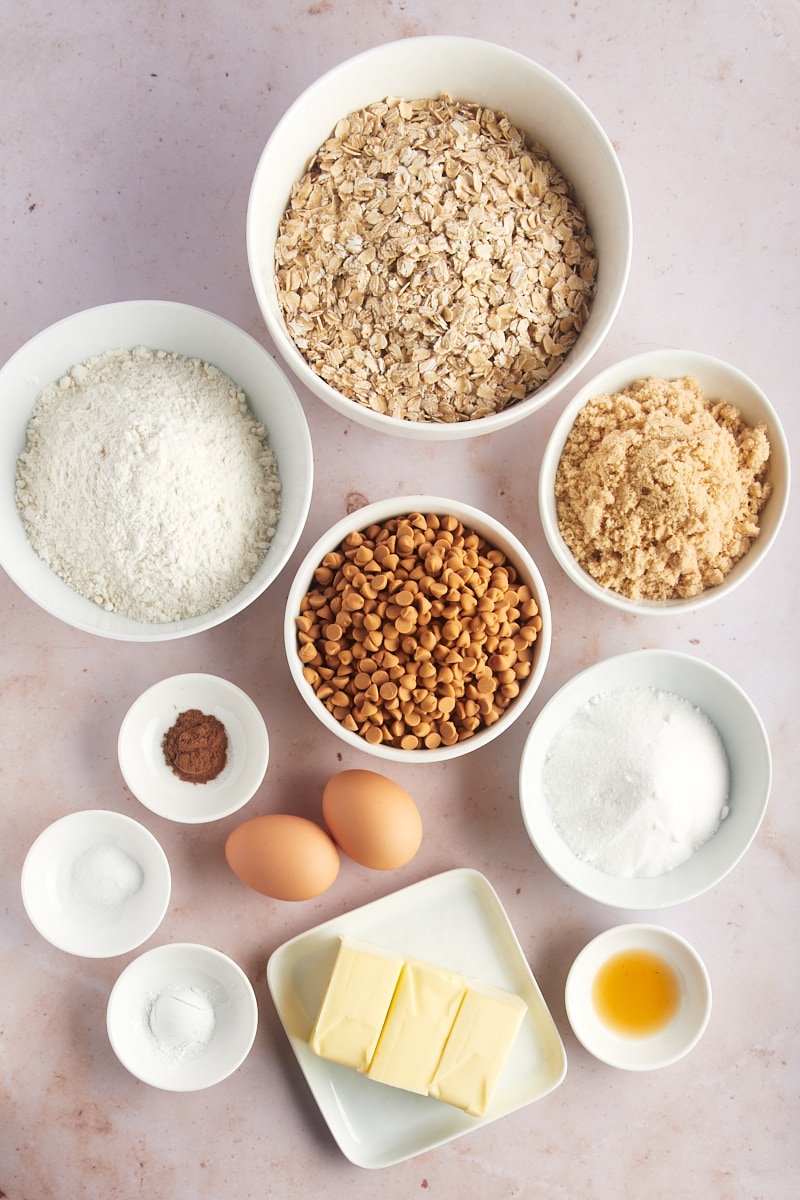 What You'll Need
Scroll down to the recipe card to find the ingredient quantities and recipe instructions.
What Is Butterscotch?
Butterscotch is made by heating butter and brown sugar until they combine into a smooth, creamy sauce. Unlike caramel, which is made with white sugar, butterscotch has a more caramelized and nutty flavor thanks to the brown sugar.
How to Make Oatmeal Butterscotch Cookies
This is a simple, straight-forward cookie recipe—and there's no chilling time required for the dough! Here's what you'll need to do.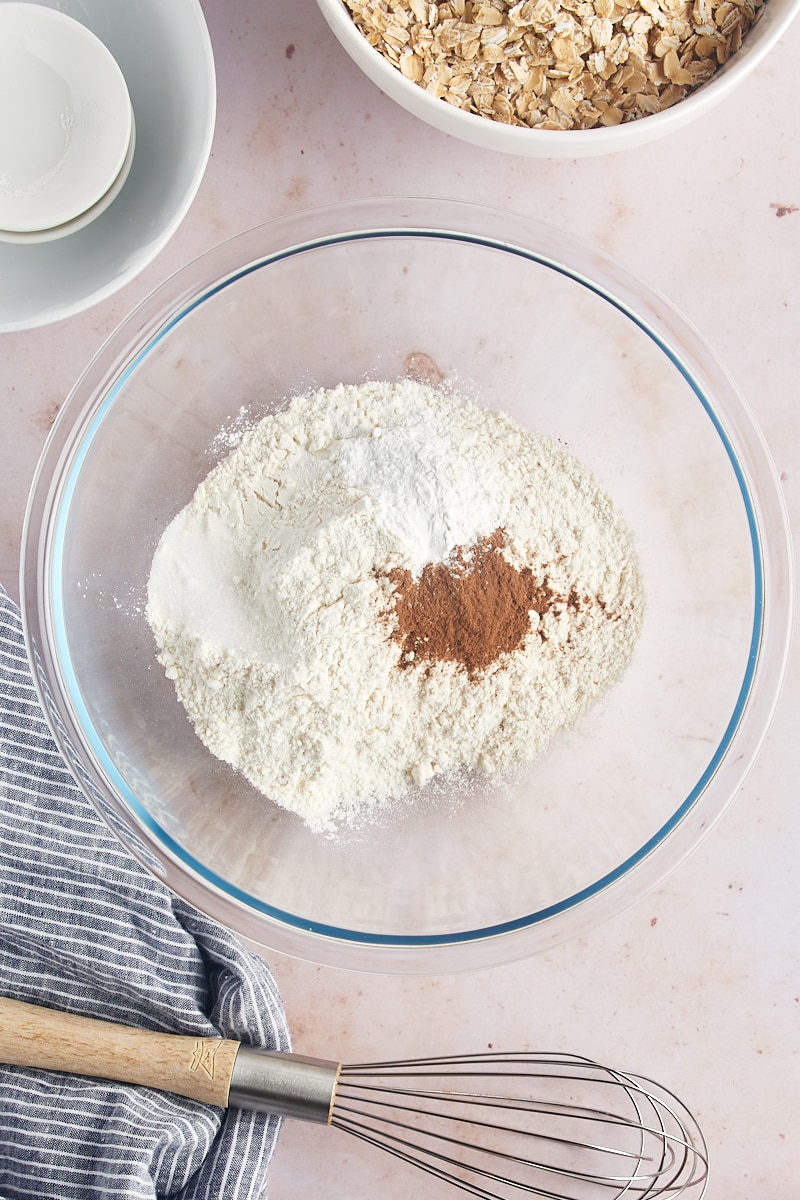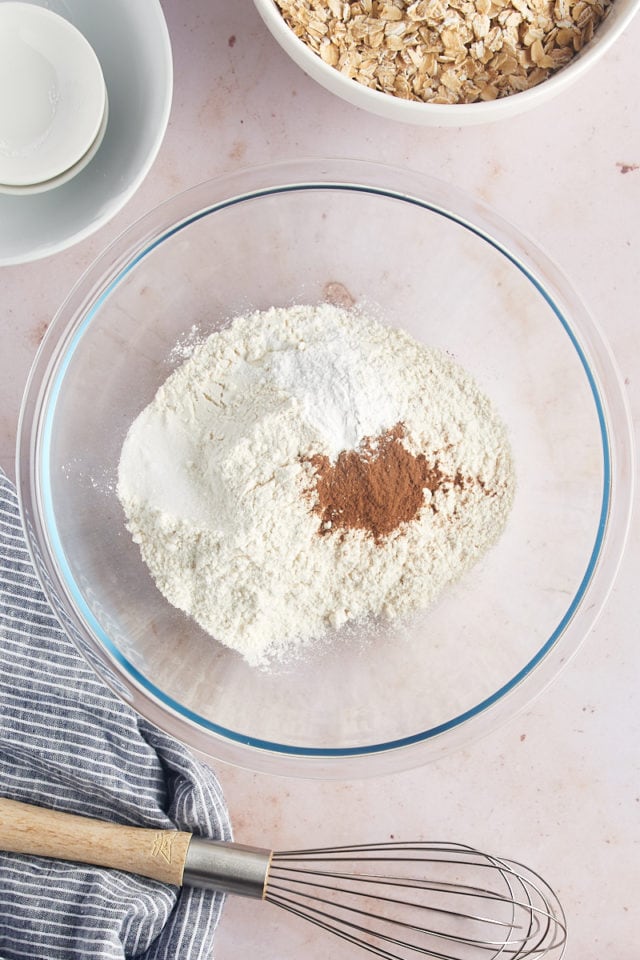 Prepare. Preheat your oven to 350°F and line baking sheets with parchment paper or silicone liners.
Mix the dry ingredients. Whisk the flour, baking powder, cinnamon, and salt in a mixing bowl, then stir in the oats.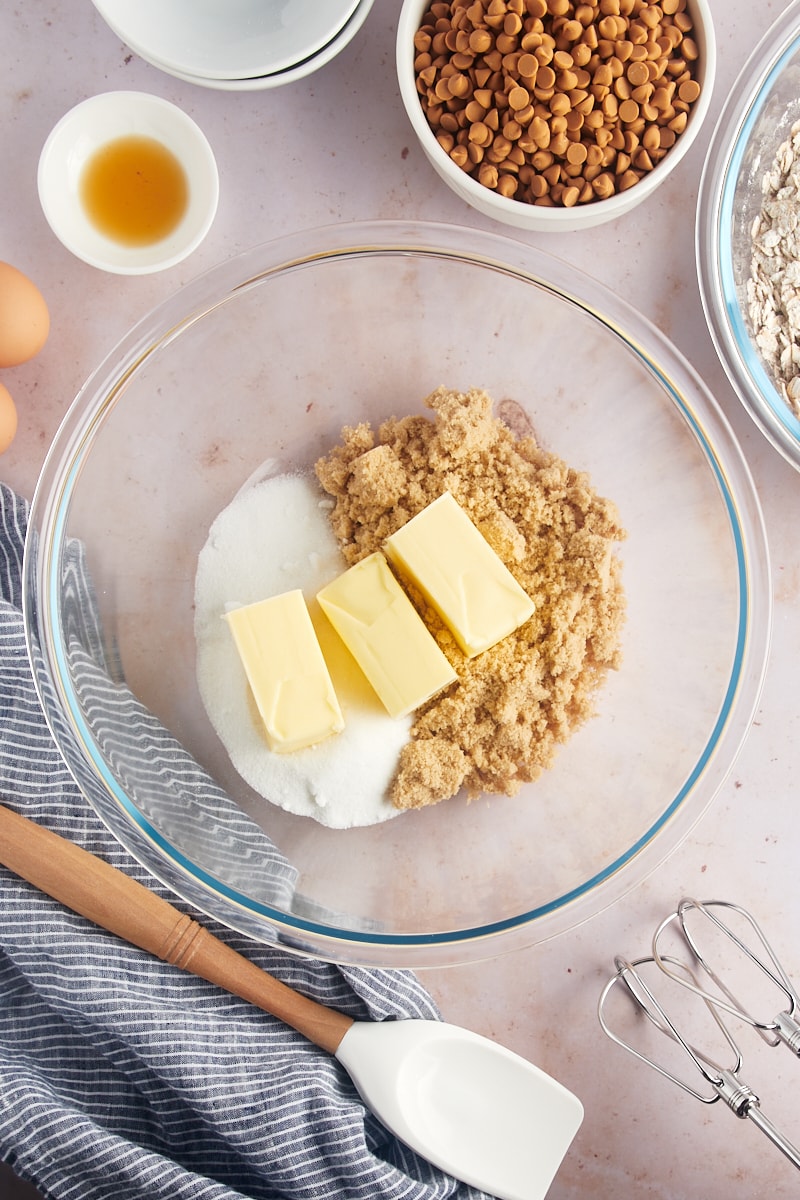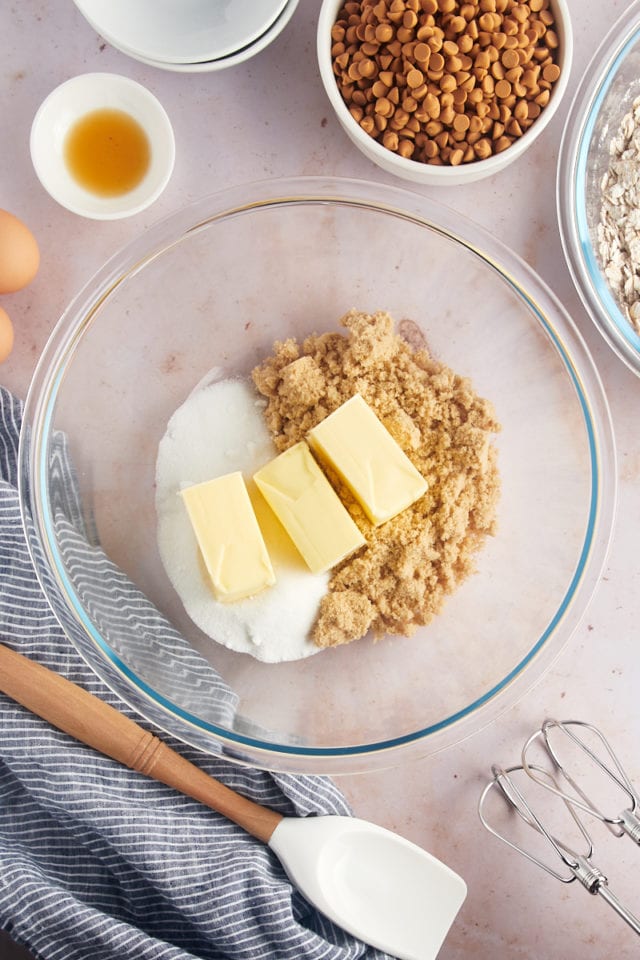 Mix the wet ingredients. In a separate bowl, use an electric mixer on medium speed to cream the butter, brown sugar, and granulated sugar. Beat in the eggs one at a time, followed by the vanilla.
Finish the dough. Reduce the mixer to low and slowly add the flour mixture, mixing just until combined. Fold in the butterscotch chips.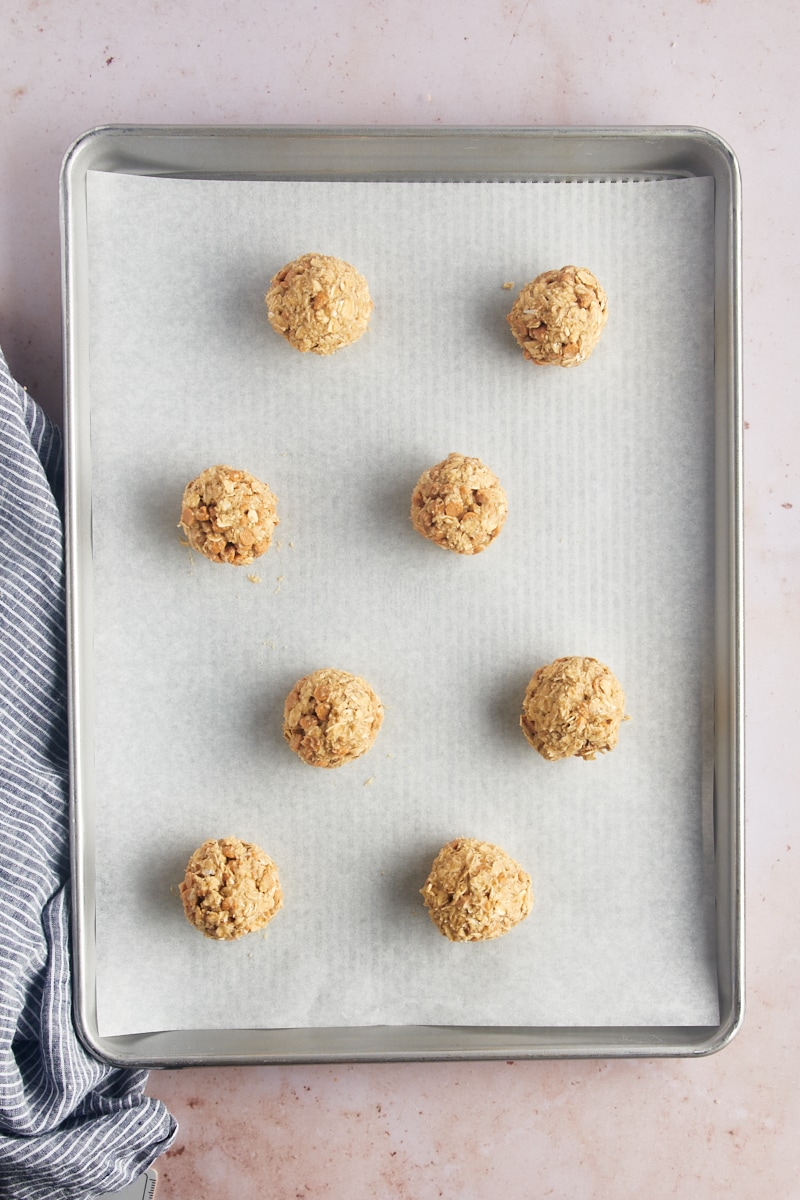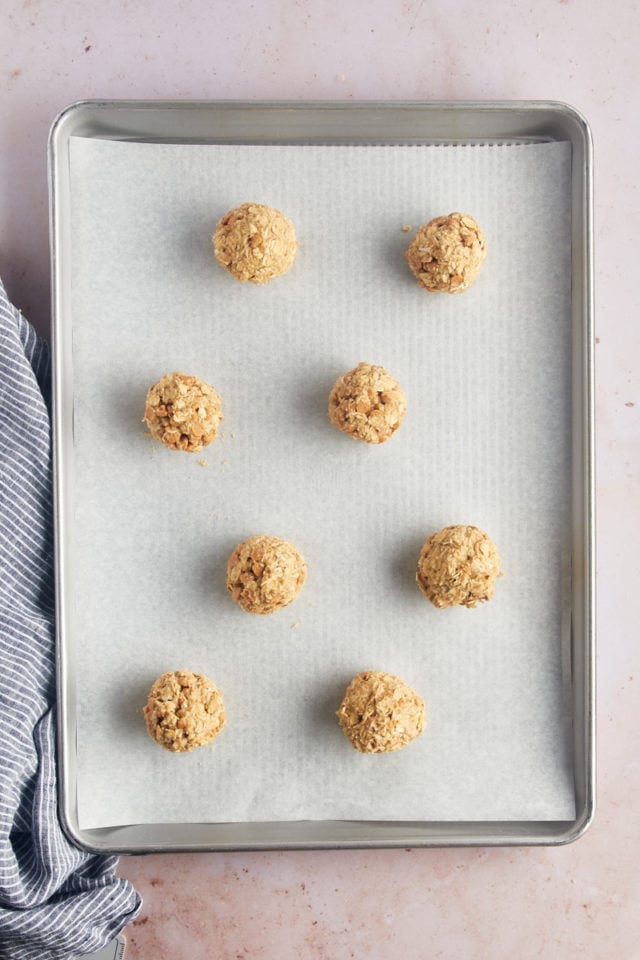 Form the cookies. Roll 3-tablespoon portions of dough between the palms of your hands to form balls. Set the dough balls onto the prepared pans with 3 inches of space between them.
Bake. Place one pan in the oven at a time and bake for 15 to 18 minutes, or until the cookies are golden brown.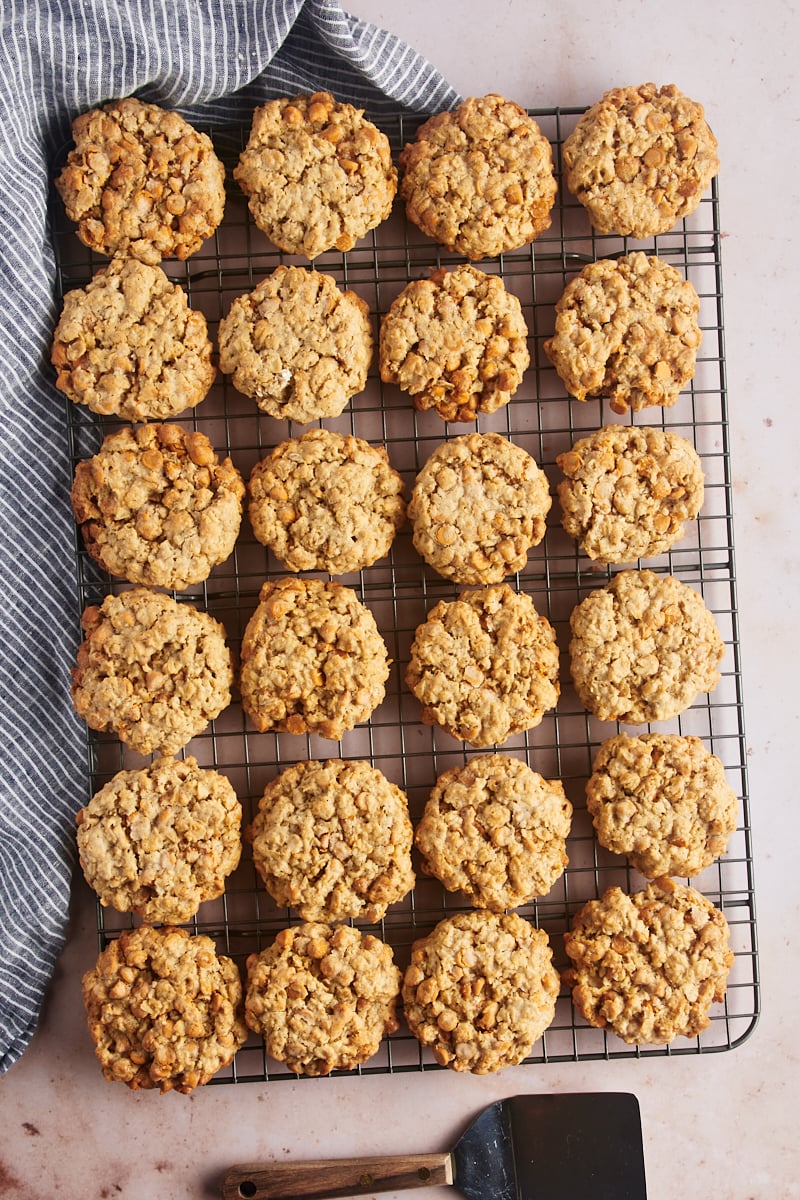 Cool. Set the pans on wire racks; if you'd like, you can use a flat-bottomed spatula to flatten the tops of the cookies when they come out of the oven. After the cookies have cooled on the pans for 5 minutes, transfer them directly onto a wire rack to finish cooling. (Learn more: Why Every Baker Needs Wire Cooling Racks)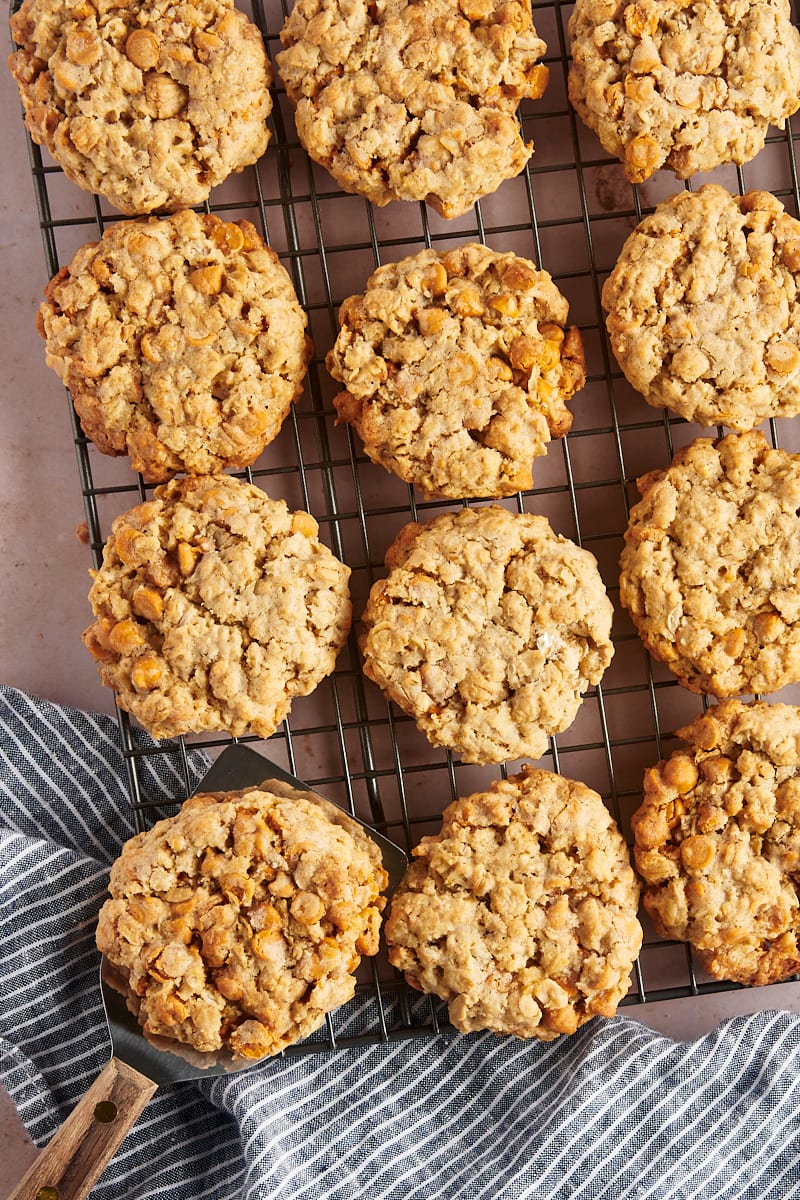 Tips for Success
Read over my baking tips for beginners, then follow these additional pointers for perfect oatmeal butterscotch cookies:
Soften the butter. This will help the butter incorporate more evenly into the other ingredients. Learn more: How to Soften Butter
Don't over-mix your dough. Over-mixing can result in tough, dense cookies. It's perfectly fine if there are a few streaks of flour remaining in the dough.
Use a cookie scoop. Not only will it make quick work of portioning the dough, but it will also ensure your cookies are the same size so they'll bake evenly.
Let the pans cool between batches. If you need to reuse the same baking sheet, make sure it's completely cool before adding the next batch of dough. Otherwise, your cookies may spread or over-bake on the bottoms.
Variations
The butterscotch chips are what makes these oatmeal butterscotch cookies! That said, as long as you use the same amount of add-ins, you can switch things up a little while still keeping that butterscotch flavor. Try adding half butterscotch chips and half toffee bits, or half butterscotch chips and half cashews. A sprinkle of flaky sea salt on top is also delicious—add the salt when the cookies are fresh out of the oven.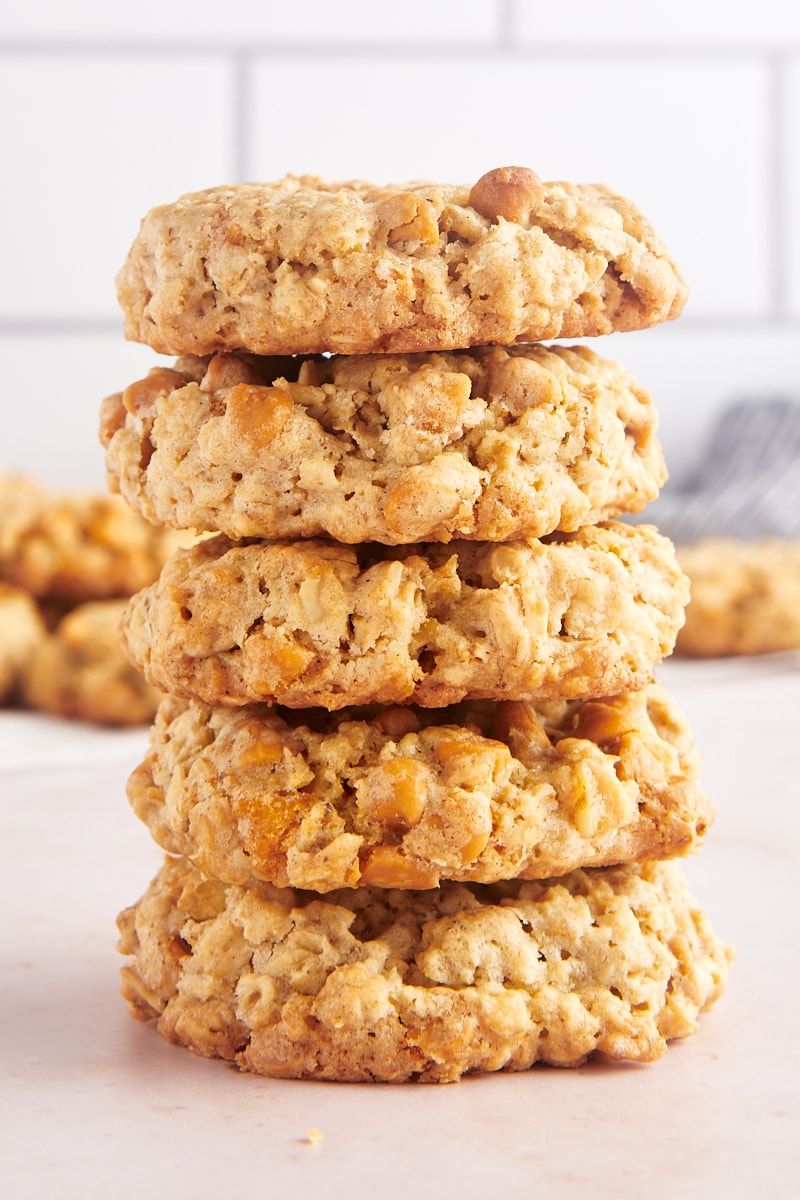 How to Store
Store leftover cookies in an airtight container at room temperature for up to 5 days.
Can I Freeze This Recipe?
You can freeze these oatmeal butterscotch cookies either before or after baking.
To freeze the cookie dough, scoop the dough into balls and place them on a parchment-lined baking sheet. Freeze for about an hour, or until solid, then transfer them to a zip-top freezer bag or airtight container. Store in the freezer for up to 3 months, then bake as directed in the recipe, adding a few extra minutes to account for the dough being frozen.
To freeze baked cookies, let them cool completely before placing them in an airtight container or freezer bag. They will keep well in the freezer for up to 3 months. Thaw them at room temperature or warm them in the microwave before serving.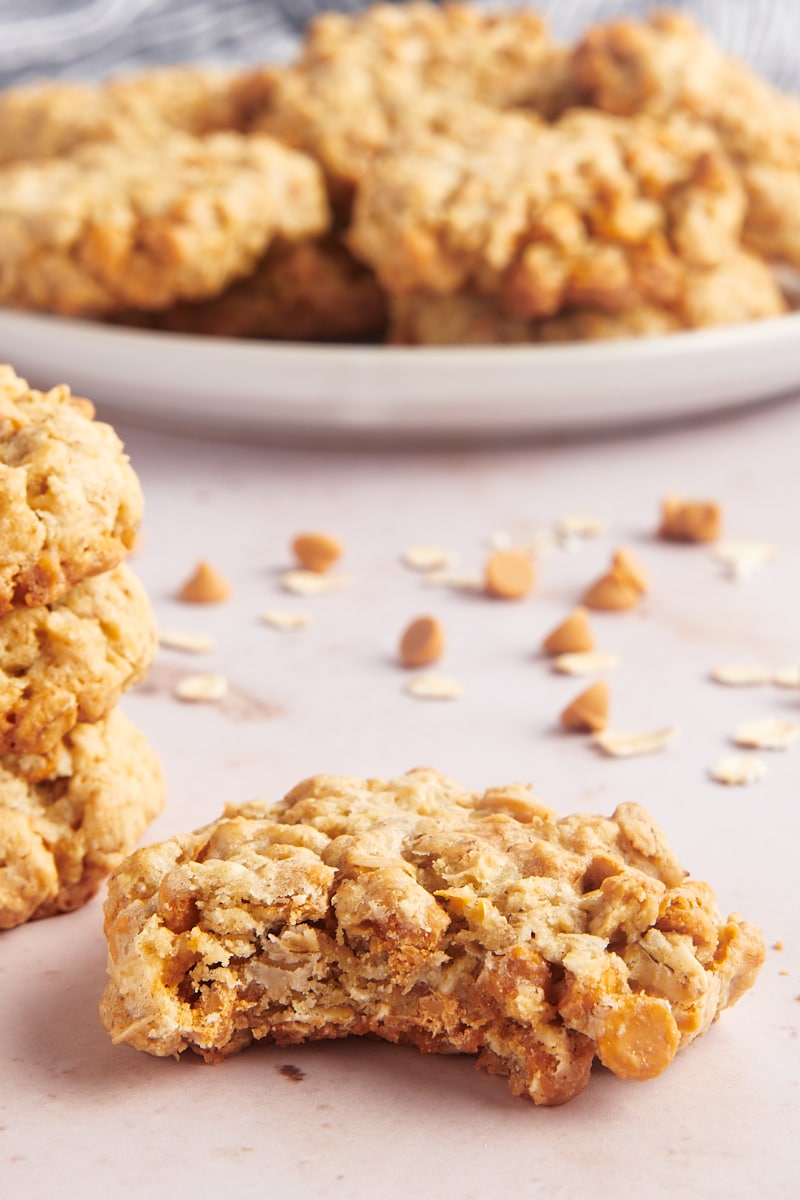 More Butterscotch Recipes