This Cookie Butter Cake is a symphony of warm, spiced flavors. It's the perfect companion to a cozy afternoon tea or a delightful dessert after dinner!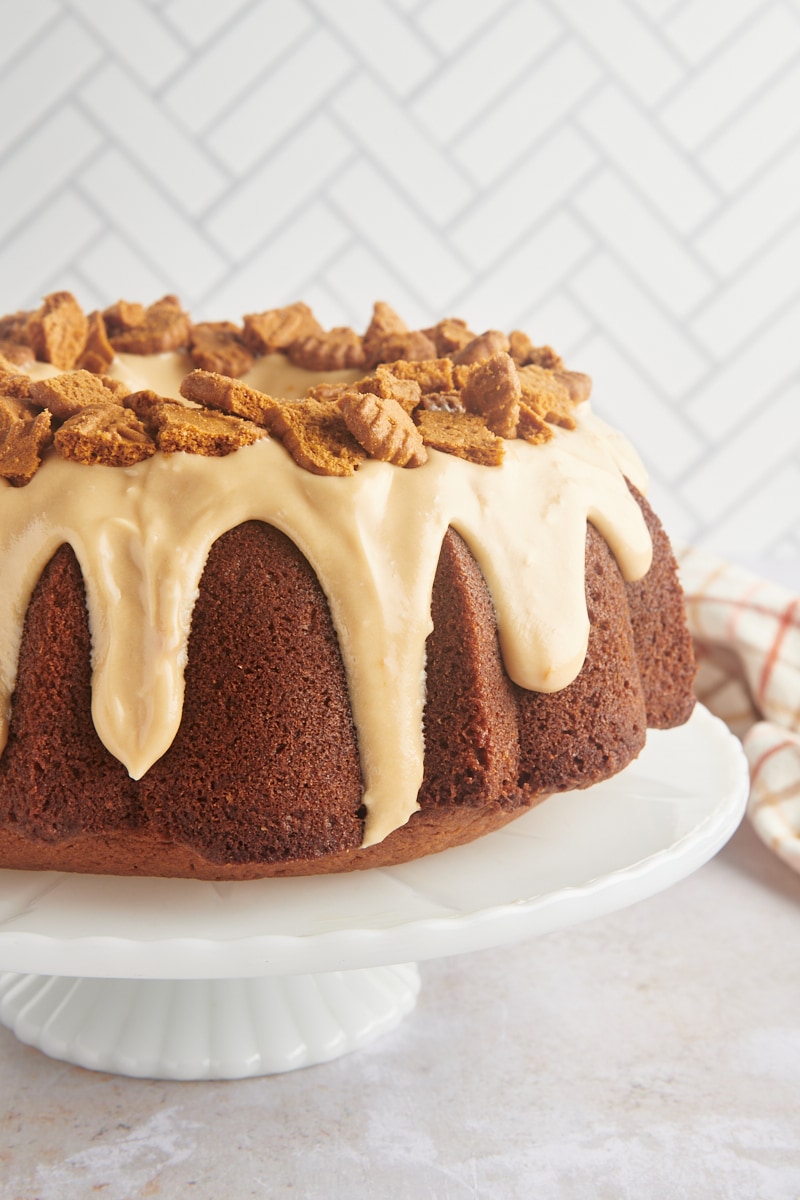 Cookie Butter Cake with Cookie Butter Glaze
If you're a fan of the rich, spiced goodness of cookie butter, you're in for a treat here. This beautiful, delicious cake features the warm, spiced flavors of cookie butter in a soft, moist cake that's absolutely delectable. Add a luscious cookie butter glaze, and we've moved into irresistible territory.
This cake isn't just a treat; it's a seasonal necessity, perfectly capturing the essence of fall and winter. Its spiced allure is the ultimate comfort on those crisp, chilly days.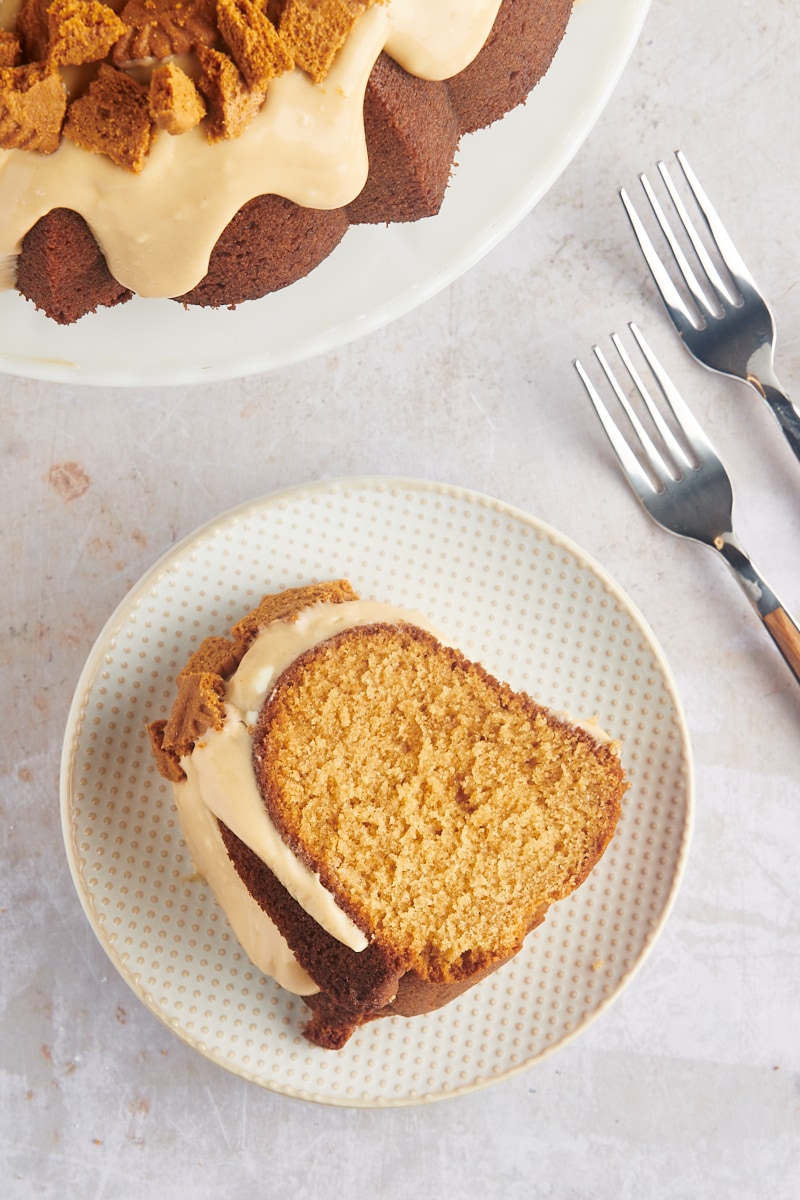 Why You'll Love This Cookie Butter Bundt Cake Recipe
This cookie butter cake recipe offers an abundance of reasons to fall in love with it. Here are just a few of the reasons that will have you head over heels for this delectable treat.
Irresistible flavor. The unique and delectable taste of cookie butter infuses the entire cake with warm, spiced goodness.
Easy and approachable. This beautiful, delicious cake is a hassle-free baking adventure!
Perfect for sharing. It's a crowd-pleaser that's ideal for serving at gatherings and potlucks or for sharing with friends and family.
Versatile. Omit the glaze for a brunch treat or dress it up for dessert time. It also pairs wonderfully with coffee or tea.
What You'll Need
See the recipe card below for ingredient quantities and full instructions. Here are some notes about the ingredients needed to make this cookie butter cake.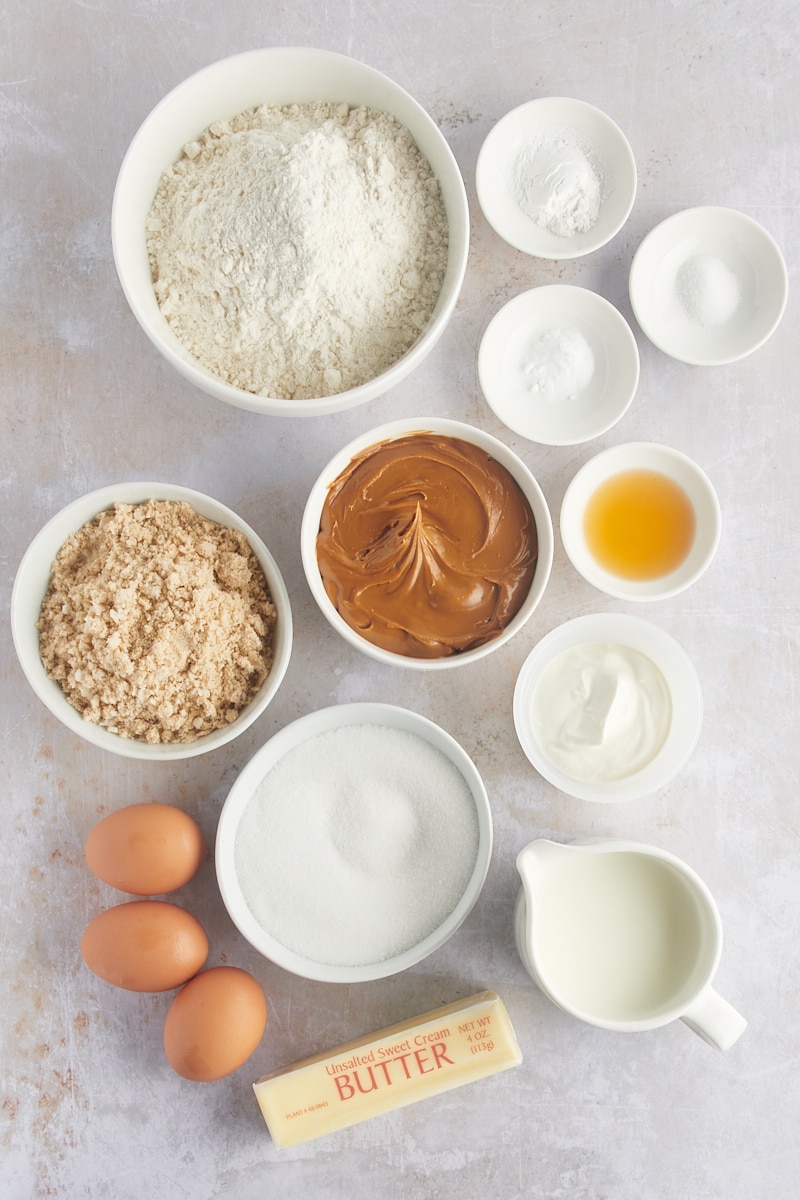 For the cake:
All-purpose flour – Measure accurately, preferably by weight. Otherwise, use the spoon and sweep method. Learn more: How to Measure Flour
Baking powder and baking soda – These help the cake rise.
Salt
Unsalted butter – Soften the butter until it's almost at room temperature. Learn more: How to Soften Butter
Brown sugar – I prefer light brown sugar in this cake, but you can use dark brown sugar if you want a stronger molasses flavor. Learn more: Light Brown Sugar vs Dark Brown Sugar
Granulated sugar
Cookie butter – Look for this alongside the peanut butter and other spreads. Biscoff (also labeled Lotus) and Trader Joe's are a couple of common brands.
Vanilla extract
Eggs – Bring these to room temperature for easier mixing and a fluffier cake.
Milk – Set out the milk – and the sour cream, too – along with the eggs.
Sour cream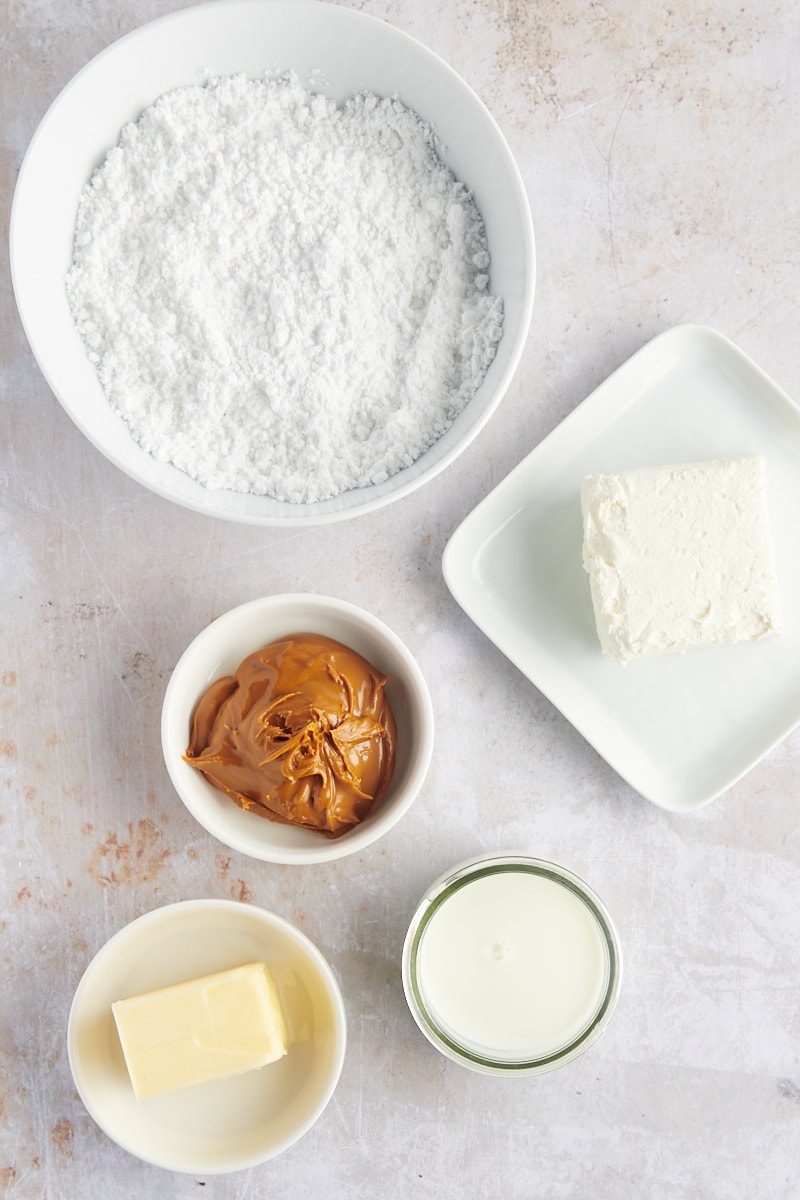 For the glaze:
Cream cheese – Bring the cream cheese to room temperature for easier mixing and a smoother glaze. Full-fat cream cheese works best.
Unsalted butter – Soften the butter before mixing. You can let it warm up a bit more than you would for mixing into the batter; just don't let it get melty.
Cookie butter
Confectioners' sugar – This is also called powdered sugar. Sift it before mixing for a smooth glaze.
Milk – Use just enough to make the glaze thick but pourable.
Speculoos cookies – Use cookie pieces to garnish the finished cake. Biscoff is a common brand, but there are several others you may find in your grocery store.
What is Cookie Butter?
Cookie butter is a velvety spread made from ground-up, spiced cookies. If you've ever had Biscoff or other speculoos cookies, then you'll immediately remember their distinctive flavor. Think of cookie butter as a creamy, dreamy cousin of peanut butter but with the irresistible flavor of those favorite cookies blended into each spoonful. It's like spreading the essence of cookies on your toast or using it to infuse desserts with a warm, comforting taste. Perfect for anyone with a sweet tooth!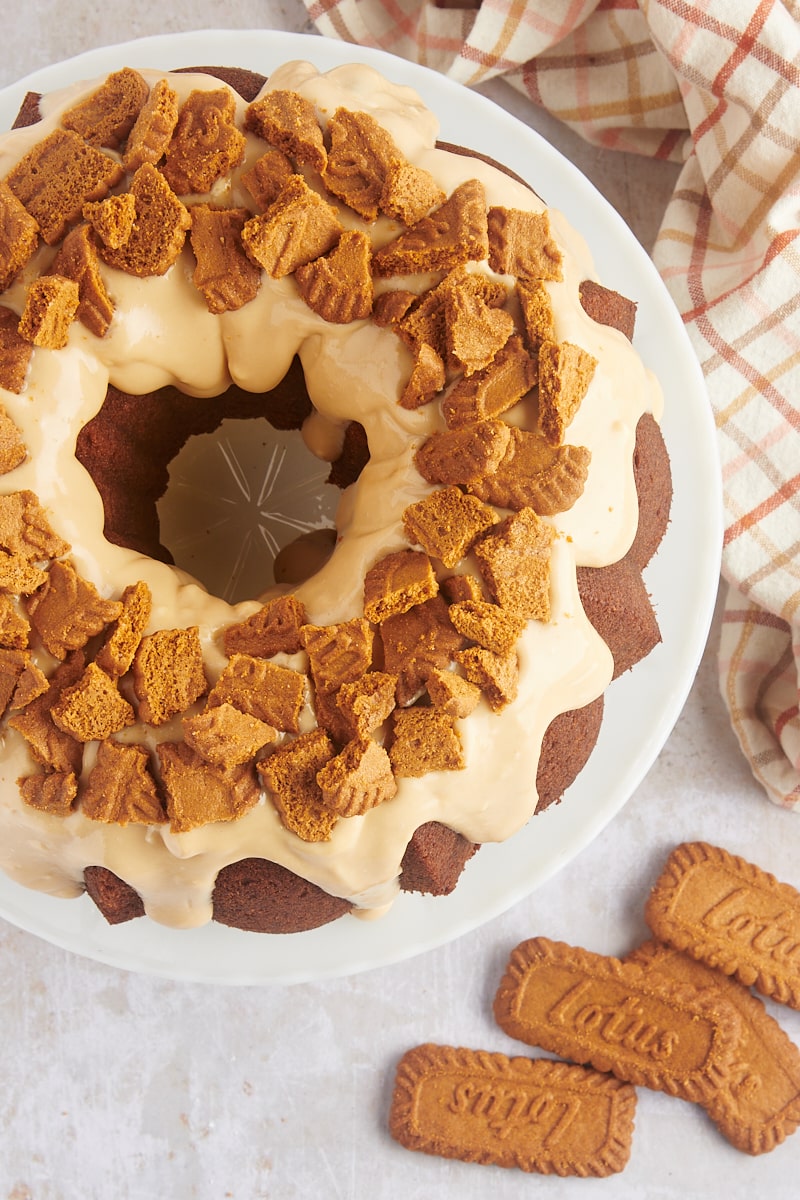 How to Make Cookie Butter Bundt Cake
You'll be making a cake and also a glaze to go on top of it, but both components are a cinch to make. Here's what you'll need to do.
Make the cake:
Prepare for baking. Heat the oven to 350°F. Grease a 12-cup Bundt pan, preferably with a cooking spray with flour like Baker's Joy or Pam Baking.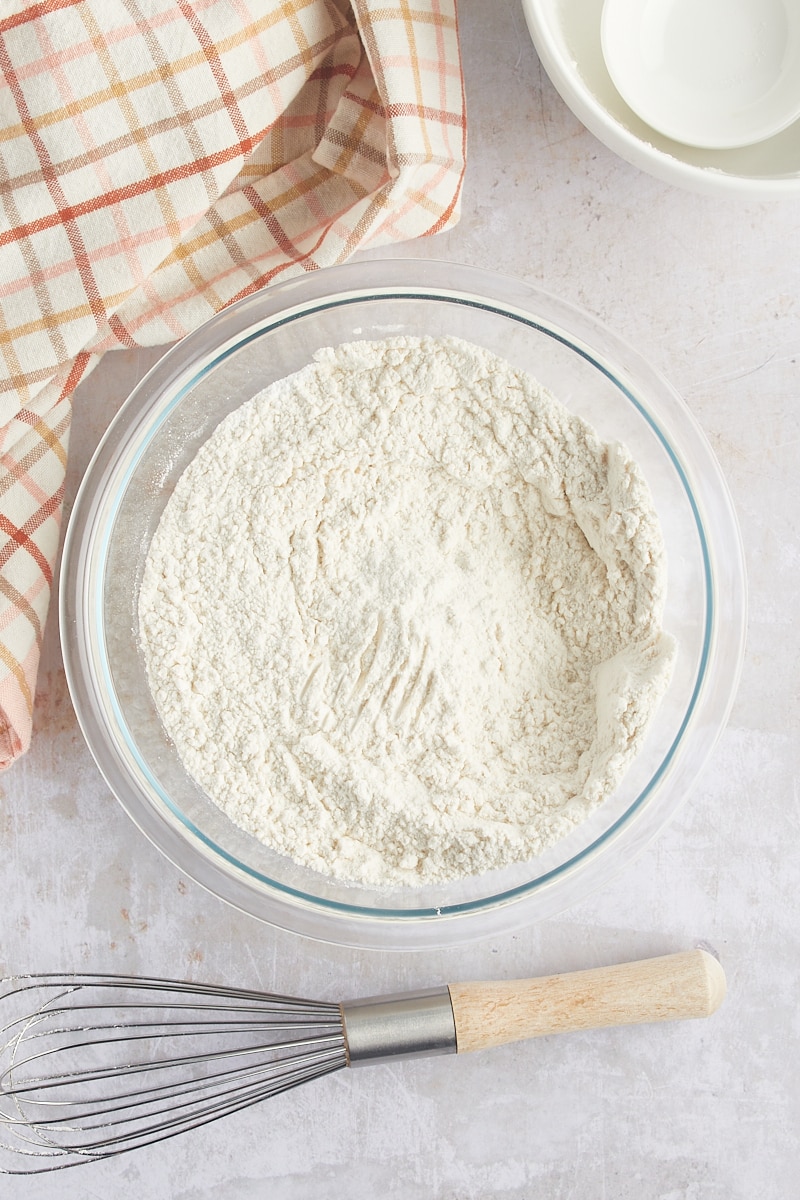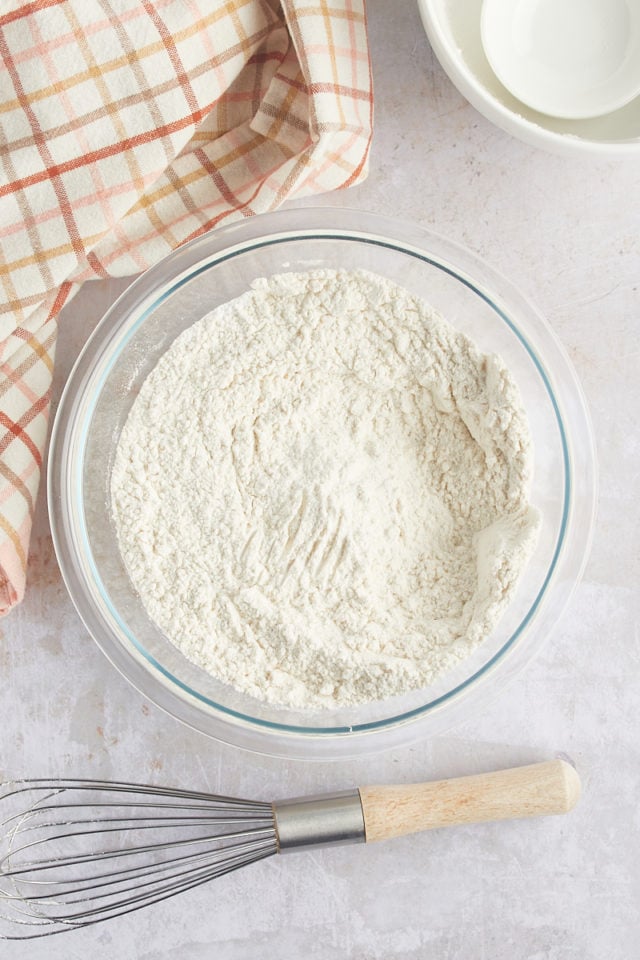 Combine the dry ingredients. Whisk together the flour, baking powder, baking soda, and salt.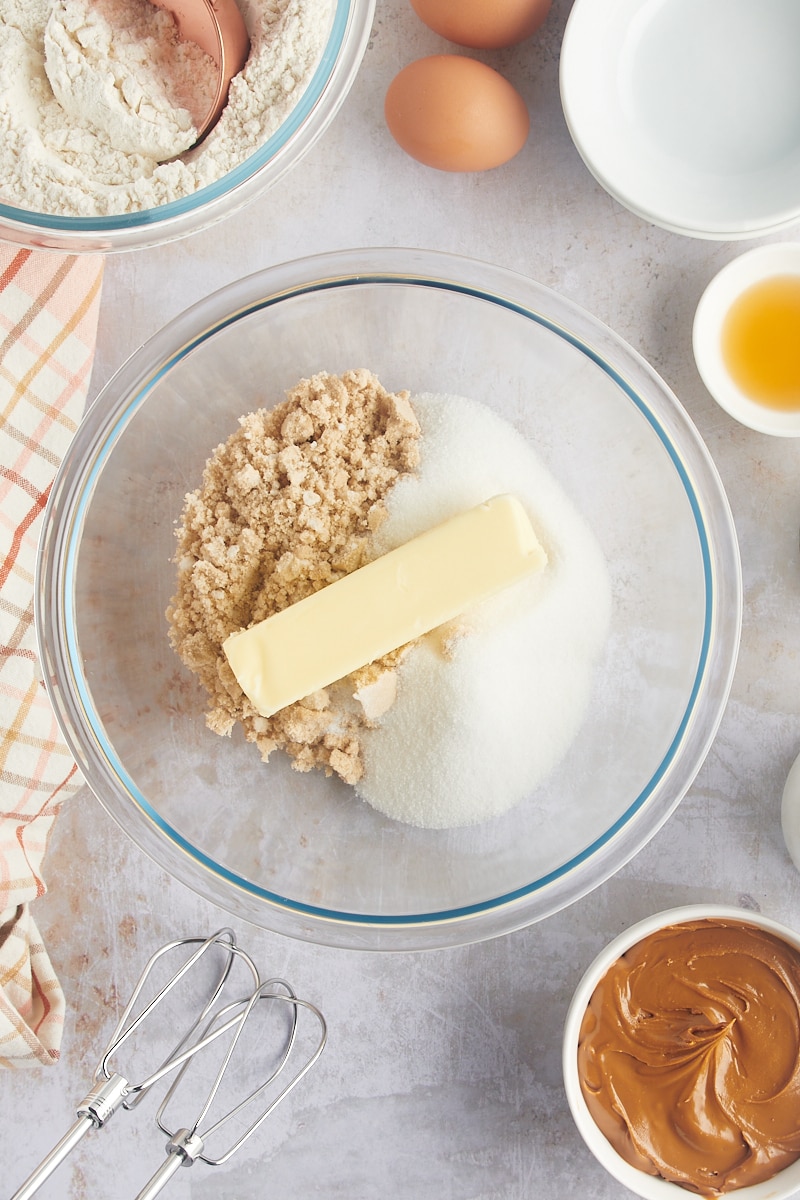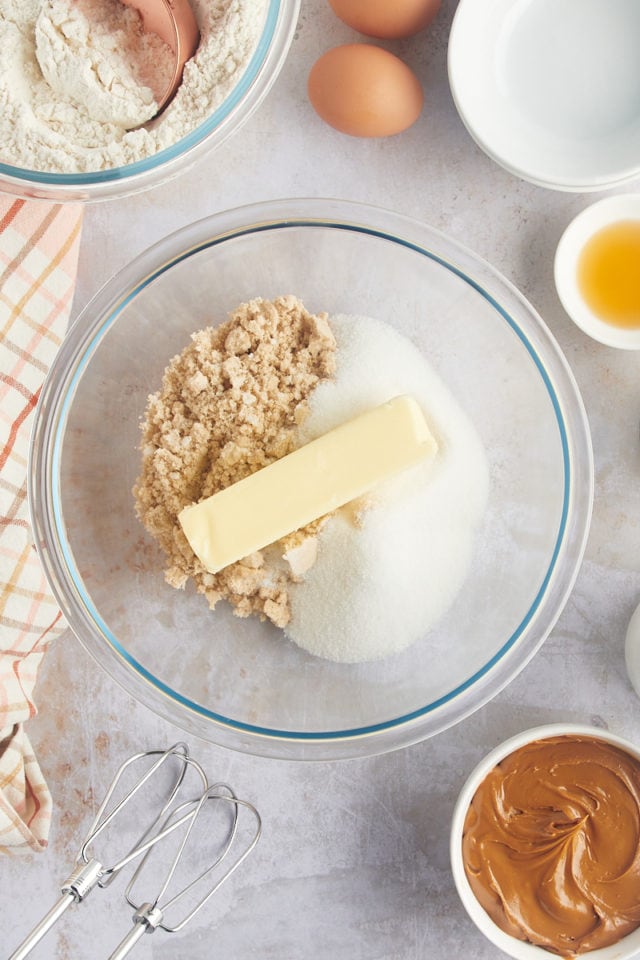 Start mixing. Place the butter, brown sugar, and sugar in a large mixing bowl. Use an electric mixer on medium speed to mix until fluffy and lightened in color. Add the cookie butter and vanilla, and then mix in the eggs one at a time.
Finish mixing. With the mixer on low speed, add the flour mixture in three portions, alternating with two portions of milk. Add the sour cream with the last portion of milk. Don't over-mix; mix just until combined.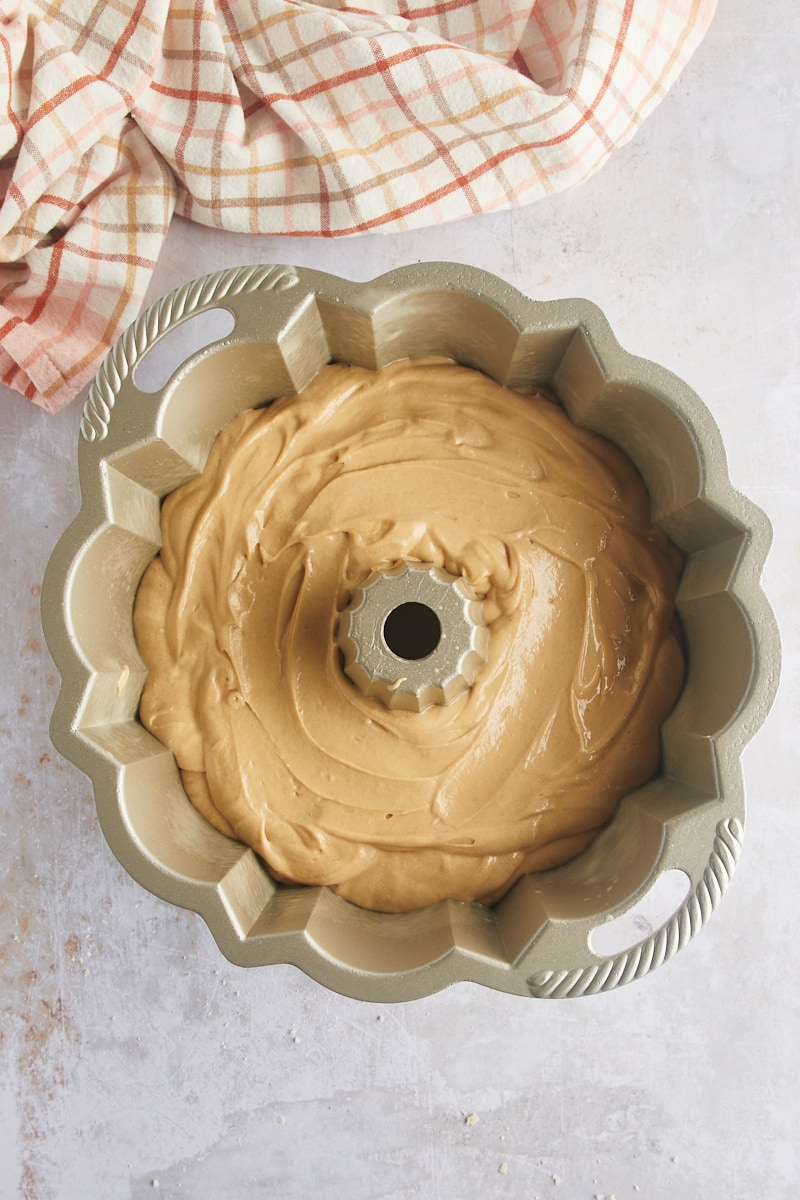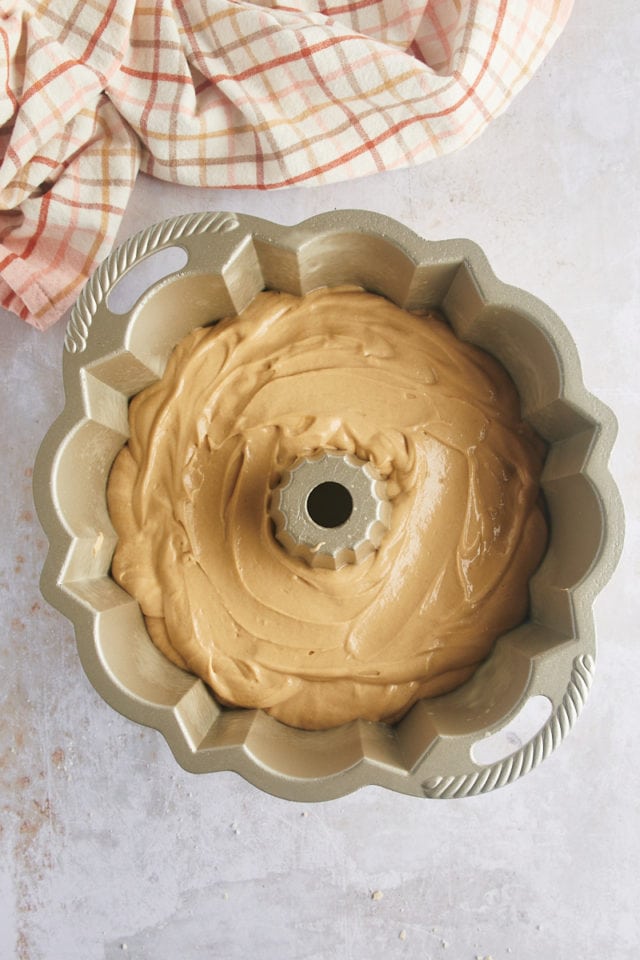 Bake. Transfer the batter to the prepared pan, and spread evenly. Bake 60 to 70 minutes, or until the cake is browned and a pick inserted into the center comes out clean.
Cool. Place the pan on a wire rack, and allow to cool for 15 minutes. Then invert the pan onto a cooling rack and allow the cake to cool completely.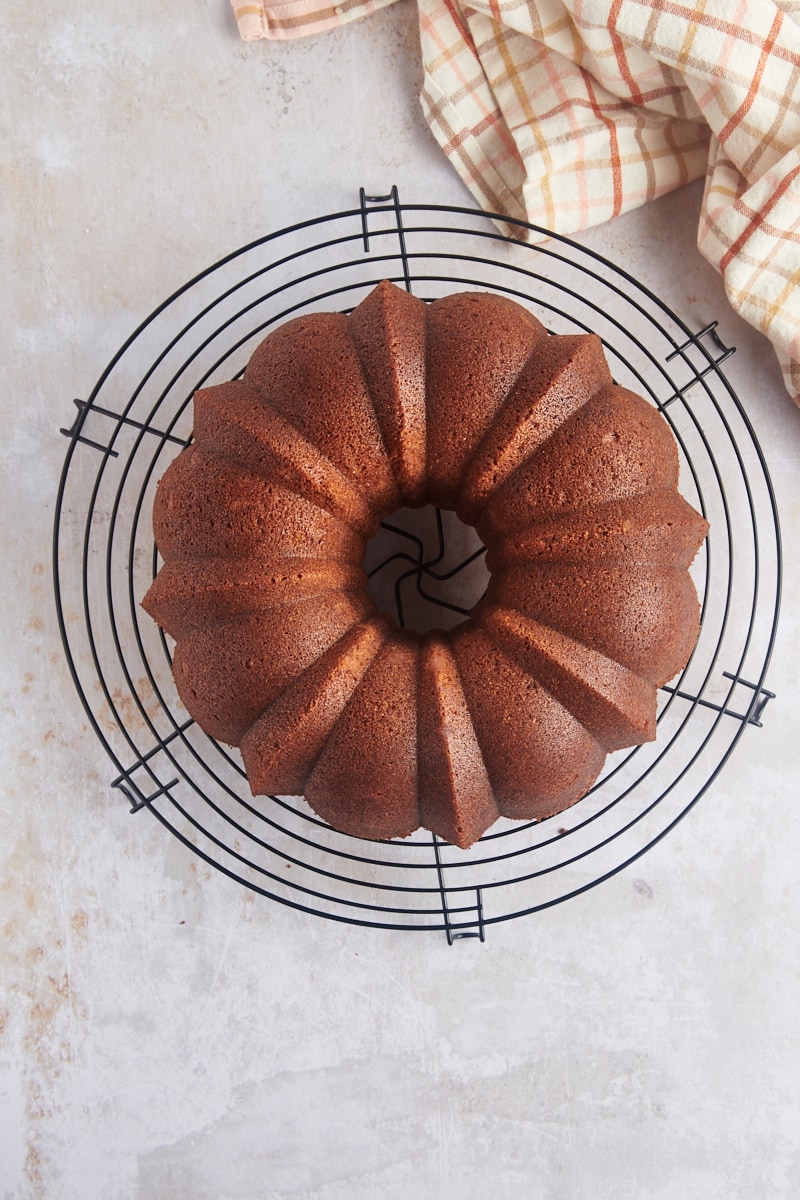 Make the glaze and assemble the cake: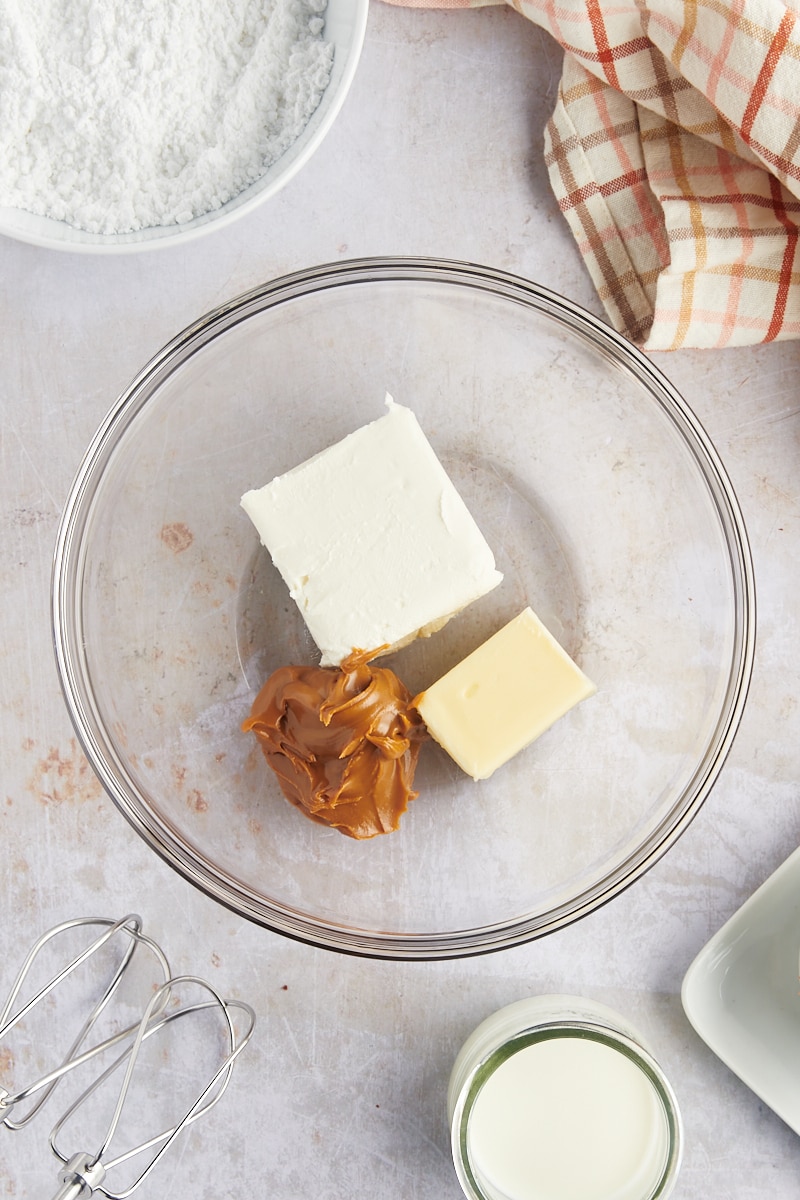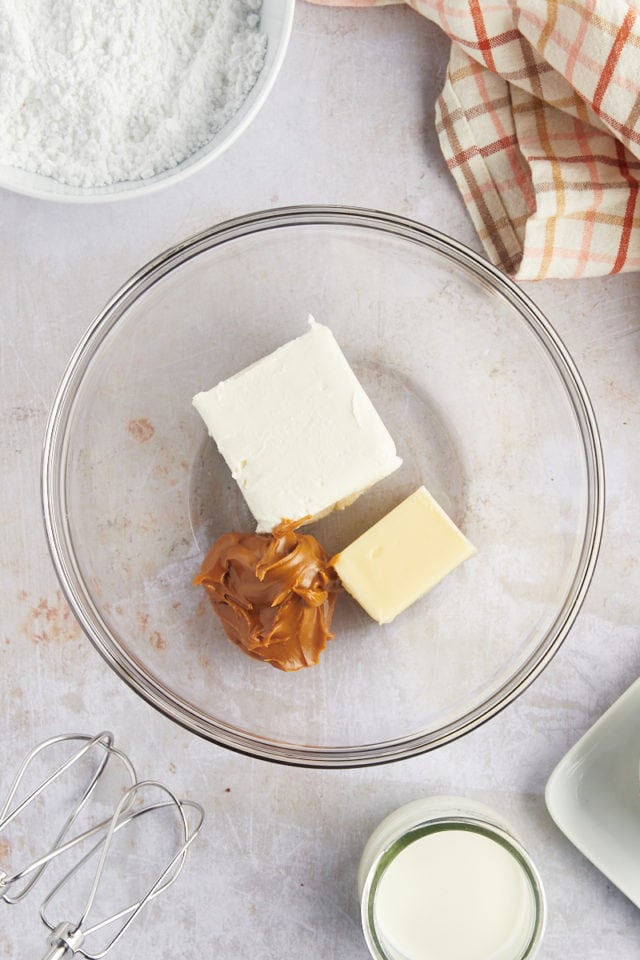 Make the glaze. With an electric mixer on medium speed, beat the cream cheese, butter, cookie butter, confectioners' sugar, and 2 tablespoons of the milk until thoroughly combined and smooth. If needed, add small amounts of the milk at a time until the glaze is thick but pourable.
Top the cake. Spoon or carefully pour the glaze over the cooled cake, allowing it to run down the sides. Garnish with speculoos cookies.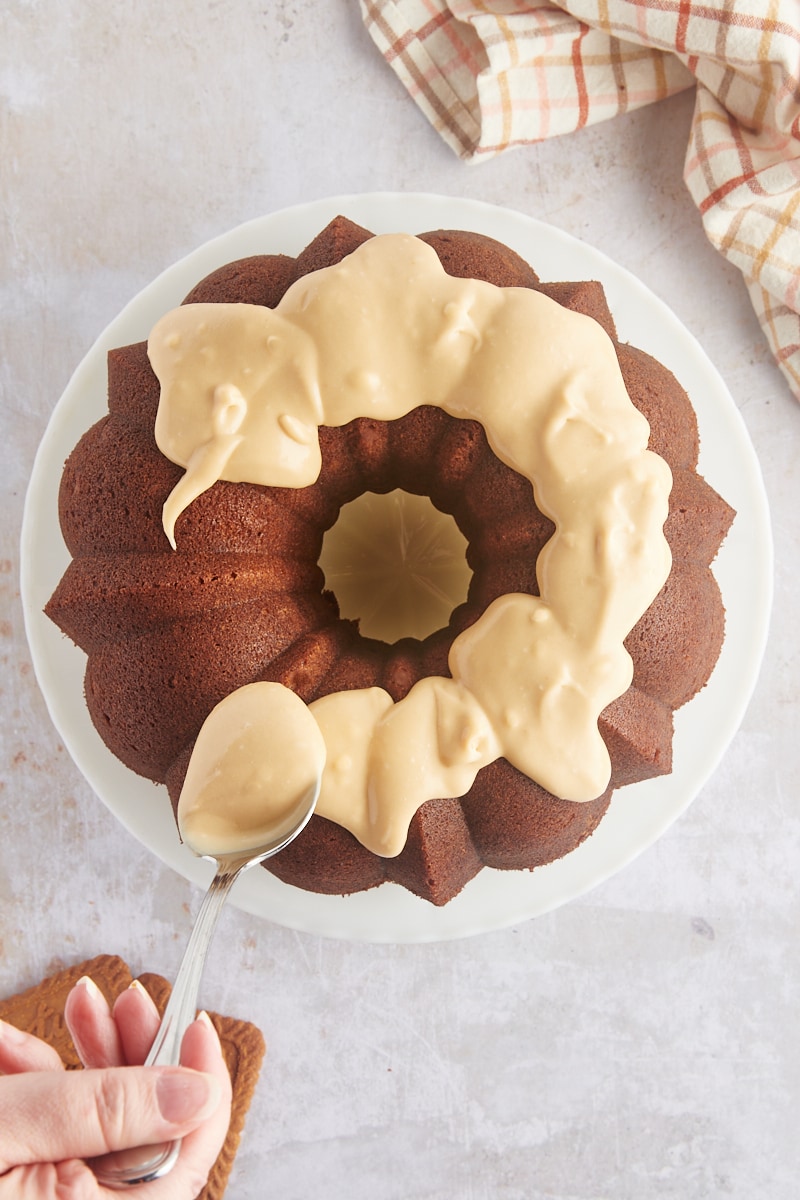 Tips for Success
Read through my Bundt cake baking tips, and then follow these additional tips to help make sure your cake turns out perfectly.
Wait to grease the pan. I tend to be a slow baker, so I like to wait to grease the pan until I'm ready to add the batter. That keeps the cooking spray from settling in the bottom of the pan. If you aren't a speedy baker, either, then you may want to use this trick.
Don't skip the cooling time. First, cool the cake in the pan for 15 minutes before inverting it onto a cooling rack. Then, let it cool completely before adding the glaze.
Take care with the glaze. Spoon or pour it slowly to control the amount and ensure even coverage.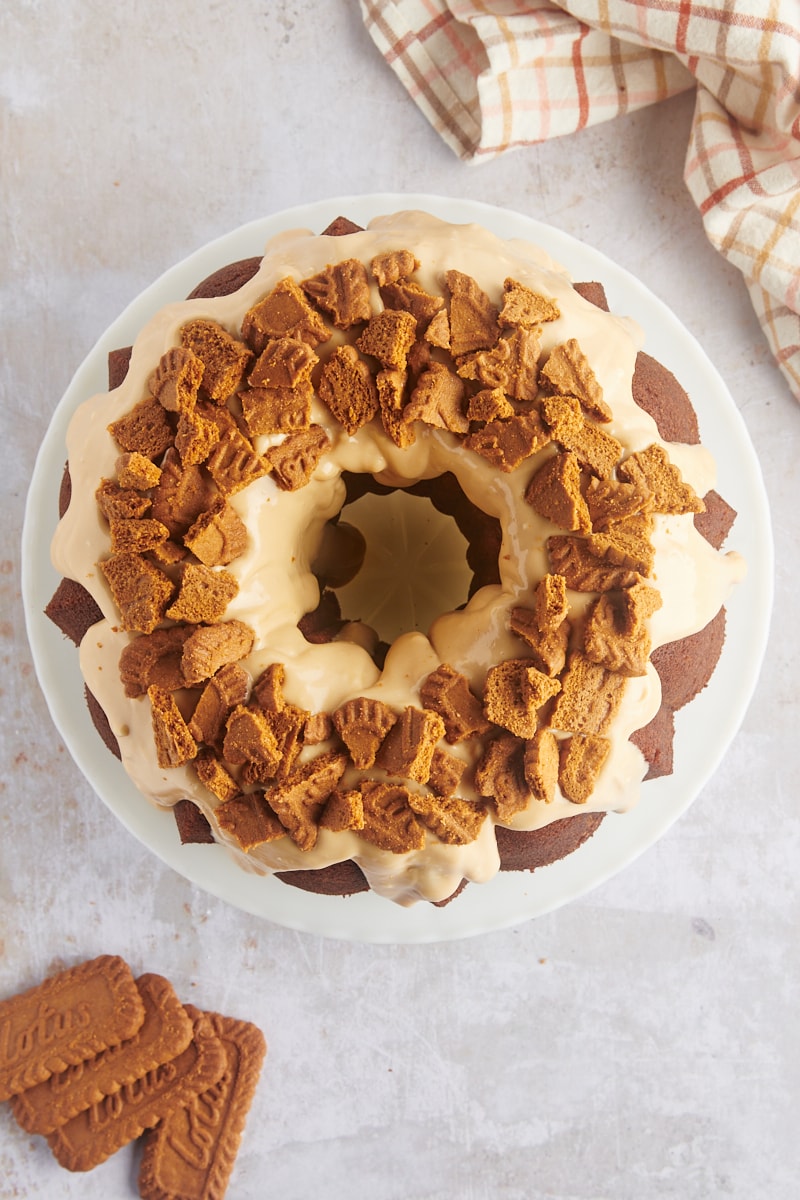 Variations
If you'd prefer to skip the glaze, this cookie butter cake is delicious all on its own. You can dress it up simply with a dusting of confectioners' sugar if you like. A drizzle of caramel sauce on an otherwise unadorned slice is pretty darn good, too. A dollop of whipped cream, either plain or flavored with a hint of vanilla or cinnamon, is always a classic choice.
For a different take on the glaze, try a simple cream cheese glaze or a cinnamon-infused version. A caramel glaze is a good pairing, too. Chopped toasted nuts are a good alternative if you don't want to garnish with cookies.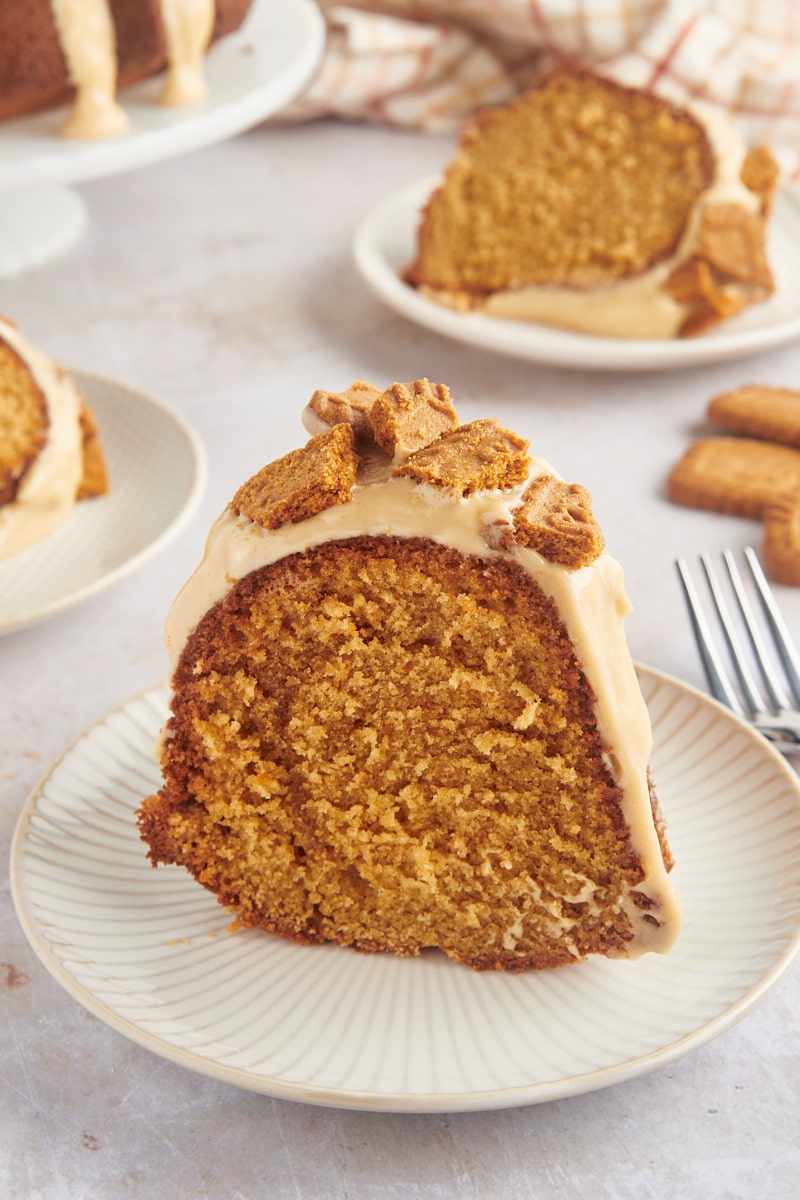 How to Store
You can store the unglazed cake in an airtight container at room temperature up to 3 days. After adding the glaze, store it in the refrigerator. Bring servings to room temperature before serving.
Can This Cake Be Frozen?
Yes, you can freeze this cookie butter cake. If you're freezing the cake with the glaze, first place any remaining cake or individual slices on a rimmed baking sheet and place in the freezer until the glaze has frozen solid (about 2 to 3 hours). Then, wrap the entire cake or individual slices tightly in plastic wrap. You can double-wrap it to ensure no air gets in, which helps maintain freshness. Finally, place the cake or slices in a resealable freezer bag or wrap it in aluminum foil. Thaw overnight in the refrigerator and then bring to room temperature for serving.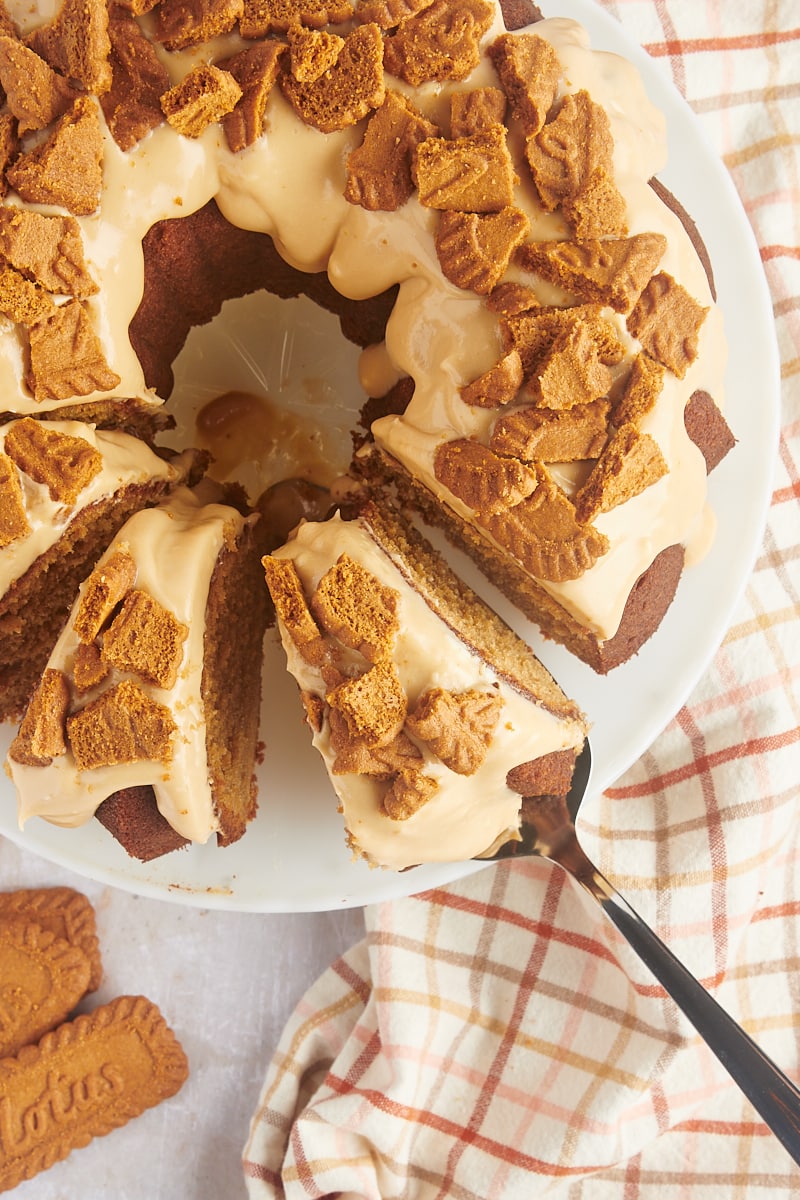 More Cookie Butter Recipes