This haystacks recipe is simple to make yet utterly delicious! Perfect for snacking, gifting, or a fun baking project, haystacks are a crowd-pleaser you'll want to make over and over again.
Easy Butterscotch Haystacks Recipe
Haystacks have been around for a long, long time. I first made them in junior high in my home economics class. I'm sure those classes, if they still exist, aren't called that anymore. But you get the idea.
These tasty treats, made with butterscotch chips, creamy peanut butter, and the surprising addition of crunchy chow mein noodles, are a delightful combination of sweet and crunchy. While they're sometimes called haystack cookies, they're more of a candy. An incredibly easy, delicious candy!
With just four ingredients, these sweet, crunchy treats are a cinch to make. Seriously, you can whip up this haystacks recipe in a matter of minutes and with little fuss. If you're a fan of easy recipes like rice crispy treats and corn flake bars, you'll adore these, too.
Whether you're satisfying your sweet tooth or looking for an easy and satisfying treat, these butterscotch haystacks are the perfect solution. For those of us who enjoyed these in our younger years, they're sure to bring a wave of tasty nostalgia from the very first bite. For any of you who have never experienced these sweet, crunchy treats, you'll quickly discover why these haystacks have been a beloved classic for generations.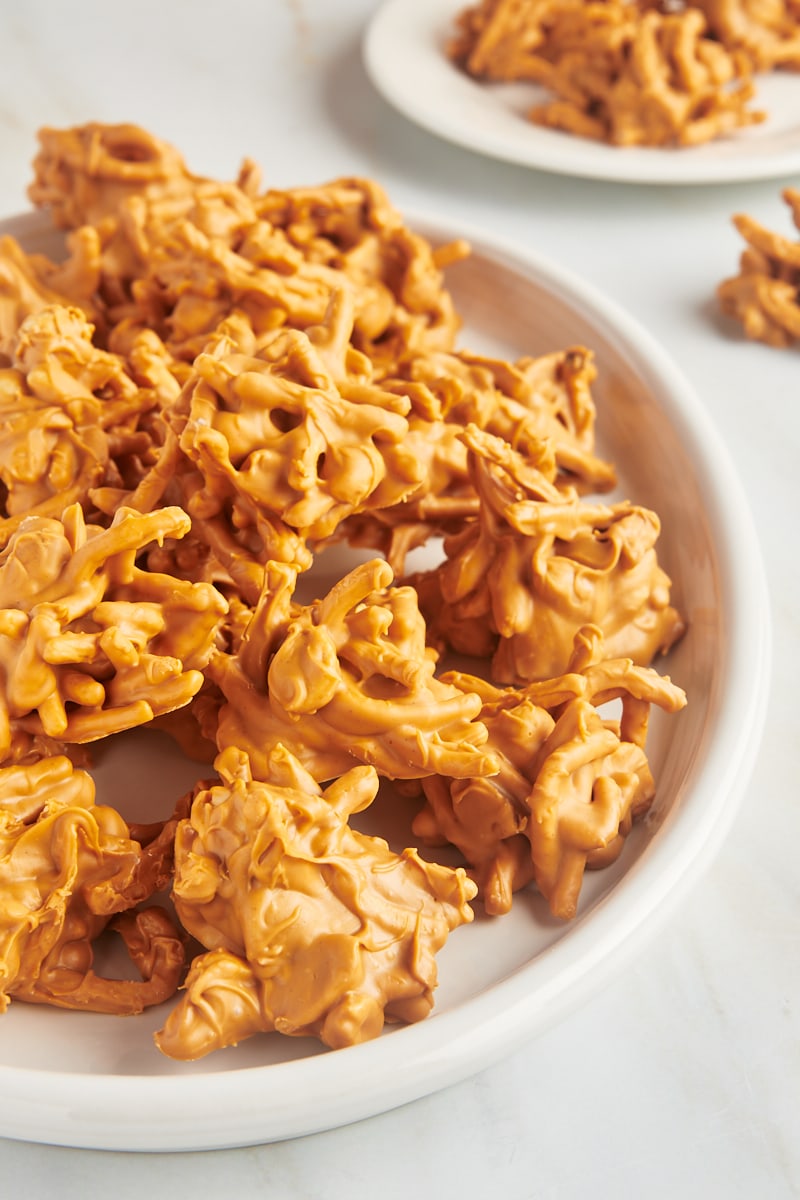 Why You'll Love This Haystacks Recipe
Here's why you'll want to make these haystacks your new favorite treat.
Quick and easy. This recipe is a breeze to make, requiring minimal time and effort. It's ideal for novice bakers and a fun project to do with kids.
No baking required. Enjoy a sweet treat without the need for an oven.
Nostalgic. Revisit the classic taste of haystacks that many of us grew up enjoying.
Versatile. You can easily customize your haystacks with different mix-ins. See the variations section below for lots of ideas.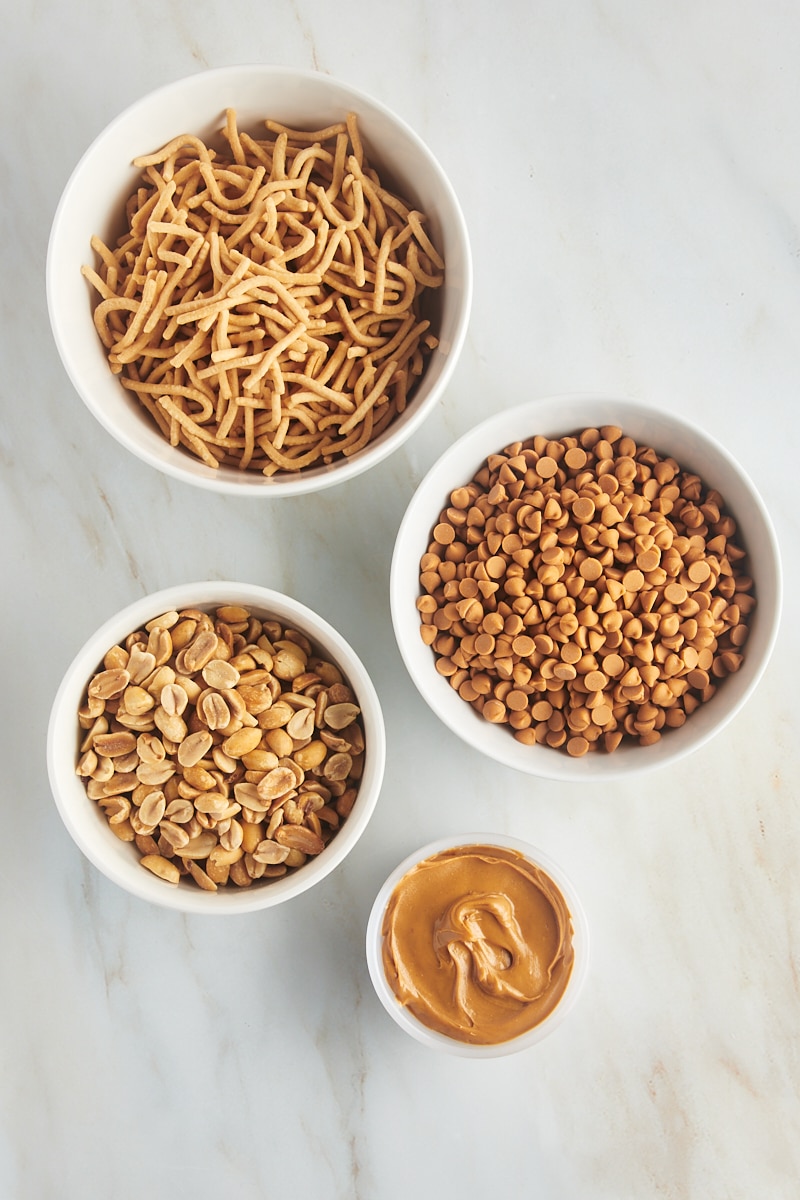 What You'll Need
See the recipe card below for ingredient quantities and full instructions. Here are some notes about the ingredients needed to make haystacks.
Butterscotch chips – Be sure to get a good quality brand of butterscotch chips. Not only will they taste better, but they'll likely melt more smoothly, too.
Creamy peanut butter – Use regular peanut butter, like Skippy or Jif.
Chow mein noodles – Look for crispy chow mein noodles that are often used as a topping. These noodles are fried and crunchy. A common brand is La Choy.
Peanuts – I like dry roasted peanuts here, but you can use regular roasted peanuts if you like. If your peanuts are unsalted, you may want to add a pinch of salt to the mixture.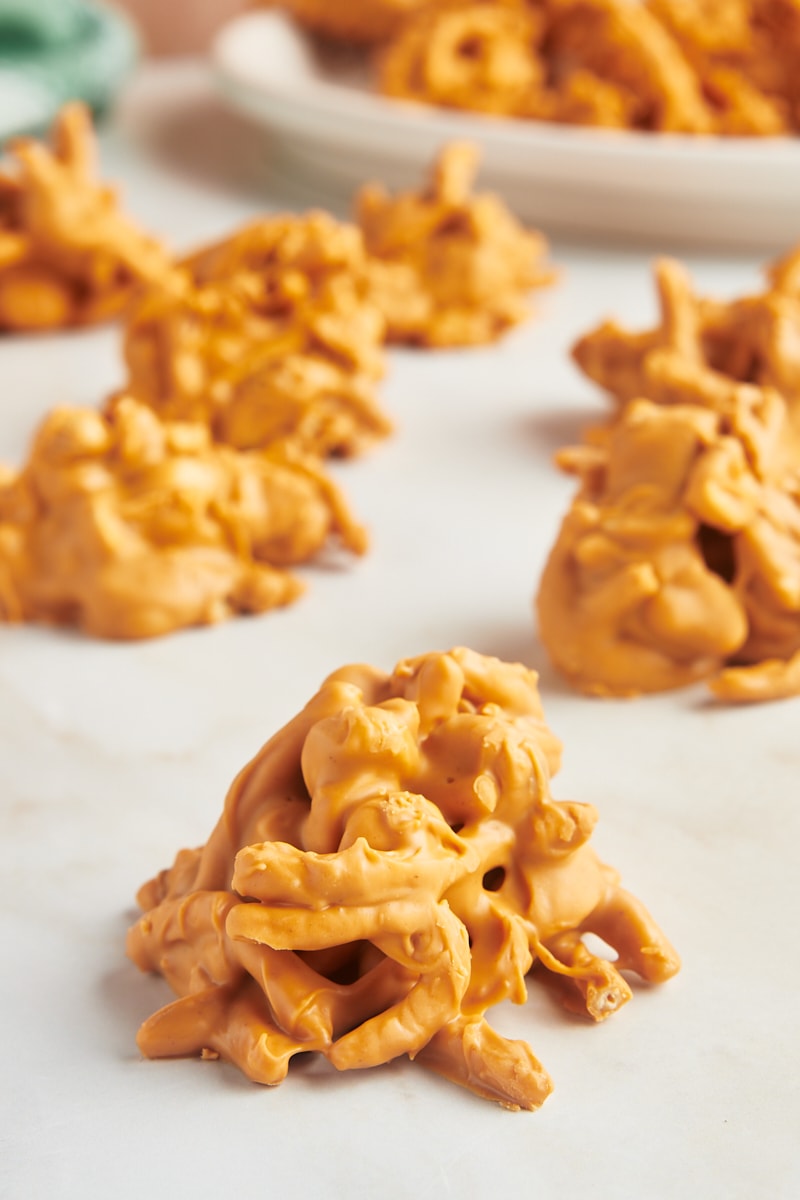 How to Make Haystacks
You'll have your haystacks mixed and portioned in short order. Here's what you'll need to do.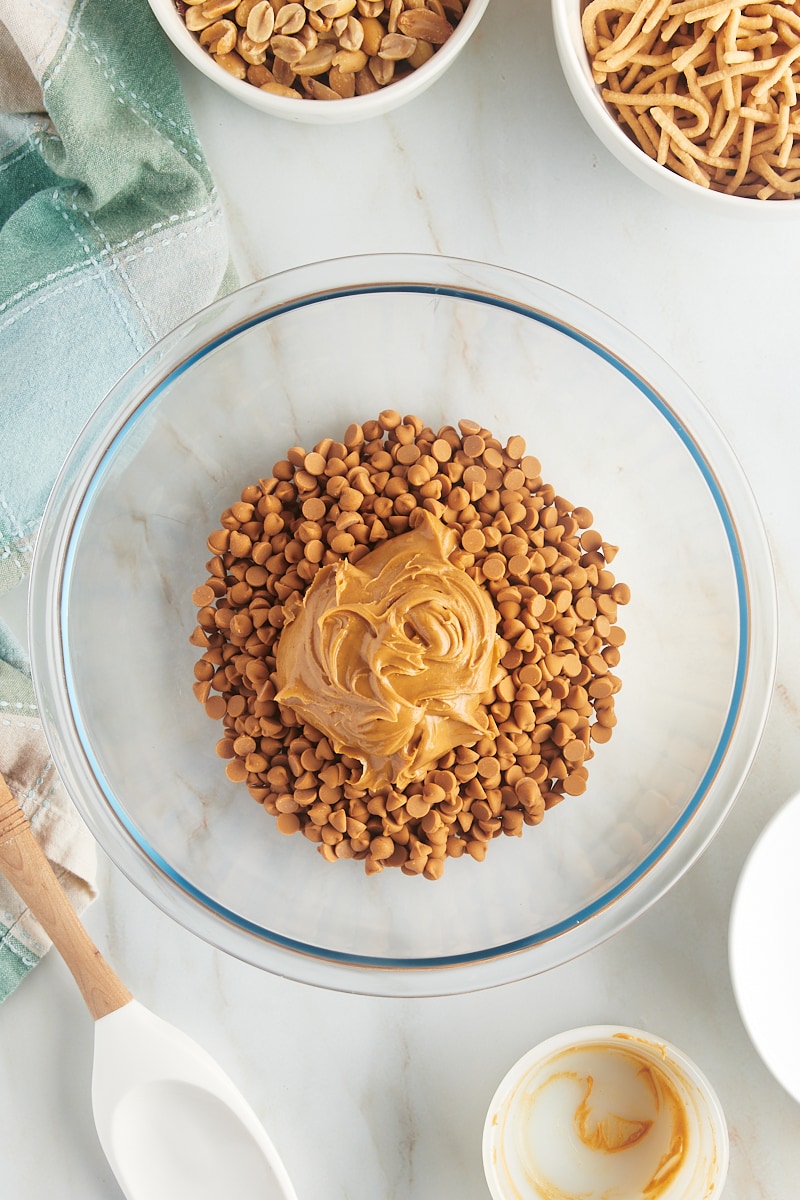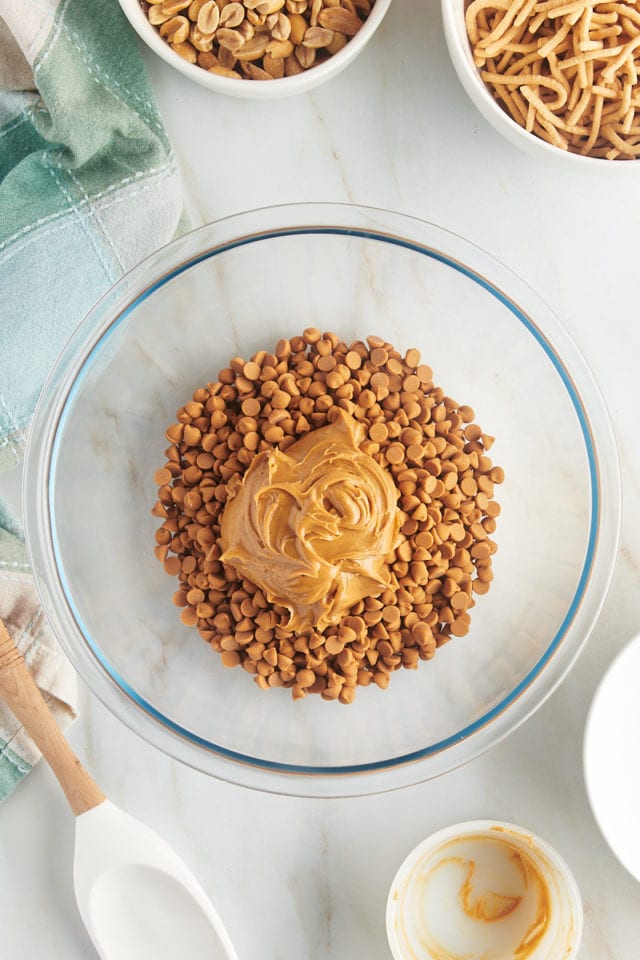 Prepare cooling surfaces. Lay out sheets of wax paper or parchment paper on the counter to place your haystacks on to cool once they're mixed. If you plan to refrigerate them to expedite things, then line baking sheets with the paper to make it easier to get them in and out of the refrigerator.
Melt the butterscotch with the peanut butter. Place these two ingredients in a large microwave-safe bowl. Heat at half-power in 30-second increments until the butterscotch melts when stirred. Stir until thoroughly combined and smooth. If you prefer, you can melt the butterscotch and peanut butter in a double boiler.
Finish mixing. Gently fold the noodles and peanuts into the melted butterscotch mixture. Make sure everything is evenly coated.
Portion. Drop the haystacks mixture onto waxed paper, using about 2 to 3 teaspoonfuls of the mixture at a time. Use a spoon to help shape them into clusters.
Cool. Let the haystacks cool for about 2 hours or place them in the refrigerator until they're set and firm.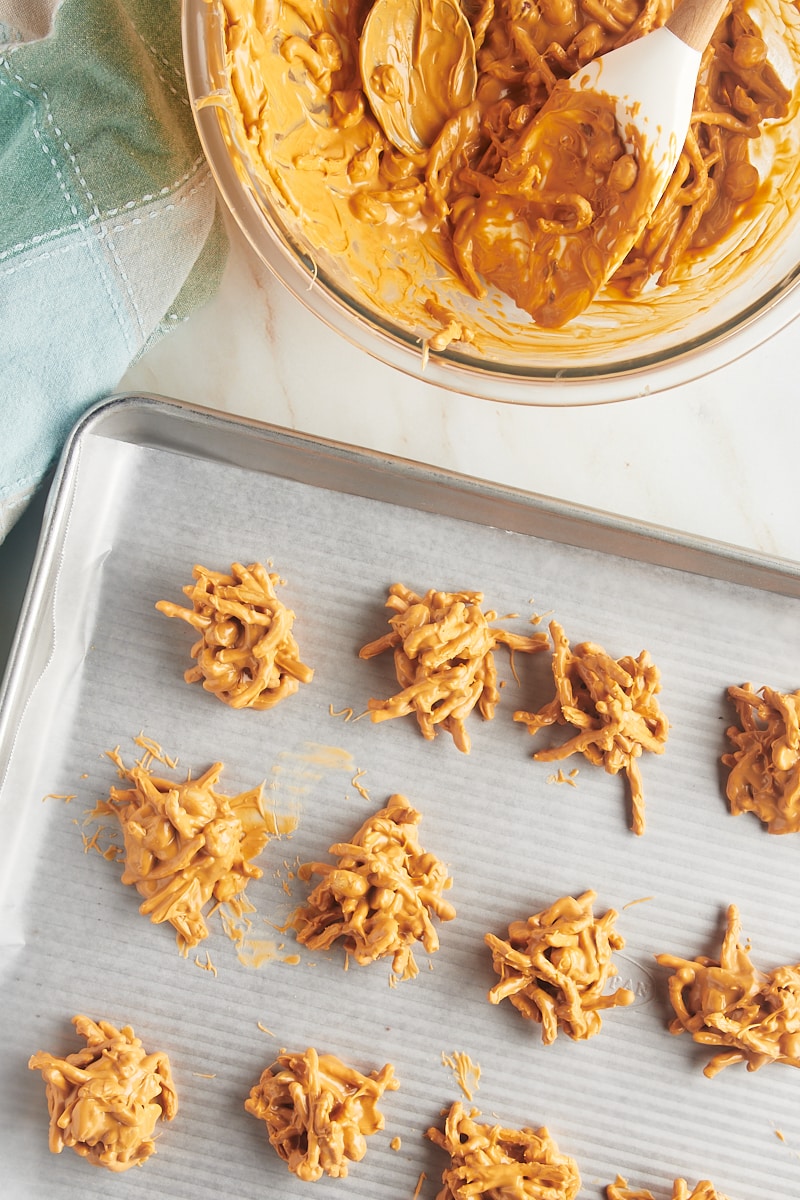 Tips for Success
This no-bake haystacks recipe is a simple one, but there are a few things to keep in mind to help ensure haystacks success!
Get organized. Have your paper ready for portioning, and measure all of your ingredients before getting started. This makes the process smoother and ensures you have everything you need.
Melt low and slow. Whether you're using the microwave or a double boiler, take your time melting the butterscotch to prevent overheating and burning. Low heat is the key to preventing the chips from seizing or becoming lumpy.
Mix gently. When folding in the chow mein noodles and peanuts, do it gently to avoid breaking or crushing them.
Work quickly. Once everything is mixed, work quickly to shape your haystacks before the mixture begins to set.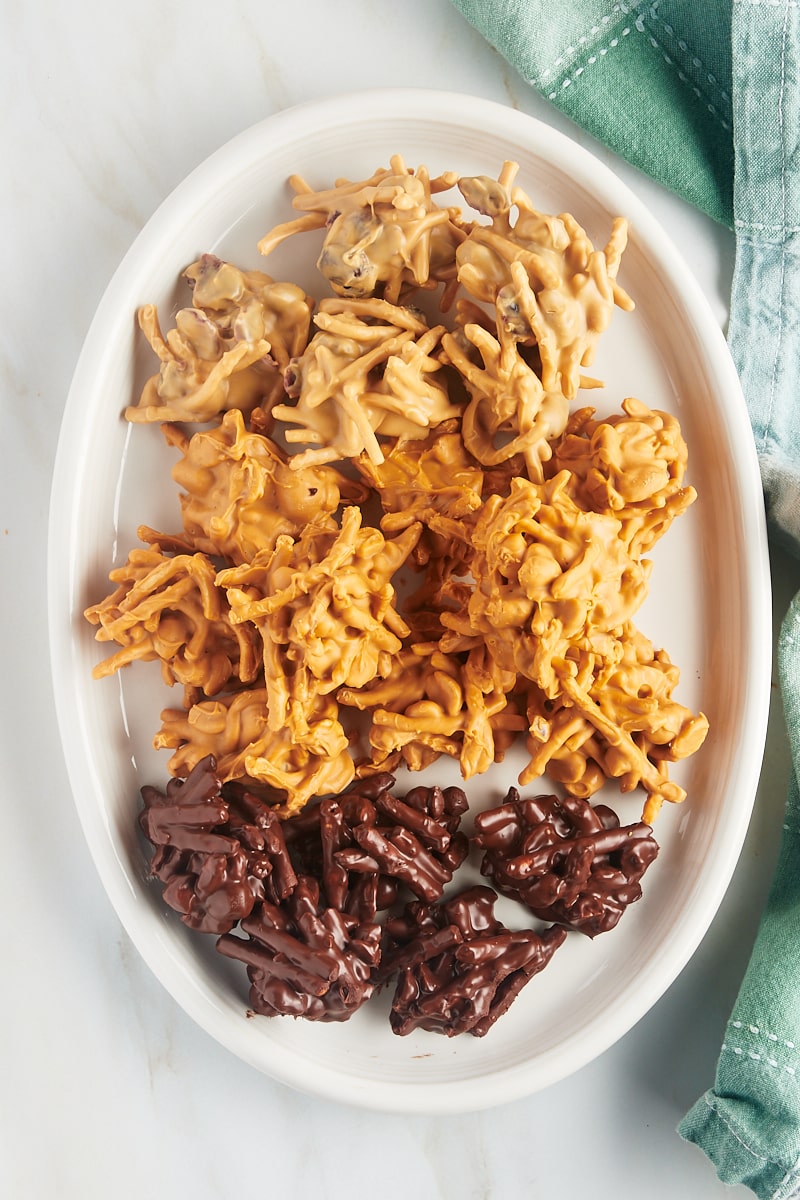 Variations
While the butterscotch and peanut butter version is the classic way to make this haystacks recipe, there are myriad options for making variations. Here are some ideas for some fun, tasty ways to change the flavors and even the texture. Pick one tweak, use a combination, or create your own version!
Chocolate haystacks – Substitute chocolate chips for the butterscotch chips. Semisweet chocolate chips work nicely, but good quality white chocolate chips are a good choice, too. (Pictured above with Nutella and pretzels)
Nutella haystacks – Use Nutella in place of the peanut butter. You can even go with chocolate chips and hazelnuts for the full chocolate-hazelnut experience.
Fruit and nut haystacks – Incorporate dried fruits like cranberries, raisins, or chopped apricots, along with your favorite nuts for a fruity and nutty haystack combination.
Cookie butter haystacks – Opt for creamy cookie butter instead of peanut butter. It pairs well with chocolate, white chocolate, and butterscotch. (Pictured above with white chocolate, cranberries, and pistachios)
Peanut butter haystacks – Try an all-out peanut butter experience with peanut butter chips instead of butterscotch chips.
Pretzel haystacks – Go with thin pretzel sticks instead of chow mein noodles. Be sure to break them into smaller pieces if they're long. (Pictured above with the chocolate version)
Cereal haystacks – Rice Krispies or Chex are a fun substitute for the noodles, too. This will give your haystacks a different texture and a classic cereal treat flavor.
Holiday haystacks – These have long been a favorite for sharing and gifting during the Christmas season. Dress them up simply with some holiday sprinkles to make them more festive.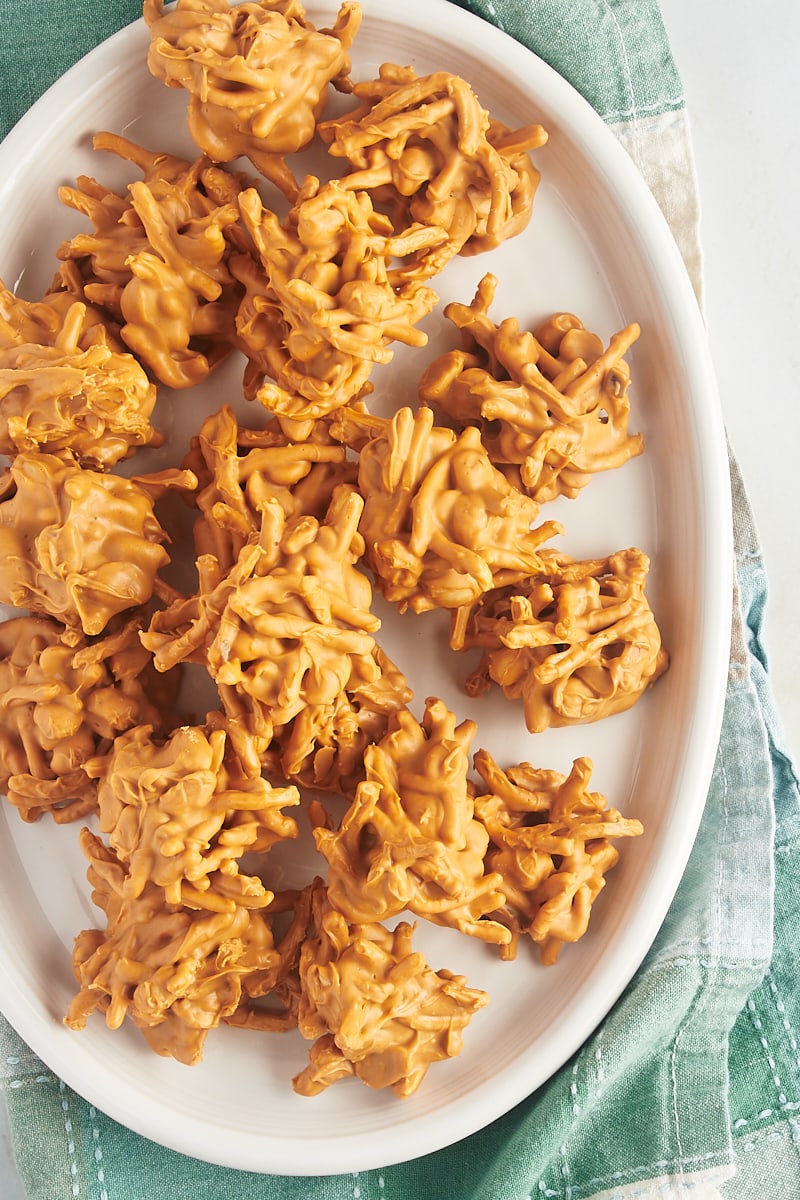 How to Store
To keep your haystacks fresh, store them in an airtight container at room temperature. Layer them with parchment paper to prevent sticking. They'll keep for about a week; however, their shelf life may vary depending on factors like humidity and the specific ingredients used.
If you need to keep them longer, you can extend their shelf life by storing them in an airtight container in the refrigerator, which should keep them for up to a month. Just be sure to let them come to room temperature before serving, as they'll become quite firm.
Can Haystacks Be Frozen?
Yes, you can freeze haystacks, although their texture may be affected, becoming softer or stickier. To freeze them, first place them in a single layer on a baking sheet and place in the freezer. Once the haystacks are firm, transfer them to an airtight container or a resealable freezer bag, removing as much air as possible to prevent freezer burn. You can place parchment paper between layers to help prevent sticking. Properly stored, they should keep in the freezer 2 to 3 months. When you're ready to serve them, allow them to thaw overnight in the refrigerator or for a few hours at room temperature.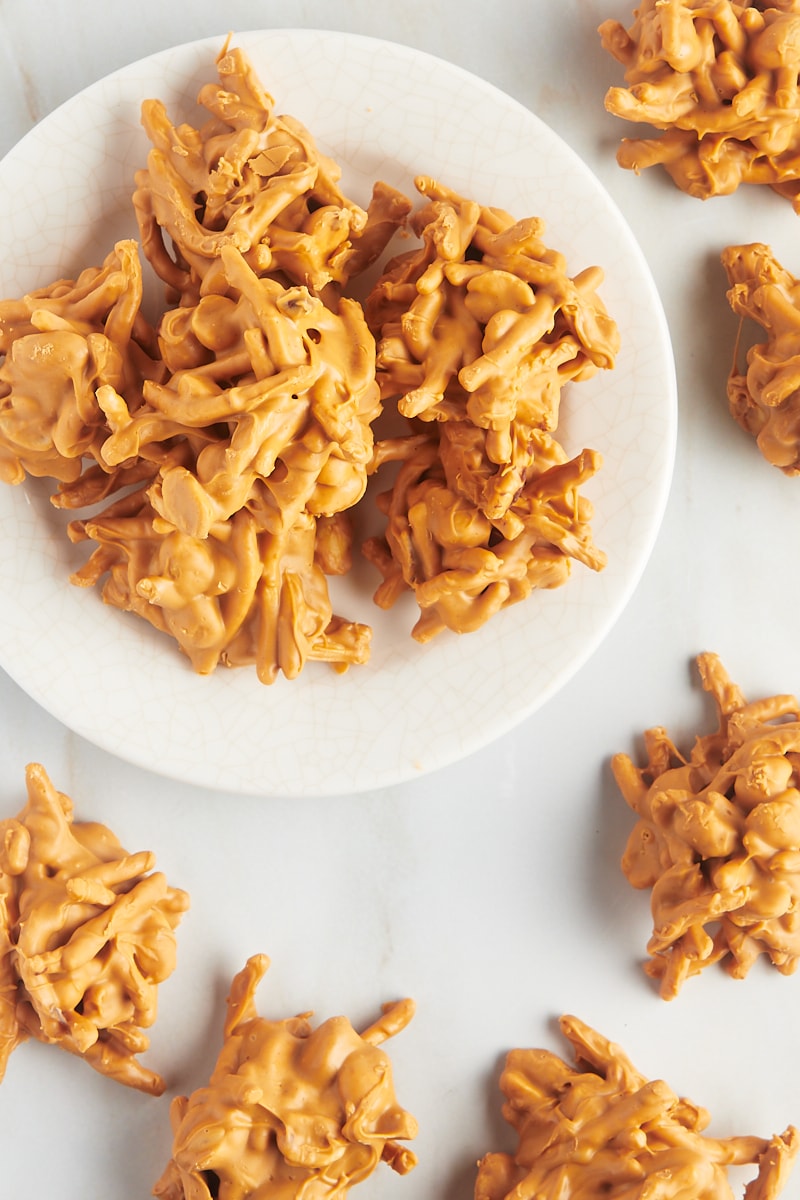 More No-Bake Treats