These summery Strawberry Cupcakes are made with real strawberries and a moist vanilla-flavored sour cream cake. The creamy white chocolate frosting is the perfect finishing touch!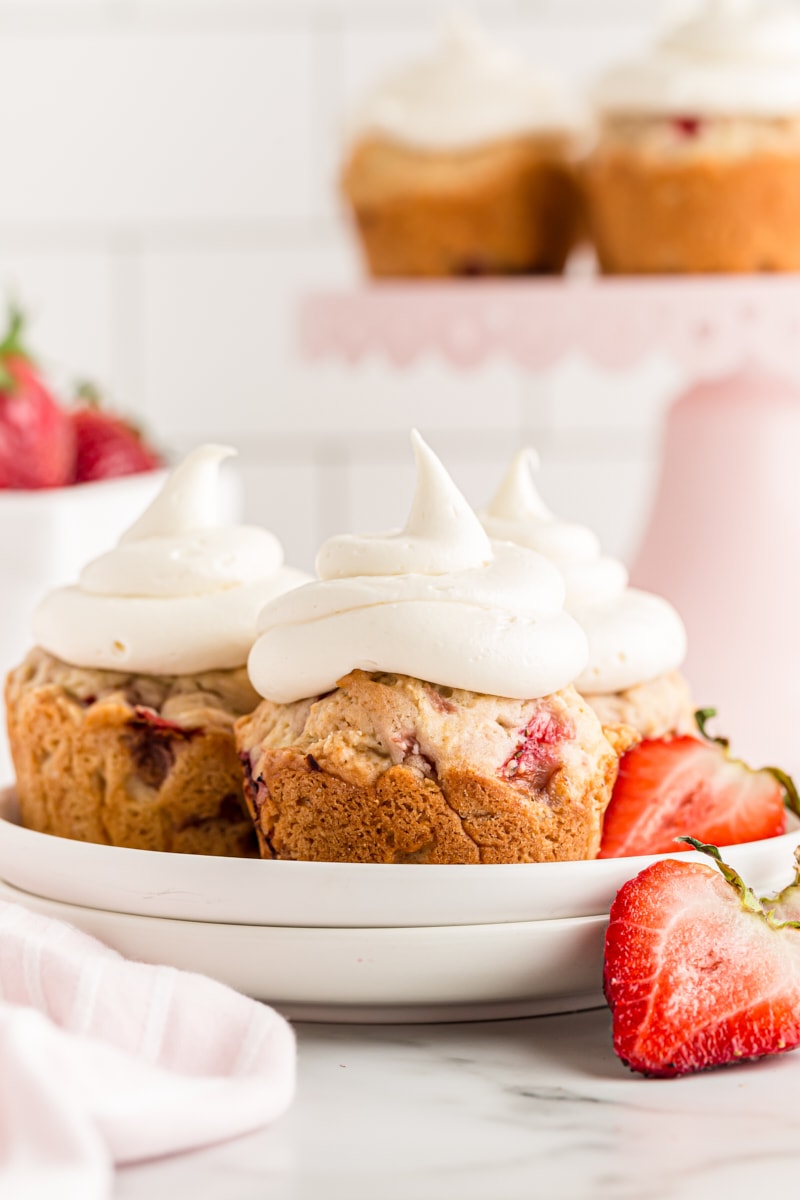 Fresh Strawberry Cupcakes
In a world full of fancy cupcakes with decadent fillings and elaborate toppings, sometimes what you really need is a classic, old-fashioned cupcake. Start with a moist, delicious cake and a creamy homemade frosting and you really can't go wrong.
Case in point? These Strawberry Cupcakes.
They're about as unfussy as you can get when it comes to cupcakes, but they're sure to become your new favorite summer treat. Instead of cloying artificially-flavored strawberry cake, these cupcakes are made with real strawberries, giving them that perfect natural sweet-tart berry flavor.
The vanilla cake is made with sour cream, which means it's extra moist and flavorful, and each cupcake is topped with a swirl of white chocolate frosting. (Cream cheese frosting would be fabulous, too; you can use the recipe from my Gingerbread Cupcakes with Cream Cheese Frosting.)
We love eating these straight out of the refrigerator. What's better than a cool, sweet treat in the summer? If you prefer serving them at room temperature, take them out of the refrigerator about an hour before serving them.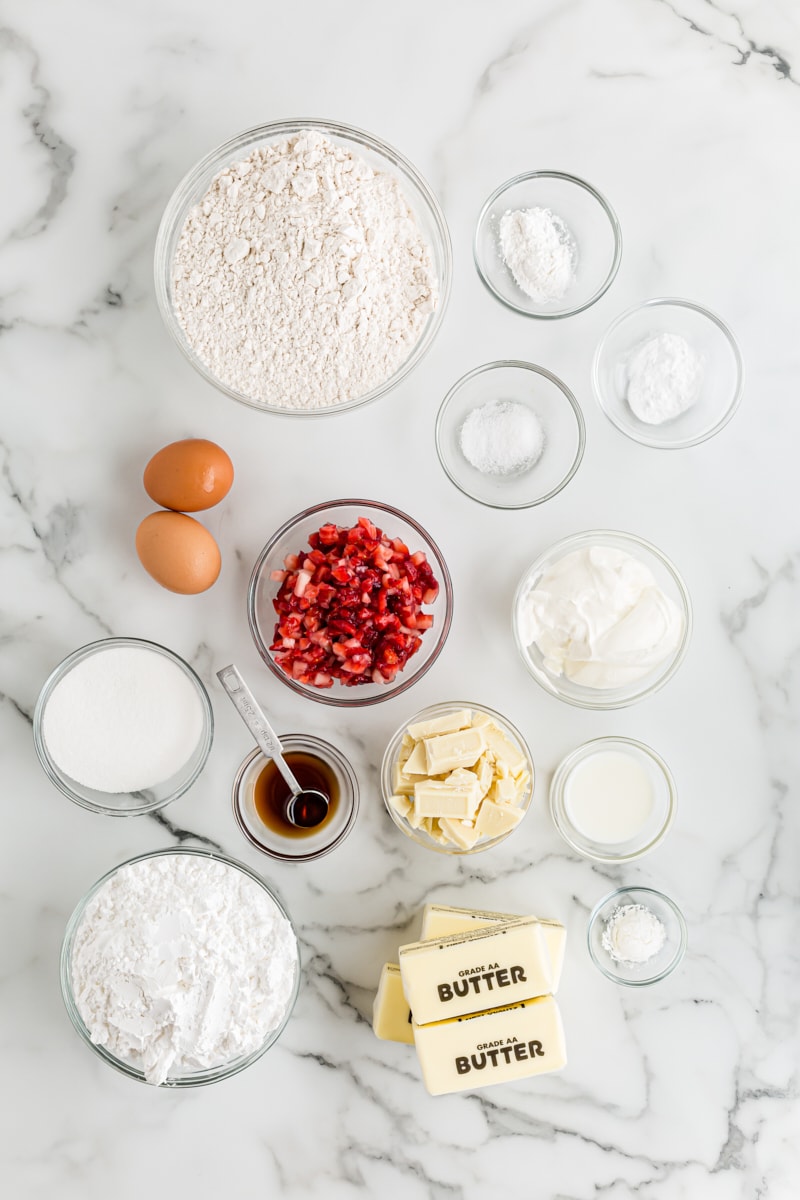 What You'll Need
Scroll down to the recipe card below this post for ingredient quantities and full instructions.
For the cupcakes:
For the frosting:
White chocolate
Milk
Unsalted butter – Let this soften so it's easy to whip into a creamy frosting.
Confectioners' sugar
Vanilla extract
Cornstarch – Cornstarch helps the frosting keep its shape!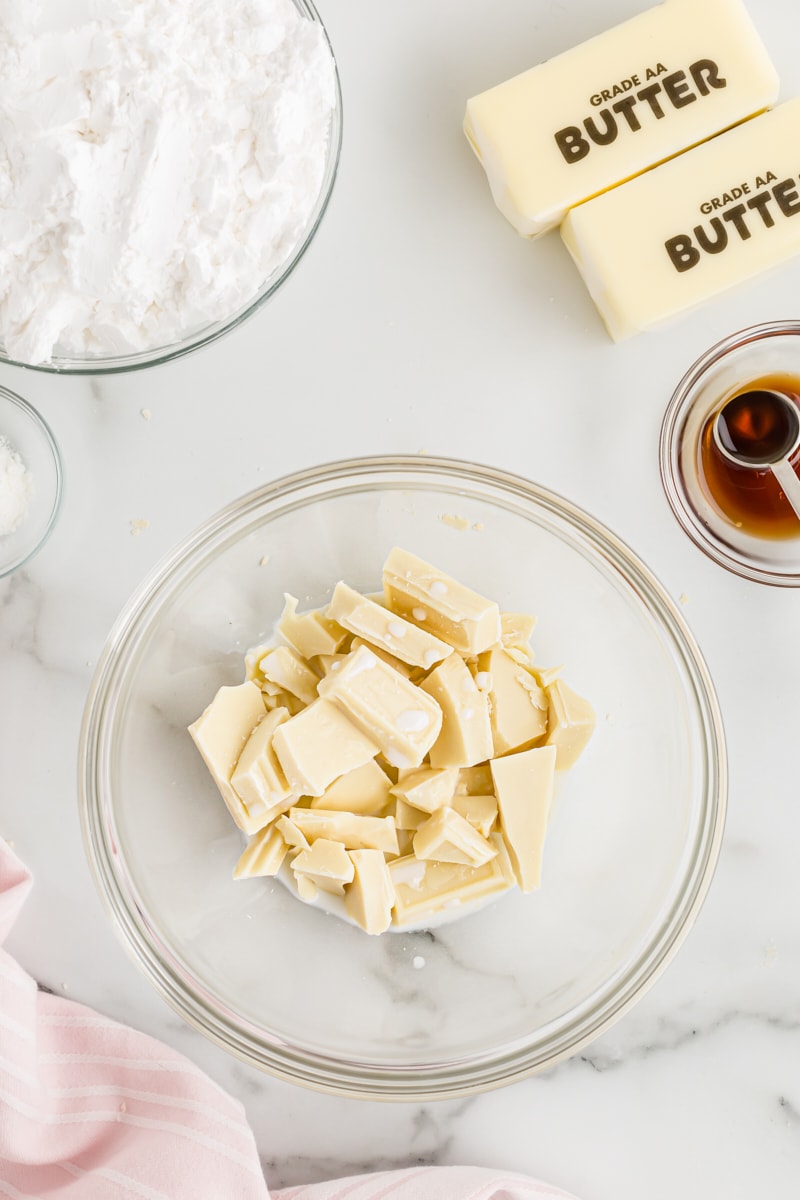 Is White Chocolate Actually Real Chocolate?
Whether white chocolate is "real" chocolate is up for debate, but like dark and milk chocolate, white chocolate is made from cocoa beans. The difference is that with white chocolate, all of the cocoa solids are removed, leaving only the cocoa butter behind. To make white chocolate, sugar and vanilla are added to the cocoa butter.
How to Make Strawberry Cupcakes
These cupcakes are a cinch to make! Here's what you'll need to do.
Make the cupcakes:
Prepare. Preheat your oven to 350°F and grease 18 standard-sized muffin cups.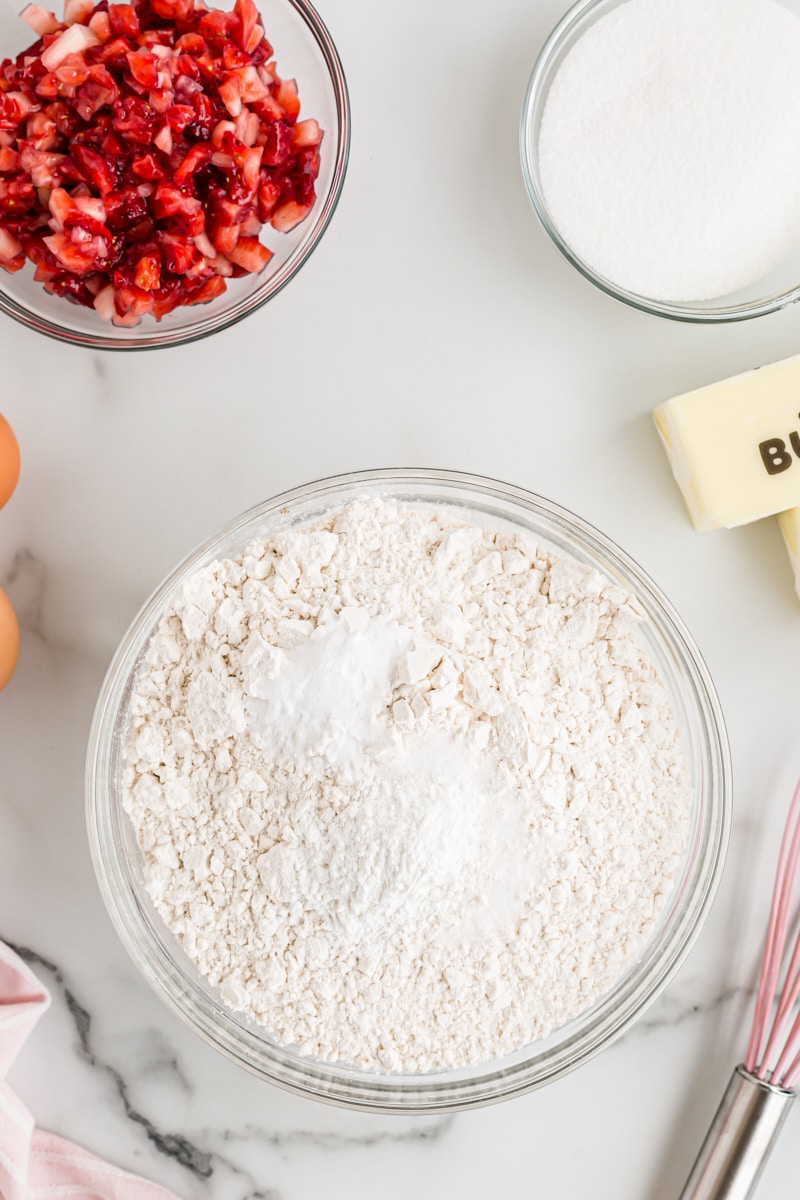 Mix the dry ingredients. In a mixing bowl, whisk the flour, baking powder, baking soda, and salt.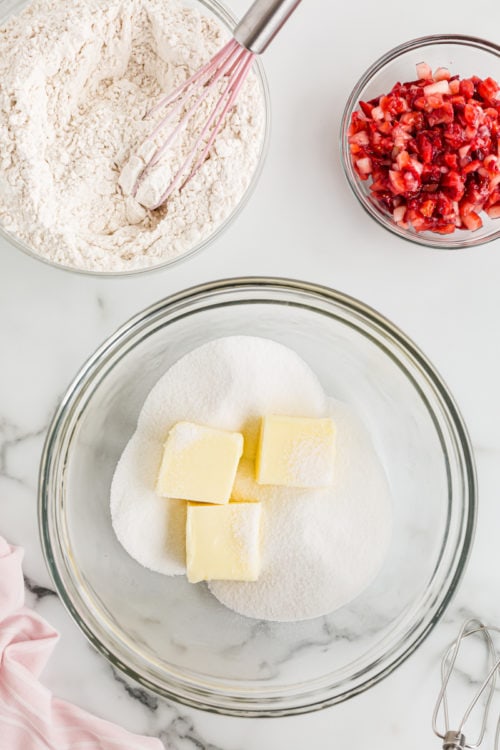 Mix the wet ingredients. Use an electric mixer on medium speed to beat the butter and sugar in a second mixing bowl, until they're light and fluffy. Beat in the eggs one at a time, followed by the vanilla.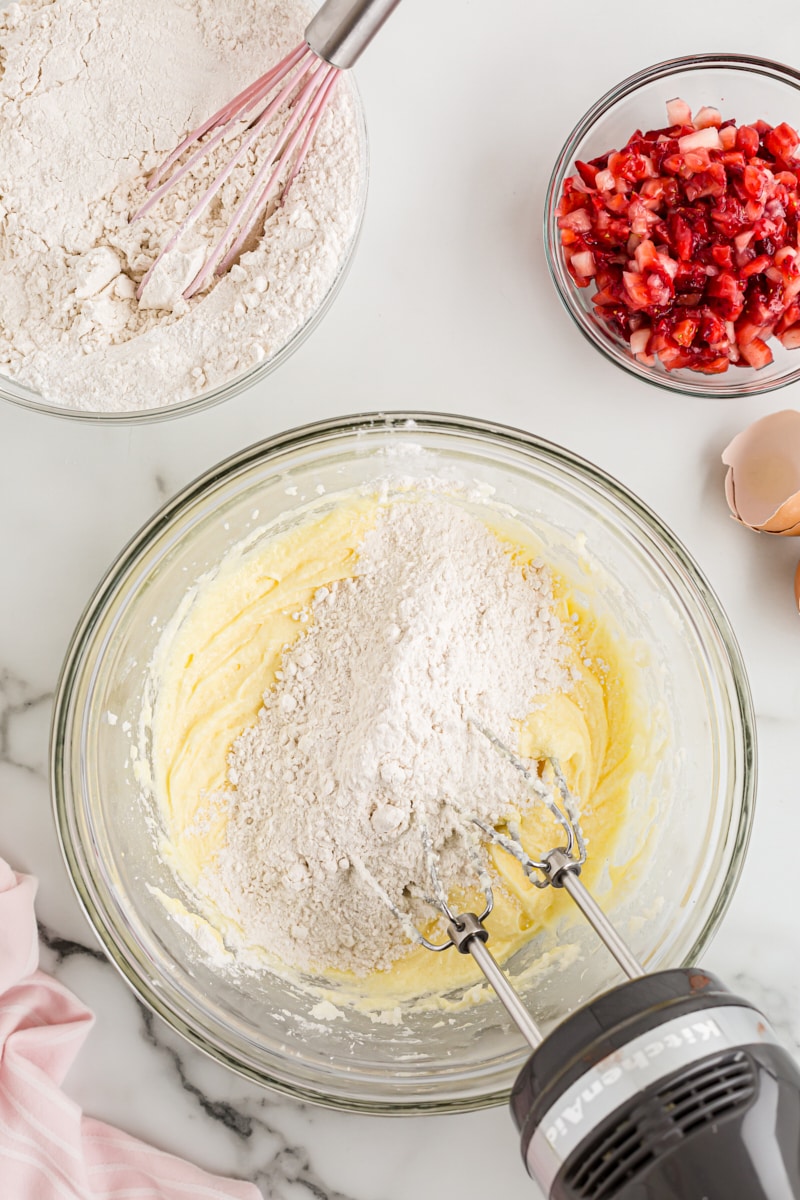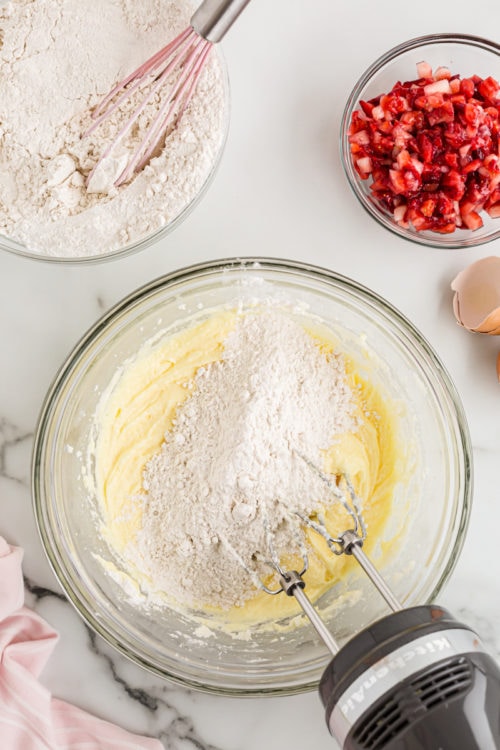 Combine the wet and dry ingredients. Reduce the mixer speed to low. Slowly add the flour mixture, beating just until combined. Stir in the sour cream, then fold in the strawberries.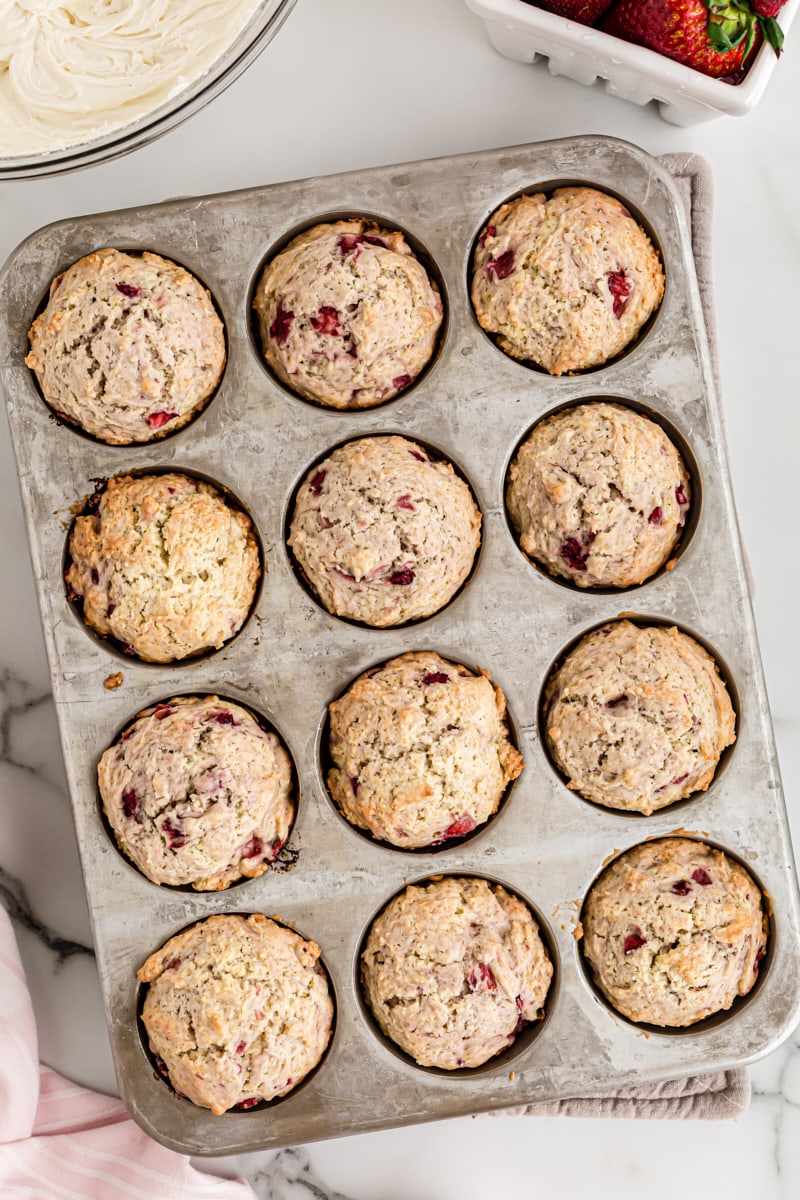 Bake. Divide the batter into prepared pans, filling each cup about 2/3 full. Bake for 18 to 20 minutes, or until a toothpick inserted into the center comes out clean. Let the cupcakes cool before you frost them.
Make the frosting: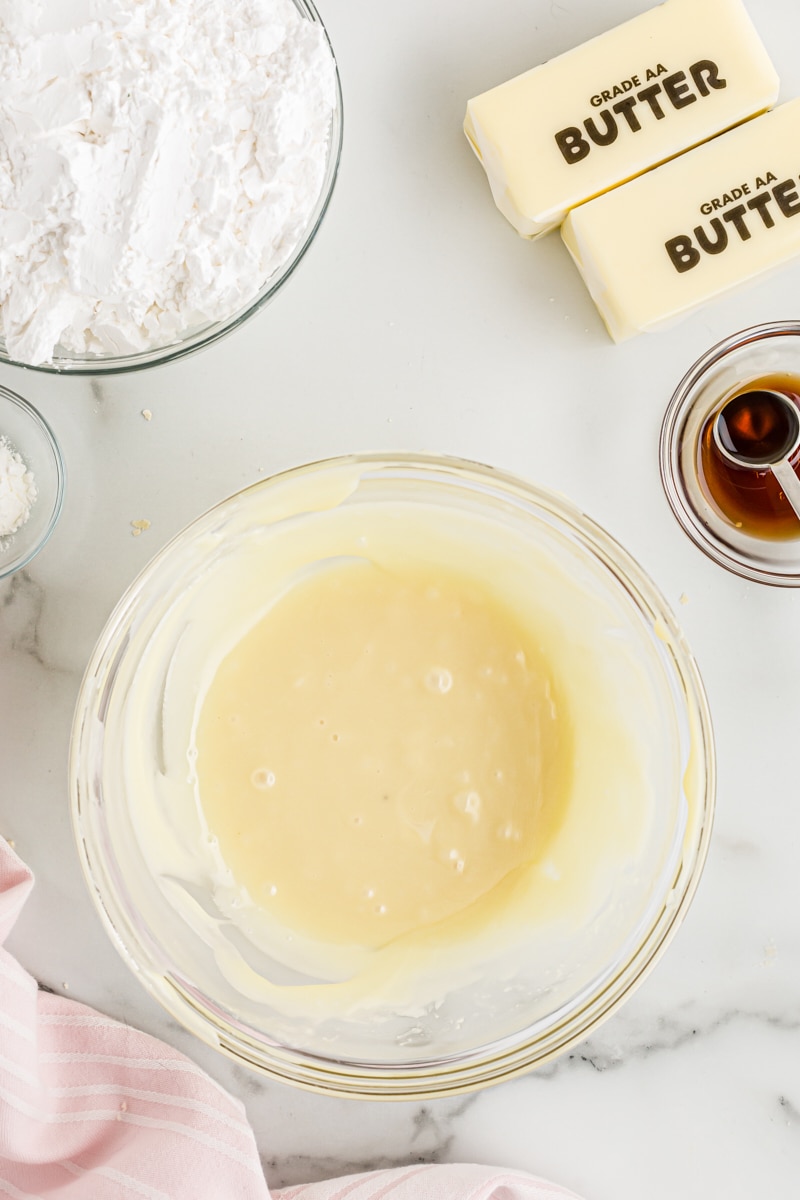 Melt the chocolate. Place the white chocolate and a tablespoon of milk in a microwave-safe bowl. Microwave at half power in 30-second bursts until chocolate melts when you stir it.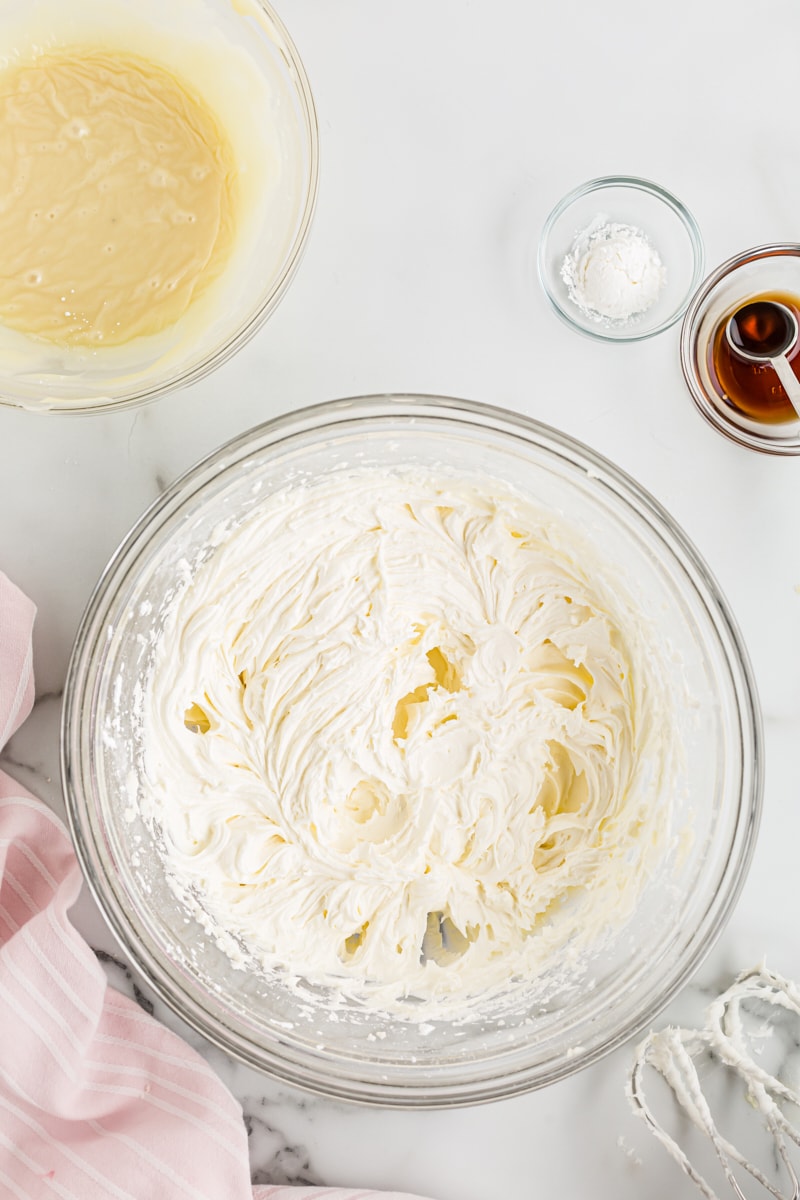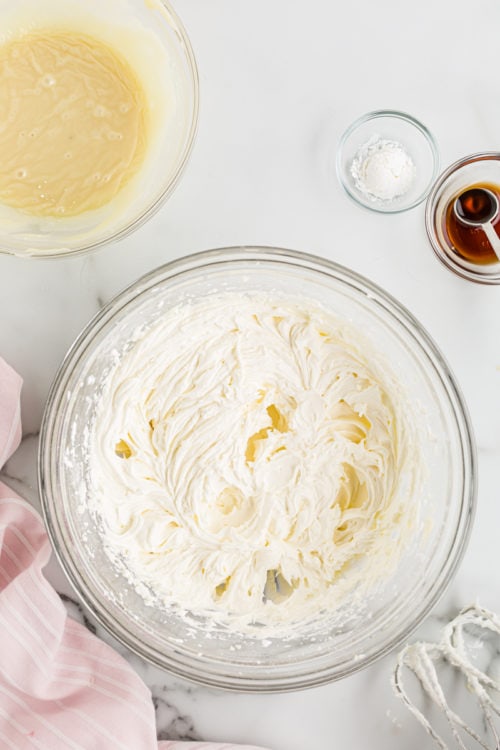 Beat the frosting. Use an electric mixer on medium speed to beat the butter and confectioners' sugar until they're light and fluffy. Beat in the vanilla and cornstarch, followed by the white chocolate mixture.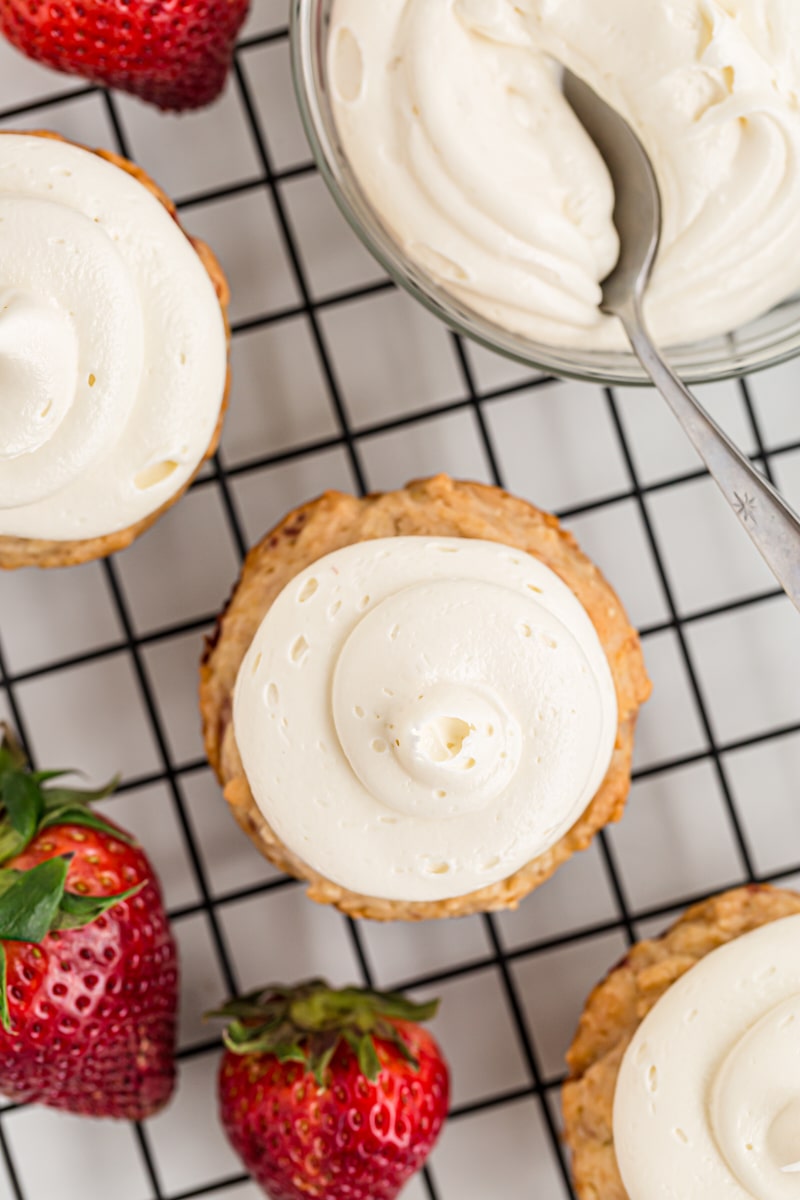 Frost the cupcakes. If needed, refrigerate the frosting for 15 to 20 minutes, or until the frosting is spreadable. Frost the cupcakes, then serve or refrigerate for later.
How Do You Frost a Cupcake Without a Piping Bag?
If you don't have a piping bag or any decorating tips, don't worry! You can still easily frost these cupcakes. Place the frosting in a zip-top bag, seal it, and use kitchen shears to clip off the corner. You can use this to pipe swirls of frosting onto the cupcakes, as pictured here.
Don't want to fuss with piping? You can also use an offset spatula to spread the frosting onto each cupcake.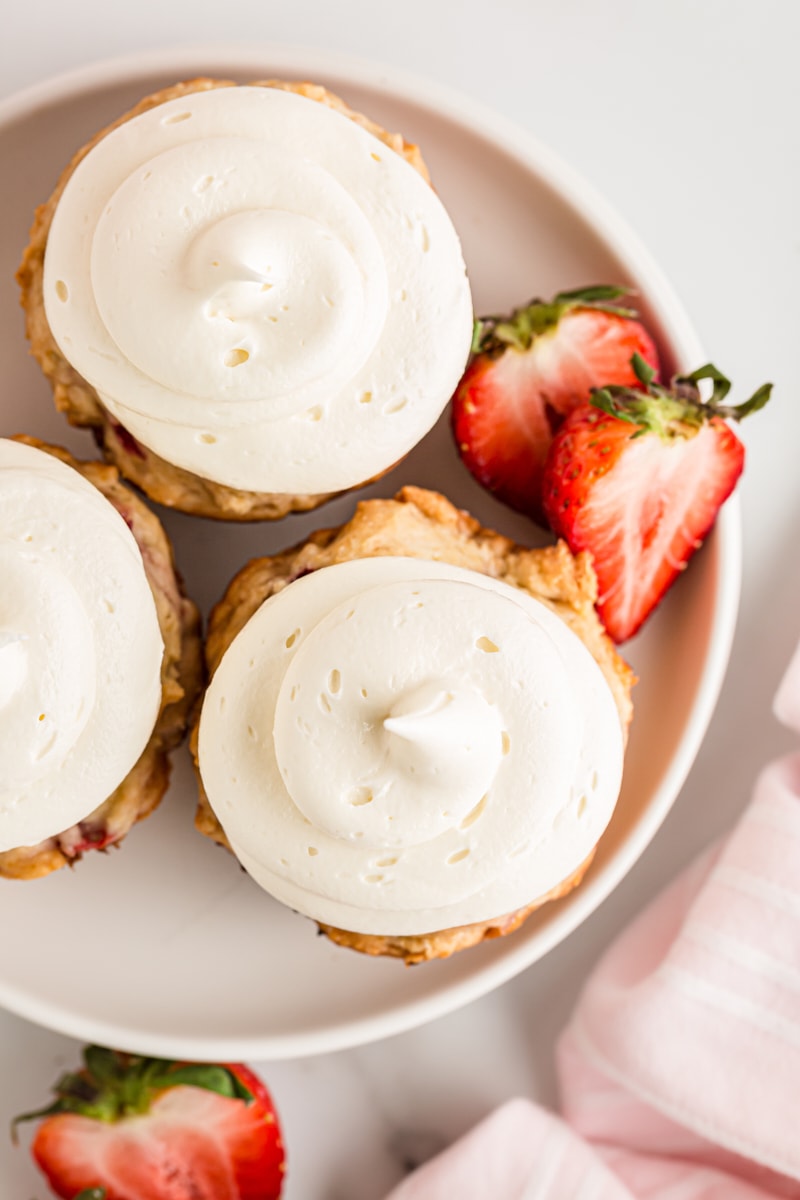 Tips for Success
Here are a few quick tips for perfect Strawberry Cupcakes:
Use ripe, delicious strawberries. Whenever you're baking with fruit, it's important to use fruit that tastes good out of hand. If you wouldn't eat it as a snack, it won't magically taste better in your baked goods!
Measure the flour by weight. Too much flour will make your cupcakes dry, while too little will make them dense and gooey. If you don't have a kitchen scale, lightly spoon the flour into a measuring cup, then sweep off the excess with a butter knife.
Don't over-mix the batter. Stir just until the dry ingredients are moistened. Over-mixing will result in tough cupcakes.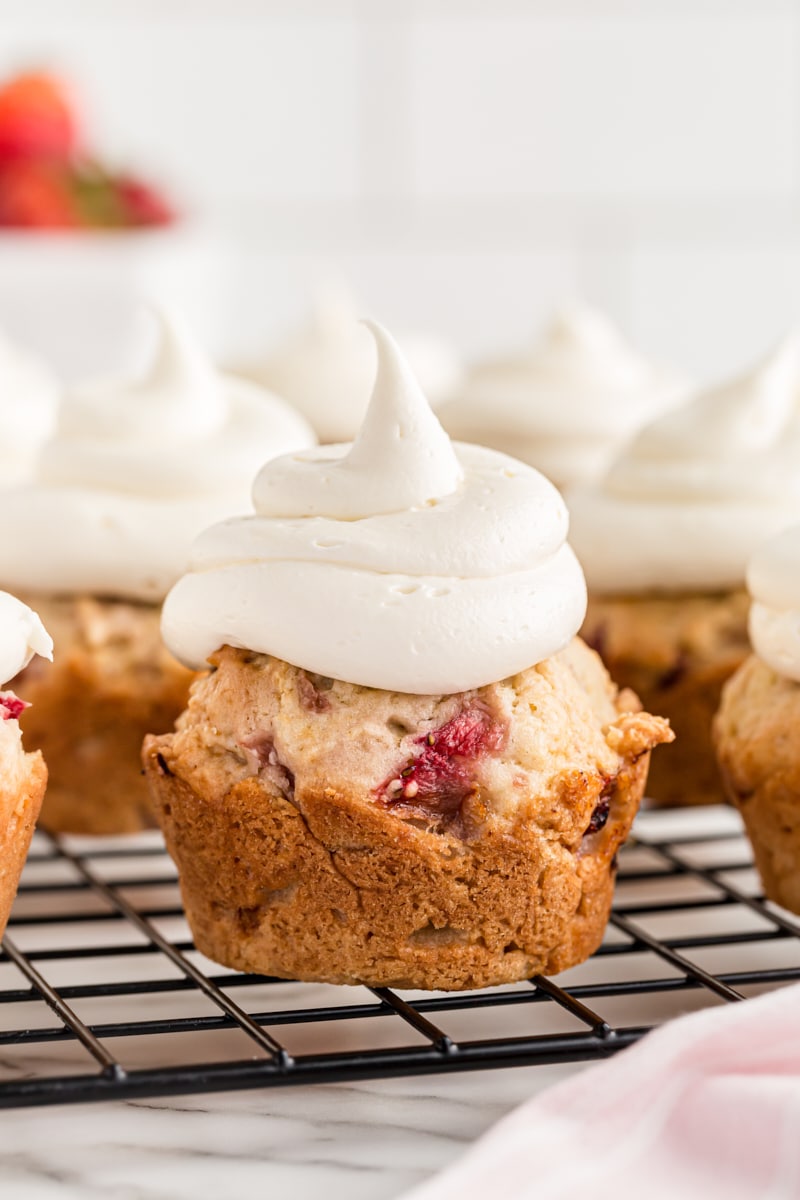 How to Store
Strawberry Cupcakes are best eaten the day they're made, but they can be refrigerated in an airtight container for 3 to 4 days.
Can This Recipe Be Frozen?
These cupcakes can be frozen before or after they're frosted.
To freeze the cupcakes before frosting them: Let the cupcakes cool completely, then place them in a freezer bag or airtight container. Freeze for up to 3 months, then thaw them in the refrigerator, frost, and serve.
To freeze the cupcakes after they're frosted: Place the cupcakes on a sheet pan and freeze them until the frosting is frozen through and firm. Transfer the cupcakes to an airtight container or freezer bag and freeze them for up to 3 months. Thaw them in the refrigerator before serving.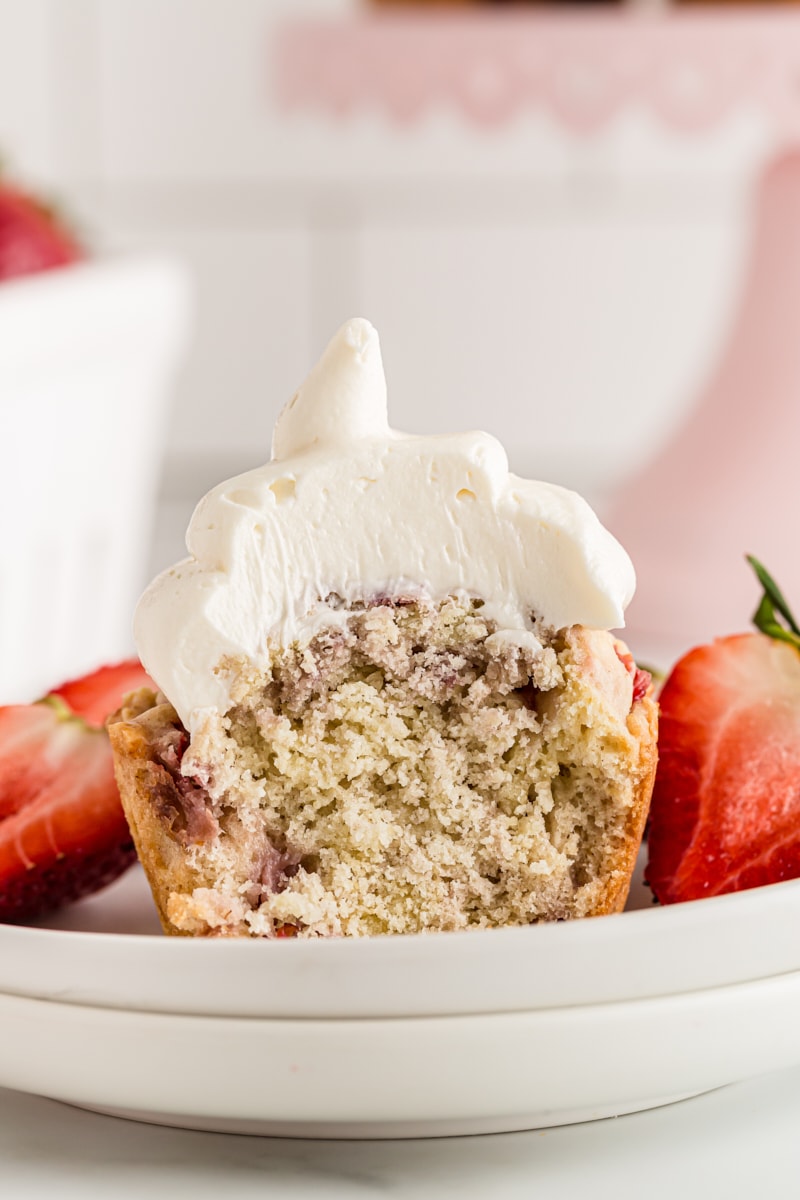 More Strawberry Recipes