These big, chewy M&M cookies are a nostalgic treat that's pretty much impossible to resist. Read on to find out how to make this classic cookie recipe!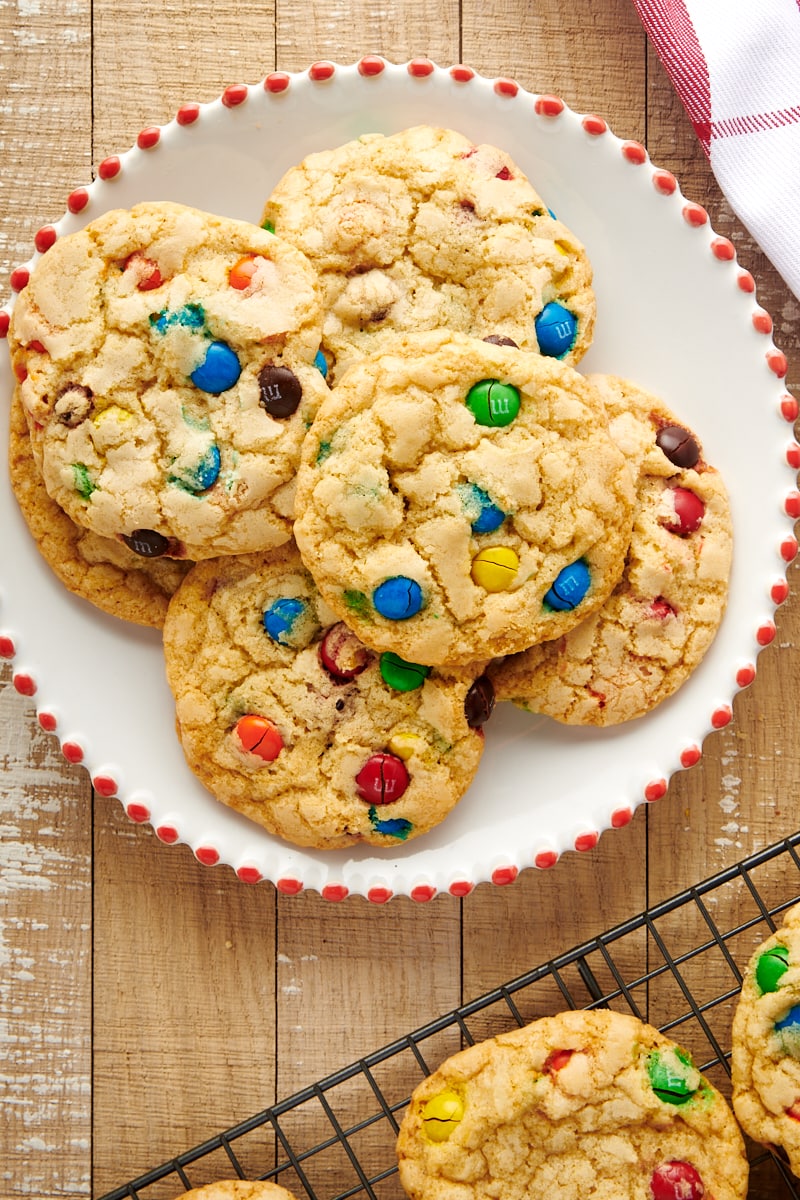 Classic M&M Cookies
Food bloggers usually start their blog posts by talking about the way a recipe tastes, but I think it's a safe bet that you're here because you know exactly what a perfect M&M cookie tastes like and you want to make them yourself.
The best M&M cookies are chewy, buttery, full of milk chocolate flavor, and they have that irresistible bit of crunch from the candy shells. If that's what you're looking for, then this is the recipe for you!
Because there's no such thing as too much M&M cookie, I made these cookies big by using a 3-tablespoon cookie scoop to portion out the dough. You can certainly make them smaller (be sure to adjust the baking time accordingly!), but when it comes to M&M cookies, I say you should go big or go home.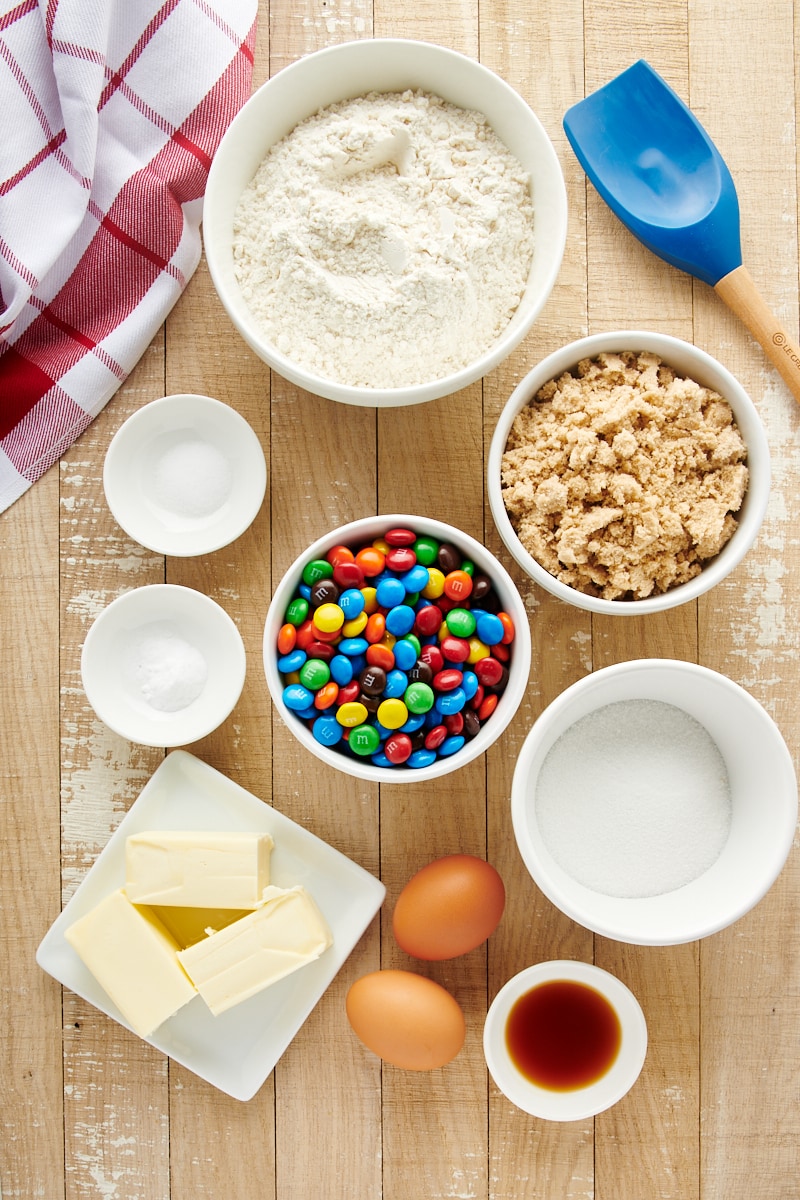 What You'll Need
Scroll down to the recipe card below this post for ingredient quantities and full instructions.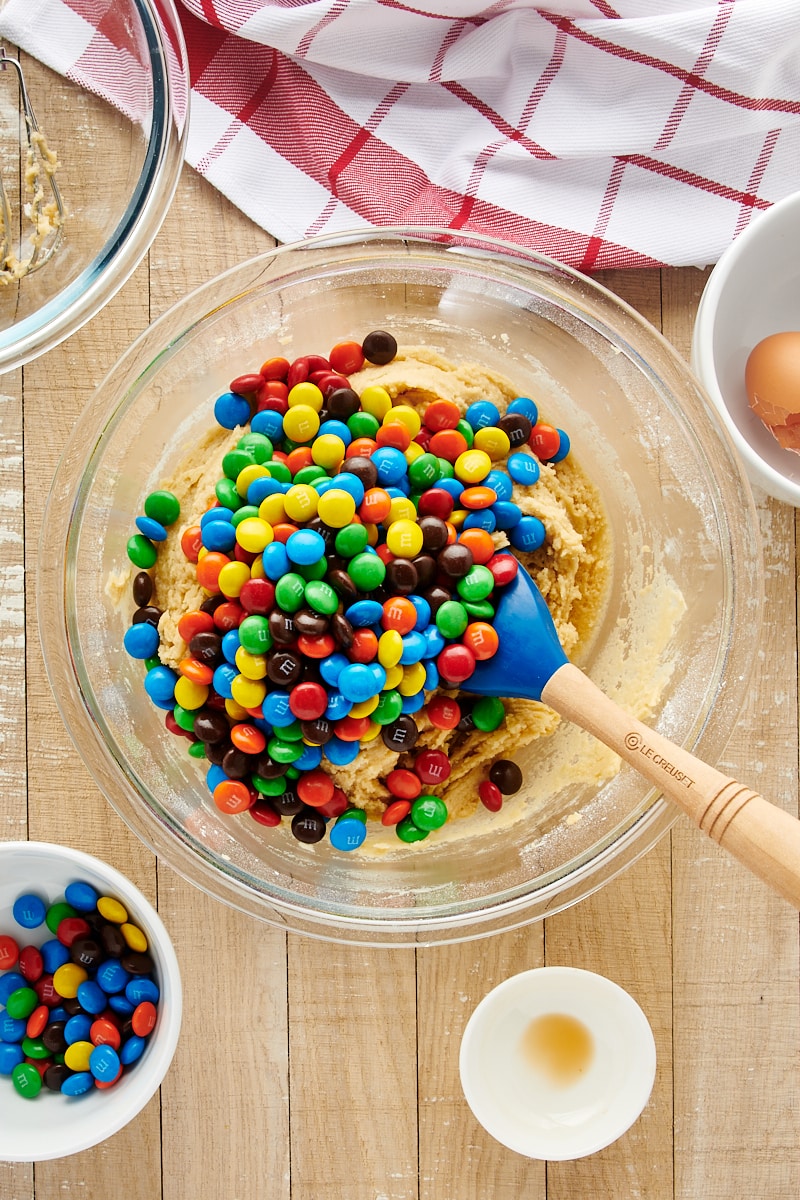 Can You Bake with Normal M&Ms?
Yes, you don't need to buy the specialty bags of mini M&M baking bits that are sold alongside chocolate chips in the baking section. Just buy the regular-size, milk chocolate M&Ms for this recipe.
How to Make M&M Cookies
Ready to feel like a kid again? Here's how to make your own M&M cookies at home!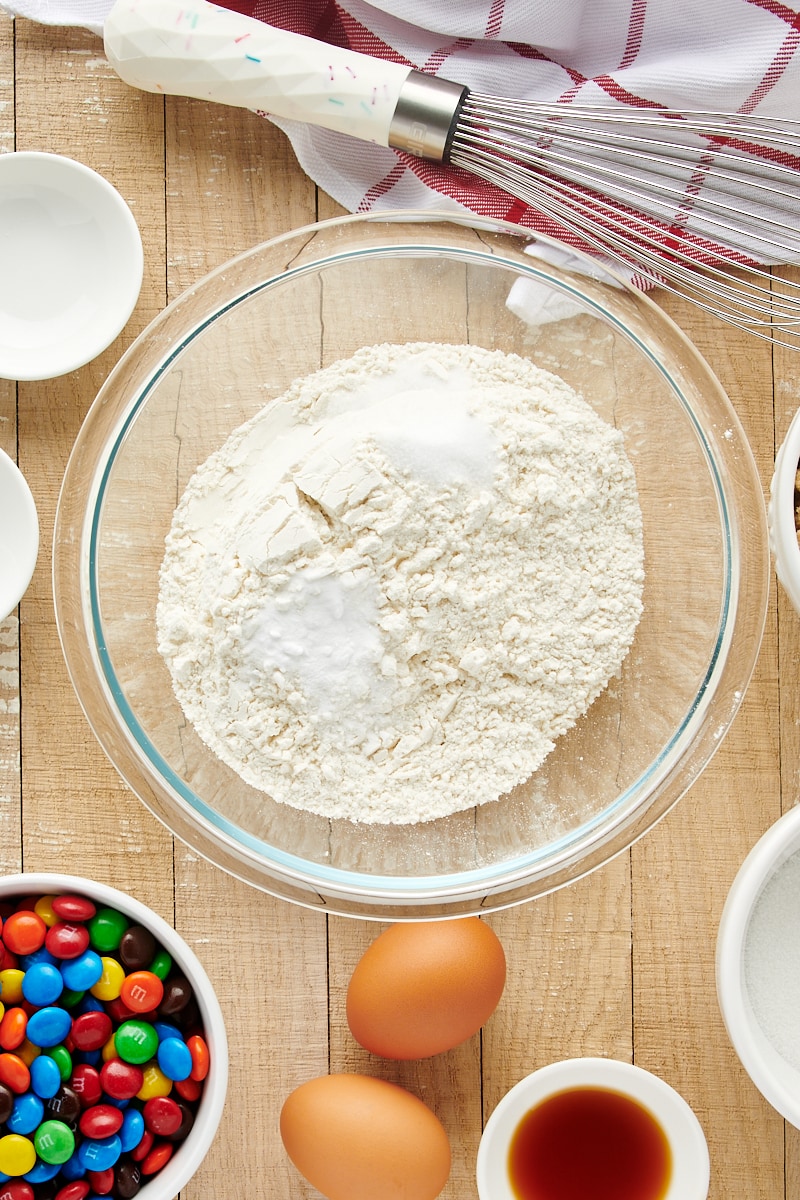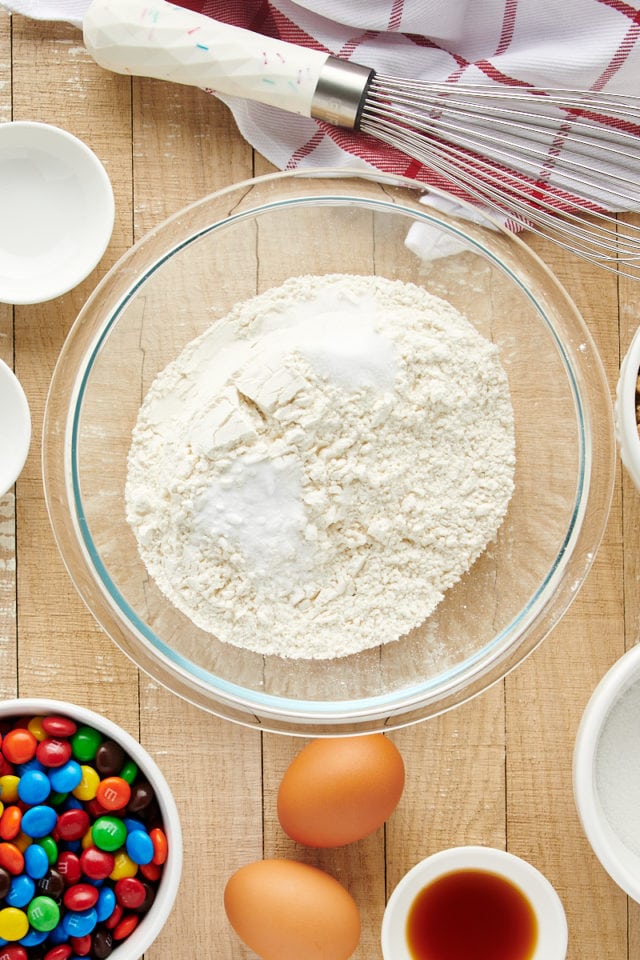 Mix the dry ingredients. Whisk the flour, baking soda, and salt in a mixing bowl.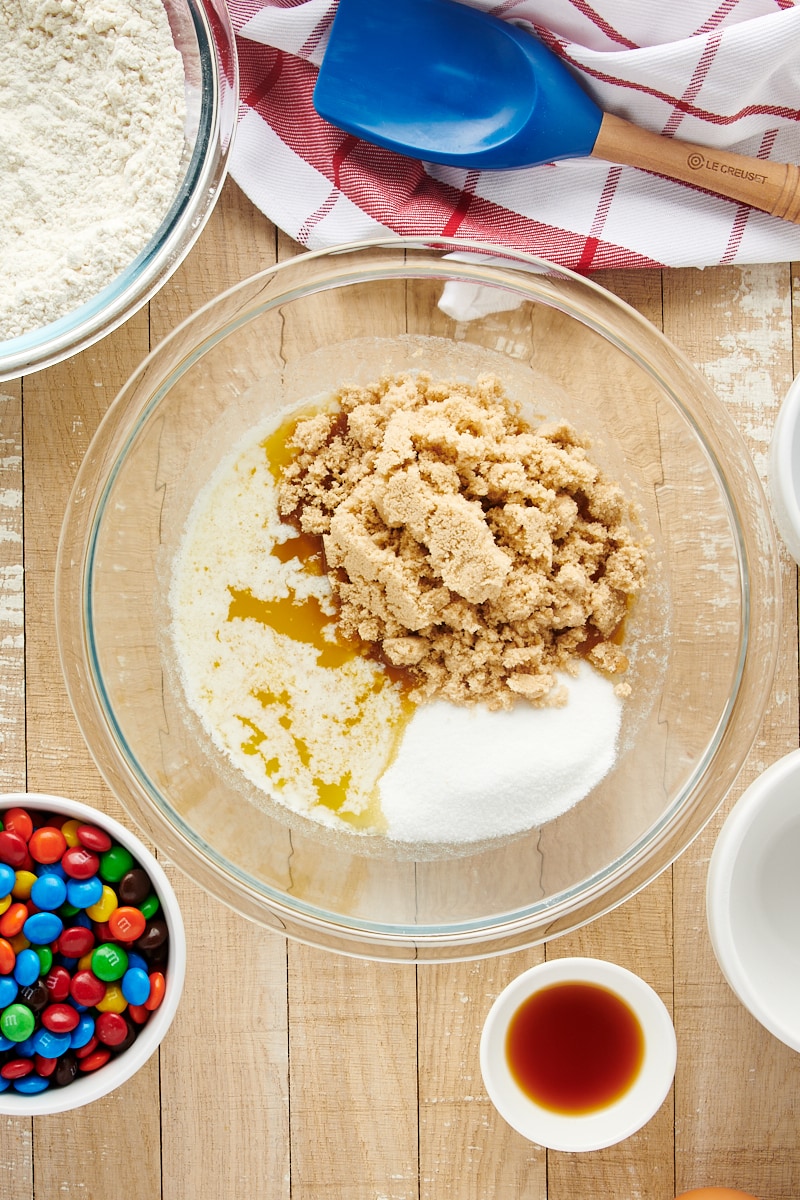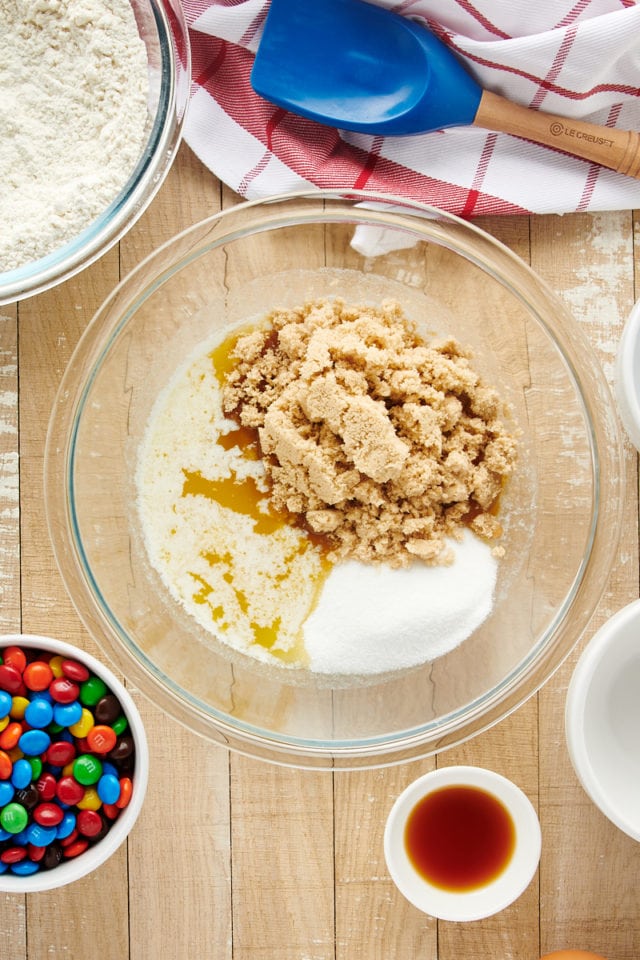 Mix the wet ingredients. Use an electric mixer on medium speed to beat the butter and sugars in another bowl, until they're smooth. Beat in the egg, egg yolk, and vanilla.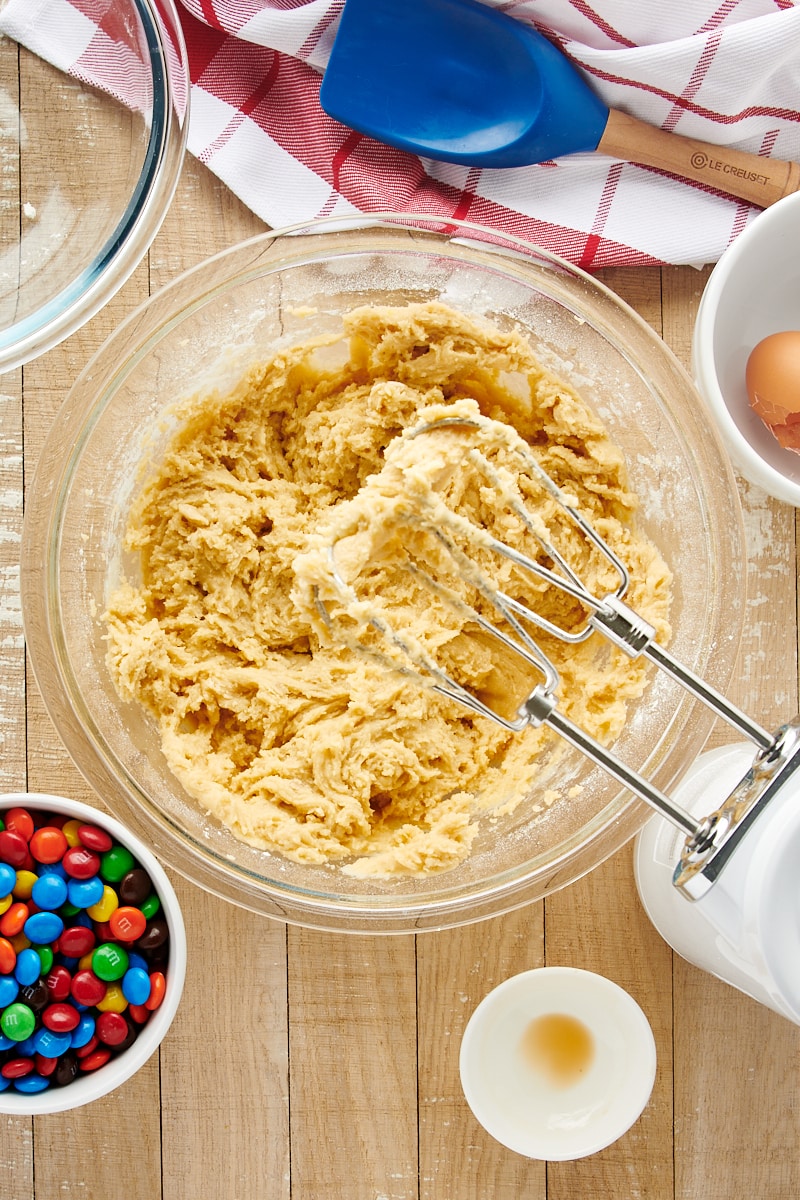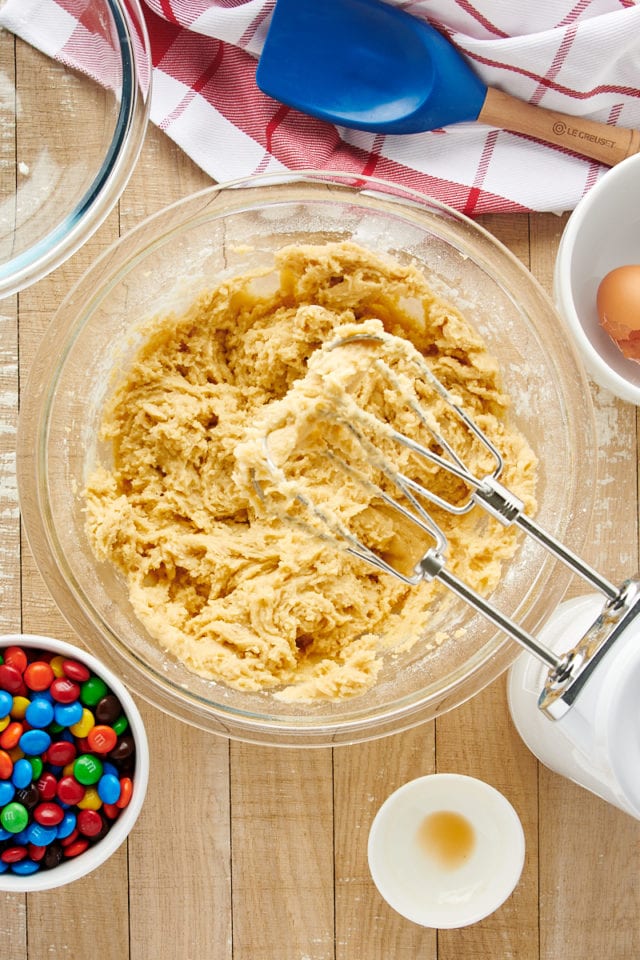 Combine the wet and dry ingredients. Reduce the mixer speed to low and slowly add the flour mixture to the bowl with the eggs and butter, mixing just until combined. Fold in the M&Ms.
Chill the dough. Refrigerate the cookie dough for 30 to 60 minutes. This keeps the cookies from spreading!
Prepare. Preheat your oven to 325°F and line baking sheets with parchment paper or silicone liners.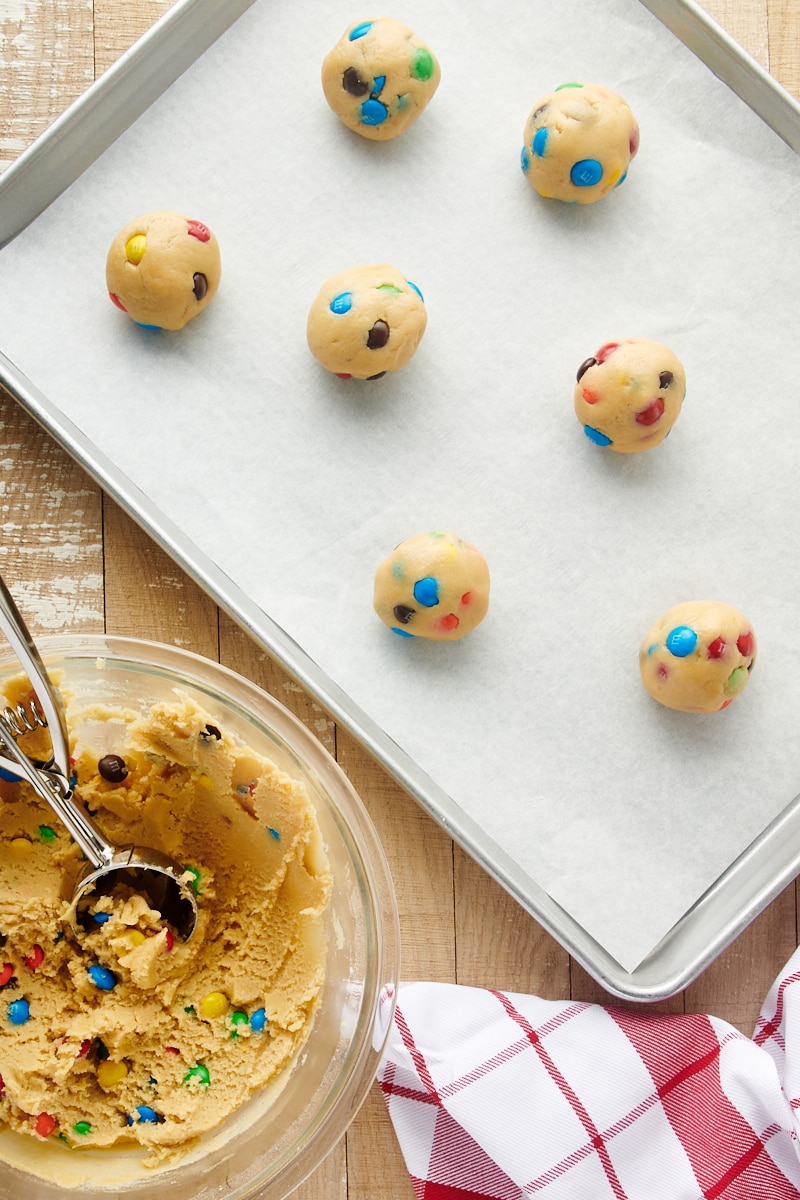 Form the cookies. Use a 3-tablespoon cookie scoop (or use a measuring spoon to portion the dough) to scoop the cookie dough, then use your hands to roll it into balls. Place the dough onto the prepared pans, leaving 2 to 3 inches between the cookies.
Bake. Bake the cookies one pan at a time for 15 to 20 minutes, or until the edges are beginning to brown and the centers are still soft.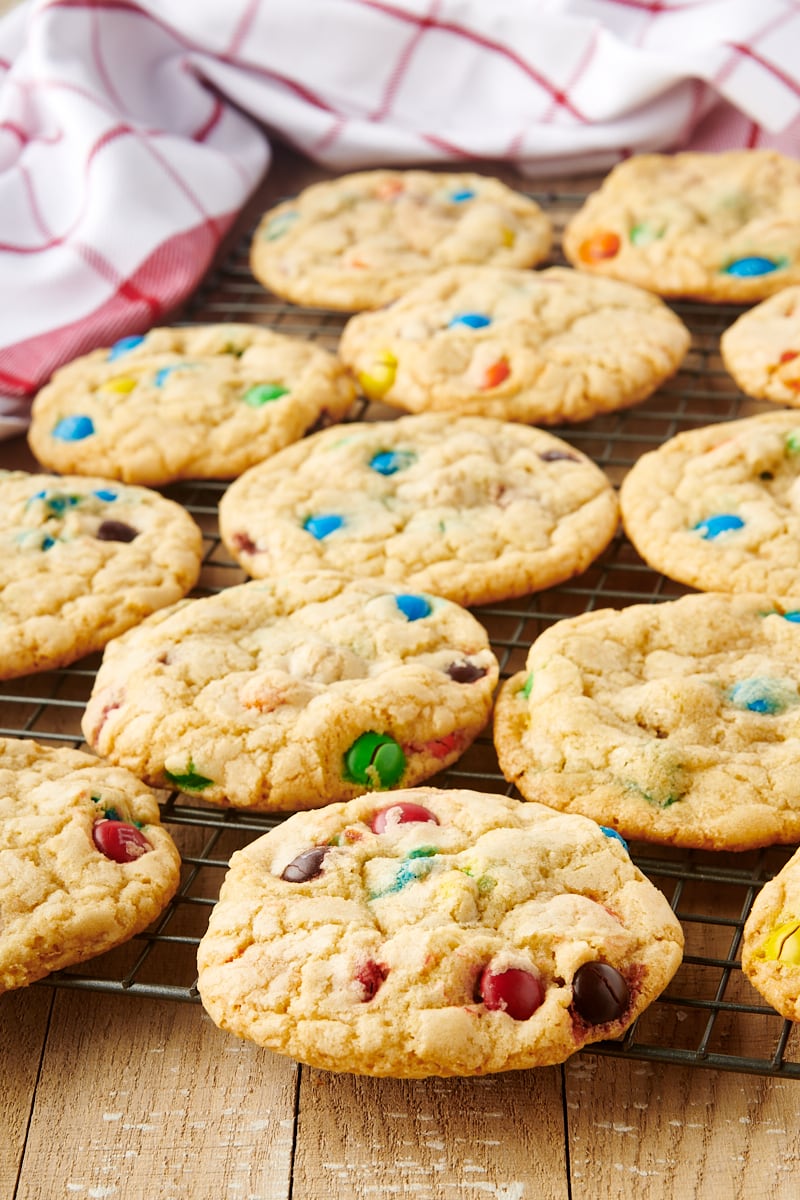 Cool. Let the cookies cool on the pans on a wire rack for about 10 minutes, then remove them from the pans and place them directly on the racks to finish cooling. (Learn more: Why Every Baker Needs Wire Cooling Racks)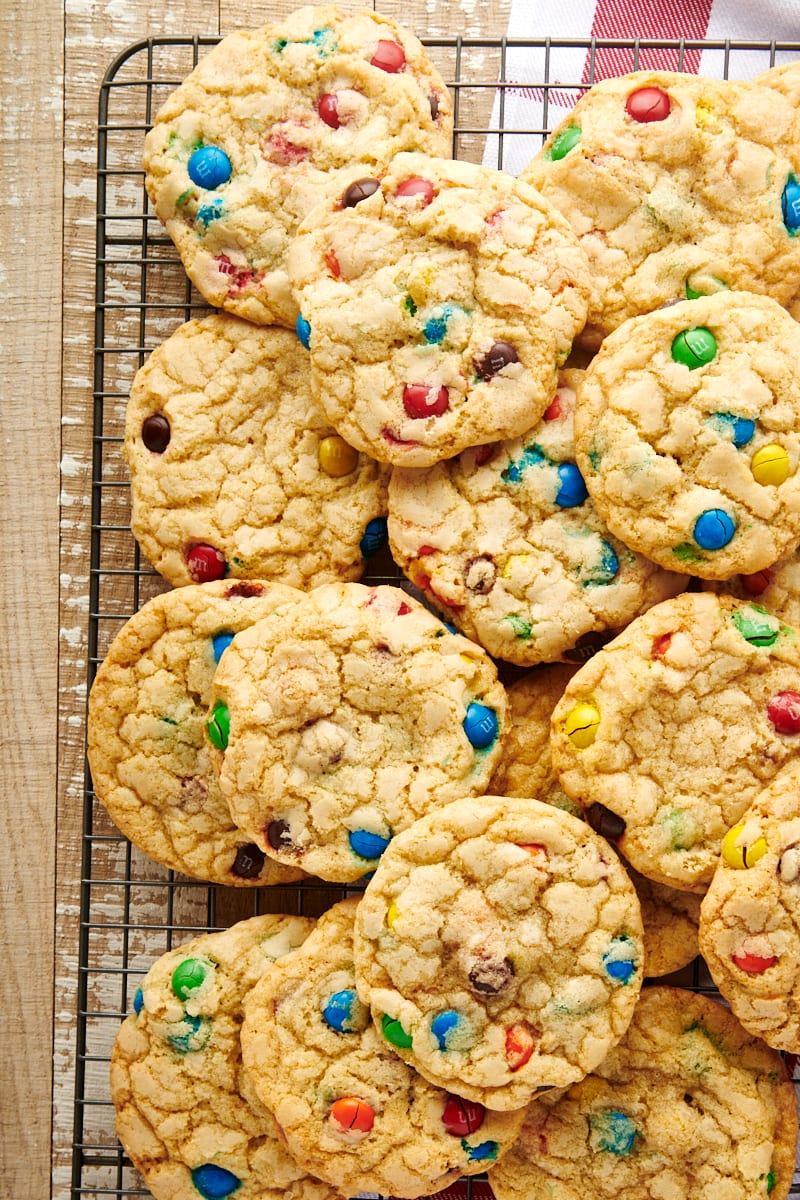 Why Are My M&M Cookies Flat?
If your M&M cookies are flat, it could be that you used too much sugar or butter, or too little flour. Skipping the chilling time for the dough will also result in cookies that spread. Finally, be sure you're lining your baking sheets rather than greasing them—greased baking sheets encourage cookies to spread out.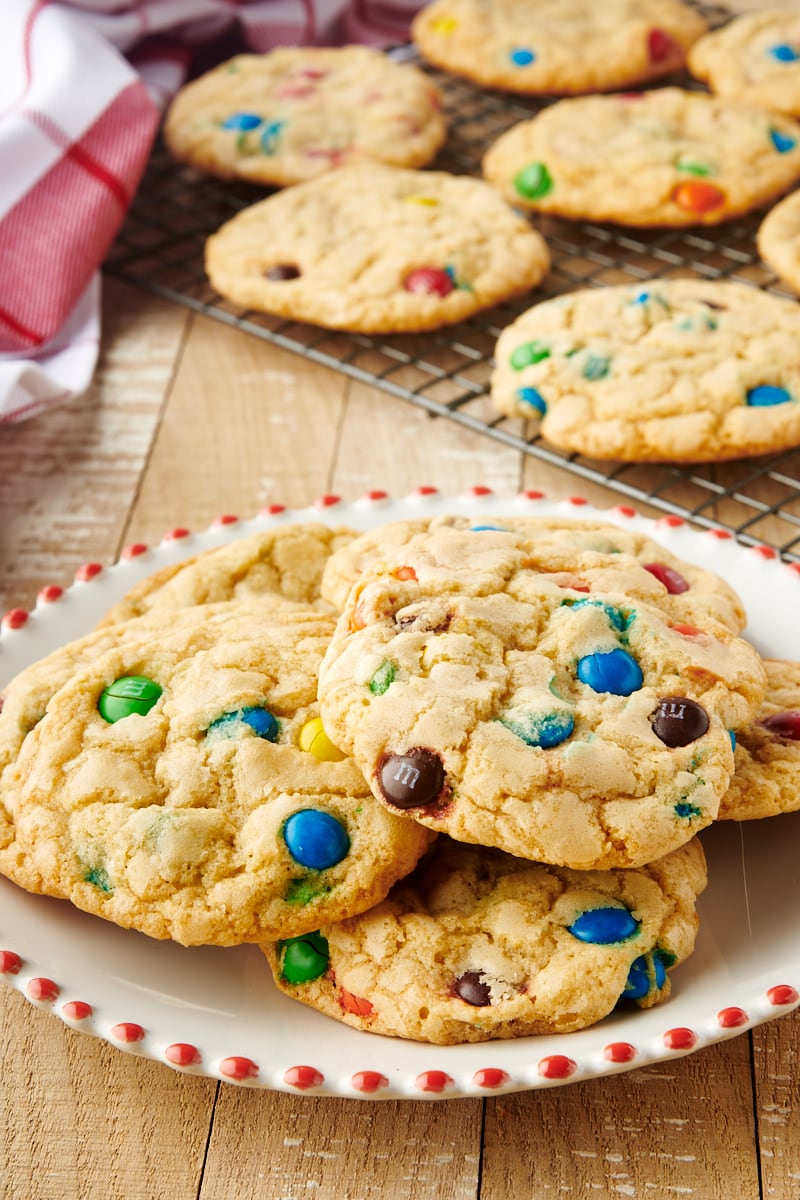 Tips for Success
Here are some hints and tips for perfect M&M cookies—and for making this recipe your own!
Chilling the dough. Refrigerating the dough is an important step for achieving a chewy cookie that doesn't spread during baking. You can refrigerate the dough for more than an hour, but if you do this, you'll want to let it sit at room temperature for a bit afterwards so it's easier to scoop.
Adding chocolate chips. Some M&M cookies have a combination of M&Ms and chocolate chips. If you want to do this, simply swap out some of the M&Ms for milk chocolate or semisweet chocolate chips.
Don't overbake! Remember, the cookies will continue baking from the residual heat on the pan after you remove them from the oven, so it's absolutely fine if the centers aren't set. If you wait too long to remove them from the oven, the cookies will be crispy instead of chewy.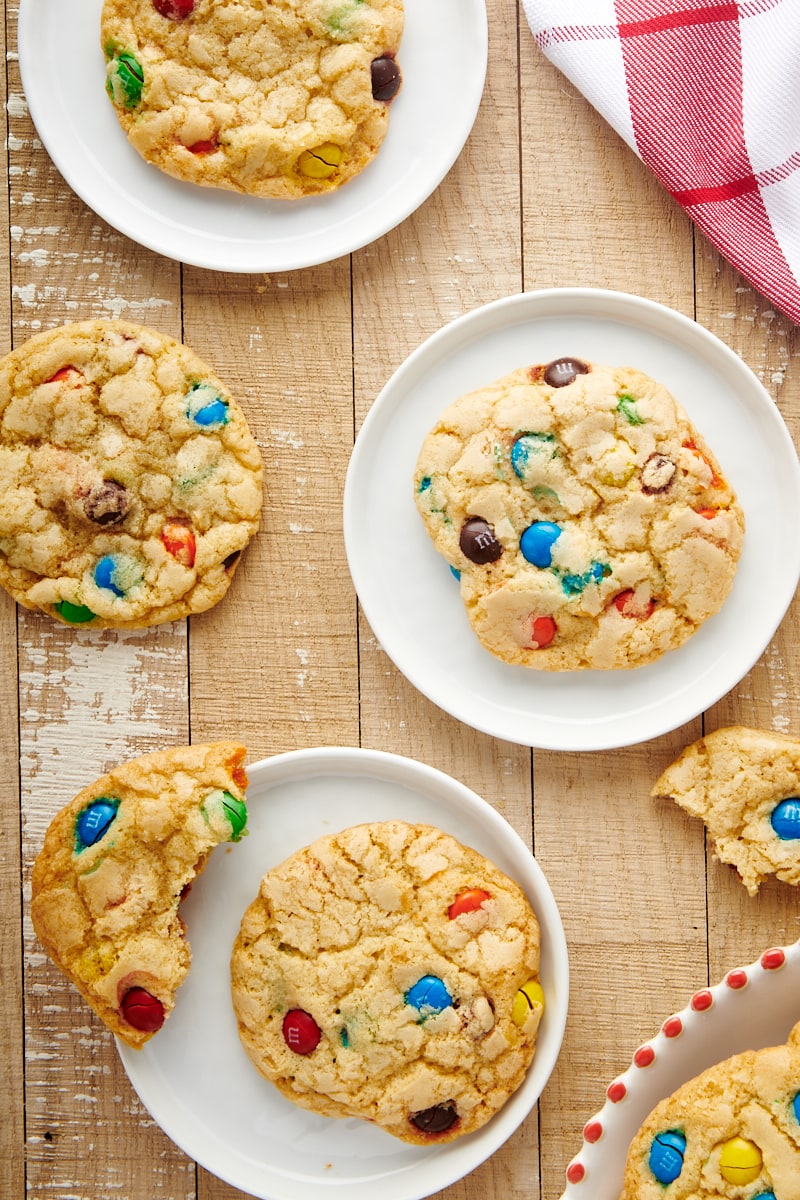 How to Store
Stored at room temperature in an airtight container, M&M cookies will last about 3 to 4 days.
Should You Refrigerate Cookies?
Nope, never! (Or, at least, almost never.) Unless it's some kind of specialty cookie with a buttercream or cream cheese filling or frosting, cookies should never be stored in the refrigerator, as it will quickly dry them out and even affect their flavor.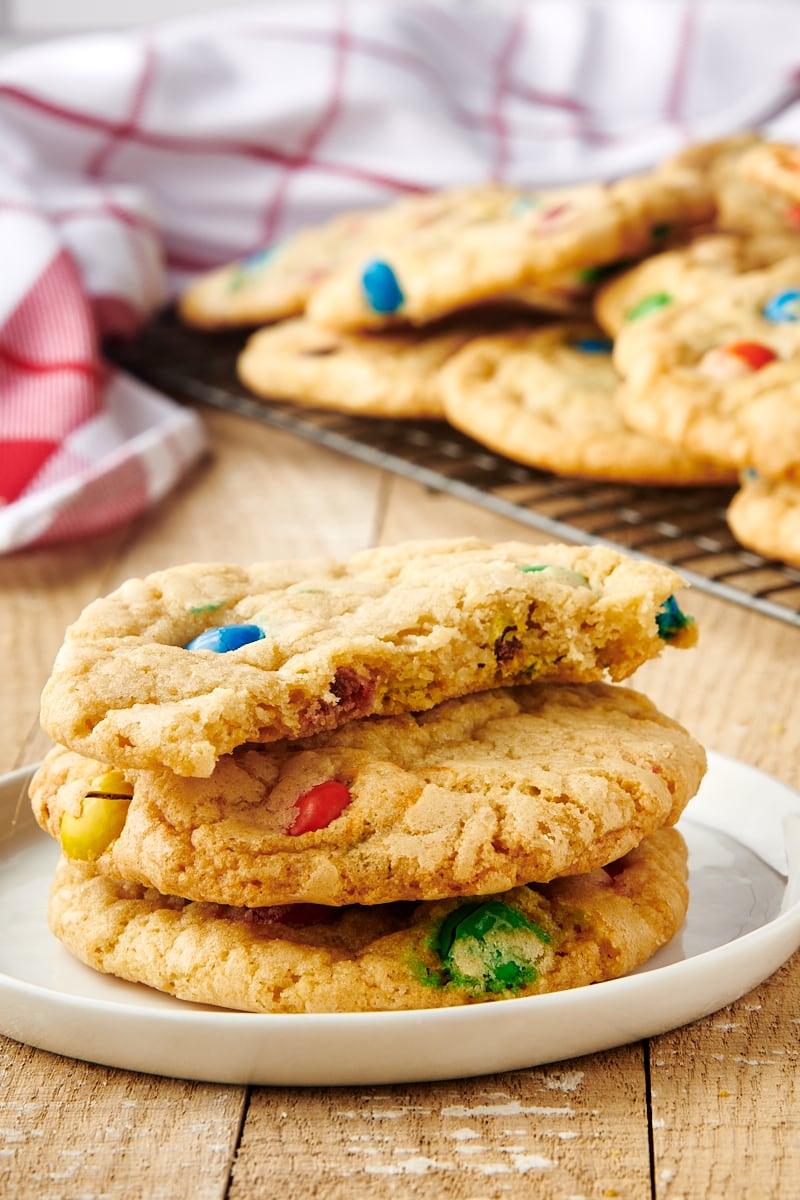 Can M&M Cookies Be Frozen?
You can freeze M&M cookies in an airtight storage container or freezer bag for up to 3 months. If you're stacking them, place parchment paper between the layers to keep them from sticking. Let them thaw at room temperature, or warm them up in the microwave for a few seconds.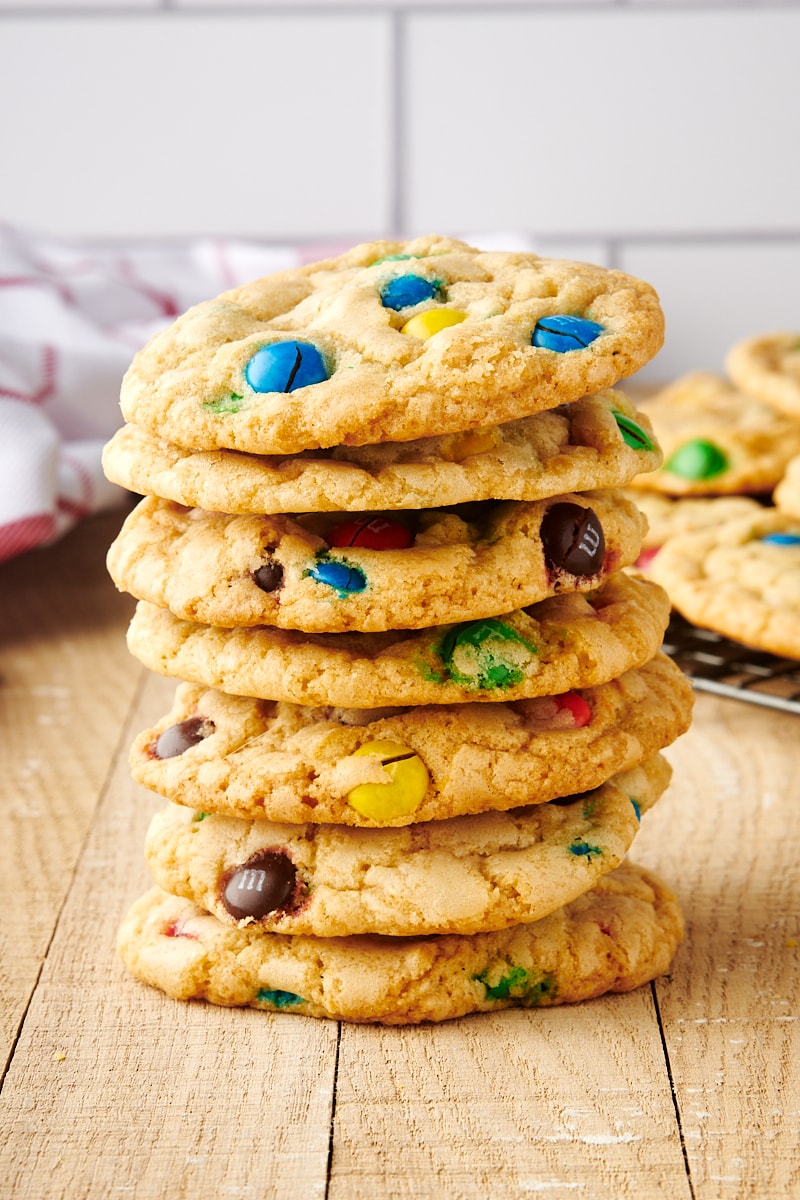 Video Tutorial: M&M Cookies