These classic chocolate cupcakes are simple to make, great for any celebration, and will easily become your go-to recipe!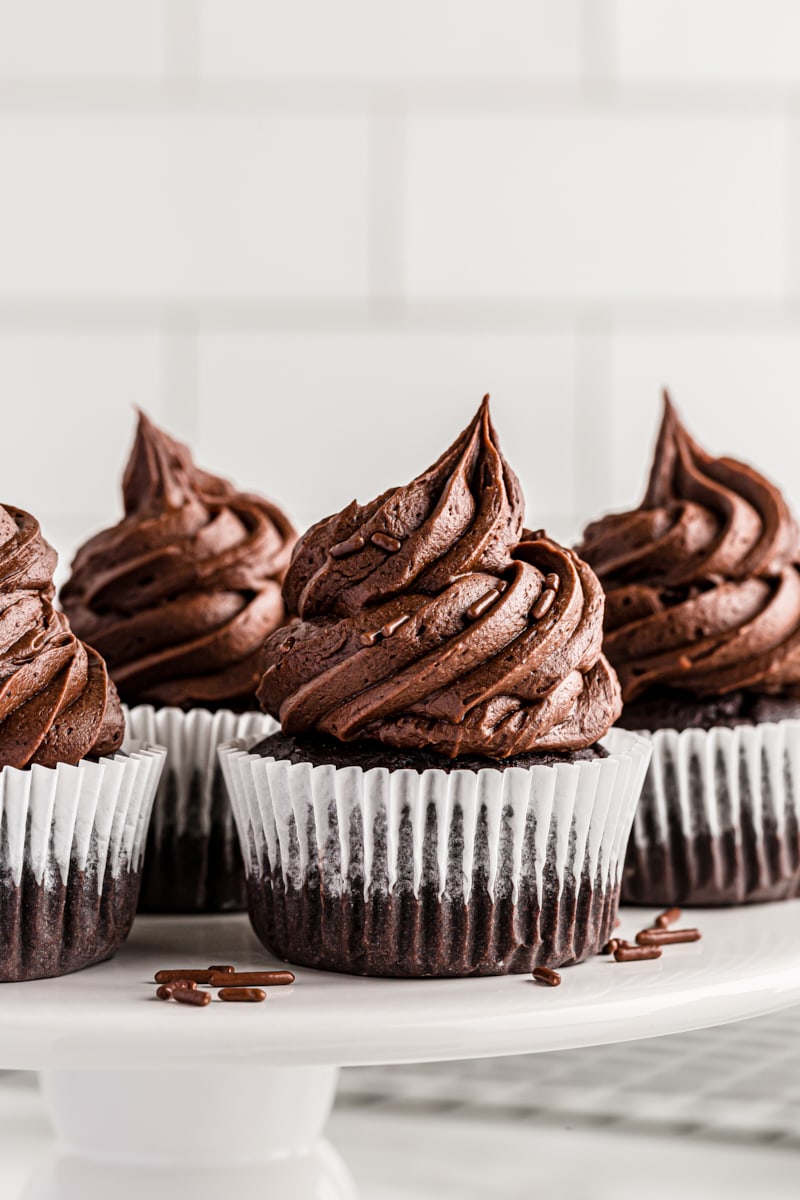 Easy Chocolate Cupcakes with Chocolate Buttercream Frosting
These chocolate cupcakes are for the chocolate purists out there. These beauties are all about the chocolate, making them perfect for those times you've got a major chocolate craving.
Don't let that single flavor focus fool you into thinking these aren't something really special. It's just the opposite! Honing in on some serious chocolate deliciousness is just what makes them spectacular.
I love that these little chocolate cakes are simple enough for an everyday treat while still be perfect for a celebration. Pile on the frosting, dress them up with your favorite sprinkles, and watch them get snatched up and devoured!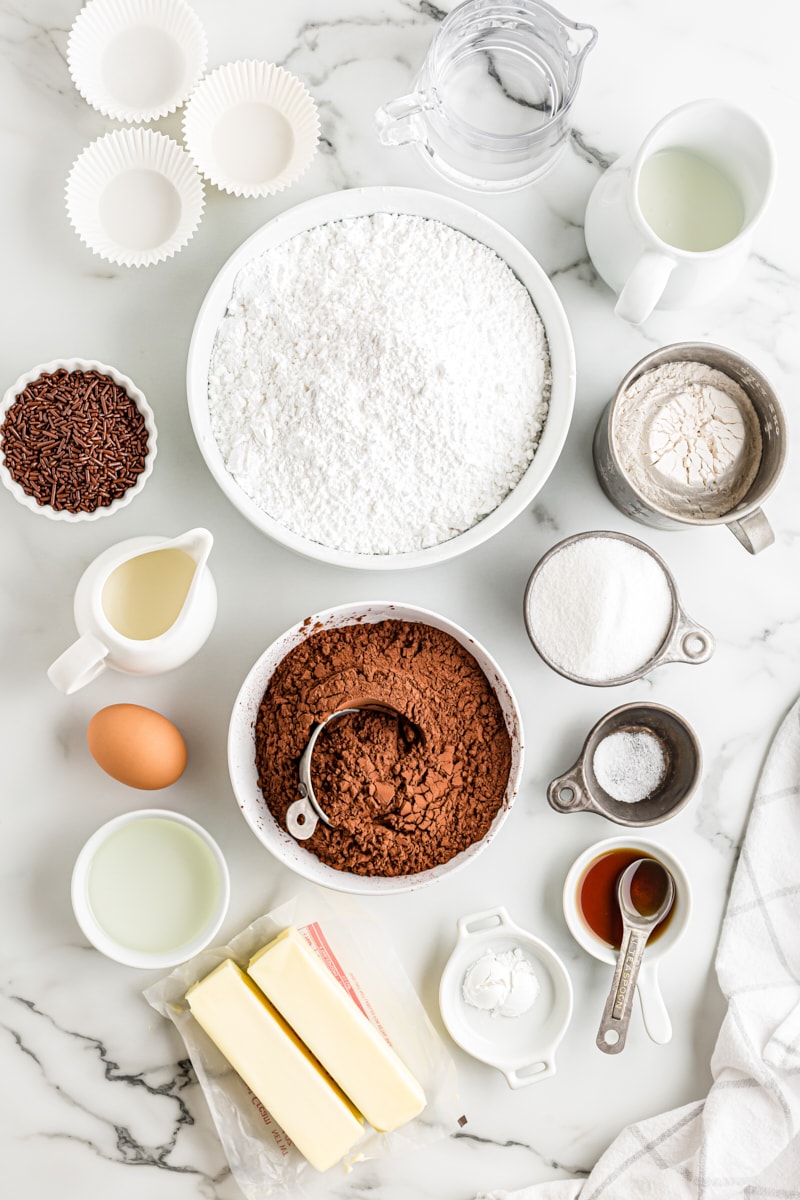 What You'll Need
Be sure to scroll to the recipe card below this post for ingredient quantities and full instructions.
For the chocolate cupcakes:
All-purpose flour – As always, measure by weight for best results. If you don't have a kitchen scale, use the spoon and sweep method to help prevent over-measuring.
Granulated sugar
Unsweetened cocoa powder – See my notes below for tips on choosing a cocoa powder.
Baking soda
Buttermilk – Bring the buttermilk to room temperature. Don't have buttermilk? Try one of these buttermilk substitutes.
Vegetable oil
Warm water – This helps intensify the chocolate flavor and makes mixing easier so there's less chance of over-mixing. No need to be overly precise; water that feels warm from the tap is sufficient.
Egg – Set out the egg with the buttermilk to allow it to come to room temperature.
Vanilla extract
For the chocolate buttercream frosting:
Confectioners' sugar – Sift for a smooth, creamy frosting. (This is also called powdered sugar.)
Unsalted butter – Make sure the butter is softened so it will mix smoothly.
Cocoa powder – If your cocoa powder is a bit lumpy, be sure to sift it before mixing.
Heavy cream
Vanilla extract
Salt
What kind of cocoa powder should I use?
You'll need unsweetened cocoa powder, not the sweetened kind that's used for making hot chocolate. I prefer natural cocoa powder in this recipe, but go with Dutch process if you want a smoother flavor for your chocolate cupcakes. Just be aware that using a different cocoa powder will create a different flavor and possibly a different texture.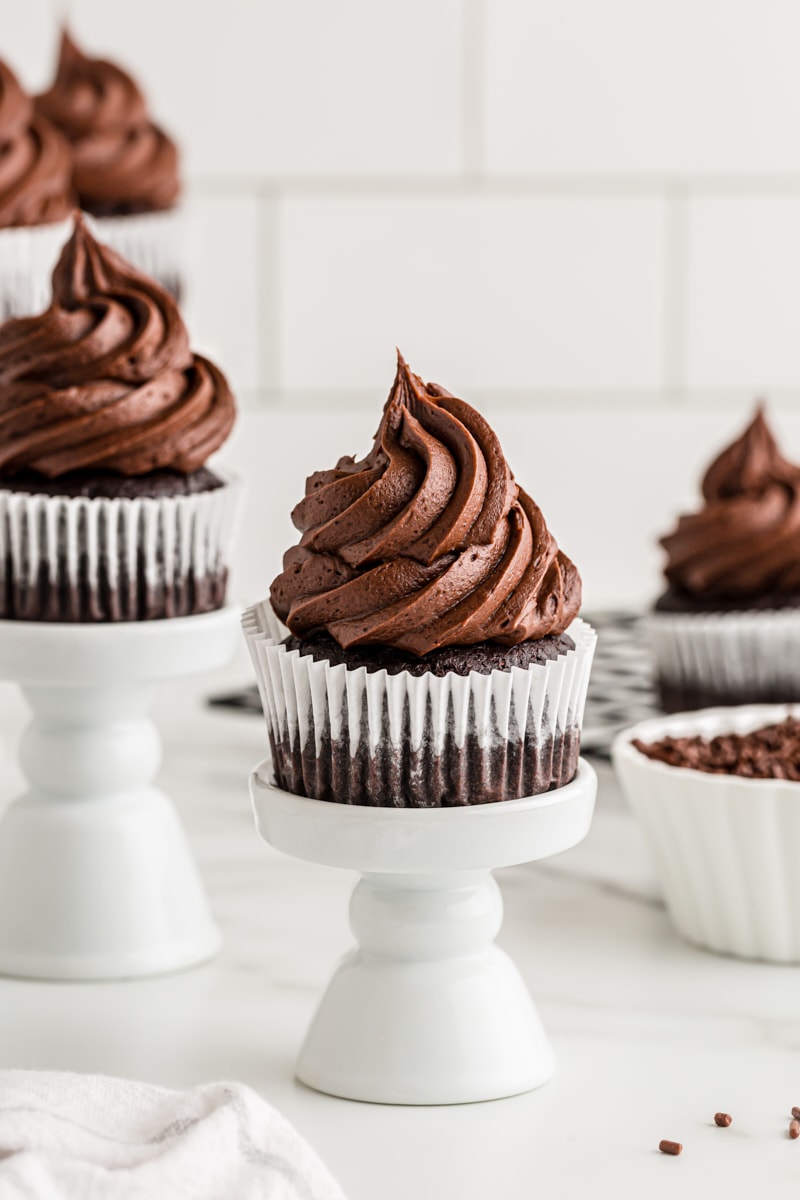 How to Make Chocolate Cupcakes
This chocolate cupcake recipe comes together quickly and easily. You'll just need some mixing bowls, and electric hand mixer or stand mixer, and a 12-cavity muffin pan.
To make the cupcakes:
Prepare for baking. Heat the oven to 350°F. Line 12 standard muffin cups with paper cupcake liners.
Combine the dry ingredients and sugar. Whisk together the flour, sugar, cocoa powder, and baking soda in a large bowl.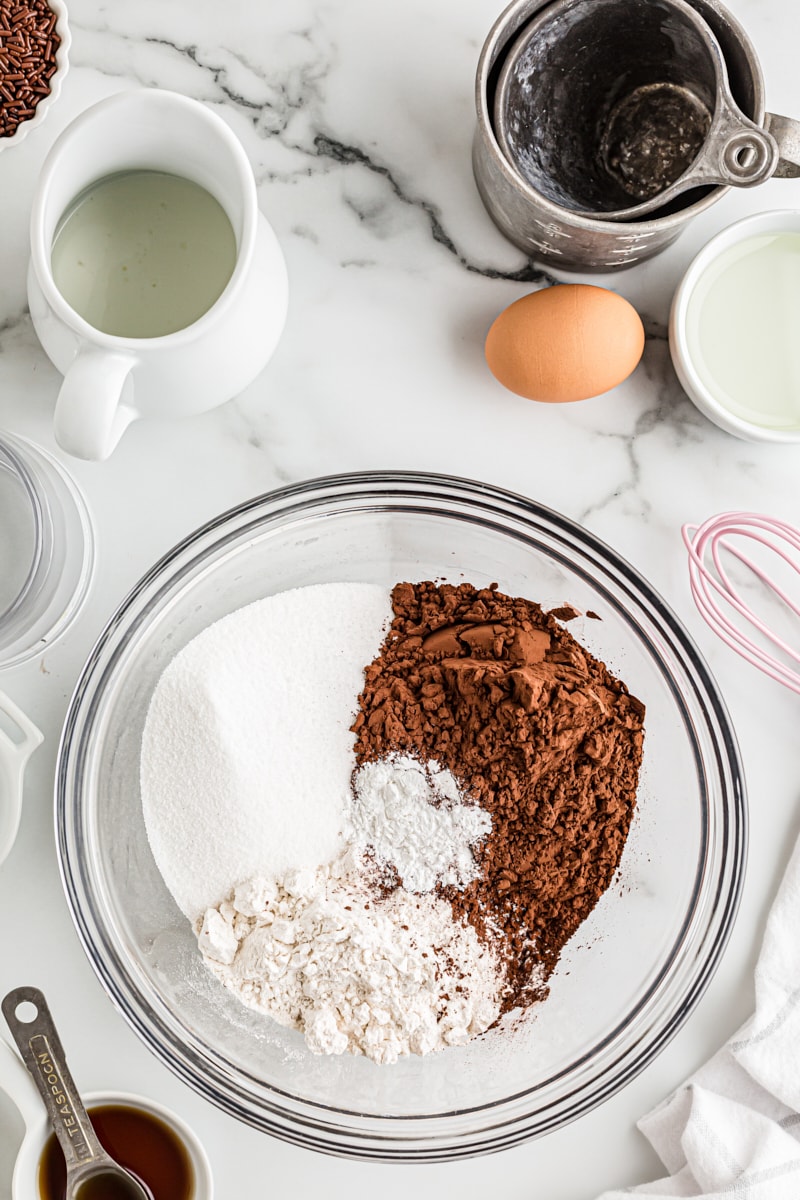 Combine the wet ingredients. In a separate bowl, combine the buttermilk, egg, vegetable oil, warm water, and vanilla.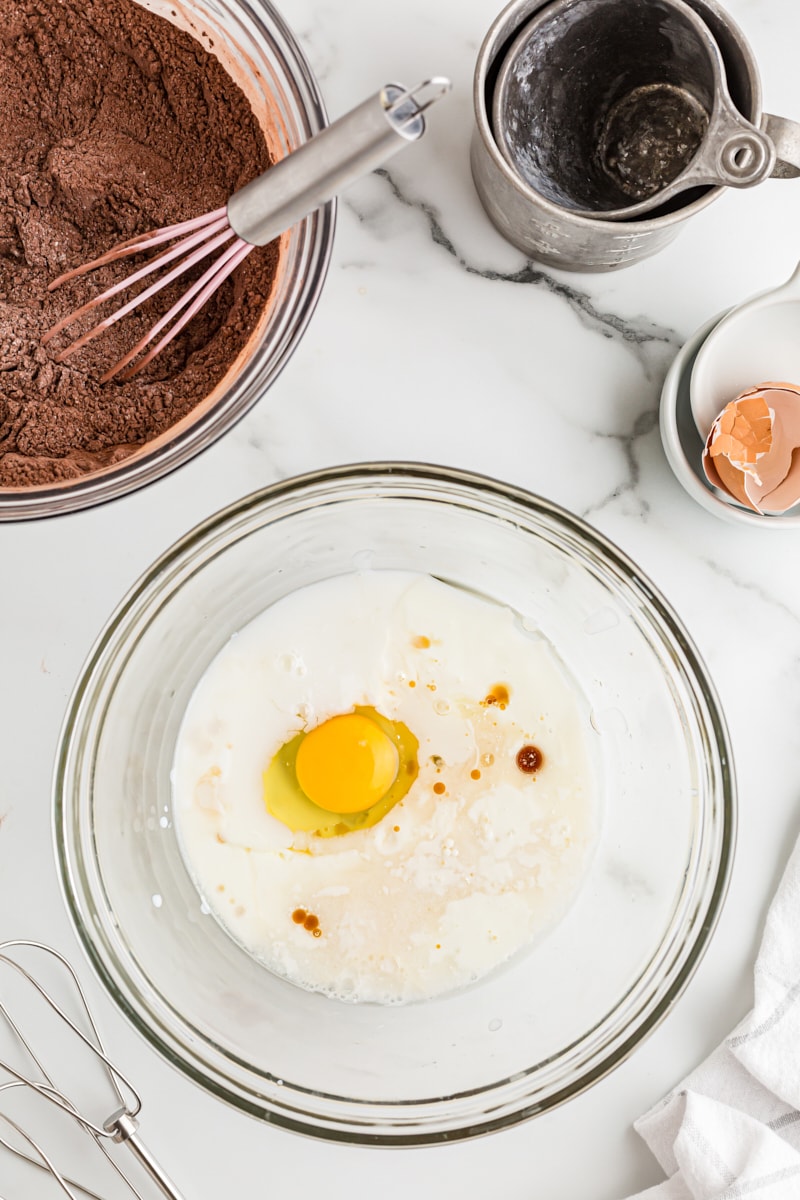 Add the wet ingredients to the dry ingredients. Slowly pour the wet ingredients into the dry, then use an electric mixer to mix together until smooth. Do not over-mix.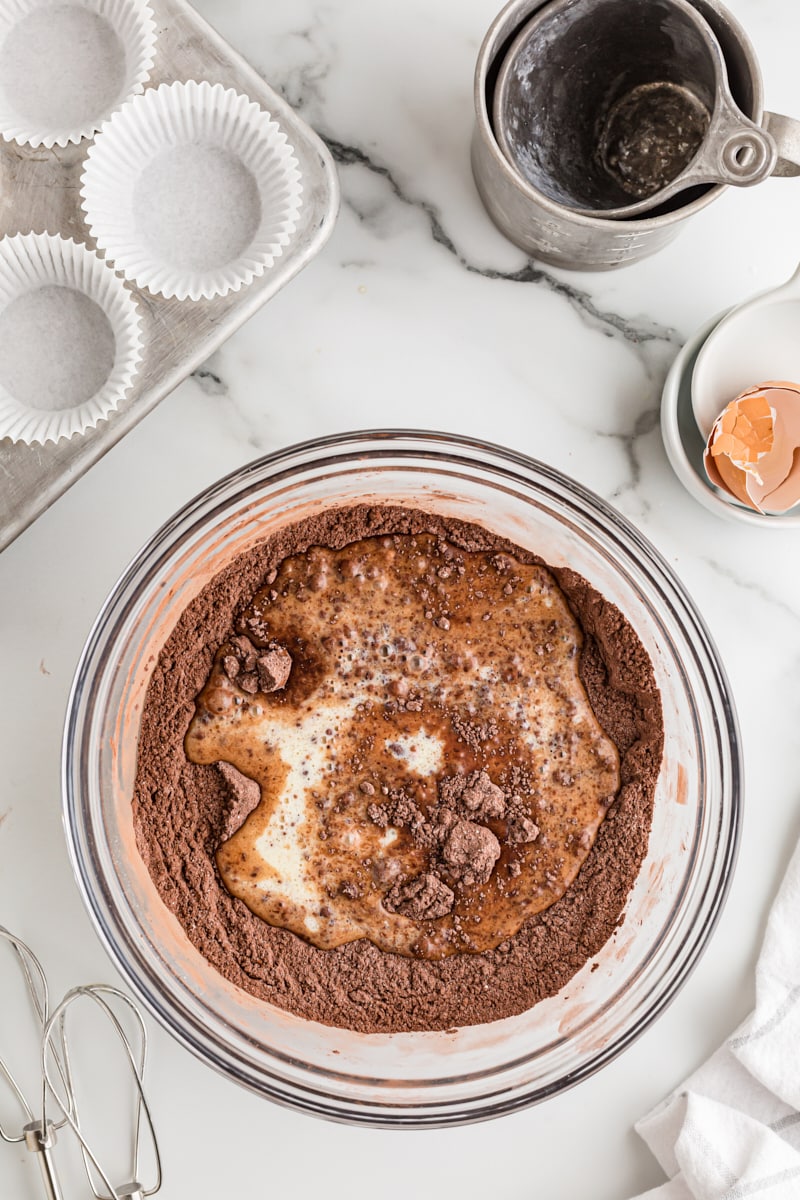 Portion the batter. Fill each liner in the prepared muffin tin halfway. You'll need about 2 tablespoons of batter per cup.
Bake. Place the pan in the oven, and bake for 20 minutes. The cupcakes are done when a toothpick inserted in the center of each cupcake comes out clean.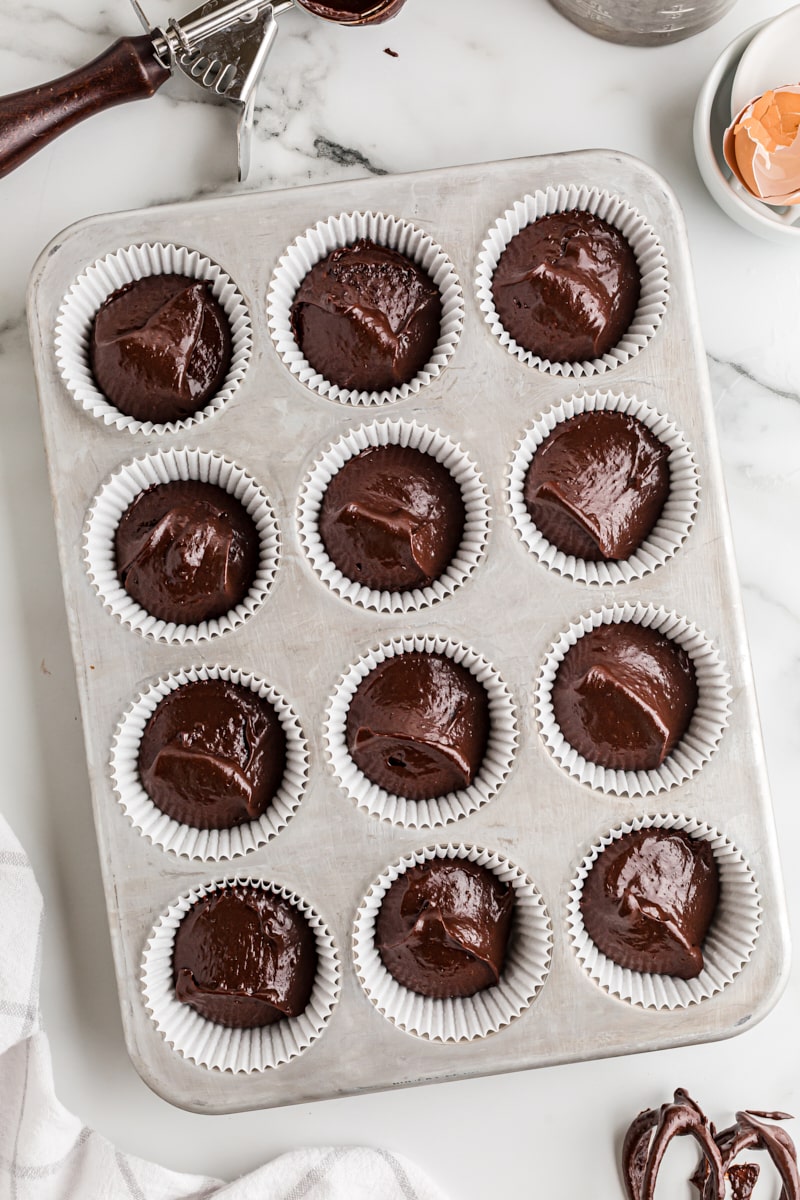 Cool. Allow the cupcakes to cool in the muffin pan for 5 minutes, then transfer the cupcakes directly to a wire cooling rack. Allow the cupcakes to completely cool before frosting.
To make the frosting:
Beat the butter. With an electric mixer on medium speed, beat the butter until it is light and creamy.
Add the remaining ingredients. Slowly add the confectioners' sugar, cocoa powder, heavy cream, vanilla extract, and salt. Mix on low speed until smooth.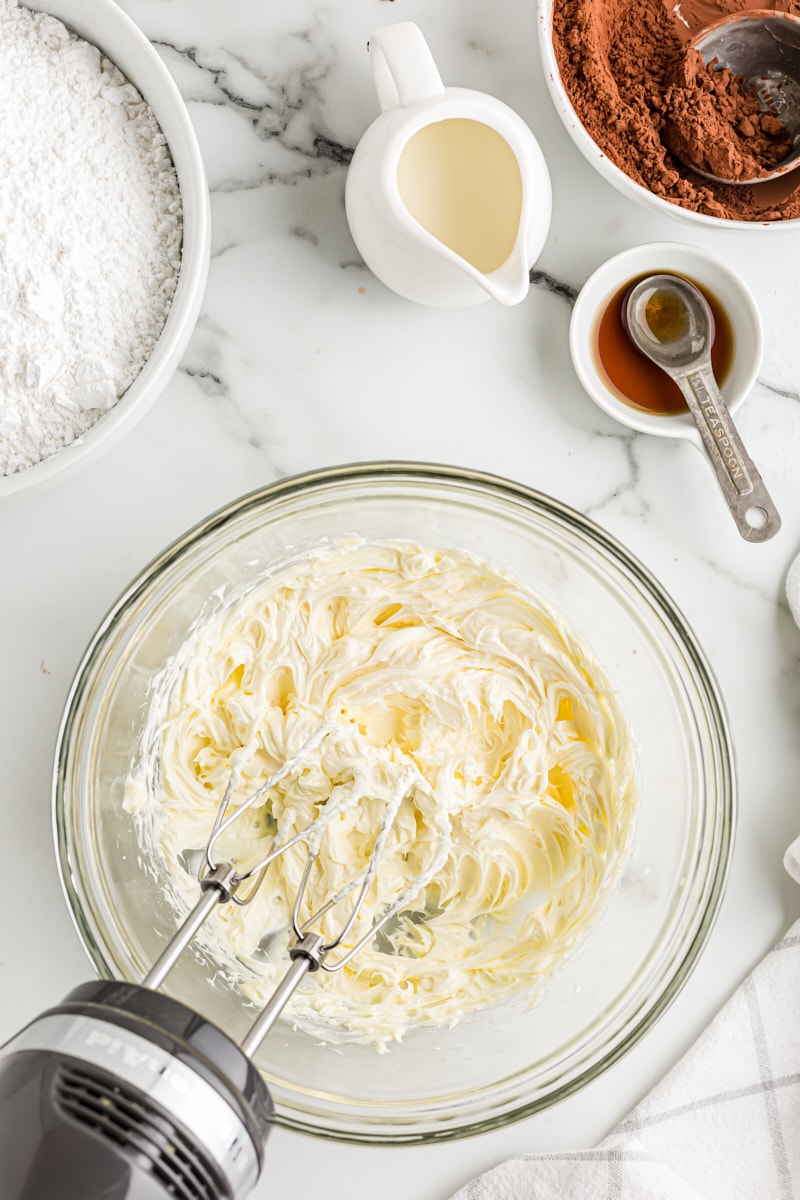 Frost the cupcakes. Transfer the frosting to a piping bag and frost the cooled cupcakes. For the cupcakes in these photos, I used an Ateco 828 star tip.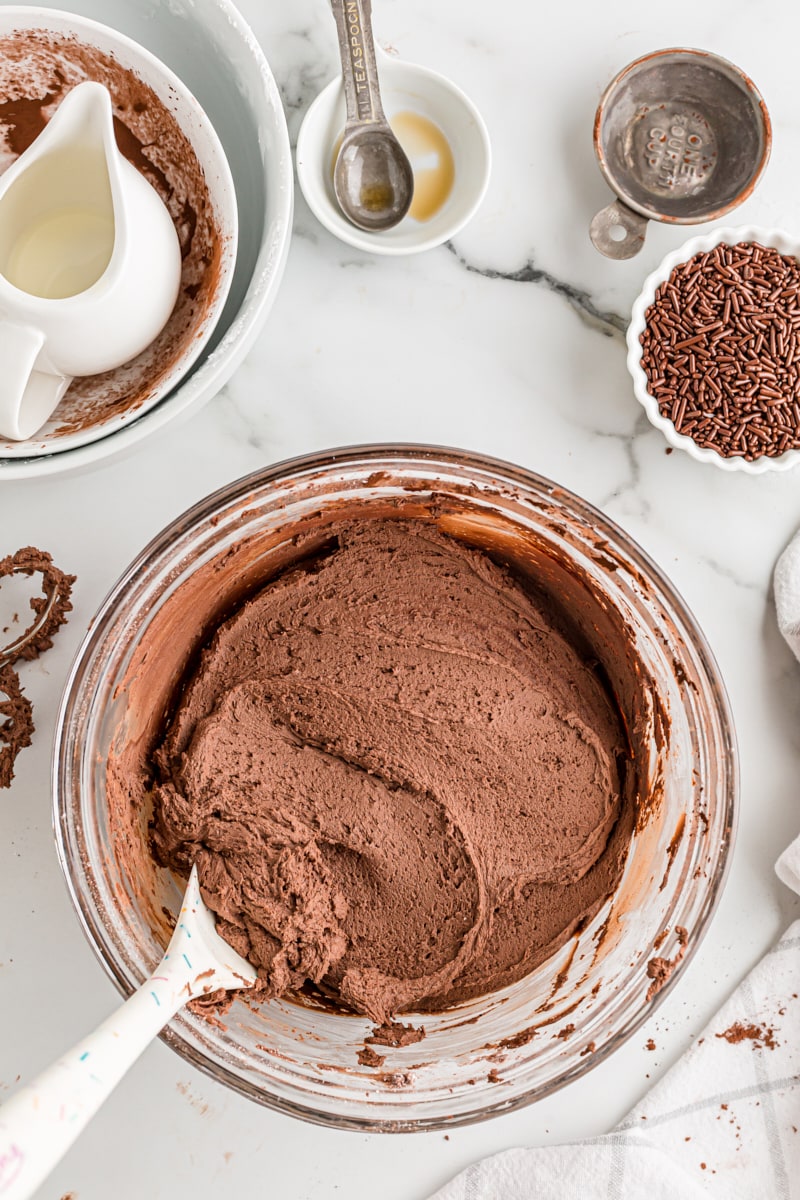 What if my buttercream frosting is too thick?
You can add a tablespoon of heavy cream, mix, and then repeat until the frosting reaches the desired consistency. It should be fluffy and stick to the spoon.
What if my buttercream frosting is too thin?
Add more confectioners' sugar, a small amount at a time, and continue mixing. This should thicken the frosting. You can also try refrigerating it, as it may have gotten too warm.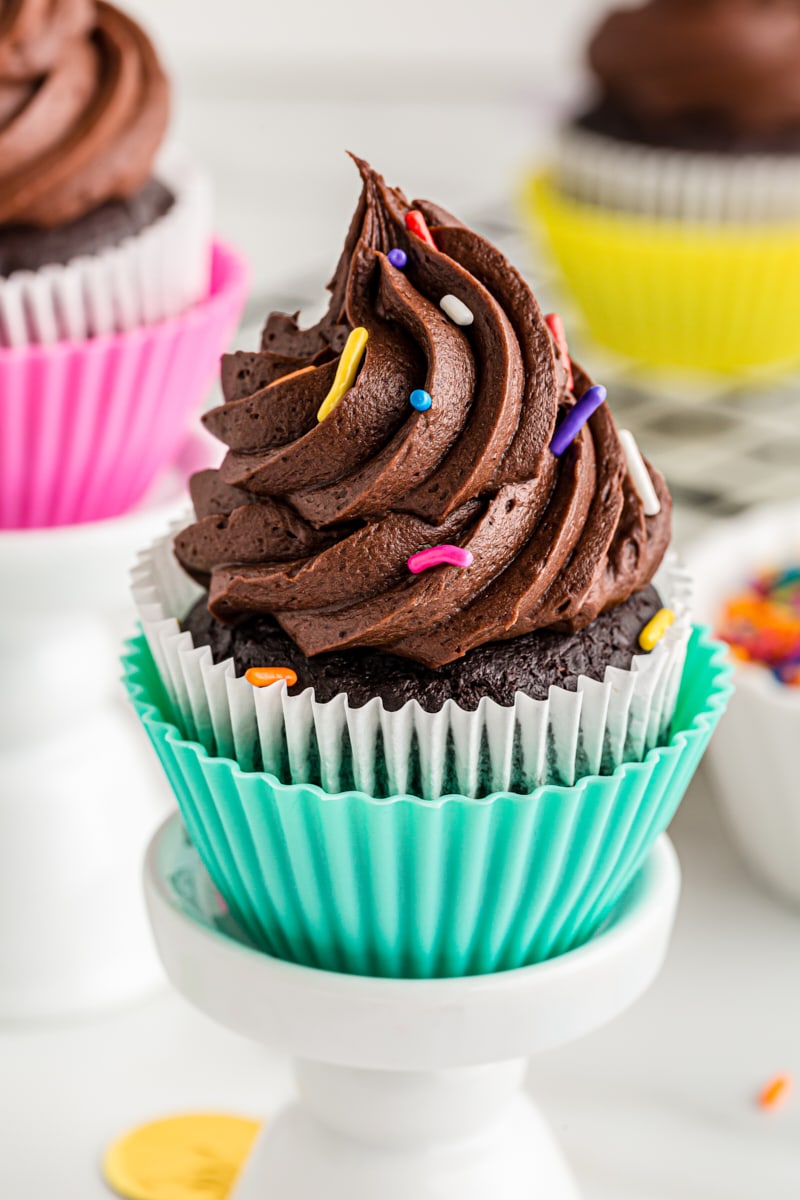 Topping Ideas
These chocolate cupcakes are pretty darn perfect just as they are, but there are also so many ways to make them even prettier! Here are some ideas for topping them.
Sprinkles! I shy away from overly decorated desserts, but I can't resist sprinkles! Go with chocolate jimmie-style sprinkles to keep the focus on chocolate, or use rainbow sprinkles for a fun splash of color. Holiday-themed sprinkles are a great choice, too.
More chocolate – Want even more chocolate flavor? Top them mini chocolate chips, chopped chocolate, or chocolate curls. Or how about a drizzle of chocolate ganache?
Fresh berries – Strawberries or raspberries would be a great choice during berry season.
Cookie crumbs – Finely ground or roughly chopped, cookie crumbs are a great dessert topping. Try chocolate cookies, graham crackers, or any other flavor that sounds good to you.
Other frostings – So many great flavors complement chocolate! Try a cream cheese frosting like the one on these Hummingbird Cupcakes. Or how about a marshmallow frosting or peanut butter frosting?
Tips for Success
I think you'll find that these cupcakes are a cinch to make, but here are a few tips to help make sure yours are the best they can be!
Don't over-mix. Too much mixing leads to tough cakes.
Use good quality cocoa powder. Chocolate is the star of this cupcake show, so you'll have better results with a good quality cocoa.
Don't over-fill the pan. It is very important not to over-fill the liners. This prevents the batter from spilling over the sides of the cupcake liners, which can make a mess and give you less than pretty cupcakes.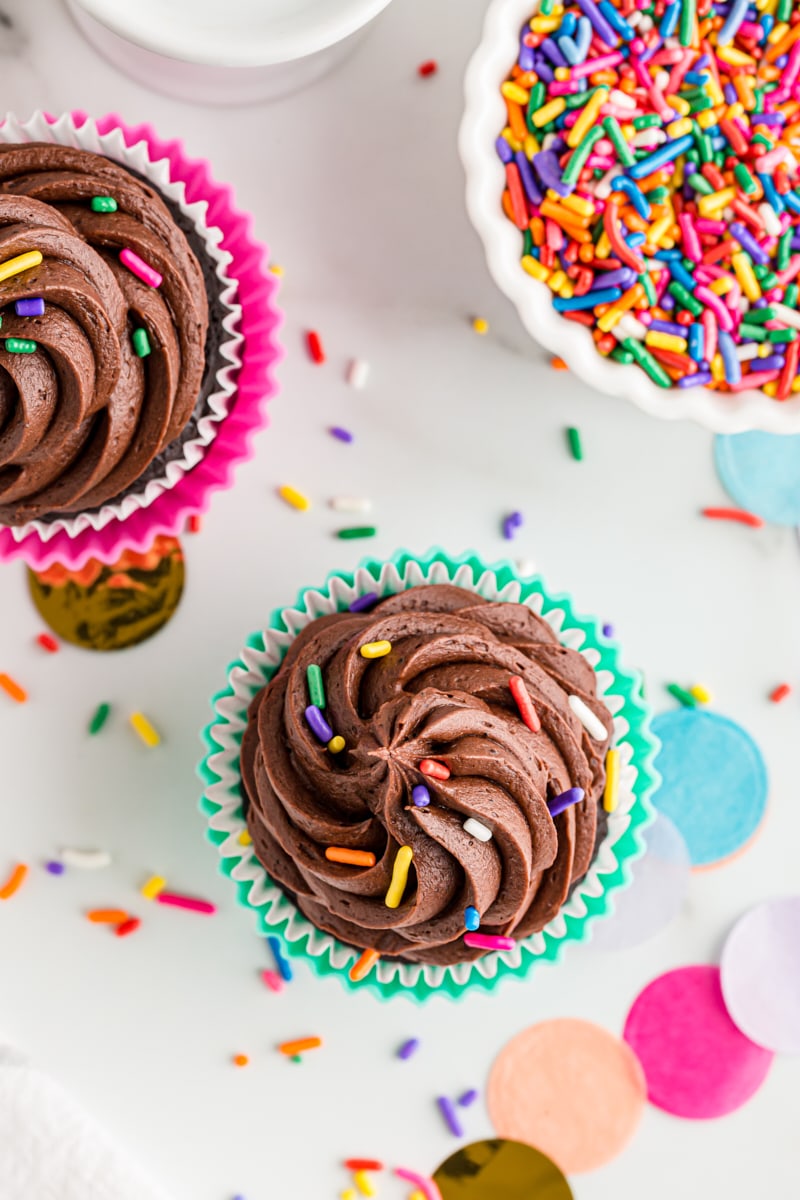 How to Store
You can store these chocolate cupcakes in an airtight storage container at room temperature for up to 3 days or in the refrigerator for a week. If refrigerating, bring them to room temperature before serving. The frosting should help keep the cupcakes from becoming dry in the refrigerator, but make extra sure the container is airtight to help prevent that.
How do I store leftover buttercream frosting?
Buttercream frosting can be transferred to an airtight container and stored in the refrigerator for a week. Bring it to room temperature and whip it briefly to make it fluffy again. You can also freeze buttercream in an airtight freezer container up to 3 months. Thaw it overnight in the refrigerator; then bring it to room temperature and whip briefly.
Can These Cupcakes Be Frozen?
Yes! You can freeze the cupcakes and frosting separately (see my note above), or you can freeze the frosted cupcakes. Either way, they should keep up to 3 months in the freezer if stored properly.
To freeze the unfrosted chocolate cupcakes, you can simply place them in a freezer-safe container that's airtight. Wrap them individually in plastic wrap first if you want to make it easier to grab a couple at a time to defrost.
If you freeze the frosted cupcakes, first place them in the freezer uncovered to allow the frosting to freeze thoroughly. This will take 3 to 4 hours. Once frozen, wrap the cupcakes in two layers of plastic wrap and then wrap again in aluminum foil or place in a freezer-safe container. A deep container that seals well is a good choice to keep the cupcakes looking their best.
You can either thaw the cupcakes overnight in the refrigerator or for an hour or two at room temperature. For frozen frosted cupcakes, remove the wrapping before defrosting so it won't stick as they thaw. Placing the cupcakes on a wire rack will help prevent them from getting soggy as they thaw.
Video Tutorial: Chocolate Cupcakes