These Raspberry Oat Muffins are the quintessential breakfast muffin! They're hearty, studded with fresh fruit, and just sweet enough to start your day off right.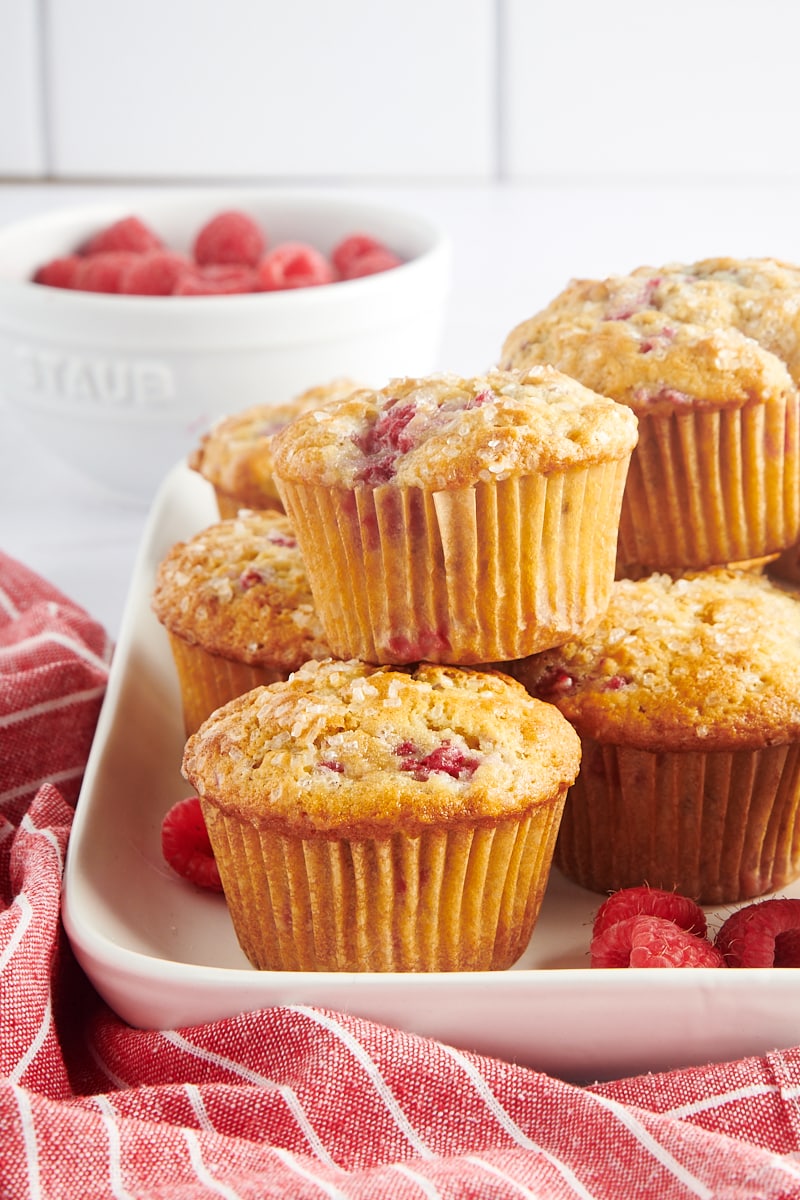 Let's face it: some muffins are really more of a dessert than a breakfast. While I'm never one to turn down a Chocolate Chocolate Chip Muffin for breakfast, you could just as easily serve it as an after dinner treat and no one would bat an eye!
This recipe for Raspberry Oat Muffins is a bit different than the traditional muffin. I added oats to give them a little extra flavor and a hint of chewiness. Between this and the berries, it makes these muffins feel like a perfectly appropriate choice for breakfast.
And let's talk about the berries! I adore raspberries, but feel free to use your favorite berry to make these your own. Strawberries and blueberries would work just as well, or you could use a combination.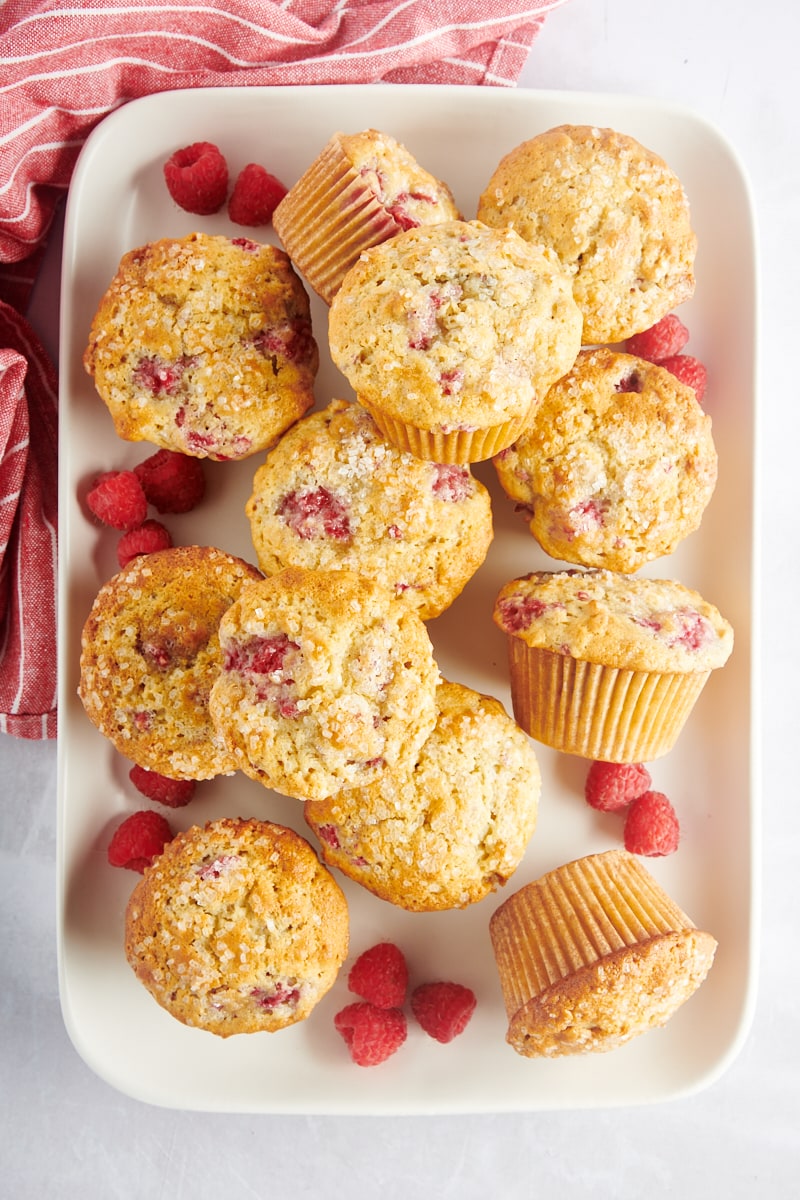 What Kind of Sugar Goes on Top of Muffins?
Sanding sugar, Demerara sugar, and other coarse sugars are the standard for the tops of muffins because they add a delightful bit of crunch and, of course, some sweetness. It also looks pretty!
Sanding sugar is my go-to, and it's what I use in this recipe. While it's not an item you'll normally find on your local supermarket shelves, I can usually find it at Williams-Sonoma. It's also available at a couple of my favorite online shops – Nuts.com and King Arthur Flour.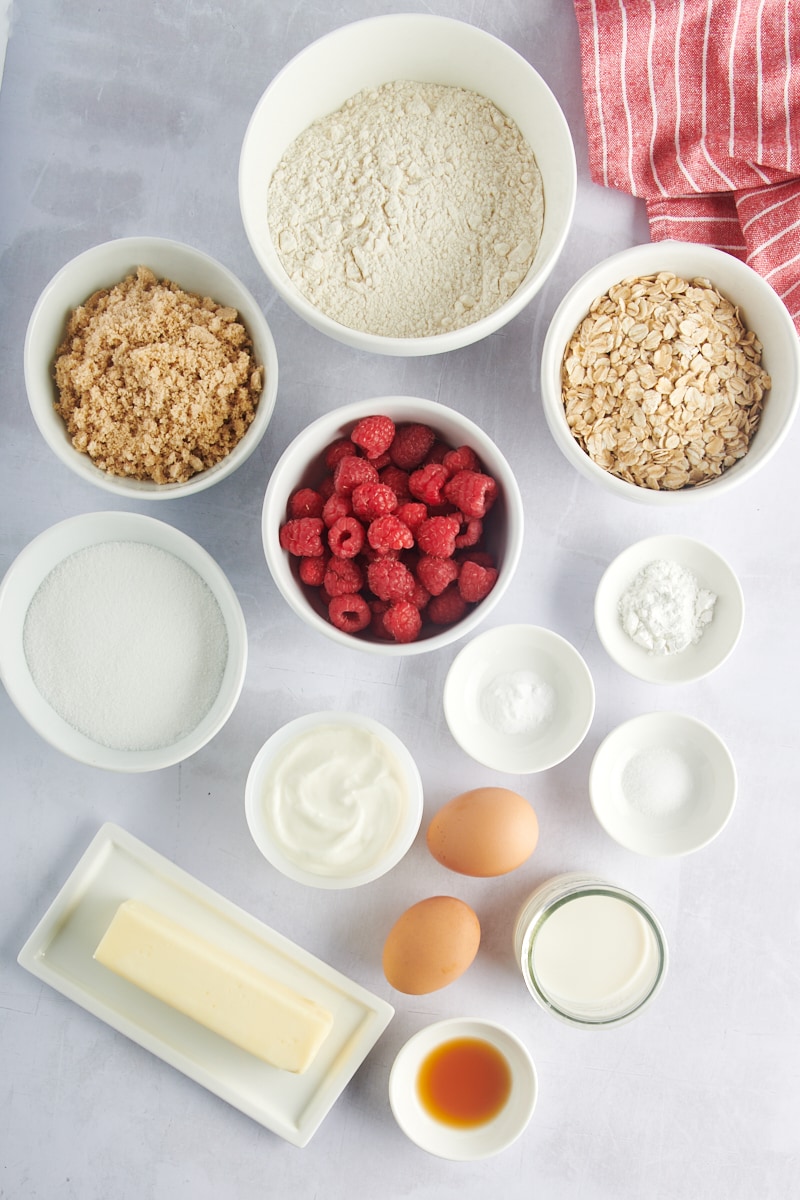 What You'll Need
Scroll down to the recipe card below this post for ingredient quantities and full instructions.
All-purpose flour – Learn more: How to Measure Flour
Old-fashioned oats
Baking powder
Baking soda
Salt
Unsalted butter – Learn more: Unsalted or Salted Butter: Which is Better for Baking?
Light brown sugar – Don't use dark brown sugar instead; you want the milder flavor of light brown sugar in this recipe.
Granulated sugar
Eggs
Vanilla extract
Sour cream – Full-fat Greek yogurt can be used instead, if you prefer.
Raspberries – Or your favorite berries.
Sanding sugar – This is optional.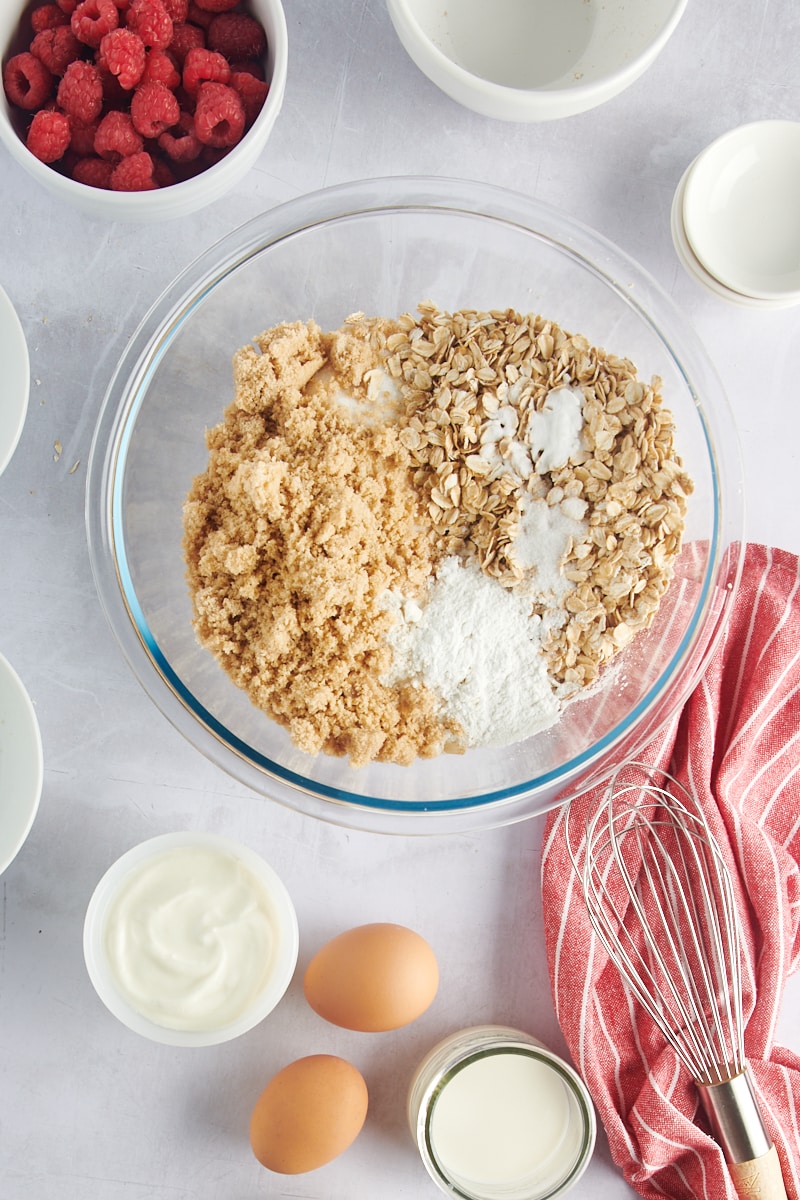 What Is the Difference Between Old-Fashioned Oats and Rolled Oats?
Old-fashioned oats and rolled oats are the same thing. They're whole oat grains that have been steamed and then rolled flat. They cook up tender with a slightly chewy texture, and because they're rolled, they cook up faster than steel-cut oats.
How to Make Raspberry Oat Muffins
As with most muffin recipes, these Raspberry Oat Muffins are a cinch to make. Here's what you'll need to do.
Prepare. Preheat your oven to 400°F and grease a 12-cup standard muffin pan. You can instead line the cups with paper liners.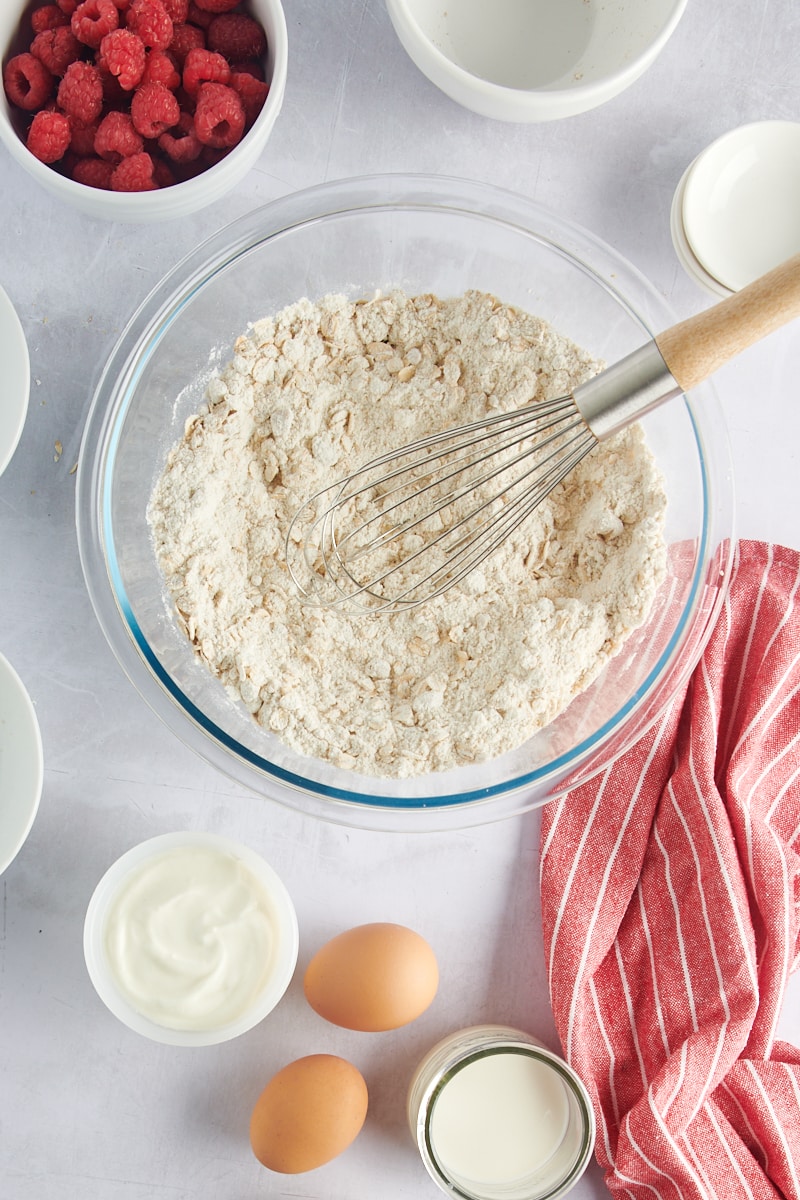 Mix the dry ingredients. In a large mixing bowl, whisk the flour, oats, baking powder, baking soda, and salt.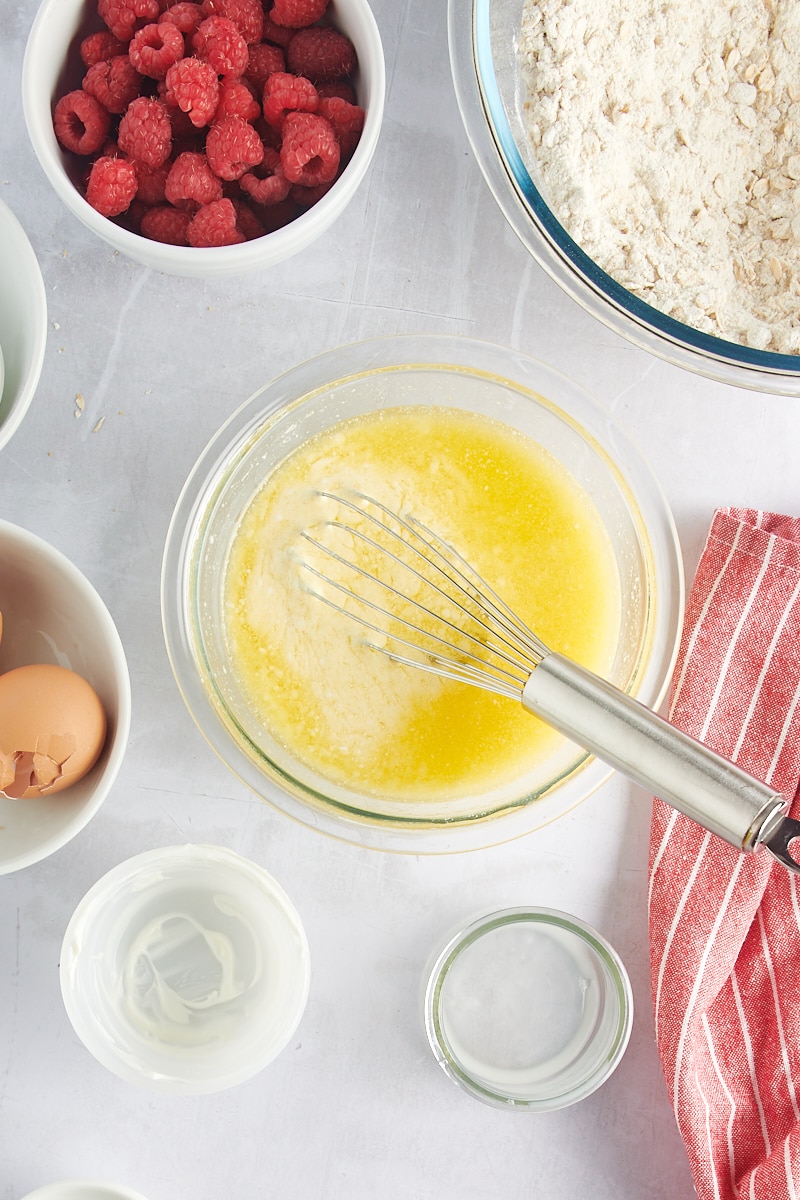 Mix the wet ingredients. In a second bowl, stir the butter, brown sugar, and granulated sugar, then stir in the eggs and vanilla.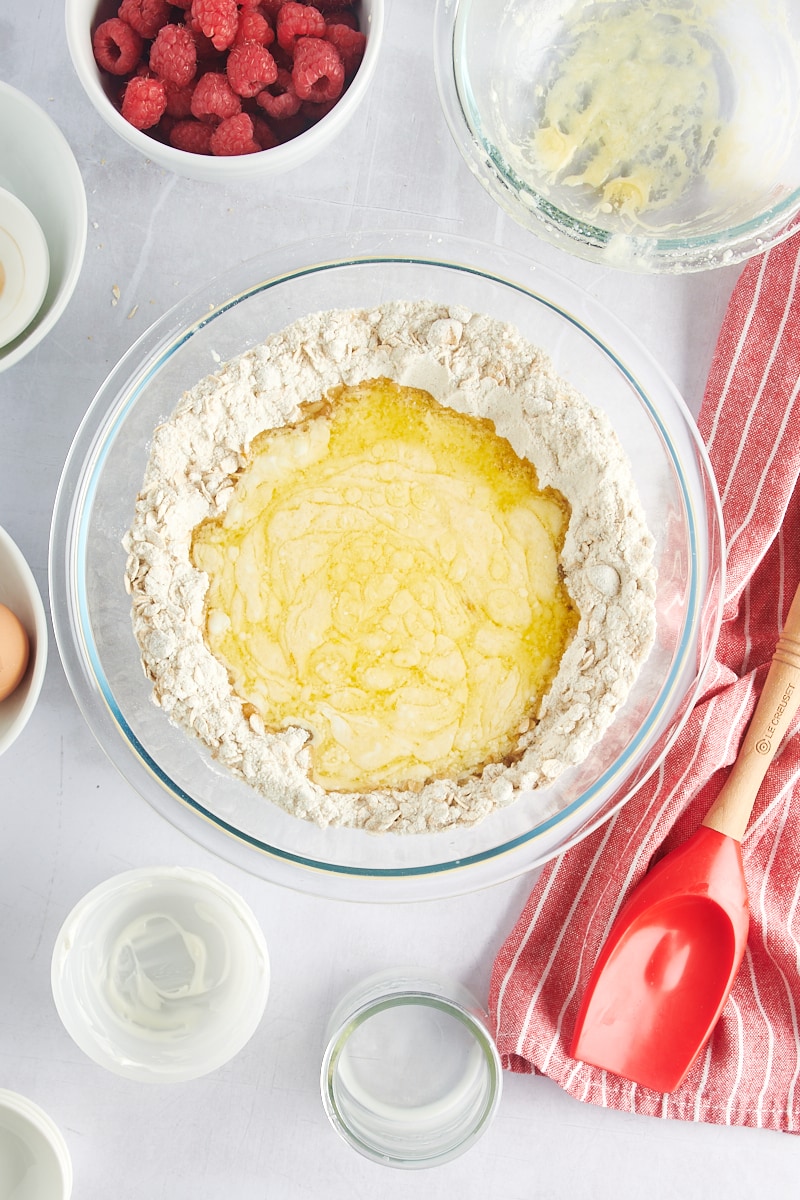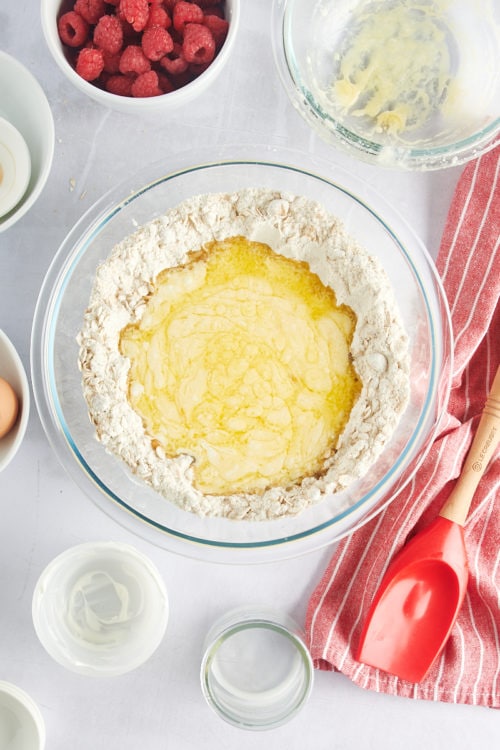 Combine the wet and dry ingredients. Add the dry ingredients to the wet ingredients, stirring until almost combined. Stir in the sour cream, then fold in the raspberries.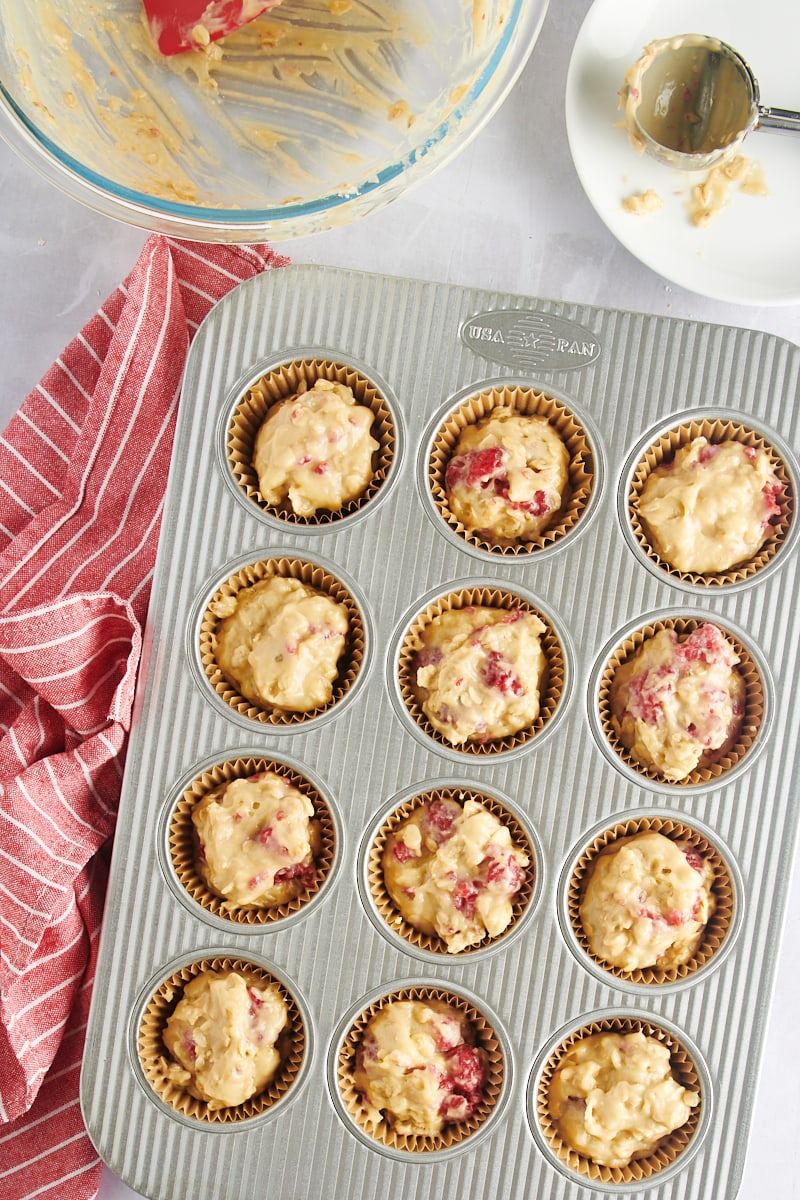 Bake. Fill the muffin pan with about 1/4 cup of batter per cup. Sprinkle the tops with sanding sugar, if you're using it, then bake for 18 to 20 minutes, or until a toothpick inserted into the center of a muffin comes out clean.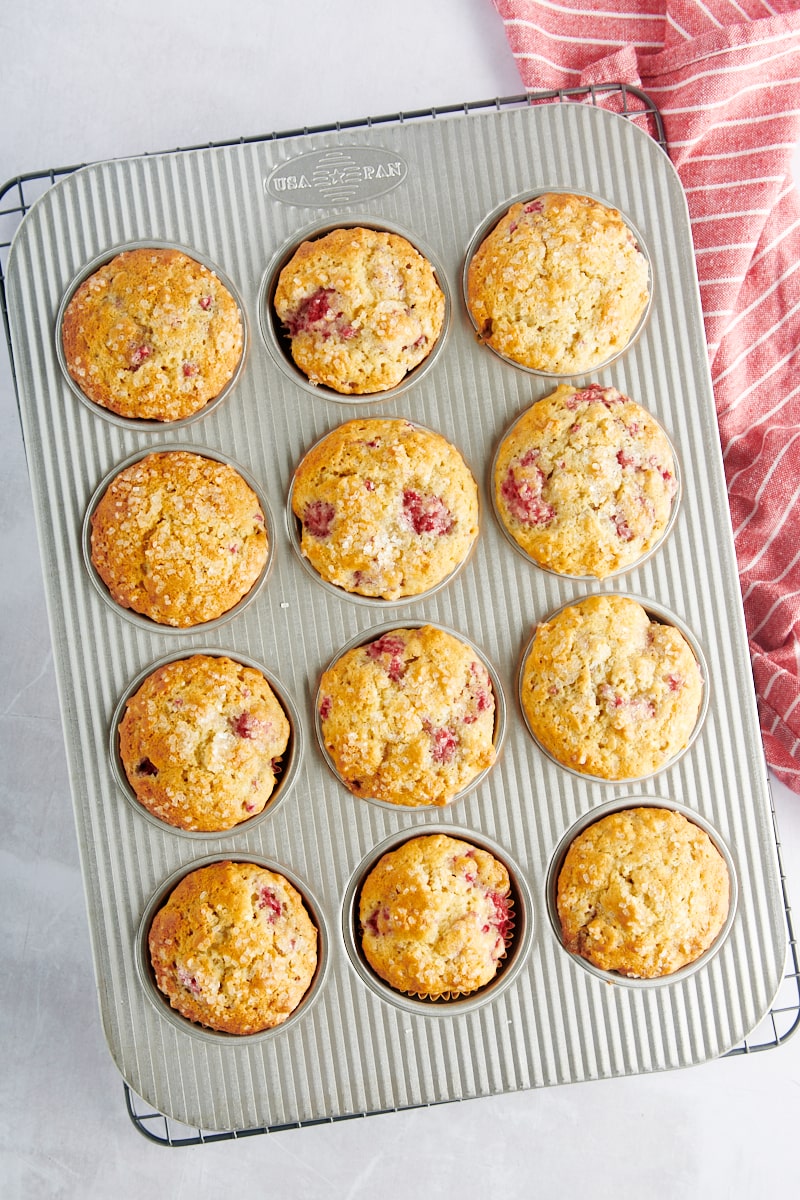 Tips for Success
Here are some simple tips for perfect raspberry oat muffins:
Use fresh berries for the best flavor. If you can't find fresh berries, feel free to use frozen ones. I recommend adding them while they're still frozen so they don't turn your batter pink! (Learn more: Fresh vs Frozen Fruits in Baking)
Don't over-mix the batter. Stir just until everything is combined. Over-mixing will result in tough muffins.
Use a light hand when adding the sanding sugar. Use too much and they'll end up overly sweet. A little goes a long way here!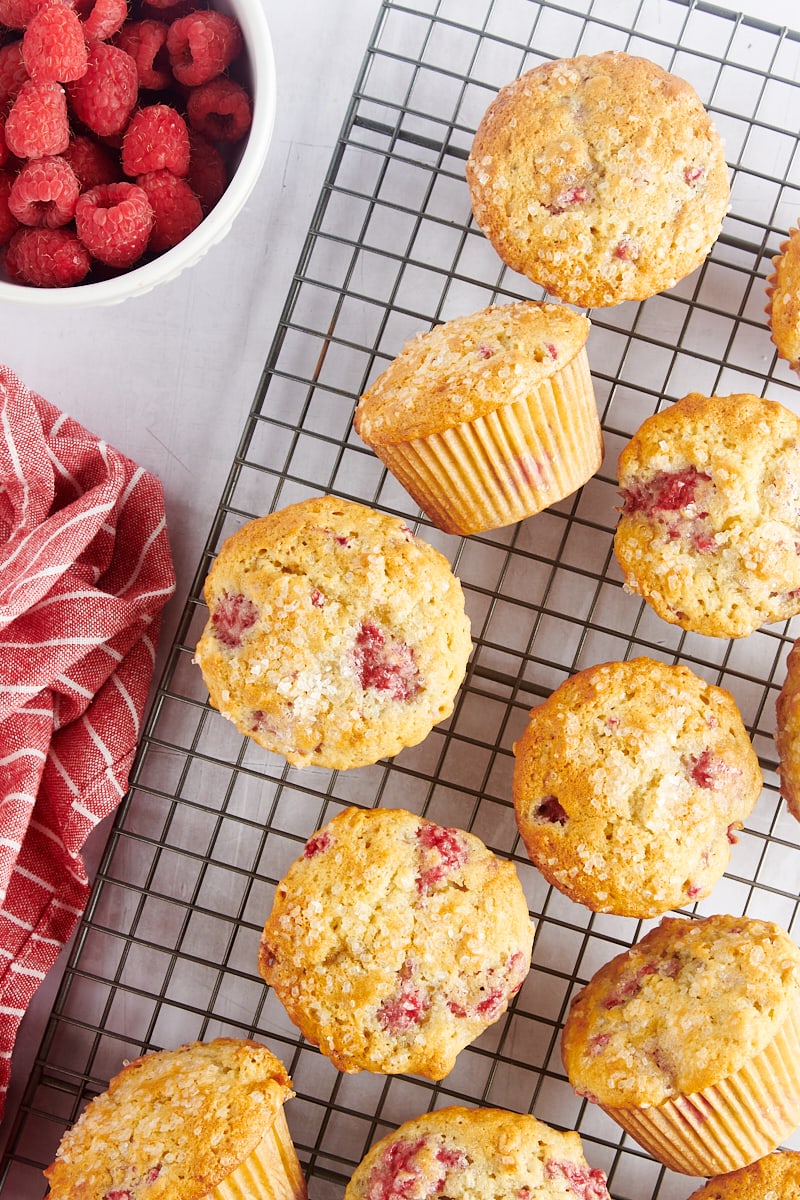 How to Store
Raspberry Oat Muffins are best eaten the day they're made. However, they will keep in an airtight container at room temperature for up to 3 days.
Can This Recipe Be Frozen?
These muffins freeze beautifully, so they're great for a grab-and-go weekday breakfast. Just place them in a freezer-safe container or bag and they'll keep for up to 3 months. Thaw them overnight in the refrigerator before serving.