Love chocolate and peanut butter? Just wait until you try these soft, fudgy, flavorful Peanut Butter Chip Brownies!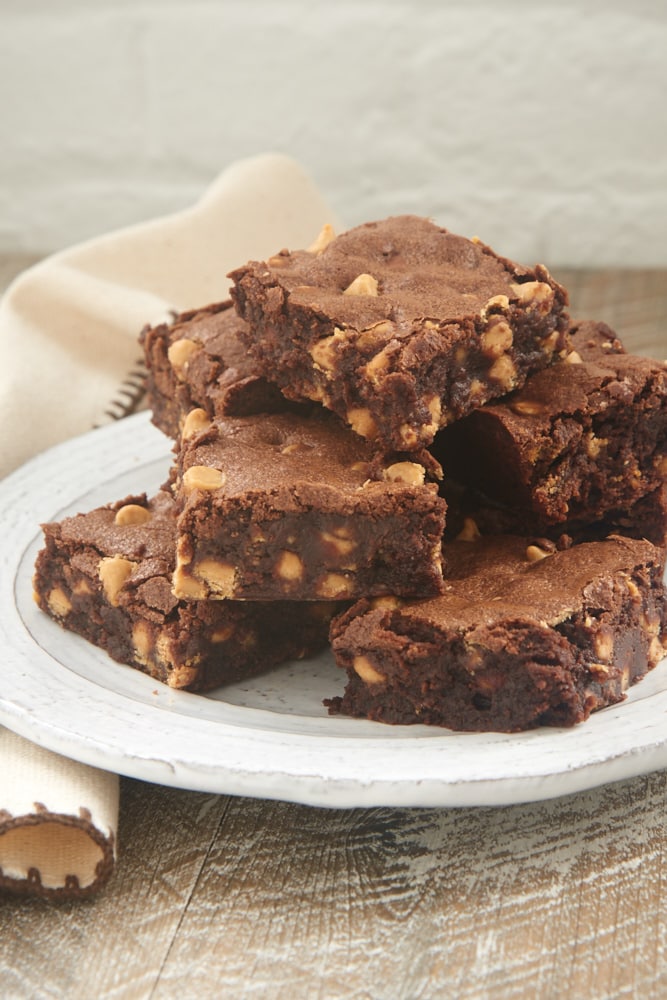 Fudgy Brownies with Peanut Butter Chips
These Peanut Butter Chip Brownies are a simple twist on a fudgy brownie I've made many times. (Hello, Fudgy Cookies and Cream Brownies and Pecan Lovers' Brownies!) They're not fancy or elaborate. They're just really, really good, especially if you're a big fan of chocolate and peanut butter like I am.
Peanut butter chips are responsible for all of the peanut butter flavor here. They are such an easy way to add a little or a lot of peanut butter flavor to baked goods. And these brownies are really packed with peanut butter chips. In fact, I'm not sure I could have gotten any more mixed into the batter. If you'd like a few less, then feel free to dial it back to suit your tastes.
These brownies are made with both melted chocolate and cocoa powder for a big, fudgy chocolate experience. Plus, you get a little bit of that crackly top that cocoa powder often gives brownies.
If you're a chocolate and peanut butter fan looking for a quick and easy treat, then I think you'll love these Peanut Butter Chip Brownies. Brownies with peanut butter chips aren't exactly revolutionary in the baking world, but I can tell you that they 100% get our seal of approval!
And if you want even more brownies with peanut butter, try Peanut Butter Brownies, Peanut Butter Streusel Brownies, and Brownie Peanut Butter Cups.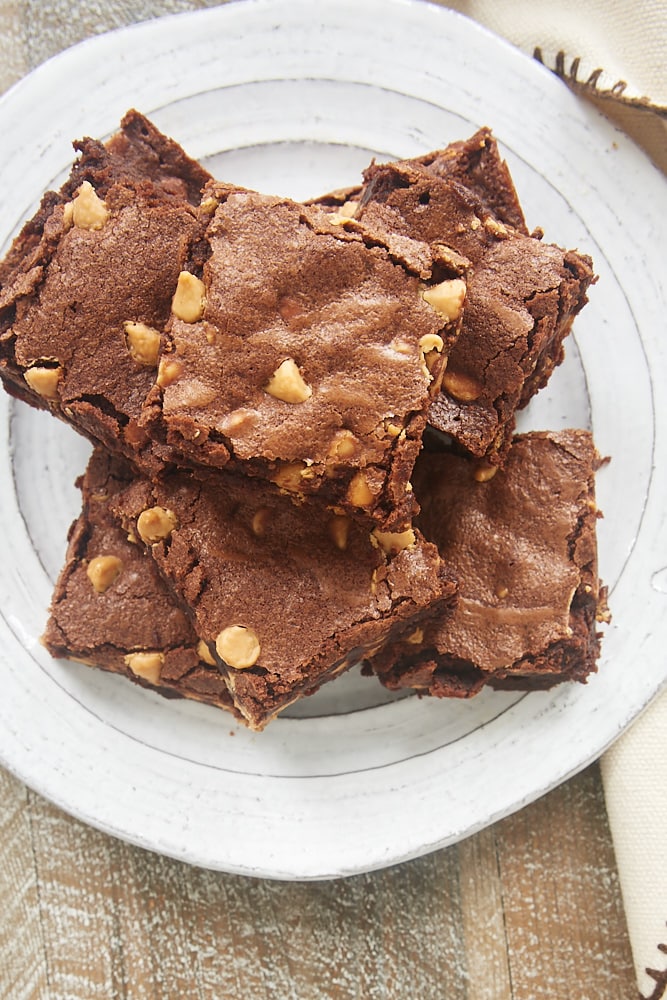 What You'll Need
Scroll to the recipe card at the bottom of this post for ingredient quantities and full instructions. Here are some helpful notes about the ingredients.
Unsalted butter
Unsweetened chocolate – Chop the chocolate so it melts more easily.
Cocoa powder – I recommend unsweetened cocoa powder for these brownies. If yours looks lumpy, sift it before mixing.
Granulated sugar
Eggs – Allow these to come to room temperature for best results.
Vanilla extract
All-purpose flour – As always, measure by weight or use the spoon and sweep method. Learn more: How to Measure Flour
Salt
Peanut butter chips – Look for these alongside the chocolate chips with the baking ingredients.
How to Make Peanut Butter Chip Brownies
Prepare for baking. Heat the oven to 350°F. Line a 9-inch square baking pan with parchment paper, and grease the paper. Alternatively, skip the liner and grease the pan.
Melt the butter and chocolate. Place the butter and chocolate in a large microwave-safe bowl. Heat at half power in the microwave in 30-second increments until the butter melts and the chocolate melts when stirred. Stir until smooth, and then set aside to cool slightly. It should be warm to the touch but not hot.
Continue mixing. After the chocolate mixture has cooled, whisk in the cocoa powder, followed by the sugar, then the eggs and vanilla. Add the flour and salt, and mix until combined.
Add the peanut butter chips. Stir the peanut butter chips into the brownie batter.
Bake. Spread the batter evenly in the prepared pan. Bake 30 to 35 minutes. When the edges are set and a pick inserted into the center comes out with a few moist crumbs, the brownies are ready to come out of the oven.
Cool. Place the pan on a wire rack, and allow the brownies to cool before cutting into bars.
Tips for Success
Here are a few tips to make your Peanut Butter Chip Brownies turn out perfectly!
Use good quality chocolate. Brownies are all about the chocolate, so be sure to use good chocolate and cocoa powder.
Use a light-colored metal pan. Your brownies will bake more thoroughly and evenly.
Customize! You can use a different flavor of baking chips, or substitute nuts or another favorite add-in.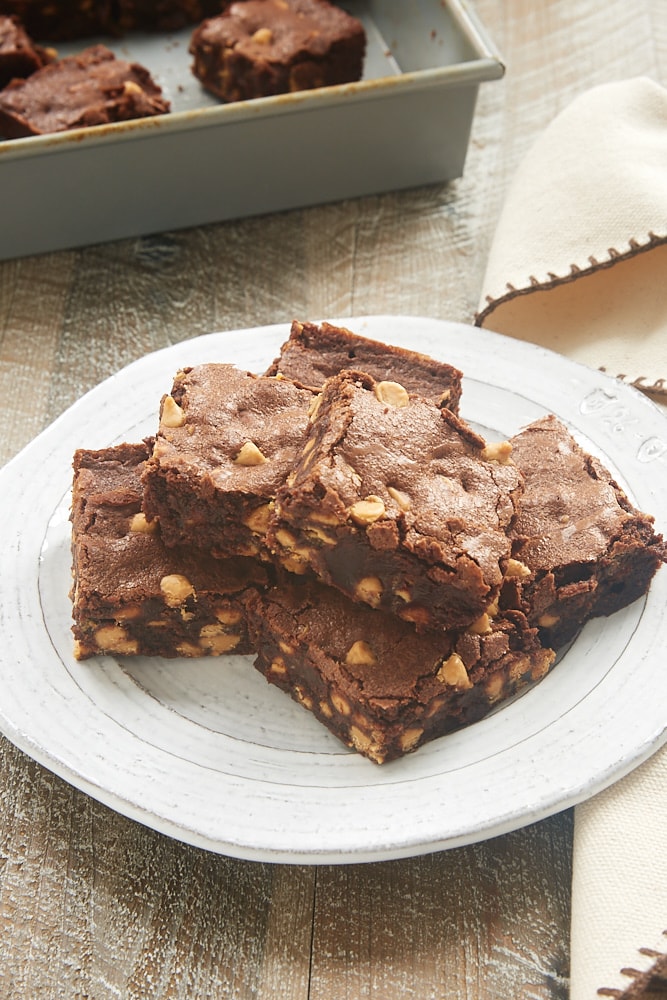 How to Store
After the brownies have cooled, place them in an airtight container. They should keep at room temperature up to 3 days.
Can These Brownies Be Frozen?
Yes, you can freeze these brownies. Once they've cooled completely, place them in a freezer-safe airtight container or sealable bag. If you like, wrap the brownies individually before placing them in the container so you can easily grab one or a few at a time. Properly stored, they should keep in the freezer up to 3 months. Thaw for an hour or two at room temperature, or warm briefly in the microwave.