Blueberry Coffee Cake Muffins are part muffin, part crumb cake, and entirely delicious!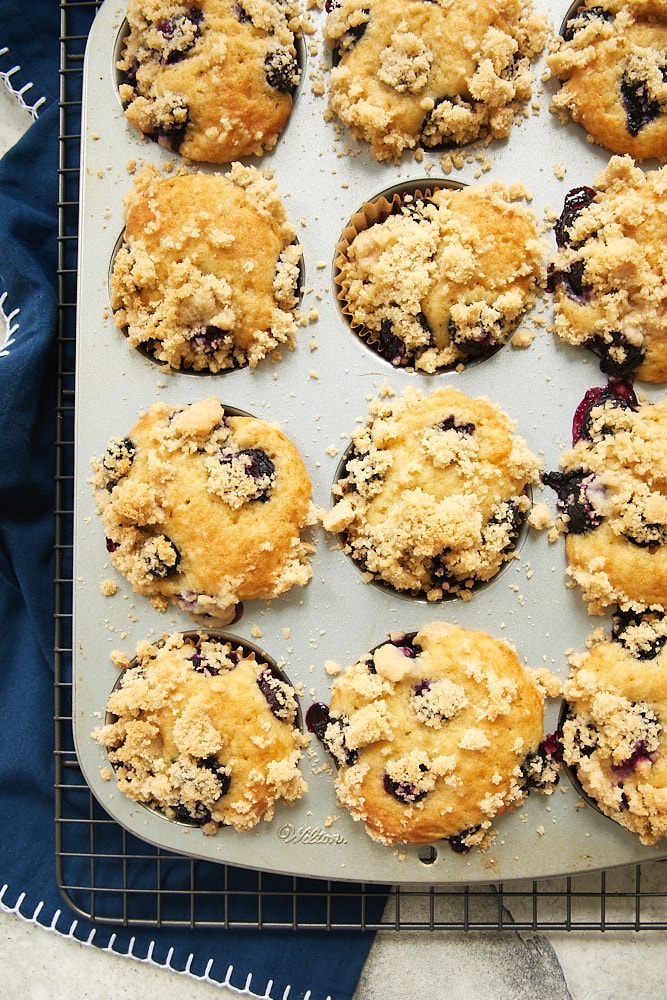 Blueberry Coffee Cake Muffins
I'm sure I'm not alone in saying that I adore a good blueberry muffin. There's just something so irresistible about them! I've baked more than my fair share of them over the years, and I'm always looking for new ways to tweak them and make them in different ways.
These Blueberry Coffee Cake Muffins are a little different addition to my blueberry muffin repertoire. They're really more of a coffee cake in muffin form, hence the name. The result is a soft, sweet treat that's great for breakfast, brunch, or just a snack!
Looking for a more traditional blueberry muffin recipe? Try my Quick and Easy Blueberry Muffins.
Coffee Cake in Muffin Form
Muffins are generally made using what's not surprisingly called the muffin method. It's a great way to mix baked goods with a lot of liquid and not much fat. These muffins, however, use the creaming method, meaning that softened butter and sugar are beaten together much like making a traditional cake batter. That makes for a cake-like muffin with a softer, more delicate crumb.
I'm really just so smitten with these Blueberry Coffee Cake Muffins. I love that they're part muffin, part coffee cake. The flavor is lovely and a little sweeter than what you'd expect from a traditional muffin.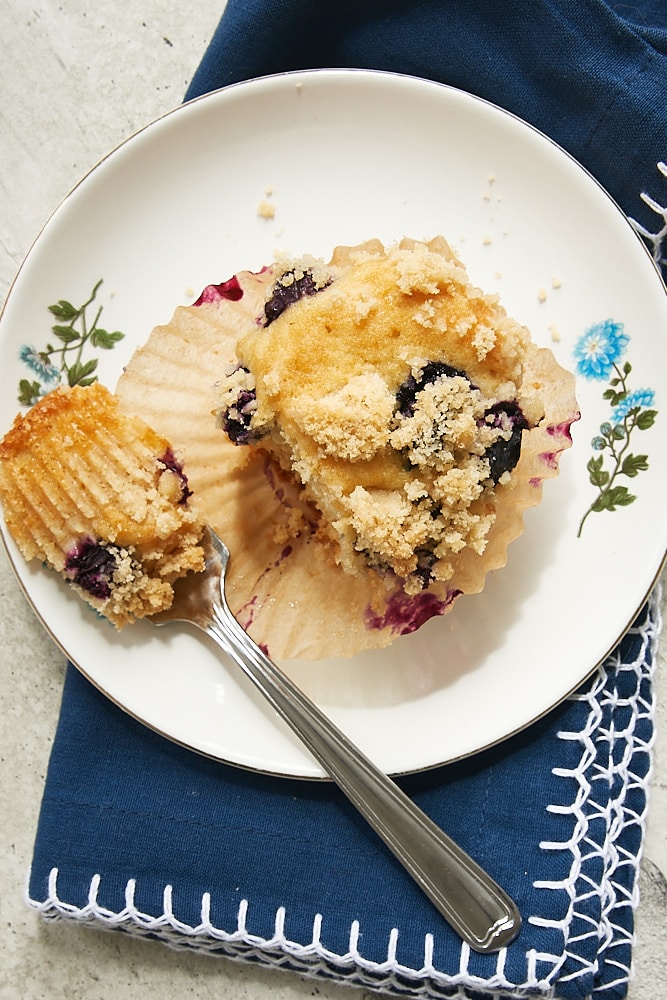 What You'll Need
You'll mostly need the basics here. Be sure to scroll down to the recipe card at the end of this post for ingredient quantities and full directions. Here are some helpful notes about the ingredients.
For the crumb topping:
All-purpose flour
Brown sugar – I prefer the flavor of light brown sugar here, but go with dark brown sugar if you want a stronger molasses flavor.
Ginger – A bit of ground ginger is a great complement to the blueberries. Cinnamon is also a good choice.
Salt
Unsalted butter – Make sure your butter is cold for mixing.
For the muffins:
All-purpose flour – As always, measure by weight or use the spoon and sweep method. Learn more: How to Measure Flour
Baking powder
Baking soda
Salt
Unsalted butter – The butter needs to be softened for mixing. Learn more: How to Soften Butter
Brown sugar – Be sure to pack it firmly when measuring. Better yet, measure by weight.
Granulated sugar
Eggs – Let the eggs come to room temperature for better mixing. I recommend baking with large eggs.
Vanilla extract – Try almond extract for something a little different.
Yogurt – You can use plain or vanilla yogurt.
Blueberries – I recommend using fresh blueberries if possible. Want to use frozen blueberries? See my tips for using Fresh vs Frozen Fruits in Baking.
How to Choose Blueberries for Baking
Look for blueberries that are smooth and dark with unbroken skins. Because blueberries don't ripen after they're picked, be sure they're fully ripe. Most of the flavor (and nutrients) are in the skins, so smaller blueberries are generally more flavorful.
How to Make Blueberry Coffee Cake Muffins
Unlike traditional muffins, these coffee cake muffins are made using the creaming method. You'll recognize this method from making many baked goods like cakes and cookies.
Make the crumb topping. Combine the flour, brown sugar, ginger, and salt. Mix in the butter using a pastry blender, a fork, or your fingers until the mixture forms crumbs. Place the topping in the refrigerator while you make the muffins.
Prepare for baking. Heat the oven to 350°F. Line 12 standard muffin cups with paper liners. If you prefer to skip the liners, be sure to grease the cups thoroughly with a cooking spray with flour.
Combine the dry ingredients. Whisk the flour, baking powder, baking soda, and salt in a medium bowl.
Combine the wet ingredients. In a separate bowl, beat the butter, brown sugar, and sugar with an electric mixer on medium speed. When the mixture is light and fluffy, mix in the eggs one at a time and then mix in the vanilla.
Add the dry ingredients to the wet ingredients. With the mixer on low speed, add the flour mixture in three portions, alternating with two portions of yogurt. Mix just until combined.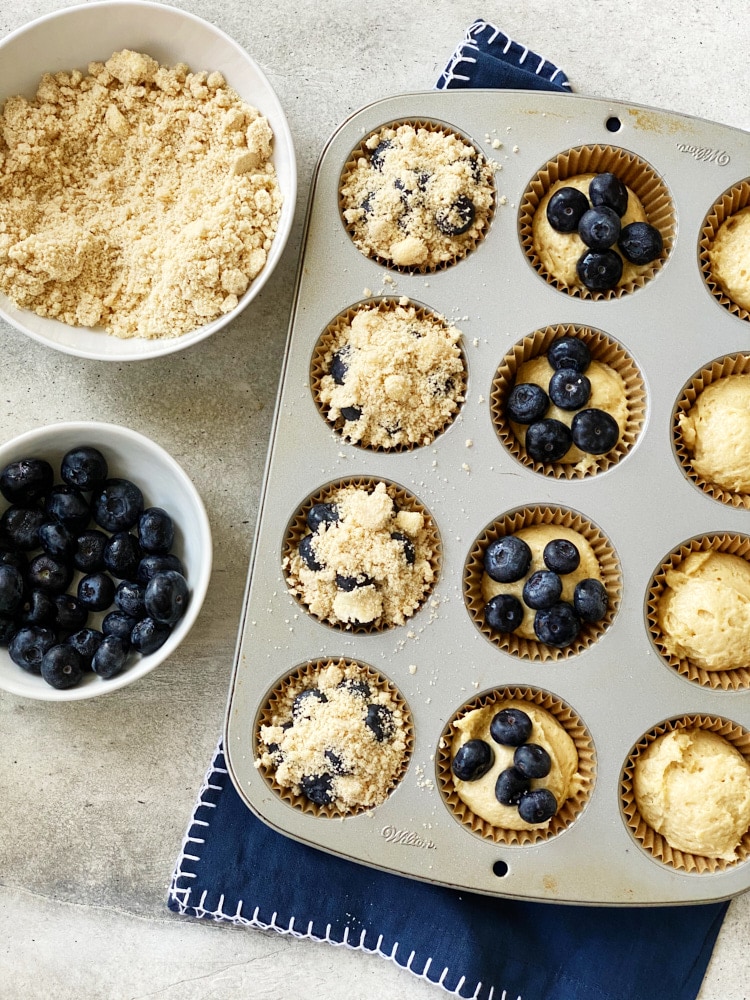 Portion the batter and assemble. Divide the batter evenly among the prepared muffin cups. You'll need about 3 tablespoons per cup to fill each one about 3/4 full. Top with blueberries and then sprinkle the crumb topping over the berries.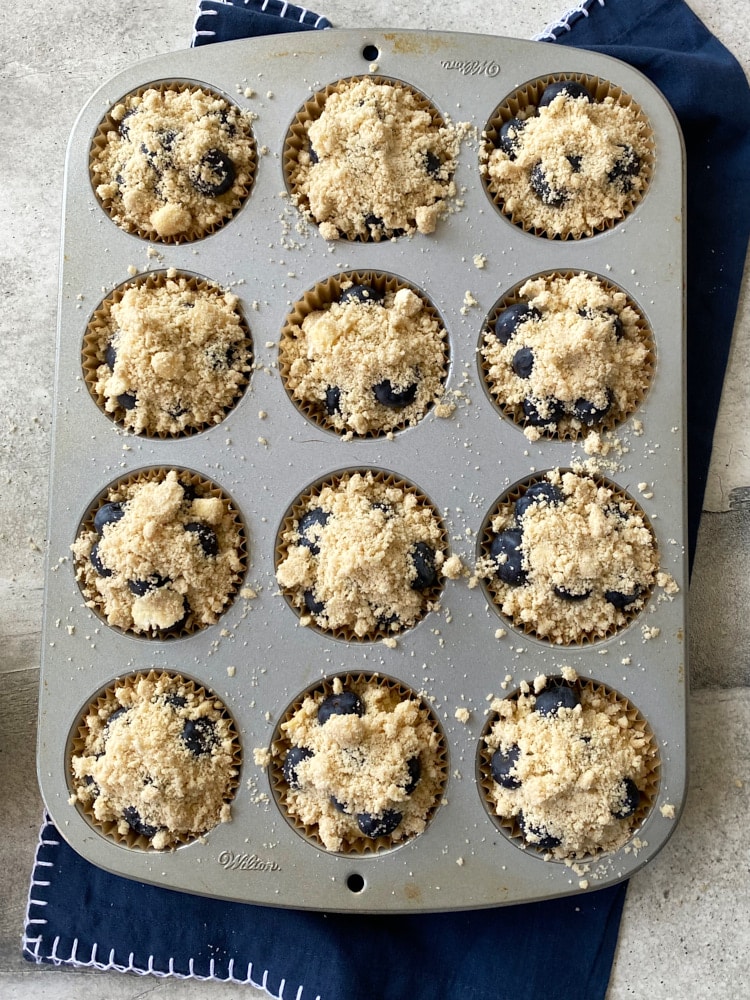 Bake. Place the pan in the oven, and bake 25 to 30 minutes. The muffins are done when a toothpick inserted into the center comes out clean.
Cool. Place the pan on a wire rack, and allow to cool for 10 minutes. Then remove the muffins from the pan and place directly on a wire rack to cool completely.
Tips for Success
Don't over-mix. Mix the topping just until crumbs form so you don't get a solid bit of dough. Mix the batter just until combined.
Use a light-colored metal pan. Your muffins will bake more thoroughly and evenly.
Don't mix the blueberries into the batter. As with most coffee cakes, the batter is still thicker than a regular cake. To that end, I prefer not to mix the blueberries into the batter. Just sprinkling the berries on top of the portioned batter works well. They'll sink a bit as the muffins bake, but you'll get a nice distribution of berries in the muffins.
Don't be shy with the topping! These little coffee cakes have lots of crumb topping, so be generous with it. You may not use it all, but there's plenty here for a full-on coffee cake experience.
Want to use other berries?
You can certainly use other berries for these muffins. Raspberries, strawberries, or whatever you like! Or try a mixture of berries. If you're using something bigger than blueberries, you will likely want to chop them to make them more bite-size.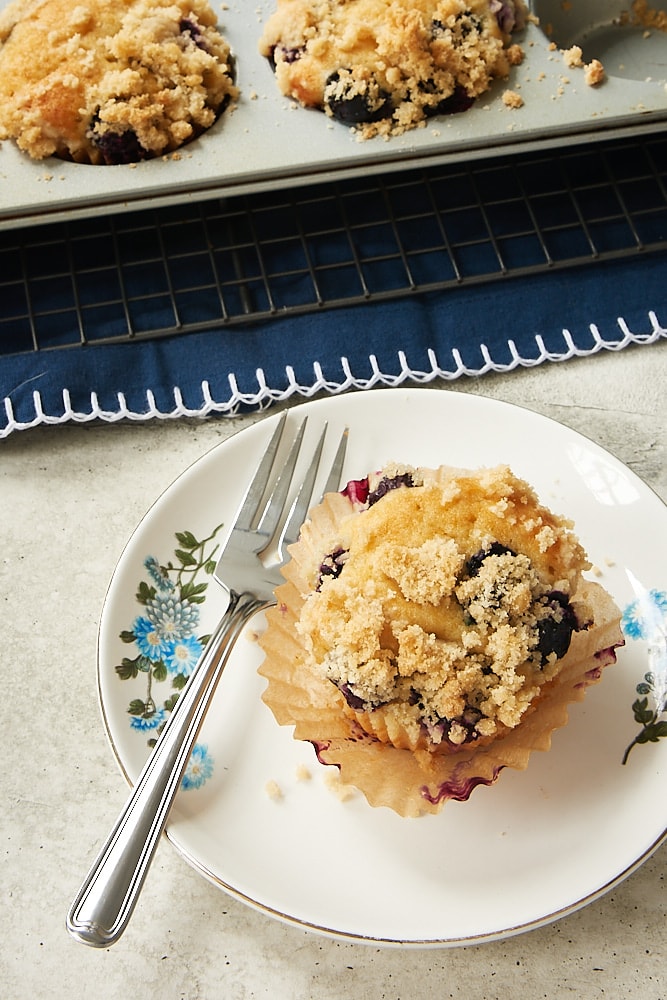 How to Store Blueberry Coffee Cake Muffins
Once the muffins have cooled, place them in an airtight container and store at room temperature up to 3 days. While they can be stored in the refrigerator, they're more likely to become dry.
Can These Muffins Be Frozen?
Sure! I like to wrap the muffins individually in two layers of plastic wrap and then place them in an airtight, freezer-safe container or zip-top bag. Properly stored, they should keep in the freezer up to 3 months. Thaw on the countertop for an hour or two, or warm them briefly in the microwave.