These bite-sized Blueberry Cream Cheese Pies are the perfect way to celebrate blueberry season! A layer of sweet cream cheese filling gives a standard blueberry pie filling an instant upgrade.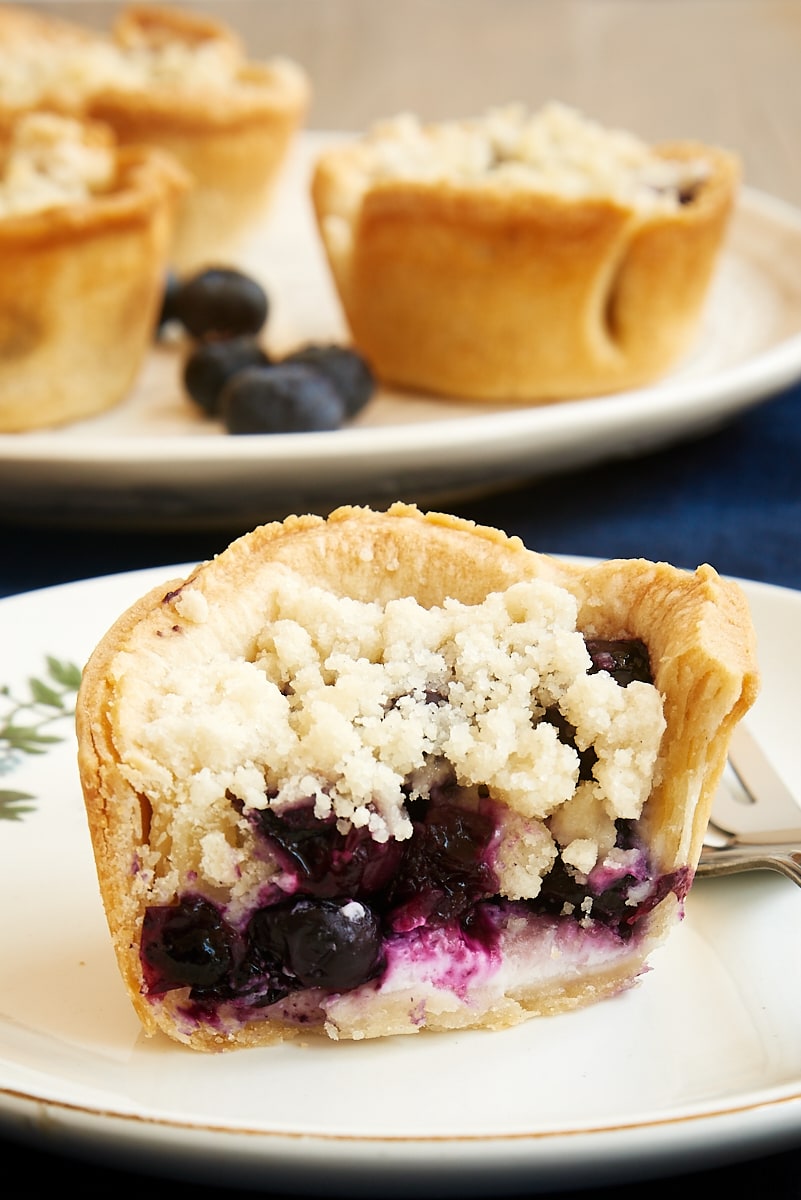 Mini Blueberry Pies With Cream Cheese Filling
Blueberries and cream cheese are one of my favorite flavor combinations. The two just play together so well that I try to pair them as much as possible in recipes like this blueberry cream cheese crisp and this blueberry cream cheese coffee cake.
I had somehow never used this dynamic duo in a pie, but that changes today with these Mini Blueberry Cream Cheese Pies. Upon first glance, they look like standard mini blueberry pies, but when you take a bite, you get the delightful surprise of a sweet cream cheese layer at the bottom!
These little pies are a great choice for entertaining. Your guests can just grab a pie and you don't have to worry about slicing and serving. Plus, mini desserts are just so adorable, aren't they?
As a final note, if you're looking for more mini pie recipes, be sure to try these peach hand pies!
Why You'll Love This Blueberry Cream Cheese Pie Recipe
Individual blueberry cream cheese pies are always a big hit! Here's why you'll want to try them ASAP:
Sweet and creamy. Sweet blueberries layered on top of a smooth cream cheese filling within a flaky pie crust is a heavenly combination!
Space saver. If you don't want a full-sized blueberry pie taking up space in your fridge, satisfy your sugar cravings with these mini blueberry pies instead!
Perfect for summer. Fresh blueberries are a quintessential taste of summer, and this mini pie recipe is one of the best ways to showcase them!
What You'll Need
Scroll down to the recipe card below this post for ingredient quantities and full instructions.
For the Crust & the Crumb Topping
For the Cream Cheese & Blueberry Fillings
Cream cheese – Let this come to room temperature so it can be whipped smooth with the sugar.
Confectioners' sugar – Sift out any lumps in the sugar ahead of time so that the mixture is as smooth as possible.
Blueberries – You can use fresh or frozen blueberries – reading up on fresh vs frozen fruit in baking might help you decide which to use!
Water – To mix with the cornstarch.
Sugar – Again, granulated sugar is my go-to.
Cornstarch – To thicken up the filling a little bit so that it's not too liquidy.
Vanilla extract – I highly recommend using pure vanilla extract!
How to Make Mini Blueberry Cream Cheese Pies
One of the things I love about baking with blueberries is that there's no chopping, coring, peeling, or other prep work before you can get baking. Just give them a good rinse, let them dry, and you're ready to go! Here's the basic step-by-step guide for today:
Prepare. Preheat your oven to 350°F and grease a 12-cup standard-size muffin tin.
Cut the dough. Roll out the dough to about 1/8-inch thickness. Use a circular cookie or biscuit cutter, or the rim of a glass, to cut the dough into 12 four-inch circles.
Create the crusts. Push the circles into the bottom and up the sides of each muffin cup, then place the muffin pan in the refrigerator.
Make the crumb mixture. Whisk together the flour, sugar, and salt in a small bowl. Add the butter, then mix it in with a pastry blender, fork, or your fingers until it forms a coarse crumb.
Chill the mixture. Refrigerate the crumb topping while you make the fillings.
Beat the cream cheese. Use an electric mixer on medium speed to beat the cream cheese and sugar until they're well-combined and smooth.
Start assembling the mini pies. Divide and spread the cream cheese mixture evenly into the pie crusts. Then, return the pan to the refrigerator.
Cook the berries. Combine the blueberries, water, sugar, and cornstarch in a medium saucepan and bring the mixture to a boil. Continue cooking for 2-3 minutes, until the mixture has thickened. Remove it from the heat and stir in the vanilla.
Finish assembling the pies. Spoon the blueberry mixture over the cream cheese layer, filling each pie almost to the top. Sprinkle the crumb mixture over the tops of the pies.
Bake the pies. Place the muffin pan in the oven and bake for 25-30 minutes, or until the crusts are golden brown.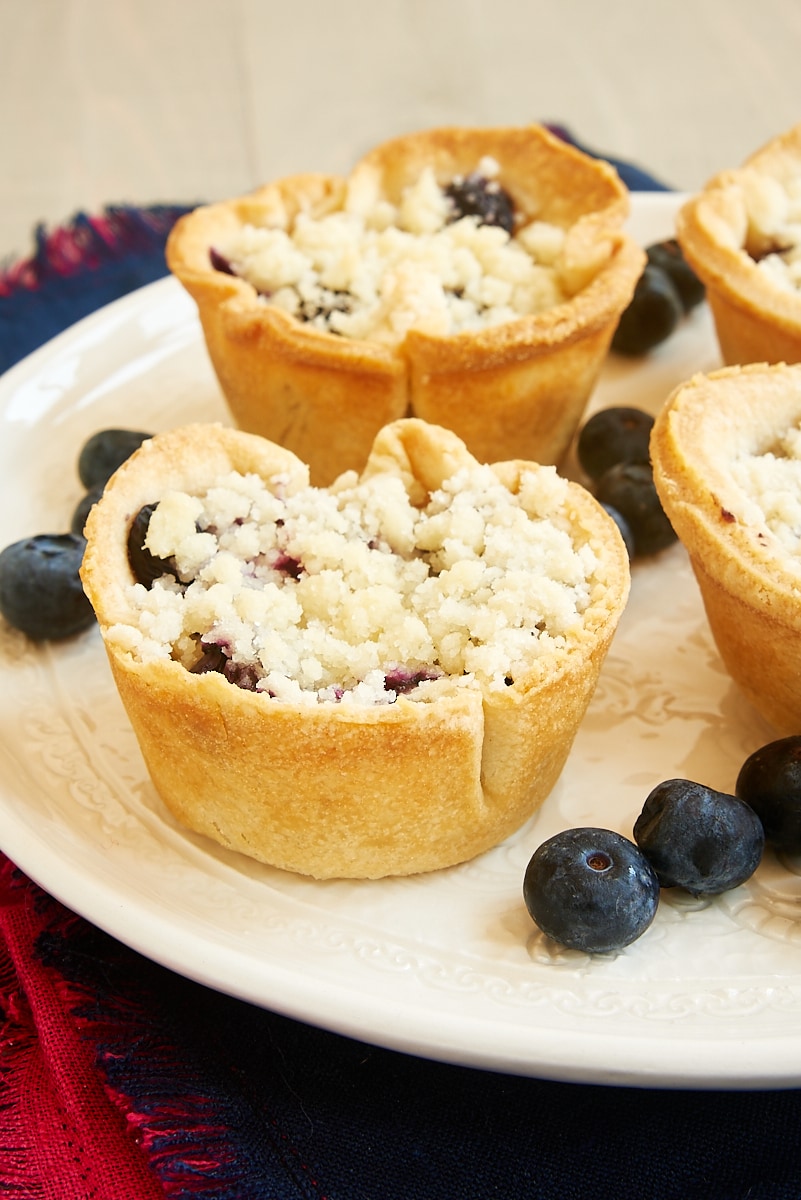 Tips for Success
Here are a few additional tips to help you make perfect mini blueberry cream cheese pies.
Divide the pie crust dough. I recommend dividing the dough in half before refrigerating it to make rolling the dough out more manageable.
The best way to form the pie crusts. Each crust should reach the top of the pan or stick up above the pan just a smidge. Muffin pans can vary a bit, so you may want to make sure the first circle fits before cutting out all of them. I use the largest cutter in this cutter set, and use a knife to cut around the outside of the top for a 4-inch circle to fit my muffin pan.
Loosen the pies before you remove them from the pan. You can run a butter knife along the edges of each muffin tin cup to help loosen the mini pies a bit before you remove them from the pan.
How to keep blueberry pie from being runny. The blueberry pie filling for this recipe has cornstarch added, which should take care of any runniness because it thickens the liquids that cook off of the berries. Another trick is to use smaller berries instead of the big juicy ones!
Substitutions & Recipe Variations
Switching up the flavors in these mini blueberry pies is not at all difficult! Here are a few ideas to get the ball rolling:
Use almond extract. I really like the addition of vanilla to these pies, but for something a bit different, substitute almond extract, which adds a lovely marzipan flavor.
Add lemon. You could also omit the extract altogether, and instead add the zest and juice of a lemon for a citrus bite.
Use other fruits. If blueberries aren't your favorite, try this recipe with raspberries or strawberries.
How to Store
Refrigerate these mini pies in an airtight container or on a covered plate for 4-5 days. Then, let them sit at room temperature for a few minutes before serving again.
Can I Freeze Blueberry Cream Cheese Pie?
Yes, you can freeze these pies for up to 3 months. Store them in an airtight storage container or a freezer bag; you can place parchment paper between the layers to keep them from sticking together. Let the pies thaw in the refrigerator before serving.
More Blueberry Dessert Recipes
Want to try out some more sweet blueberry desserts? Check out these ones!