Nutty, buttery shortbread is topped with juicy blueberries and a crumble topping to create these irresistible Blueberry Pie Bars! They're an automatic family favorite recipe.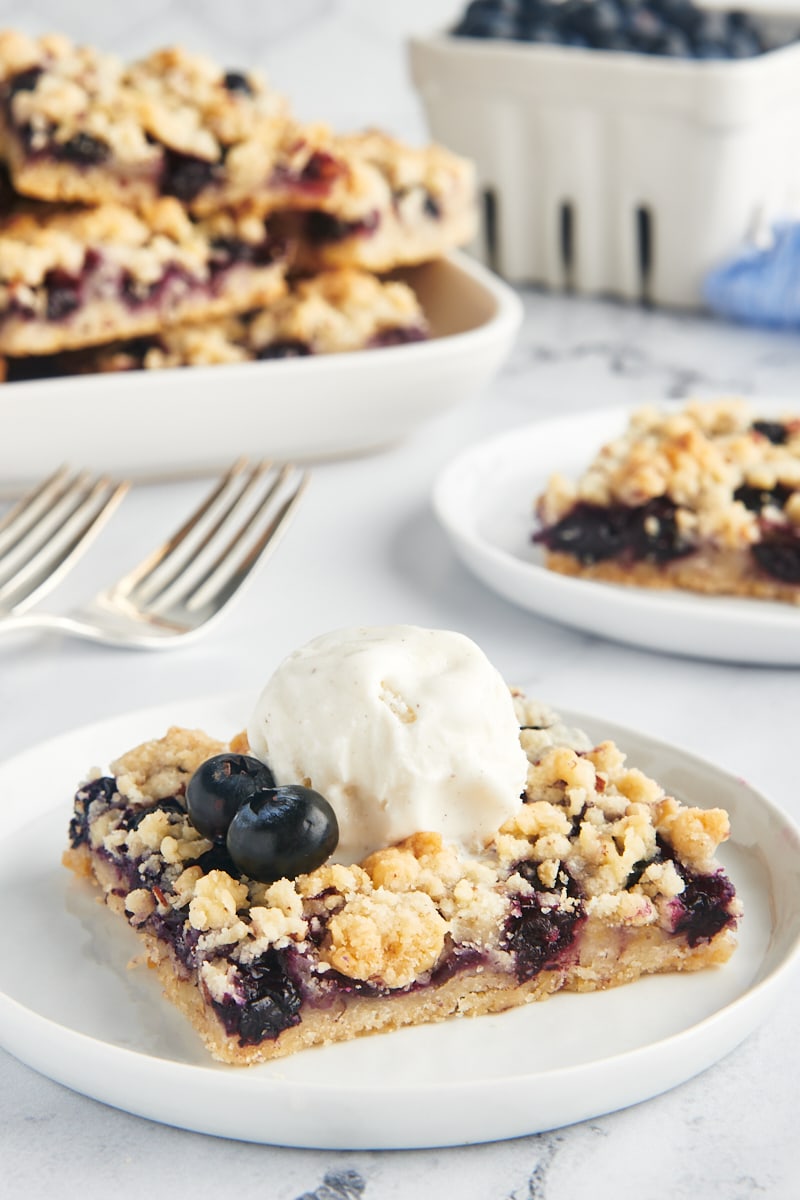 The Perfect Blueberry Pie Bars for Summer
I usually find myself baking berries into dessert bar form at least once every berry season. But these particular bars benefit from the presence of one of my favorite things—shortbread—in combination with fresh blueberries. Add in pecans, and these blueberry pie bars are pretty perfect!
The recipe starts with that simple, nutty shortbread. This is topped with fresh blueberries and a sprinkling of sugar and lemon zest, adding a bright citrus note. Then it's all topped off with a little bit more of the shortbread, this time in crumbled form.
There are plenty of blueberries in these bars, so there is no shortage of sweet, fruity flavor. And, all that blueberry deliciousness works so very well with the soft, sweet, nutty shortbread. They are really just lovely, and the best way to celebrate summer.
(Also, if you're hooked on all things dessert bars, try these Classic Seven Layer Bars next! They're made with chocolate, butterscotch chips, graham cracker crumbs, and more!)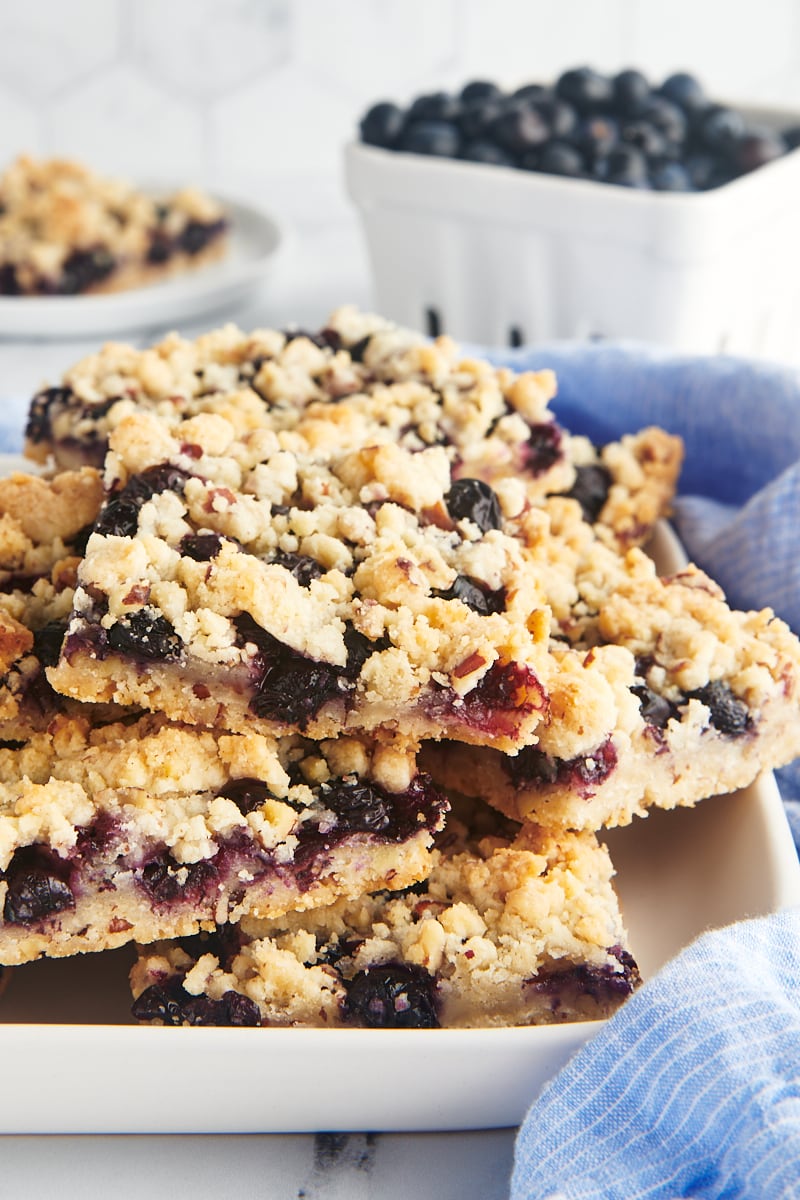 Why This Blueberry Bars Recipe Works
There are a whole lot of blueberry baked goods to make out there, but this is why I love these bars, and find myself making them so often:
Fabulous texture. Soft shortbread is filled with crunchy pecans and topped with tender blueberries and lemon zest. Every bite of these bars is a delight!
Simple ingredients. You only need 9 ingredients to make these blueberry bars! Most of them are probably already in the fridge/pantry, too.
Easy to make ahead. Feel free to make these blueberry pie bars ahead! They're simple to store and easy to transport if you want to take them to a potluck, picnic, barbecue, etc.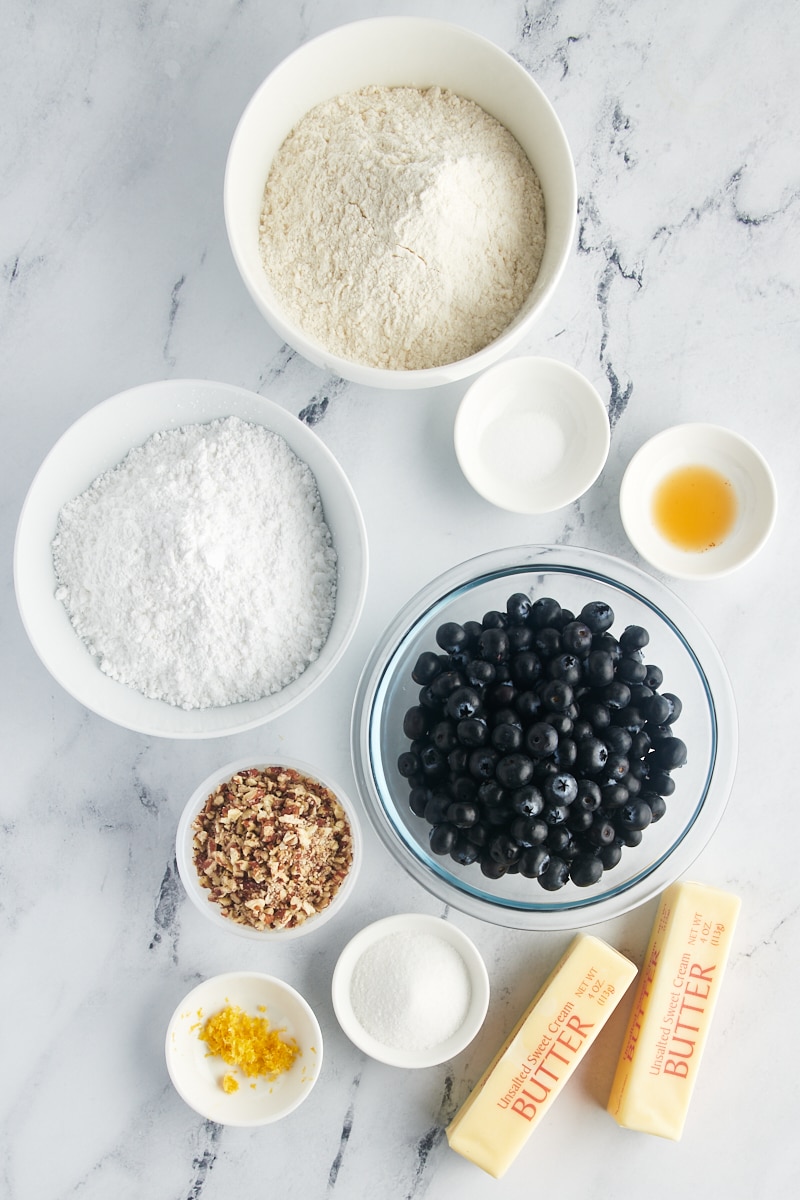 What You'll Need
The list of ingredients is relatively short today – here's what you'll need to round up. Scroll down to the recipe card below this post for ingredient quantities and full instructions.
All-purpose flour – Read through this post on How to Measure Flour for tips on accuracy and more!
Chopped pecans – These are technically optional, but I love the bit of crunch and nutty flavor that they add.
Salt – To contrast with the sweetness in these bars.
Unsalted butter – Let this soften before mixing. Learn more by reading about Unsalted or Salted Butter: Which is Better for Baking?.
Confectioners' sugar – To ensure that the shortbread comes out soft and light.
Vanilla extract – Almond extract could also be used here, if you prefer that flavor.
Blueberries – Fresh blueberries, rather than frozen blueberries, work best for this recipe.
Granulated sugar – If you'd like to use light brown sugar instead, go for it!
Lemon zest – Here's how to zest a lemon.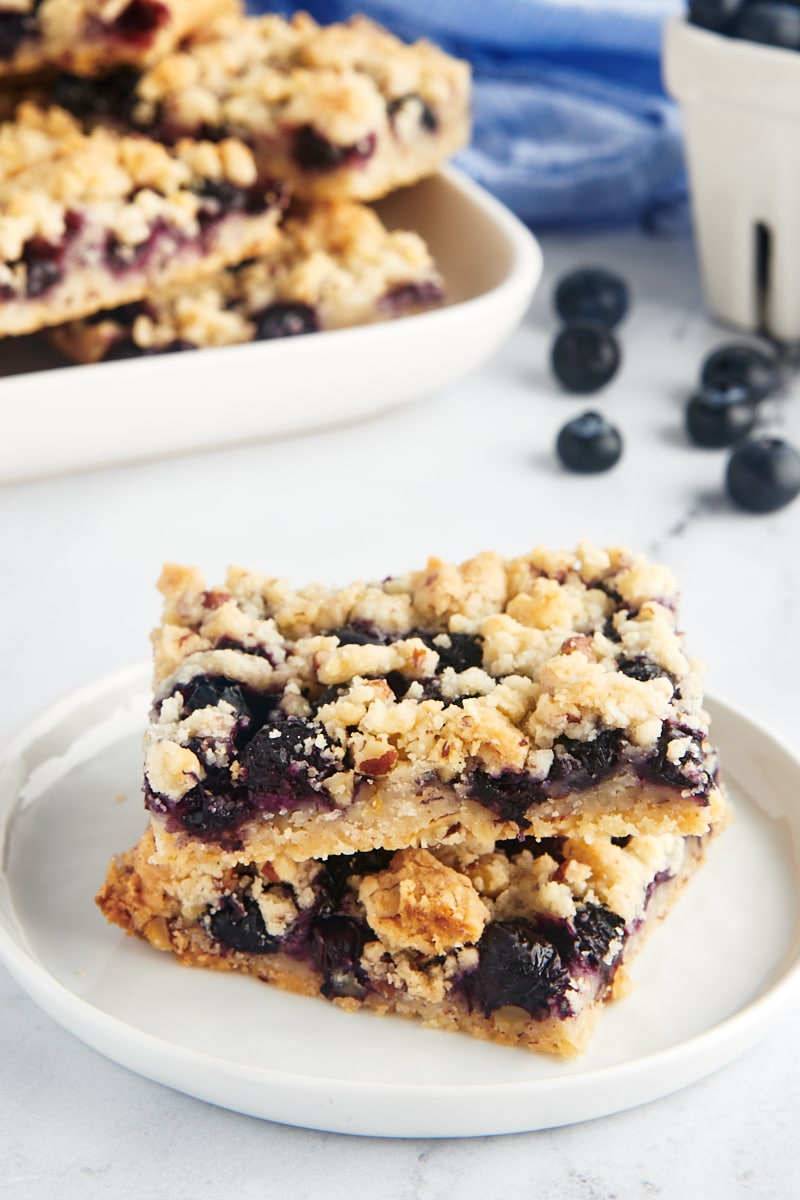 How to Make Blueberry Pie Bars
These lemon blueberry bars are the kind of effortless dessert that you can put together on a whim. Here's what you'll need to do.
Prepare. Preheat your oven to 350°F. Grease a 9″x 13″x 2″ baking pan with butter or nonstick spray.
Mix the dry ingredients. Stir together the flour, pecans, and salt in a medium bowl.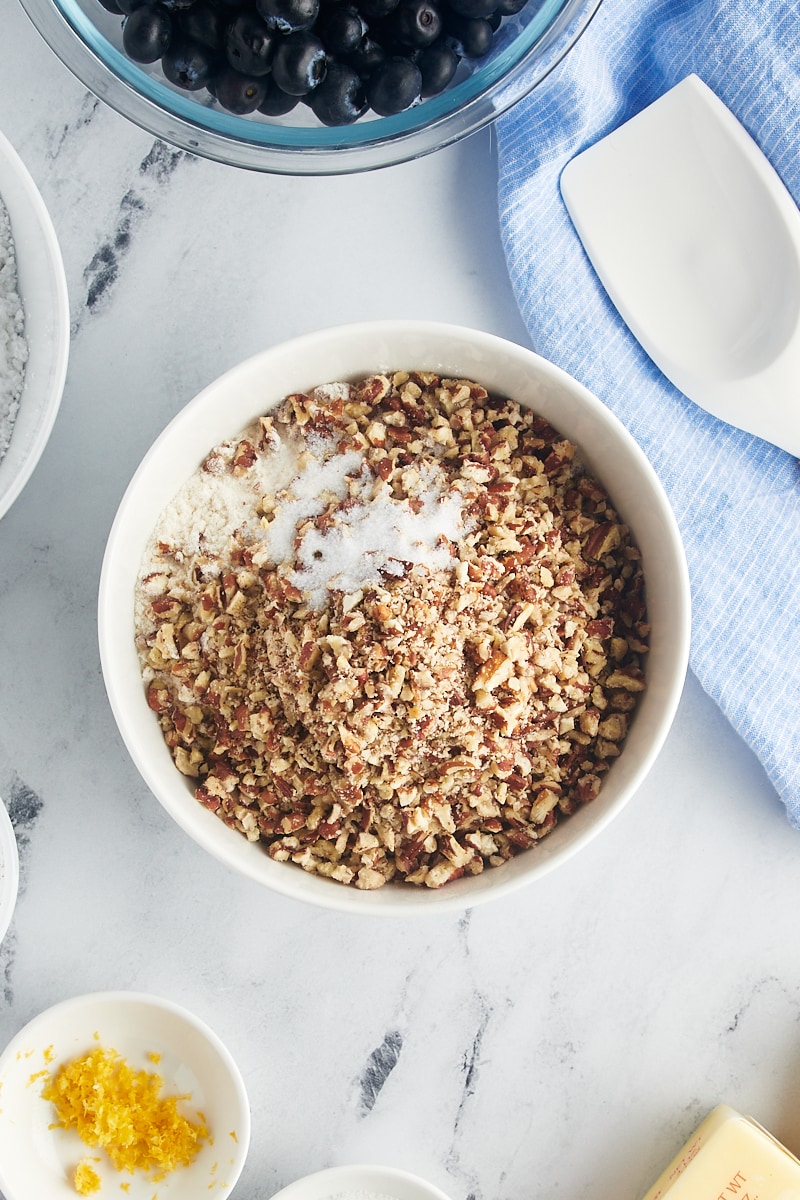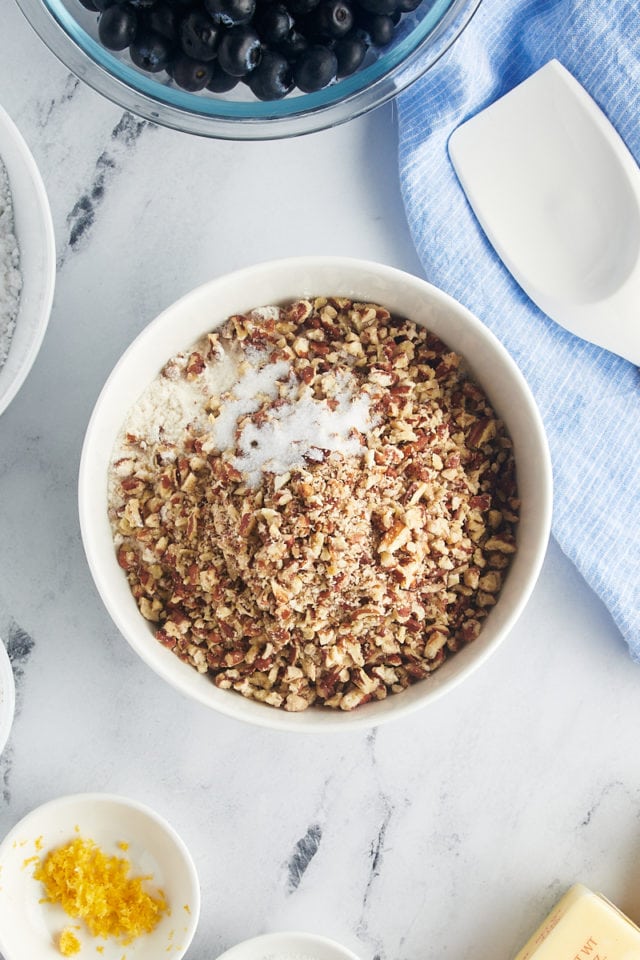 Finish the shortbread. In another mixing bowl, beat the butter and confectioners' sugar with an electric mixer on medium speed. Beat in the vanilla, then reduce the mixer speed to low and slowly beat in the flour mixture, continuing to mix just until a dough forms.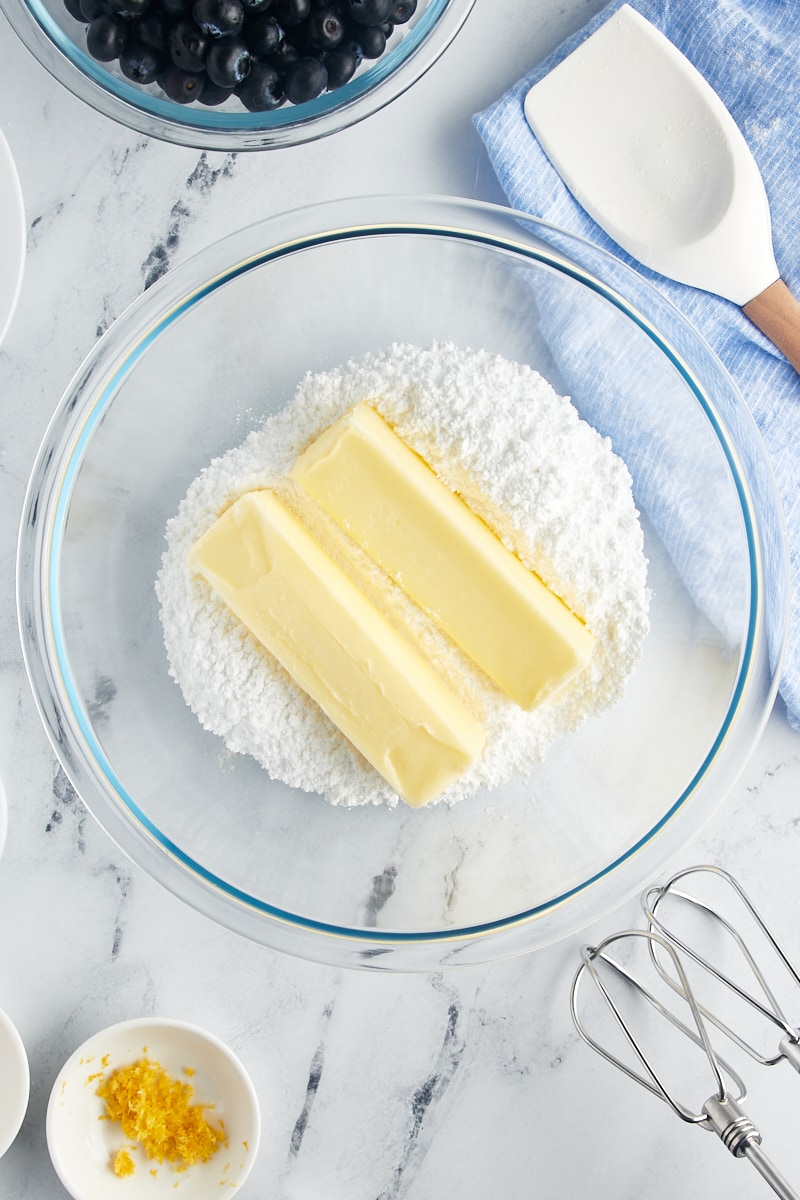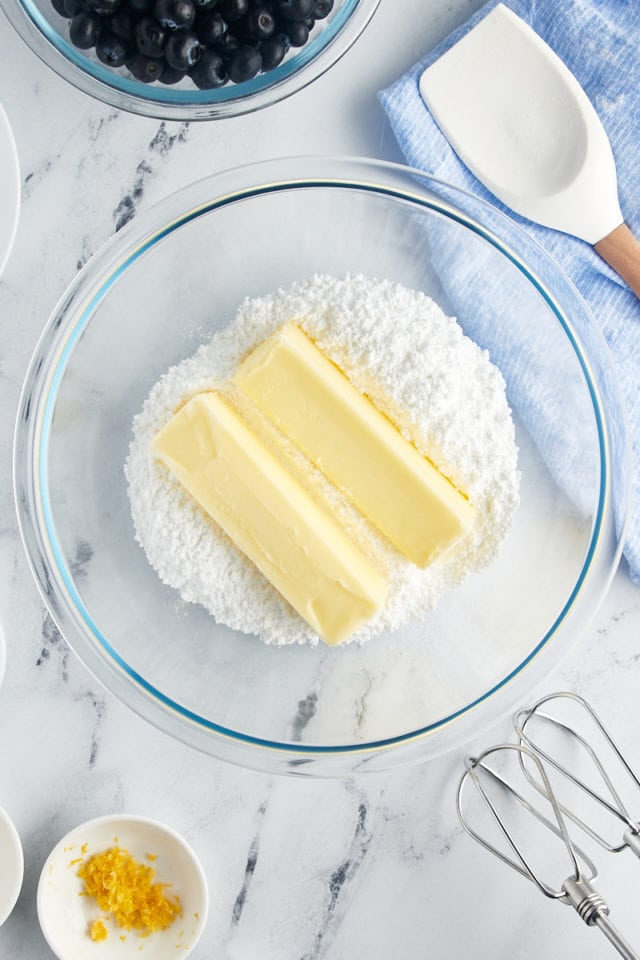 Assemble. Press a little more than half of the shortbread mixture into the bottom of the pan.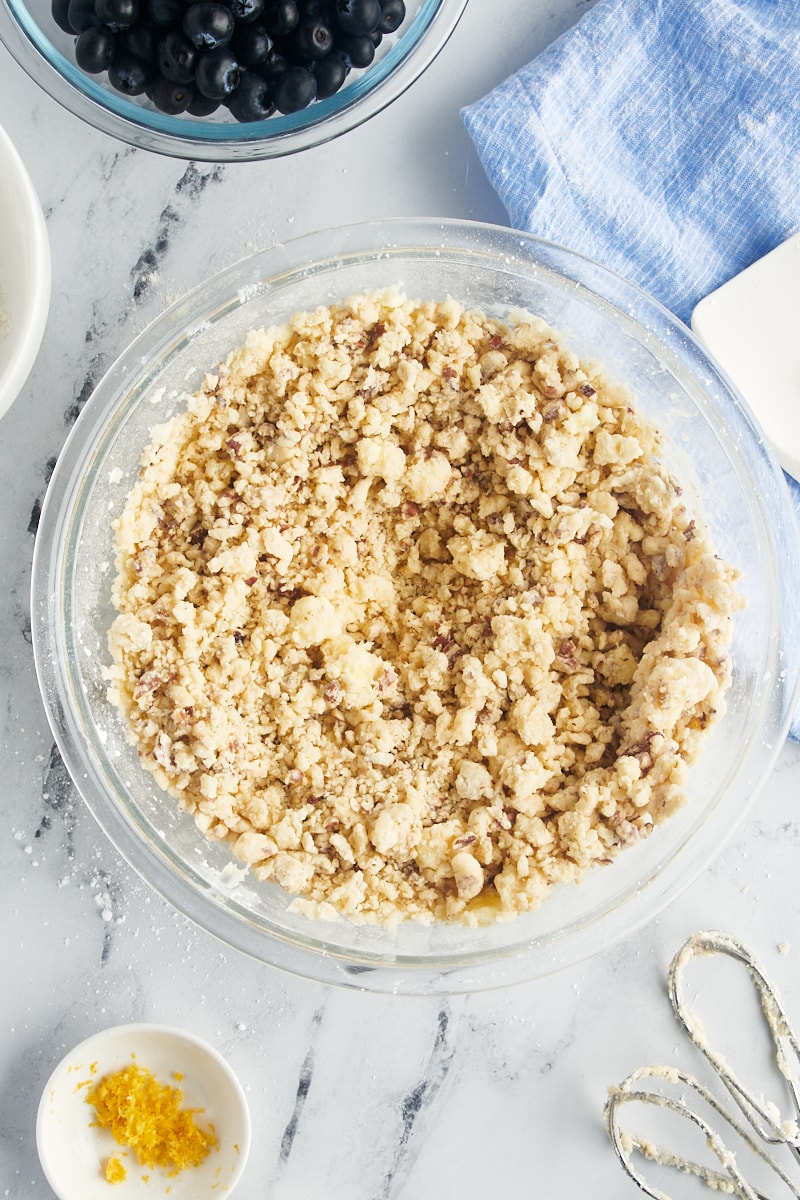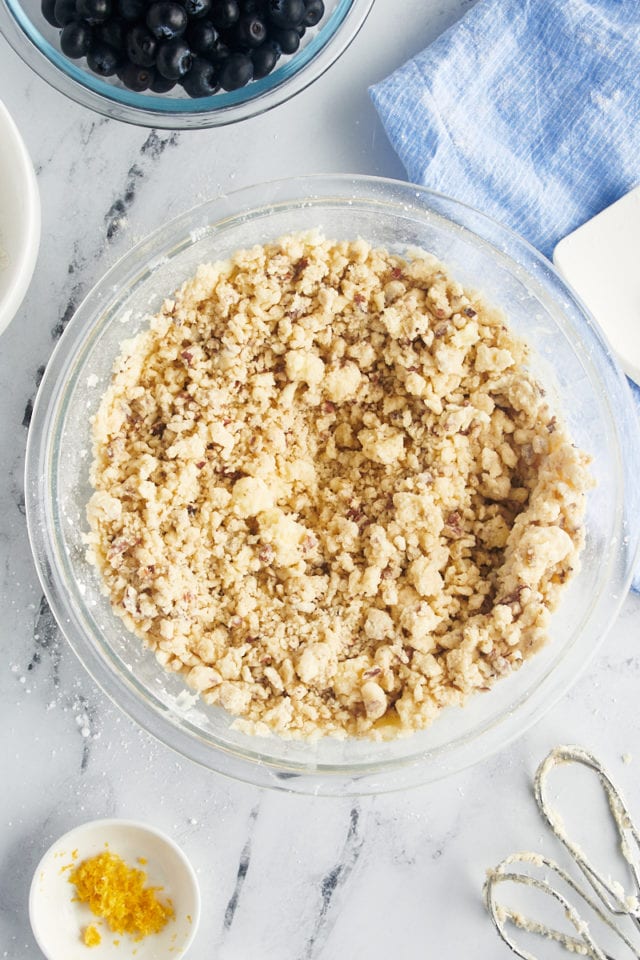 Add the blueberries and the topping. Top the shortbread with the blueberries, followed by the sugar and lemon zest. Crumble the remaining shortbread mixture over the top.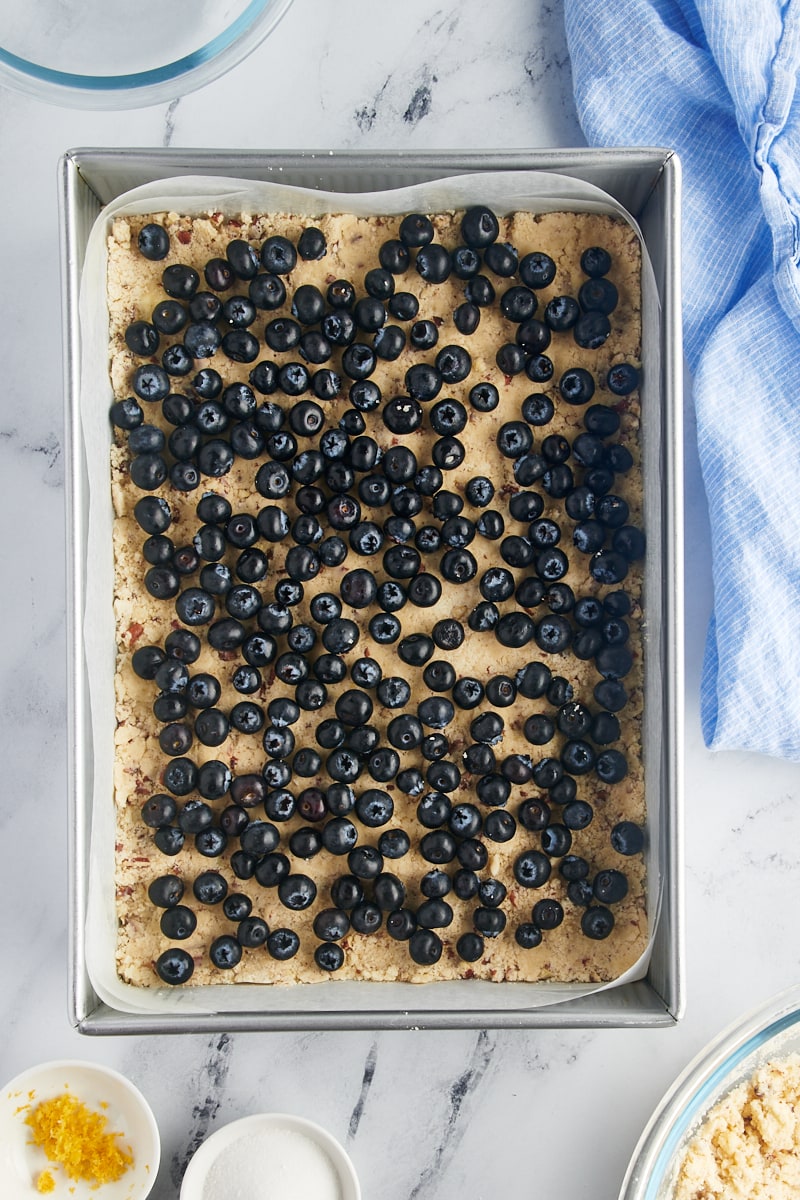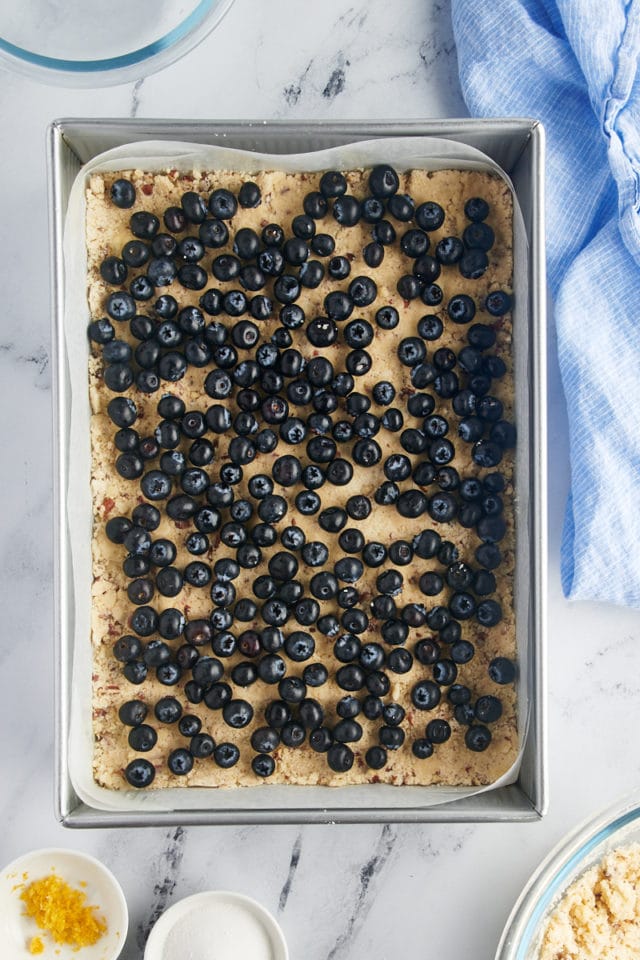 Bake. Place the pan in the oven and bake for 45 to 50 minutes, or until the bars are golden brown. Let the pan cool for 2 hours before cutting the bars.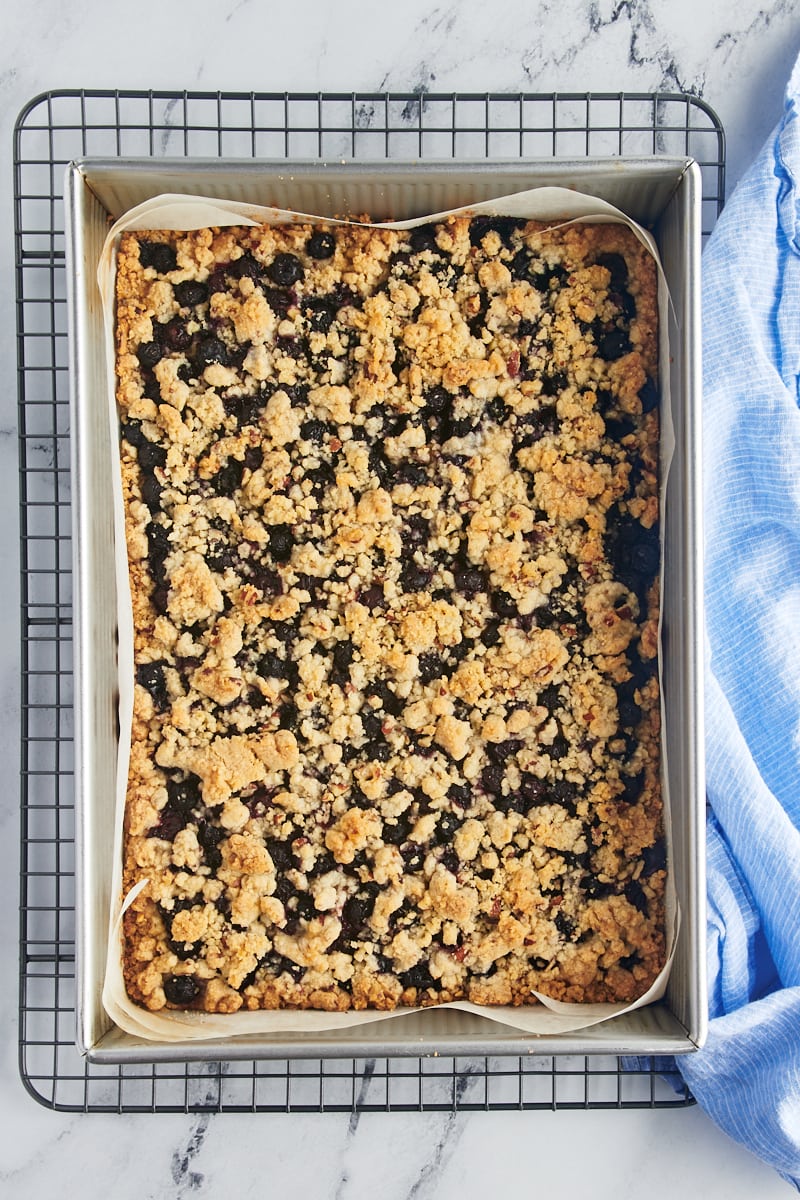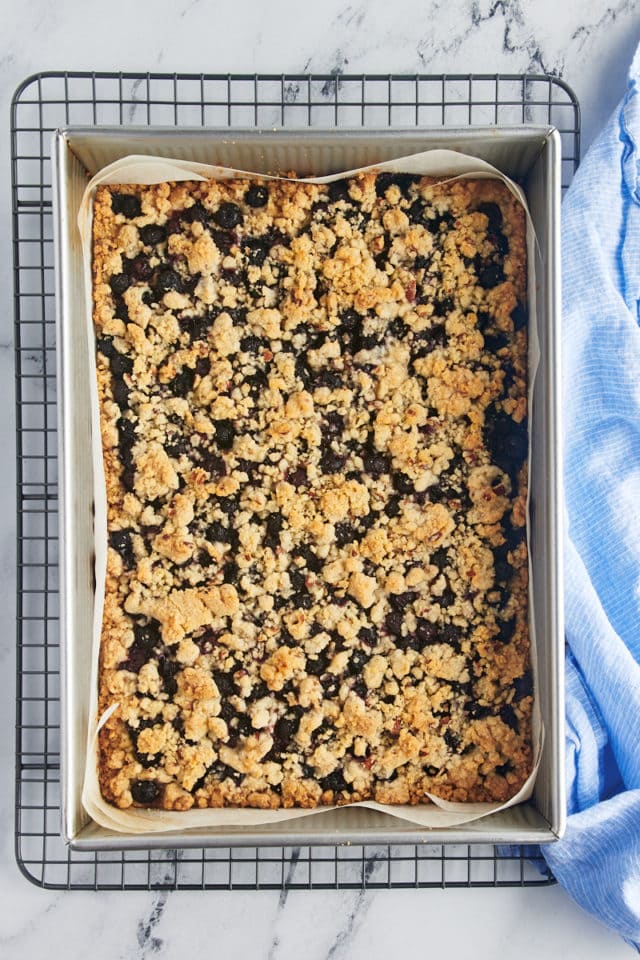 Tips for Success
Here are some simple tips that can help you achieve the perfect blueberry pie bars.
Toast the nuts. This is optional, but it will enhance the flavor and make the finished bars taste nuttier.
Don't skip softening the butter. Softened butter will mix much more easily with the other ingredients. Remember that butter begins to melt at 68°F, so don't let it come all the way to room temperature.
Don't chill the shortbread before baking it. Normally, shortbread is chilled before baking, so you may wonder why that step is not included in this recipe. When making shortbread cookies, the dough is chilled to keep it from spreading on the pan. But here, the shortbread is a crust, so spreading isn't an issue.
Use fresh blueberries. Frozen berries will release too much liquid, making the bars soggy, so I recommend using fresh blueberries.
How to cut blueberry bars. Wait until the pan has cooled, because if the blueberry shortbread is still warm, it will fall apart when you try to cut it. Once cooled, use a sharp knife to slice the pan into bars.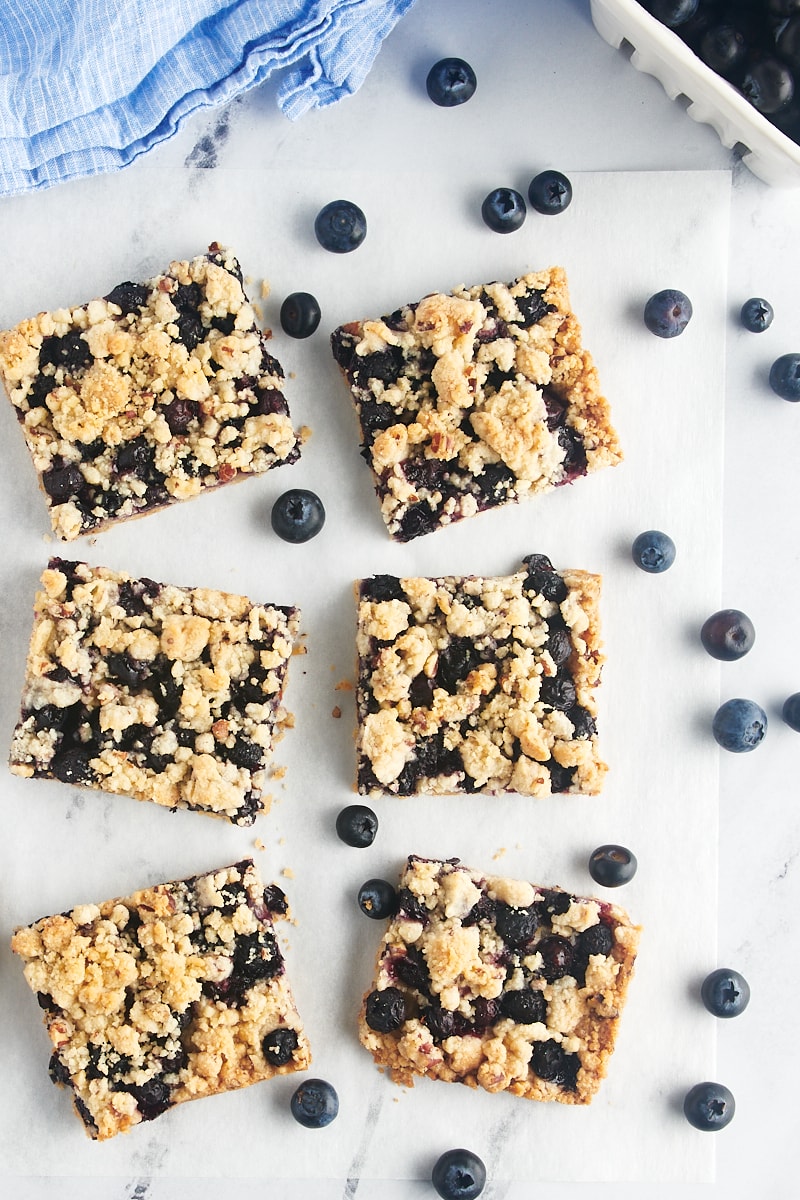 Substitutions & Variations
These blueberry bars are pretty great as described, but you can definitely make substitutions and switch up the recipe if you like! Here are some suggestions:
Nuts – Try substituting different nuts, such as walnuts or cashews, into these bars if pecans are not your thing.
Berries – Strawberries, raspberries, and/or blackberries could work well here!
Lemon zest substitutes – Lime or orange zest could definitely take the place of lemon zest if desired.
Herbs – Throw in some minced thyme or rosemary for an herbal note.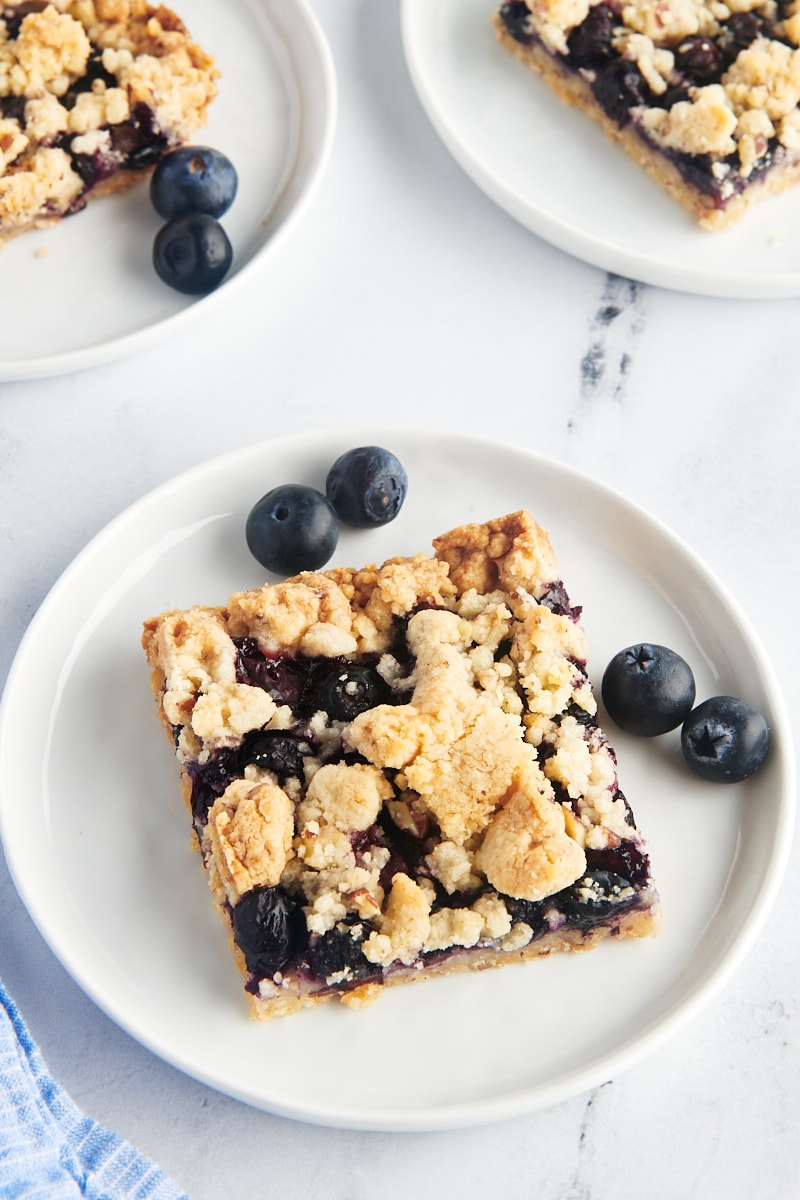 How to Store
Your blueberry crumb bars can be stored in an airtight container at room temperature for up to 3 days. If you store them in the fridge, they may last for a few days longer.
Can I Freeze These Blueberry Pie Bars?
These bars can be frozen for up to 3 months in a freezer bag or in an airtight storage container. Let them thaw at room temperature before serving.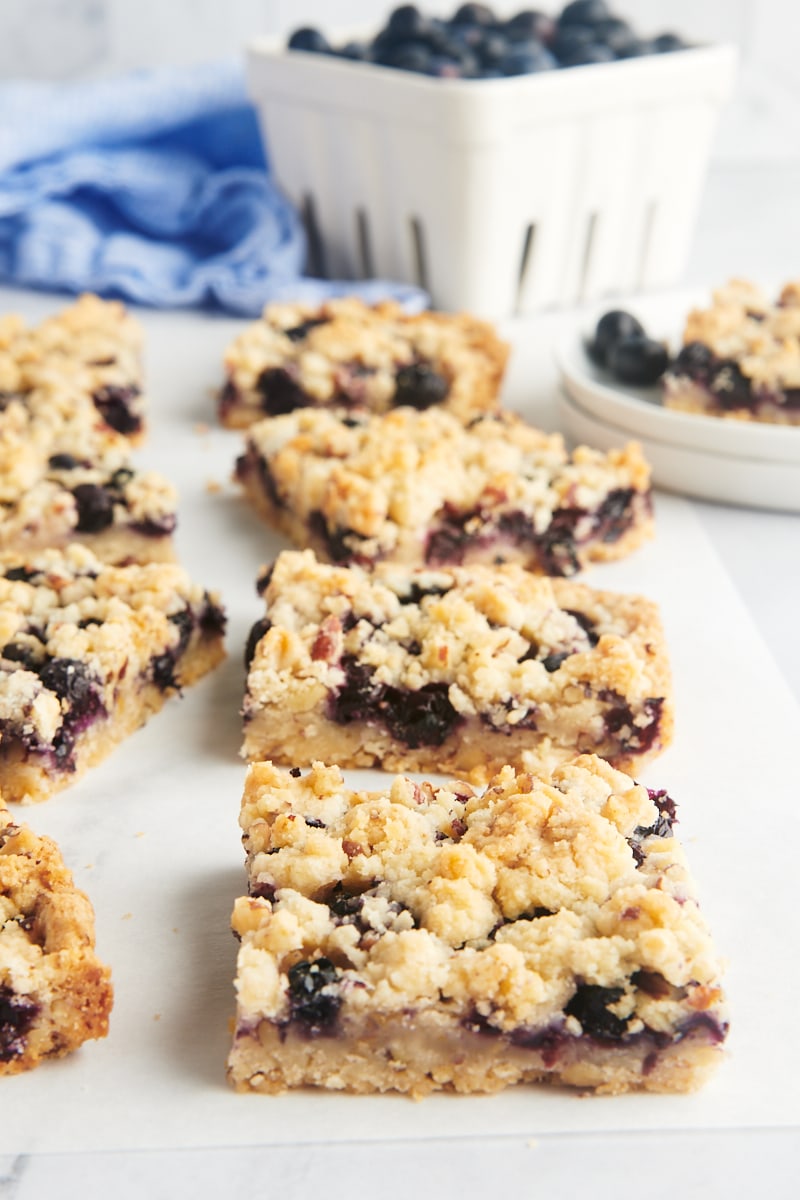 More Easy Dessert Bar Recipes
Looking for more dessert bar ideas? I highly recommend trying out these!