Nutty, buttery shortbread is topped with juicy blueberries and a crumble topping to create these irresistible Blueberry Pecan Shortbread Bars.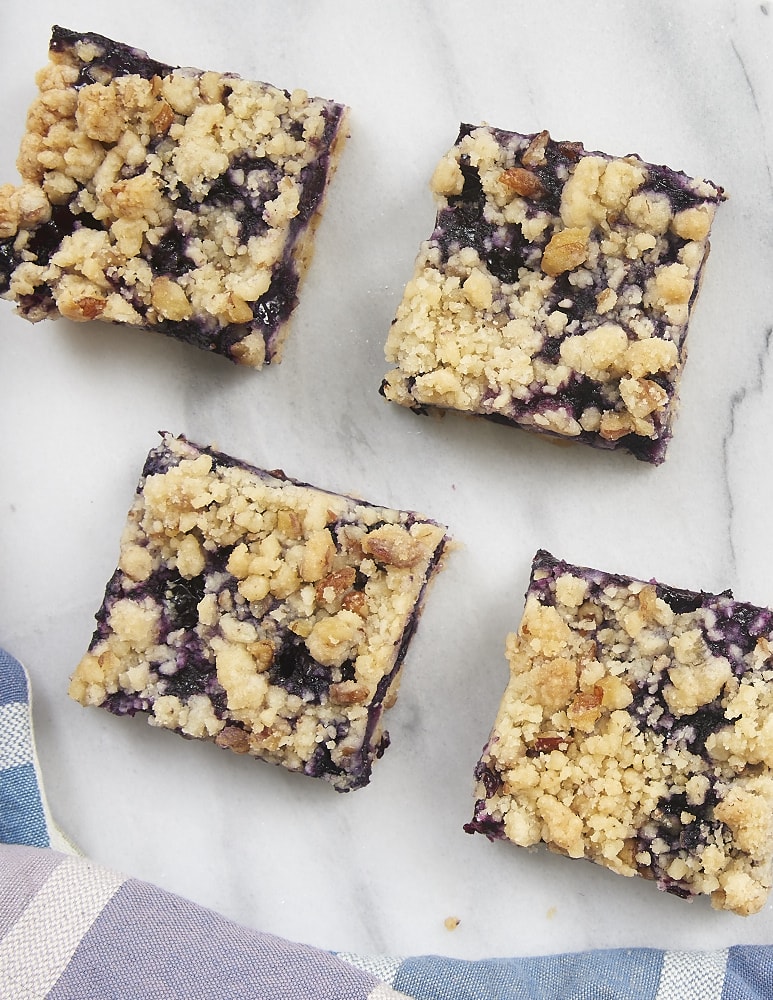 The Perfect Blueberry Bars for Summer
I usually find my way toward baking berries into bar form at least once every berry season. But these particular bars benefit from the presence of one of my favorite things—shortbread—in combination with fresh blueberries. Add in pecans, and these are pretty perfect!
The recipe starts with that simple, nutty shortbread. This is topped with fresh blueberries and a sprinkling of sugar and lemon zest, adding a bright citrus note. Then it's all topped off with a little bit more of the shortbread, this time in crumbled form.
There are plenty of blueberries in these bars, so there is no shortage of sweet, fruity flavor. You'll get a pretty solid layer of blueberries running through these. And all that blueberry deliciousness works so very well with the soft, sweet, nutty shortbread. They are really just lovely.
(If you're looking for more ways to use blueberries in your baking, try my Blueberry Coffee Cake Muffins, Blueberry Cream Cheese Tart, or Mini Blueberry Cream Cheese Pies next!)
What You'll Need
Scroll down to the recipe card below this post for ingredient quantities and full instructions.
Variations
Try substituting different nuts and berries in these bars, or swap the lemon zest for lime or orange. Add a small amount of minced thyme or rosemary for an herbal note, or swap the vanilla extract for almond extract.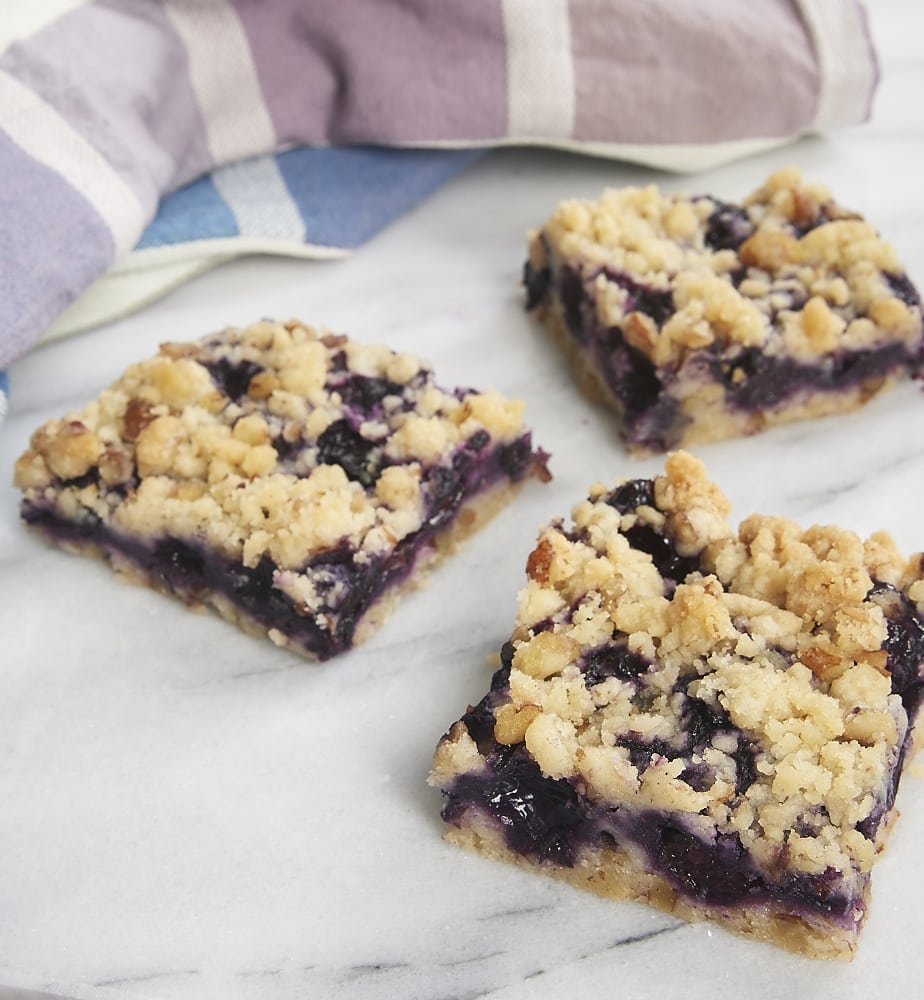 How to Make Blueberry Pecan Shortbread Bars
These Blueberry Pecan Shortbread Bars are the kind of effortless dessert you can put together on a whim. Here's what you'll need to do.
Prepare. Preheat your oven to 350°F. Grease a 9″x 13″x 2″ baking pan with butter or nonstick spray.
Mix the dry ingredients. Stir together the flour, pecans, and salt in a medium bowl.
Finish the shortbread. In another mixing bowl, beat the butter and confectioners' sugar with an electric mixer on medium speed. Beat in the vanilla, then reduce the mixer speed to low and slowly beat in the flour mixture, continuing to mix just until a dough forms.
Assemble. Press a little more than half of the shortbread mixture into the bottom of the pan. Top this with the blueberries, followed by the sugar and lemon zest. Crumble the remaining shortbread mixture over the top.
Bake. Place the pan in the oven and bake for 45 to 50 minutes, or until the bars are golden brown. Cool in the pan for 2 hours before cutting the bars.
Should You Chill Shortbread Before Baking?
Normally, shortbread is chilled before baking, so you may wonder why it's not in this recipe.
When making shortbread cookies, the dough is chilled to keep it from spreading on the pan. Here, the shortbread is a crust, so spreading isn't an issue.
Tips for Success
Here are some simple tips for perfect Blueberry Pecan Shortbread Bars.
Toast the nuts. This is optional, but it will enhance the flavor and make the finished bars taste nuttier.
Don't skip softening the butter. Softened butter will mix much more easily with the other ingredients. Remember that butter begins to melt at 68°F, so don't let it come all the way to room temperature.
Use fresh blueberries. Frozen berries will release too much liquid, making the bars soggy.
How to Store
Your Blueberry Pecan Shortbread Bars can be stored in an airtight container at room temperature for up to 3 days.
Can This Recipe Be Frozen?
These bars can be frozen for up to 3 months in a freezer bag or airtight storage container. Let them thaw at room temperature before serving.