Blueberry Shortcake Cookies are soft, sweet bites of blueberry deliciousness!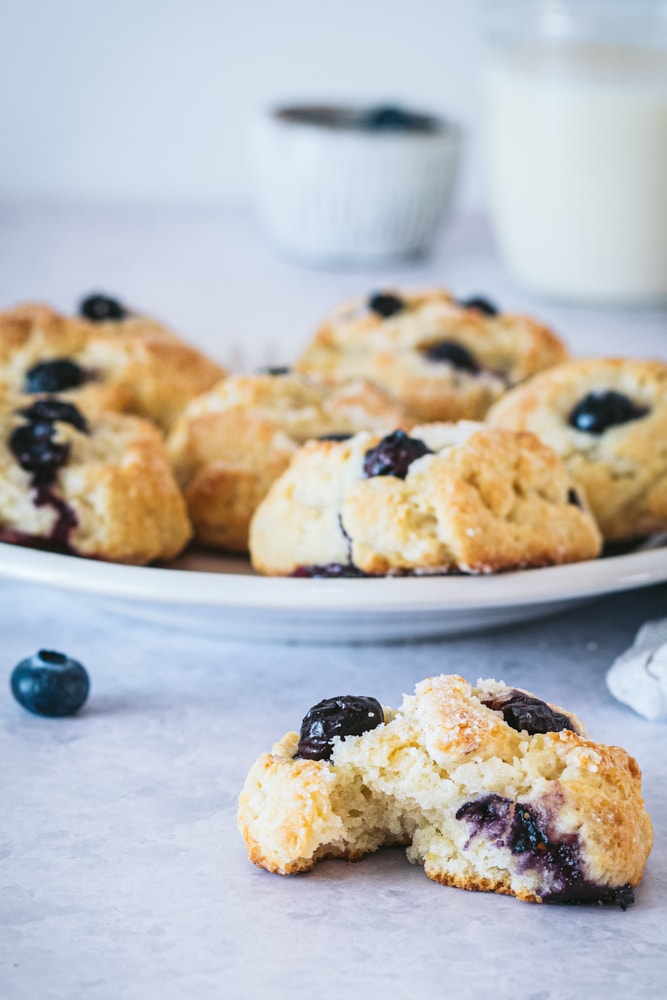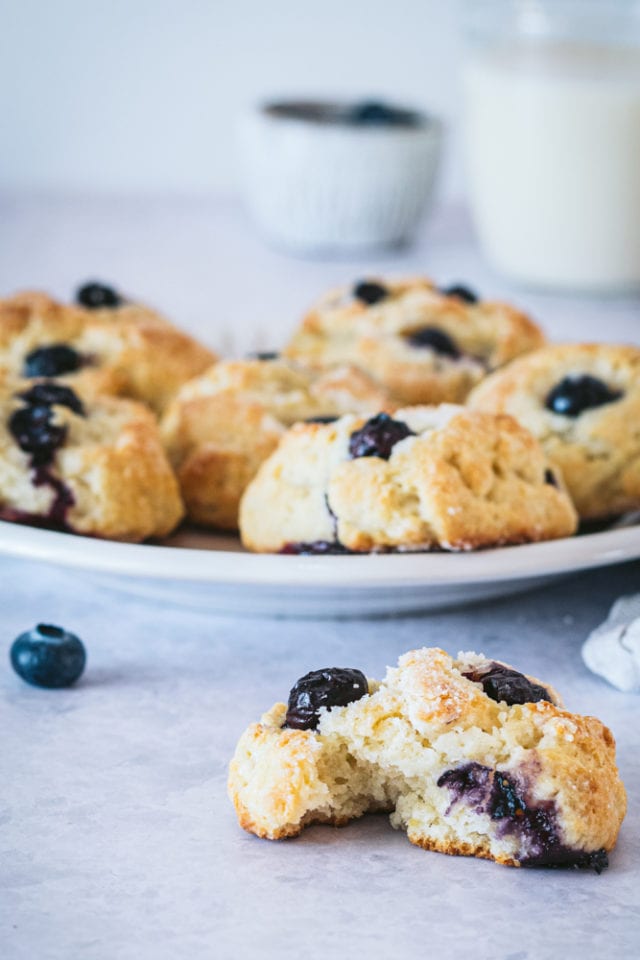 Blueberry Shortcake Cookies
I found my love of blueberries several years ago, and it's been a veritable blueberry baking frenzy since then. I look forward to blueberry season every year so I can do lots and lots of baking with them.
And one of my favorites that's a bit off the beaten blueberry path is this recipe for Blueberry Shortcake Cookies. It's not often you see fresh berries in a cookie recipe, but that's what these beauties are all about.
These cookies are a bit of a breakfast-dessert hybrid. They're similar to a biscuit, yet they're sweet enough to work well for dessert. It's like a biscuit combined with a cookie with a bit of blueberry muffin thrown in for good measure. That's baking versatility at its finest!

The addition of yogurt adds a nice flavor and helps make these Blueberry Shortcake Cookies tender and moist. I usually opt for vanilla yogurt, as that's what I usually have in my refrigerator. Feel free to use plain yogurt or up the flavor ante with a flavored yogurt like lemon or blueberry.
While I love classic blueberry desserts like pies, crumbles, and muffins, I always get really excited about these cookies. The flavor and texture are both really lovely. And they're different enough from the usual blueberry fare to be a good choice for those times when you want to try something new.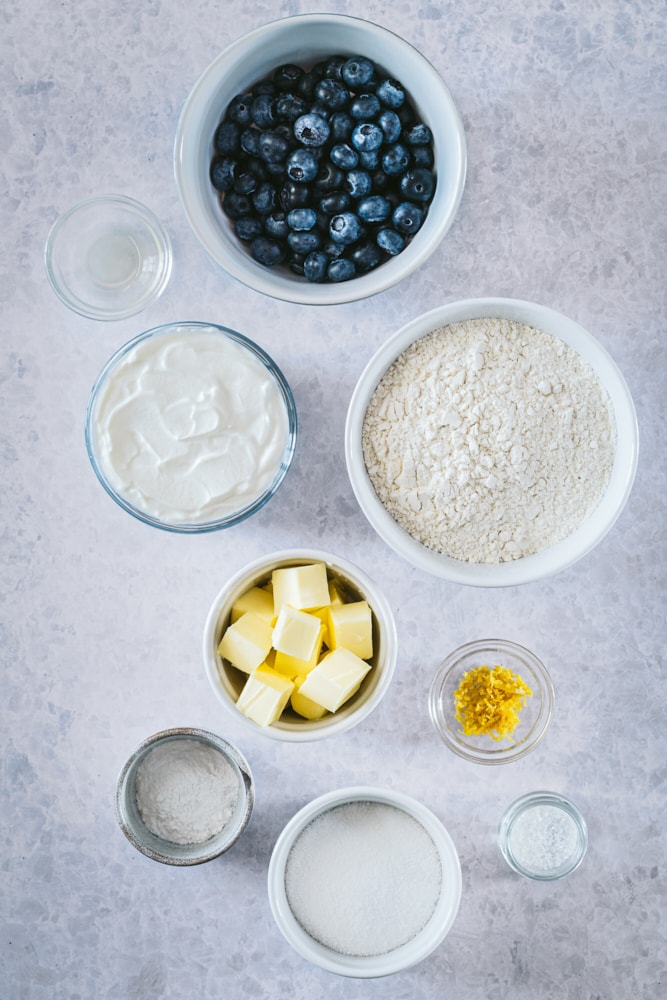 What You'll Need
Besides blueberries and lemon, this recipe is made from common ingredients you may already have on hand.
Fresh vs frozen blueberries
You can use either fresh or frozen blueberries for these cookies. If you use frozen berries, don't thaw them first. Frozen berries do have extra moisture, so you may want to toss them with a bit of flour to help offset that. If you want to try to prevent the color of frozen berries from bleeding into the cookies, you can rinse them in very cold water and dry them.
Keep in mind that using frozen berries may also mean the cookies need a little extra baking time.
Topping ideas
For simplicity's sake, I usually top these with coarse sugar before baking. But if you want a more elaborate topping, there are plenty of options like these:
How to Make Blueberry Shortcake Cookies
Unlike traditional cookie doughs, these cookies are made in a similar way as biscuits. You'll cut cold butter into the other ingredients, creating a crumbly dough. No electric mixer required!
Prepare for baking. Heat the oven to 375°F. Line baking sheets with parchment paper or silicone liners.
Prep the blueberries. Combine the blueberries, lemon juice, and 2 tablespoons of the sugar in a small bowl.
Combine the dry ingredients and sugar. Whisk together the flour, the remaining sugar, baking powder, lemon zest, and salt.
Mix the butter. Add the butter to the flour mixture, and mix with a pastry blender, a fork, or two knives until the mixture resembles coarse crumbs.
Add the yogurt. Stir the yogurt into the dough. The dough will be thick.
Add the blueberries. Gently fold the blueberry mixture into the dough. If you like, save a few blueberries for topping the portioned cookies.
Portion the cookies. Drop the dough by 3-tablespoon portions onto the baking sheets. (A 3-tablespoon cookie scoop works well for this.) Leave about 2 inches between each cookie. If you saved any blueberries for topping the cookies, add them now. Sprinkle the top of each cookie with coarse sugar, if using.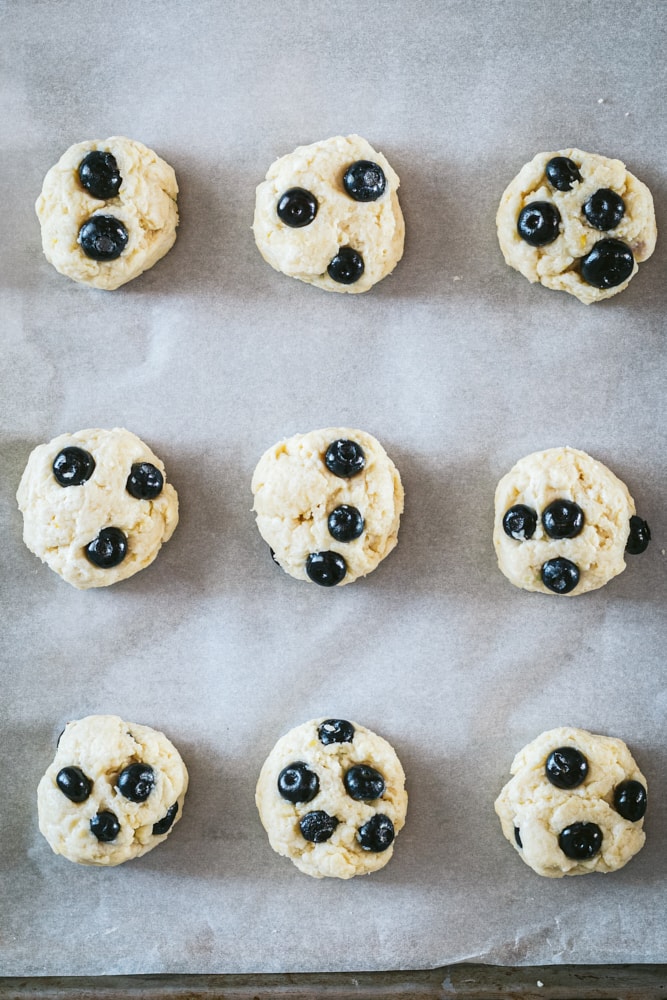 Bake. One pan at a time, bake the cookies 20 to 25 minutes. When the cookies are done, they'll be golden brown.
Cool. Place the pans on wire racks to cool for 10 to 15 minutes. Then transfer the cookies from the pans to a wire rack to finish cooling.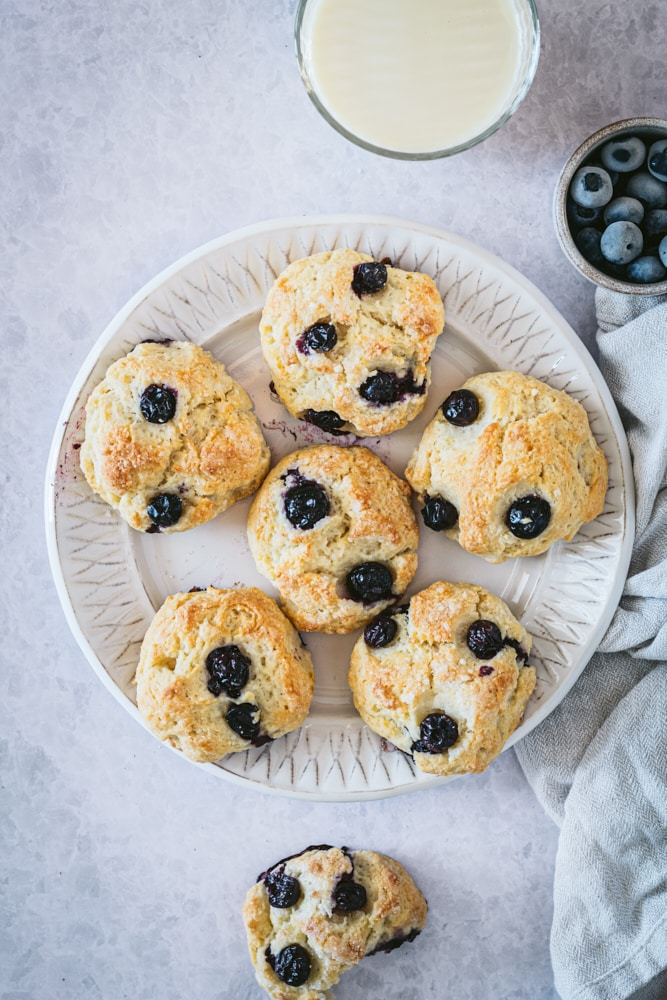 Tips for Success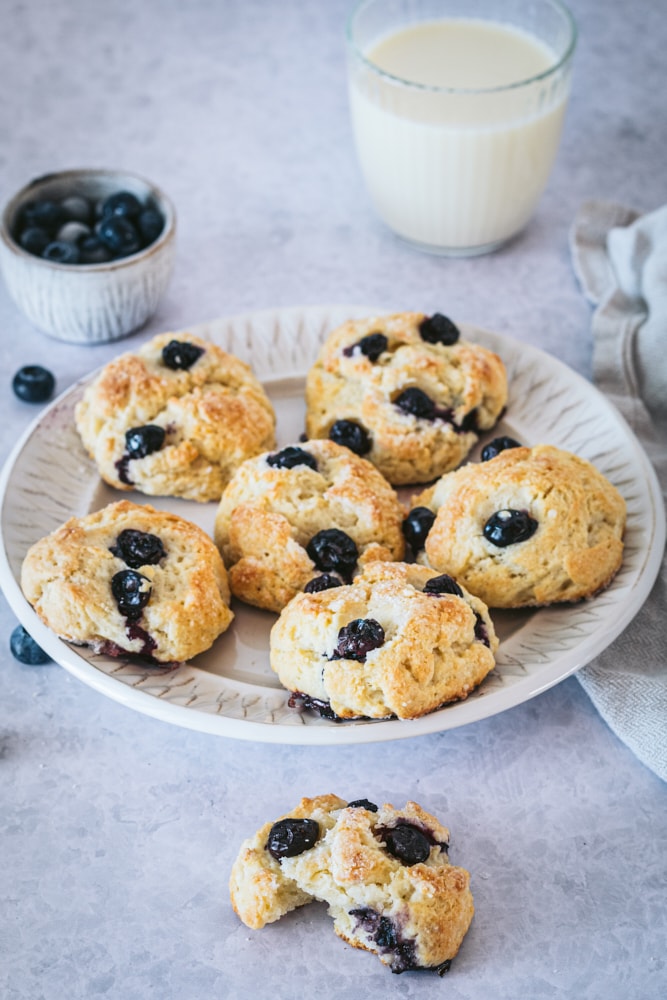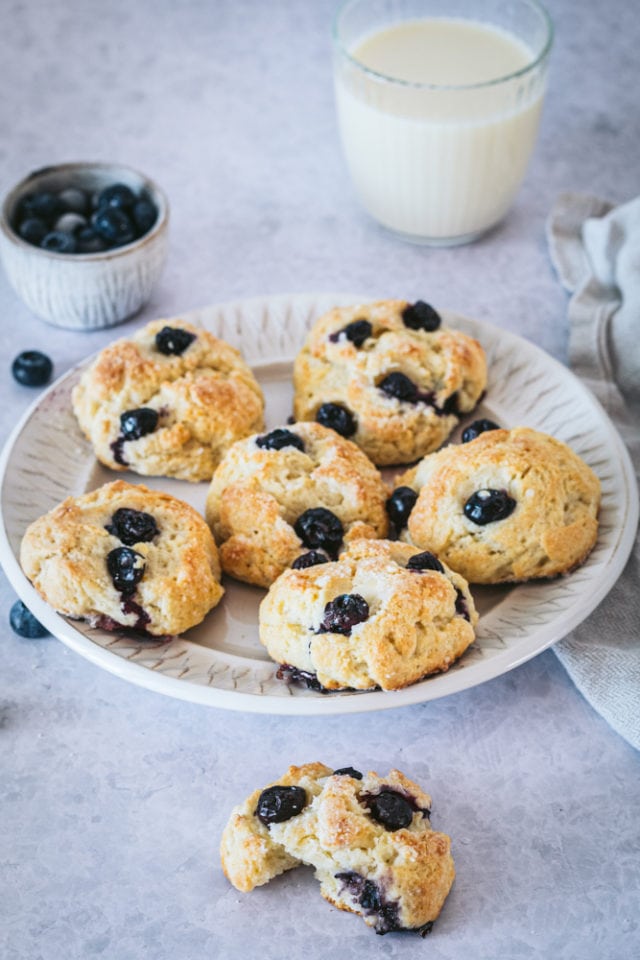 How to Store
Once cooled, place the cookies in an airtight container. They should keep at room temperature up to 2 days. You can extend that a few days by storing the container in the refrigerator. Just be extra sure the container is airtight.
Can These Blueberry Cookies Be Frozen?
Yes, you can freeze these cookies. After they've cooled, place them in an airtight freezer bag or container. Properly stored, they should keep in the freezer up to 3 months. Thaw overnight in the refrigerator or for an hour or so at room temperature.
To freeze the unbaked cookies, place them on a rimmed baking sheet after portioning them. Freeze until solid (about 2 hours). Then transfer them to an airtight freezer bag or container. When you're ready to bake, there's no need to thaw. Bake them as directed, adding a couple more minutes to the baking time.
More Blueberry Desserts