These Blueberry Cookies are soft, sweet bites of blueberry deliciousness! Made with tons of fresh blueberries and lots of tangy lemon flavor, they're sure to be a hit.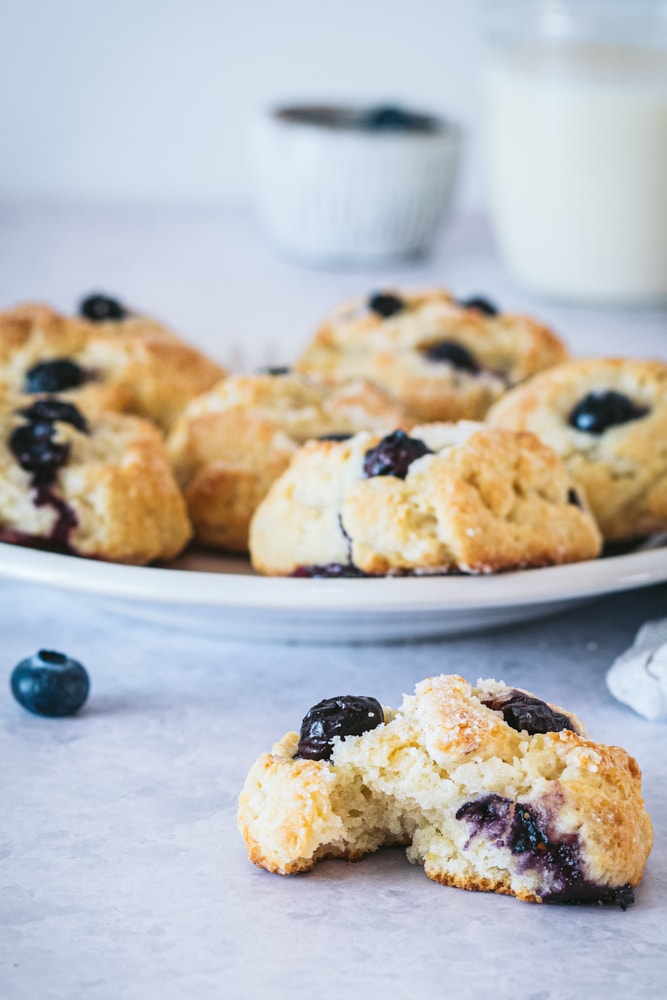 Sweet Homemade Blueberry Cookies
I found my love of blueberries several years ago, and it's been a veritable blueberry baking frenzy since then. I look forward to blueberry season every year so I can do lots and lots of baking with them.
One of my favorite desserts that's a bit off the beaten blueberry path is this recipe for Blueberry Cookies. It's not often you see fresh berries in a cookie recipe, but that's what these beauties are all about.
These cookies are a bit of a breakfast-dessert hybrid. They're similar to a biscuit, yet they're sweet enough to work well for dessert. More specifically, they're like a biscuit combined with a cookie, with a bit of blueberry muffin thrown in for good measure. That's baking versatility at its finest!
While I love classic blueberry desserts like pies, crumbles, and muffins, I always get really excited about these cookies. The flavor and texture are both really lovely. And, they're different enough from the usual blueberry fare to be a good choice for those times when you want to try something new.
(In the mood to try more easy cookie recipes that have a unique flair? Check out these strawberry M&M cookies or these pie crust cookies!)
Why You'll Love This Blueberry Cookie Recipe
If you've got freshly picked blueberries on hand, this blueberry cookie recipe is calling your name! Here's why I'm such a big fan:
Perfectly soft and tender. The addition of yogurt adds a nice flavor and helps make these blueberry cookies tender and moist. I usually opt for vanilla yogurt, as that's what I usually have in my refrigerator. Feel free to use plain yogurt or up the flavor ante with a flavored yogurt like lemon or blueberry.
Quick and simple. These cookies will take up just 40 minutes of your time from start to finish, with only 15 minutes of prep work.
They taste just like summer! The blend of fresh, sweet blueberries with zesty lemon tastes just like summer to me – I hope you'll love it just as much as I do!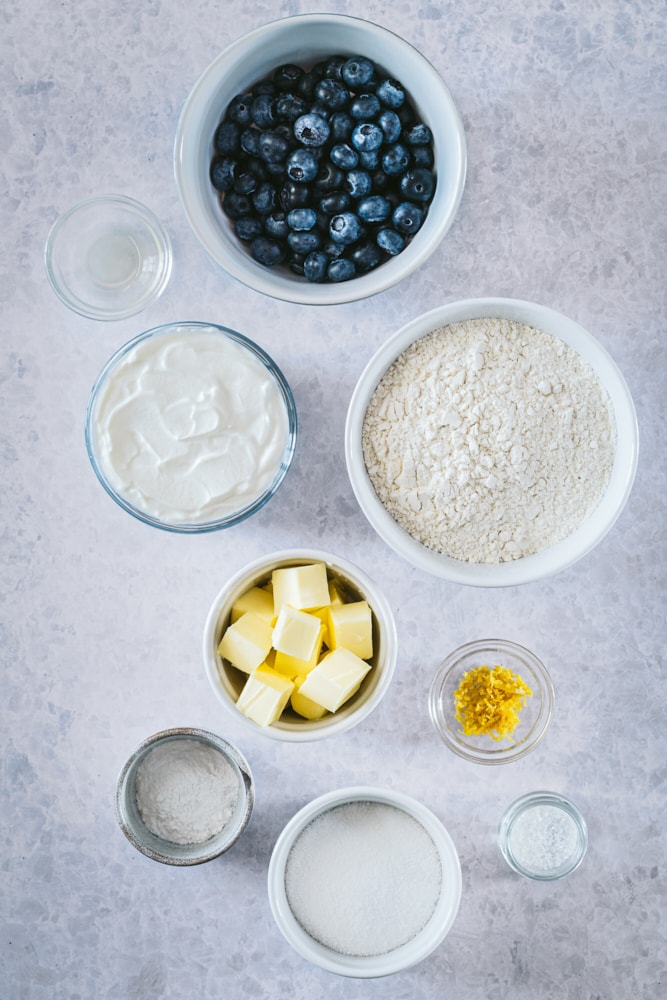 What You'll Need
Besides blueberries and lemon, this recipe is made from common ingredients that you probably already have on hand. Be sure to check out the recipe card below for exact amounts!
Blueberries – Use good quality blueberries for the best blueberry flavor.
Lemon juice & lemon zest – Fresh lemon juice (and zest) is the way to go. Learn more by reading about how to zest and juice lemons.
Granulated sugar – I like to stick with white granulated sugar when making these cookies, but you could try a blend of light brown sugar and granulated sugar if you like.
All-purpose flour – Measure your flour by weight or use the spoon and sweep method.
Baking powder – This will help your cookies rise.
Salt – To enhance and balance out the sweetness.
Unsalted butter – The butter needs to be cold for mixing. I like to cut it into small pieces first and then return it to the refrigerator or place it in the freezer until it's time to add it to the dough.
Yogurt – You can use plain yogurt or a flavored variety like vanilla. I usually use regular yogurt, but Greek yogurt should work, too. It is thicker, so you may need to add a splash of water to make the dough easier to handle.
Coarse sugar – This is optional, but a pinch of coarse sugar (like sanding sugar) on top of the cookies gives them a bit of sparkle and a little more sweetness.
Can I Use Frozen Blueberries to Make These Cookies?
You can use either fresh or frozen blueberries for these cookies. If you use frozen berries, don't thaw them first. Frozen berries do have extra moisture, so you may want to toss them with a bit of flour to help offset that. If you want to try to prevent the color of the frozen berries from bleeding into the cookies, you can rinse them in very cold water and dry them.
Keep in mind that using frozen berries may also mean the cookies need a little extra baking time.
How to Make Blueberry Cookies
Unlike traditional cookie doughs, these cookies are made kind of like biscuits are. You'll cut cold butter into the other ingredients, creating a crumbly dough. No electric mixer required!
Here's how this blueberry cookie recipe comes together. (Scroll down to the recipe card for the full set of directions.)
Prepare for baking. Heat the oven to 375°F. Line baking sheets with parchment paper or silicone liners.
Prep the blueberries. Combine the blueberries, lemon juice, and 2 tablespoons of the sugar in a small bowl.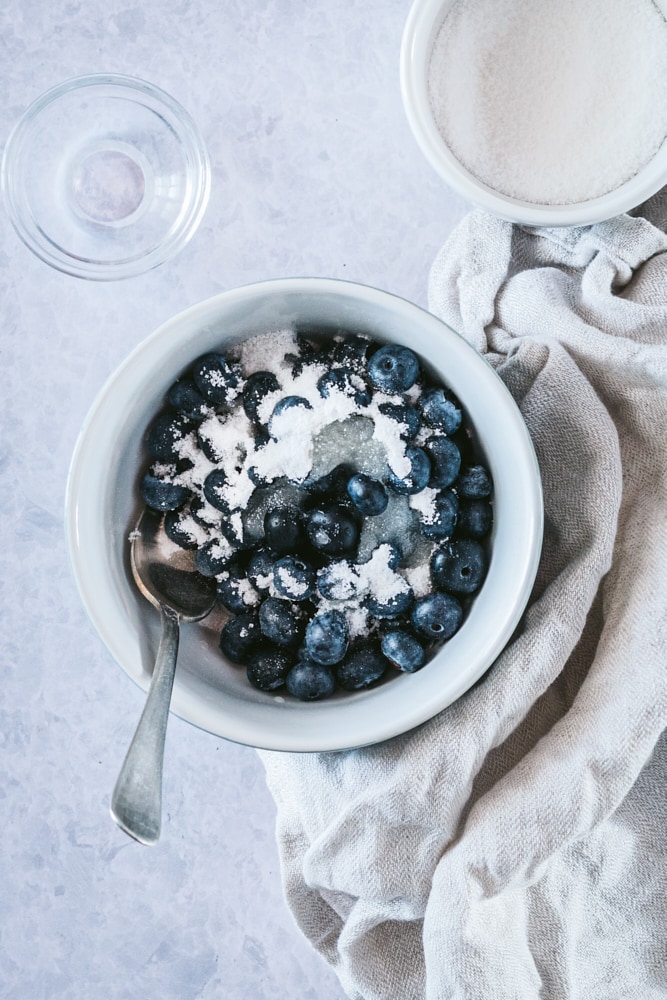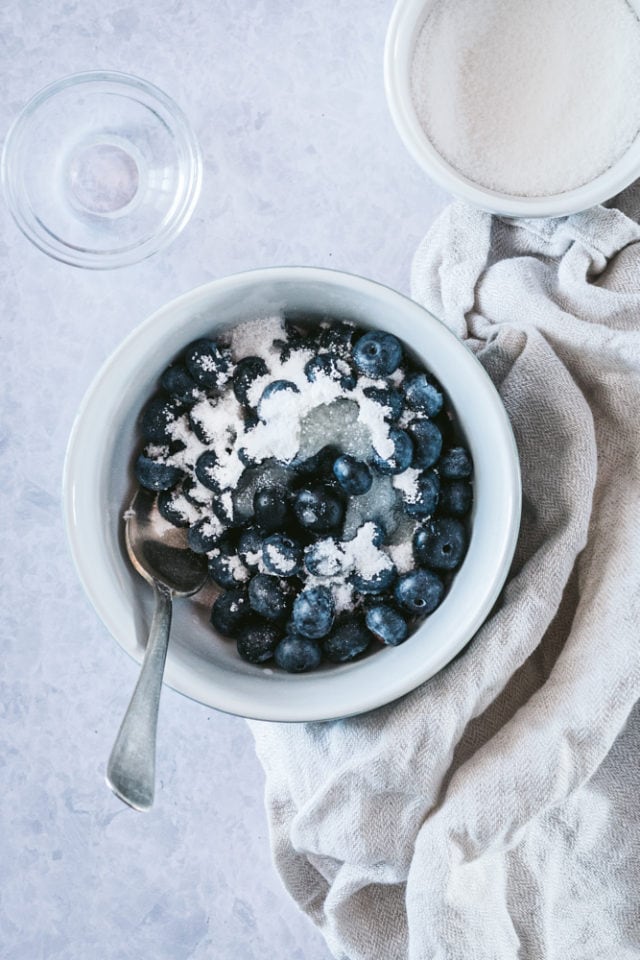 Combine the dry ingredients and sugar. Whisk together the flour, remaining sugar, baking powder, lemon zest, and salt.
Mix in the butter. Add the butter to the flour mixture, and mix it with a pastry blender, a fork, or two knives until the mixture resembles coarse crumbs.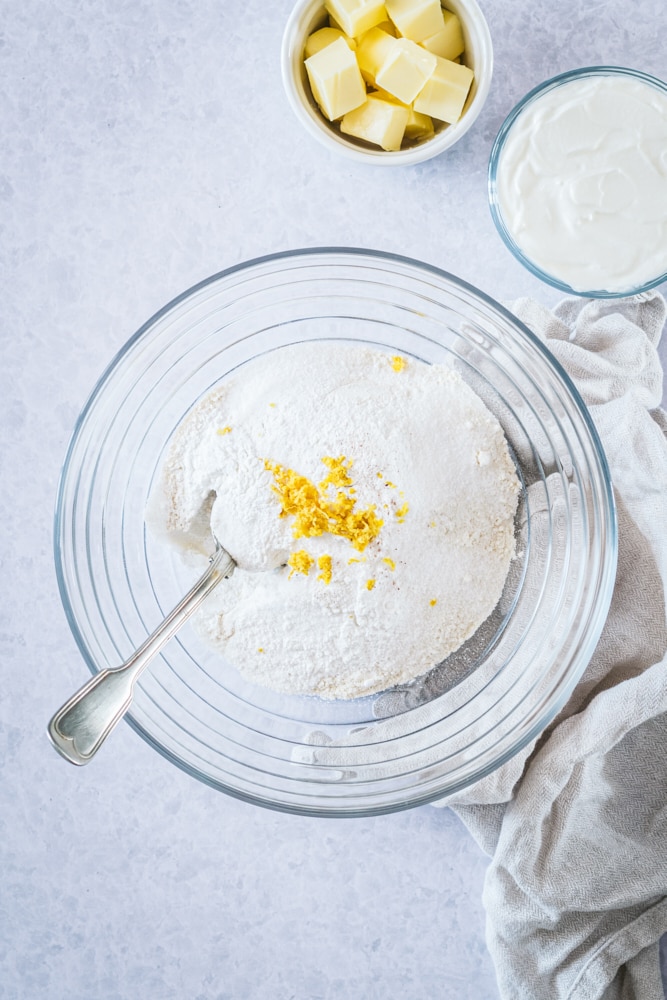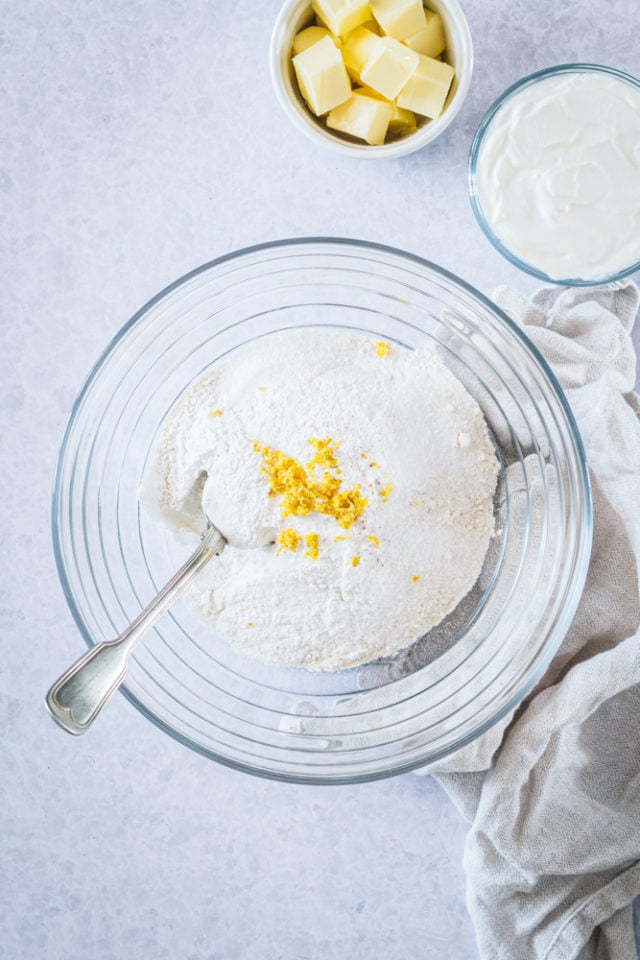 Add the yogurt. Stir the yogurt into the dough. The dough will be thick.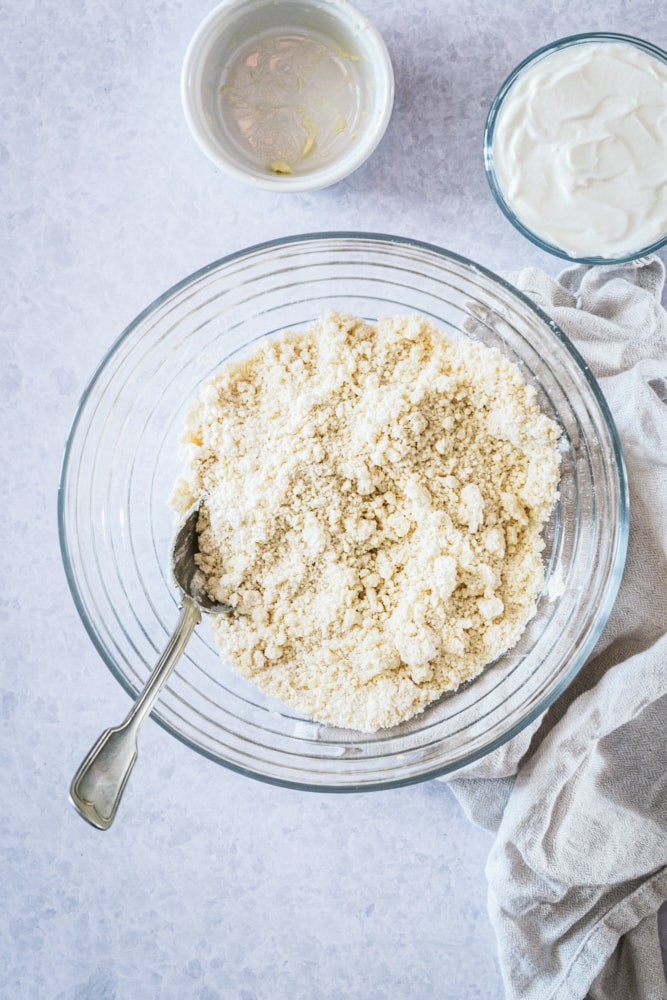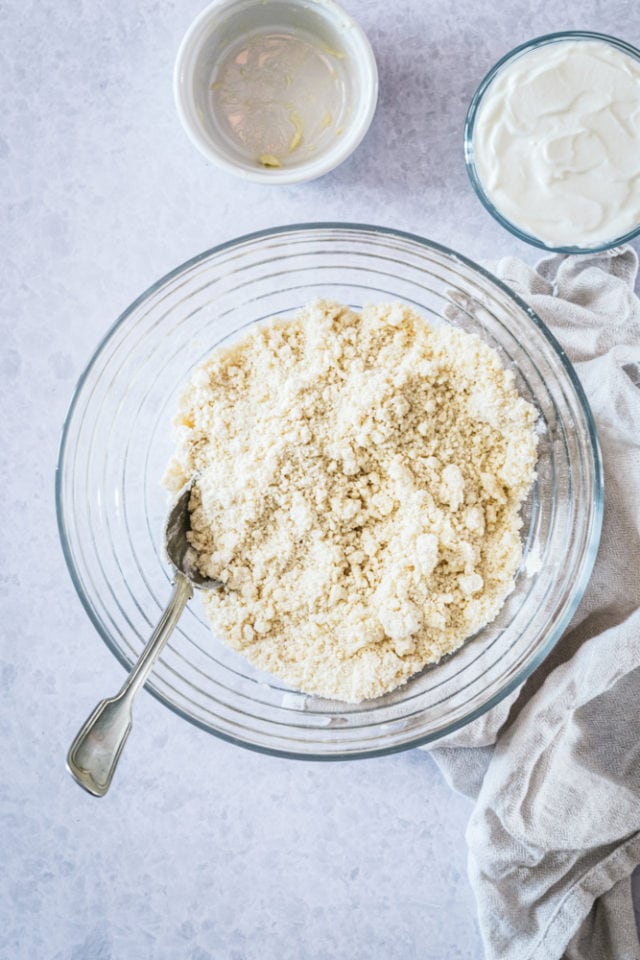 Add the blueberries. Gently fold the blueberry mixture into the dough. If you like, save a few blueberries for topping the portioned cookies.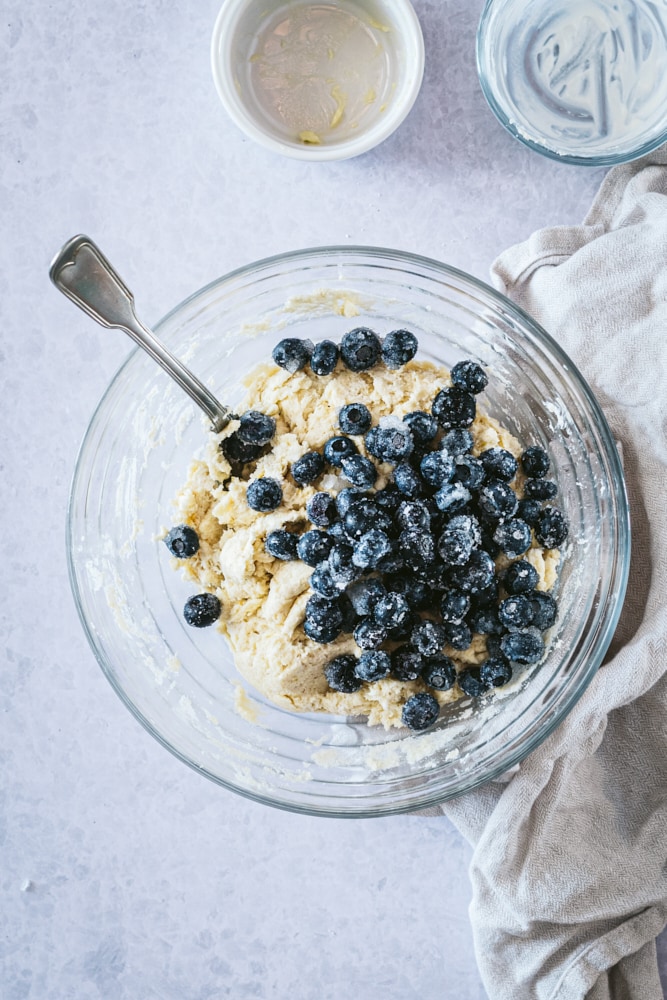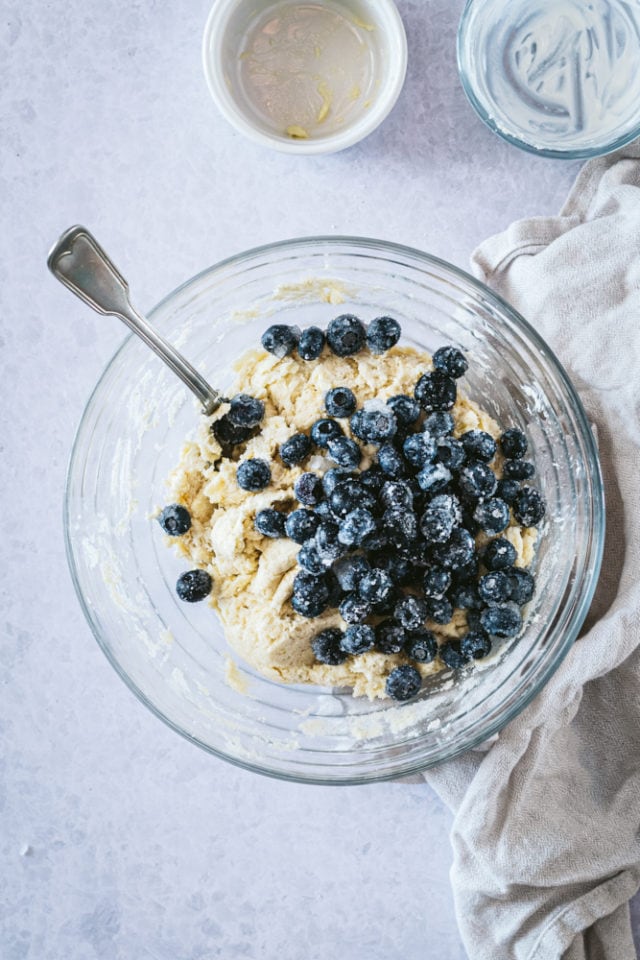 Portion the cookies. Drop the dough by 3-tablespoon portions onto the baking sheets. (A 3-tablespoon cookie scoop works well for this.) Leave about 2 inches between each cookie. If you saved any blueberries for topping the cookies, add them now. Sprinkle the top of each cookie with coarse sugar, if using.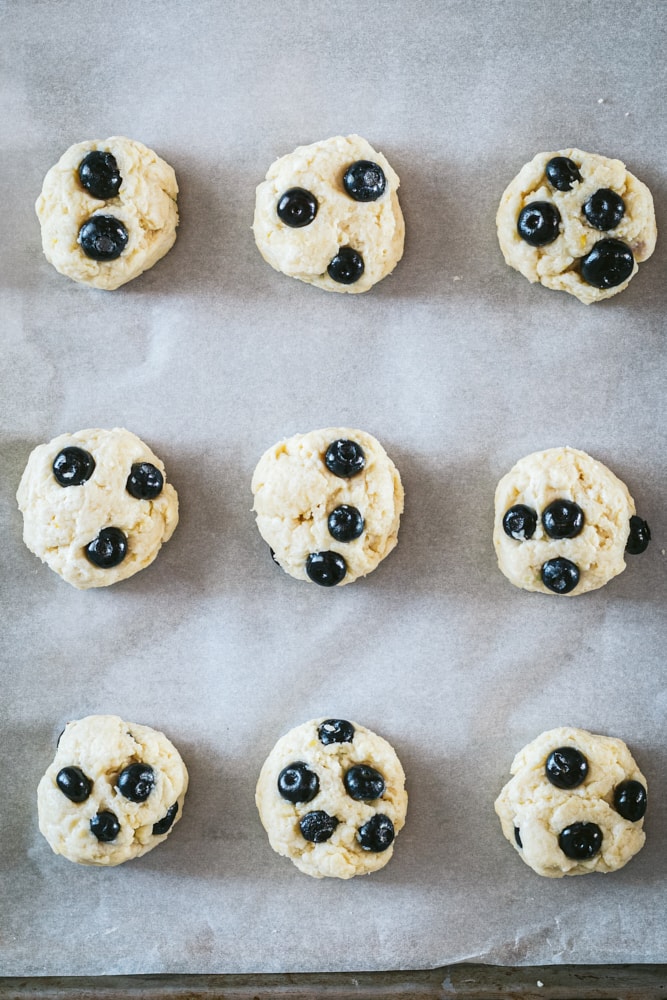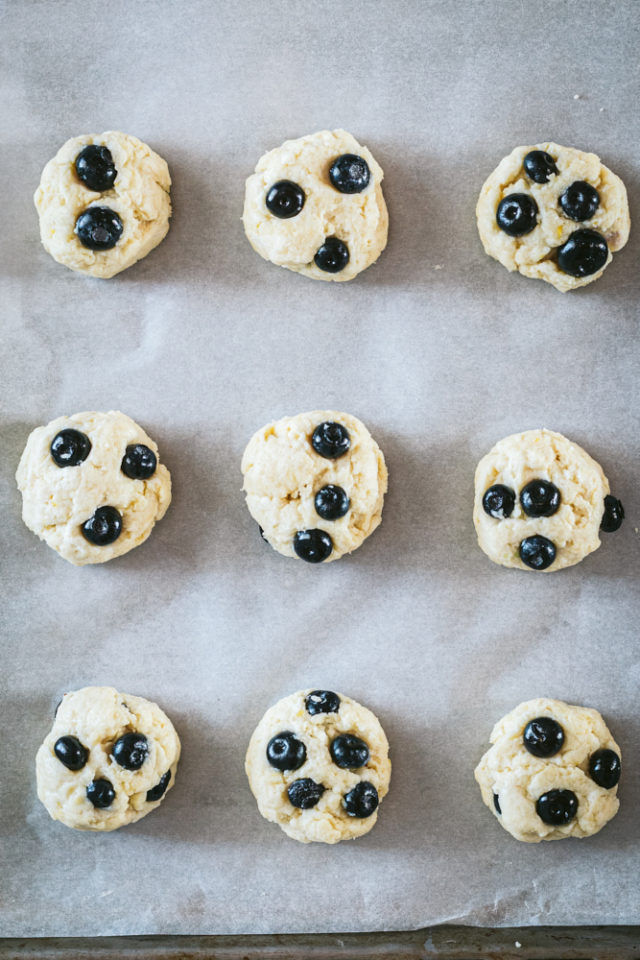 Bake the cookies. One pan at a time, bake the cookies for 20-25 minutes. When the cookies are done, they'll be golden brown.
Let them cool. Place the pans on wire racks to cool for 10-15 minutes. Then transfer the cookies from the pans to a wire rack to finish cooling.
Tips for Success
Read through these easy tips and tricks to get the best results with your blueberry cookies!
Measure the ingredients accurately. Use a kitchen scale for weight measurements if possible. Otherwise, use the spoon and sweep method. This type of dough is not very forgiving of inaccurate measurements, especially with the flour.
Mix the dough well. Cutting the butter into the dough is what gives these cookies their wonderful texture. I prefer to use a pastry blender, but you can also use a fork, two knives, or even just your hands. If you take the latter route, be sure your hands aren't too warm so that you don't melt the butter.
Use a scoop to portion the dough. If you have a 3-tablespoon scoop, use it here to make portioning quick and easy. You'll also help ensure that the cookies are all the same size so that they bake evenly.
Customize the recipe. For something a little different, try raspberries or strawberries instead of blueberries. Or try a flavored yogurt like lemon or vanilla.
Topping Ideas
For simplicity's sake, I usually top this blueberry cookie recipe with coarse sugar before baking. But, if you want a more elaborate topping, there are plenty of options like these:
Confectioners' sugar. Sprinkle confectioners' sugar (also called powdered sugar) over the top of the cooled cookies for a simple, sweet topping.
Lemon glaze. Add a kick of lemon with a simple lemon glaze like the one on these mini lemon pound cakes.
Vanilla glaze. A vanilla glaze is a great complement to all that blueberry flavor. The glaze from these vanilla scones will do the trick.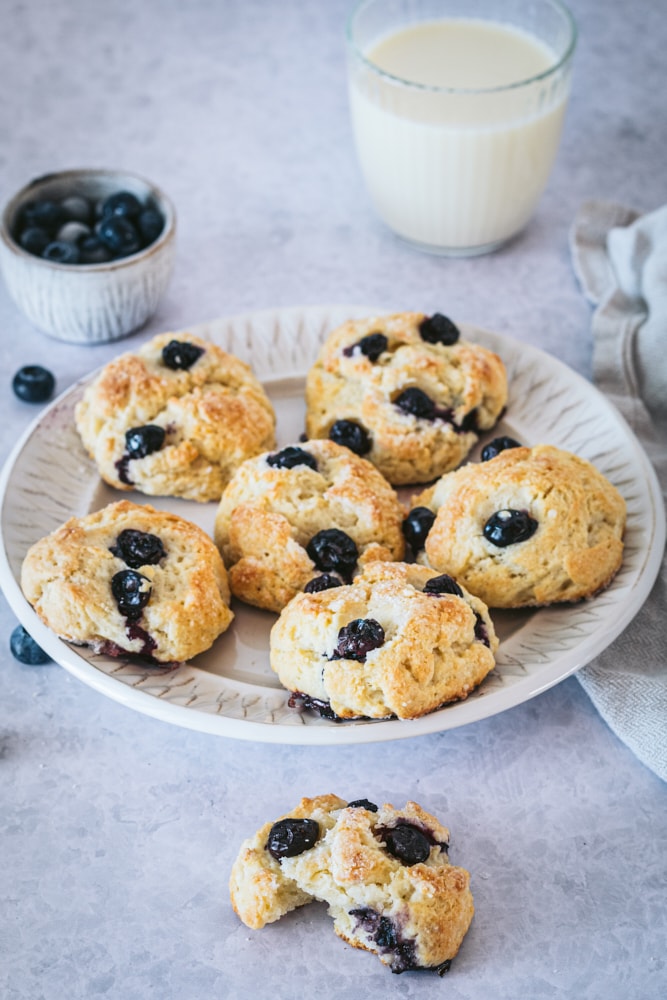 How to Store
Once cooled, place the cookies in an airtight container. They should keep at room temperature for up to 2 days. You can extend that a few days by storing the container in the refrigerator. Just be extra sure the container is airtight!
Can I Freeze This Blueberry Cookie Recipe?
Yes, you can freeze these cookies. After they've cooled, place them in an airtight freezer bag or container. Properly stored, they should keep in the freezer for up to 3 months. Thaw them overnight in the refrigerator or for an hour or so at room temperature.
To freeze the unbaked cookies, place them on a rimmed baking sheet after portioning them. Freeze until solid (about 2 hours). Then transfer them to an airtight freezer bag or container. When you're ready to bake, there's no need to thaw. Bake them as directed, adding a couple more minutes to the baking time.
More Blueberry Dessert Recipes
Looking for more ways to use up those fresh blueberries? Try one of these blueberry desserts!