July 9, 2019
Peach Hand Pies
Peach Hand Pies are the grab-and-eat treat for peach lovers! You'll crave these all summer long!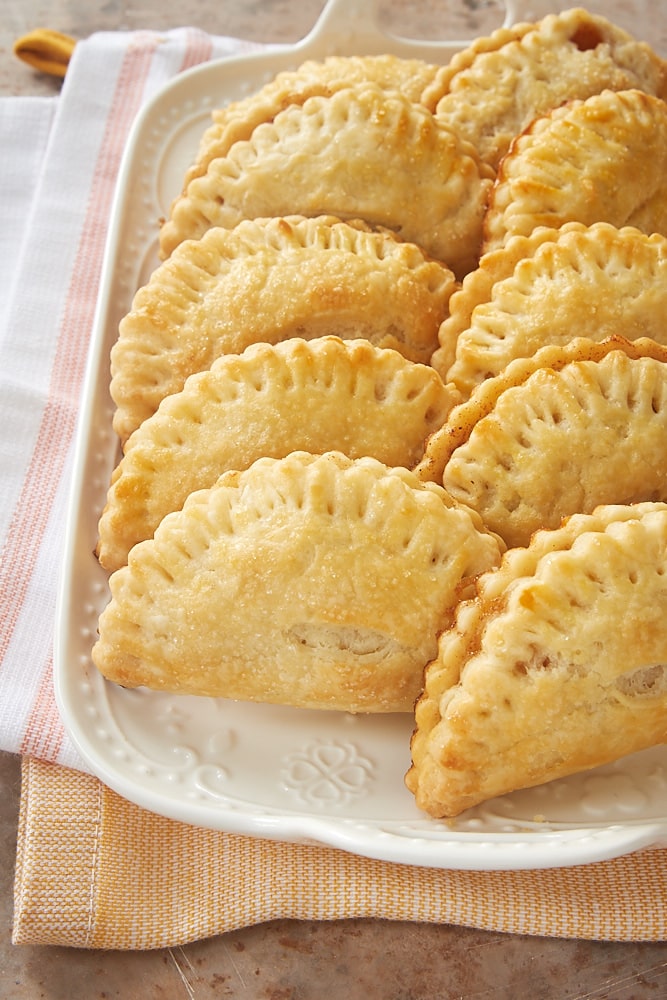 It's just not summer without peaches. My first thoughts usually turn to peach cobbler when I have fresh peaches, but it's also fun to break up baking routines with something a little different.
Peach Hand Pies are my latest peach obsession. They are a delightful and delicious combination of sweet peaches and a soft, flaky pastry. They've got some other things going for them, too. They're easy to make and also wonderfully portable for your summer picnics and cookouts.


These Peach Hand Pies are great for a grab-and-eat treat. No slicing and serving. Just set them out and let everyone help themselves. That leaves more time for you to enjoy yourself and your family and friends!
The pastry in this recipe is my favorite for hand pies. The cream cheese gives it a lovely flavor and texture, and it's just so, so easy to make. It literally comes together in seconds. If you prefer to use a traditional pie crust, just substitute your favorite double crust recipe.
The filling is a simple one that you can toss together quickly. It starts with peaches, brown sugar, and cinnamon. I also like to add almond extract with the peaches for a little extra flavor. You can opt to use vanilla or another extract if you like, or omit it for an even simpler filling.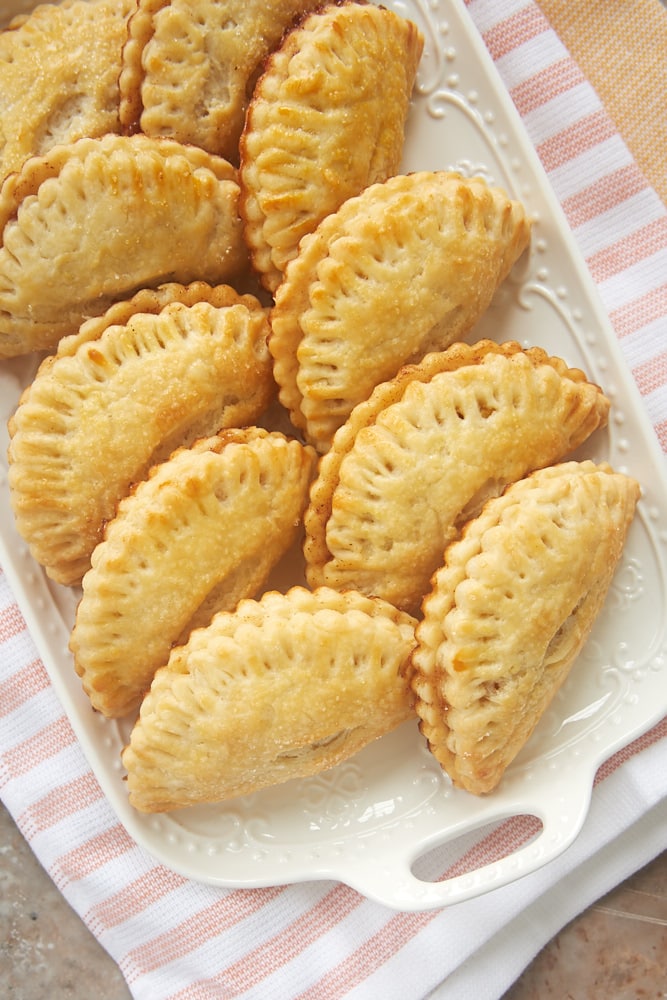 When filling these pies, be sure not to over-fill them, or you can end up with a mess. Too much filling means that the pies won't seal well, which can lead to leaks and perhaps even pies that become unsealed during baking.
For sealing, I like to dab just a bit of water around the edges of the crust. That will help it hold together a little better when you fold over the crust and press the edges together. Then use a fork or some other implement to seal the pies further. And don't forget to cut the vent in the top to allow steam to escape!
I hope you'll add these sweet little Peach Hand Pies to your summer baking plans. They're such a great sweet treat for peach lovers!
Find more pie recipes in the Recipe Index.
More Hand Pie Recipes
Bake or Break is a participant in the Amazon Services LLC Associates Program, an affiliate advertising program designed to provide a means for us to earn fees by linking to Amazon.com and affiliated sites.
Peach Hand Pies
Yield: 16 pies*
Prep Time: 25 minutes
Cook Time: 25 minutes per pan
Peach Hand Pies are a perfect grab-and-eat treat for peach lovers!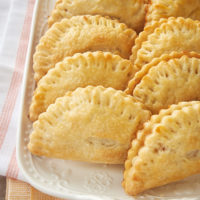 Ingredients:
For the pie crust:
1 cup (226g) unsalted butter, cold and cut into 1/2-inch cubes

8 ounces (226g) cream cheese, softened and cut into 1/2-inch cubes

2 & 1/2 cups (300g) all-purpose flour

2 teaspoons granulated sugar

1/2 teaspoon salt
For the filling:
1 & 1/2 cups (255g) chopped peaches

1/4 cup (50g) brown sugar

1/2 teaspoon cinnamon

1/4 teaspoon almond extract

pinch of salt
For assembly:
1 large egg

1 tablespoon water

sanding sugar, optional
Directions:
To make the pie crust:
Place the butter, cream cheese, flour, sugar, and salt in the bowl of a food processor.** Pulse for about a minute, or until a dough forms.
Divide the dough in half, and form each portion into a disc. Wrap each disc in plastic wrap and refrigerate for 30 minutes. If you need to refrigerate longer, then you may need to let the dough sit at room temperature for about 5 minutes before rolling it out.
Preheat oven to 375°F. Line baking sheets with parchment paper or silicone liners.
Place one disc of the chilled dough on a lightly floured surface. Roll the dough to 1/8-inch thickness. Use a 4-inch round cutter to cut the dough into rounds. Gather and re-roll the remaining dough once as needed. Repeat with the remaining disc of dough. (You'll have about 16 cut-outs.)
To make the filling:
Combine the peaches, brown sugar, cinnamon, almond extract, and salt.
Divide the filling among the pie crust cut-outs, using about 1 & 1/2 tablespoons per pie. Leave a margin around the edges for sealing the pies.
To assemble:
Fold over each pie to make a half circle. Press the edges together. (Dab a little water around the edges to help them hold together if needed.). Use a fork or other tool to seal the edges.
Use a sharp knife to make a small cut in the top of each pie.
Combine the egg and water to make an egg wash. Lightly brush the egg wash over the tops of the pies. (You won't use all of the egg wash.) Sprinkle with sanding sugar, if desired.
Bake 20 to 25 minutes, or until the pies are golden brown. Cool on the pans on a wire rack for 10 minutes. Then transfer the pies to a wire rack to cool completely.
Notes:
*Your yield may vary depending on how efficiently you roll and cut the pastry.
**I recommend a food processor with at least an 11-cup capacity for this volume of dough. Alternately, you can also mix with a pastry blender, a fork, or your fingers.