Indulge in a slice of heaven with this delicious blueberry cheesecake! Velvety cream cheese meets the burst of juicy blueberries for a dessert that's as irresistible as it is beautiful.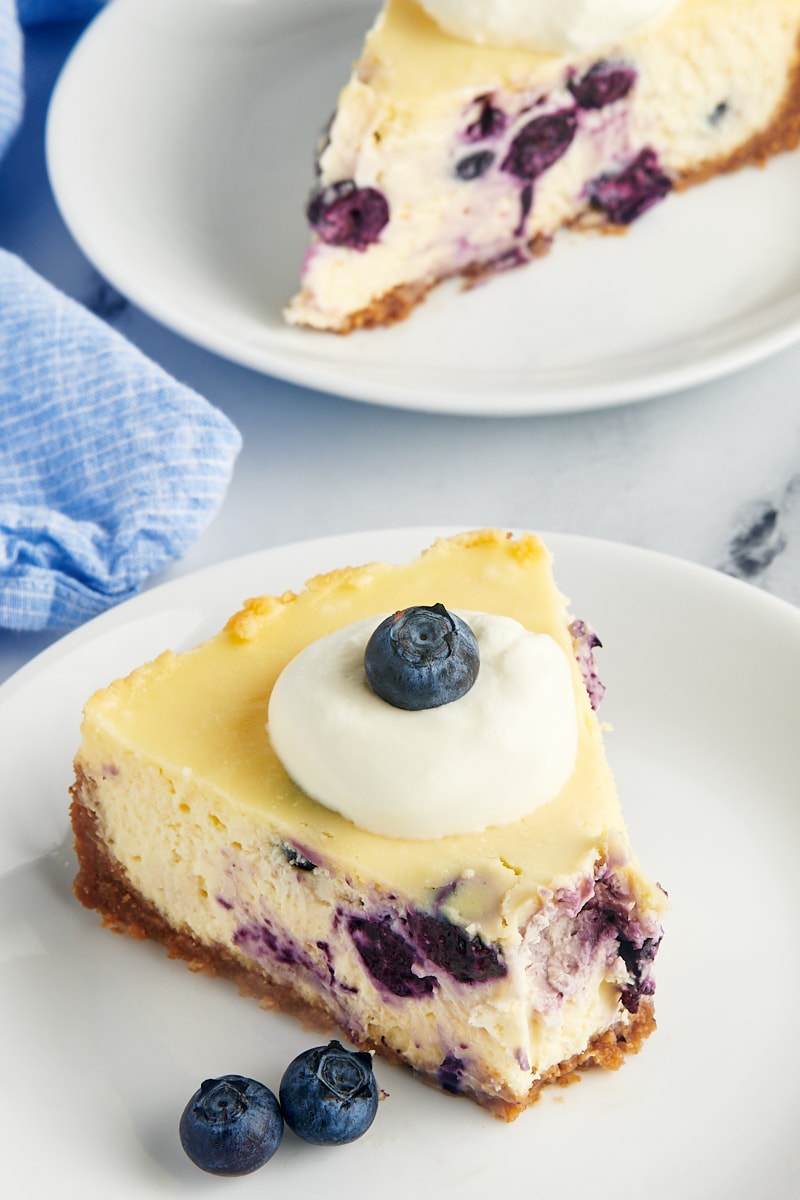 Blueberry Cheesecake – A Summertime Showstopper!
Blueberries and cream cheese are one of my favorite flavor pairs. You can see it in action here in a snack cake, a blueberry crisp, and a simple tart, just to name a few. The slightly tart, sweet flavor of blueberries combined with creamy, tangy cream cheese is just irresistible!
What better way to combine those two than in a blueberry cheesecake? Just imagine a smooth, creamy cheesecake with sweet, colorful blueberries in every bite. See what I mean? Delicious!
This is just the kind of dessert that will wow your family and friends. Make it for a special occasion, dress it up with a little whipped cream and berries, and you've got a beautiful showstopper that will get rave reviews!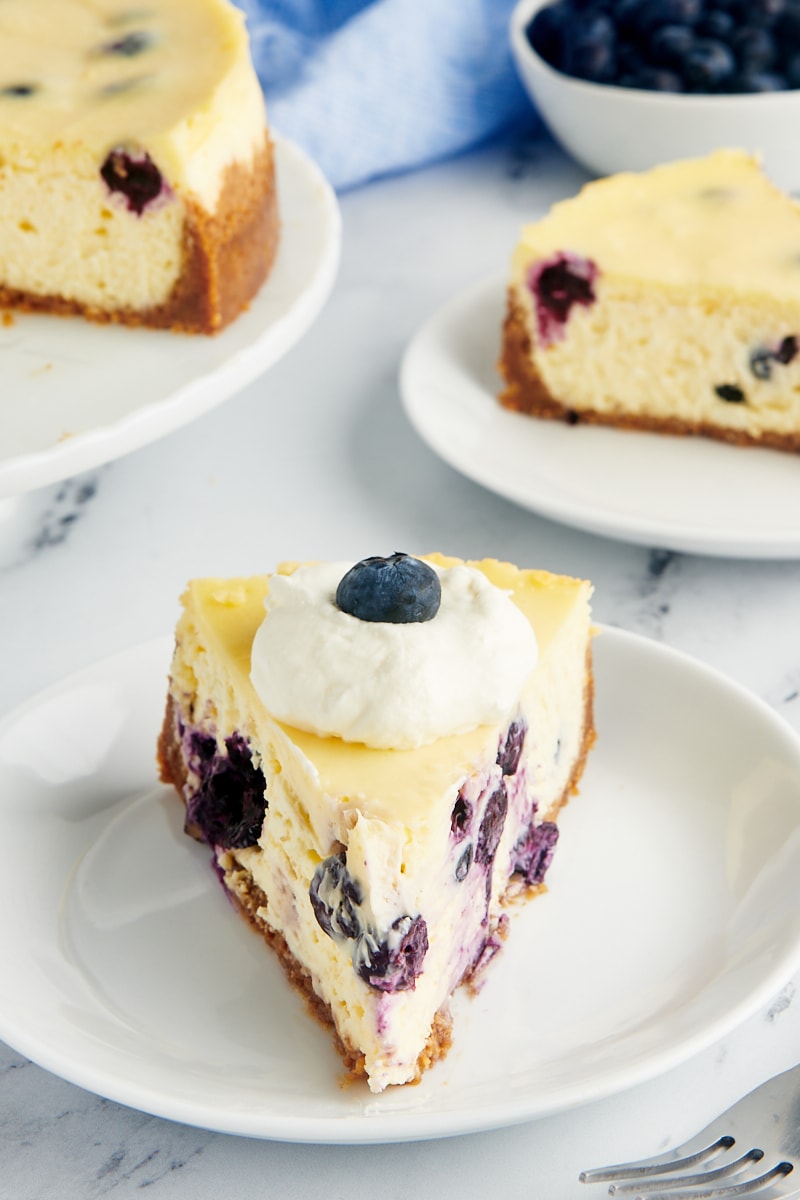 Why You'll Love This Blueberry Cheesecake Recipe
There are many reasons to tempt you to make this delicious cheesecake. Here are just a few:
Flavorful. Rich cheesecake and sweet blueberries are a winning flavor combination.
Easy prep. Both the crust and filling are very easy to make. And there's no water bath for baking!
Eye-catching. This cheesecake is a sight to behold, with those colorful berries peeking through the creamy filling.
Crowd-pleasing. This beauty will be a big hit with most everyone. Serve it for a casual family gathering, a dinner party, or a special celebration.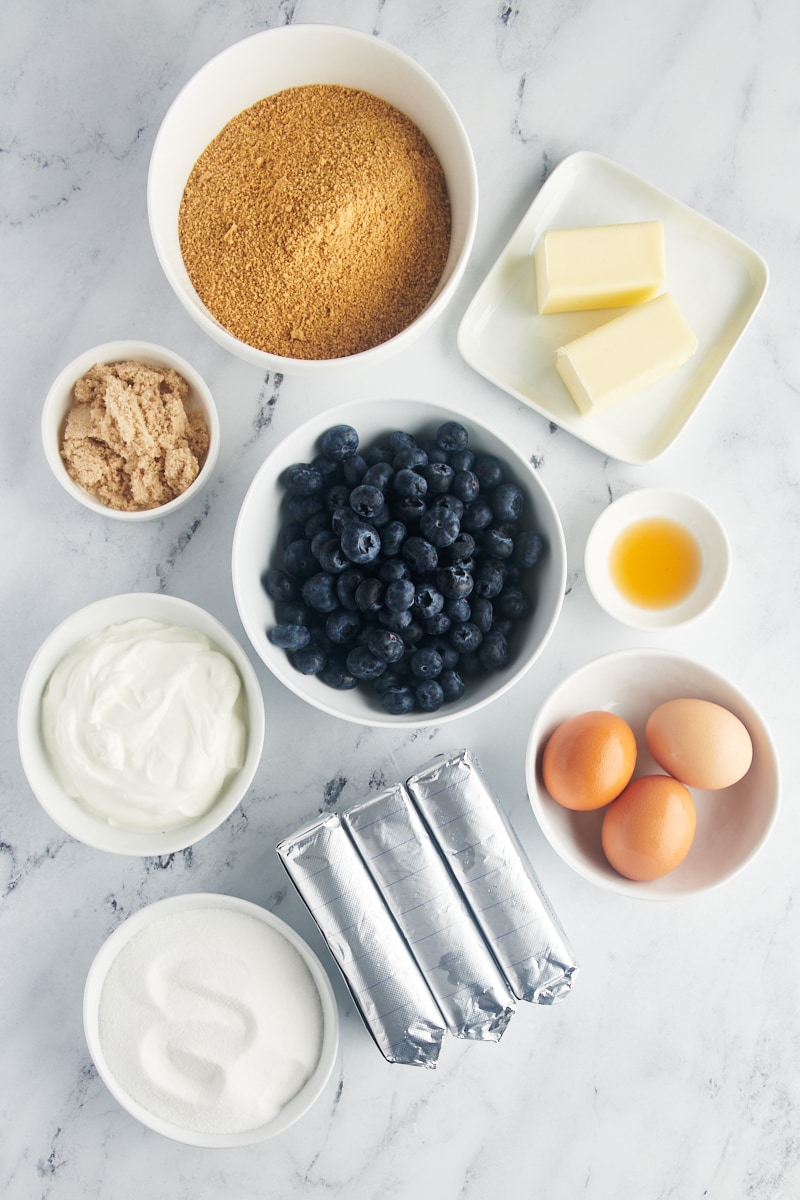 What You'll Need
Let's take a look at the ingredients you'll need and some notes about them. For ingredient quantities and full instructions, scroll down to the recipe card at the bottom of this post.
Graham cracker crumbs – Use your food processor to make fine crumbs from graham crackers. If you don't have a food processor, you can put the cookies in a sealed zip-top bag and use a rolling pin or other implement to crush them. Just make sure the crumbs are fine.
Brown sugar – This little bit of brown sugar adds a little more molasses flavor to the crust, but you can use granulated sugar instead if you like.
Unsalted butter – Melted butter is what helps hold the crust together.
Cream cheese – Be sure to bring the cream cheese to room temperature for a smooth filling. Full-fat cream cheese works best. Be sure to use the kind that comes in blocks, not the whipped variety.
Granulated sugar
Sour cream – This contributes to the tangy flavor of most classic cheesecakes. Like the cream cheese, use full-fat for the best results.
Eggs – Let these come to room temperature, too.
Vanilla extract – Use a good quality store-bought or homemade vanilla extract.
Blueberries – You'll need 2 cups of blueberries for the cheesecake, but you may want to get some extra berries for serving.
Can I Use Frozen Blueberries?
I recommend fresh blueberries for this cheesecake. Frozen blueberries have a higher moisture content, which usually leads to them becoming mushy and bleeding their color into the batter.
If you need to use frozen berries, rinse them in cold water until the water runs clear, taking care not to thaw the berries. I also recommend tossing them in just a bit of all-purpose flour to try to combat some of that extra moisture. Learn more: Fresh vs Frozen Fruits in Baking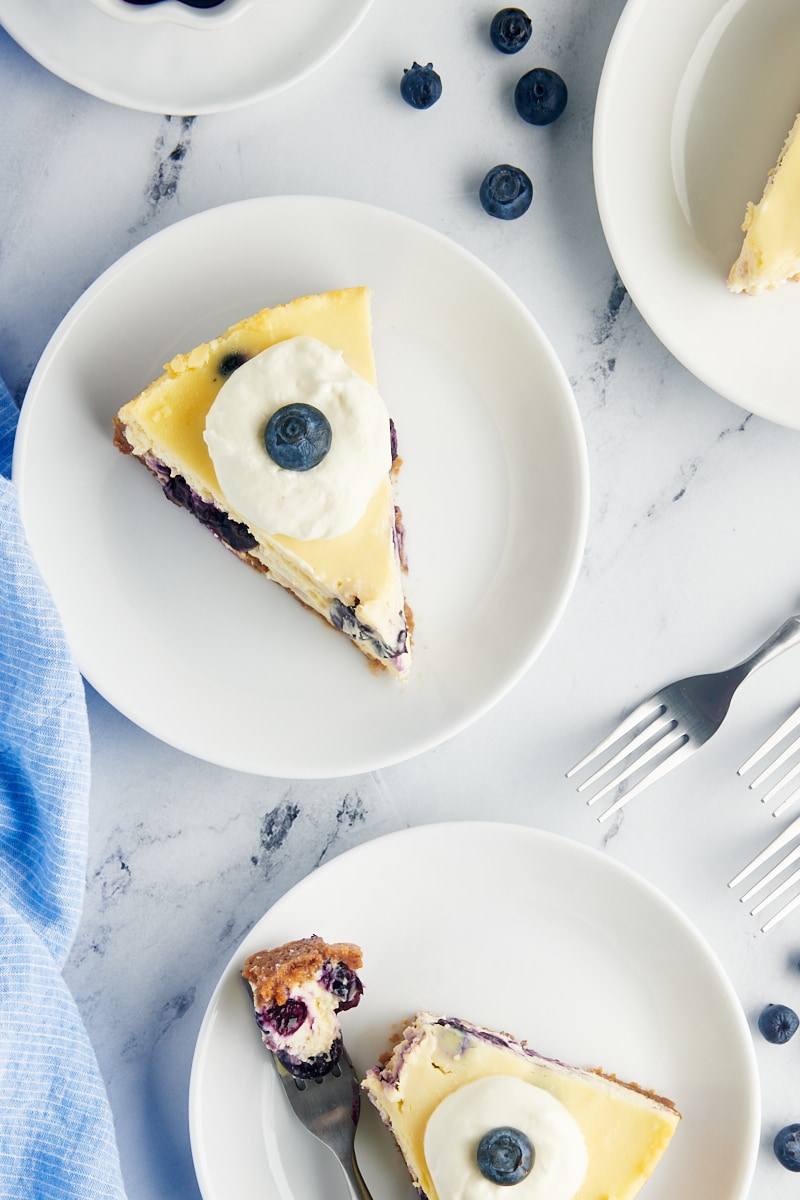 How to Make Blueberry Cheesecake
This baking method is my preferred way to bake cheesecake. You won't need a water bath but will instead bake it for a long time at a low temperature.
Prepare for baking. Heat the oven to 350°F.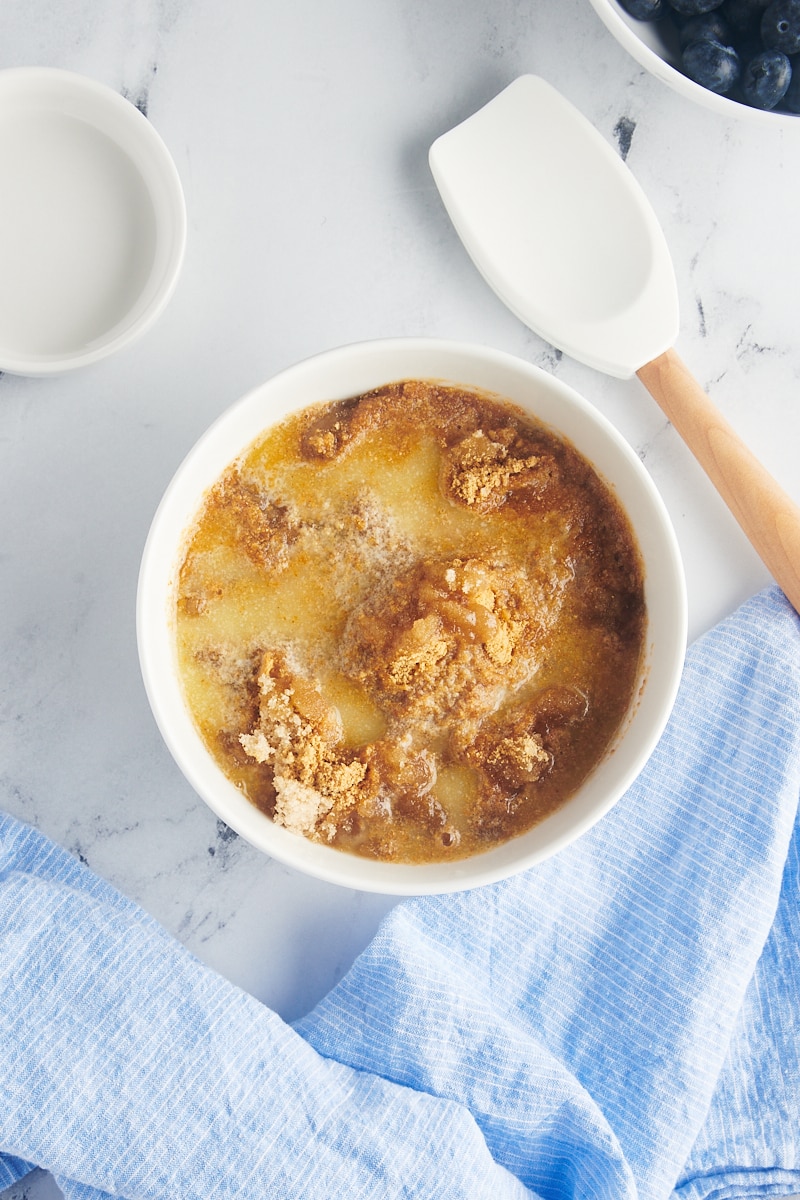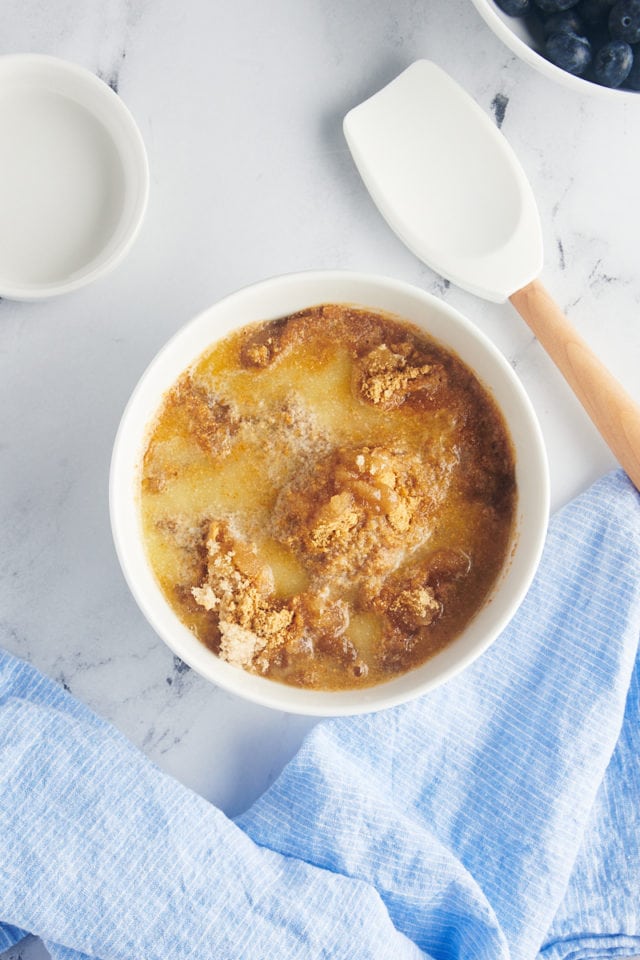 Make the crust. Combine the graham cracker crumbs, brown sugar, and butter until thoroughly combined. Press evenly into the bottom and partially up the sides of a 9-inch springform pan.
Bake the crust. If you're concerned about spills or leaks, place the pan on a lined rimmed baking sheet. Bake the graham cracker crust for 10 minutes. Set aside to cool.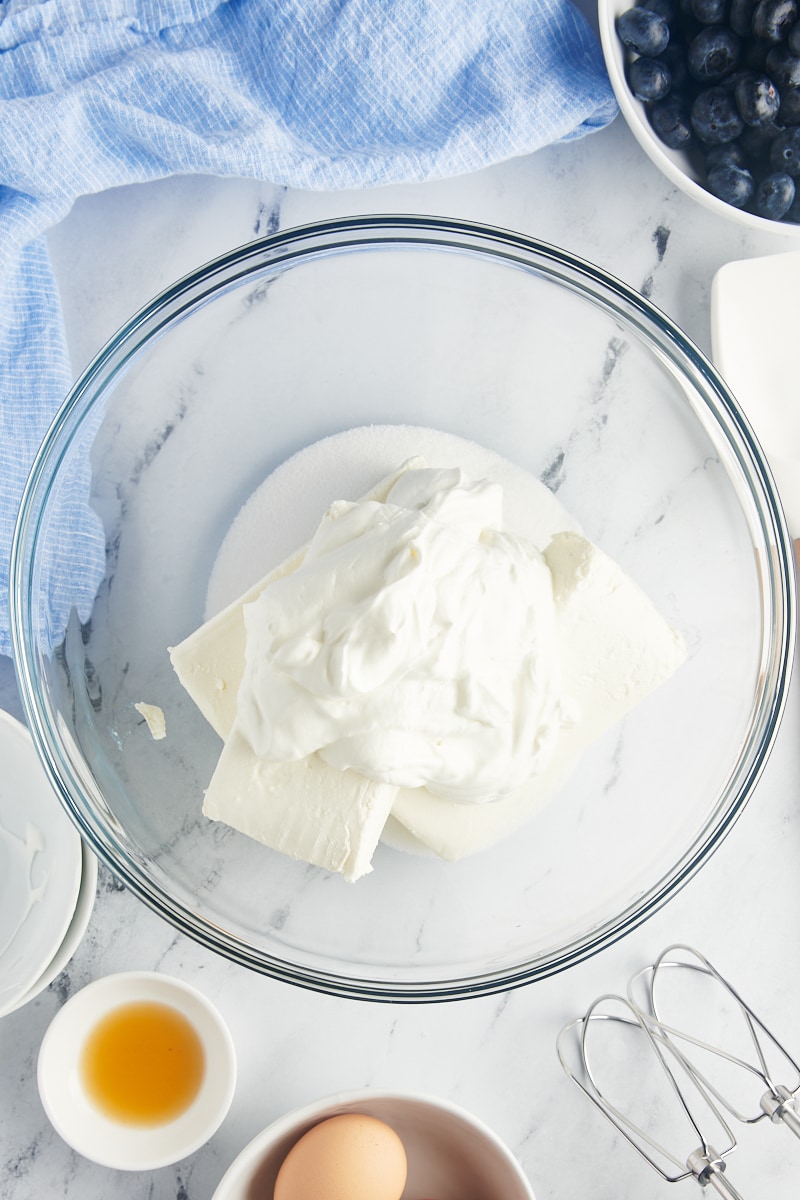 Make the filling. With an electric mixer on medium speed, beat the cream cheese, sugar, and sour cream in a large bowl until thoroughly combined and smooth. Mix in the eggs and vanilla.
Add the blueberries. Gently stir the blueberries into the cheesecake batter.
Begin baking. Spread the filling evenly in the partially baked crust. Bake for 15 minutes at 350°F.
Continue baking. Reduce the oven temperature to 200°F, and continue baking the cheesecake for 2 hours. The very center of the cheesecake should wobble just a bit.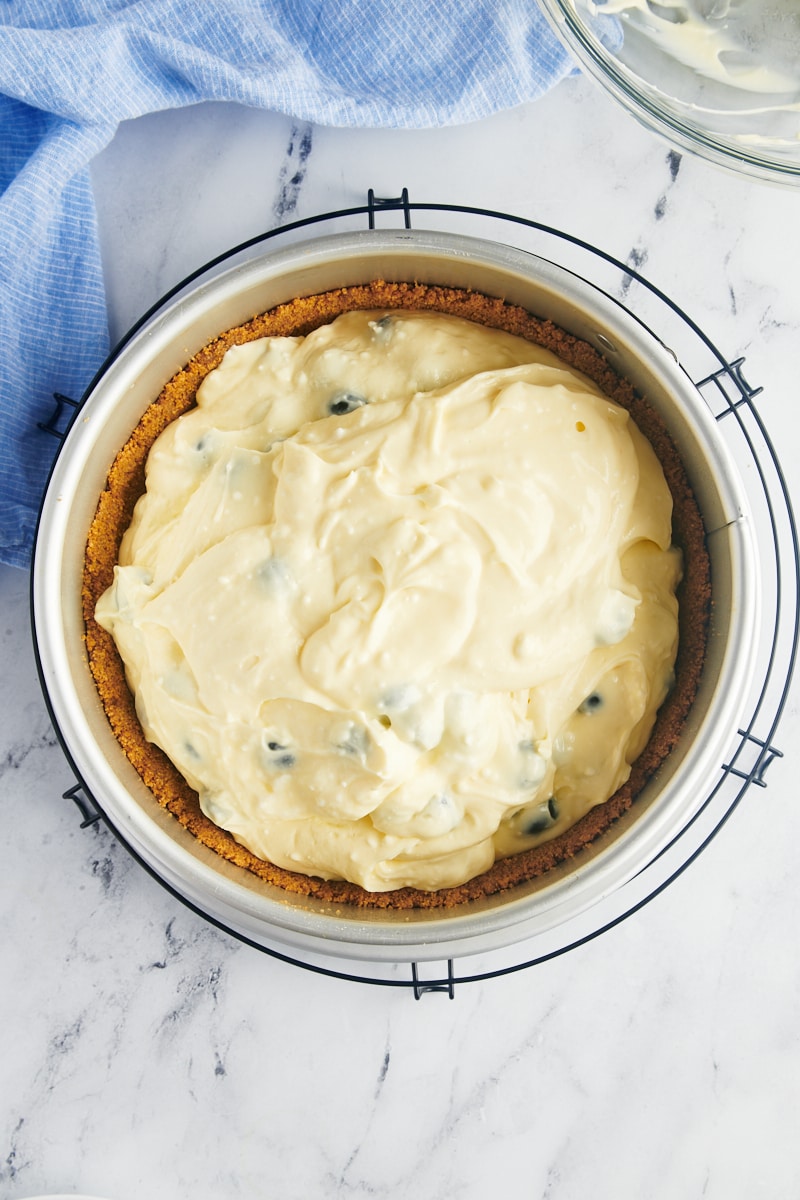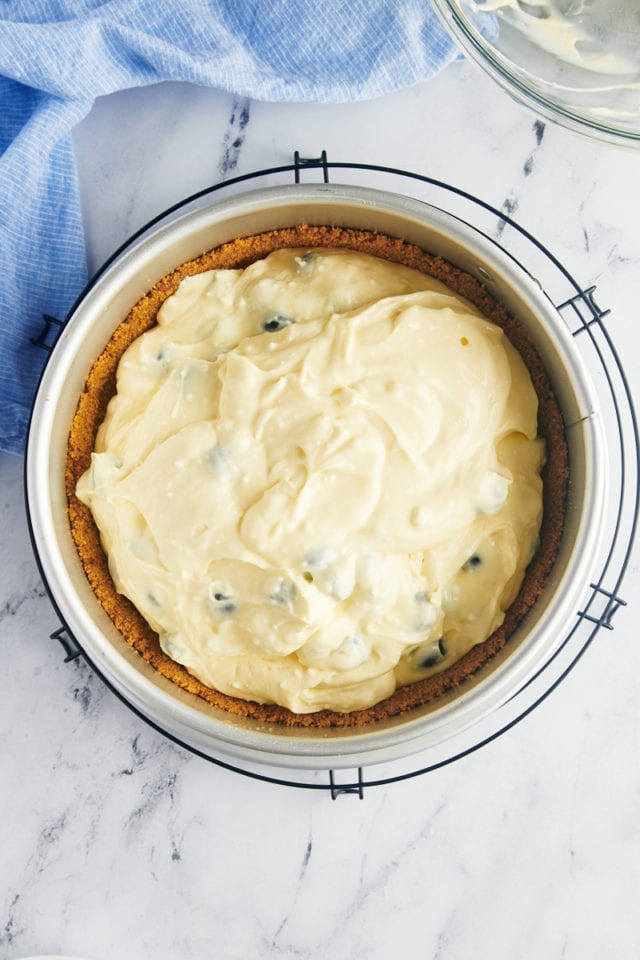 Loosen the edges and return to the oven. Run a thin knife gently around the outside edge of the cheesecake to keep it from sticking. Then immediately return the cheesecake to the oven with the oven turned off. Leave the cheesecake in the oven for 2 hours.
Chill. Loosely cover the cheesecake, and place in the refrigerator overnight before removing the sides of the pan and serving.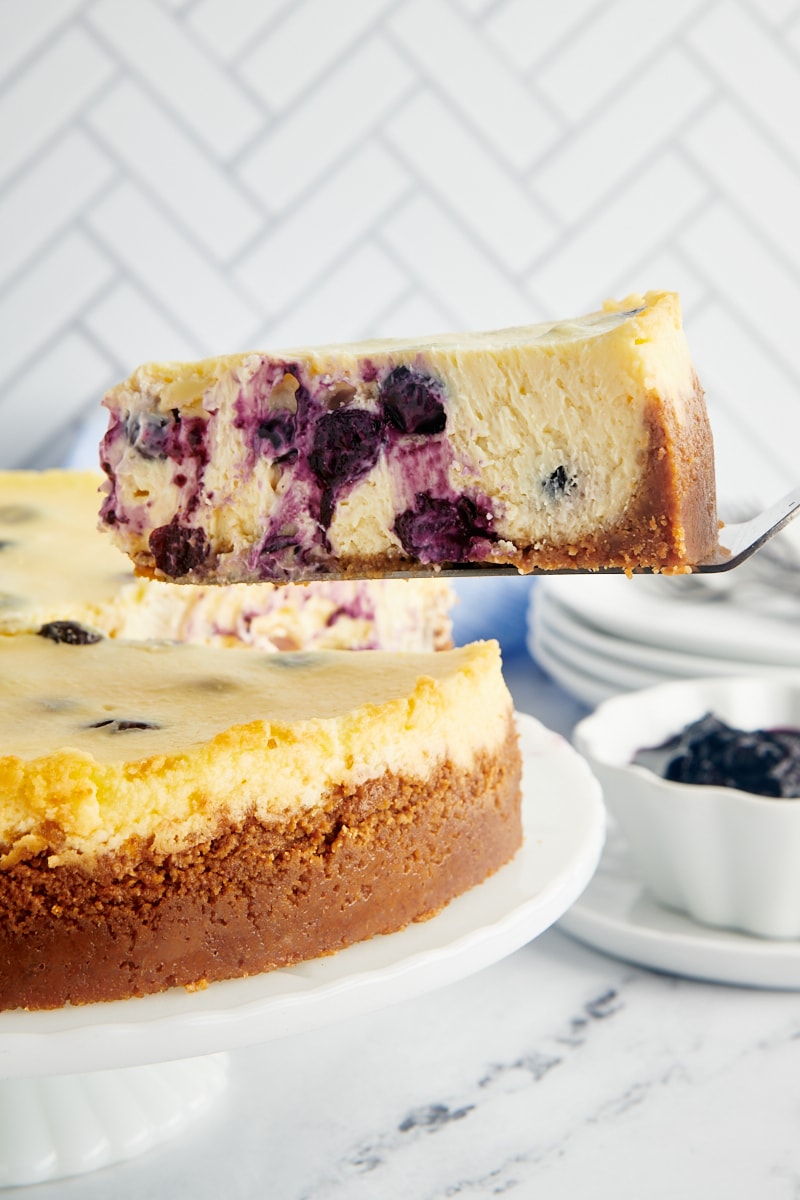 Tips for Success
You'll love how simple it is to make this blueberry cheesecake. Without the fuss of a water bath, it's just about easy mixing and time. Here are some tips to help you achieve cheesecake perfection:
Use a light hand with the crust. Don't compress the mixture too much when pressing it into the pan. If it's too compacted, it will become hard.
Bring the cream cheese to room temperature. That helps prevent your filling from being lumpy.
Don't over-mix. Too much mixing can lead to your cheesecake cracking.
Don't skimp on the oven time. This cheesecake will be in the oven for quite a while, so be sure to account for that when you're planning to bake.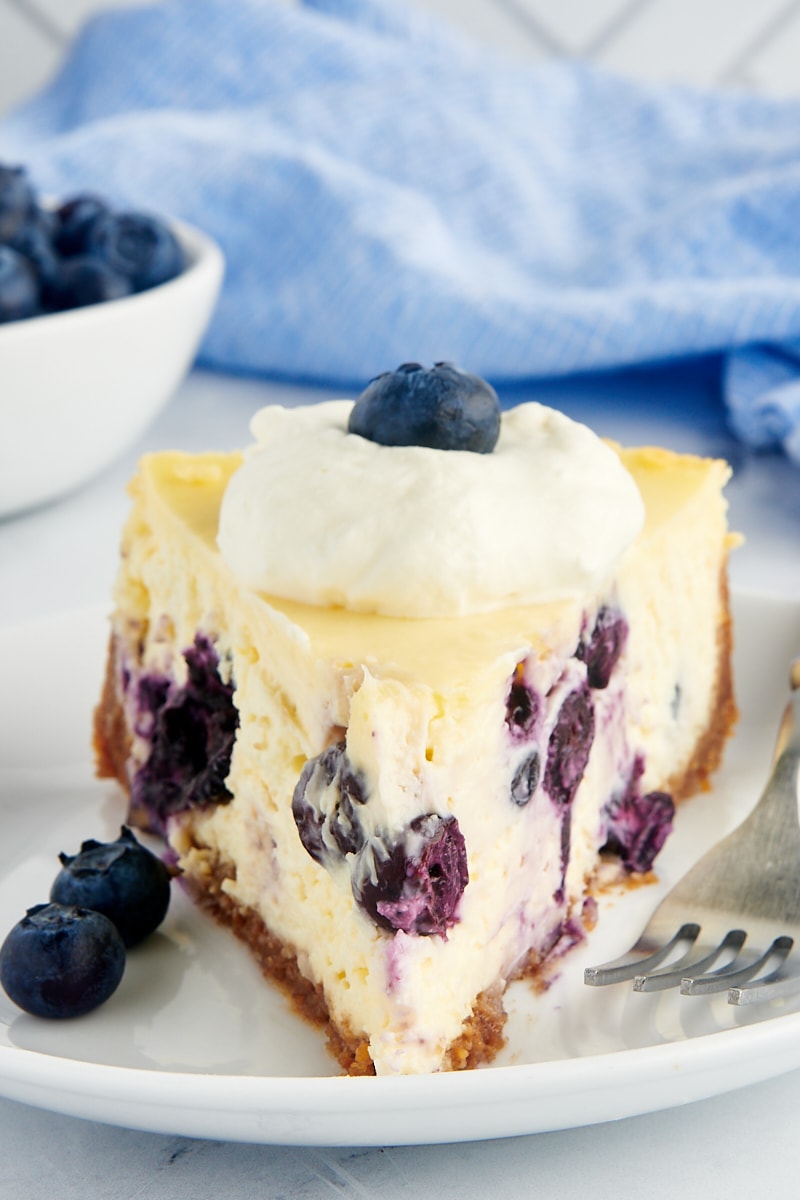 Ideas for Variations
For a citrus twist, replace the vanilla extract with up to a tablespoon of fresh lemon juice, and add a few pinches of lemon zest to either the crust or the filling.
You can also easily change the crust if you'd like something other than graham crackers. Vanilla wafers, pecan sandies, and golden Oreos are all great options. Just keep the volume of crumbs the same.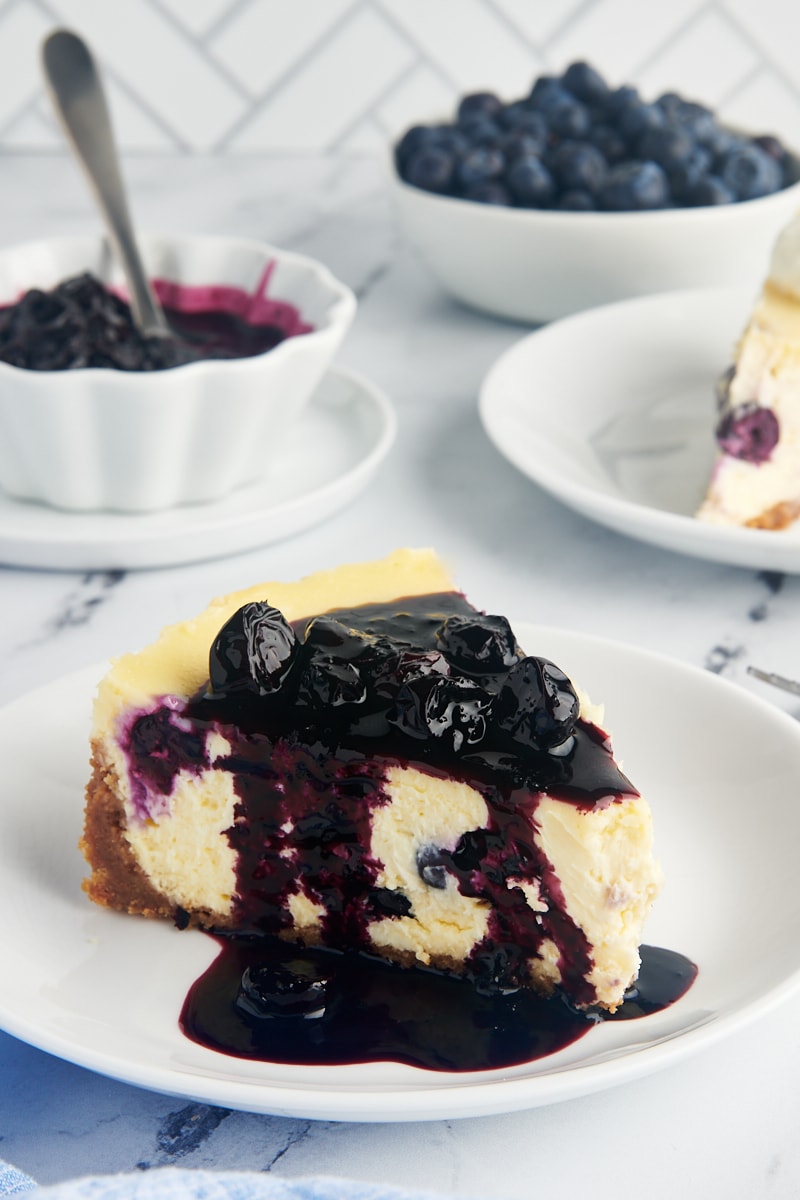 Serving Suggestions
Top servings of this blueberry cheesecake with sweetened whipped cream and garnish with berries. For some serious blueberry flavor, serve with blueberry compote.
How to Store
Keep this blueberry cheesecake covered and refrigerated. It should keep up to 3 days in an airtight container.
Can This Cheesecake Be Frozen?
Yes, you can freeze this cheesecake. Wrap it well in plastic wrap, and then wrap it again in aluminum foil or place in an airtight, freezer-safe container. Properly stored, it should keep in the freezer up to 2 months, although it will be at its best within a month. Thaw overnight in the refrigerator.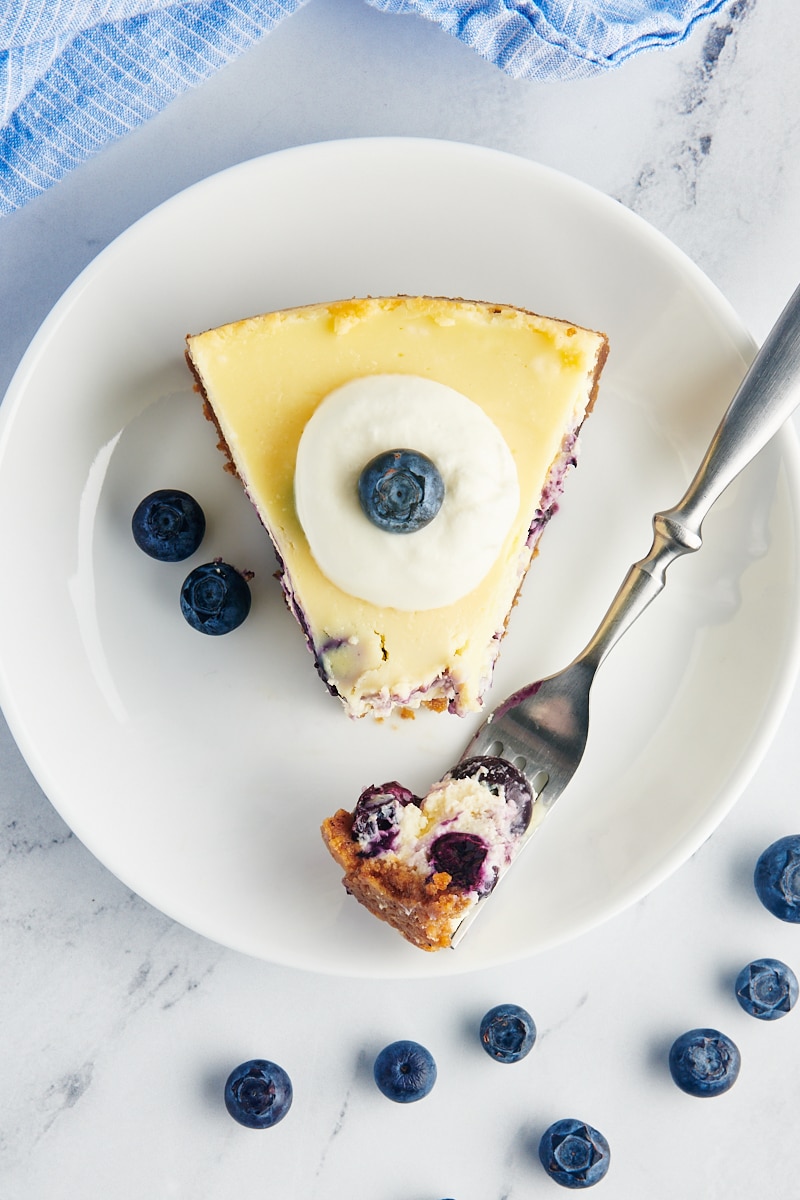 More Cheesecake Recipes