Pie Crust Tutorial
Pie crust eluded me for years. I could never quite get it right, no matter which method I used. Then, I took a more scientific approach and began researching what works and what doesn't for other bakers.
After some trial and error and an extra giant boost of patience, I figured out how to make pie crust. (Cue the cheers!!!) I know if I can do it, so can you! Then you'll have lovely, delicious pie crusts and never have to go the store-bought route again.
Since Bake or Break started way back in 2006, I have avoided writing posts with excessive step-by-step photos. I don't feel they're necessary in most cases. But, a more involved pie crust tutorial seems perfectly justifiable.
So, here we go!
Butter Pie Crust for a single crust 9-inch pie:
Put 2-3 tablespoons of cold water in a small bowl and place in the refrigerator.
In a large bowl, place 1 & 1/4 cups flour, 1 teaspoon granulated sugar, and 1/2 teaspoon salt. Whisk together to mix.
To this, add 1/2 cup cold butter, cut into cubes. I usually cut the butter in half lengthwise, turn it on its adjacent side, and cut in half again. Then, slice to create cubes. The standard recommendation is that the cubes be 1/2 inch. I aim for that vicinity.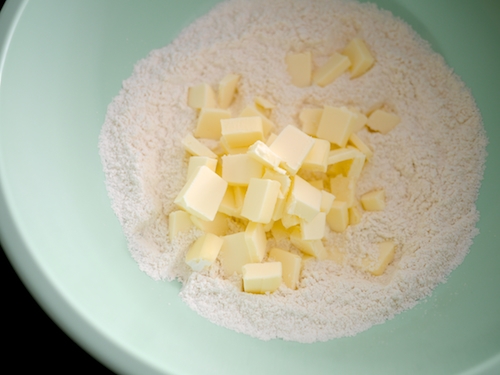 Now, cut the butter into the dry ingredients. Your goal is to get the butter mixed with the dry ingredients while keeping little bits of butter intact. Some people like to do this with a food processor. I don't, but that's my preference. I highly recommend using a pastry blender. Some people have success with a fork or two knives. I don't. Pastry blender all the way.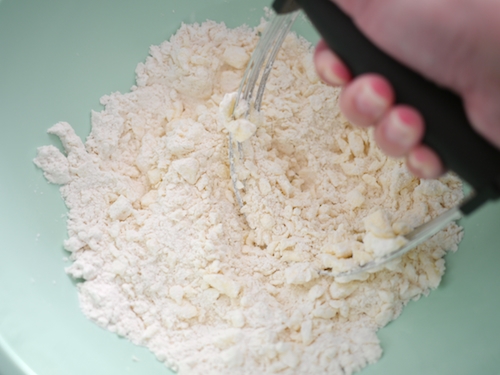 Mix until mixture resembles coarse meal. You should see pieces of butter about the size of small peas.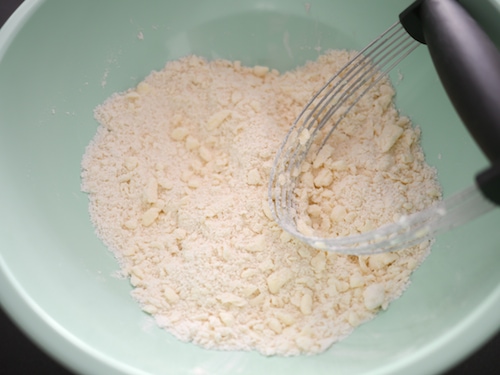 Add about 1 tablespoon of the cold water you put in the refrigerator earlier. Continue mixing. Add more water, no more than 1 tablespoon at a time, and continue mixing until the dough holds together when you pinch it.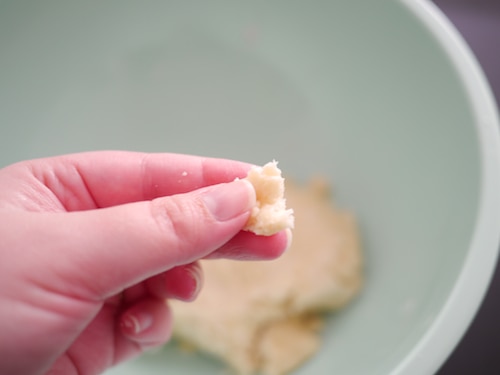 This is where I usually abandon the pastry blender and finish mixing the dough with my hands. If you tend to have warm hands, you'll want to keep the hands-on part to a minimum so you don't melt the butter. My hands are almost always cold, which is (for once) an advantage. As you finish mixing, the dough will stick together.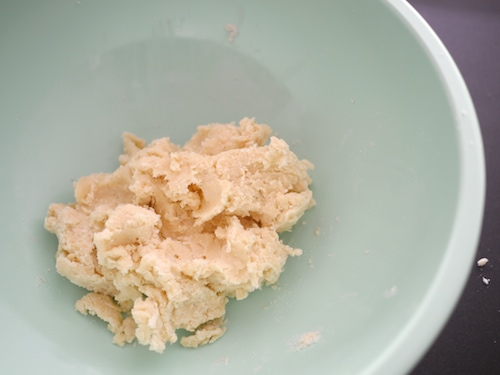 Place dough on plastic wrap, shape into a disc, and wrap tightly. Refrigerate for at least 2 hours.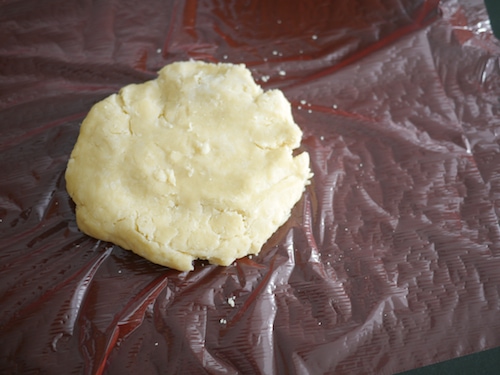 Two hours or so later….
Remove dough from refrigerator. If it's been in there for a while, you may need to let it sit at room temperature for about 10 minutes until it's soft enough to roll but still cold.
Make sure you have a clean surface for rolling out the dough. I have this handy silicone baking mat. Not much is going to stick to this, so you won't have to use as much flour. It also has the added bonus of having size markings so you'll easily know when you've got the right size crust.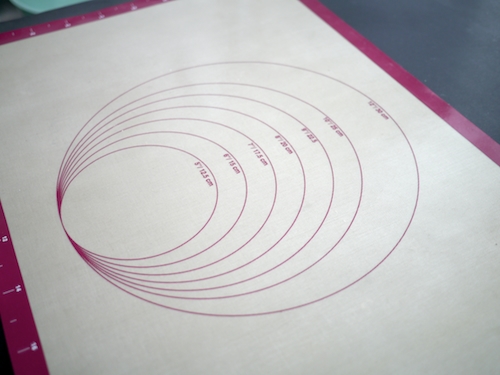 But! You can absolutely just use your countertop. Either way, flour your clean surface. I use about 2-3 tablespoons of flour and spread it over the surface. I like to keep a little reserve of flour off to the side as well, just in case I need it.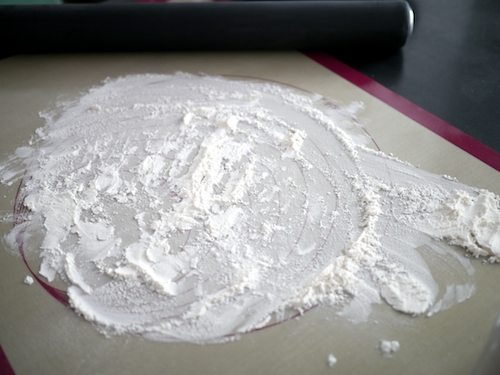 Place dough on floured surface.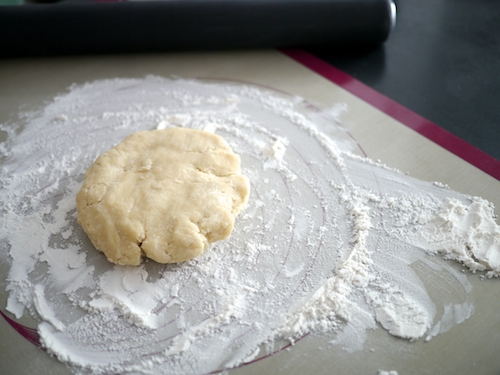 My favorite rolling pin is a Silpin. I also have a more traditional rolling pin, but I prefer the silicone pin. Rub a little flour onto your rolling pin. If you're using a silicone pin, you shouldn't need very much.
Now start rolling! Place your pin in the center of the dough and roll out from the center. Always.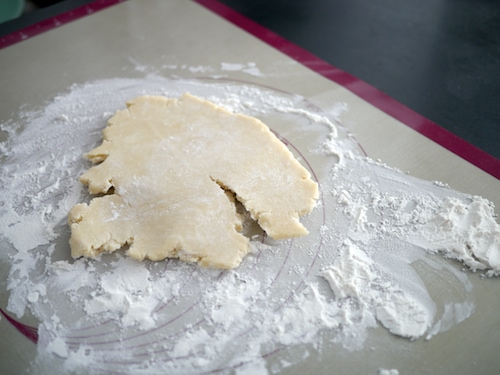 This used to bother me – the gaps and splits in the dough. It's not really looking much like a pie crust, is it? That is absolutely okay. You can press together any significant gaps with your hands. Thin spots we'll address later. Keep going.
After a few rolls, turn your pin (or the dough) and repeat until you've gone all the way around the disc.
Continue the rolling process until you get a disc about 11 inches in diameter. Clearly, I overshot that a bit. As long as you have the right thickness, that's perfectly fine. If you have any gaps, that's fine. I tear off a bit of crust that is destined to be trimmed off later and work it into the gaps.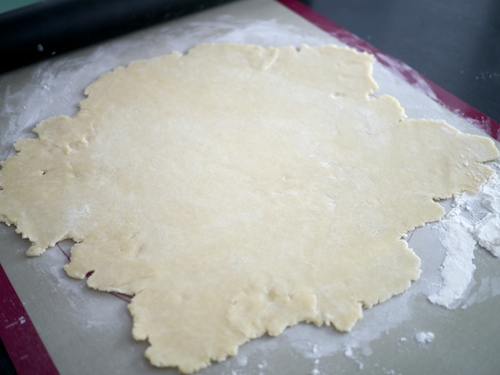 To transfer the crust to the pie pan, I like to use the rolling pin. Rub a little flour onto the surface of the pin. Place it toward the edge of the crust, and roll the dough up onto the pin. Now, roll the pin over the crust, wrapping it loosely around the pin. You'l probably need to hold the crust onto the pin to help get it started.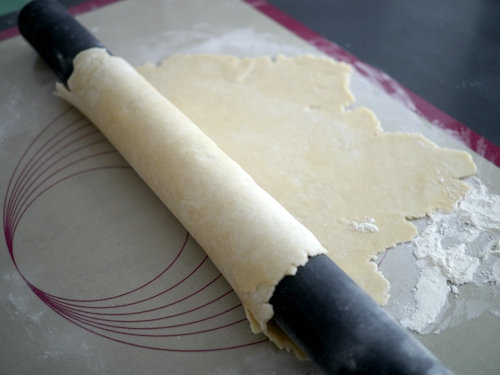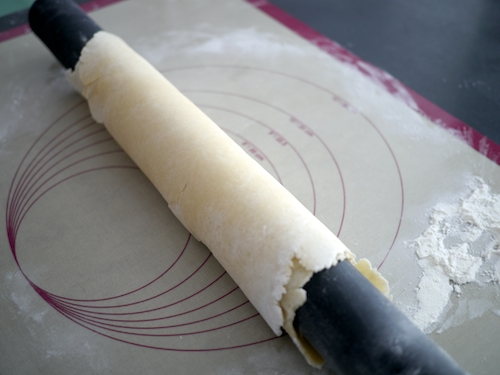 Now, place the pin and crust on the pie plate so that the edge of the crust looks like it will overlap the edge of the pie plate.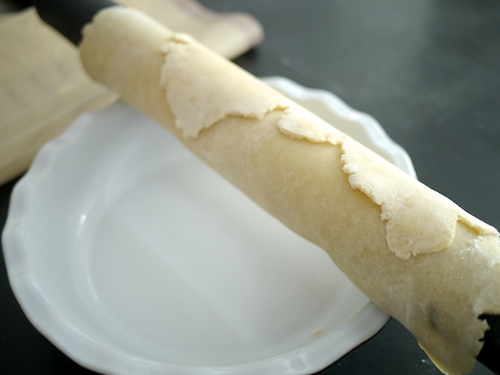 Gently unroll the dough.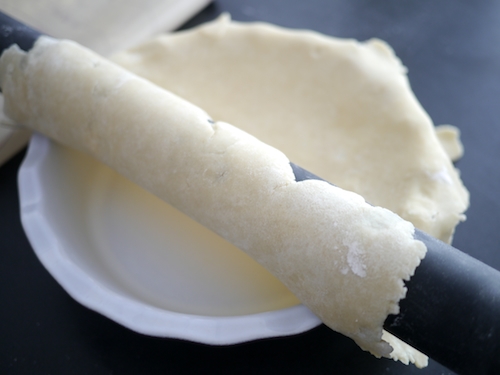 When you're done, the crust will be draped on top of the pie plate.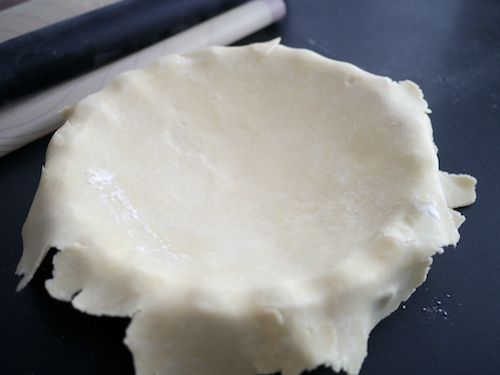 Gently press the dough into the bottom of the pan. Be careful not to tear the crust with your fingernails. I use my knuckles instead of my fingertips to avoid heartbreak.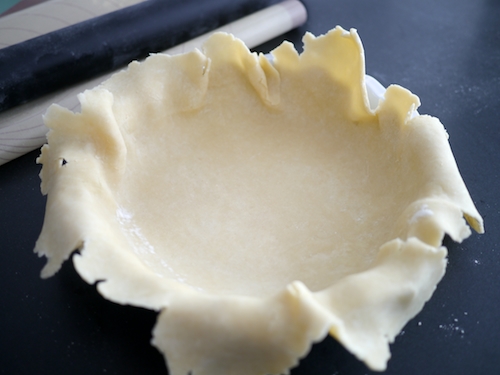 Loosely press the edges of the crust over the edges of the pie plate. This will give you an idea of how to trim your crust.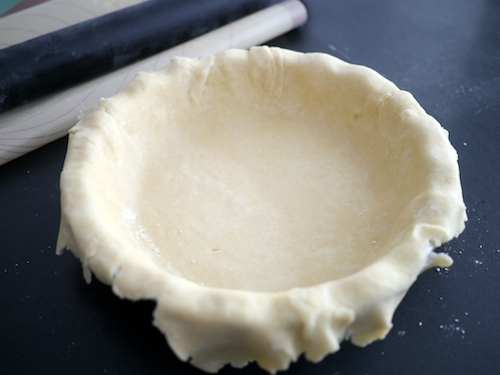 Using a sharp knife, trim the edges of the crust to fit the pie plate. I use a small paring knife . I like it because it's small and easy to handle for this kind of job. Any sharp knife should work.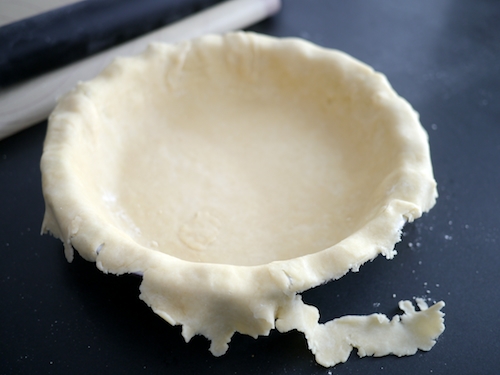 After the edges are trimmed, you'll have something that looks a bit like this.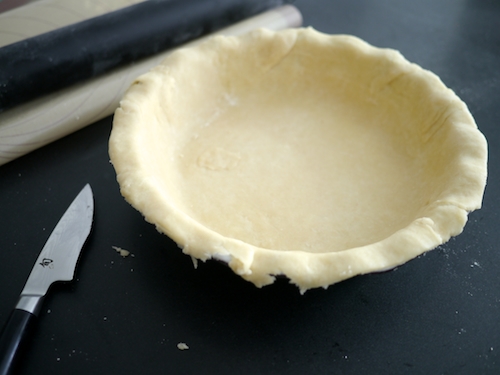 Now, press the edges down onto the edges of the pie plate. The pie plate I use most often has a fluted edge, so that makes it simple to make pretty edges.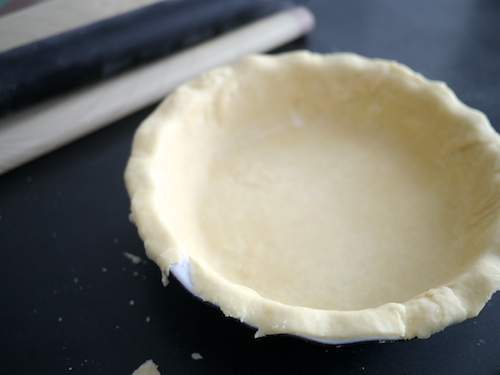 If you have thin spots or gaps in your crust, don't fret. As you can see above, I've got a gap in the edge of the crust. Just use some of the trimmed crust to patch it. Press a little bit of dough into the gap and smooth it into the crust with your fingers.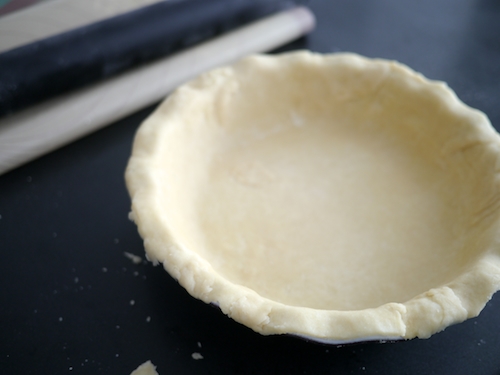 Once you've fixed any gaps or thin spots, you should have a crust that looks something like this!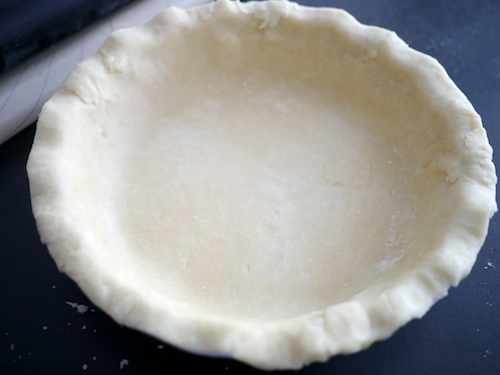 If you look not all that closely, you'll see a couple of repaired spots on my crust. No, it's not a perfect crust. But, if you take homemade pie to a gathering and anyone complains about a small patched spot on the crust, they don't get to eat pie. Their loss.
See? I told you we could do it. You are now ready to proceed with making your pie!
If you're making a double-crust pie or are planning to make more than one pie, simply double this recipe. Divide the dough in half before wrapping and refrigerating. Then, roll out each half separately.
Now, this part is very important. Do not throw out that dough you trimmed off the edges.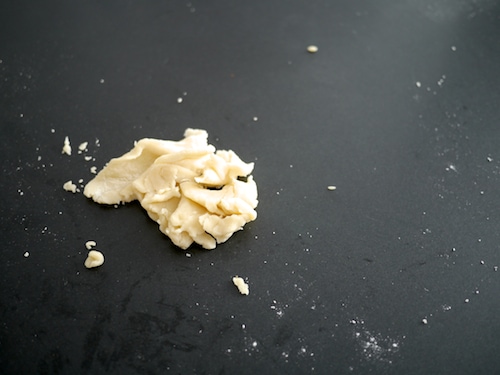 Gather all the scraps together and flatten to about pie crust thickness or a little thicker. Cut or gently tear into pieces. There's no rhyme or reason to how you shape these. Place the pieces on a baking sheet.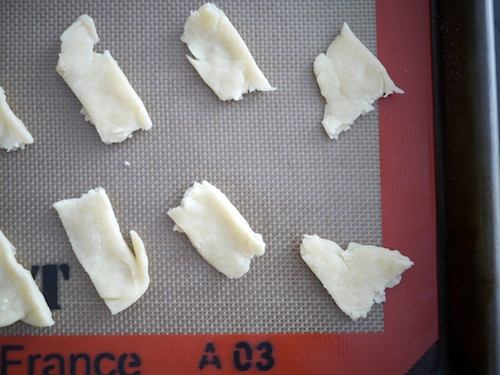 Sprinkle with cinnamon sugar. If you don't have cinnamon sugar or just want to make your own, simply mix equal parts of sugar and cinnamon.
Bake at 400° for about 8 minutes. Enjoy your pie crust cookies!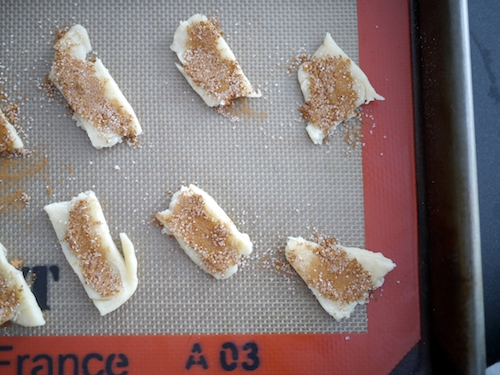 Now, go bake a pie!