April 17, 2018
Mini Skillet Mixed Berry Pies
These simple to make Mini Skillet Mixed Berry Pies are a wonderful, fruity dessert. Use your favorite combination of berries to make these little pies. Perfect for a spring or summer dessert!
I love pie in most any form, but I'm just so smitten with these Mini Skillet Mixed Berry Pies. They're quick to assemble and a perfect dessert for two that's perfect for berry season.
Baking pies in a skillet is about as easy as pie baking gets. You just place the crust in the pan and fold over the excess. It's a bit like making a crostata or galette, but in a skillet. For these skillet pies, I used my favorite mini skillets to make individual servings. It doesn't really add any labor to the process, and I just love the look of them.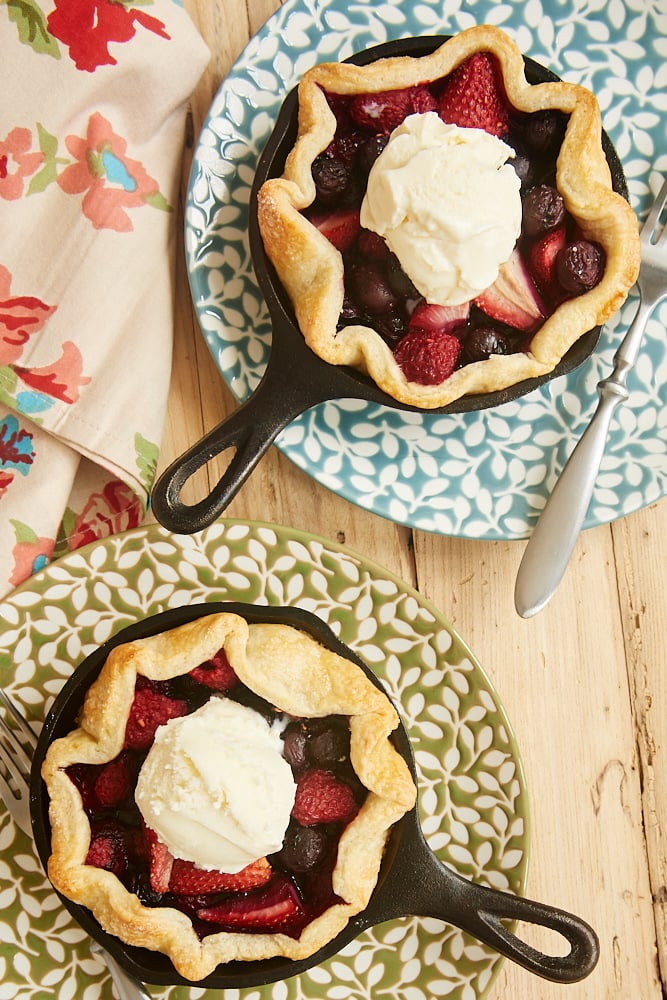 Added to that pie crust is a simple filling mixture that highlights the flavors of your favorite berries. I most often use a combination of blueberries, strawberries, and raspberries, but you can use any combination of your favorites.
Once you've made your pie crust dough, just roll it out and cut circles for each skillet. You want it to stick up over the pan just a bit so you can fold it over, but there's no crimping or other embellishment needed. You'll have some pie dough remaining, so you can even make a lattice top or a cutout top if you like. I like to leave the top unadorned to show off all those gorgeous berries.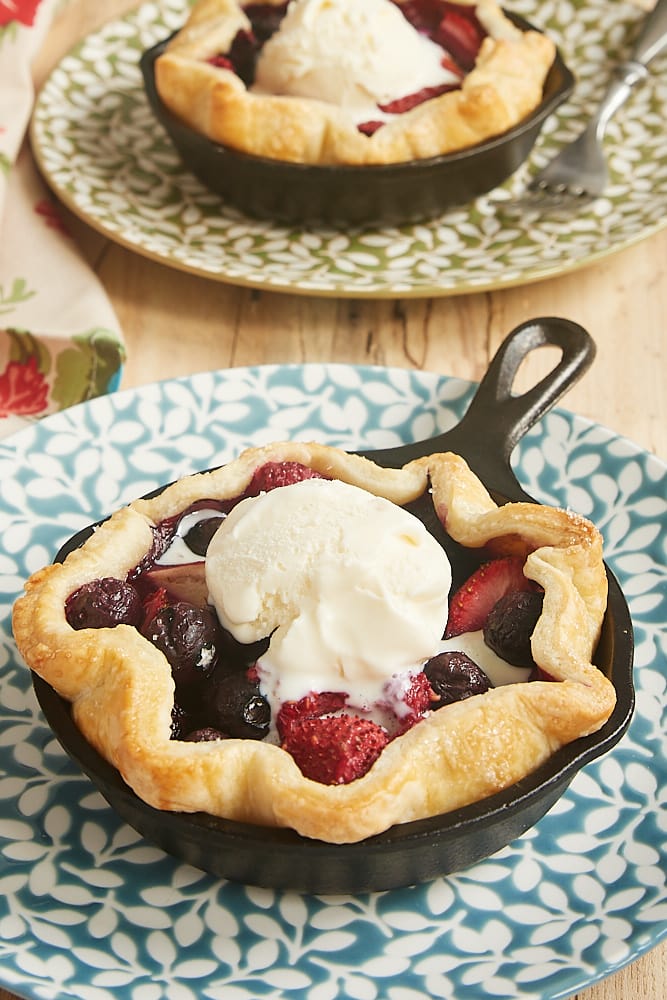 I can't resist adding an egg wash and a little coarse sugar to the pie crusts before baking. The egg wash makes the crust brown in such a beautiful way, and that coarse sugar adds such a pretty sparkle and a little extra couch of sweetness.
Serve these Mini Skillet Mixed Berry Pies warm with a scoop of ice cream for a sweet ending to a special spring or summer meal for two. The recipe will scale, too, if you're serving more than two. I know Quinn and I will be enjoying these little pies as often as possible!
Find more pie recipes in the Recipe Index.
More Berry Pies
We are a participant in the Amazon Services LLC Associates Program, an affiliate advertising program designed to provide a means for us to earn fees by linking to Amazon.com and affiliated sites.
Mini Skillet Mixed Berry Pies
Yield: 2 5-inch pies
Prep Time: 25 minutes
Cook Time: 40 minutes
These Mini Skillet Mixed Berry Pies for Two are a delicious celebration of your favorite berries in a super simple pie. They are quick and easy to assemble whenever you are craving a fruity dessert.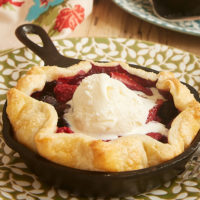 Ingredients:
2 cups mixed berries, rinsed and dried
1 tablespoon granulated sugar
1 tablespoon cornstarch
1/2 teaspoon vanilla extract
pastry for a 9-inch pie*
egg wash (1 large egg + 1 tablespoon water, mixed well), optional
sanding sugar, optional
Directions:
Preheat oven to 350°F. Set aside two 5-inch mini skillets.**
Combine the berries, sugar, cornstarch, and vanilla. Set aside.
Roll out the pie crust to about 1/8-inch thick. Place one of the skillets upside down on the dough, and cut out a round about an inch larger than the skillet. Repeat for the other skillet. (The dough will need to come up the sides of the skillets and extend by about 3/4 inch.
Place a dough round in each skillet, fitting it into the bottom and up the sides.
Divide the filling between the two skillets. Fold the top of the dough inward.
Brush the egg wash over the top of the crust. (You won't use all of the egg wash.) Sprinkle with sanding sugar.
Bake 35 to 40 minutes, or until the crust is golden brown and the filling is bubbly.
Notes:
*Use your favorite basic pie crust recipe. You can find mine here.
**Depending on how well your skillets are seasoned, you may or may not need to grease them. A little cooking spray applied with a paper towel should be sufficient.