These simple to make Mini Skillet Mixed Berry Pies are a wonderful, fruity dessert. Use your favorite combination of berries to make these little pies. Perfect for a spring or summer dessert!
I love pie in most any form, but I'm just so smitten with these Mini Skillet Mixed Berry Pies. They're quick to assemble and a perfect dessert for two that's perfect for berry season.
Baking pies in a skillet is about as easy as pie baking gets. You just place the crust in the pan and fold over the excess. It's a bit like making a crostata or galette, but in a skillet. For these skillet pies, I used my favorite mini skillets to make individual servings. It doesn't really add any labor to the process, and I just love the look of them.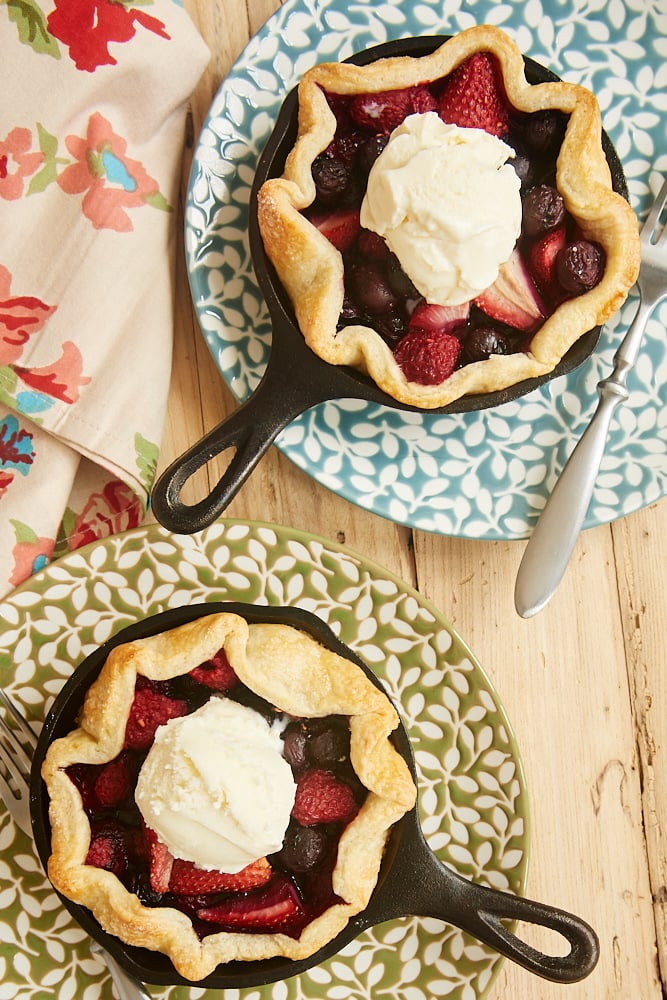 Added to that pie crust is a simple filling mixture that highlights the flavors of your favorite berries. I most often use a combination of blueberries, strawberries, and raspberries, but you can use any combination of your favorites.
Once you've made your pie crust dough, just roll it out and cut circles for each skillet. You want it to stick up over the pan just a bit so you can fold it over, but there's no crimping or other embellishment needed. You'll have some pie dough remaining, so you can even make a lattice top or a cutout top if you like. I like to leave the top unadorned to show off all those gorgeous berries.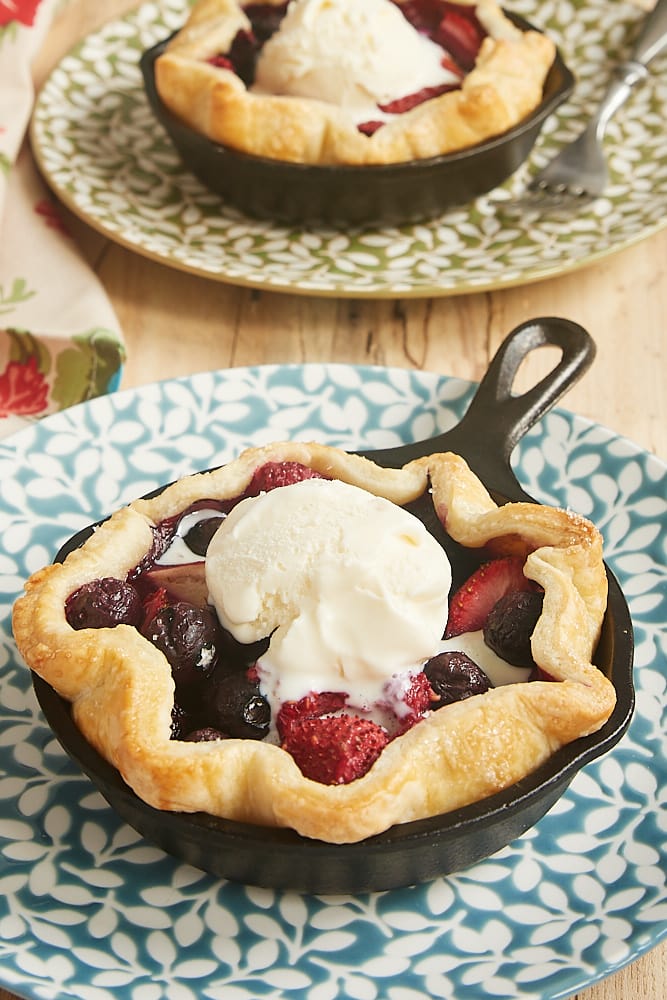 I can't resist adding an egg wash and a little coarse sugar to the pie crusts before baking. The egg wash makes the crust brown in such a beautiful way, and that coarse sugar adds such a pretty sparkle and a little extra crunch of sweetness.
Serve these Mini Skillet Mixed Berry Pies warm with a scoop of ice cream for a sweet ending to a special spring or summer meal for two. The recipe will scale, too, if you're serving more than two. I know Quinn and I will be enjoying these little pies as often as possible!
Find more pie recipes in the Recipe Index.
More Berry Desserts