This Cinnamon Swirl Bread recipe is sure to become a go-to for you when you want a sweet, simple treat!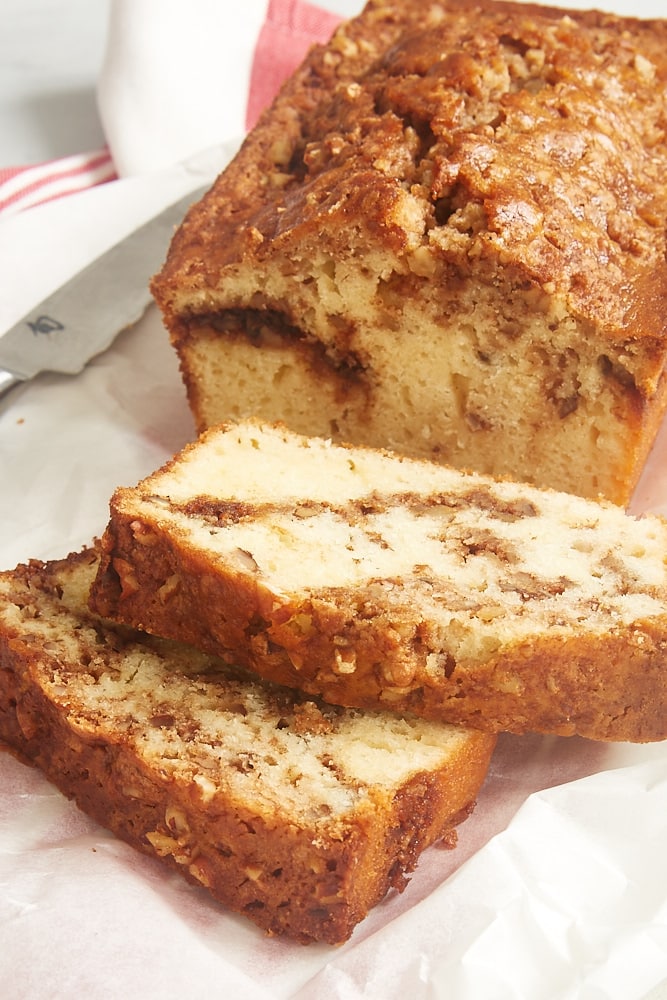 Cinnamon Swirl Bread Recipe
I've long had a love of baking quick breads. I love their simplicity and versatility, not to mention that they make great homemade gifts. I've made so many over the years, yet this Cinnamon Swirl Bread endures as a favorite.
This bread is another great example of "less is more" in baking. The bread is fairly simple, with only a hint of vanilla to enhance the flavor. But a simple mixture of just three ingredients gets swirled into the bread to make it something special.
More specifically, that swirl is made of brown sugar, nuts, and cinnamon. That combination is one of my favorite trios of flavor, and they serve this bread well by adding a sweet, nutty flavor that's pretty tough to beat.
This is the kind of bread that I like to bake on a Friday or Saturday so that we can enjoy it all weekend. It will keep for a few days in an airtight container, so it's easy to grab a slice for breakfast, a snack, or whenever the craving strikes. For a little extra special treat, try heating a slice in the microwave for a few seconds to make it all warm and a little gooey.
This Cinnamon Swirl Bread is all a quick bread should be. Quick. Easy. And, best of all, delicious. It would be excellent for breakfast, with coffee, or for dessert.
I first found a version of this recipe in a holiday baking magazine in a few pages dedicated to homemade food gifts. A loaf of this wrapped up prettily makes a lovely gift for a holiday, a housewarming, or just because. It will be happily and hungrily received!
For more easy quick breads, try Chocolate Chip Oatmeal Quick Bread, Blueberry Bread, and Pineapple Zucchini Bread, too!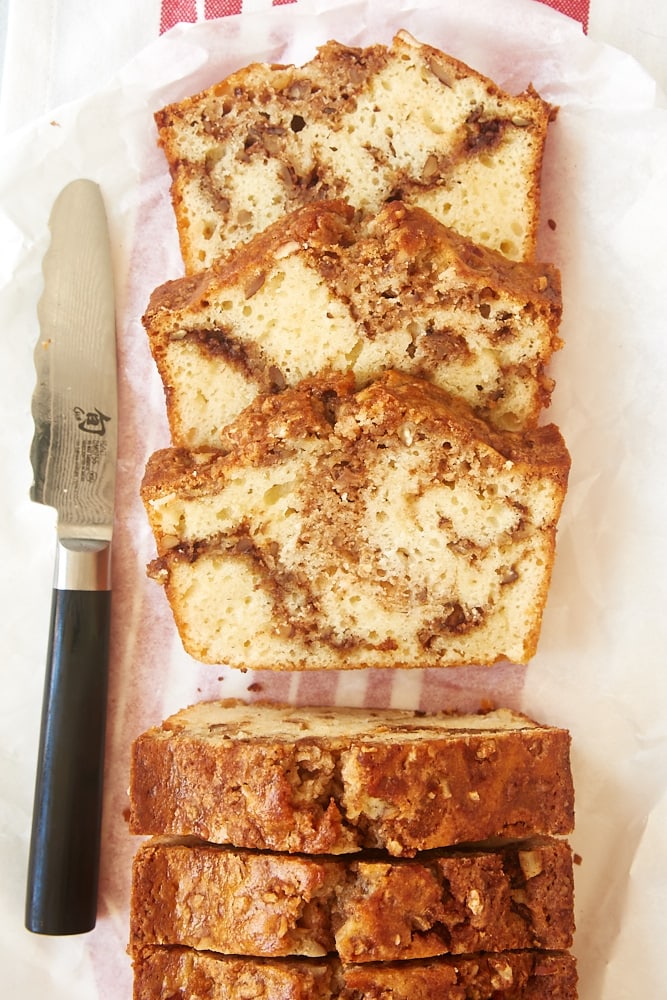 What You'll Need
You'll just need some basic baking ingredients to make this delicious cinnamon bread. See the recipe card at the bottom of this post for ingredient quantities and full instructions. Here are some notes to keep in mind when gathering your ingredients.
For the cinnamon swirl:
For the bread:
How to Make Cinnamon Swirl Bread
You'll have this cinnamon bread mixed and in the oven in just a few minutes. No mixer needed! Let's get baking!
Make the cinnamon swirl. Combine the brown sugar, nuts, and cinnamon in a small bowl.
Prepare for baking. Heat the oven to 350°F. Grease a standard 9- by 5-inch loaf pan. If you like, line the pan with parchment paper, and then grease the paper. I recommend a cooking spray with flour, like Baker's Joy or Pam for Baking.
Combine the dry ingredients and sugar. Whisk together the sugar, flour, baking powder, and salt in a large mixing bowl. Make a well in the center.
Mix the wet ingredients. In a separate bowl, lightly beat the egg. Then, add the milk, melted butter, and vanilla, and stir until combined.
Add the wet ingredients to the dry ingredients. Pour the wet ingredients mixture into the well in the flour mixture. Stir to combine, mixing just until combined or a few small streaks of flour remain.
Transfer to the pan. Pour half of the batter into the prepared pan. Sprinkle the top of the batter with half of the cinnamon swirl mixture. Repeat with the remaining batter and cinnamon mixture. Use a thin knife or spatula in an up and down swirling motion.
Bake. Place the pan in the oven, and bake 50 to 60 minutes. When the bread is browned and a pick inserted into the center comes out clean, the bread is ready to come out of the oven.
Cool. Place the pan on a wire cooling rack, and let cool for 10 minutes. Then, remove the bread from the pan and place directly on a wire rack to cool completely.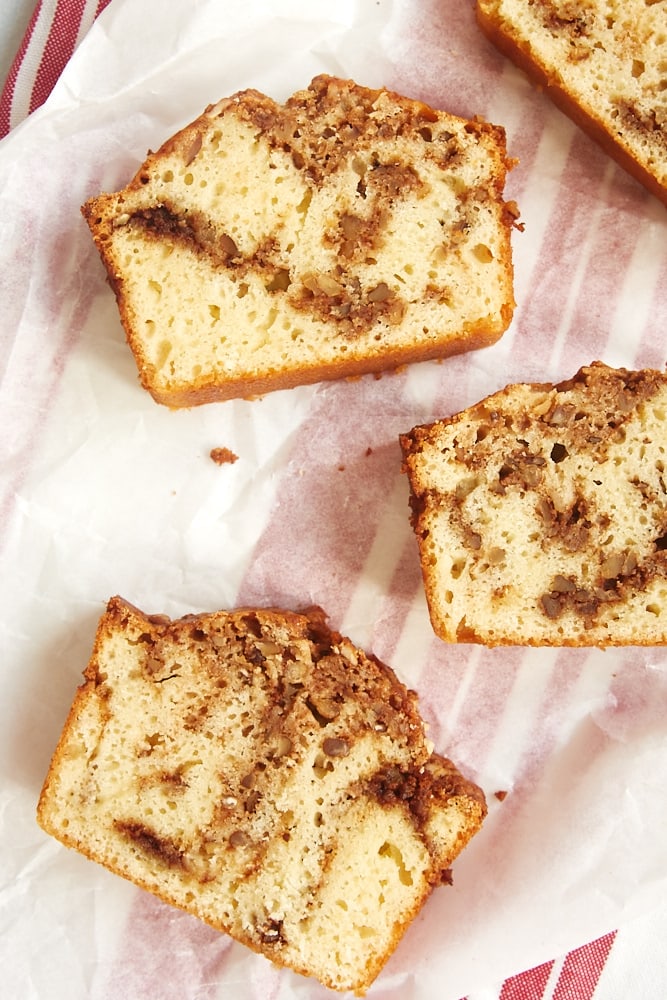 Tips for Success
This bread is a breeze to make, but here are a few tips to help make sure yours turns out perfectly!
How to Store
After the bread has cooled completely, either place it in an airtight container or wrap it in plastic wrap. It should keep at room temperature up to 3 days.
How to Freeze
You can freeze the entire loaf or individual slices. Wrap well in two layers of plastic wrap, and then either wrap again in aluminum foil or place in an airtight, freezer-safe container or zip-top bag. Properly stored, this cinnamon bread should keep in the freezer up to 3 months.
Thaw on the countertop for an hour or two before serving. If you want to serve it warm, you can heat individual slices briefly in the microwave or place the unsliced loaf in a loaf pan and heat for a few minutes in a low temperature oven.
Video Tutorial: Cinnamon Swirl Bread
More Spiced Quick Breads and Muffins