This homemade apple strudel is so easy to make! Using puff pastry for simplicity, it's a cinch to create layers of flaky goodness wrapped around a delightful apple filling. Embrace the flavors of fall in every bite!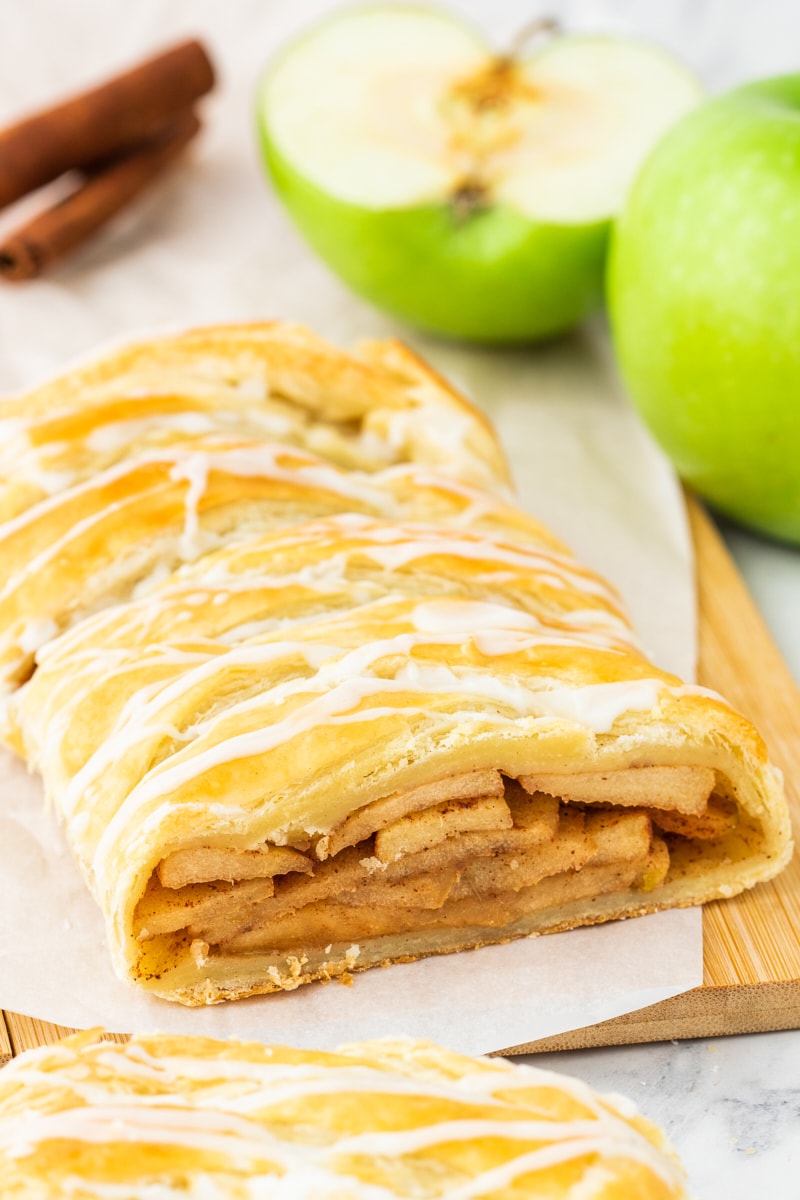 Puff Pastry Apple Strudel
I'm so excited to share this simple apple strudel recipe with you! While making strudel completely from scratch is certainly a worthwhile endeavor, using store-bought puff pastry makes it so, so simple.
You'll be instantly smitten with this apple strudel recipe made effortlessly with puff pastry. This isn't just any recipe; it's a shortcut to apple strudel heaven that won't skimp on flavor or texture!
Below, I'll walk you through the simple steps of creating your very own apple strudel using the magic of puff pastry. It's a recipe that celebrates the season and the joy of baking without the need for complex dough-making techniques. You'll want to give this recipe a permanent spot in your fall baking rotation!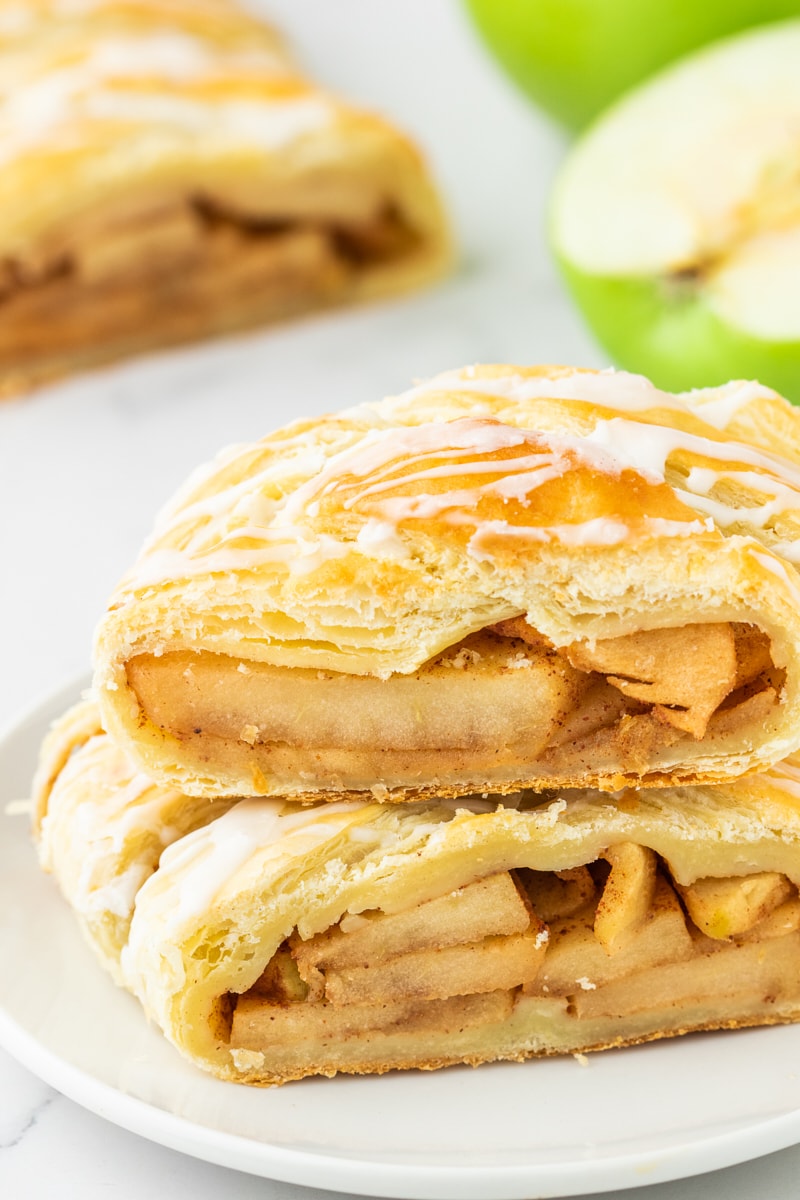 Why You'll Love This Apple Strudel Recipe
There's so much to love about this strudel recipe. Here are my favorite things about it:
Great use of a shortcut ingredient. As much as I love baking from scratch, store-bought puff pastry is one of my favorite shortcut ingredients. And using it to make strudel simplifies the process while still having that homemade feel.
Wonderful flavors. The focus here is simply on apples, brown sugar, and spices. And it's delicious!
Versatile. It's great most any time of day, from breakfast to dessert!
What is a Strudel?
A strudel is simply the name for a thin pastry rolled around a filling and baked. It's been around for centuries, usually being attributed to German and Austrian cuisine. Traditionally, it's made with a strudel dough that's rolled or stretched very thinly to create layers that bake into a flaky outer crust. As with most recipes, strudel has evolved over the years, and there are many regional and cultural variations.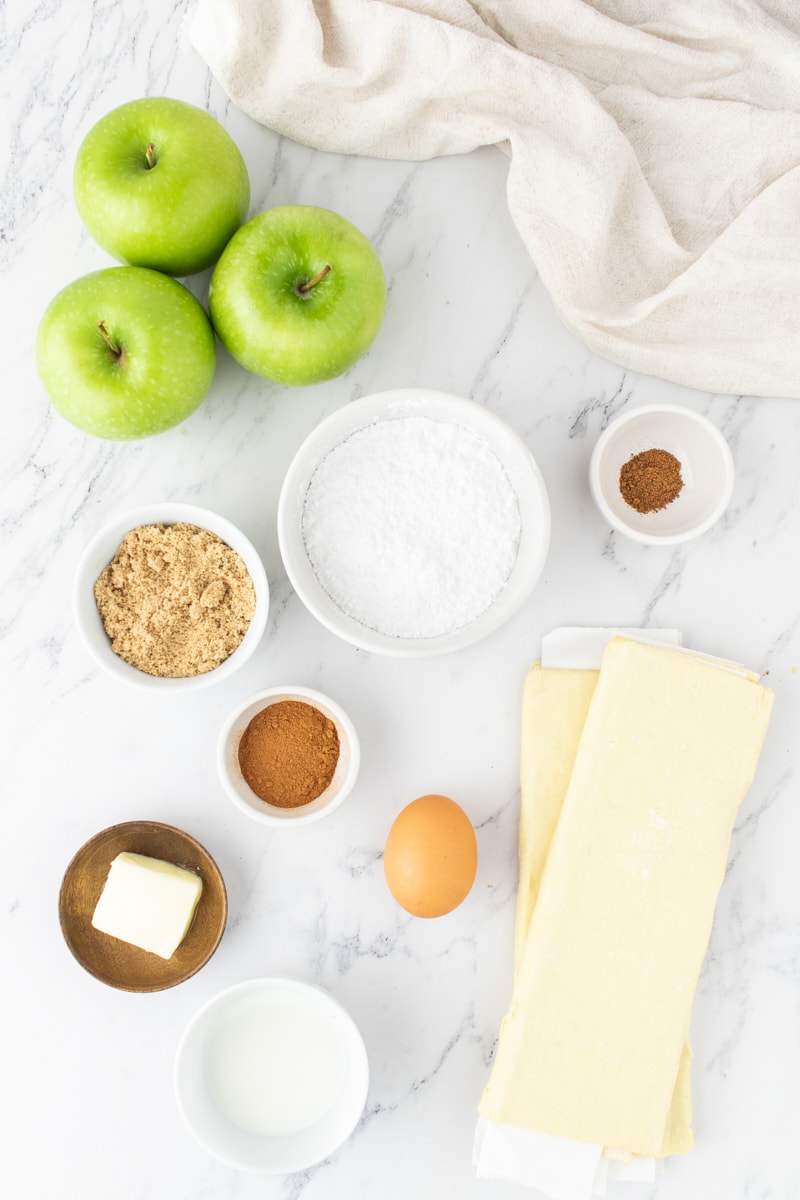 What You'll Need
See the recipe card at the bottom of this post for ingredient quantities and full instructions. Here are some notes about the ingredients you'll need to make your apple strudel.
Unsalted butter
Apples – Peel and thinly slice these. Granny Smith apples are a good choice, as are Gala, Pink Lady, or Fuji. Use your favorite baking apples or read through The Best Apples for Baking for some other options.
Brown sugar – I recommend light brown sugar for a subtle caramel flavor.
Cinnamon – If your cinnamon has been in the cabinet for a while, give it a sniff to make sure it still has a strong aroma.
Nutmeg – Much like the cinnamon, make sure yours is still aromatic and flavorful.
Puff pastry – Look for this in the frozen desserts section of your supermarket. Thaw it overnight in the refrigerator.
Egg – You'll use a bit of beaten egg as an egg wash to help the pastries brown nicely.
Confectioners' sugar – This is also called powdered sugar. You'll be using it to make the glaze for the finished strudel.
Milk – Most any kind of milk will work to combine with the sugar to make the glaze.
How to Make Apple Strudel
This is a wonderfully easy recipe to make. Here's what you'll need to do.
Prepare for baking. Heat the oven to 400°F. Line a baking sheet with parchment paper or a silicone liner.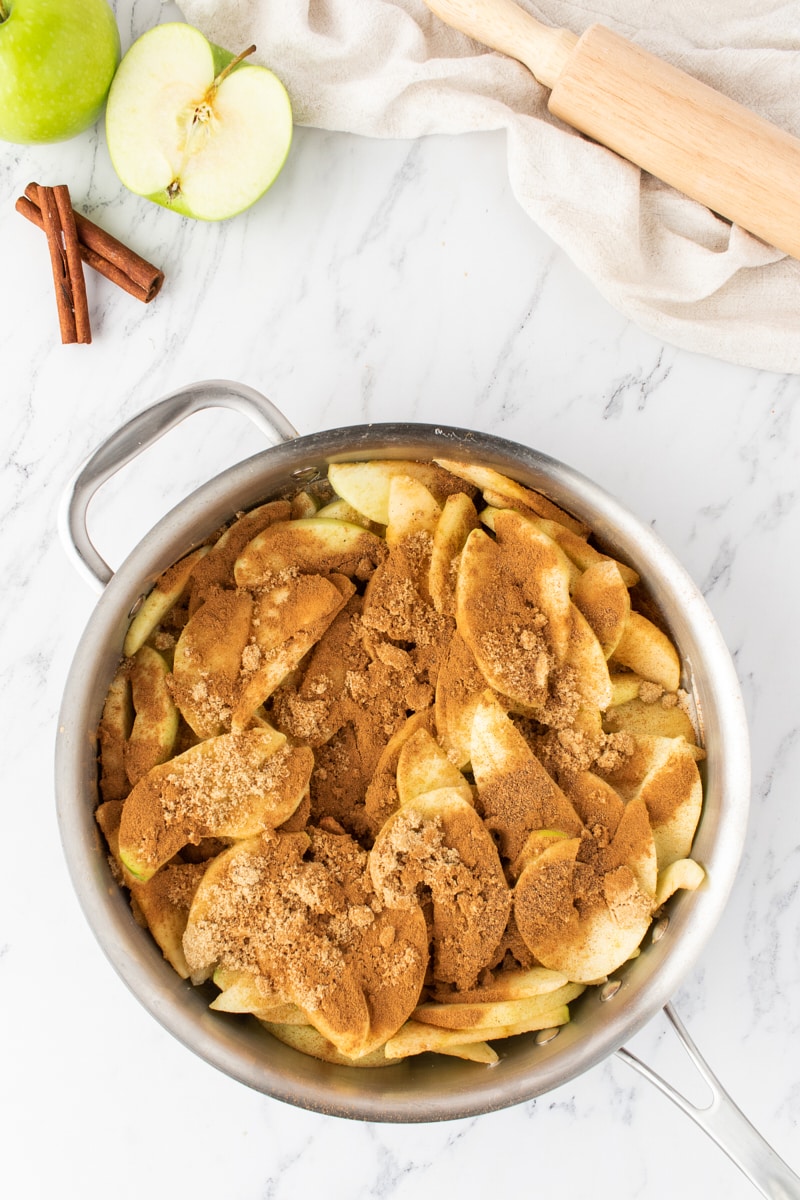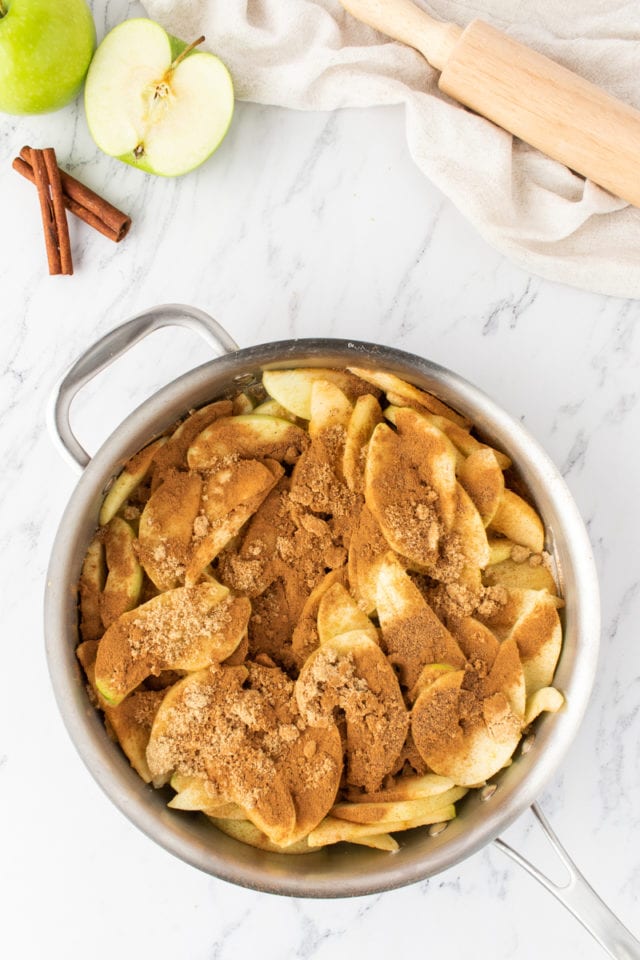 Cook the apples. Melt the butter in a saucepan or skillet over medium heat on the stovetop. Stir the apples, brown sugar, cinnamon, and nutmeg into the melted butter, and continue cooking and stirring until the apples begin to soften. This should take 5 to 7 minutes.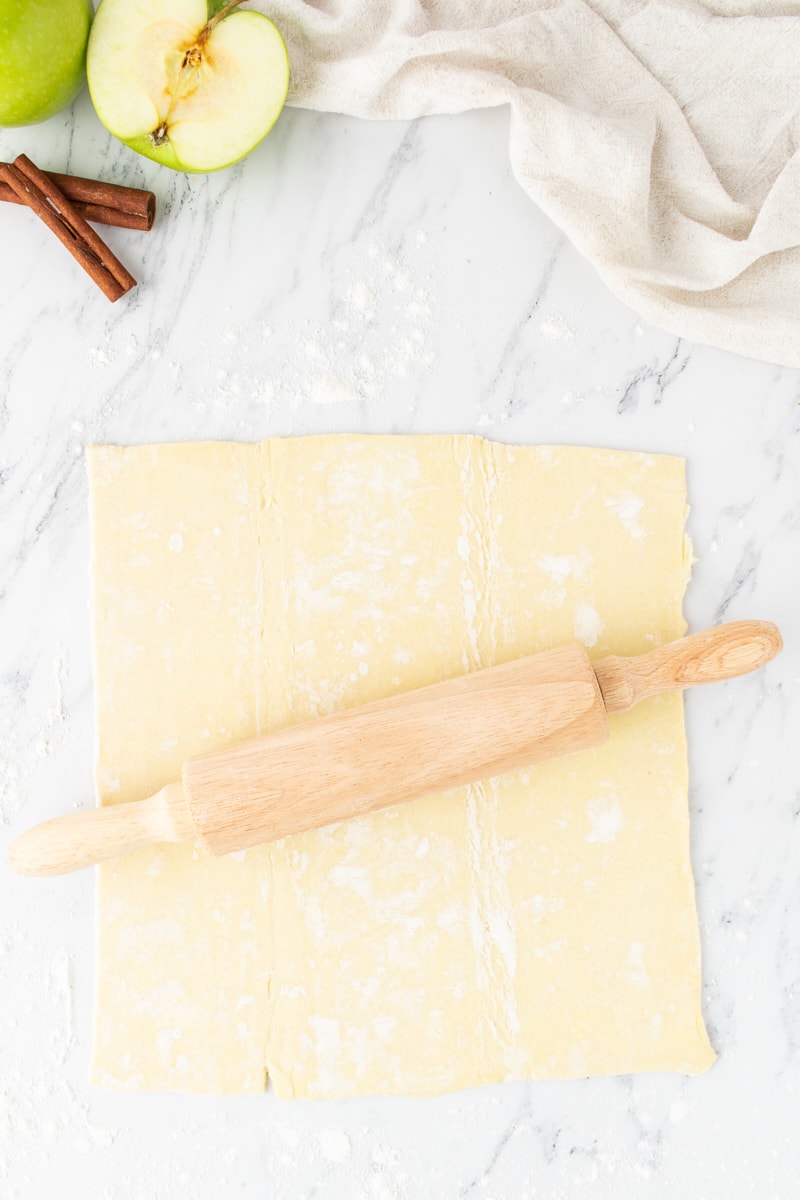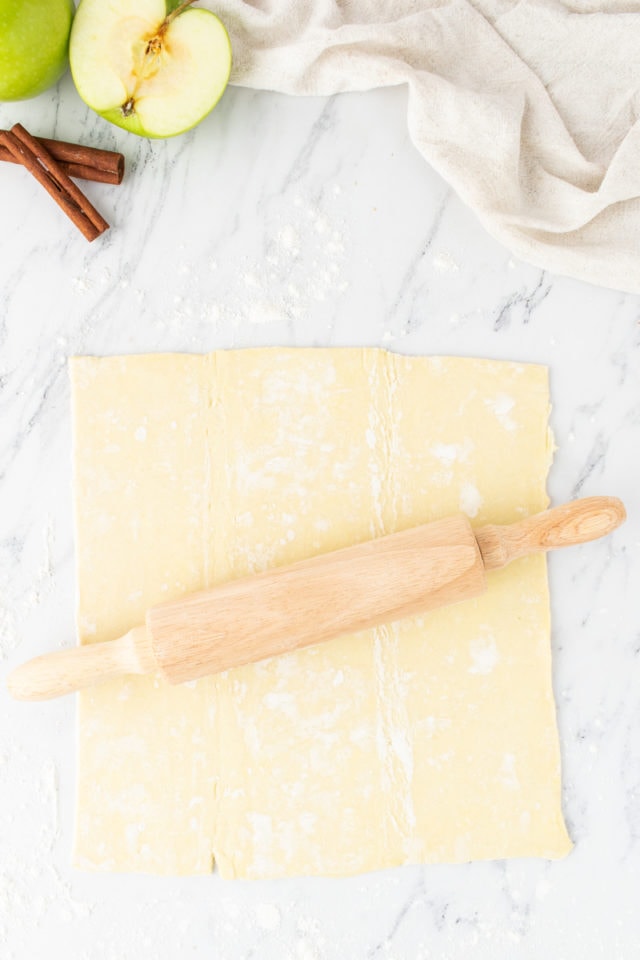 Prepare the puff pastry. Unfold the pastry on a lightly floured surface and use a rolling pin to flatten out the creases. Cut off the top two corners of each sheet, and then cut 8 to 10 1-inch slanted strips on each side. Finally, cut off the bottom two strips of each sheet.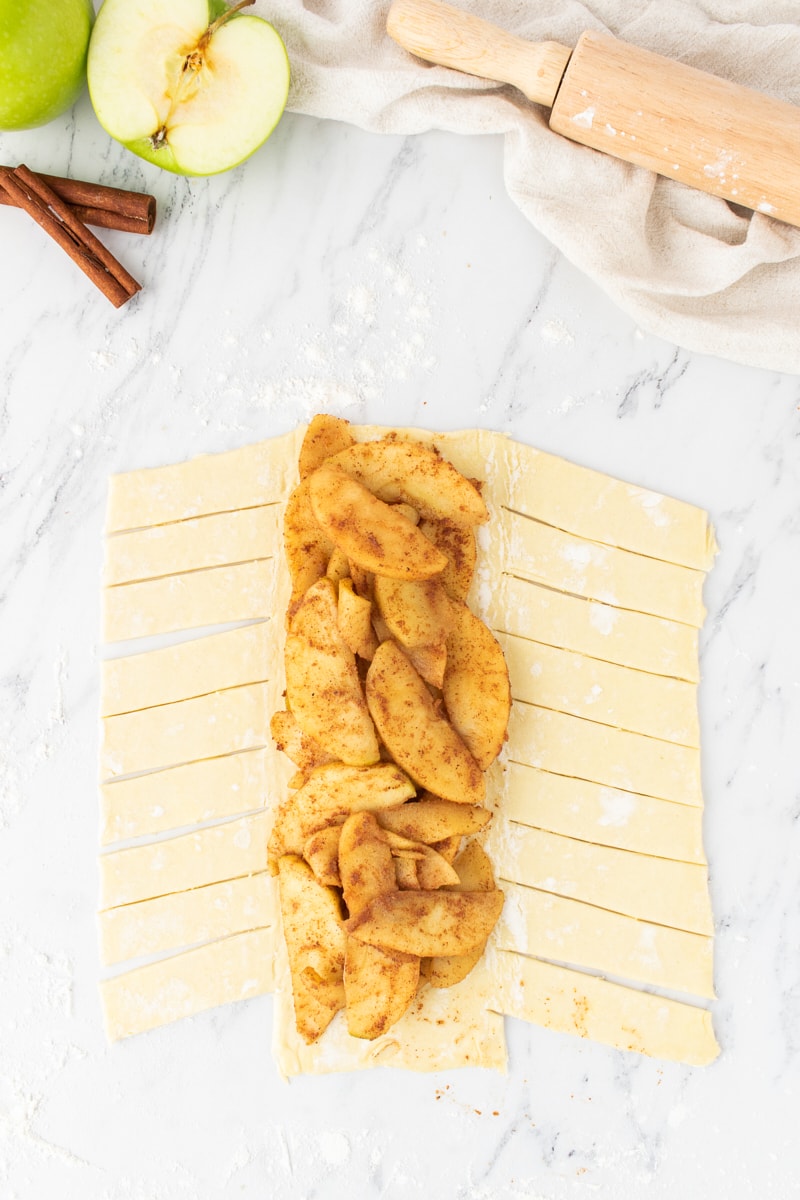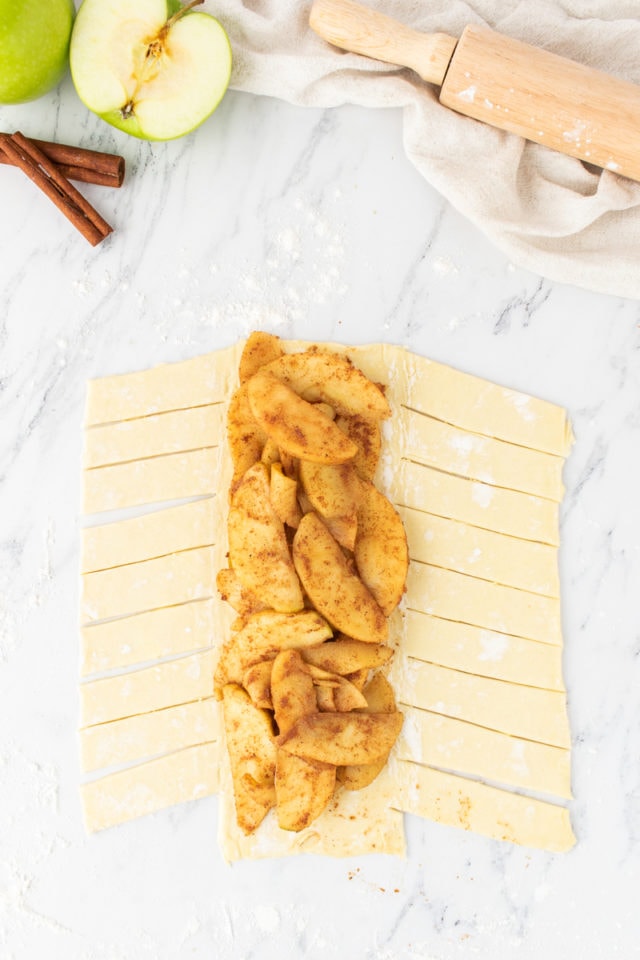 Assemble the strudel. Spread half of the apple filling down the center of each prepared sheet of puff pastry. Fold the strips over the filling, alternating sides to create a braided look. Then fold in the ends, and gently press to seal.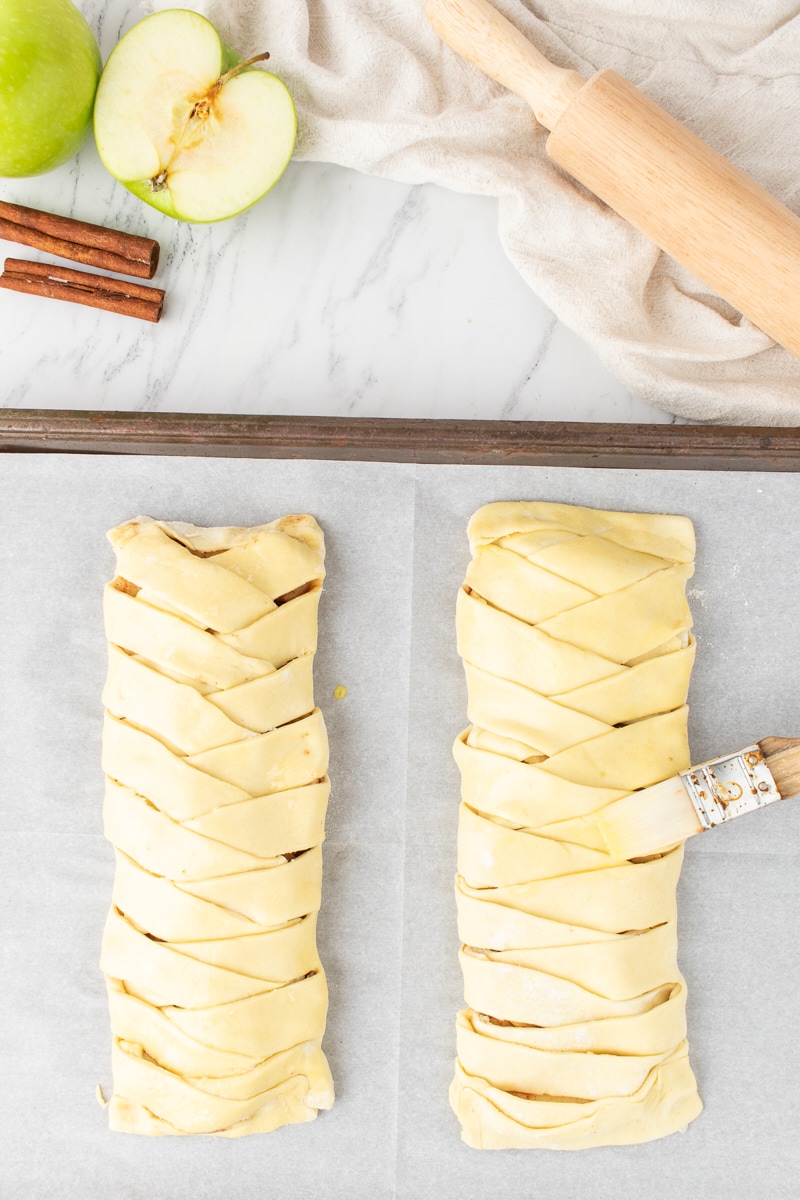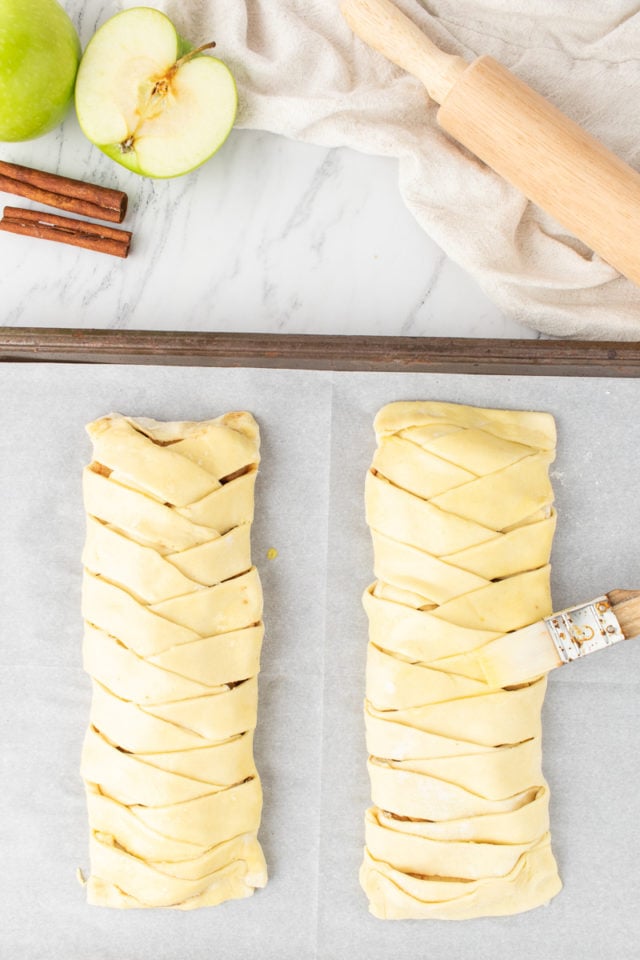 Apply the egg wash. Carefully transfer the pastries to the prepared pan. Brush the beaten egg over each pastry. You may not use all of the egg.
Bake. Place the pan in the heated oven, and bake for 16 to 20 minutes or until golden brown. Cool the pastries on the pan on a wire rack while you make the glaze.
Make the glaze. Whisk together the confectioners' sugar and milk until smooth, and then drizzle over the pastries before serving.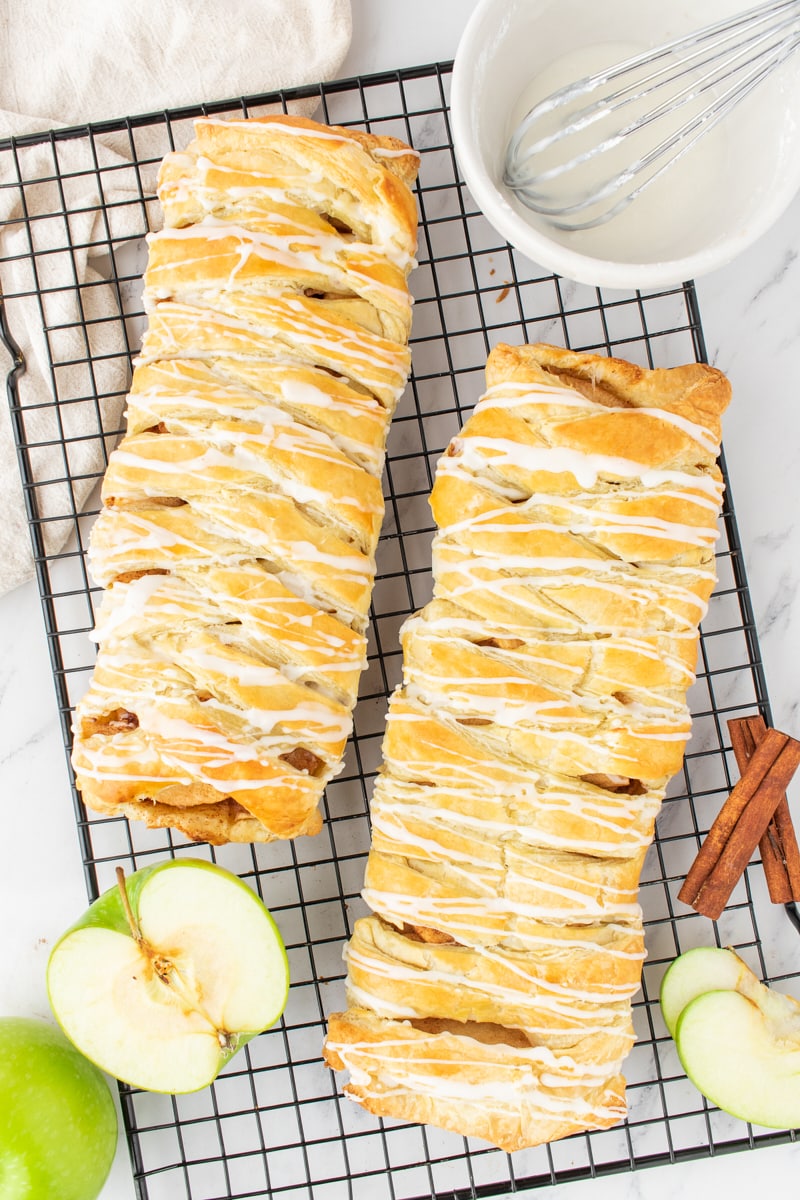 Tips for Success
Here are some simple tips to help make sure your puff pastry apple strudel turns out perfectly!
Make sure to thaw the puff pastry. Allowing the frozen pastry to sit in the refrigerator for 6 to 8 hours is usually sufficient.
Take care rolling the pastry. If it begins to crack, then it's likely not thawed well enough so give it a bit longer. Only roll it as much as needed to smooth the creases.
Be careful transferring to the baking sheet. It can be a bit tricky to transfer the assembled strudels to the baking pan, but you can use two large offset spatulas. Another trick is to roll and assemble on parchment paper and then slide each onto the baking pan. If you're really worried about making the transfer, you can assemble them on parchment and then lift the strudels with the paper onto separate baking sheets. The drawback here is that you'll need to bake them on two separate pans, so you might need to rotate the pans during baking.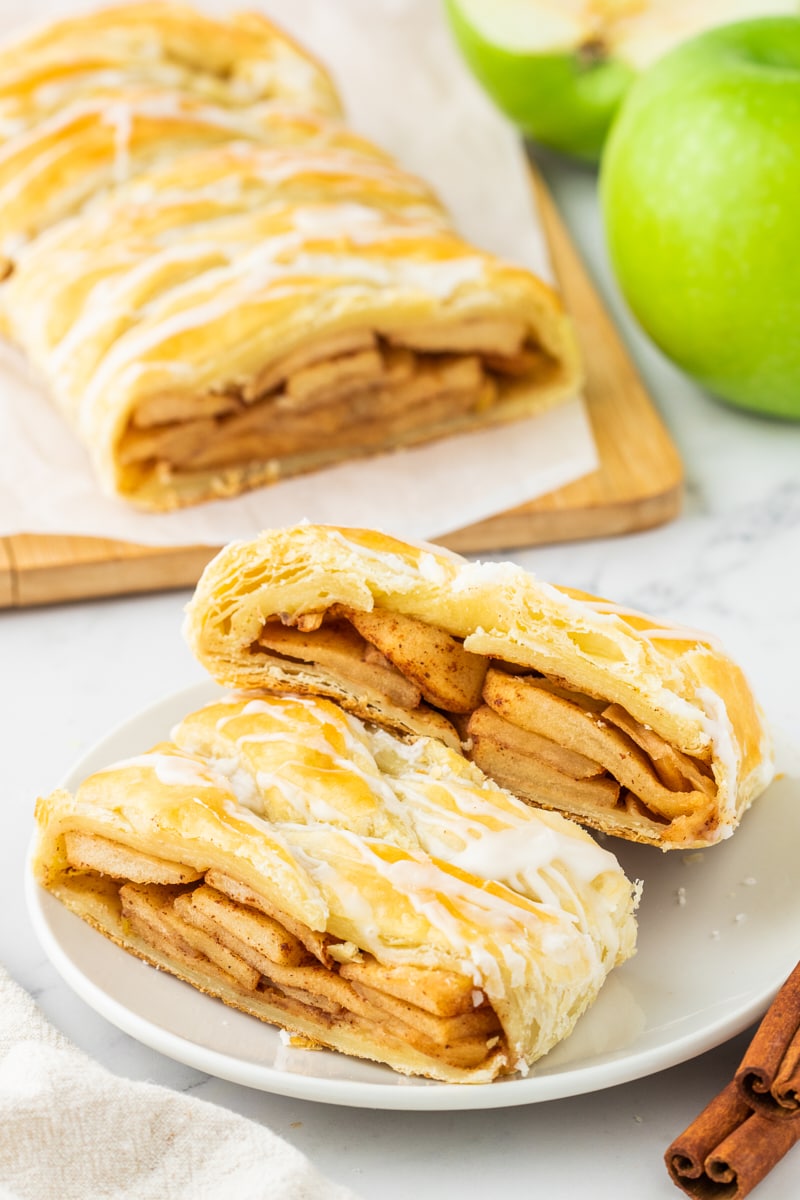 Ideas for Variations
Try using a different blend of spices, like my fall spice blend. Just keep the total amount about the same. You can also substitute pears for the apples or use a combination. For a little different texture, sprinkle a handful of chopped nuts or raisins (or other dried fruit) on top of the apple mixture when assembling the pastries.
Serving Suggestions
This apple strudel is delicious just as it is or with the simple glaze in the recipe. Serve it plain or glazed for a sweet treat for breakfast or your coffee break. Or add a scoop of vanilla ice cream or a dollop of whipped cream for a simple dessert.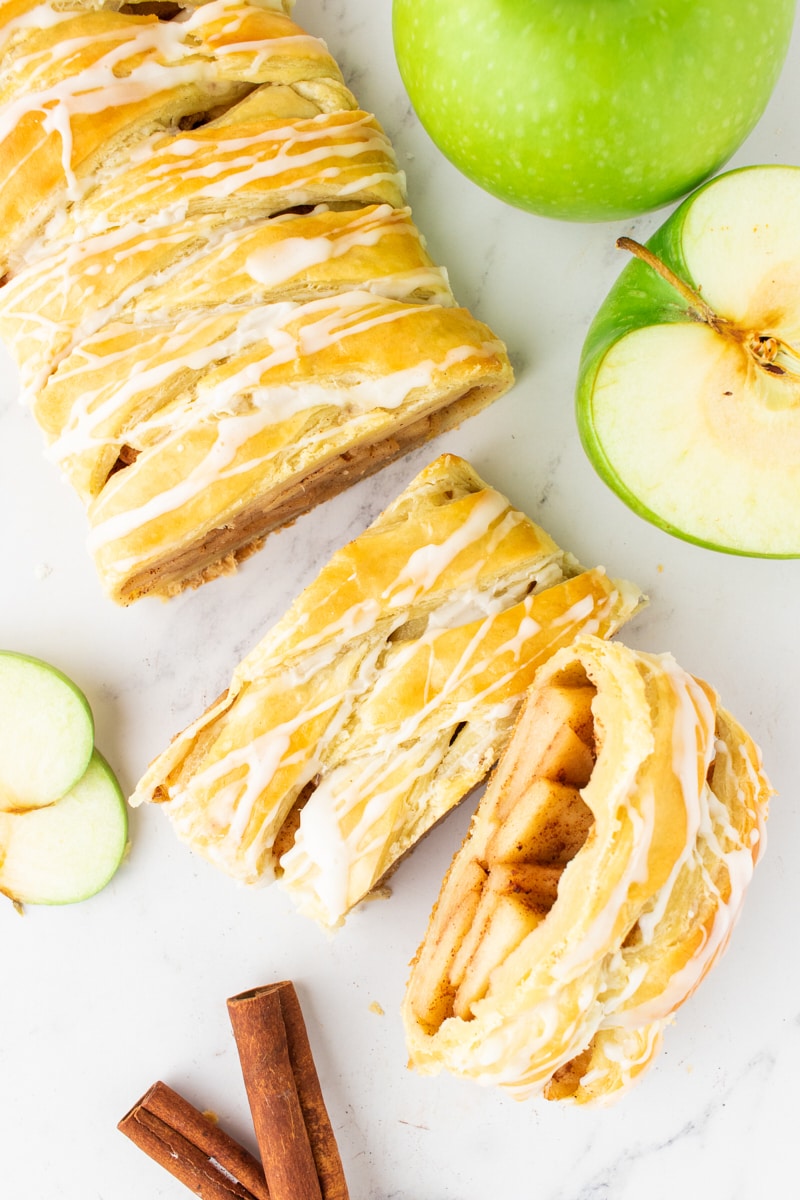 How to Store
This apple strudel will be best the day it's made. If you need to store it, place it in an airtight container and refrigerate up to 2 days. Reheat in a low temperature oven or in the microwave.
Can This Strudel Be Frozen?
Again, the strudel will be at its best the day it's baked. If you want to freeze it, be sure to wrap it well in plastic wrap and place in an airtight, freezer-safe container or bag. Thaw overnight in the refrigerator.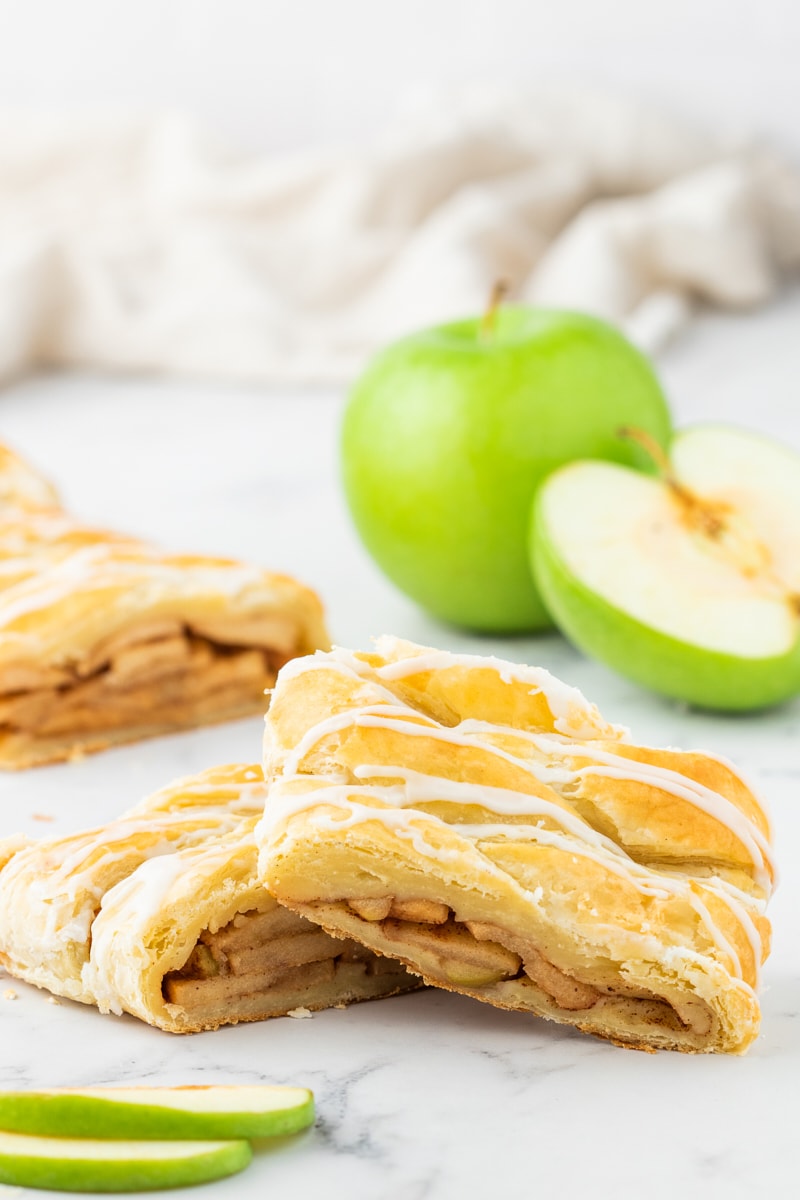 More Puff Pastry Recipes