Nutella Banana Bread pairs a traditional banana bread batter with rich ribbons of Nutella. Why spread Nutella on your banana bread when you can just bake it right into the batter?!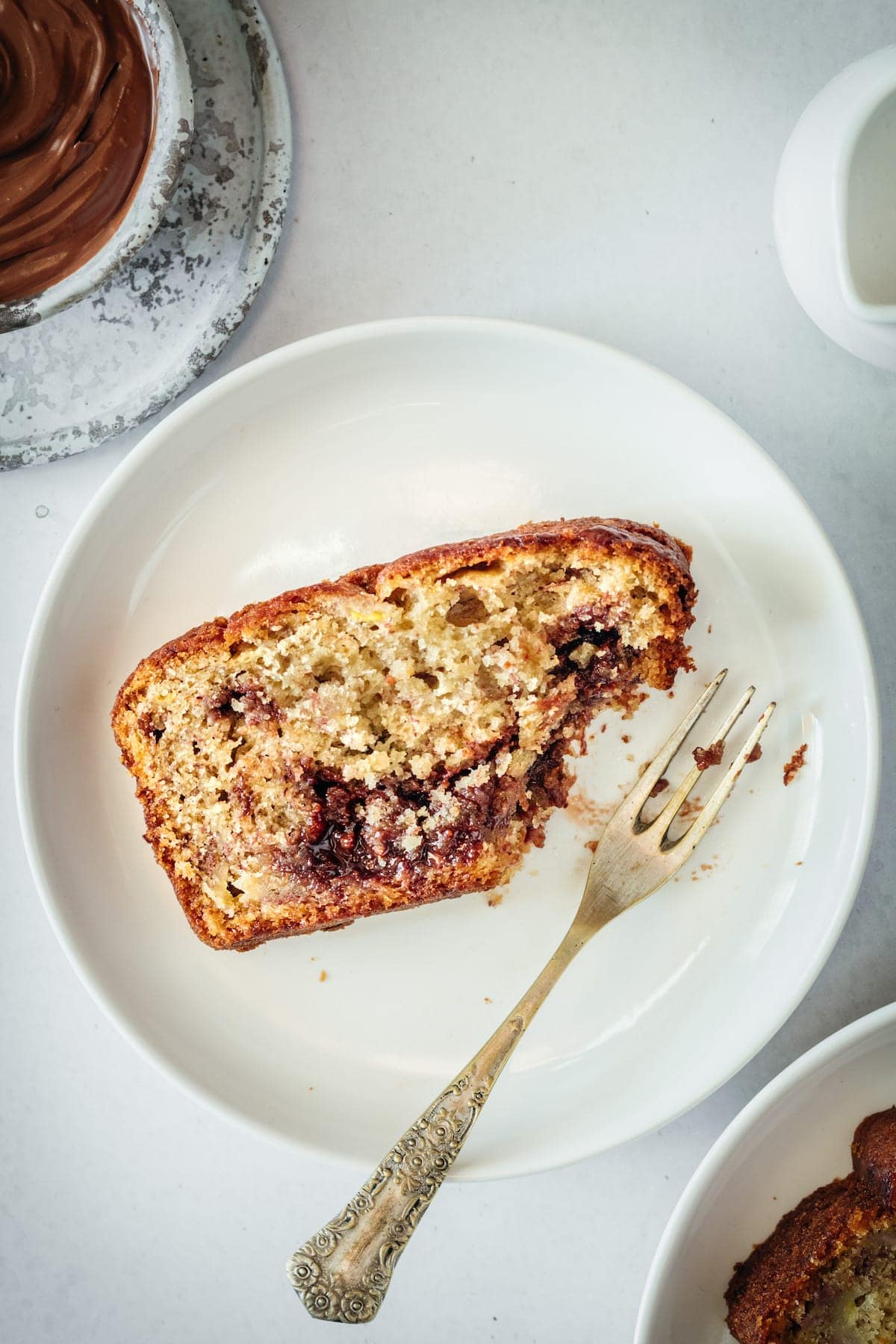 Easy Nutella Banana Bread
Nutella and banana are a classic combination in any form. Crepes topped with slices of banana and Nutella? YES! Banana bread with a smear of Nutella spread over the top? ALSO YES! Even a banana dipped straight into Nutella is good stuff, but I think this Nutella Banana Bread is the best of them all.
This recipe combines a moist banana bread loaf with an entire cup of Nutella, creating ribbons of the rich, chocolate-hazelnut spread throughout. This is the banana bread to make for the chocolate lovers in your life!
If you're looking for a quick bread for sharing or gifting, this is one that will get rave reviews from friends and family. It's also perfect for breakfast, brunch, or even for dessert with a scoop of vanilla ice cream and a generous drizzle of warm Nutella over the top.
And if you can't get enough banana bread, try Quick and Easy Banana Nut Muffins, Brown Butter Banana Bread, and Cookie Butter Banana Muffins, too!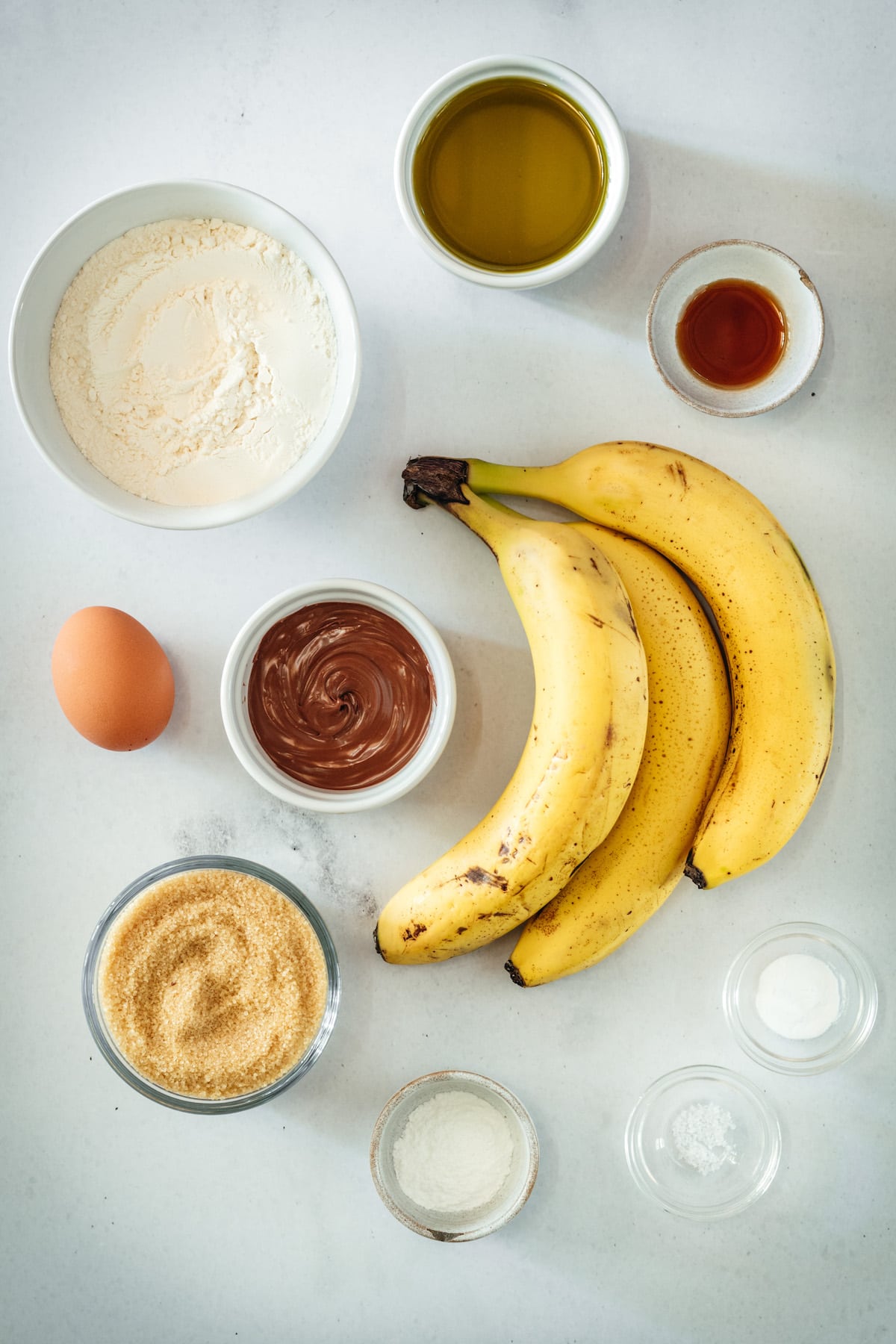 What You'll Need
Apart from the Nutella, the ingredients for this recipe are pretty standard for a banana bread. Here's what you'll need:
Ripe bananas – The browner, the better!
Light brown sugar – You could use dark brown sugar in a pinch, but it has a more robust molasses flavor that might be overpowering.
Vegetable oil – Canola oil will work, too.
Egg – Let the egg come to room temperature before you start the recipe.
Vanilla extract
All-purpose flour – Measure by weight or spoon and sweep.
Baking powder
Baking soda
Salt
Nutella – Or another brand of chocolate-hazelnut spread.
How to Make Nutella Banana Bread
Prepare. Preheat your oven to 350°F, then grease and line a 9″ x 5″ loaf pan with parchment paper. (Butter and flour the pan, or use a cooking spray with flour like Baker's Joy or Pam for Baking.)
Combine the wet ingredients. Use a fork to mash the bananas in a mixing bowl, then stir in the sugar, vegetable oil, egg, and vanilla extract.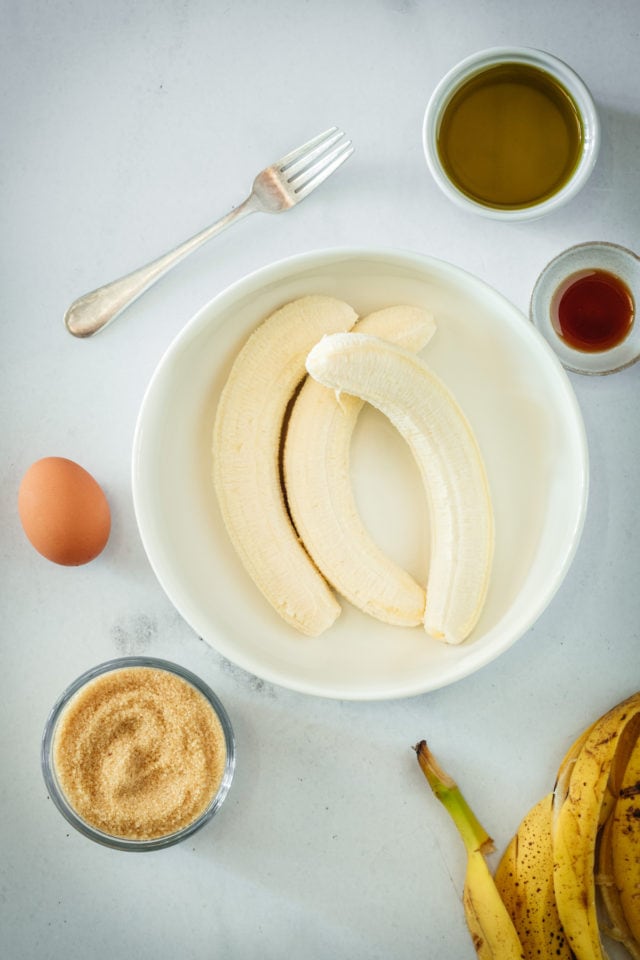 Combine the dry ingredients. In another bowl, whisk together the flour, baking powder, baking soda, and salt.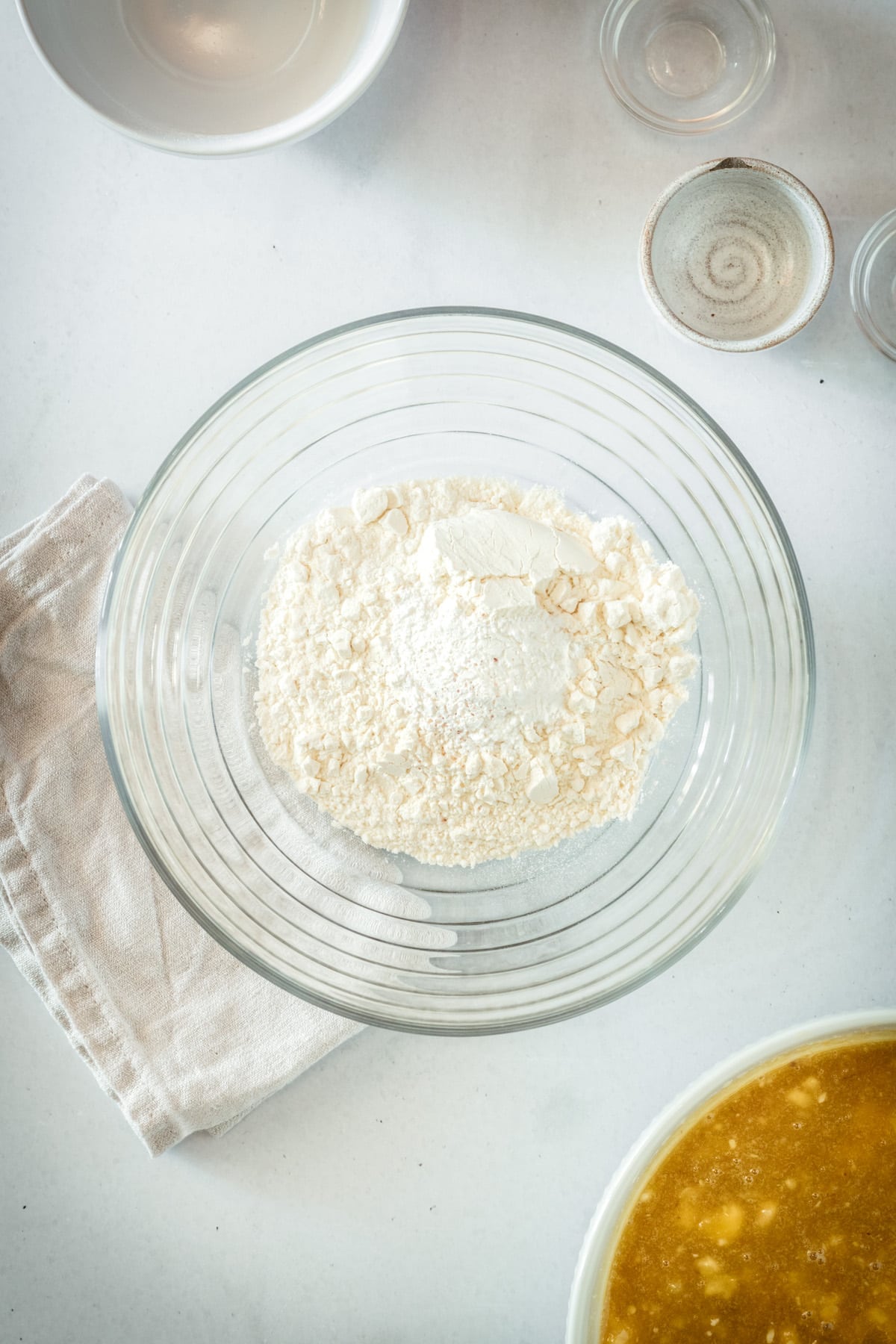 Finish the batter. Pour the wet mixture into the flour mixture and stir until just combined.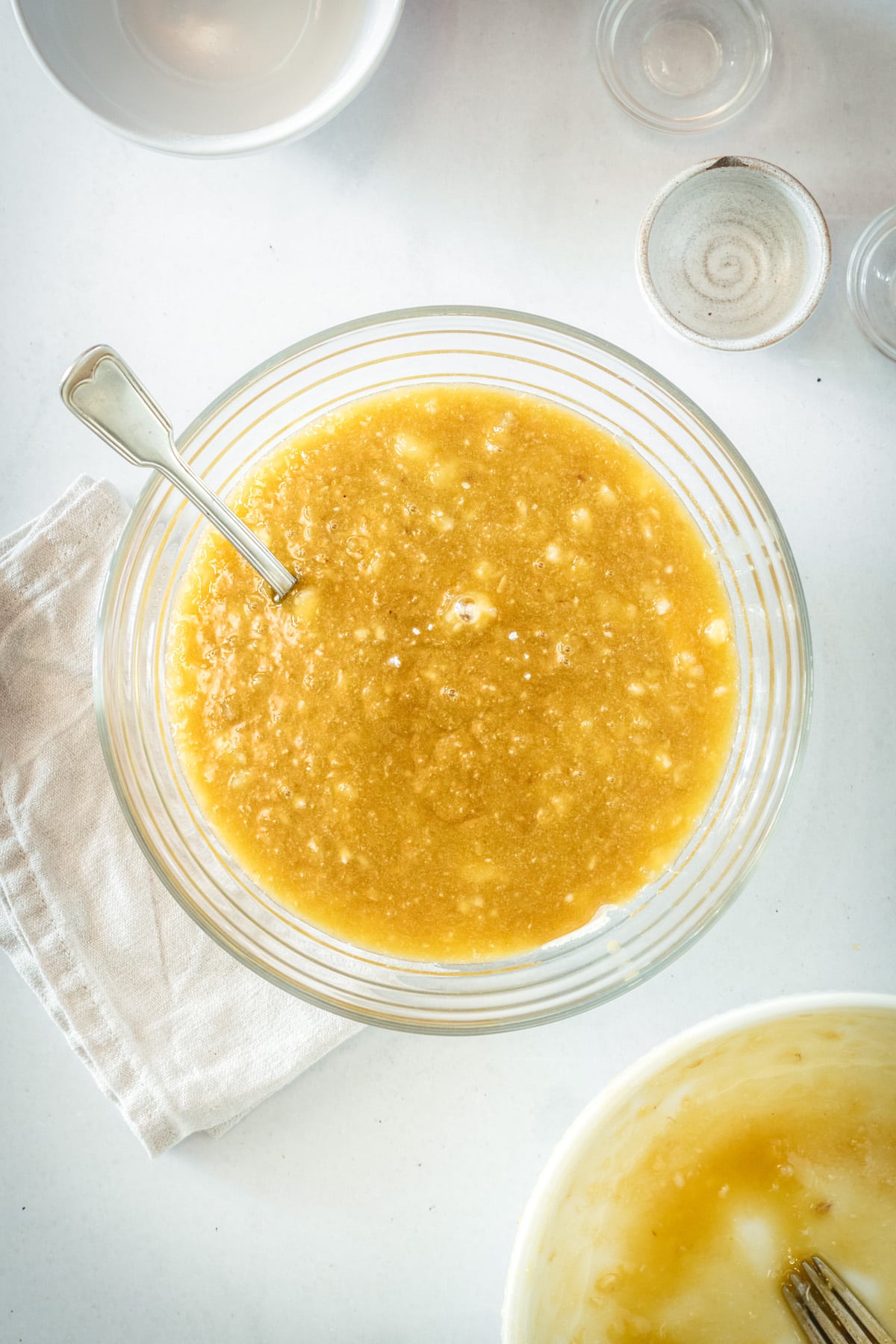 Assemble. Pour half of the batter into the prepared loaf pan. Spoon dollops of Nutella on top of the batter, then gently swirl with a knife to create ribbons. Add the remaining batter to the pan.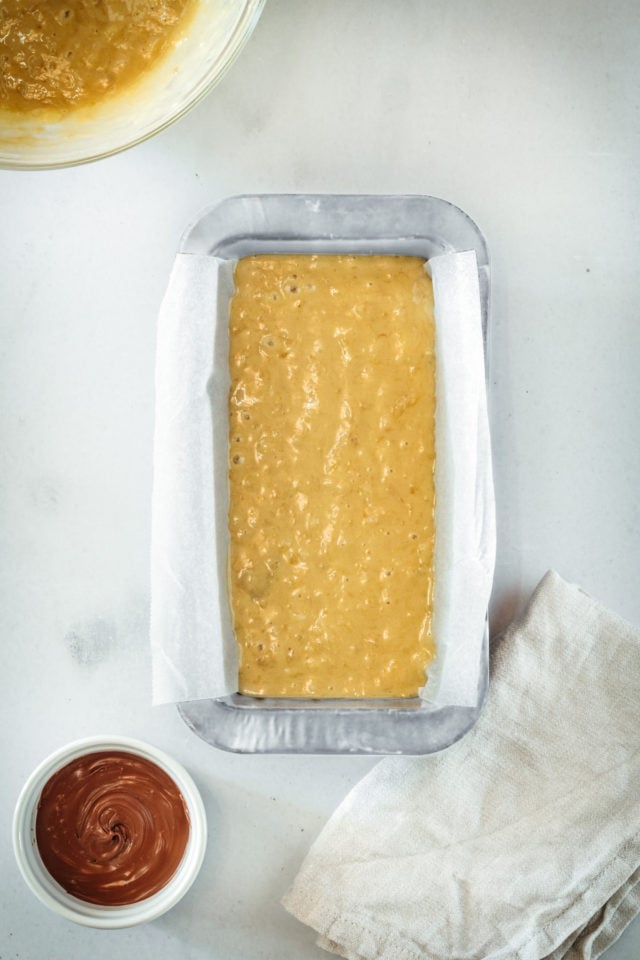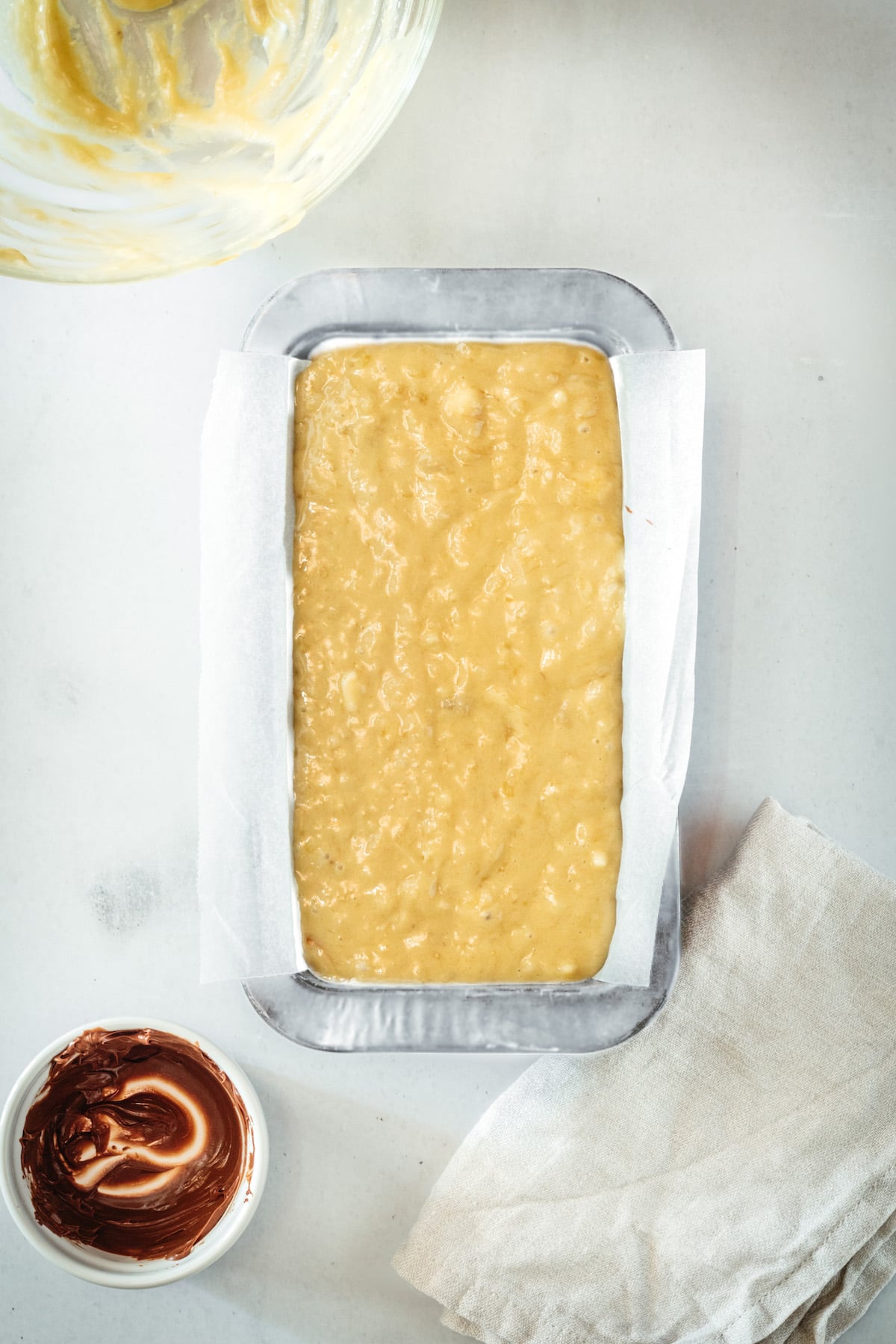 Bake. Place the pan in the oven and bake for 45 to 50 minutes, or until the top of the bread has browned and a toothpick inserted into the center comes out clean.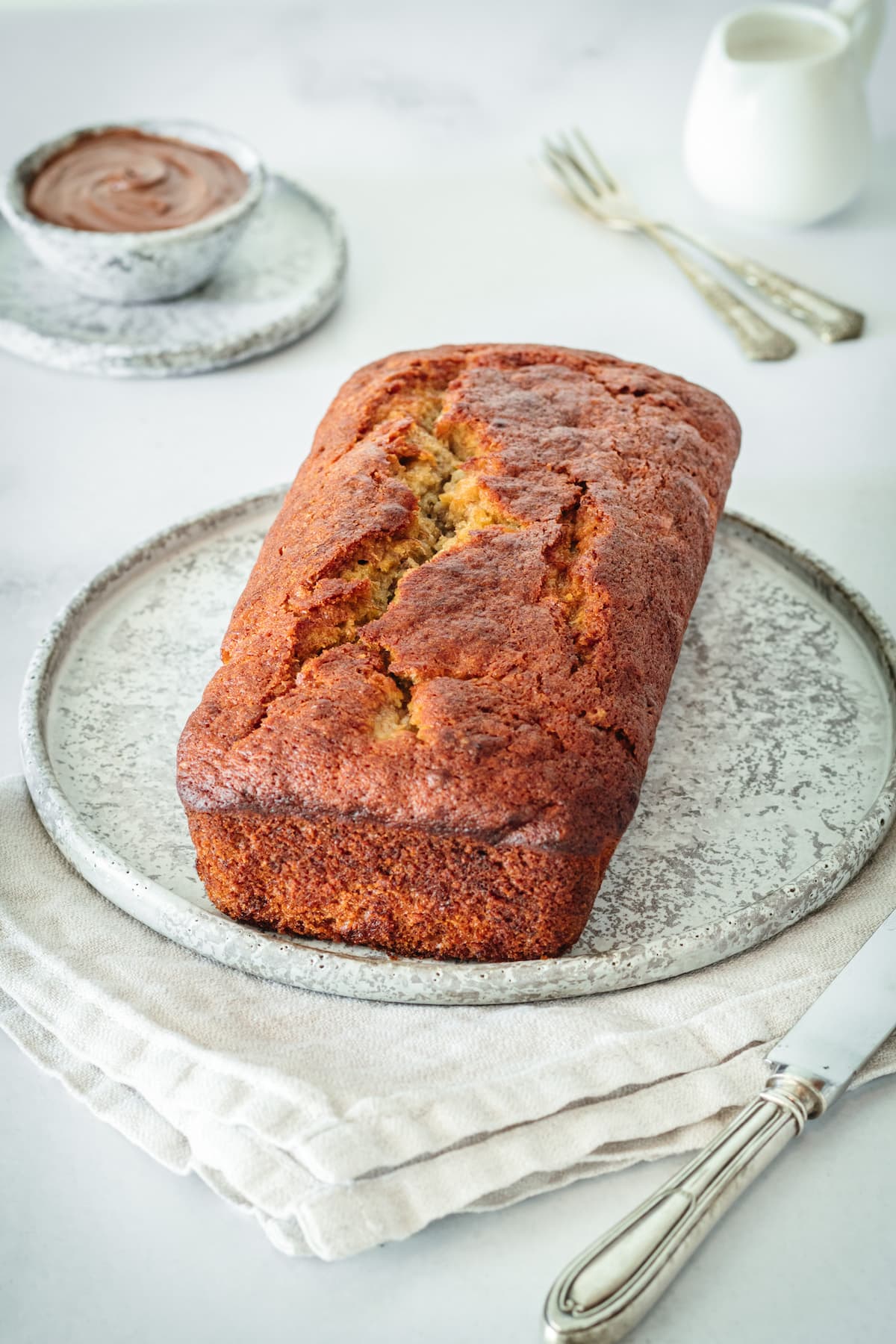 Cool. Let the bread cool in the pan on a wire rack for 10 minutes, then carefully remove the bread from the pan and let it finish cooling on the rack. (Learn more: Why Every Baker Needs Wire Cooling Racks.)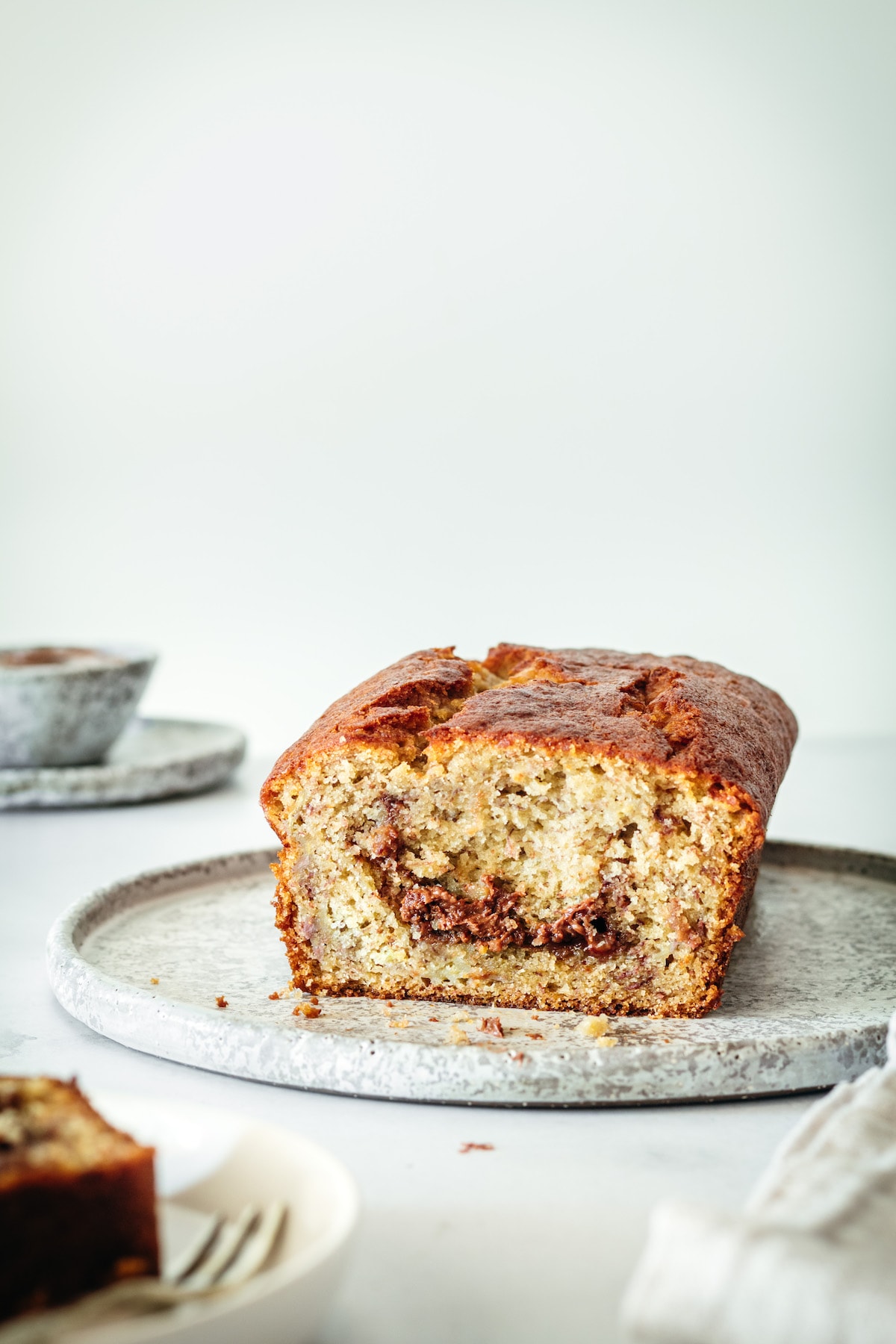 Tips for Success
This banana bread recipe is super simple, but it never hurts to have a few tips up your sleeve:
Use super ripe bananas. Not only are they sweeter, they also have more banana flavor. If yours aren't quite ripe enough for baking, see How to Ripen Bananas to speed that process and get baking!
Don't over-swirl. You won't get nice ribbons of Nutella if you swirl it into the batter too much.
Let it cool before you slice it. Yes, everyone loves warm baked goods, but banana bread really needs to set a bit for a slice that's clean and not crumbly.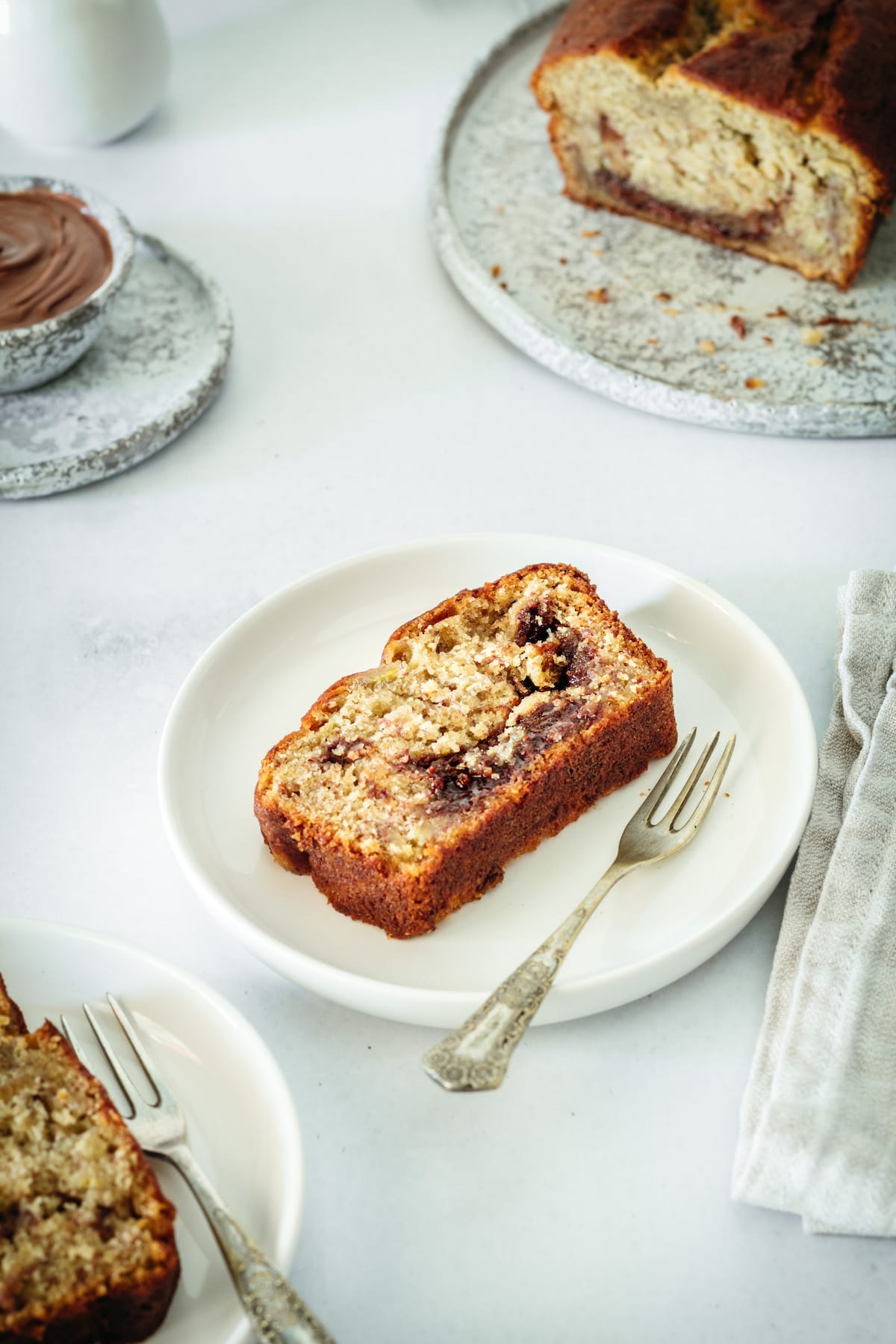 How to Store
You've got several options for storing this banana bread, whether you plan to enjoy it over a couple of days or want to save some for your future self. If you like your bread a bit warm, you can heat individual slices briefly in the microwave.
Counter: Loosely wrap the cooled bread in plastic wrap, or slice it and place the pieces in an airtight container. You can then store it on the counter for 2 to 3 days.
Refrigerator: Wrap the cooled banana bread loaf or slices in plastic wrap, and store it in the refrigerator for 4 to 5 days. Make sure it's well-sealed so that it doesn't become dry.
Freezer: The cooled loaf can be wrapped tightly and frozen for up to 3 months. You can also freeze it in slices, wrapping each slice individually with two layers of plastic wrap. Wrap again in aluminum foil or place in an airtight, freezer-safe container or bag. When you're ready to eat, set a slice on the counter to thaw for an hour or two.