October 16, 2014
Chocolate Hazelnut Cheesecake Brownies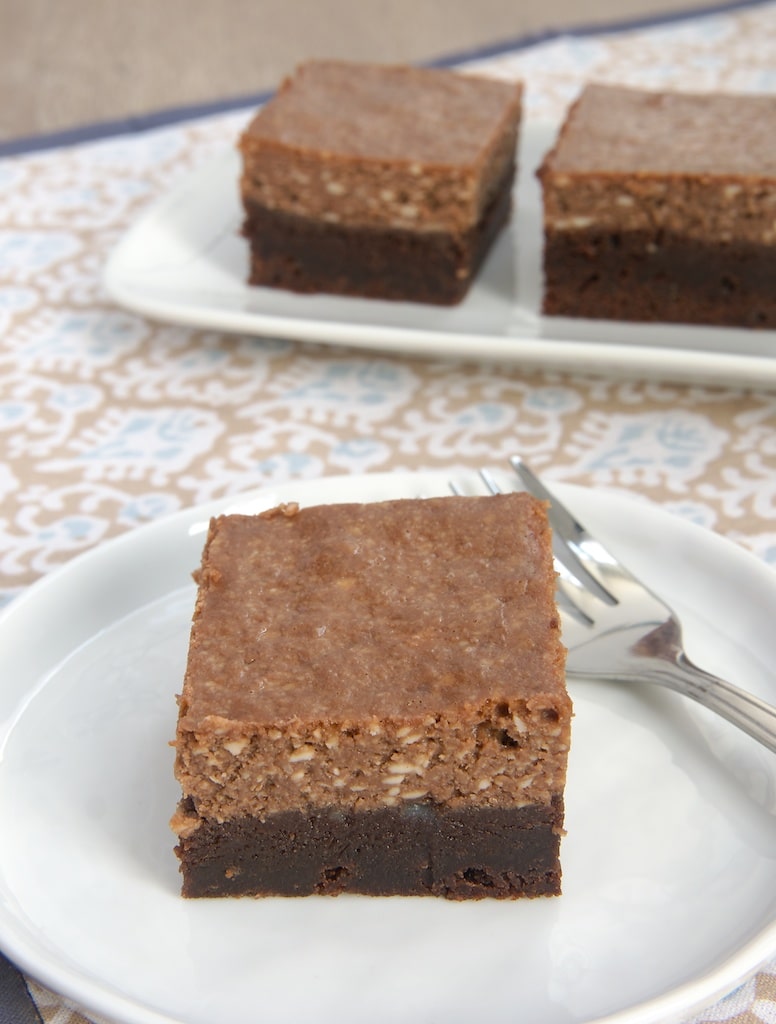 Several years ago when I discovered Nutella, it was love at first bite. Now, countless bites later, I'm still completely enamored. I think there has been only one time since then when I didn't have a jar in my pantry. And that was a complete oversight on my part. I think there are at least two jars in there right now. You just never know when you're going to require it in a big way. I know surely some of you understand.
With my love of that chocolate-hazelnut spread, I've made all sorts of things with it, including brownies and cheesecake. But now, these Chocolate Hazelnut Cheesecake Brownies combine brownies, cheesecake, and chocolate-hazelnut spread into one delectable, irresistible dessert.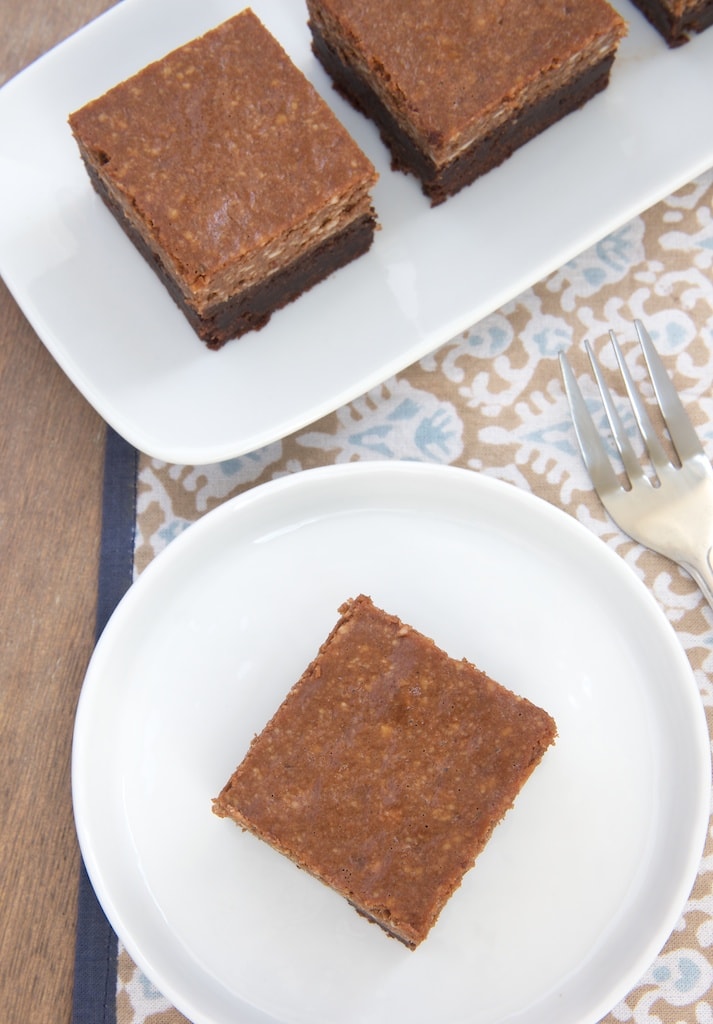 These brownies are seriously good. Each layer on its own is pretty fantastic. But layer them and you've really got something special. This is by no means a shy dessert. The rich flavors of chocolate and hazelnuts really shine without being over-the-top sweet.
These are big, tall bars, too. I cut them into 2-inch squares, but if you're feeding a crowd, you can cut these into small bars and still provide plenty of big flavor in a small bite. Just don't be surprised if some folks come back for seconds!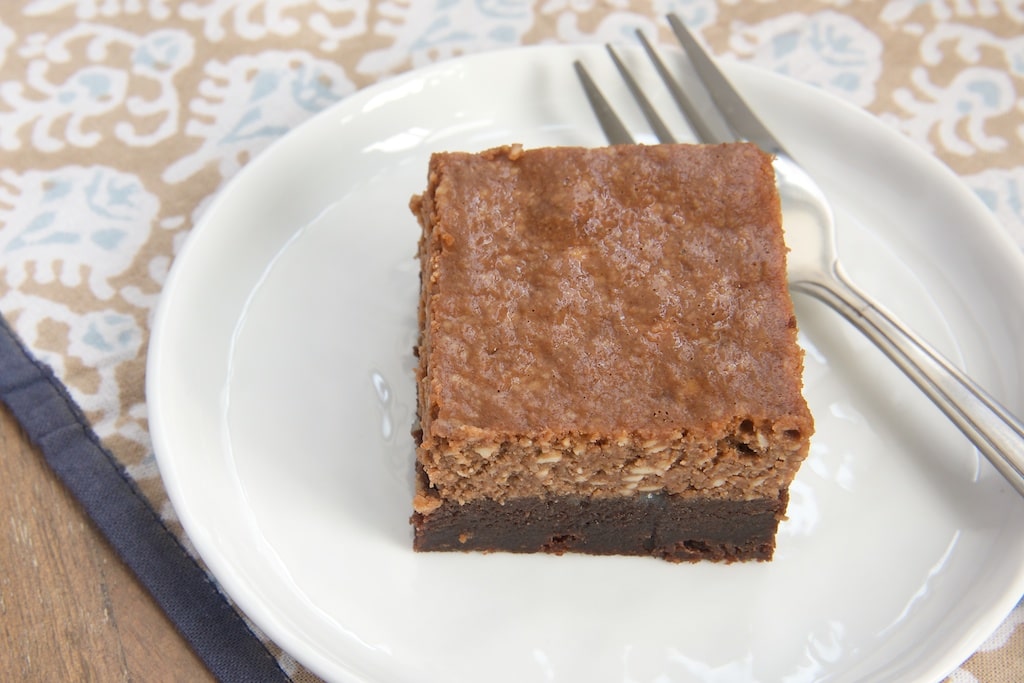 For serving these brownies, you can top them with a dollop of sweetened whipped cream or a sprinkling of confectioners' sugar. Maybe even some chocolate curls or toasted hazelnuts. I decided to skip any extras and just enjoy the chocolate and hazelnut experience in all its glory.
Chocolate Hazelnut Cheesecake Brownies
Yield: 24 2-inch brownies
Prep Time:30 minutes
Cook Time:55 minutes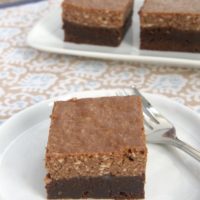 Ingredients:
For the brownies:
2 cups all-purpose flour
1/2 cup unsweetened cocoa powder
1/2 teaspoon salt
2 cups granulated sugar
1 & 1/4 cups unsalted butter, melted and slightly cooled
1/2 cup chocolate-hazelnut spread*
4 large eggs
For the cheesecake:
16 ounces cream cheese, softened
3/4 cup chocolate-hazelnut spread*
1/3 cup granulated sugar
4 large eggs
1/2 cup hazelnuts, finely chopped (optional)
Directions:
To make the brownies:
Preheat oven to 325°. Grease a 9″x 13″x 2″ baking pan.
Whisk together flour, cocoa powder, and salt. Set aside.
In a large bowl, combine sugar, melted butter, chocolate-hazelnut spread, and eggs. Mix until combined. Add flour mixture, and mix just until combined.
Transfer batter to prepared pan and spread evenly.
To make the cheesecake:
Using an electric mixer on medium speed, beat cream cheese, chocolate-hazelnut spread, sugar, and eggs until smooth. Stir in hazelnuts, if using.
Carefully spread cheesecake batter over brownie batter in pan.
Bake 50 to 55 minutes or until cheesecake layer is firm. Cool to room temperature in pan on a wire rack. Then, cover and refrigerate for at least 3 hours before cutting into bars.
Notes:
*You can use a fresh 13-ounce jar of chocolate-hazelnut spread. Use 1/2 cup for the brownies, and then use the remainder (about 3/4 cup) in the cheesecake layer. There are many brands of chocolate-hazelnut spread out there these days. I used Nutella.
Recipe slightly adapted from BHG.
Love chocolate and hazelnut? Click here to see more recipes featuring that delicious pairing!