September 21, 2017
Cinnamon Hazelnut Bundt Cake with Brown Butter Glaze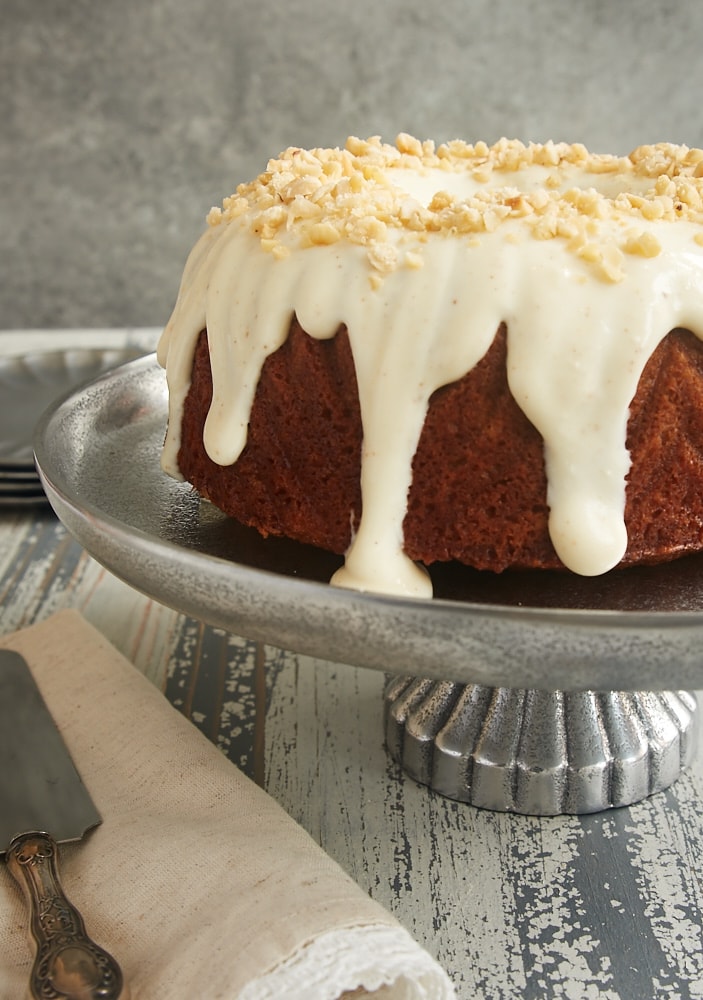 One of my favorite recipes in my cookbook is a cookie that features cinnamon and hazelnut. It's such a simple flavor combination, but it's one that works really, really well.
I thought to revisit that tasty pair in cake form with this Cinnamon Hazelnut Bundt Cake with Brown Butter Glaze. As much as I love to bake Bundt cakes, I took that route to deliciousness and ended up with this beauty. And I have to say that it is so, so good. In fact, it's now officially on my list of favorite cakes.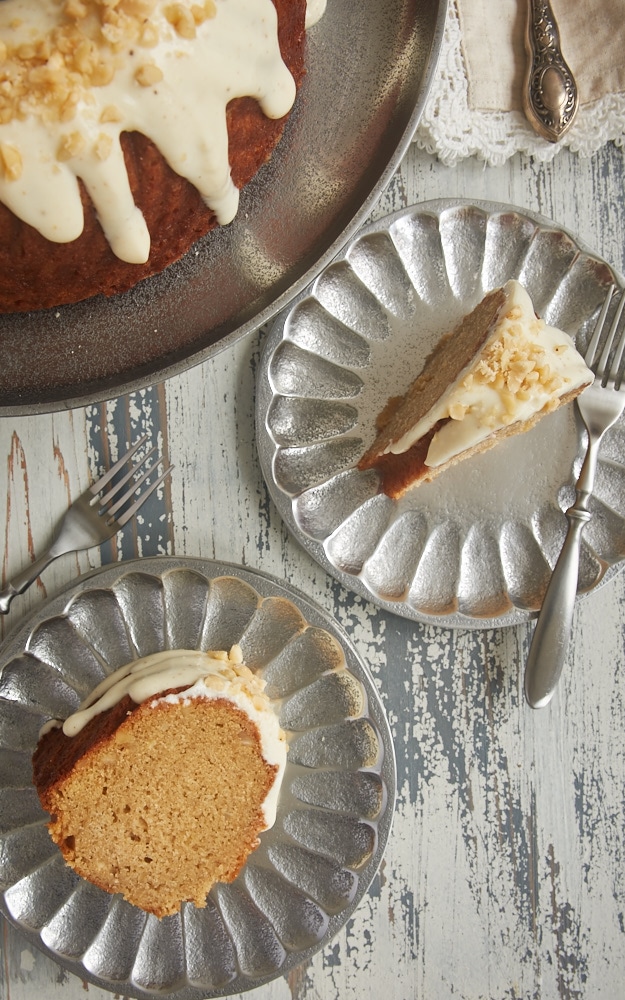 This amazing cake is a variation of my go-to yellow Bundt cake. A couple of tweaks plus some cinnamon and hazelnuts, and here we are! As is the case with that yellow version, this cake mixes quickly and easily. It's a bit denser than a standard sheet cake or layer cake, but it still manages to have a wonderfully soft texture at the same time.
Topping off this cake is one of my favorite glazes. I borrowed it from the recipe for Brown Butter Pound Cake from the archives. It combines brown butter (which I love) with cream cheese (and you know I adore that!) for a sweet, flavorful glaze that pairs so wonderfully with the flavors of this cake.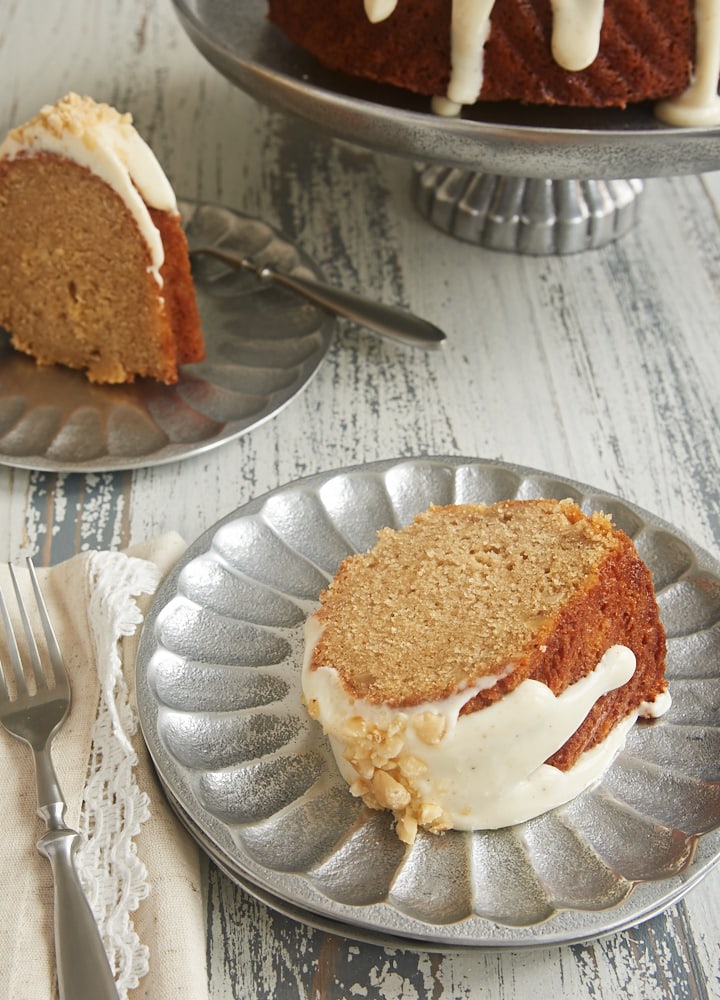 I made just a bit more glaze than that recipe yields because I'm kind of a sucker for plenty of glaze on a Bundt cake. If you'd like a little less, then feel free to use the ingredient quantities in the pound cake recipe.
To put it simply, I love everything about this cake. The sweet, nutty flavor is just fantastic. It's soft yet dense, giving it a significant feel. Plus, it's simple to make and pretty to boot!
Find more cake recipes in the Recipe Index.
This post contains affiliate links. If you make a purchase through one of the links, I'll receive a
small commission at no additional cost to you.
Cinnamon Hazelnut Bundt Cake with Brown Butter Glaze
Yield: 12 to 16 servings
Prep Time: 30 minutes
Cook Time: 1 hour 5 minutes
Cinnamon Hazelnut Bundt Cake with Brown Butter Glaze is a sweet, nutty cake with amazing flavor. A perfect end for a special dinner!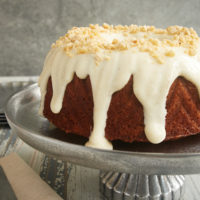 Ingredients:
For the cake:
3 cups all-purpose flour
1 & 1/2 teaspoons ground cinnamon*
1 teaspoon salt
1 teaspoon baking powder
1/2 teaspoon baking soda
1 cup unsalted butter, softened
1 cup granulated sugar
1 cup firmly packed light brown sugar
4 large eggs
1 & 1/2 teaspoons vanilla extract
1 cup milk
3/4 cup chopped hazelnuts (plus more for garnish if you like)**
For the glaze:
4 tablespoons unsalted butter
4 ounces cream cheese, at room temperature
1/3 cup confectioners' sugar, sifted
1/4 to 1/3 cup warm milk
chopped hazelnuts, for garnish
Directions:
To make the cake:
Preheat oven to 350°F. Generously grease a 10- or 12-cup Bundt pan***.
Whisk together the flour, cinnamon, salt, baking powder, and baking soda. Set aside.
Using an electric mixer on medium speed, beat the butter, sugar, and brown sugar until light and fluffy. Add the eggs, one at a time, mixing well after each addition. Mix in the vanilla.
Reduce mixer speed to low. Add the flour mixture in three portions, alternating with two portions of milk. Mix just until combined. Stir in the hazelnuts.
Transfer the batter to the prepared pan and spread evenly. Bake 50 to 60 minutes, or until a pick inserted into the center comes out clean.
Cool the cake in the pan for 20 minutes. Then, flip the cake onto a serving plate to continue cooling.
To make the glaze:
Place the butter in a medium saucepan or skillet. Cook over medium heat until the butter melts and begins to foam.
Continue cooking, stirring occasionally, until brown specks begin to form at the bottom of the pan and the butter has a nutty aroma.
Transfer the butter (including the browned bits) to a mixing bowl. Set aside until the butter has solidified (about an hour).
Add the cream cheese to the cooled brown butter. Using an electric mixer on medium speed, beat the butter and cream cheese until fluffy. Add the confectioners' sugar, and mix thoroughly.
Add about 1/4 cup of milk, and mix well. Add more milk, a small amount at a time, until the glaze is thick but pourable.
Top the cooled cake with the glaze. Sprinkle chopped hazelnuts on top of the glaze if desired.
Notes:
*I most often use Vietnamese cinnamon, which has a stronger flavor than other kinds. If you're using a less bold cinnamon, you may want to increase the cinnamon to suit your tastes.
**For more flavor, try toasting the hazelnuts for about 15 minutes at 350°F. Remember to let them cool before adding them to the cake.
**The cake pictured here was made in a 10-cup Bundt pan.