The sweet, rich flavor of dulce de leche is the perfect addition to banana bread!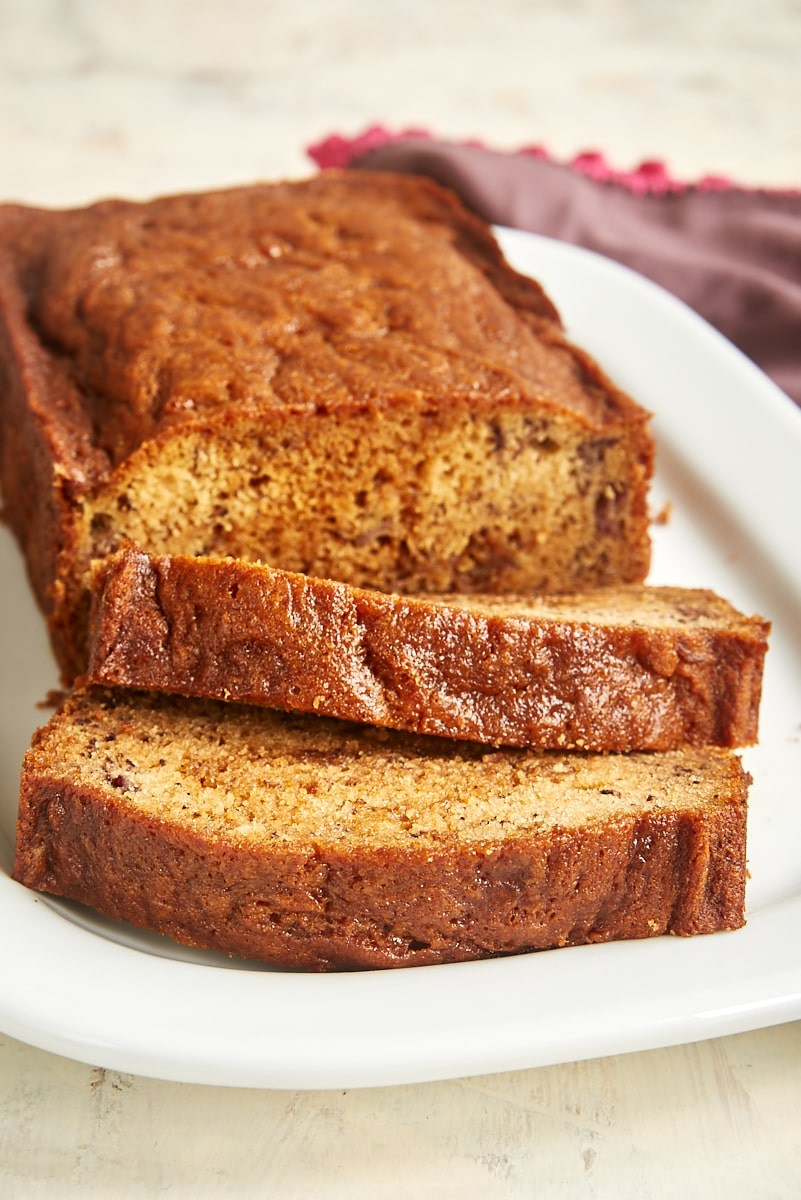 Dulce de Leche Banana Bread
Homemade banana bread is one of my favorite treats. I'll take it for breakfast, a snack, or most any time. Banana nut bread is always a simple go-to, and now this dulce de leche banana bread is making a regular appearance in my kitchen. I don't need a lot of additions to it to enjoy banana bread fully, although I do like changing up my standard recipe from time to time to keep things interesting.
At its heart, this Dulce de Leche Banana Bread is just a simple banana bread. But, swirl in a little sweet, rich dulce de leche, and you've really upped the flavor of this classic.
The sweetness of bananas and the caramel-like flavor of dulce de leche is really an outstanding combination. (If you agree, be sure to check out this banana pudding!) So, combining the two in a classic banana bread is a no-brainer. The result is a soft, moist, sweet bread with just a hint of rich flavor.
If you're wanting to change up your banana bread game, this Dulce de Leche Banana Bread is just the thing. You get all the things you love about banana bread with a little bit of extra flavor. It's really fantastic!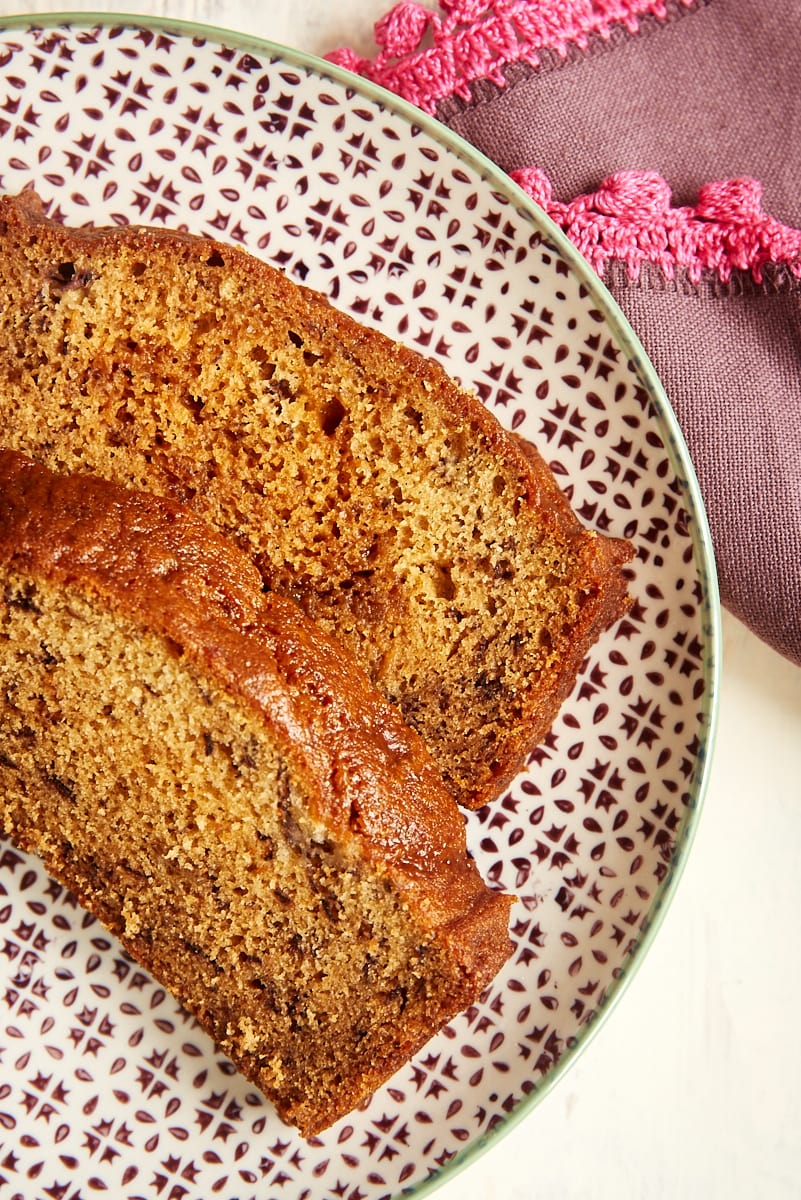 What You'll Need
Besides the basics, you'll need bananas and dulce de leche. Here are a few notes about the ingredients, but be sure to see the recipe card below for all the measurements.
All-purpose flour – Measure by weight for best results. If you don't have a kitchen scale yet, then use the spoon and sweep method.
Granulated sugar
Brown sugar – Light or dark brown sugar will work, depending on how pronounced you want its molasses flavor to be in this bread.
Baking soda
Salt
Milk – Set out the milk to allow it to warm up a bit before baking. I recommend baking with whole or 2% milk.
Unsalted butter – After melting the butter, let it cool until it's still warm to the touch but not hot.
Egg – Also set out the egg along with the milk.
Vanilla extract – Try almond extract for something a little different.
Bananas – Two medium bananas will give you 2/3 to 1 cup of mashed bananas. Remember that the riper the bananas, the sweeter and more flavorful they'll be.
Dulce de leche – This is thick and caramel-like. Look for it with the baking ingredients, in the international foods section, or with the ice cream toppings.
How to Make Dulce de Leche Banana Bread
Like most quick breads, this recipe uses the muffin method for mixing. You won't need your electric mixer; just a big mixing spoon will do!
Prepare for baking. Heat the oven to 350°F. Grease a standard 9″ x 5″ loaf pan. If you like, line the pan with parchment paper and grease the paper as well.
Combine the dry ingredients and sugars. Stir together the flour, sugar, brown sugar, baking soda, and salt. Make a well in the center of the mixture.
Add the other wet ingredients. Combine the milk, butter, egg, and vanilla, and then add this mixture to the well in the flour mixture. Mix just until combined or a few streaks of flour remain. Stir in the bananas.
Assemble and swirl. Transfer the batter to the pan, spreading it evenly. Dollop the dulce de leche on top of the batter, and use a thin knife to swirl it into the batter.
Bake. Place the pan in the oven, and bake the bread for 1 hour, or until a pick inserted into the center comes out clean.
Cool the bread. Place the pan on a wire rack and allow to cool for about 10 minutes. Then remove the bread from the pan to a wire rack to cool completely before slicing.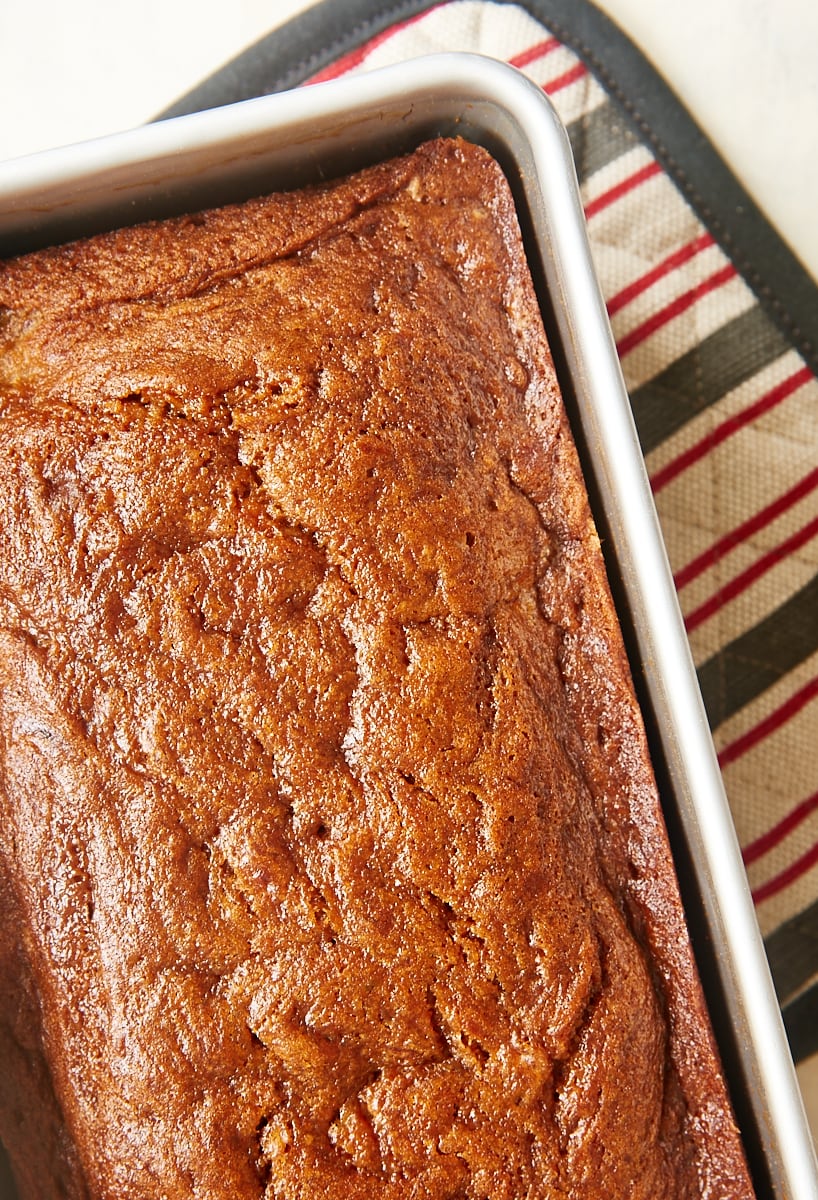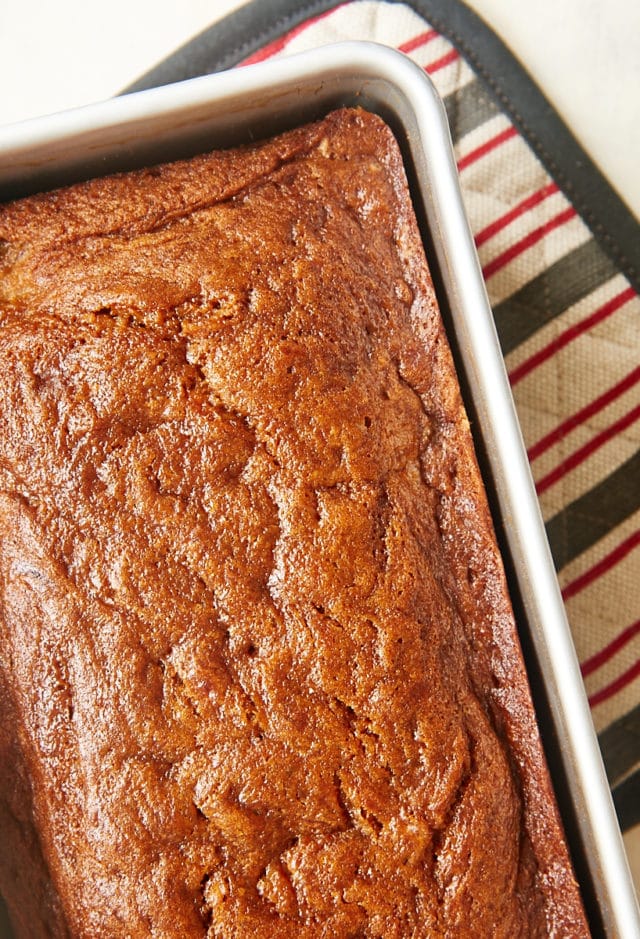 Tips for Success
This Dulce de Leche Banana Bread is a quick and easy baking project, but here are a few tips to make sure yours turns out perfectly!
Use a light-colored, metal baking pan. Your bread will be more thoroughly and evenly baked than if you use a dark pan or a pan made of a different material like glass or stoneware.
Don't over-mix. Only mix as much as is needed until the flour just disappears into the batter or a few streaks of flour remain.
Testing for doneness. For a thick baked good like a quick bread, I like to use a long pick like a cake tester instead of a standard tooth pick.
Want to make muffins? See my tips for converting quick bread loaves into muffins.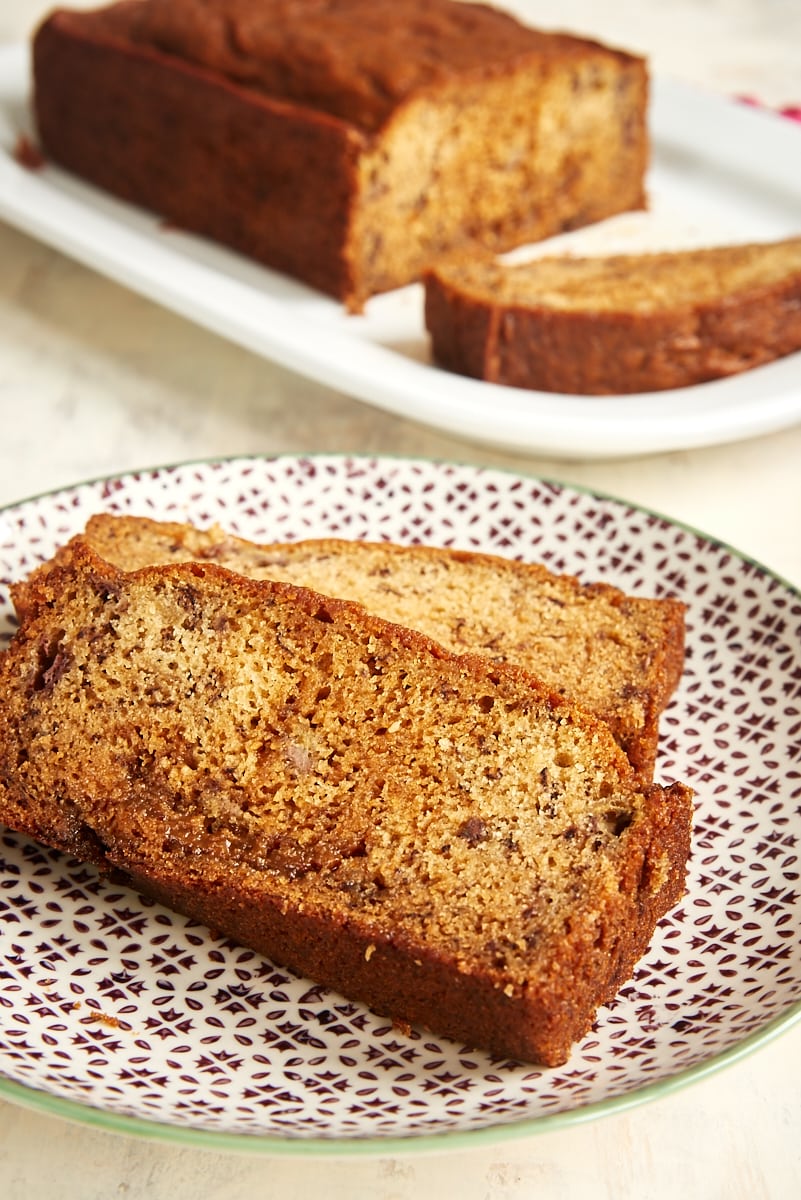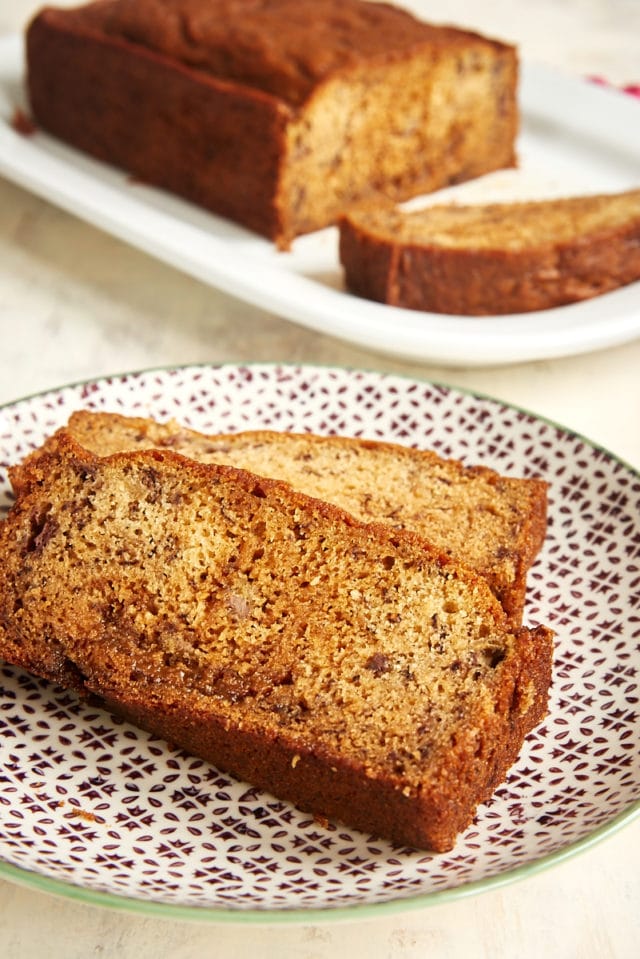 How to Store Leftovers
Wrap the cooled bread in plastic wrap or place in an airtight container. It should keep about 3 days.
Refrigerating the bread can extend that for a couple more days, but just be sure the container is airtight so the bread won't get dry.
To freeze the bread, wrap the loaf or individual slices in two layers of plastic wrap. Wrap again in aluminum foil or place in a freezer-safe, airtight container. Properly stored, it should keep up to 3 months. Thaw for about an hour at room temperature.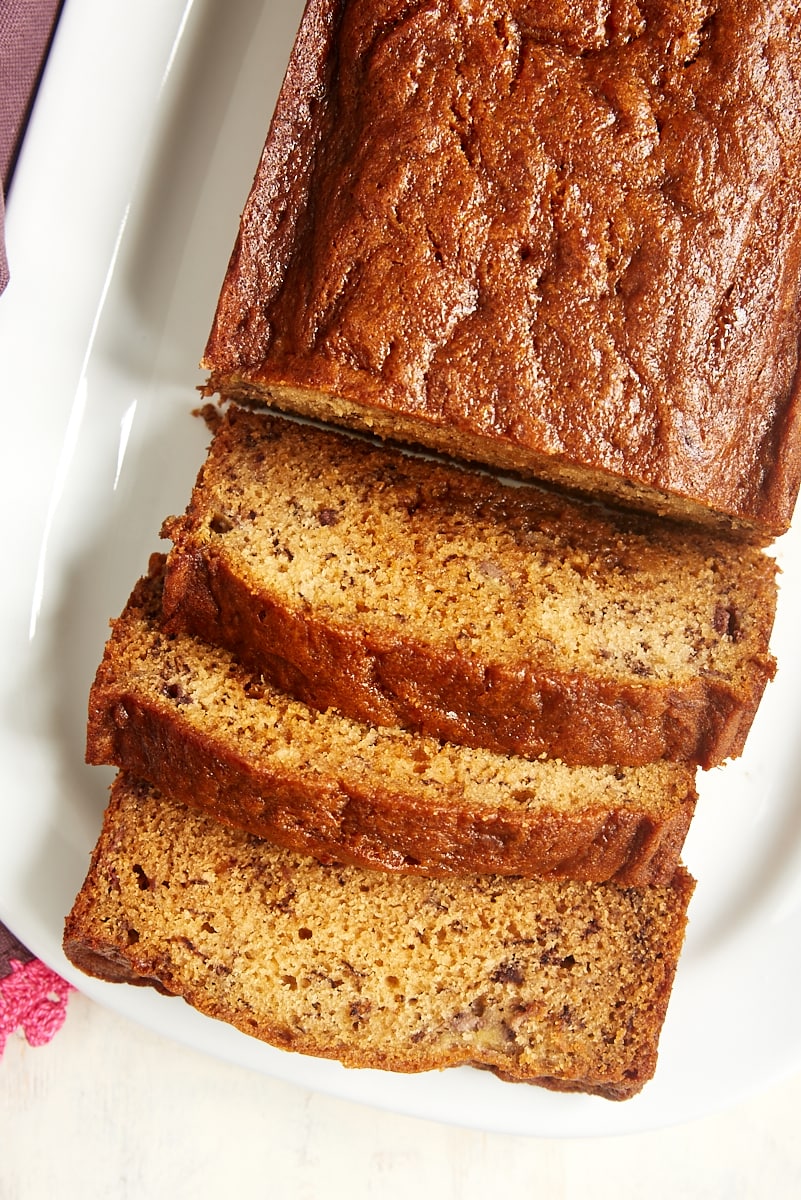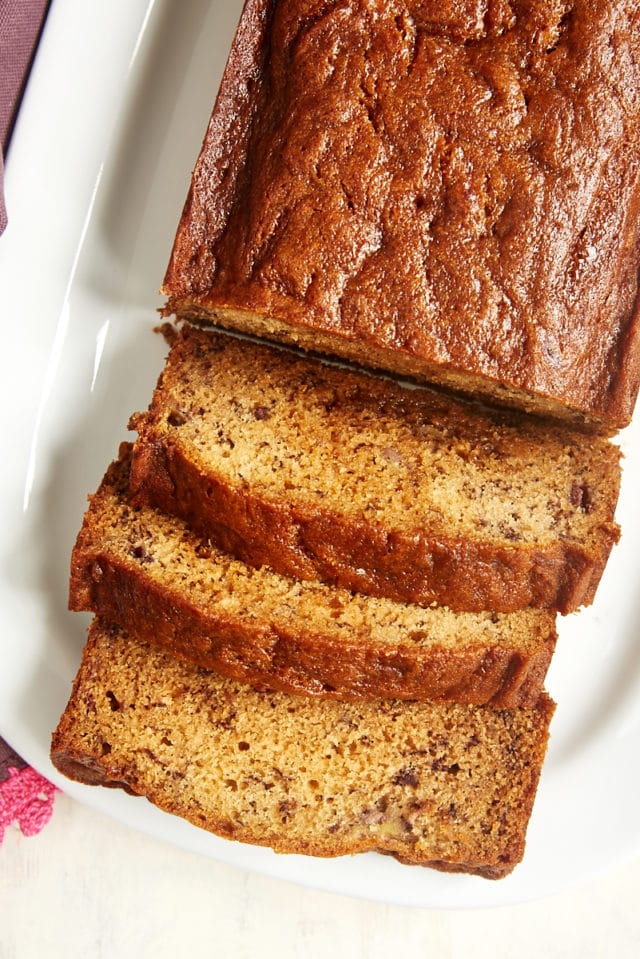 Find more quick bread recipes in the Recipe Index.