January 19, 2012
Peanut Butter Mud Bars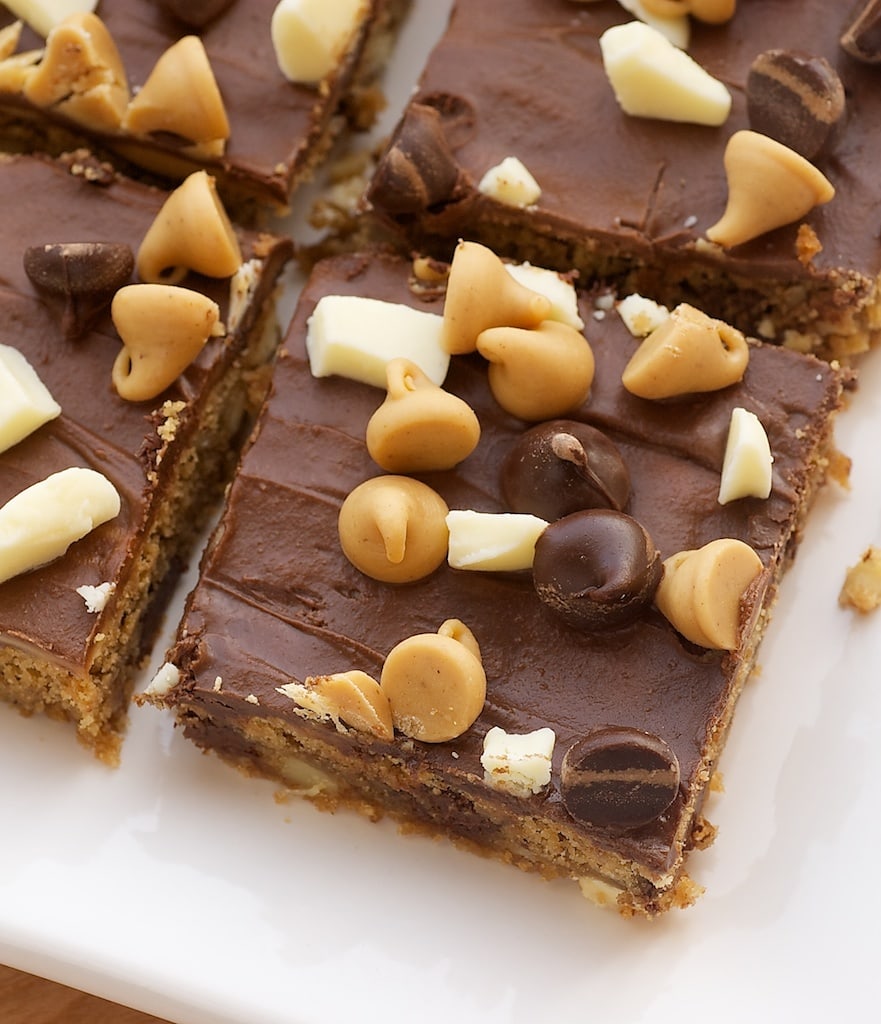 I've been re-visiting some of my favorite cookbooks lately. I don't have a vast collection, but it's large enough that some get a little lost occasionally. The positive side to that is that when you find a formerly lost one, it's a bit like getting a new cookbook… for free!
I happened upon this recipe while re-discovering The Buttercup Bakeshop Cookbook. Of course, it had me at peanut butter. Then, I read the description that stated that these are a favorite at the bakery. With that kind of endorsement, I started rounding up ingredients. Luckily, these are all ingredients that most of us probably have in our pantries all the time.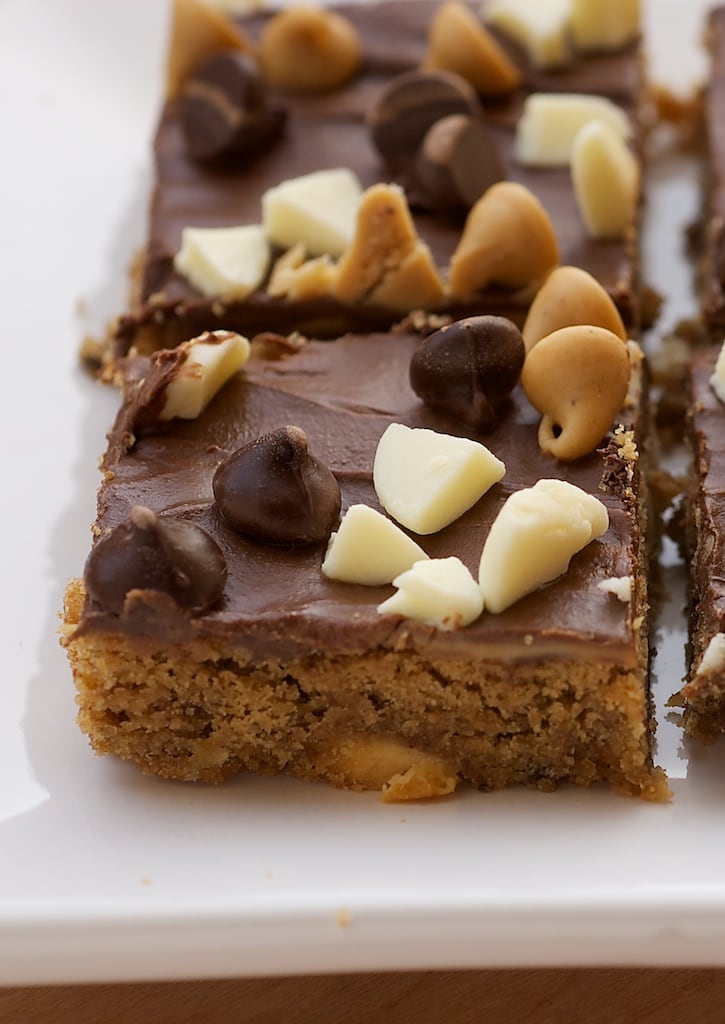 There are a lot of flavors at work here – peanut butter, chocolate, brown sugar, white chocolate, pecans. But, somehow it's not overkill. Everything plays quite well together. Honestly, I didn't really taste the pecans. They do add some crunch, but I also think that peanuts or crunchy peanut butter would do the same thing. I certainly never avoid pecan usage in my baking, so I was glad to use them and probably would again.
I actually made these twice within just a few days. They are really that good. I added a few more chips on top, mostly for aesthetic purposes. Although, I can't complain about a little extra chocolate when given the opportunity.
Peanut Butter Mud Bars
Yield: 24 2-inch squares
Prep Time: 20 minutes
Cook Time: 30 minutes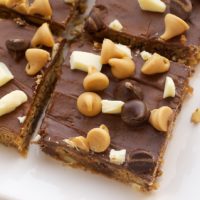 Ingredients:
1 cup all-purpose flour
1/2 teaspoon baking soda
1/4 teaspoon salt
1/2 cup unsalted butter, softened
1 cup firmly packed light brown sugar
1/2 cup creamy peanut butter
1 large egg, at room temperature
1 teaspoon vanilla extract
3/4 cup + 2 tablespoons chocolate chips, divided
1/4 cup + 2 tablespoons white chocolate chips (or vanilla chips), divided
1/2 cup + 2 tablespoons peanut butter chips, divided
1/4 cup coarsely chopped pecans
Directions:
Preheat oven to 325°. Grease and lightly flour a 9″x 13″ baking pan.
Whisk together flour, baking soda, and salt. Set aside.
Using an electric mixer on low speed, beat butter and brown sugar until fluffy (about 2-3 minutes). Add peanut butter and beat well. Mix in egg and vanilla.
Gradually add dry ingredients and mix well. Stir in 1/2 cup chocolate chips, 1/4 cup white chocolate chips, 1/4 cup peanut butter chips, and pecans.
Spread mixture evenly into prepared pan. Bake 25-30 minutes, or until lightly browned.
Remove from oven and sprinkle 1/4 cup chocolate chips and 1/4 cup peanut butter chips on top of bars. Allow to sit for 1-2 minutes. Using a spatula, smooth out chips as they begin to melt.
Cool for 20 minutes. Sprinkle with remaining 2 tablespoons each chocolate chips, white chocolate chips, and peanut butter chips. Cool completely before cutting into bars.