This effortless Blueberry Crumb Cake is loaded with plump, juicy blueberries, then topped with an irresistible buttery brown sugar cinnamon crumb.
Easy Blueberry Crumb Cake
This simple Blueberry Crumb Cake is just the kind of cake you'll find yourself making over and over. It's quick and easy to make, super moist, and the flavor is fantastic! You might think of it as a cross between blueberry muffins and coffee cake—you get a burst of blueberry flavor in every bite, with the welcome addition of a buttery, spiced brown sugar crumble topping.
When fresh blueberries aren't in season, frozen berries will work just fine. This recipe will also work well with other fruits—my personal favorites are raspberries or sour cherries, but apple crumb cake is delicious, too. If you change up the fruits, you may want to also change the spices in the crumb topping; cinnamon complements just about any fruit, but the nutmeg can be swapped with cardamom or ginger.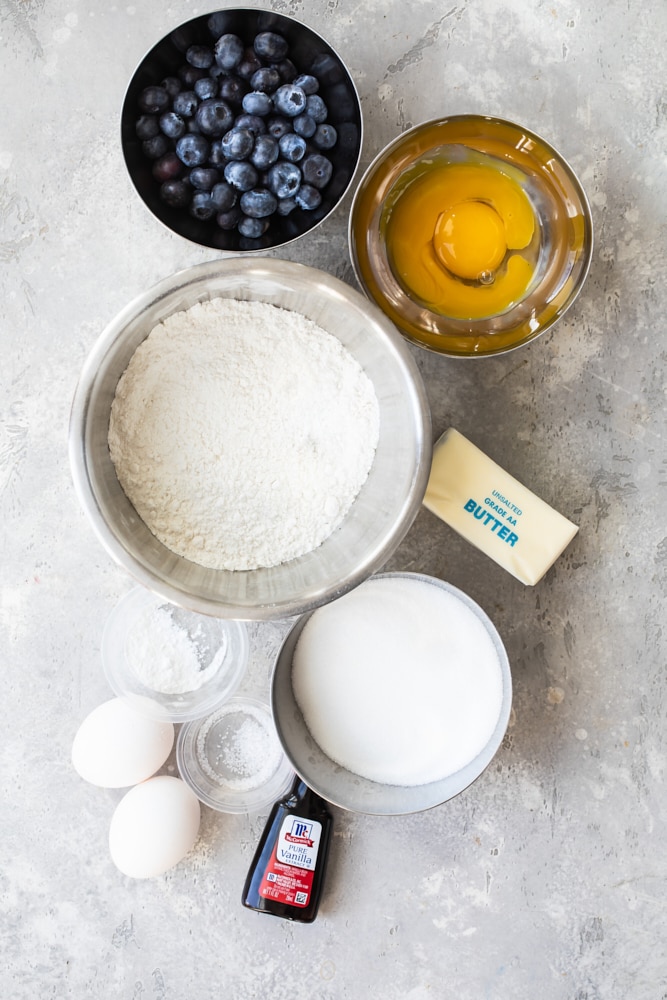 What You'll Need
This recipe calls for a lot of blueberries, which is what gives the crumb cake its moist, tender crumb. Here's what you'll need:
For the cake:
All-purpose flour
Baking powder
Salt
Unsalted butter – Let the butter sit at room temperature for about 30 minutes before you start the recipe to allow it to soften properly.
Granulated sugar
Eggs – Your eggs should be room temperature for easier mixing.
Egg yolks
Vanilla extract – You can use almond extract for a different flavor.
Blueberries – Fresh or frozen!
For the crumb topping:
All-purpose flour
Light brown sugar
Ground cinnamon
Freshly grated nutmeg – Store-bought grated nutmeg will do in a pinch, but it doesn't have quite the same flavor as fresh!
Unsalted butter
How to Make Blueberry Crumb Cake
This is the perfect recipe for making in an afternoon or even in the morning for breakfast! Here's what you'll need to do:
Prepare. Preheat your oven to 350°F and line a 9″x 13″ baking pan with parchment paper or foil. Butter the lining to make sure your cake doesn't stick.
Mix the dry ingredients. Whisk the flour, baking powder, and salt in a mixing bowl.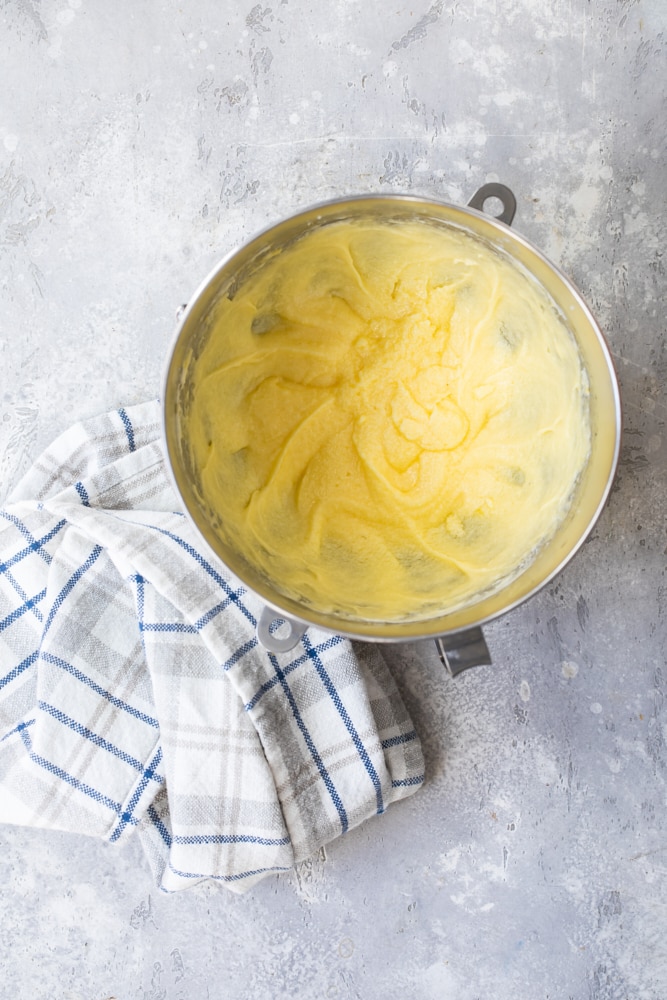 Mix the wet ingredients. Use a heavy-duty mixer on medium speed to cream the butter and sugar for about 5 minutes, or until it's soft and light. Beat in the whole eggs one at a time, followed by the vanilla.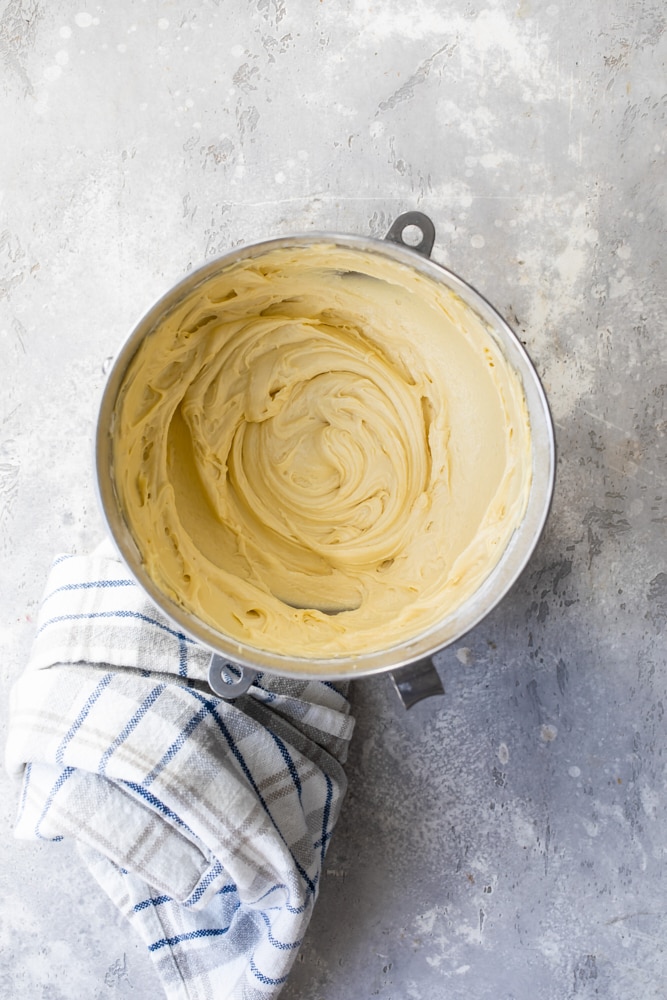 Finish the batter. Turn the mixer to low speed, then add half the flour mixture and mix well. Beat in the egg yolks, then add the remaining flour mixture.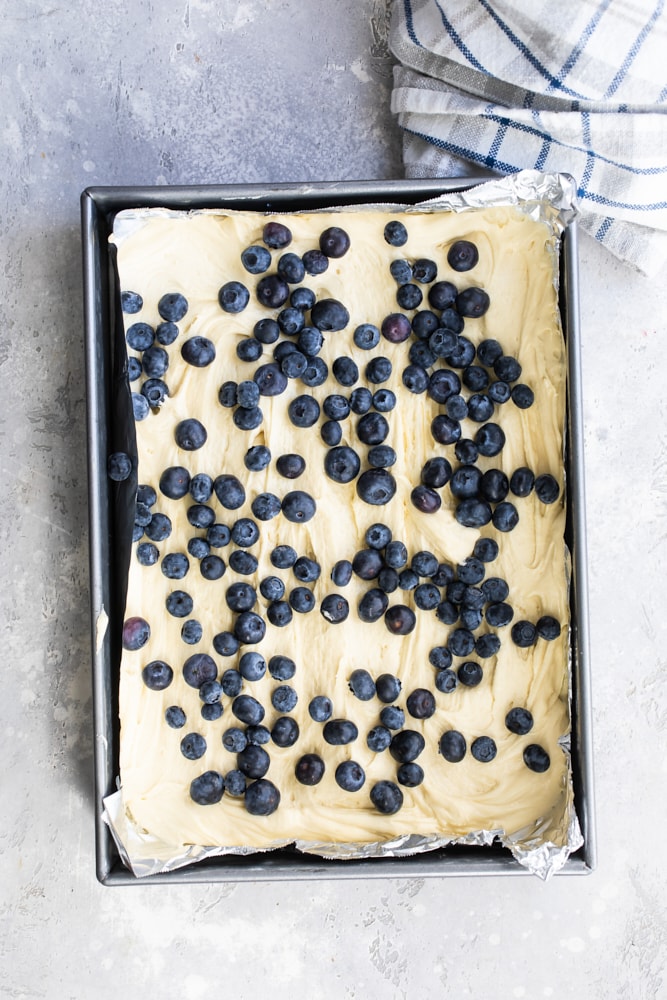 Assemble the cake layer. Transfer the batter to the prepared pan, spreading it evenly. Scatter the blueberries over the top.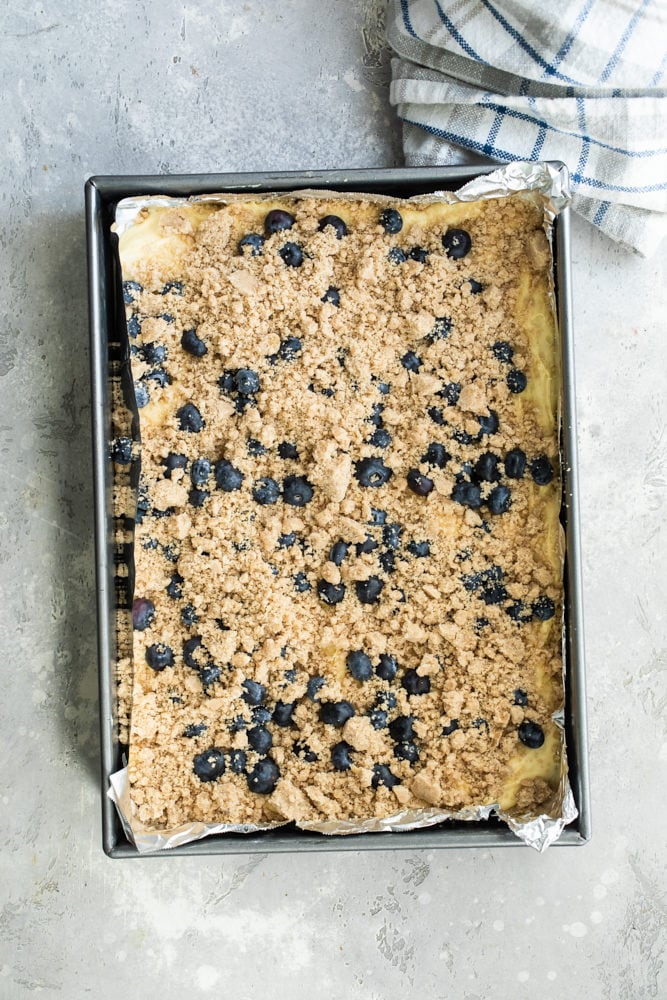 Make the crumb topping. Combine the flour, sugar, cinnamon, and nutmeg in a small bowl. Stir in the melted butter and use your fingers to combine until the mixture resembles coarse crumbs. Sprinkle this over the blueberries.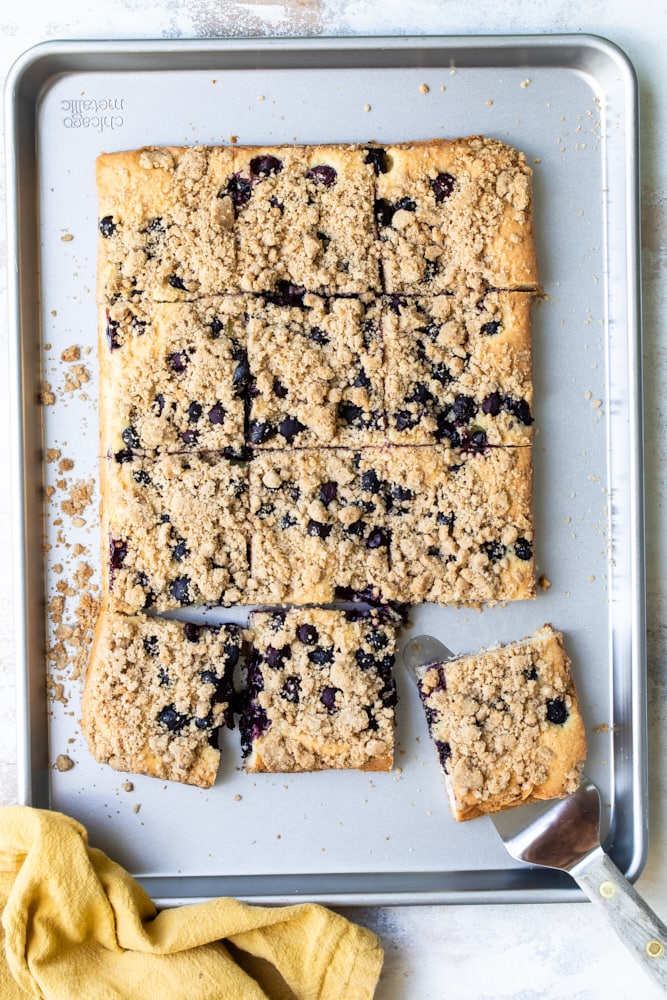 Bake. Place the crumb cake in the oven and bake for 40 minutes, or until the cake is firm. Cool on a wire rack before serving. (Learn more: Why Every Baker Needs Wire Cooling Racks)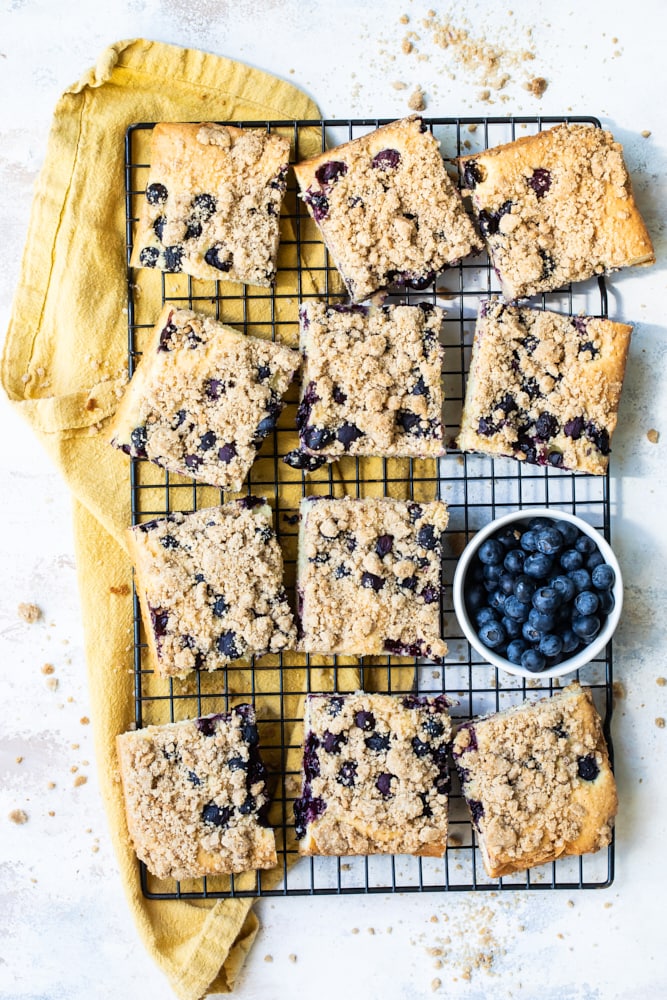 Tips for Success
Here are some hints to help you get the best possible results when you make your Blueberry Crumb Cake!
Measure accurately. Use a scale if you can. Otherwise, spoon and sweep!
Use a light-colored, non-reflective pan. Dark pans will bake the outside more quickly, resulting in over-baked edges and a potentially under-baked middle, and glass pans conduct heat differently. Use a light-colored metal pan for best results.
Using frozen blueberries. Fresh berries will give you the best results, but frozen can work, too. No need to thaw the berries first, but be sure to rinse them well with cold water and dry them thoroughly before adding to the cake.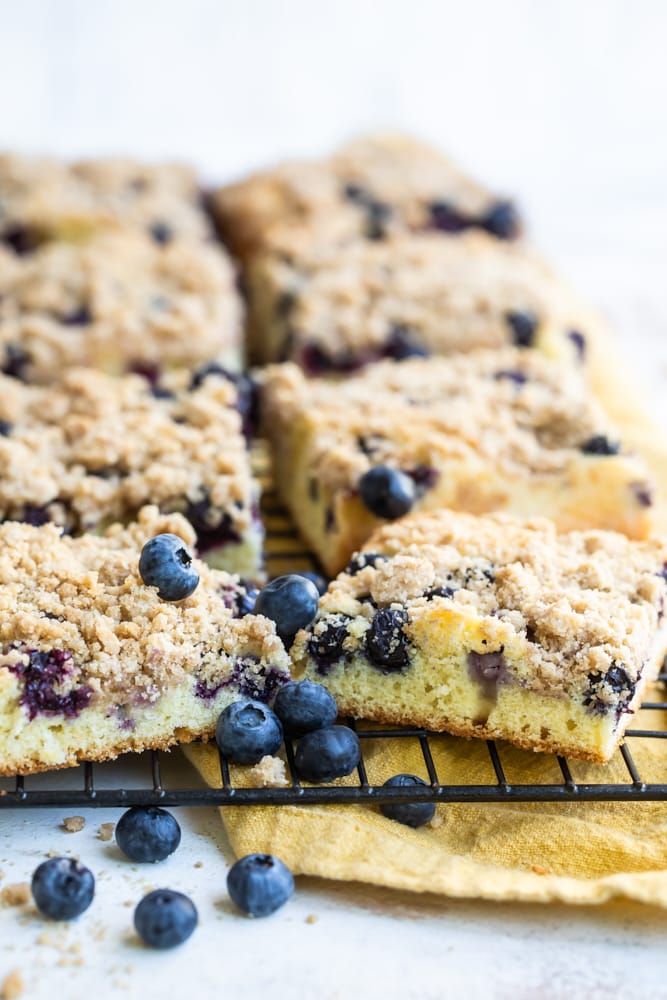 How to Store Leftovers
Wrap the cooled cake tightly in the pan or transfer pieces to an airtight container. Store at room temperature for 3 to 4 days.
Can This Cake Be Frozen?
Yes, you can freeze this Blueberry Crumb Cake, too! Wrap the slices well or place them in an airtight container and freeze them for up to 3 months. Thaw the cake in the refrigerator, then bring it to room temperature before serving.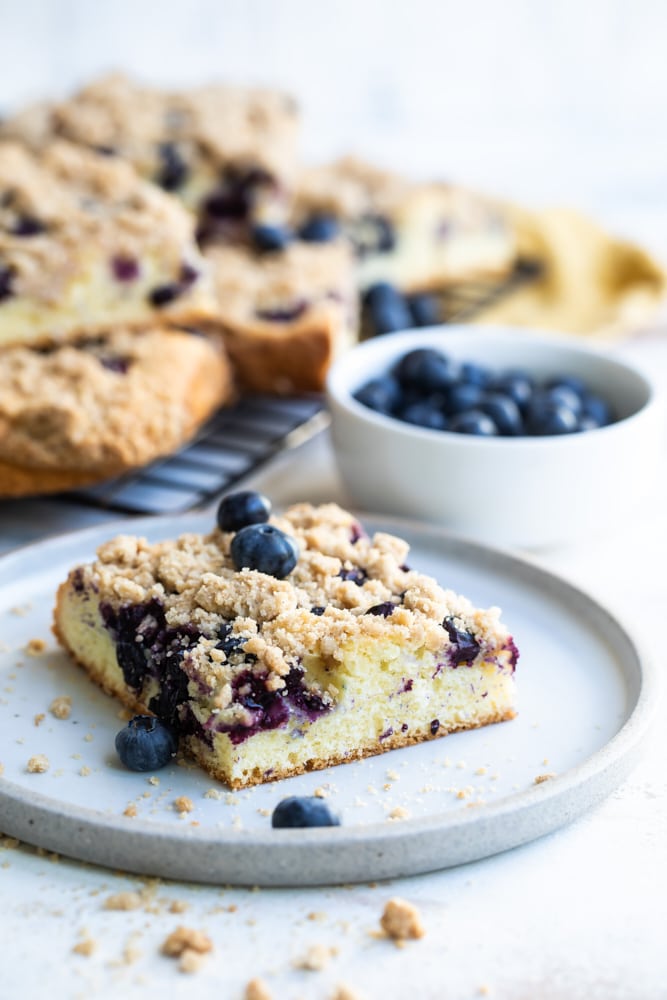 More Blueberry Cake Recipes