Blueberry Crumb Cake is a lovely, delicious cake featuring blueberries and a cinnamon crumb topping!
Easy Blueberry Crumb Cake
This wonderful Blueberry Crumb Cake is just the kind of cake you're likely to find yourself making over and over. It's quick and simple to make, and the flavor is fantastic!
I adore blueberries, so I always welcome a lovely blueberry dessert like this one during berry season. The cake itself is a simple one, but it's made special by the addition of blueberries and a crumb topping.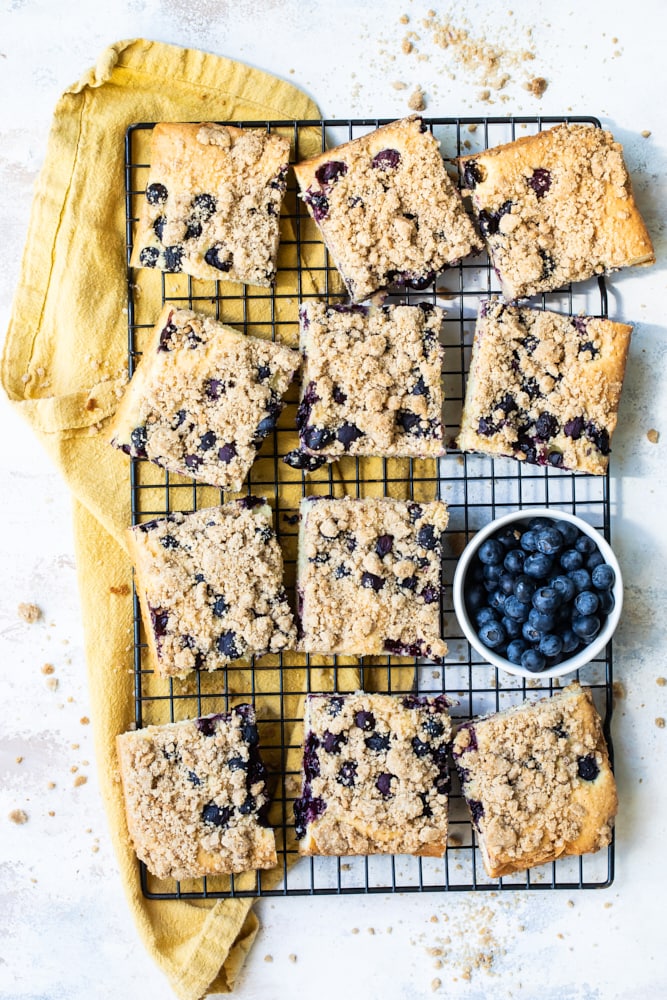 Berry season coincides with warmer weather when we all usually have more on our agenda than spending lots of time in the kitchen baking. Luckily, you can make this cake quickly and easily! I love that it makes a big cake, too, so you have lots to share or to enjoy over a few days.
This recipe will work well with other fruits as well. Try it with raspberries or sour cherries or another favorite. You may want to adjust the spices in the crumb topping to complement your favorite flavors.


Tips for Success
Measure accurately. Use a scale if you can. Otherwise, spoon and sweep!
Use a light-colored, non-reflective pan. Dark pans will bake the outside more quickly, resulting in over-baked edges and a potentially under-baked middle. Glass pans conduct heat differently and are likely to cause a difference in how the cake bakes as well as a difference in the texture.
Line the pan with foil or parchment paper. You'll find that it's easier to remove the cake from the lined pan without any sticking.
Use fresh or frozen blueberries. Fresh will give you the best results, but frozen can work, too. No need to thaw, but be sure to rinse them well with cold water and dry them thoroughly before adding to the cake.
Stash some cake in the freezer. Wrap slices really well so you can treat future you to some of this delicious cake. Just thaw overnight in the refrigerator and bring to room temperature before serving!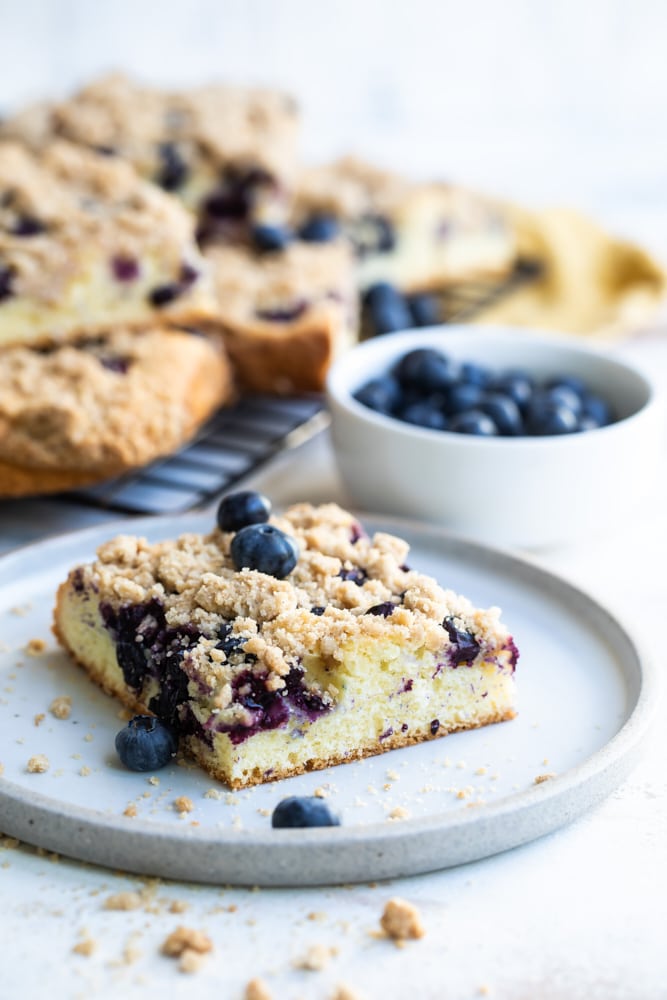 If you love simple desserts with lovely flavor, then this Blueberry Crumb Cake is a must. It's a wonderful anytime cake! Treat yourself to a slice for breakfast, share it for a special brunch, enjoy a sliver for an afternoon snack, or serve it for dessert.
Find more cake recipes in the Recipe Index.
More Blueberry Cake Recipes