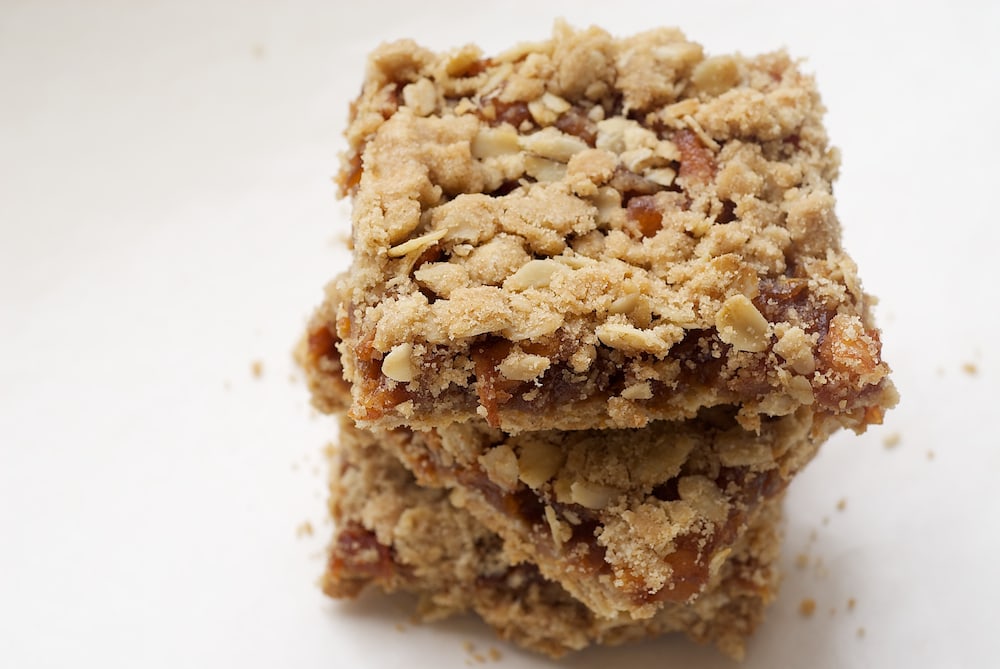 One of the best things about fall baking is apples. From breads to cobblers to pies to just about anything else you can come up with, I am there with a fork and ready for my serving.

Of course, if we take this a step further, one of the best things about baking with apples is cinnamon. I am a big fan of cinnamon, especially this time of year. I keep a big jar of Penzey's Vietnamese Extra Fancy Cinnamon on hand at all times. It's a bit stronger than your standard cinnamon. And it's so, so good.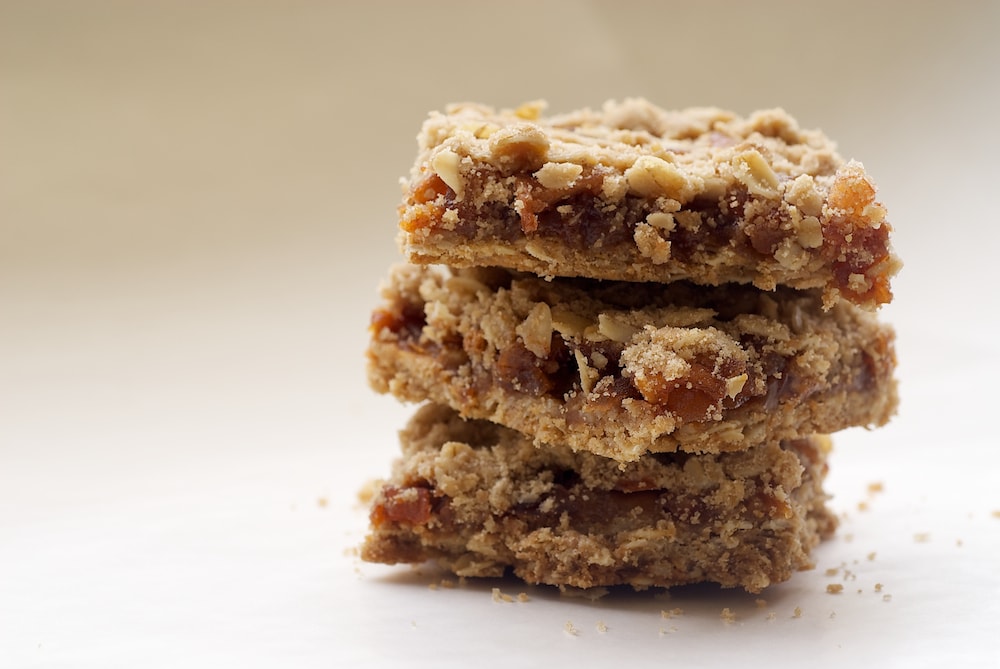 Anyway, back to these bars. Apples and cinnamon get together with their good friend caramel to make these even more delicious. The crust is packed with butter and oats and cinnamon. That's topped off with caramel. Then, apples and even more cinnamon. Then, more of that buttery crust tops them off.
For all of the fans of fall out there, these are a great way to kick off your fall baking. Let those apples, caramel, and cinnamon welcome you and your taste buds into cooler weather.
Yield: 24 2-inch square bars
Prep Time: 30 minutes
Cook Time: 36 minutes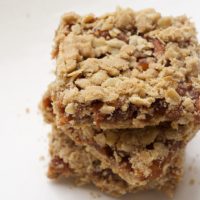 For the crust:
2 & 1/2 cups old-fashioned rolled oats
1 cup all-purpose flour
1 cup packed light brown sugar
1 teaspoon ground cinnamon
1/2 teaspoon baking powder
1/2 teaspoon salt
3/4 cup cold unsalted butter, cut into small pieces
!For the caramel:
6 ounces soft caramels (18-20 caramels)
1/4 cup heavy cream
For the apple filling:
3 large tart apples (such as Granny Smith, Pink Lady, or Fuji)
2 tablespoons lemon juice
2 tablespoons unsalted butter
1/2 cup granulated sugar
1 & 1/2 teaspoons ground cinnamon
Directions:
Preheat oven to 350°.
Grease a 9"x 13"x 2" baking pan.
To make the crust:
Stir together oats, flour, brown sugar, cinnamon, baking powder, and salt in a large bowl. Add cold butter and mix with a pastry blender, a fork, or your hands until mixture is crumbly.
Remove about 1/2 cup of crust mixture. Set aside.
Press remaining dough evenly into bottom of prepared pan. Bake 16-18 minutes, or until crust is lightly golden. Set pan on wire rack to cool slightly.
To make the caramel layer:
Place caramels and cream in a heavy saucepan. Cook over medium-low heat, stirring constantly, until mixture is smooth.
Immediately pour caramel over partially baked crust and spread evenly.
To make the apple filling:
Chop apples into small pieces (1/4-1/2-inch). As you chop the apples, place them in a medium bowl and toss with lemon juice to prevent browning.
Place butter in a large pan over medium heat. When butter has melted, add chopped apples. Cook about 8 minutes, stirring frequently. Add sugar and cinnamon and continue cooking another 8 minutes, or until apples are softened.
Spread apple mixture evenly over caramel layer. Scatter reserved crust mixture over top of apple filling.
Bake 25-30 minutes, or until bars are lightly browned. Cool completely in pan before cutting into bars.