September 26, 2012
Butterscotch Pecan Sandies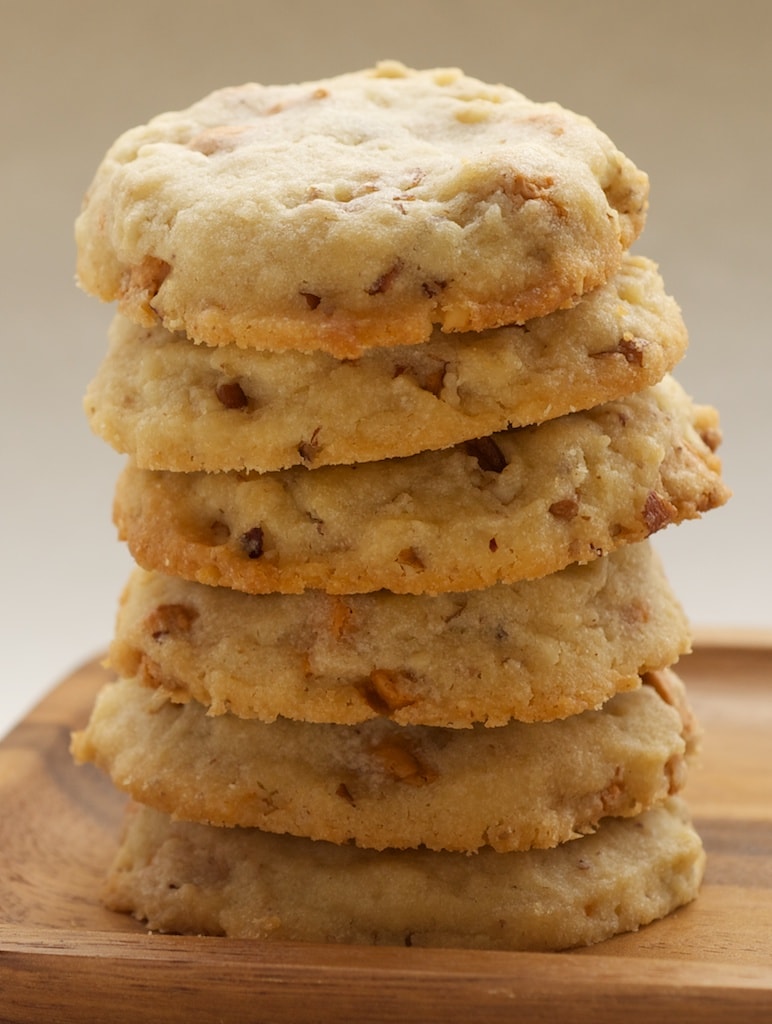 I'm not a big fan of ice cream, but my favorite flavor, by far, is butter pecan. Sure, I like to indulge in other, more complicated varieties from time to time. But, butter pecan is my tried and true favorite.
These cookies are packed with pecans and lots (and lots) of butterscotch. The overall effect is a flavor that can be described as butter pecan. If you aren't a fan of butterscotch, move along and find another cookie or substitute some chocolate chips or peanut butter chips.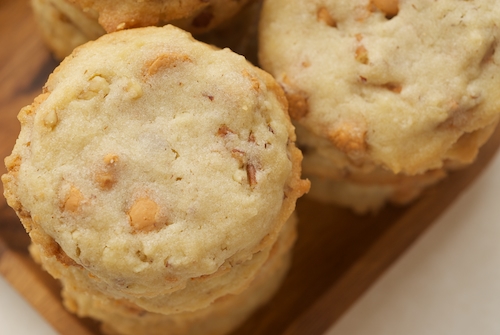 If you do love butterscotch, then I hope you've found a good brand of butterscotch chips. This recipe comes to us from Guittard, who make the very best butterscotch chips I've tried. In fact, I found the recipe right on the bag.
I love that these cookies are so thick and chewy, as a good pecan sandie should be. This recipe also makes loads of cookies, so you'll have plenty to share while hoarding some for yourself.
Butterscotch Pecan Sandies
Yield: about 5 dozen cookies
Prep Time:15 minutes
Cook Time:10 minutes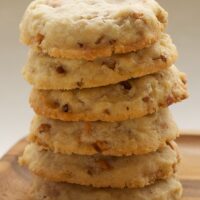 Ingredients:
3 cups all-purpose flour
1/2 teaspoon baking soda
1 & 1/3 cups unsalted butter, softened
1/2 cup granulated sugar
1/2 cup packed light brown sugar
1 teaspoon salt
1 teaspoon vanilla extract
1 large egg
3/4 cup chopped pecans
2 cups (12 ounces) butterscotch chips
Directions:
Preheat oven to 375°. Line baking sheets with parchment paper or silicone liners.
Whisk together flour and baking soda. Set aside.Using an electric mixer on medium speed, beat butter, sugar, brown sugar, salt, and vanilla until light and fluffy. Add egg, and mix until combined.
Reduce mixer speed to low. Add flour mixture in 3 portions. Mix just until combined. Stir in pecans and butterscotch chips.
Using a tablespoon of dough, shape dough into balls. Place about 2 inches apart on prepared pans and flatten each ball to about 1/4-inch thickness.Bake 8-10 minutes, or until edges are browned. Cool on pans for 5 minutes. Then, transfer to wire racks to cool completely.
Notes:
Note that cook time is per baking sheet.