Indulge in the flavors of fall with these Apple Crumb Cookies. These soft, apple-packed delights, complemented by cozy spices and a delightful crumb topping, are a sweet escape from the ordinary!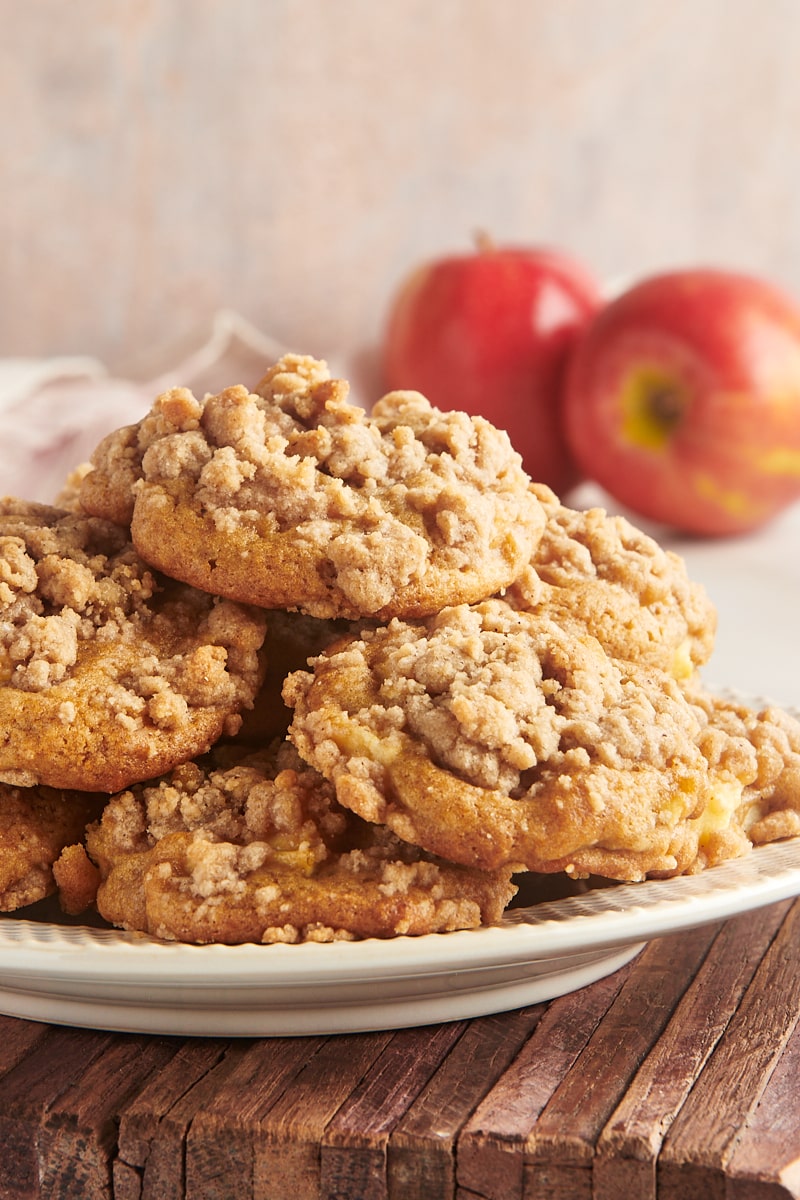 Apple Cookies with Crumb Topping
If you're like me, you can't get enough apples and fall spices this time of year. While fresh apples might not be the first thing that comes to mind when thinking about cookies, these Apple Crumb Cookies are about to change that. These soft, sweet treats are a celebration of apples, enveloped in the warmth of cozy spices and crowned with a delectable crumb topping.
Forget the notion of crunchy, crispy cookies for a moment. With these, expect a pillowy-soft, cake-like cookie that beckons for seconds. Get ready to indulge in a delightful autumn experience that'll have you coming back for more!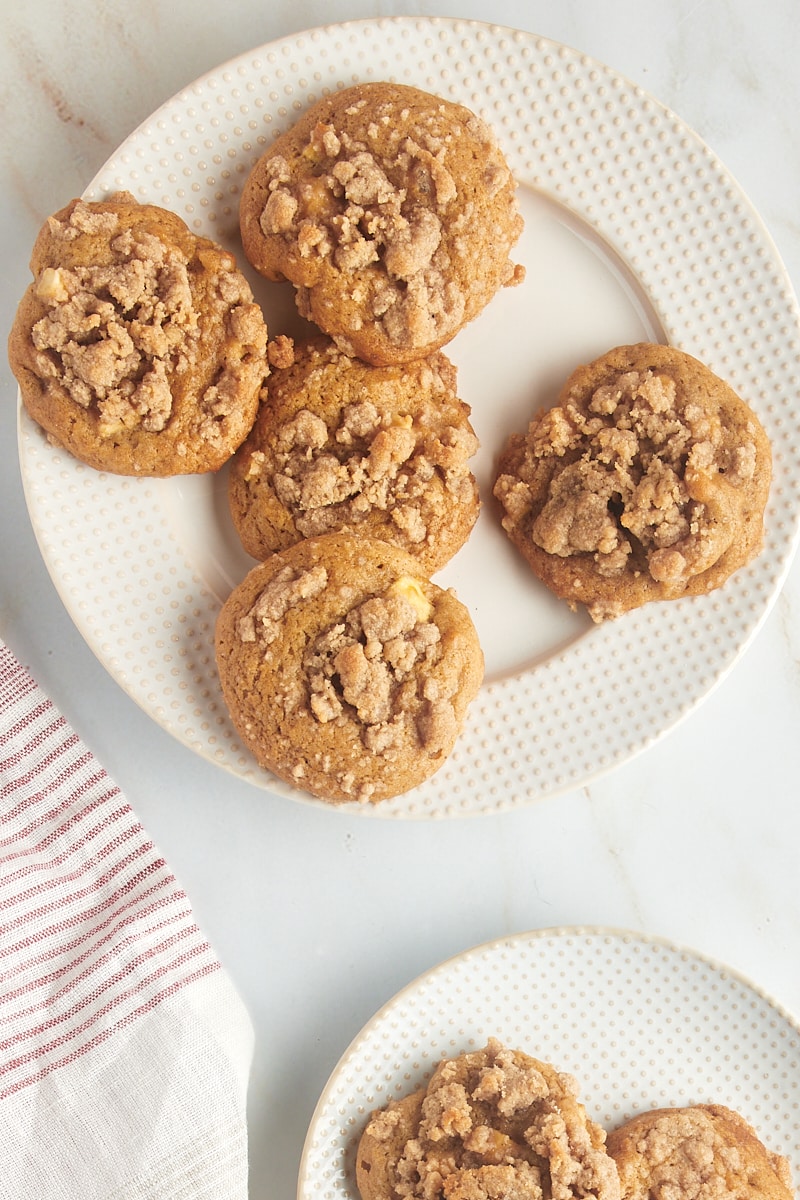 Why You'll Love This Apple Cookie Recipe
There are numerous reasons to fall in love with this delightful recipe. Let's take a look at just a few of the reasons why these cookies are a must-try for your next baking adventure!
Irresistible flavor. With the warm, comforting flavors of apples and spices, these cookies are perfect for fall and beyond.
Contrasting textures. The crumbly topping adds a delightful contrast to the soft, chewy cookies.
Impressive presentation. The crumb topping not only adds flavor but also elevates the visual appeal of these cookies, making them perfect for special occasions.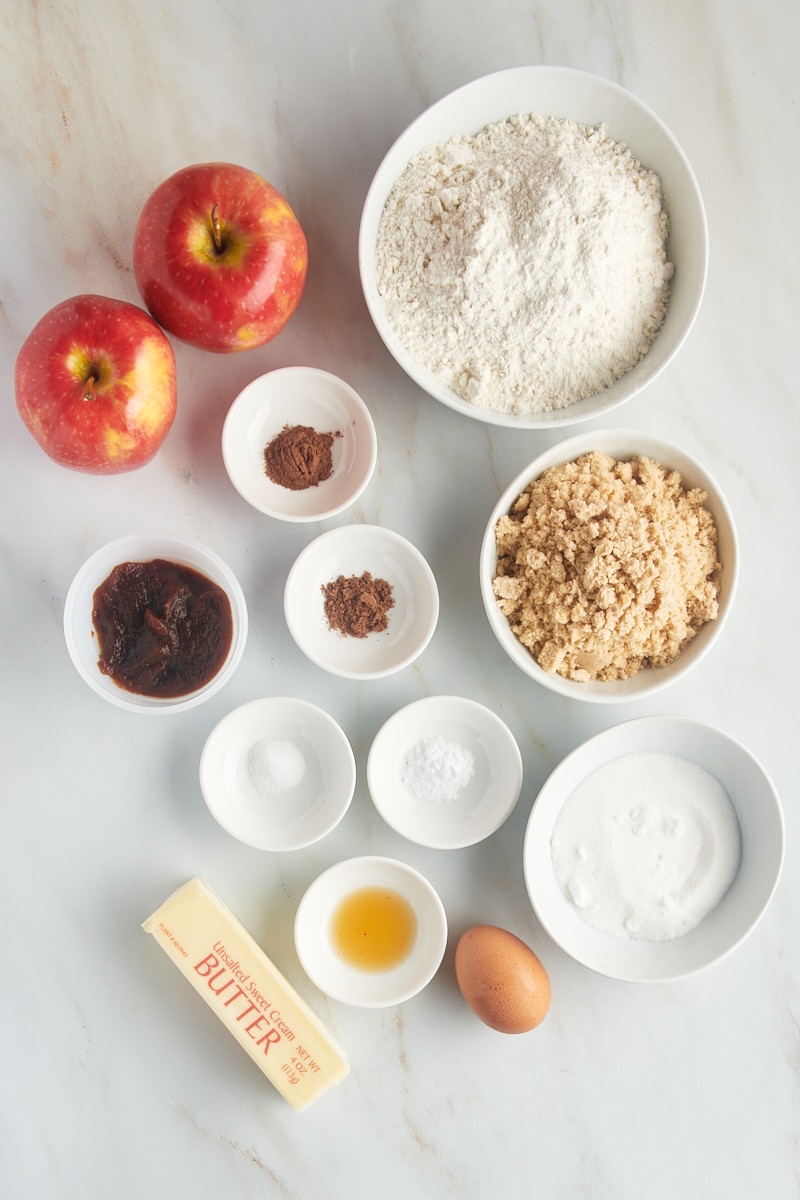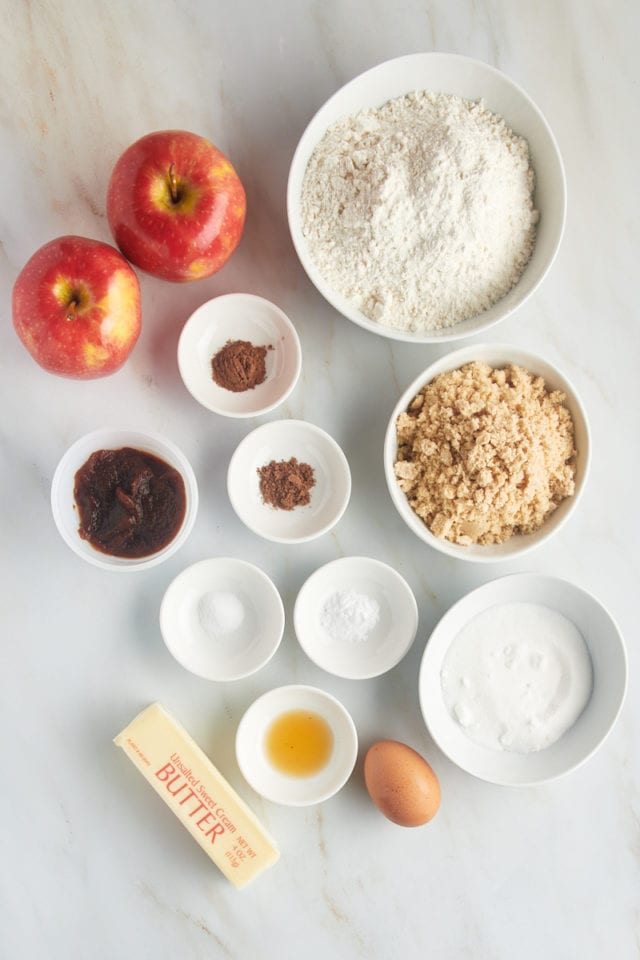 What You'll Need
The ingredients for the cookies and the topping overlap quite a bit, so I've consolidated this list for convenience. See the recipe card below for ingredient quantities and full instructions. Here are some notes about the ingredients you'll need to make these apple cookies.
All-purpose flour – You'll need flour for both the topping and the cookies. Be sure to measure accurately. Learn more: How to Measure Flour
Brown sugar – I prefer light brown sugar in these cookies, but you can use dark brown sugar if you want a stronger molasses flavor.
Granulated sugar
Unsalted butter – You'll need cold butter for the topping and softened butter for the cookies. After cutting the cold butter into cubes, return it to the refrigerator until you're ready to mix it into the topping. Softened butter should hold a thumbprint when pressed but still be cool.
Cinnamon – Check your cinnamon for freshness by giving it a sniff. If it doesn't have a fragrant aroma, it's likely time to replace it.
Nutmeg – Check this for freshness, too.
Baking soda
Salt
Egg – Set out the egg along with the butter to let it come to room temperature.
Vanilla extract
Apple butter – This adds even more apple flavor to your cookies! Use store-bought or homemade apple butter.
Apples – Chop these into small pieces so they'll mix well into the dough.
Which apples are good for baking?
Choose a sturdy apple that will hold up through the baking process. Soft apples are great for eating, but not so great for baking. Some common varieties that are good for baking include Gala, Fuji, Honeycrisp, and Pink Lady. Choose tart varieties (like Granny Smith apples) if you want a contrast to the sweetness of the cookies. Learn more: The Best Apples for Baking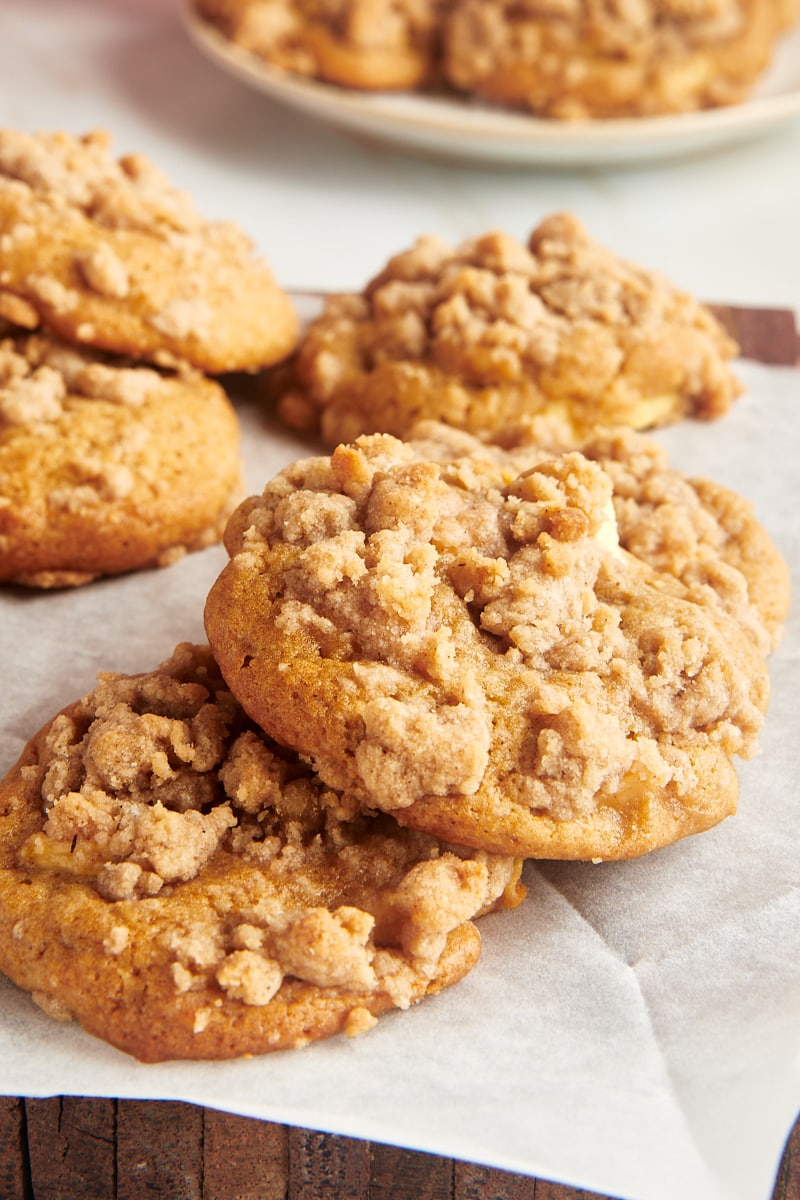 How to Make Apple Cookies
You'll be making two components for this recipe – the apple cookies and the topping. They're both easy to make, and the cookies are a cinch to assemble. Here's what you'll need to do: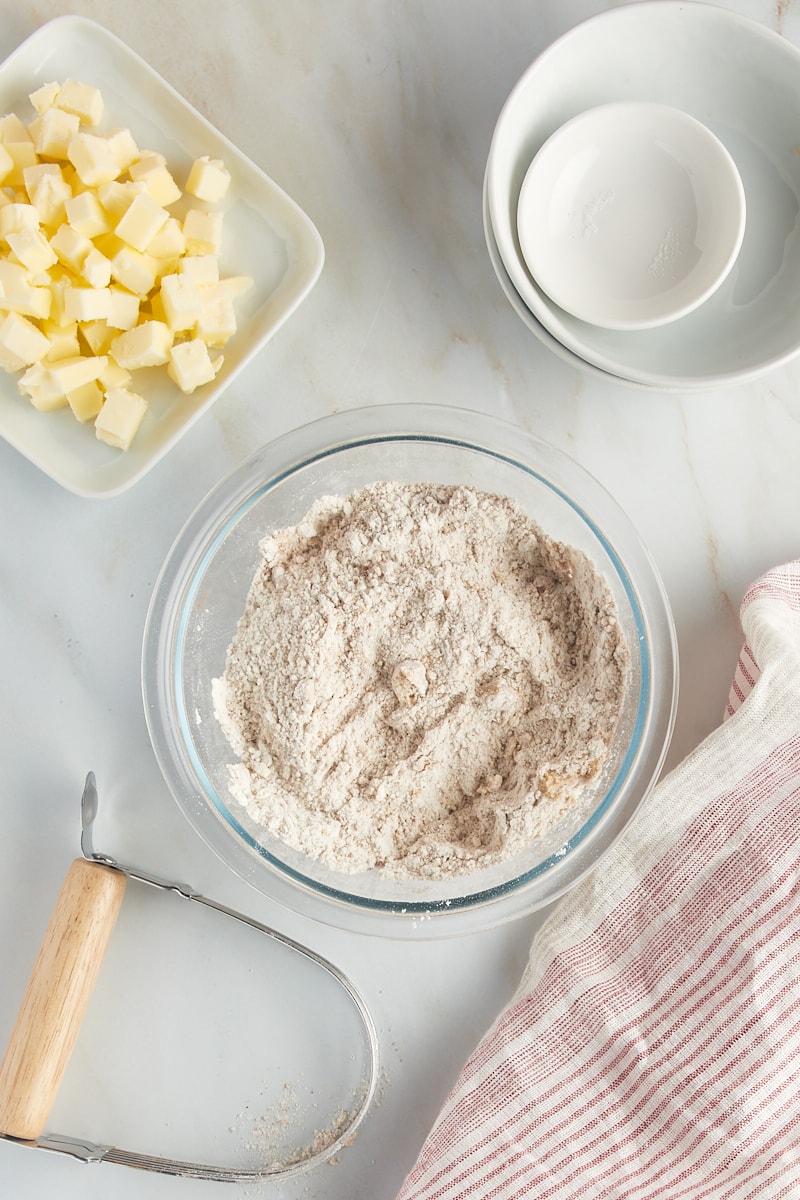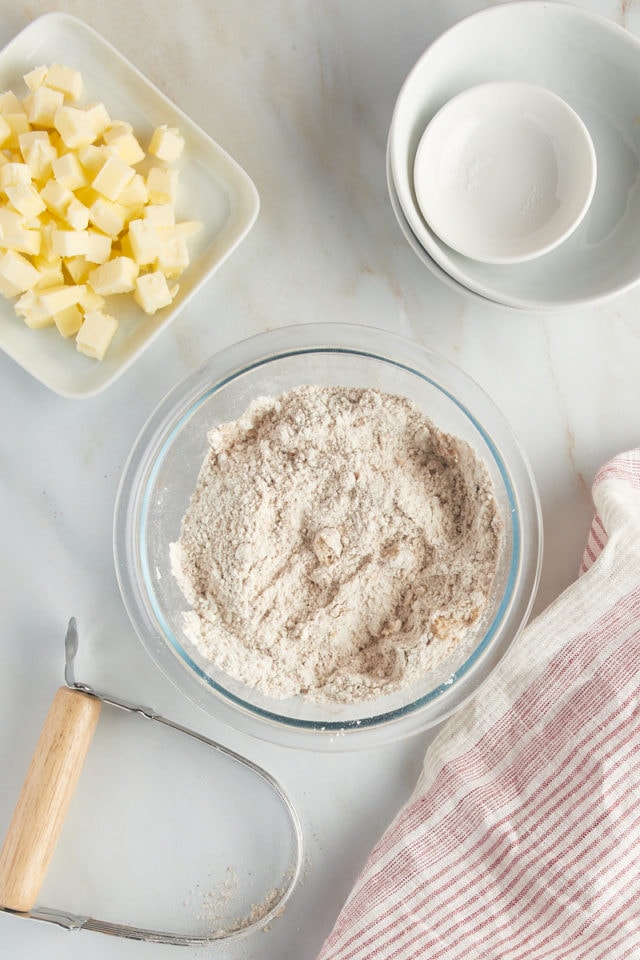 Make the topping. Combine the flour, brown sugar, cinnamon, and salt. Mix the butter into this mixture with a pastry blender, a fork, or your fingers until crumbs form. Place in the refrigerator while you make the cookies.
Prepare for baking. Heat the oven to 375°F. Line baking sheets with parchment paper or silicone liners.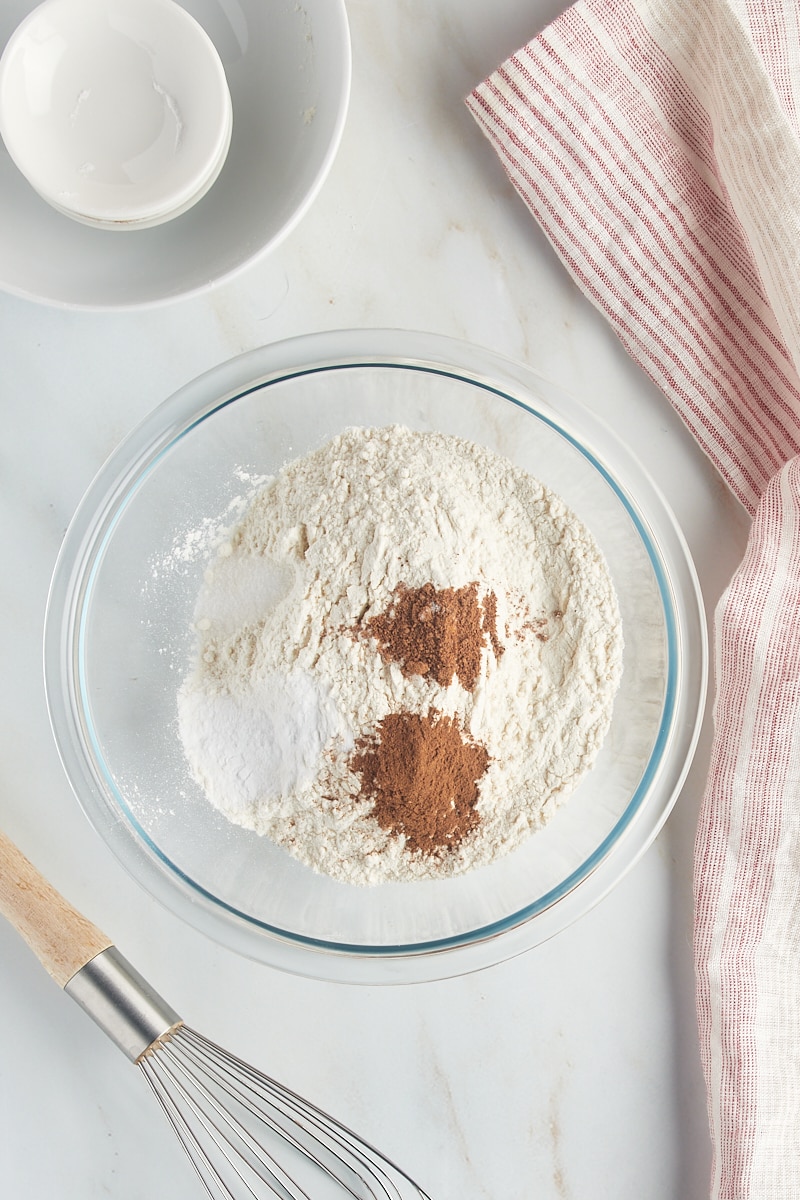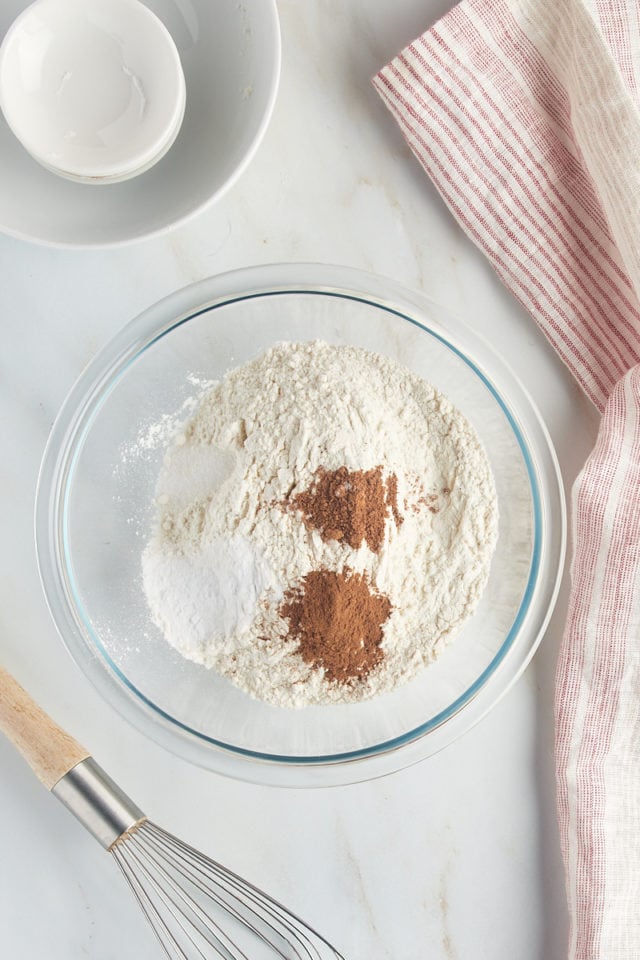 Mix the dry ingredients. Whisk together the flour, cinnamon, nutmeg, baking soda, and salt.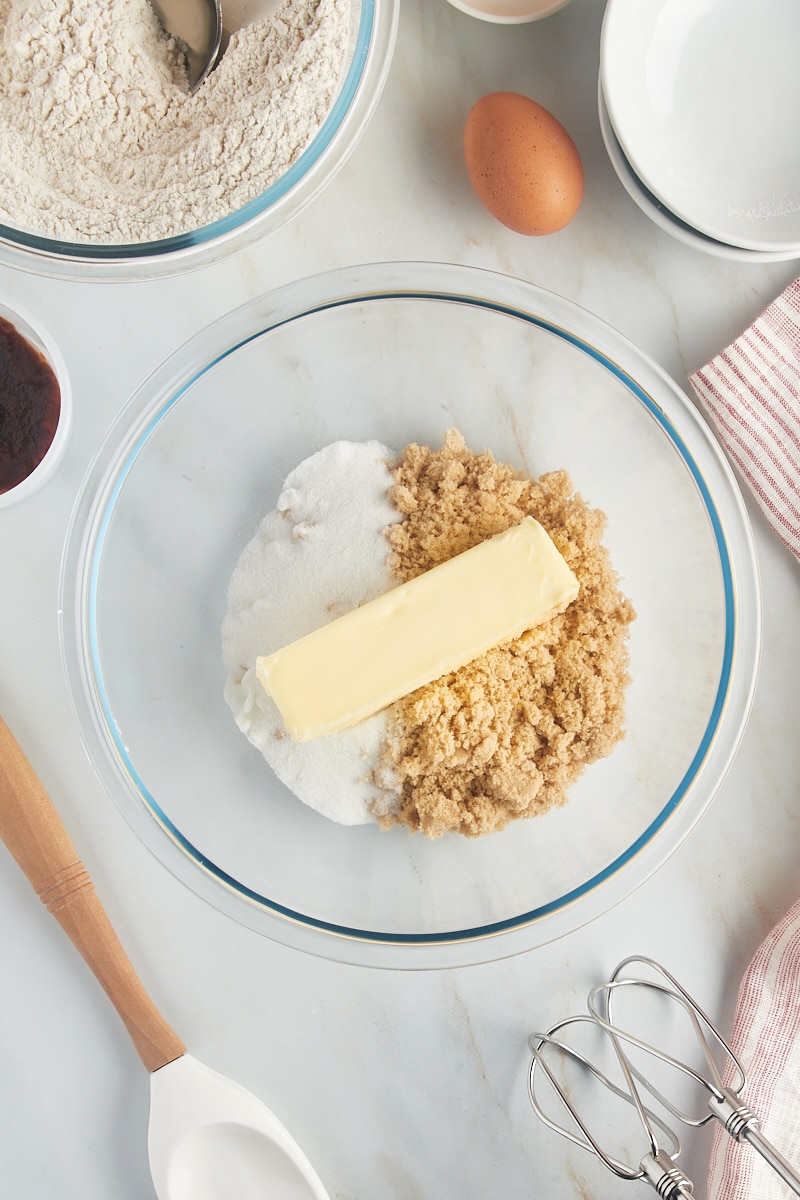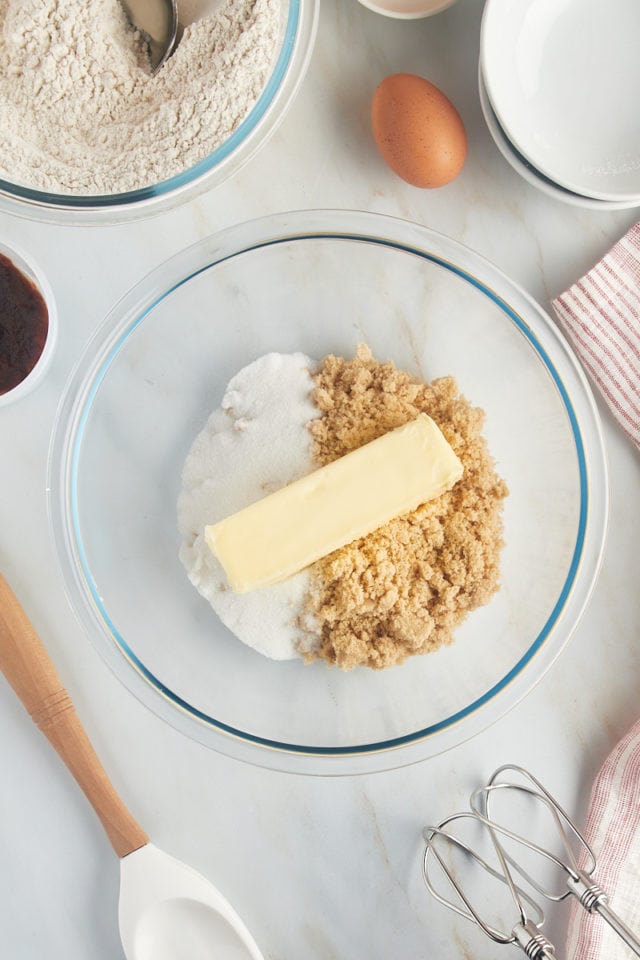 Mix the wet ingredients. With an electric mixer on medium speed, beat the butter, brown sugar, and sugar until fluffy and lightened in color. Next, add the egg and vanilla. Finally, mix in the apple butter.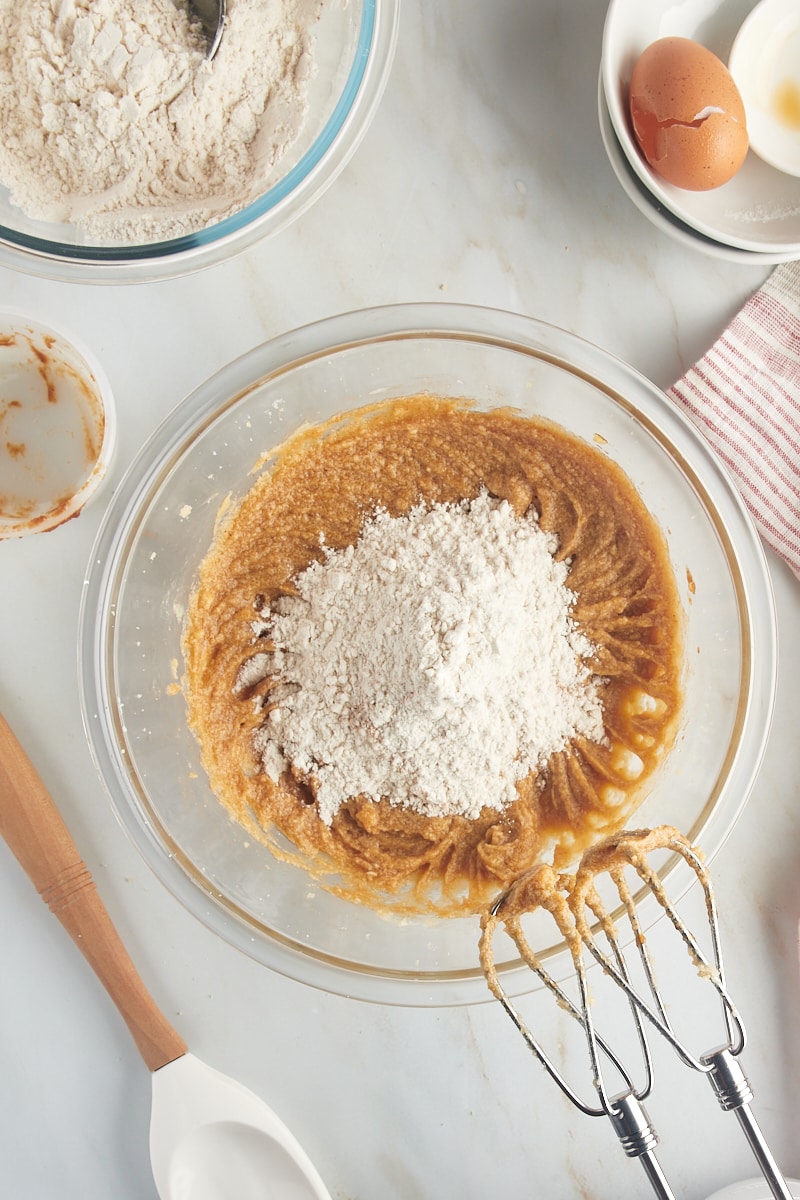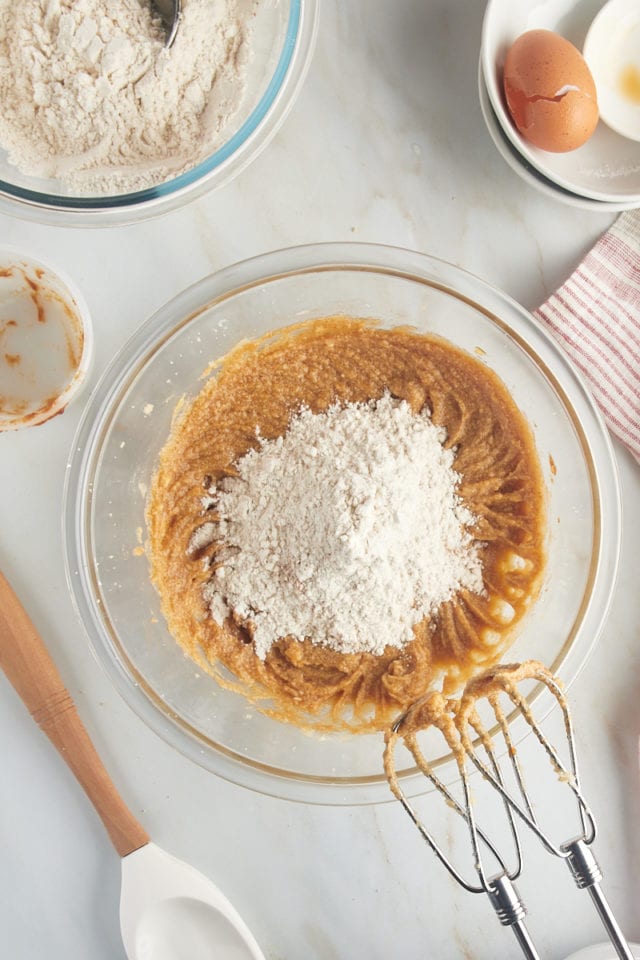 Combine the wet and dry ingredients. With the mixer on low speed, gradually add the flour mixture to the butter mixture. Don't over-mix; mix just until combined or a few small streaks of flour remain.
Add the apples. Stir the apples into the dough, making sure to distribute them evenly.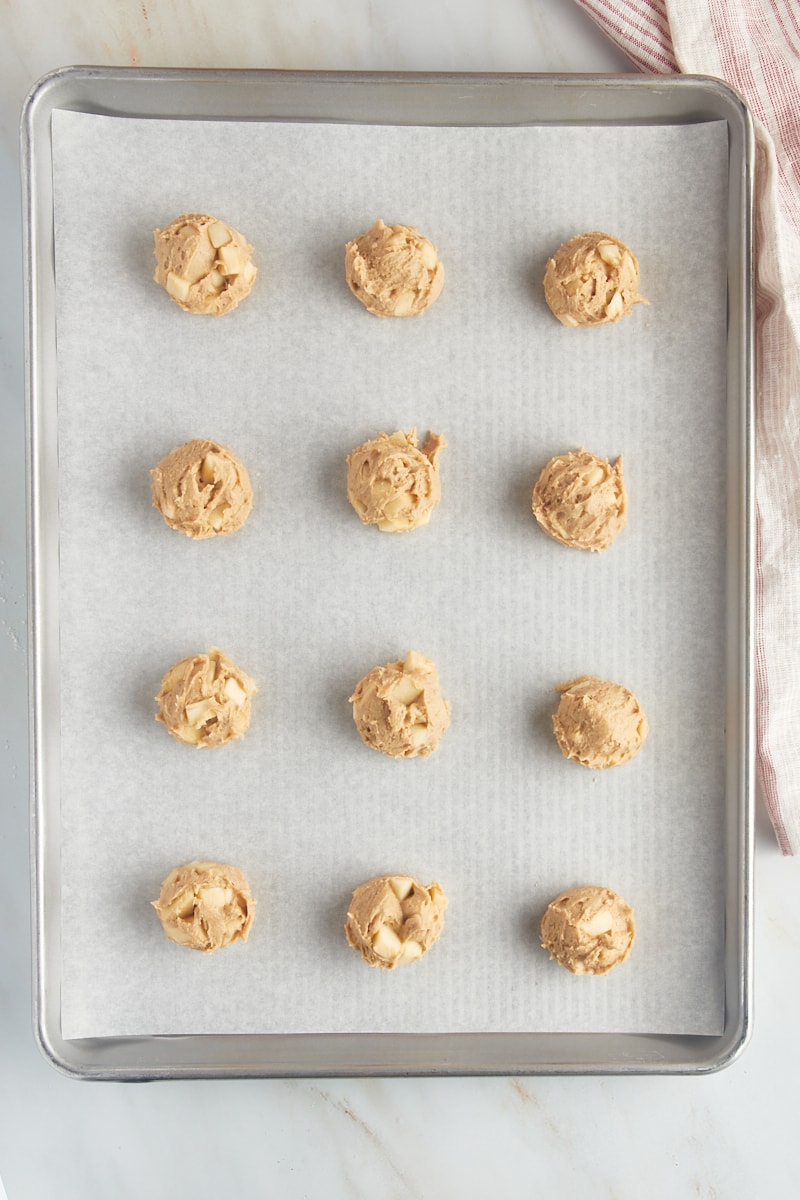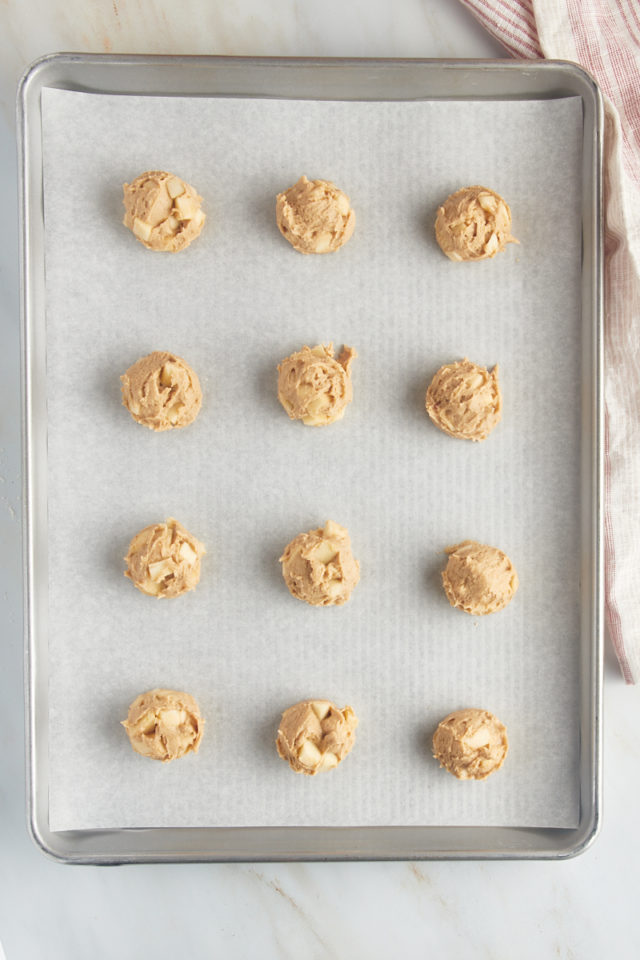 Portion and assemble the cookies. Drop the dough by 2-tablespoon portions onto the prepared pans. (I recommend a cookie scoop to make fast, accurate work of this.) Leave about 2 inches between the cookies. Top each cookie with a generous amount of crumb topping. Lightly press the topping down onto the cookies to help it stick.
Bake. After assembling the cookies, bake one pan at a time for 10 to 12 minutes. The cookies should be golden brown and appear set.
Cool. Place the pans on wire racks to allow the cookies to cool for 5 minutes before transferring them directly to a rack to cool completely.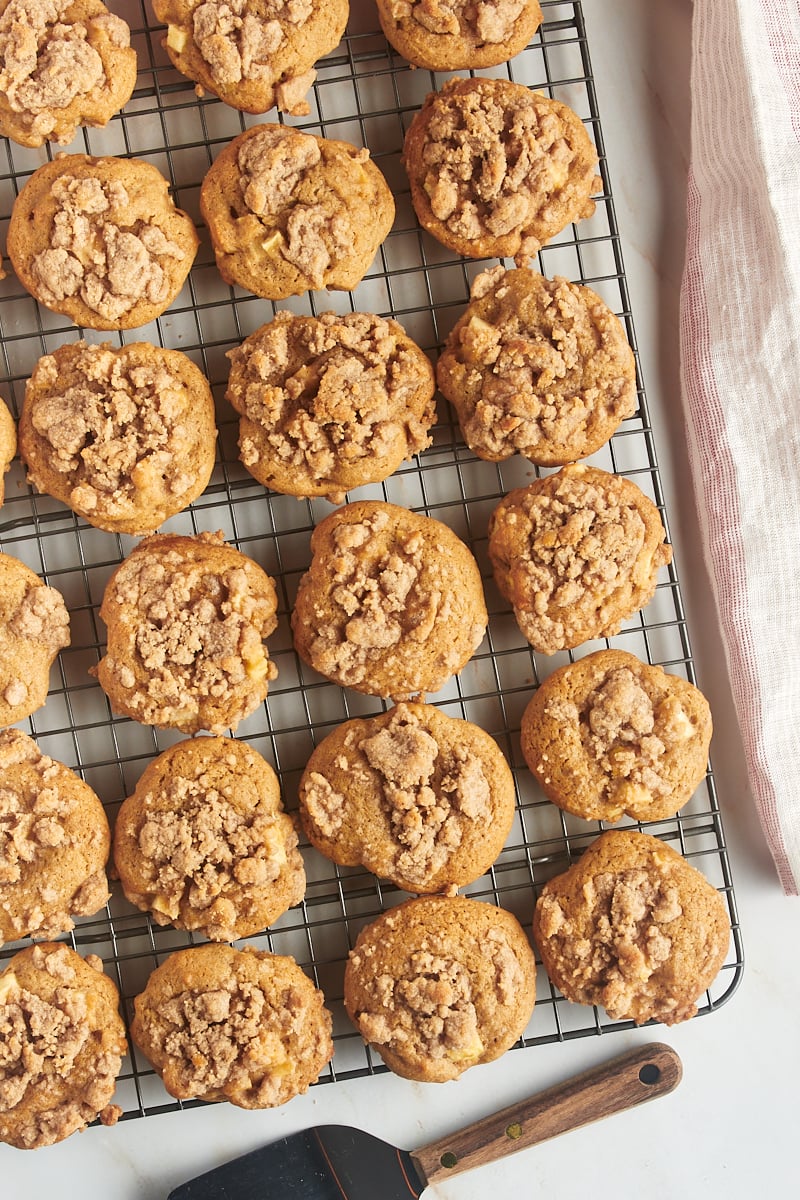 Tips for Success
Follow these tips to help make sure your apple cookies turn out perfectly!
Chop the apples uniformly. Try to make your apple pieces roughly the same size so that they'll distribute well in the dough and bake evenly.
Chill the topping. Refrigerate the topping mixture to keep the butter cold to ensure a crumbly texture after baking.
Don't be shy with the topping. The cookies will spread as they bake, so you can really pile the topping on each cookie before baking.
Don't over-mix. Too much mixing leads to tough cookies.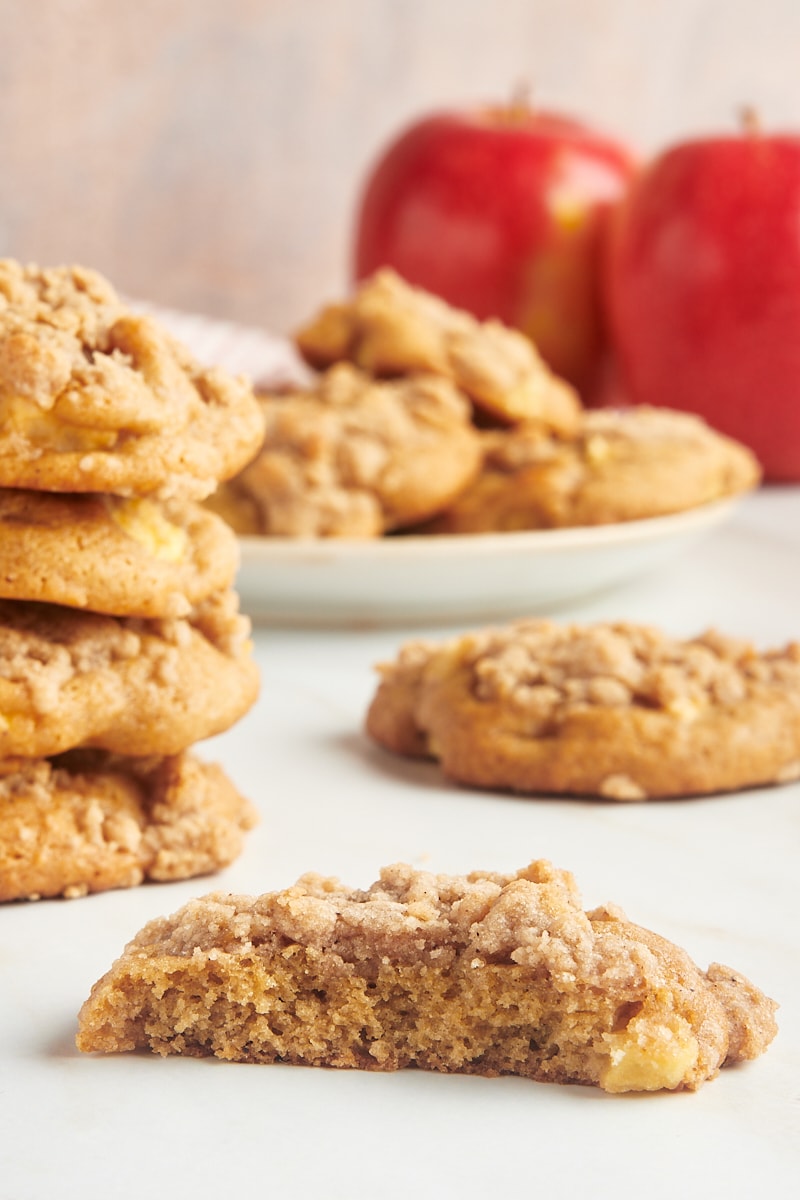 Variations
An easy variation for these apple cookies is to change the spices. You can focus solely on cinnamon, or use a fall spice blend. Easily add a handful of nuts or dried fruits in place of some of the apples. If you want to simplify, skip the topping altogether or sprinkle each cookie with cinnamon-sugar before baking. Try adding a simple glaze like the one on my spiced oatmeal cookies. Or go all out with a drizzle of caramel sauce!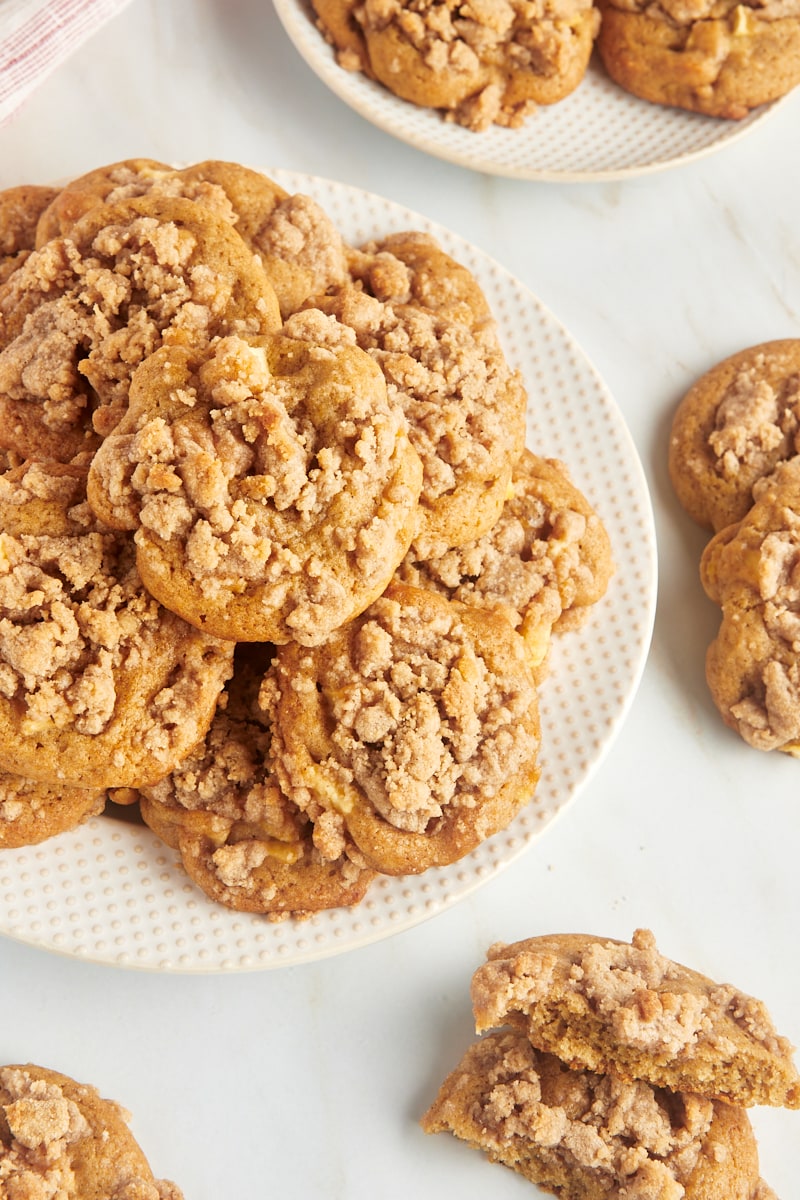 How to Store
After the cookies have cooled completely, place them in an airtight container. They should keep up to 2 days before they get overly soft, although they'll be at their best the day they're made.
Can These Cookies Be Frozen?
Yes, you can freeze these apple cookies. Place them in an airtight, freezer-safe container or bag. If you'd like an extra layer of protection, first wrap each cookie in plastic wrap. Properly stored, the cookies should last up to 3 months in the freezer. Thaw at room temperature before serving.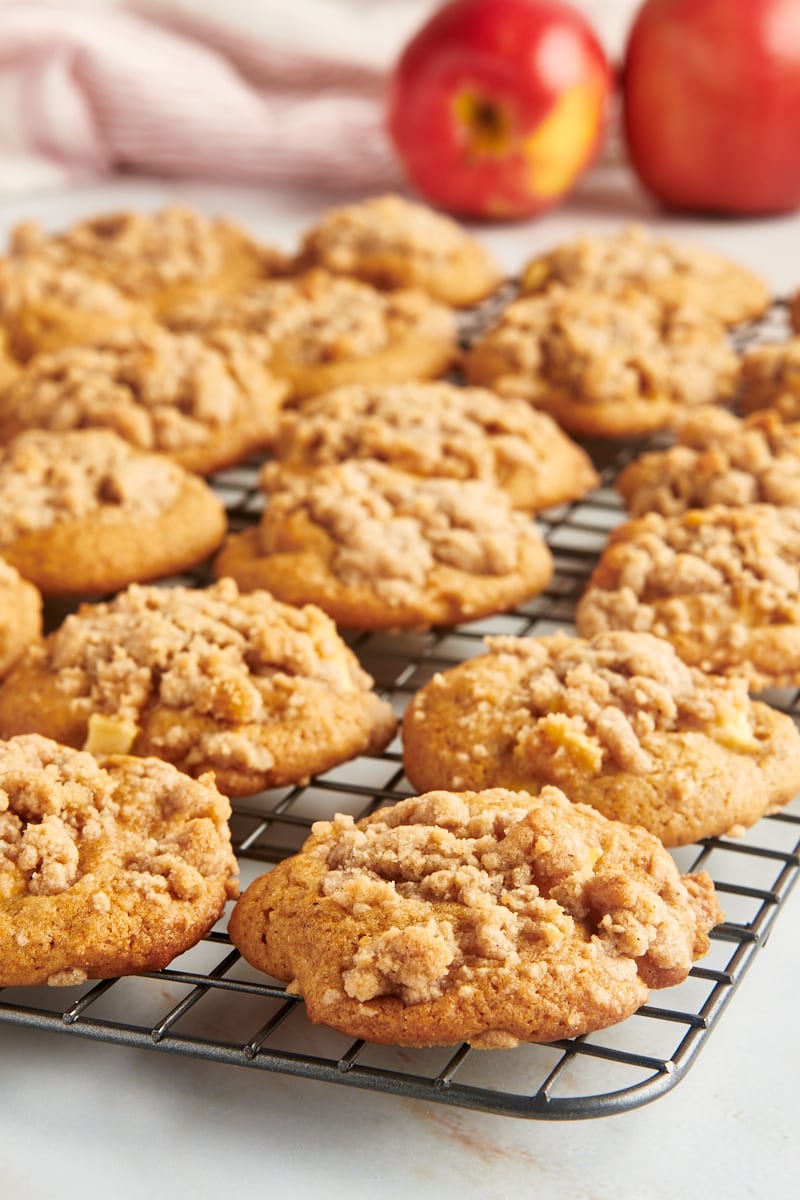 More Apple Recipes