September 19, 2018
Apple Crumb Sheet Cake
Apple Crumb Sheet Cake will serve a crowd with its irresistible apple cinnamon goodness, crumb topping, and sweet glaze!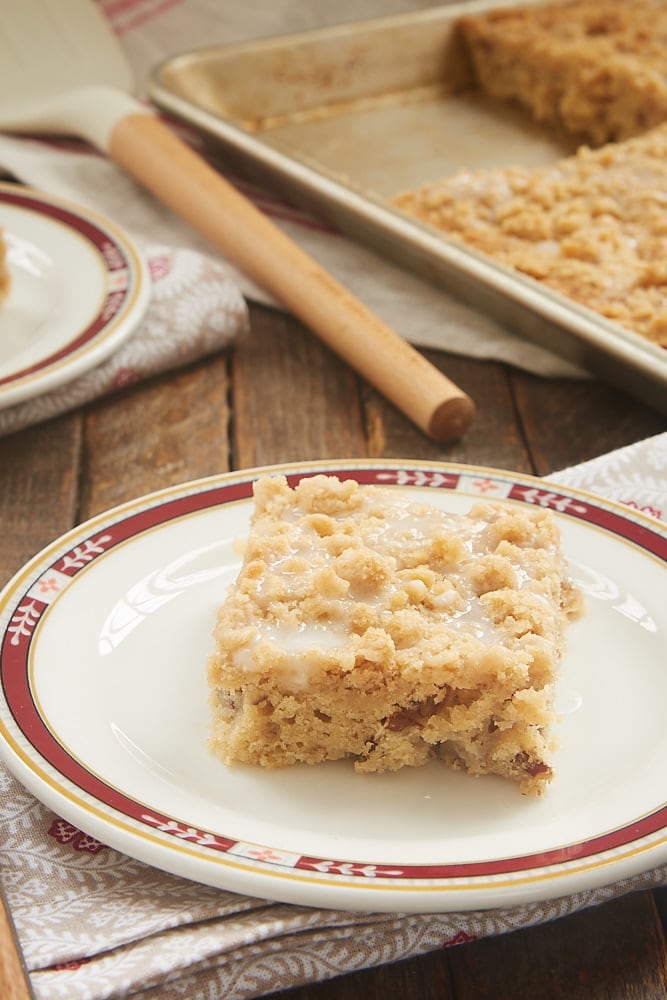 I use my half sheet pans so often, but I mostly use them for baking cookies. As much as I love baking cookies, I have to say that I'm a pretty big fan of sheet cakes, too. This Apple Crumb Sheet Cake is a big ol' cake baked in a half sheet pan for seemingly endless apple and cinnamon goodness.
If you're feeding a crowd, then this is just the kind of cake you need. It serves a whole bunch of people, and it does so with the irresistible flavors of apples and cinnamon and a sweet crumb topping.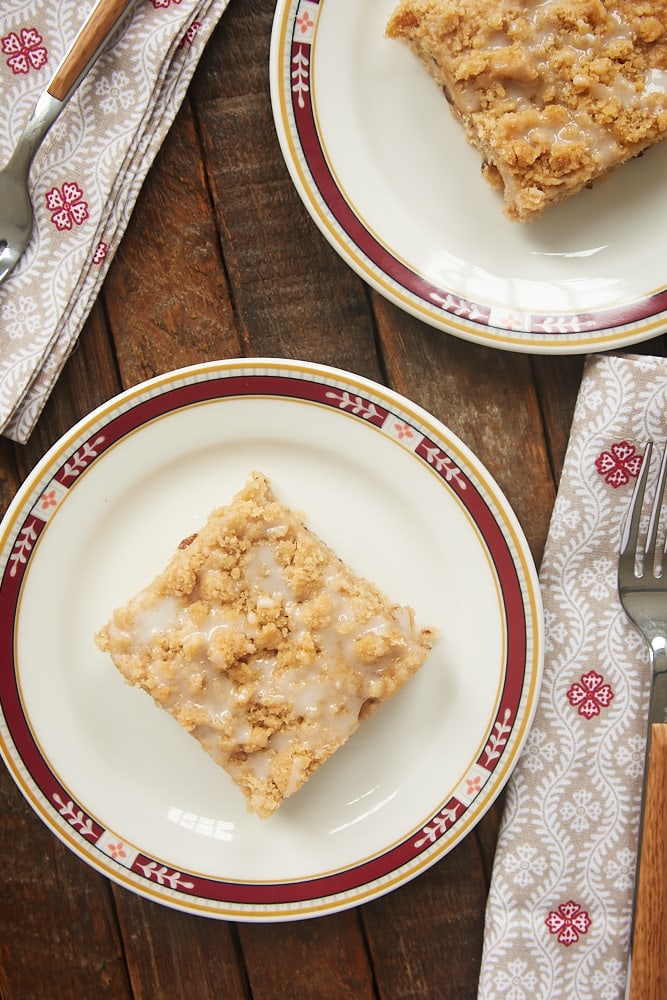 This cake, of course, features lots of apples, but there are also some chopped pecans in there, too, for a little extra flavor and crunch. I really love what they bring to this cake party and will happily toss them in every time I bake this cake. However, you can omit them or substitute another nut if you like.
All that apple goodness is topped with a simple crumb topping made with plenty of brown sugar and another hint of cinnamon. I absolutely adore crumb toppings, and this one is really such a perfect addition to this cake.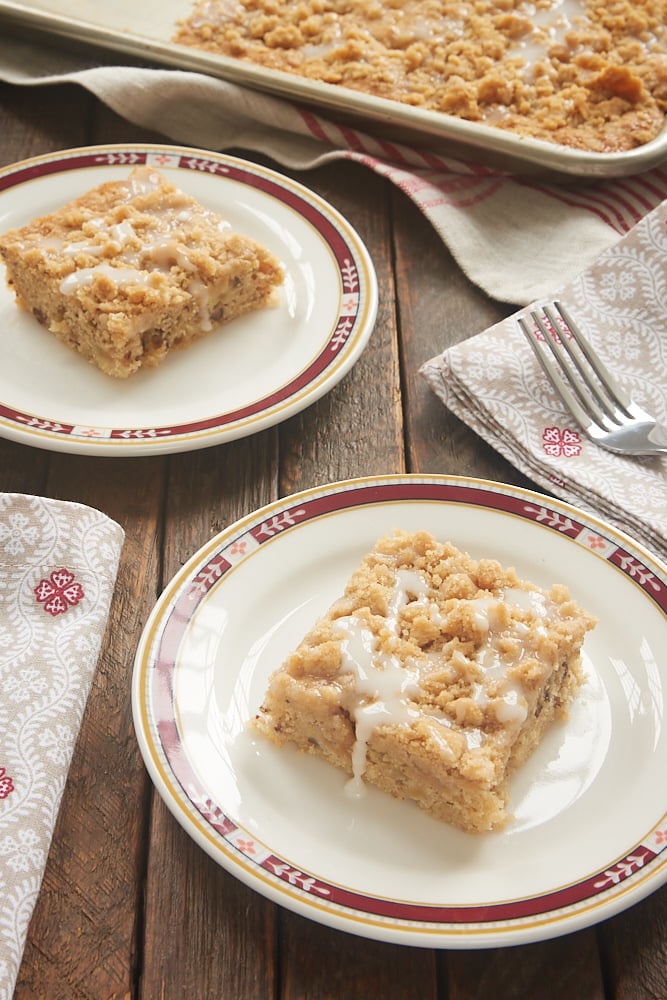 For serving this cake, top it with a simple two-ingredient glaze. You can either drizzle the glaze over the entire cake or on each serving. It dresses it up a little and adds some bonus sweetness. The cake is delicious without it, but I like little bit of extra sweetness, especially if I'm serving the cake for dessert. If you're looking for something to make for a brunch or just sweet snacking, then you may not want to add the glaze. You really can't go wrong either way.
If you and your crowd are big fans of sweets cinnamon-y apple desserts, then give this Apple Crumb Sheet Cake a try. I think you'll love its wonderful flavor and soft texture. It's definitely a favorite around here!
Find more cake recipes in the Recipe Index.
More Crumb Cake Recipes
We are a participant in the Amazon Services LLC Associates Program, an affiliate advertising program designed to provide a means for us to earn fees by linking to Amazon.com and affiliated sites.
Apple Crumb Sheet Cake
Yield: 15 to 20 servings
Prep Time: 25 minutes
Cook Time: 30 minutes
Apple Crumb Sheet Cake is a fantastic crowd-pleaser packed with lots of apples and cinnamon!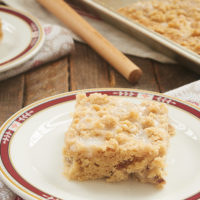 Ingredients:
For the crumb topping:
1 & 1/2 (180g) cups all-purpose flour
3/4 (150g) cup firmly packed brown sugar
1/2 teaspoon ground cinnamon
1/4 teaspoon salt
1/2 cup (113g) unsalted butter, cold and cut into 1/2-inch cubes
For the cake:
3 cups (360g) all-purpose flour
2 teaspoons baking powder
1 & 1/2 teaspoons ground cinnamon
1/2 teaspoon salt
1 cup (226g) unsalted butter, softened
1 cup (200g) firmly packed light brown sugar
3/4 cup (150g) granulated sugar
4 large eggs
2 teaspoons vanilla extract
1 cup milk
2-3 apples (about 3 cups), cut into 1/2 inch pieces*
1 cup (120g) chopped pecans
For the glaze:
1 cup (110g) confectioners' sugar, sifted
3-4 tablespoons milk
Directions:
To make the crumb topping:
Combine the flour, brown sugar, cinnamon, and salt in a medium bowl.
Add the butter, and mix with a pastry blender, a fork, or your fingers until the mixture forms crumbs. Set aside, or refrigerate if your kitchen is warm.
To make the cake:
Preheat oven to 350°F. Grease a 13″x18″ half-sheet pan.
Whisk together the flour, baking powder, cinnamon, and salt. Set aside.
Using an electric mixer on medium speed, beat the butter, brown sugar, and sugar until light and fluffy. Add the eggs, two at a time, mixing well after each addition. Mix in the vanilla.
Reduce mixer speed to low. Add the flour mixture in three portions, alternating with two portions of milk. Mix just until combined.
Stir in the apples and pecans.
Transfer the batter to the prepared pan, and spread evenly. Sprinkle the crumb topping over the top of the batter.
Bake for 25 to 30 minutes, or until the cake is golden brown and a pick inserted into the center comes out clean.
Cool in the pan on a wire rack.
To make the glaze:
Combine the confectioners' sugar and 3 tablespoons of milk until thoroughly mixed. Add more milk as needed for the desired consistency.
Drizzle the glaze over the cake before serving.
Notes:
*Peeling the apples is a matter of preference. I usually don't, but either way is fine.