This simple and delicious Fall Spice Blend is such an easy fall baking hack. Just mix it up, and it's ready whenever you get those fall baking cravings!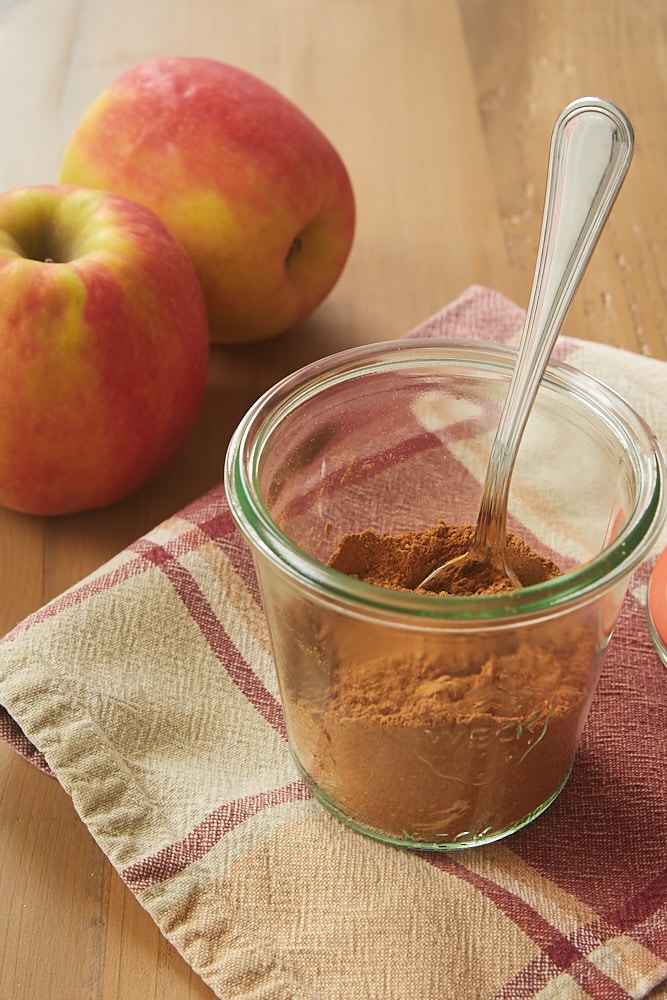 Fall Spice Blend
So much of fall baking is about fall spices. Who can resist baked goods flavored with warm spices like cinnamon, nutmeg, and ginger on a cool fall day? I often find myself using the same spices again and again in my fall baking, so I like to make up a small batch of my favorite blend to use all season.
Having my Fall Spice Blend ready to measure is a simple way to streamline the baking prep process. And you'll have fewer measuring spoons to clean, too!

You can easily scale this blend to make more or less to suit your needs. Most any container that seals well will work to hold the spices. I often use a Weck jar, as shown in the top photo. If you have an empty spice jar, that's a simple way to repurpose those. And if some of you have some design talent, then you can even make a pretty label for your jar of fall spices to keep for yourself or for a lovely homemade gift.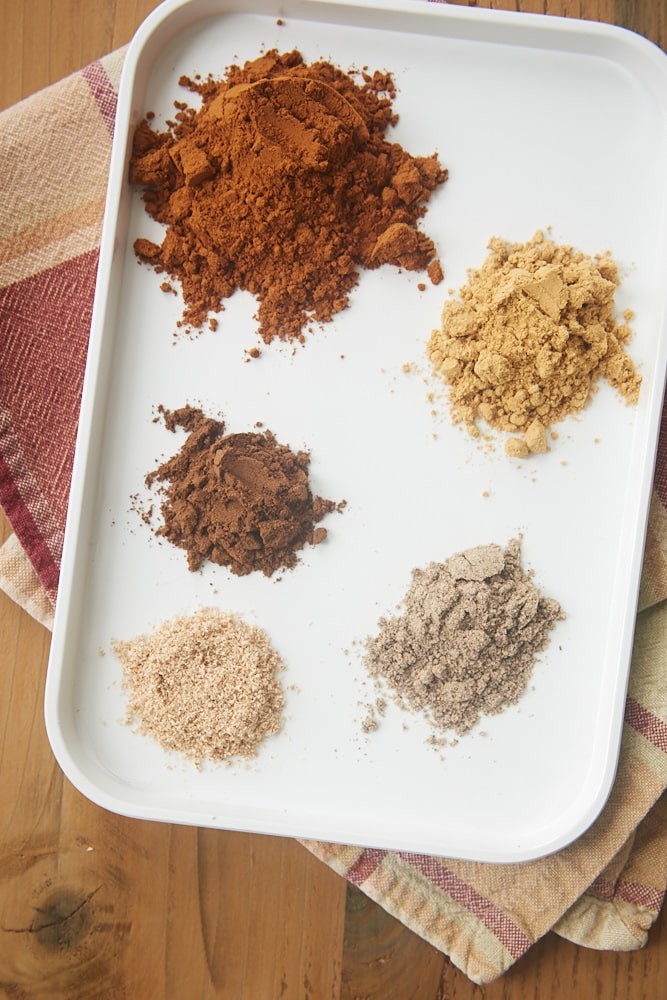 Fall Spices
Here is a list of spices you'll need to make this Fall Spice Blend. Be sure to scroll down to the printable recipe to get the exact measurements.
Cinnamon: I prefer to use Ceylon cinnamon, which is a mild, delicate cinnamon.
Ginger
Nutmeg: I often use fresh nutmeg because I prefer the flavor. If you do that, just keep in mind that you'll need to use less than if you were using ground nutmeg. I've noted that in the recipe below, too.
Allspice
Cardamom
How to Tell if Your Spices Are Fresh
We're all guilty of sticking spices in a drawer or cabinet and, well, just leaving them there. Spices lose their flavor over time, so making sure yours are fresh is key to flavorful dishes.
If you're not sure if your spices are fresh, simply give them a smell. If they don't have a strong smell, then they're likely past their prime. Take it a step further and take a little taste. If the flavor isn't coming through in that sampling, then it won't show up in your baking, either.
Ground spices like the ones you'll use in this spice blend will usually stay fresh for about a year. If it's been longer than that since you stuck that jar of nutmeg in the back of the cabinet, it's probably time for a new jar.
If you prefer to use whole spices, they'll usually keep for 2 or 3 years. You can grind them as needed with a mortar and pestle or with a spice grinder.
Ideas for Variations
For those of you who enjoy pumpkin spice, be aware that those spice blends usually contain cloves, which I don't include in this blend. If you want to include cloves, just add them in the same ratio as the allspice and cardamom.
And if you like a little more ginger or maybe a little less nutmeg, then simply adjust this fall spice blend to your tastes. You'll even find that I alter it a bit sometimes in my recipes to change things up a bit.
This is my favorite blend, but you should make whatever adjustments you want to make it suit your preferences. I think you'll find that having a premixed spice blend ready to measure is such a nice baking shortcut.
How to Substitute Fall Spice Blend in Recipes
To use your Fall Spice Blend, simply substitute it for a list of the same or similar spices in a recipe. You can even use it in many recipes that only have cinnamon. Just keep the total amount of spices roughly the same.
Fall Spice Dessert Recipes
Here are some recipes on BoB that would be great candidates for using this Fall Spice Blend.
Bake or Break is a participant in the Amazon Services LLC Associates Program, an affiliate advertising program designed to provide a means for us to earn fees by linking to Amazon.com and affiliated sites.