This moist, tender Louisiana Crunch Cake is a symphony of flavors and textures, featuring sweet coconut, almond accents, and a sugary glaze. It's sure to become a favorite in your kitchen!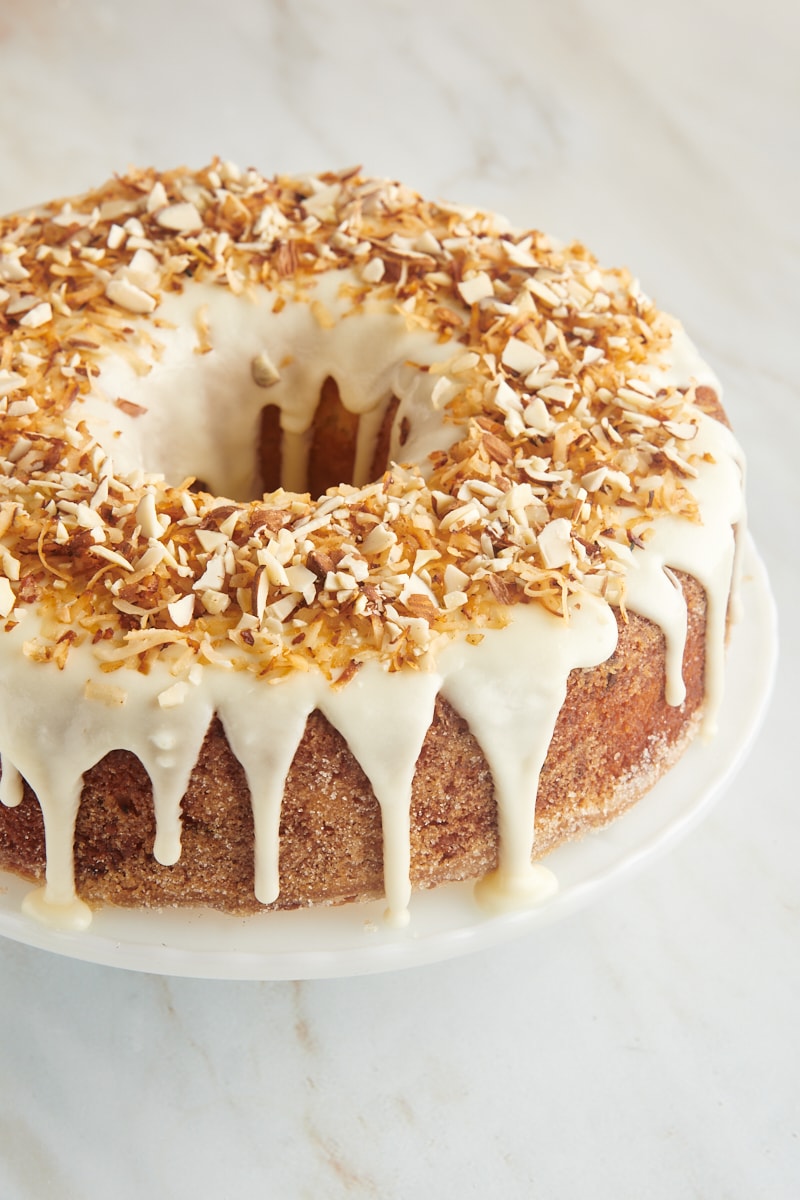 Louisiana Crunch Cake – A Favorite Southern Dessert
I have a soft spot for Southern desserts, due to growing up in Mississippi enjoying those sweet treats made by family and friends. And I love duplicating them here in my New York kitchen to share with all of you!
This Louisiana crunch cake is everything I want a Southern dessert to be. It's simple to make, it has amazing flavor, and it's deliciously indulgent. I mean, look at that glaze and those toppings!
What is a Louisiana Crunch Cake?
This cake features the delightful contrast of a tender crumb against a crunchy, toasted coconut topping. Coating the pan with sugar creates a sweet coating that adds flavor and texture. On top of that sugar-crusted cake is a sweet, buttery glaze and even more coconut along with crunchy almonds.
While the origin of this cake doesn't seem very clear, it's long been a popular dessert in the Southern United States. No matter how it came to be, count me among those who are so very glad it exists!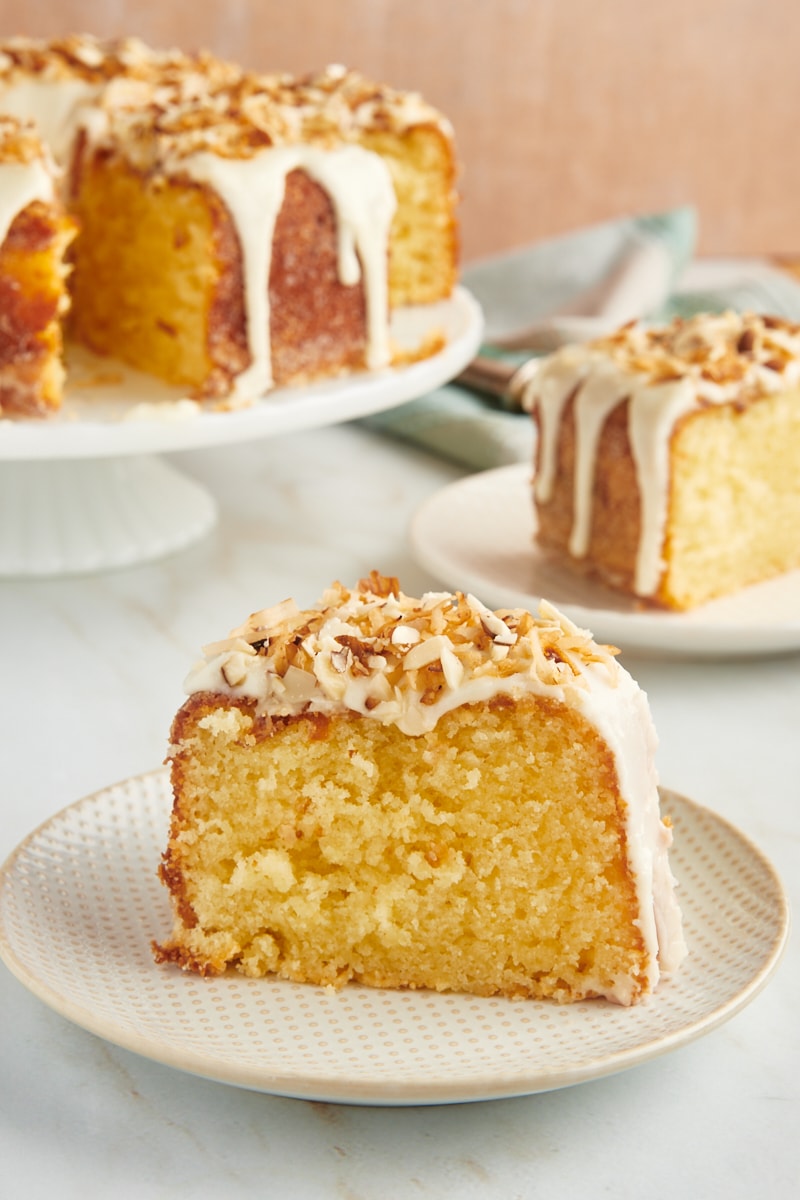 Why You'll Love This Louisiana Crunch Cake Recipe
I think you're going to adore this cake. Here are a few of my favorite things about it:
Irresistible flavor. The cake boasts a delightful combination of sweet coconut, nutty almonds, and a sugary glaze, creating a truly irresistible taste.
Easy to make. While the cake's appearance is striking, its preparation is refreshingly uncomplicated, making it a great choice for both novice and experienced bakers.
Moist and tender. The addition of sour cream and buttermilk ensures the cake is incredibly moist and tender, with a perfect crumb texture.
Stunning presentation. The cake's shape and the garnish of chopped almonds and toasted coconut make it a showstopper for any occasion.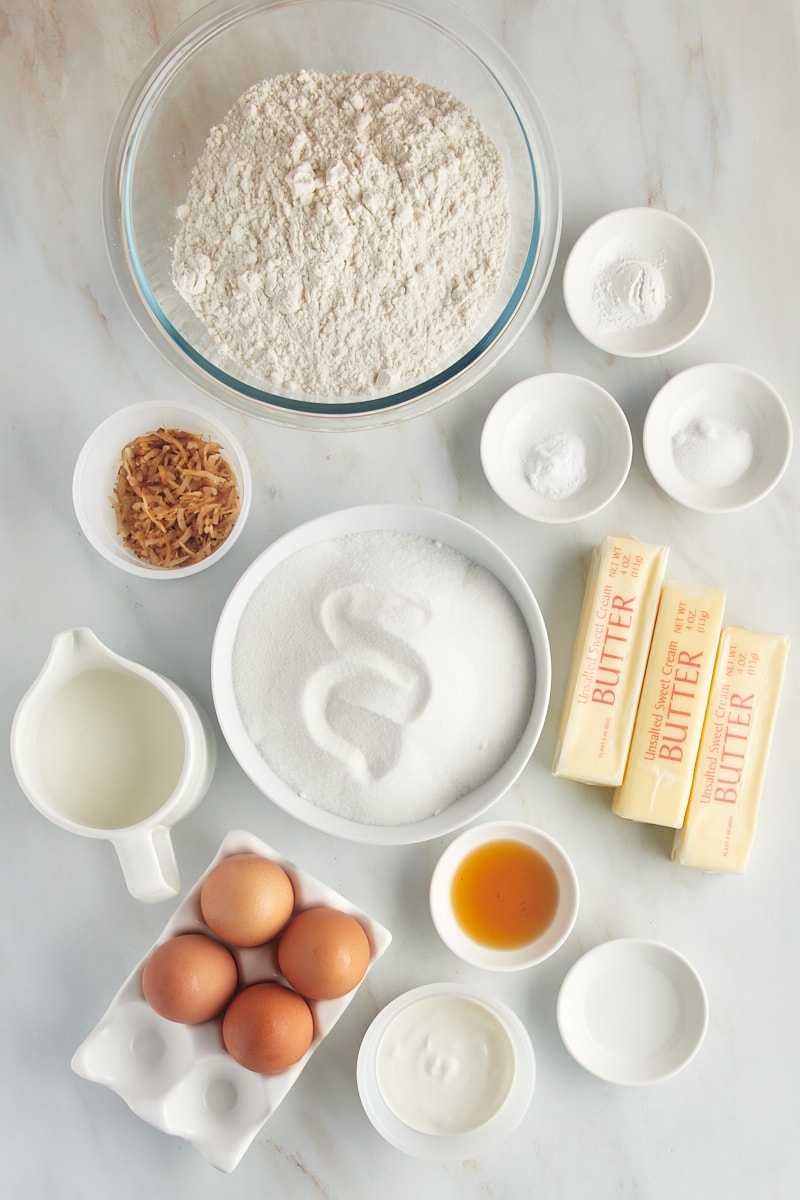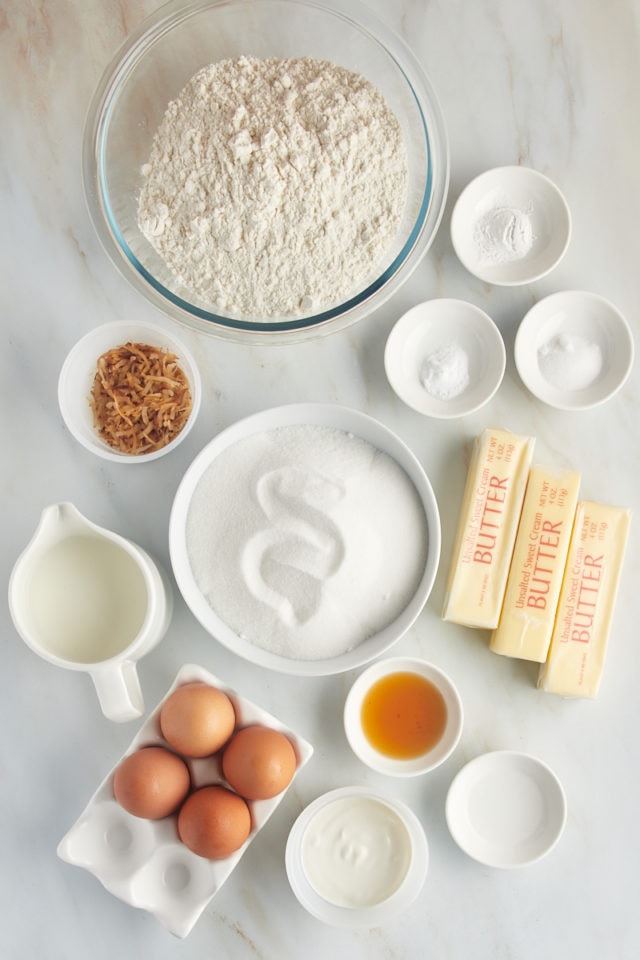 What You'll Need
See the recipe card below for ingredient quantities and full instructions. Here are some notes about the ingredients you'll need to make your Louisiana crunch cake.
Cake Ingredients
Granulated sugar – You'll need sugar for coating your pan as well as for the cake.
Sweetened flaked coconut – Toast the coconut before adding to the pan. Learn more: How to Toast Coconut
Cake flour – See my note below about why we're using cake flour in this recipe.
Baking powder and baking soda – These help make your cake rise.
Salt
Unsalted butter – Soften the butter before mixing. That will usually take about 30 minutes at room temperature.
Eggs – Set these out along with the butter. I recommend baking with large eggs.
Sour cream – This needs to come to room temperature, too. Full-fat sour cream works best.
Vanilla extract
Almond extract
Buttermilk – Set out the buttermilk with the other refrigerated ingredients.
Topping Ingredients
Confectioners' sugar – This is also called powdered sugar. For the smoothest glaze, sift it first.
Unsalted butter – The butter for the glaze needs to be melted and then cooled slightly before mixing.
Vanilla extract
Almond extract
Heavy cream – I like to use cream for texture and flavor, but you can substitute milk if you prefer.
Chopped almonds – Feel free to substitute another nut or omit them.
Toasted coconut – Toast a little extra for garnishing the cake.
Why Use Cake Flour Instead of All-Purpose Flour?
Cake flour has a lower protein content compared to all-purpose flour, resulting in a finer, softer crumb texture in your cake. It also has a finer, lighter consistency, which contributes to a lighter and fluffier cake. Your cake will rise better and achieve a more airy structure. It makes your cake more tender and delicate, which is ideal for cakes like this Louisiana crunch cake.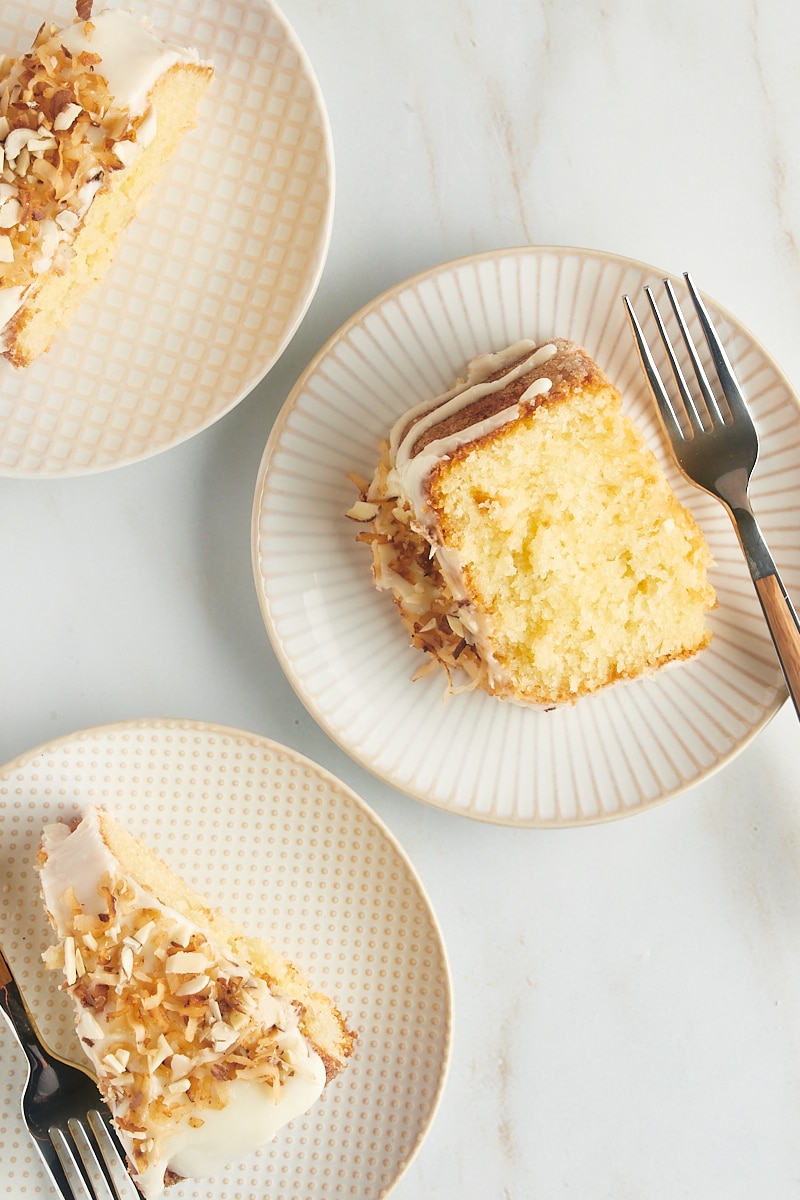 How to Make Louisiana Crunch Cake
You'll be making two separate components – the cake and the glaze. But don't worry; each is easy to make! Here's what you'll need to do:
Make the cake:
Prepare for baking. Heat the oven to 325°F. Use a cooking spray with flour to grease a 12-cup tube pan or Bundt pan. (I recommend Baker's Joy or Pam Baking.)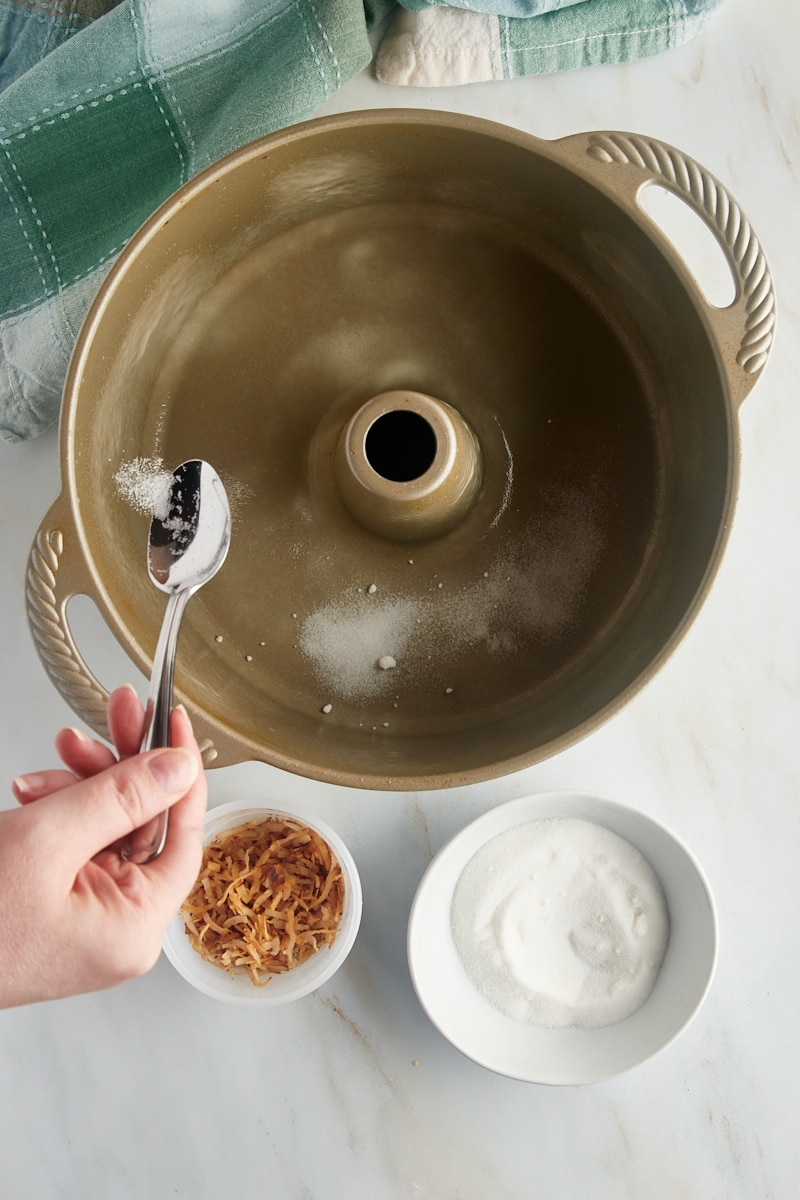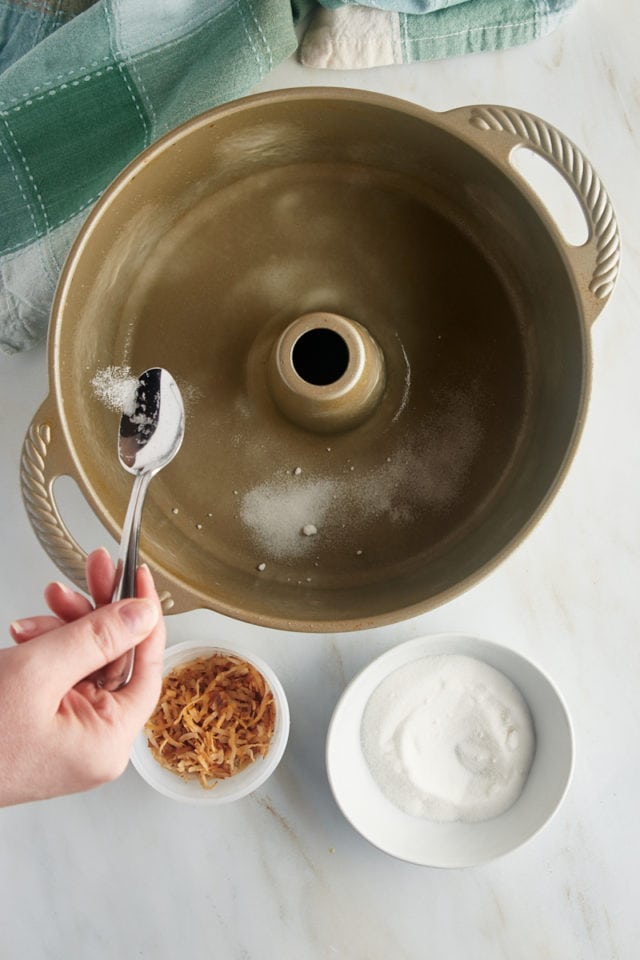 Coat the pan. Sprinkle 1/4 cup sugar in the bottom and up the sides of the pan. Tilt the pan to help distribute the sugar evenly. Sprinkle 1/4 cup toasted coconut in the bottom of the pan.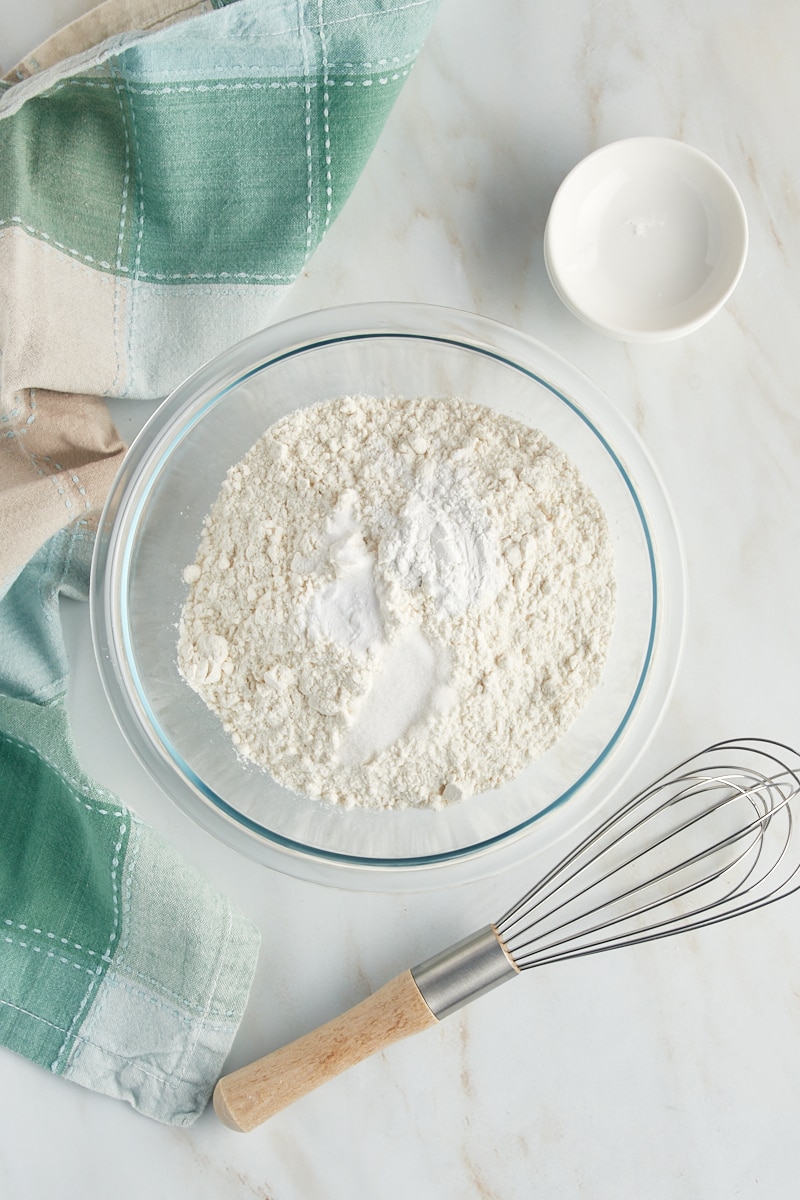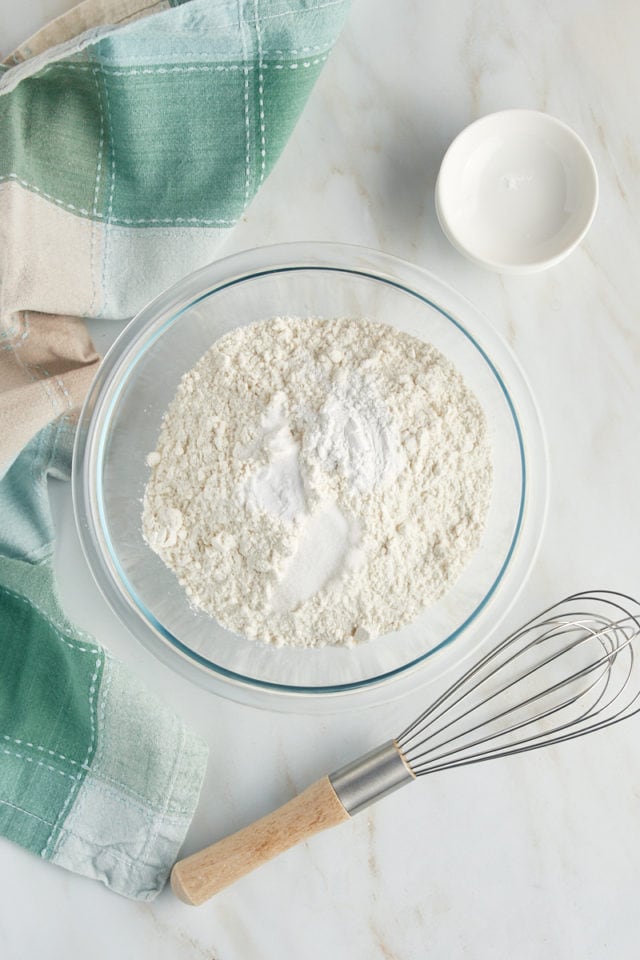 Combine the dry ingredients. Whisk together the flour, baking powder, baking soda, and salt.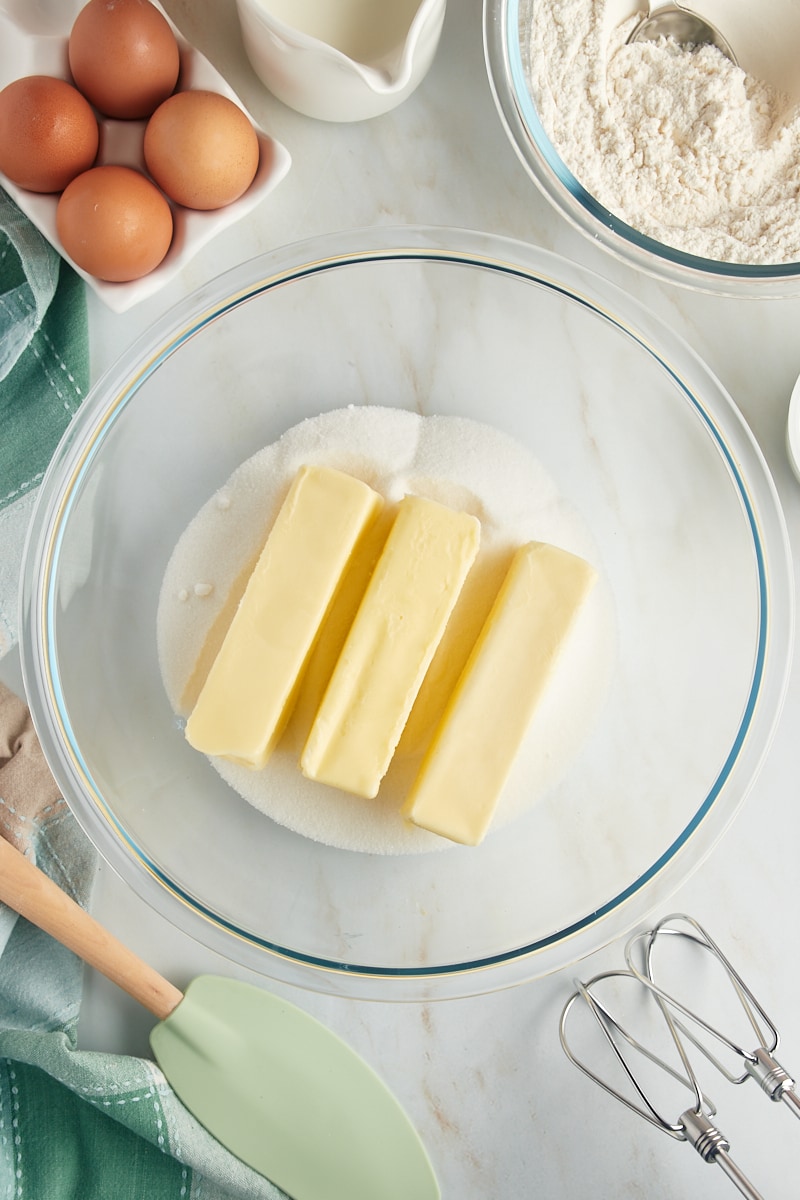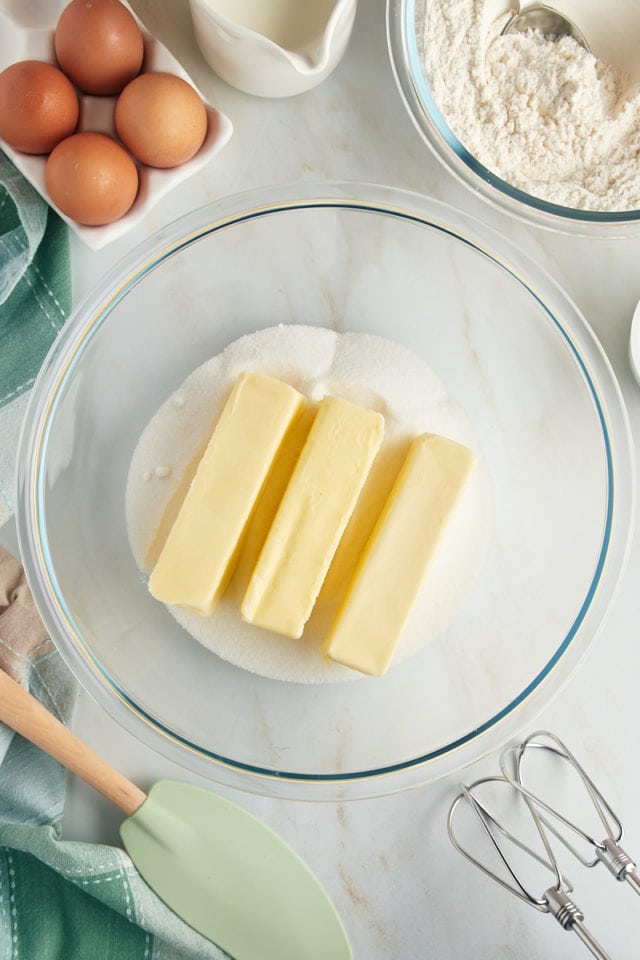 Start mixing the wet ingredients. With an electric mixer on medium speed, beat the butter and 2 cups of sugar until fluffy and lightened in color. (Learn more: The Creaming Method) Add the eggs one at a time, and mix well after adding each. Then mix in the sour cream, vanilla extract, and almond extract.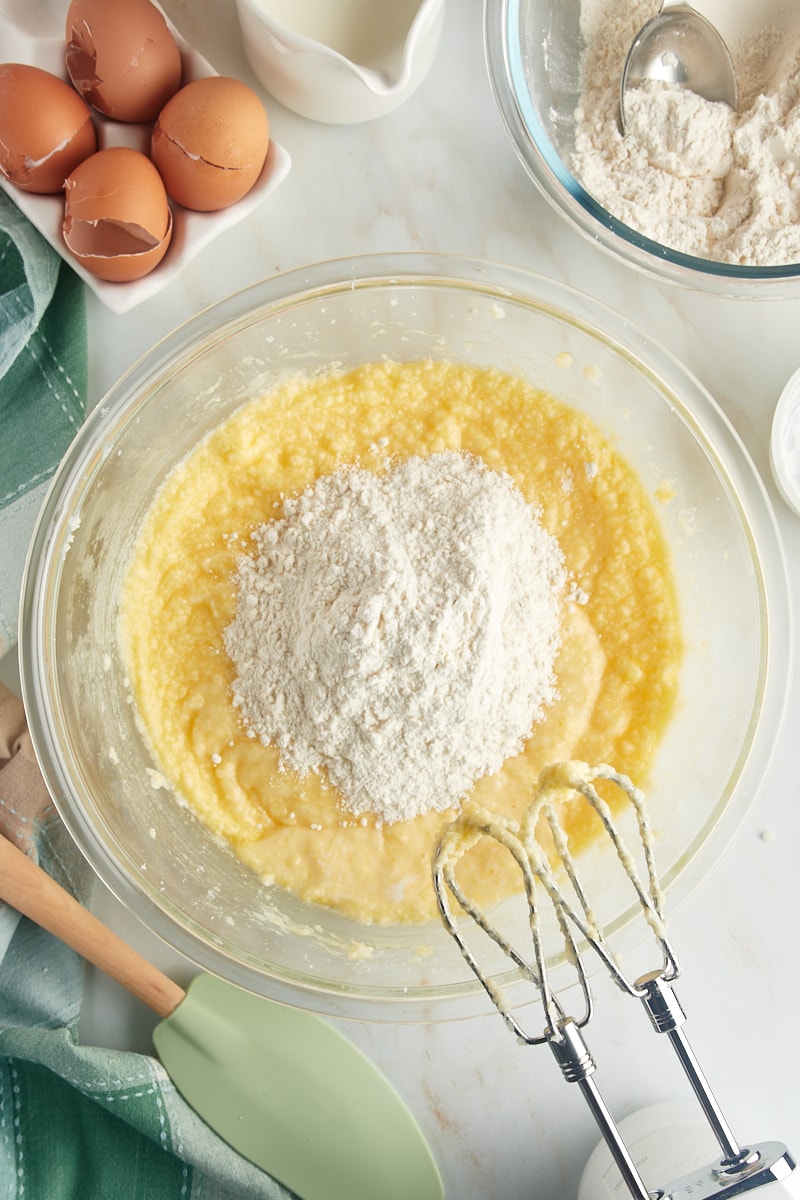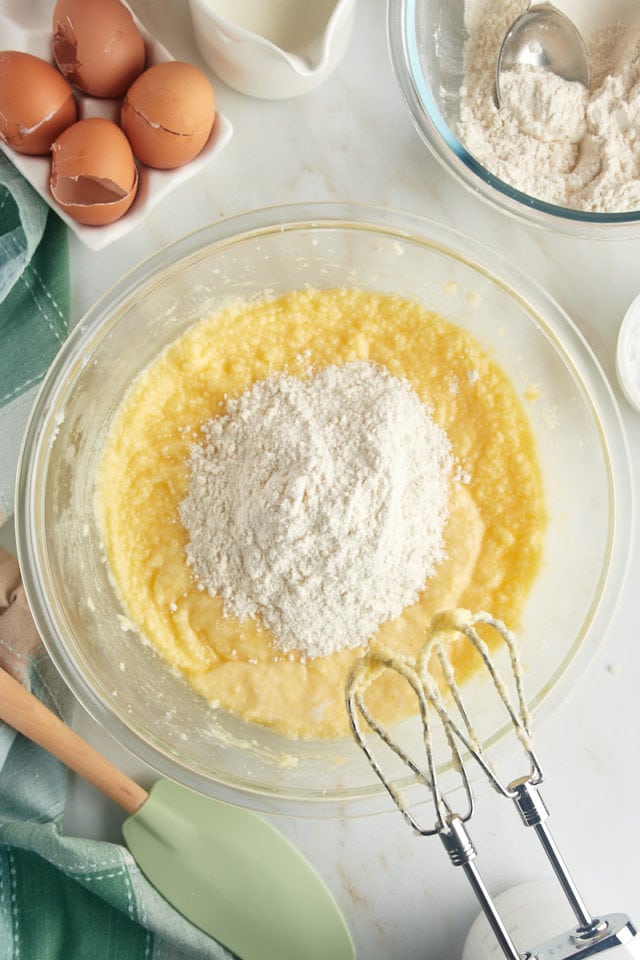 Finish mixing the batter. With the mixer on low speed, add the flour mixture in three portions, alternating with two portions of buttermilk. Don't over-mix; mix just until combined.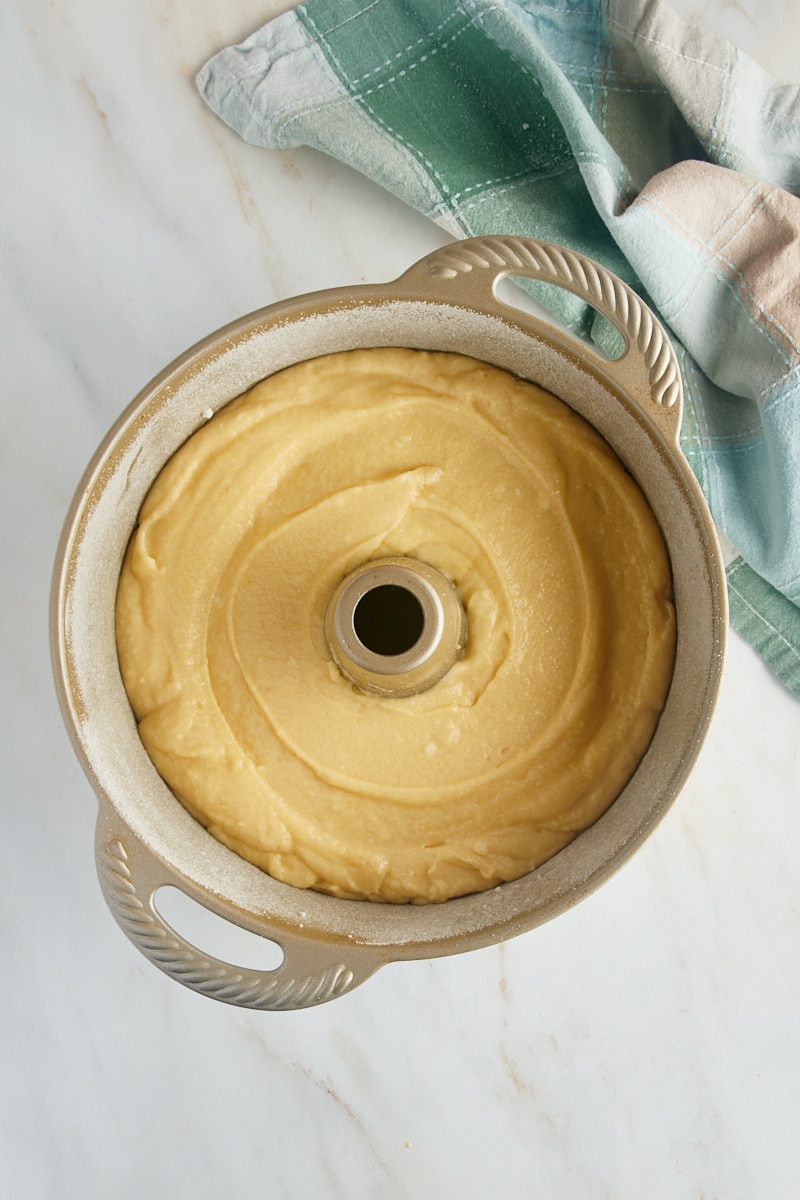 Bake. Carefully transfer the batter to the prepared pan, taking care not to disturb the coating. (Try spooning it into the pan instead of pouring.) Lightly tap the pan on the countertop a few times to get rid of any air bubbles. Bake 50 to 60 minutes, or until the cake is golden brown and a pick inserted into the center comes out clean.
Cool. Place the pan on a wire rack, and allow to cool for 15 minutes. Then invert the cake onto a wire rack to cool completely.
Make the topping: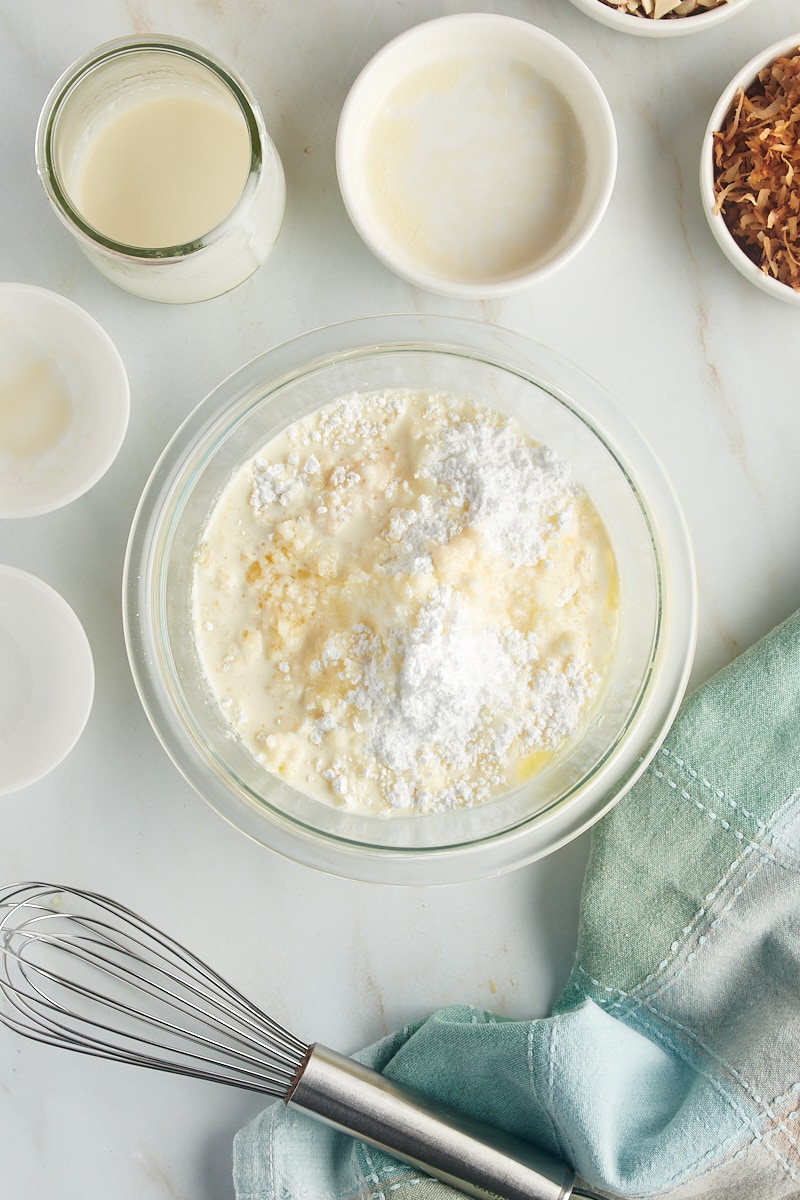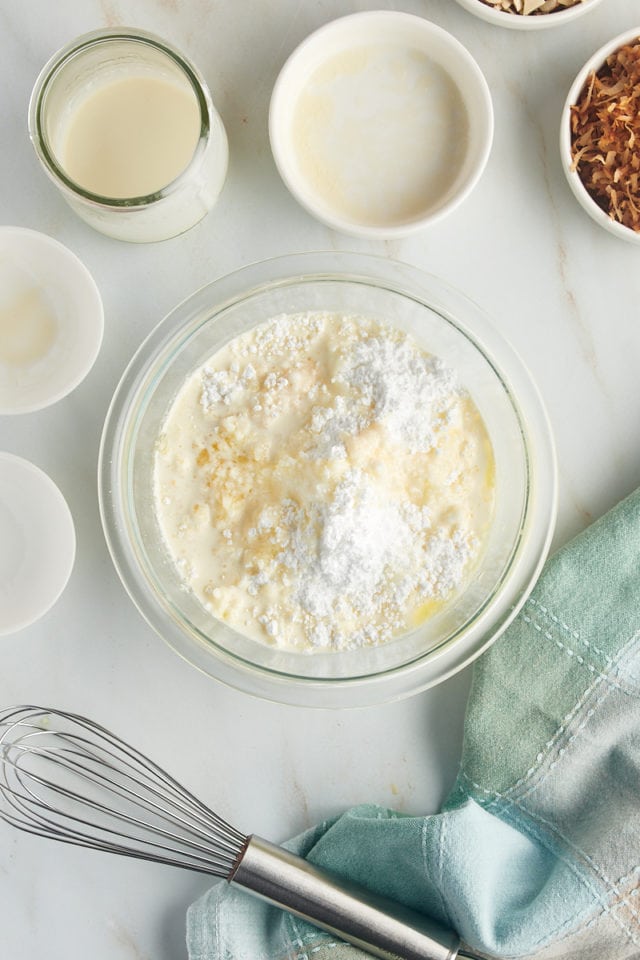 Make the glaze. Whisk together the confectioners' sugar, butter, vanilla extract, almond extract, and 3 tablespoons of the cream. Add more cream in small amounts as needed to make the glaze thick but pourable.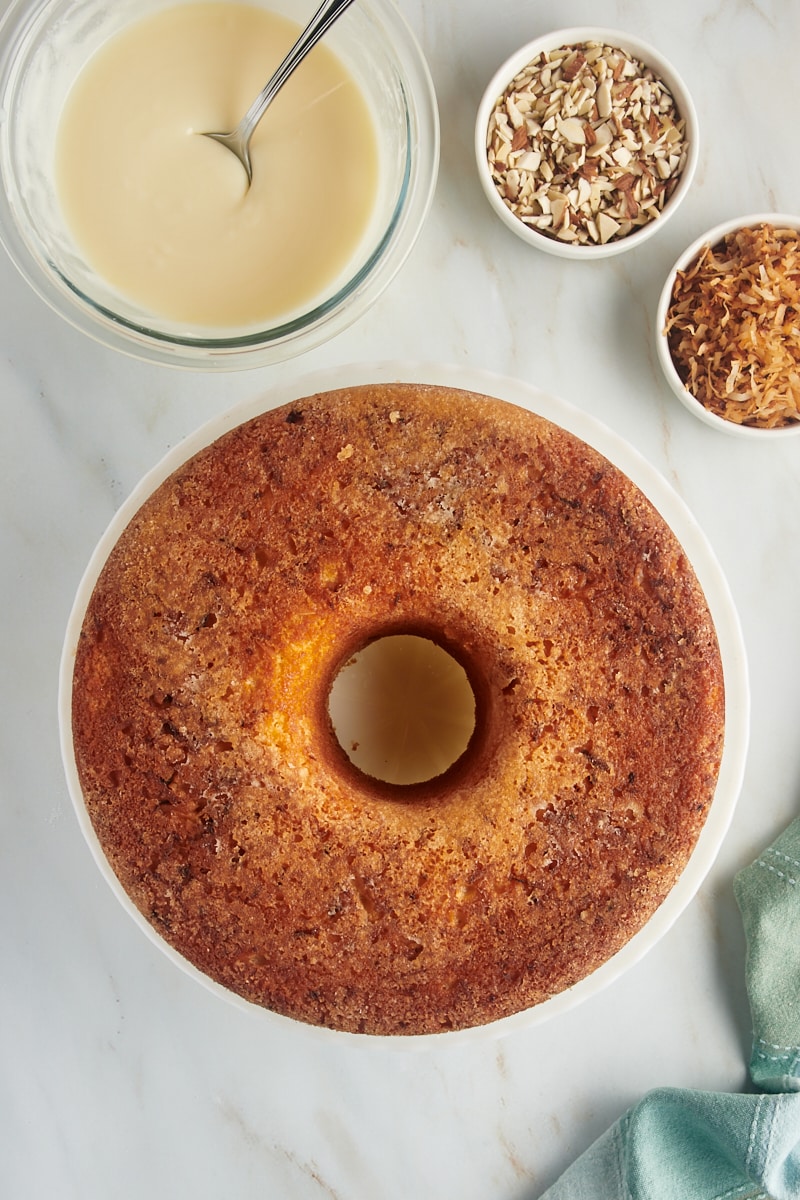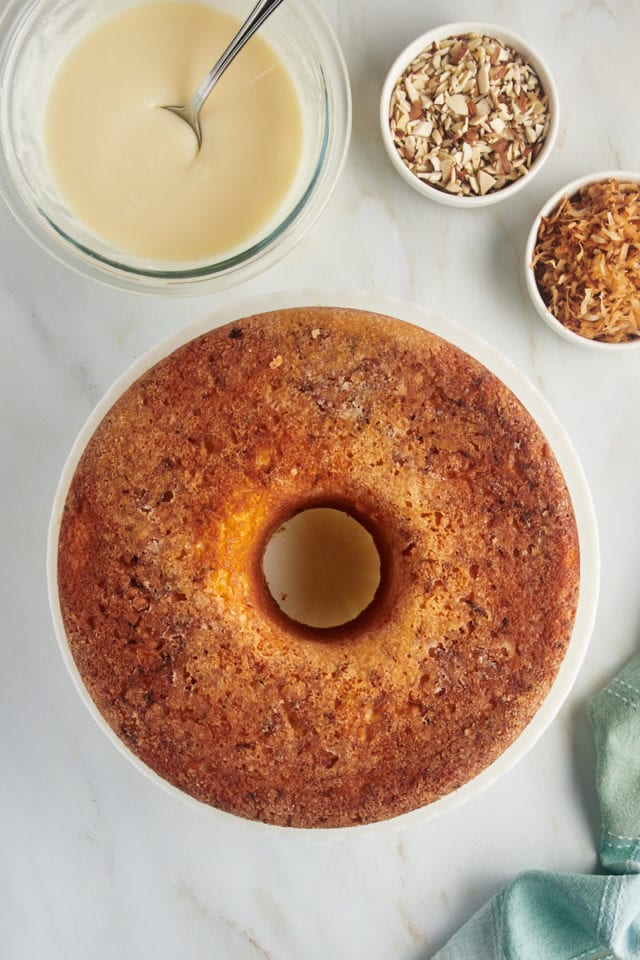 Add the toppings. Spoon or pour the glaze over the cooled cake. Top with more toasted coconut and chopped almonds.
Tips for Success
Read through my baking tips for beginners and then follow these additional tips to help your Louisiana crunch cake turn out perfectly.
Thoroughly grease the pan. That will keep the cake from sticking and also provide a sticky surface for the sugar to coat the pan. I recommend a cooking spray with flour, like Baker's Joy or Pam Baking.
Use room temperature ingredients. Bring the butter almost to room temperature (see How to Soften Butter), and let the eggs, sour cream, and buttermilk come to room temperature before mixing. Your batter will be smoother and your cake will have a more even texture.
Don't over-mix. Mix the batter until just combined. Over-mixing can result in a tougher cake.
Take care transferring the batter to the pan. I recommend spooning the batter instead of pouring it into the pan. That will allow you to distribute the batter evenly without disturbing the coconut in the bottom of the pan.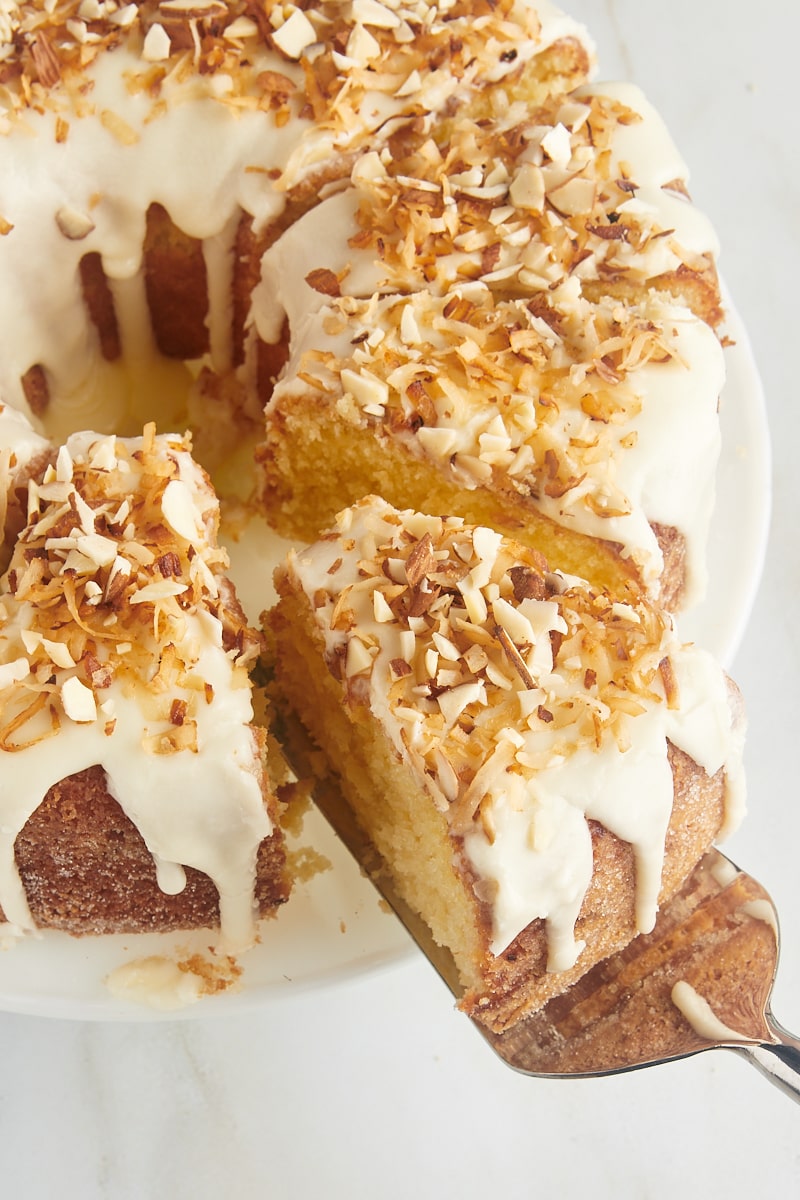 Variations
This cake can easily be adapted to suit your tastes. Add some zest from oranges, lemons, or limes to the cake batter for a citrusy flavor. Try adding a teaspoon of cinnamon or nutmeg to the dry ingredients for a warm and comforting spiced cake. You could also add about a tablespoon of your favorite liqueur, such as Amaretto, Grand Marnier, or coconut rum. Or add 1/4 to 1/2 teaspoon of coconut extract for a bigger coconut flavor.
For the topping, you can use different nuts or omit them in favor of even more toasted coconut for added texture and flavor. For a simpler cake suitable for anytime, omit the glaze or simply sprinkle with confectioners' sugar, or top with ice cream or whipped cream before serving.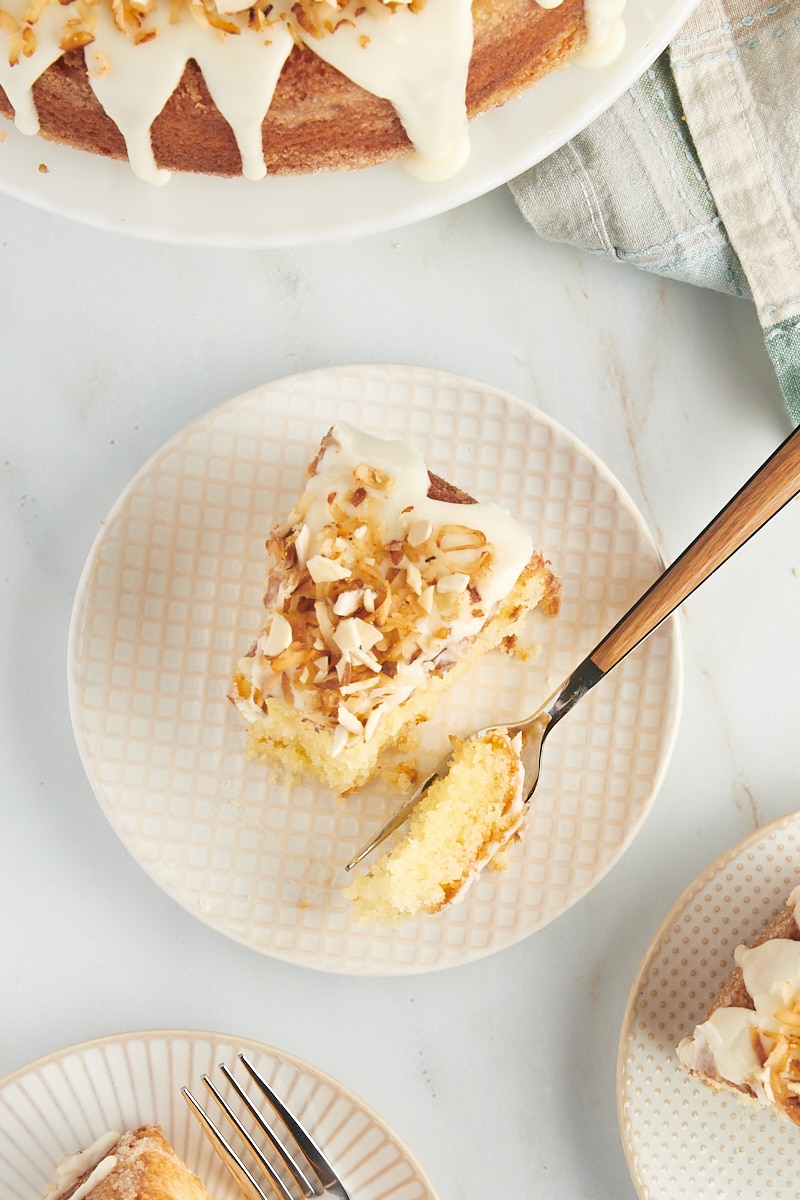 How to Store
Store the cake covered at room temperature for a day or two. For longer storage, refrigerate in an airtight container, but bring it to room temperature before serving for the best flavor and texture. Keep in mind that storing in the refrigerator can make a cake dry, so be extra sure the container is airtight.
Can This Cake Be Frozen?
Yes, you can freeze this cake with or without the glaze. If freezing with the glaze, place the cooled cake or individual slices on a rimmed baking sheet, and freeze until the glaze is frozen solid (2-3 hours). Then wrap well in plastic wrap and place in an airtight, freezer-safe container or bag. Without the glaze, you can skip that initial freezing step. Thaw overnight in the refrigerator.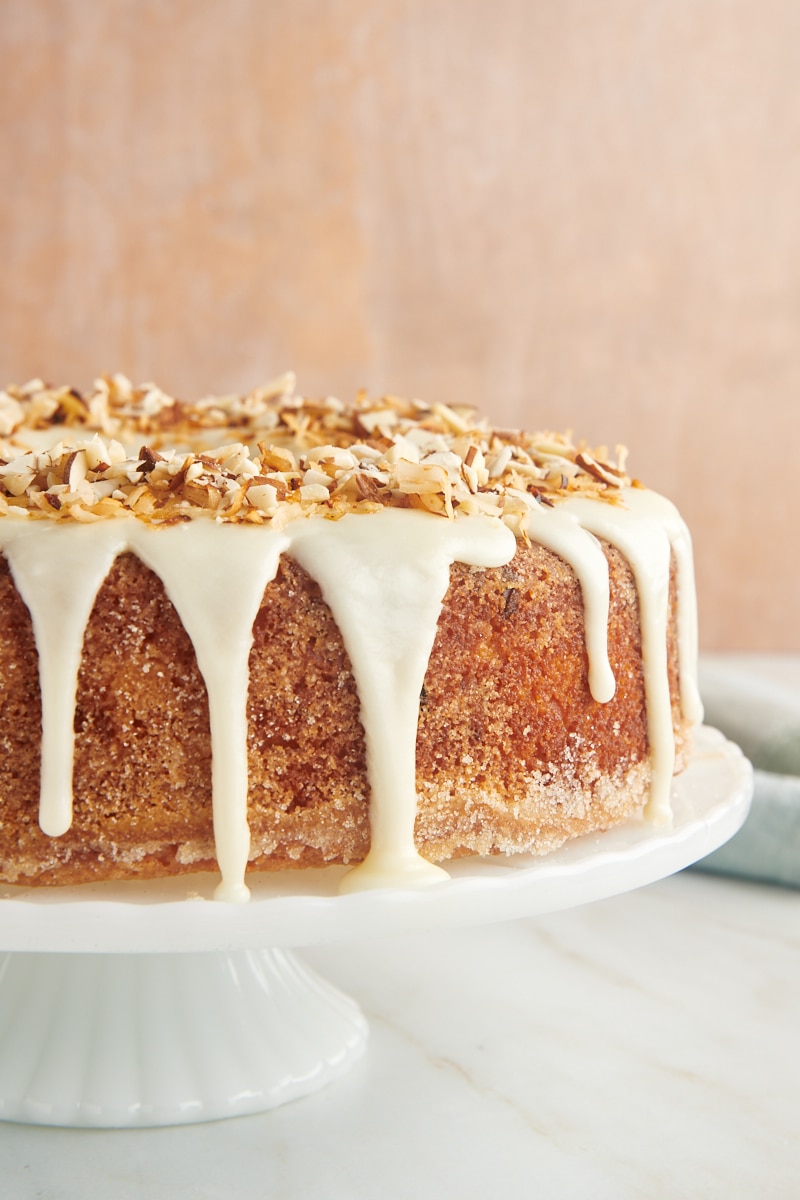 More Southern Cake Recipes