Rich white chocolate macadamia nut cookies are a bakery-style treat you can easily make at home. You'll love the chewy texture, decadent macadamias, and creamy white chocolate chips in every bite!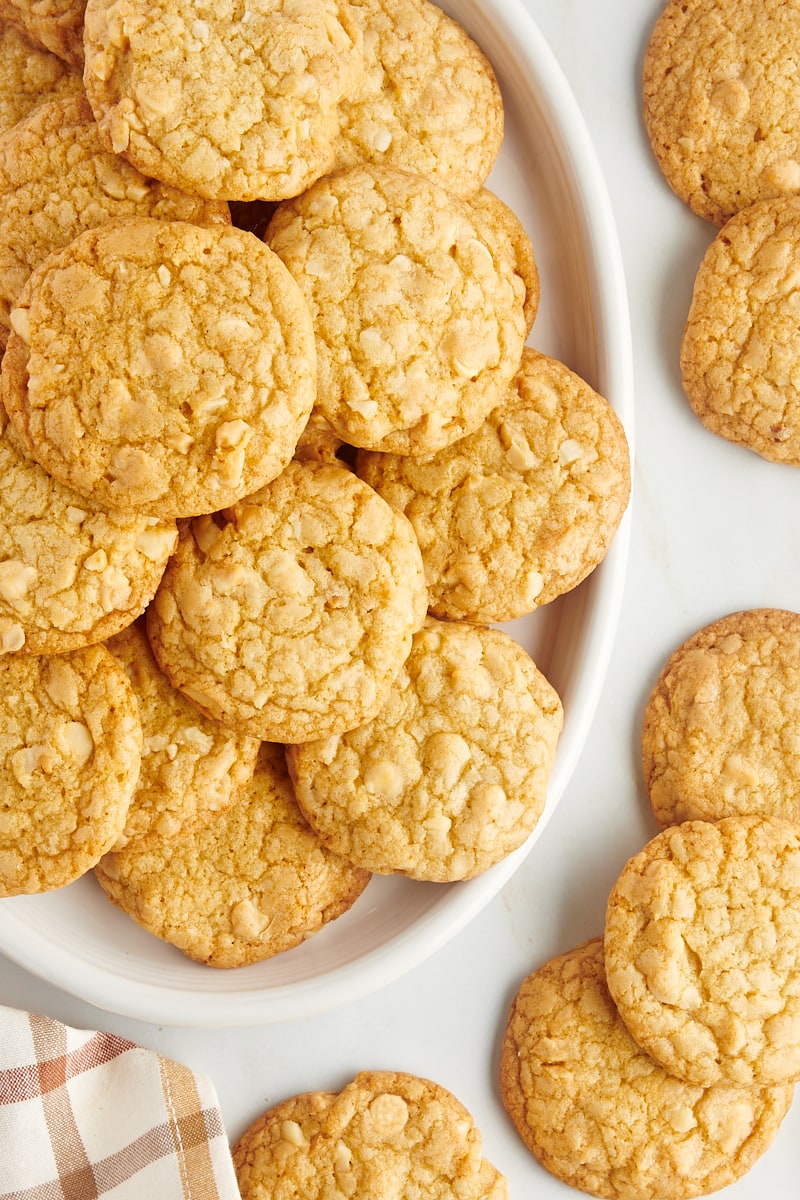 Chewy White Chocolate Macadamia Cookies
There's something about macadamia nuts that just feels so indulgent. Maybe it's their tropical origins or the fact that they cost a pretty penny—or maybe it's because they somehow manage to be both buttery and crunchy at the same time. At any rate, if you have a weakness for macadamia nuts, these white chocolate macadamia nut cookies are destined to become a favorite.
They're not any more difficult to make than chewy chocolate chip cookies or drop sugar cookies, but the addition of those lovely macadamia nuts really makes them seem like a special treat. Brown sugar gives the cookies a perfectly chewy texture and a note of caramelization that pairs beautifully with the nuts and white chocolate, and an extra egg yolk amps up the richness of the cookie dough.
The only problem with this recipe is that it's nearly impossible to eat just one!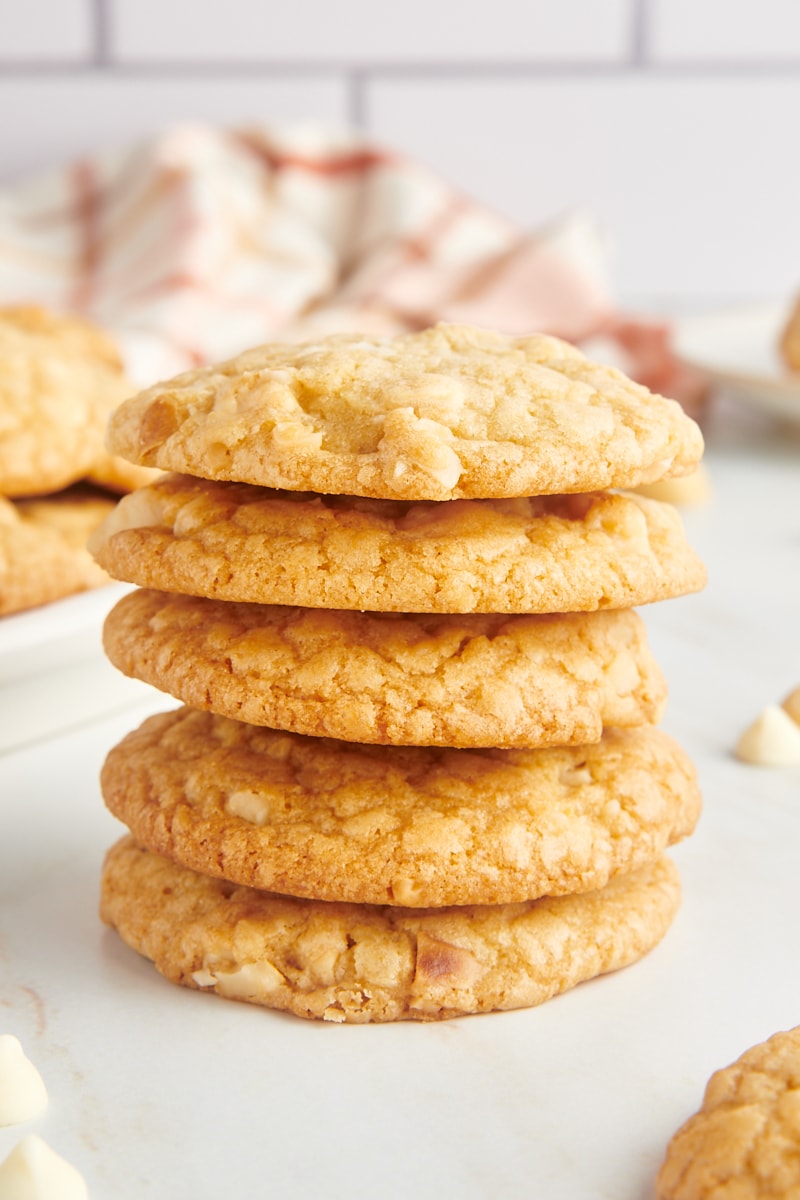 Why You'll Love This White Chocolate Macadamia Nut Cookie Recipe
Here's what makes this white chocolate macadamia nut cookie recipe a standout:
Indulgent without being over-the-top. These cookies are decadent, but not the kind of decadent that will make you feel sick to your stomach. Like I said—it's dangerously easy to eat more than one!
Easy to make. Aside from the macadamia nuts, the ingredients you'll need are basic pantry and refrigerator staples; the method is the same as that of other drop cookies. Although these feel like a special occasion cookie, they're simple enough to make any time.
Contrasting textures. I love a cookie with contrasts and this white chocolate macadamia nut cookie recipe is full of them. Chewy cookie, crunchy nuts, and creamy white chocolate combine for the perfect bite.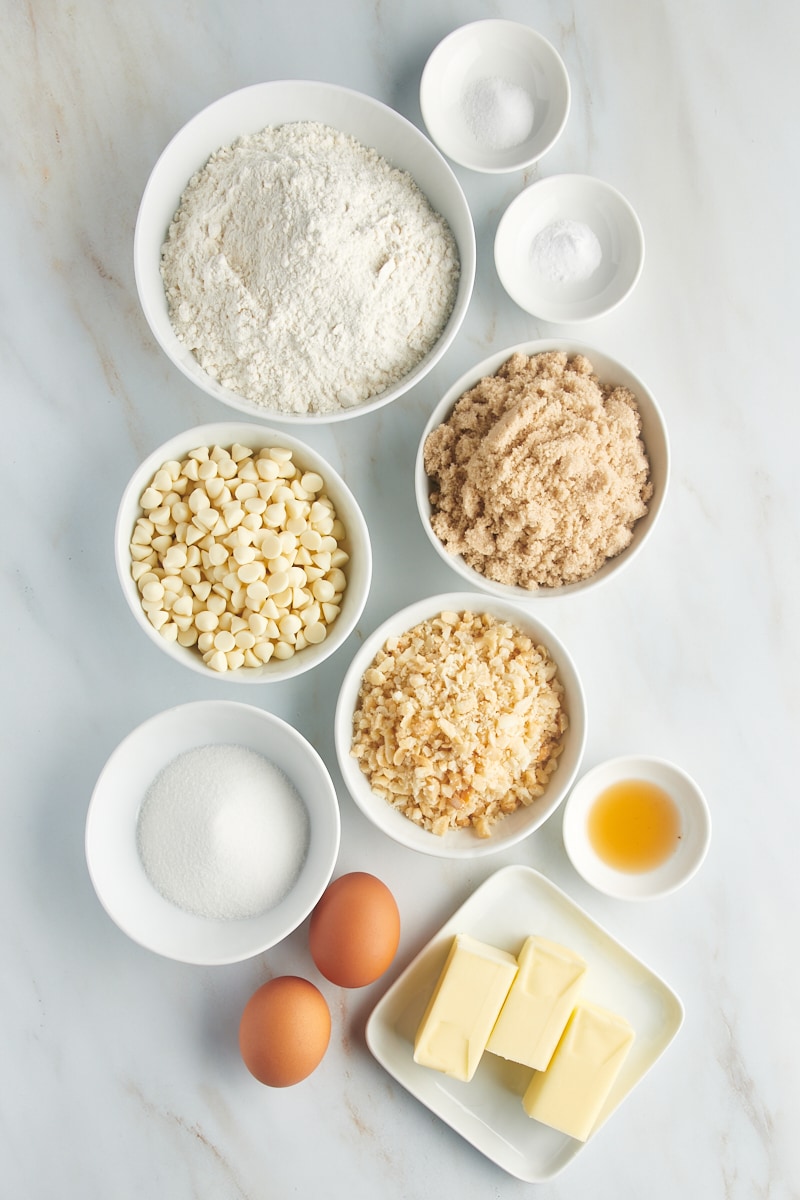 What You'll Need
Scroll down to the recipe card to find the ingredient quantities and recipe instructions.
All-purpose flour – Here's how to measure flour for baking.
Baking soda
Salt
Unsalted butter – Learn how to soften butter for a recipe.
Light brown sugar – Light brown sugar has a milder flavor than dark, adding just the right amount of caramelization without overpowering the other flavors in this recipe. Learn more: Light Brown Sugar vs Dark Brown Sugar: What's the Difference?
Granulated sugar
Egg + egg yolk – The extra egg yolk makes for a more decadent cookie. You can freeze the egg white for a recipe where you need only a white or for making egg wash.
Vanilla extract – Use store-bought or homemade vanilla extract.
White chocolate chips – I used store-bought white chocolate chips, but you can coarsely chop a bar of white chocolate if you'd like.
Macadamia nuts – Coarsely chop these.
What Is the Difference Between Chocolate and White Chocolate?
Chocolate is made using cocoa solids, cocoa butter, sugar, and sometimes milk fats. This combination gives it a deep brown color, a rich flavor, and an unmistakable sweetness. White chocolate, on the other hand, is made with cocoa butter without any cocoa solids. Instead of getting that characteristic brown color and flavor from the cocoa solids, white chocolate has a creamy, milky (sometimes vanilla) flavor and a much lighter color.
How to Make White Chocolate Macadamia Nut Cookies
This recipe comes together in a snap! Here's what you'll need to do.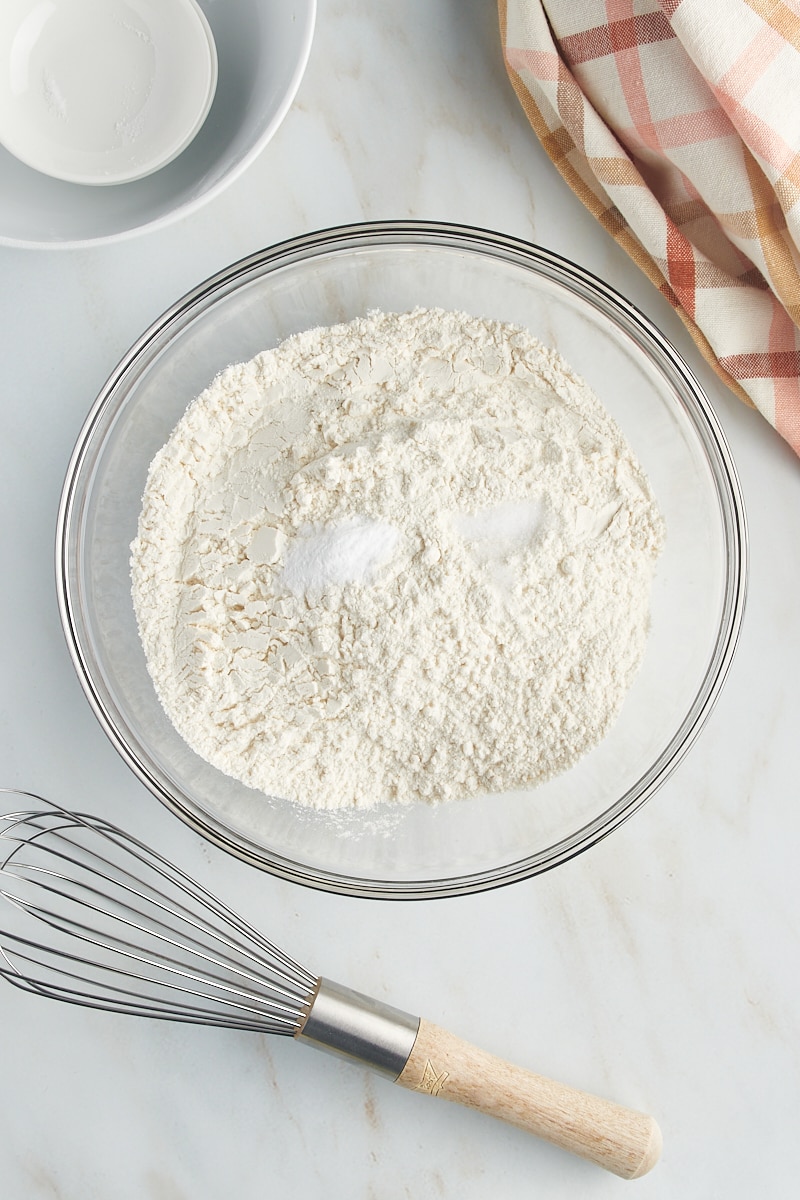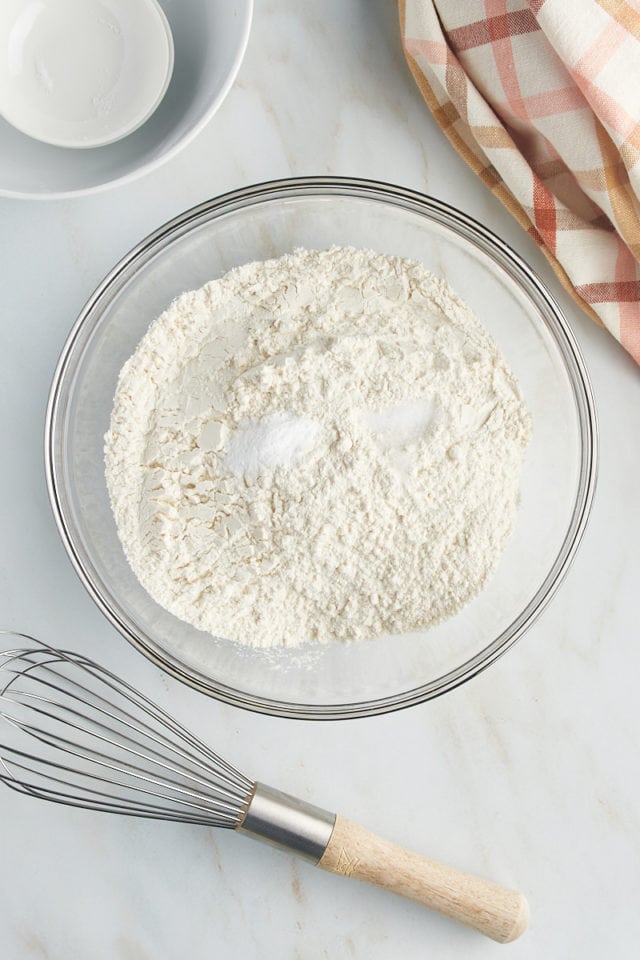 Mix the dry ingredients. Whisk the flour, baking soda, and salt in a mixing bowl.
Mix the wet ingredients. Use an electric mixer on medium speed to beat the butter, brown sugar, and sugar until they're light and fluffy. Beat in the whole egg, followed by the egg yolk and vanilla extract.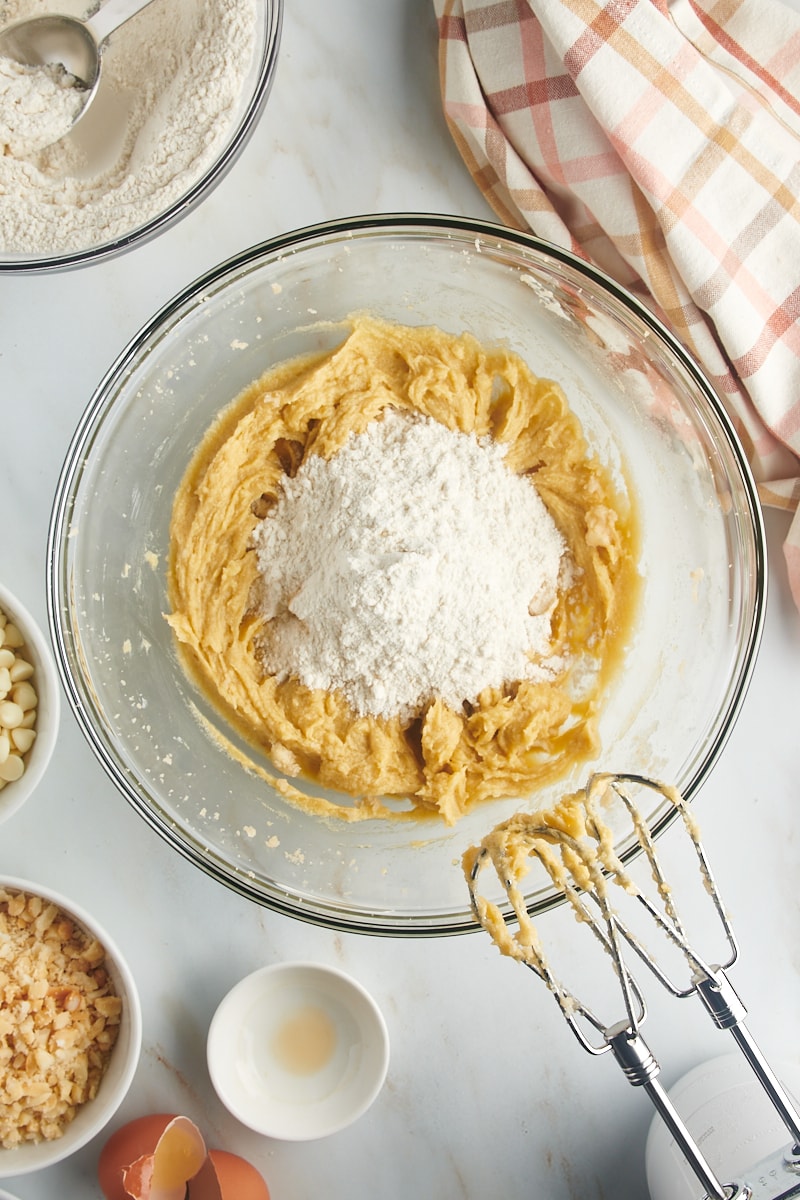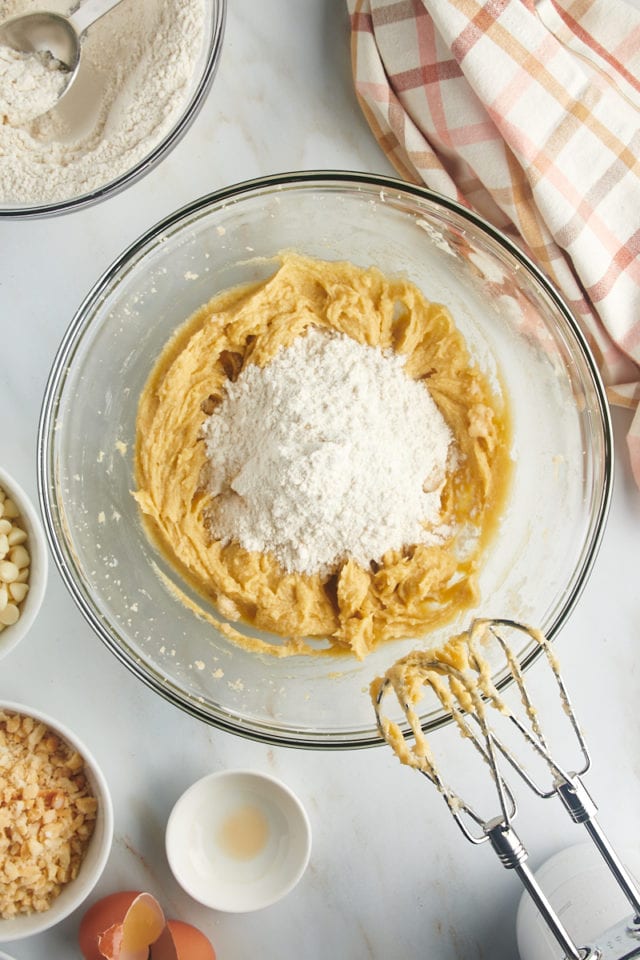 Finish the dough. Reduce the mixer speed to low, then slowly add the flour mixture. Fold in the white chocolate chips and macadamias.
Chill. Cover the bowl and refrigerate the dough for 1 hour.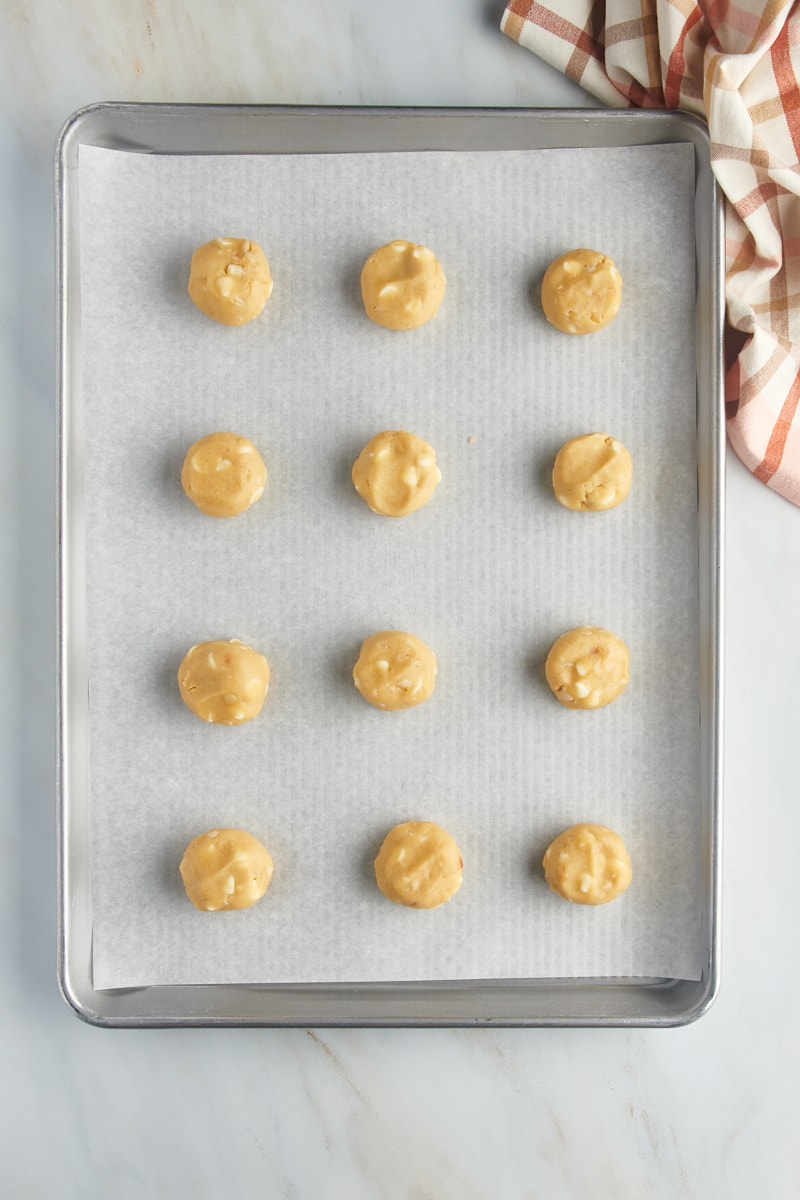 Prepare. Preheat the oven to 350°F and line baking sheets with parchment paper or silicone liners.
Form the cookies. Drop the dough by two-tablespoon portions onto the pans, then flatten the top of each cookie slightly.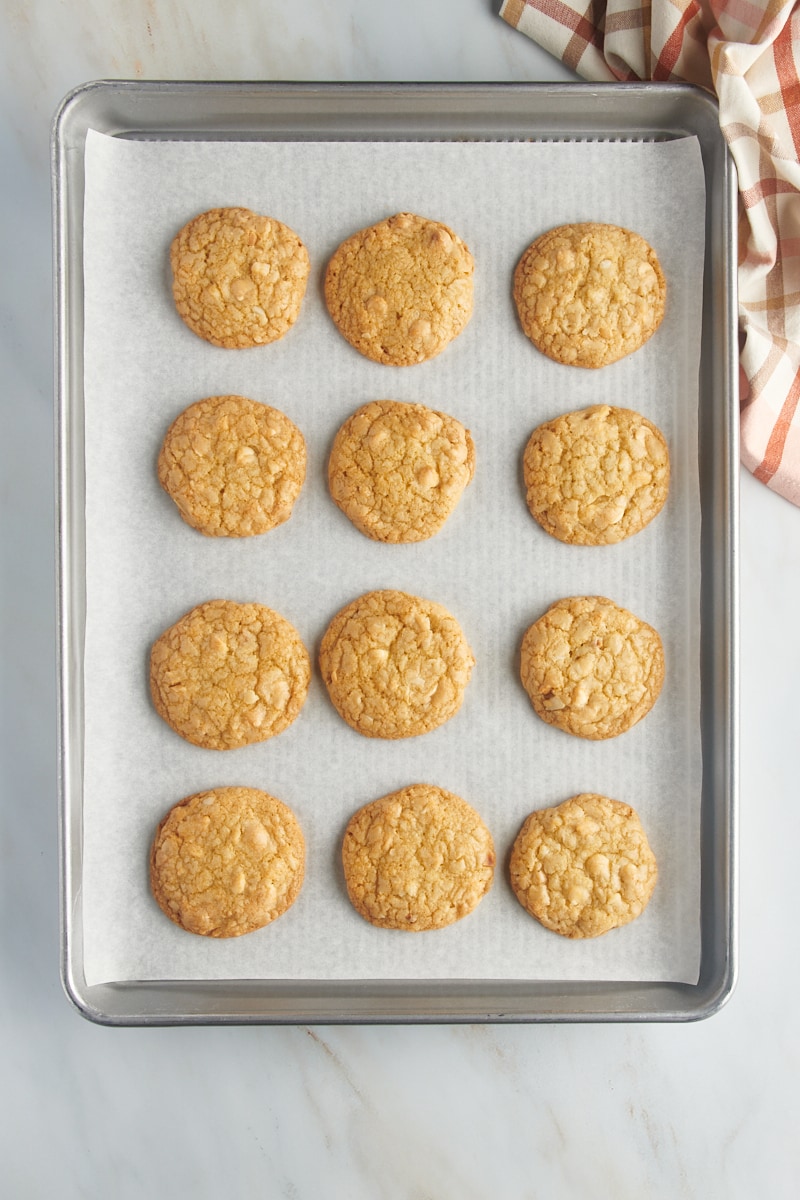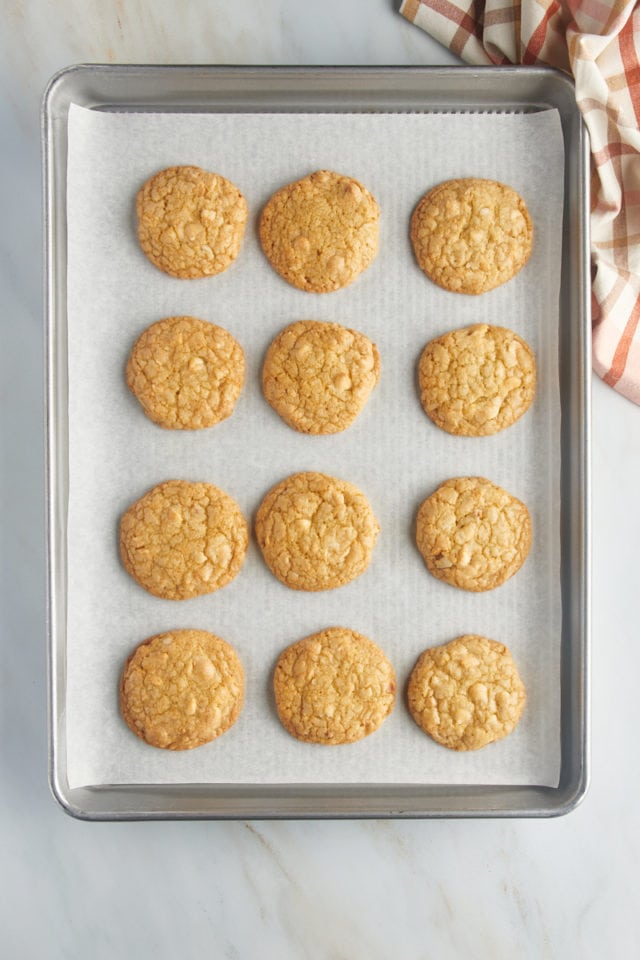 Bake. Place a pan in the oven and bake for 15 to 18 minutes, or until the cookies are golden brown. Repeat with the remaining pans.
Cool. Place the pans on wire racks and allow the cookies to cool for 5 minutes. Then, transfer the cookies from the pans directly to a wire rack to finish cooling.
Tips for Success
Read over my baking tips for beginners, then follow these additional tips for perfect white chocolate macadamia nut cookies:
Use unsalted butter. Unsalted butter allows you to have greater control over the end results of your recipe, rather than being at the mercy of the amount of salt in your butter. Learn more: Unsalted or Salted Butter: Which is Better for Baking?
Spring for the best white chocolate you can get. It really does make a difference. White chocolate has a reputation for being bland and oddly textured, but that's really only low quality brands. A good white chocolate is rich and creamy.
Let the pans cool if you need to reuse them. If you don't have enough baking sheets to form all the cookies at once, you'll need to wait for the first pan to cool before adding more dough. Adding cookie dough to a hot pan will mean cookies that spread and get too dark on the bottom.
Don't skip the chilling time. Chilling the dough and being careful not to over-bake your cookies are key to achieving a delightfully chewy texture.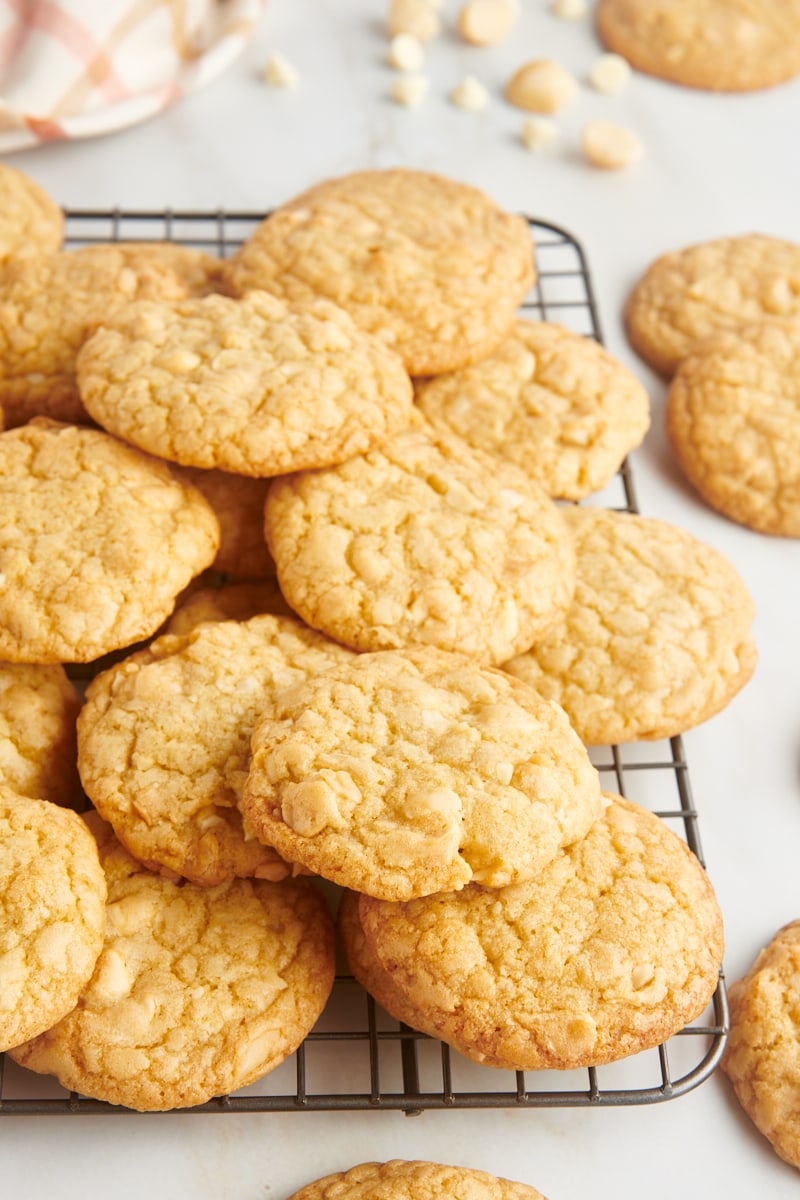 Variations
These cookies are exactly what they promise—white chocolate macadamia nut cookies. If you don't mind deviating from the name, here are some ideas for making this recipe your own.
Replace the macadamia nuts with pistachios or cashews.
Sprinkle fleur de sel or Maldon sea salt over the cookies when they're fresh out of the oven.
Add dried cranberries for a bit of tartness or toasted coconut flakes for tropical flair.
Swap the white chocolate for dark chocolate.
Drizzle melted white or dark chocolate over the cookies after they've cooled.
How to Store
Store white chocolate macadamia nut cookies in an airtight container at room temperature for up to 4 days. If you'd like, you can reheat them in the microwave for a few seconds for some fresh-out-of-the-oven warmth.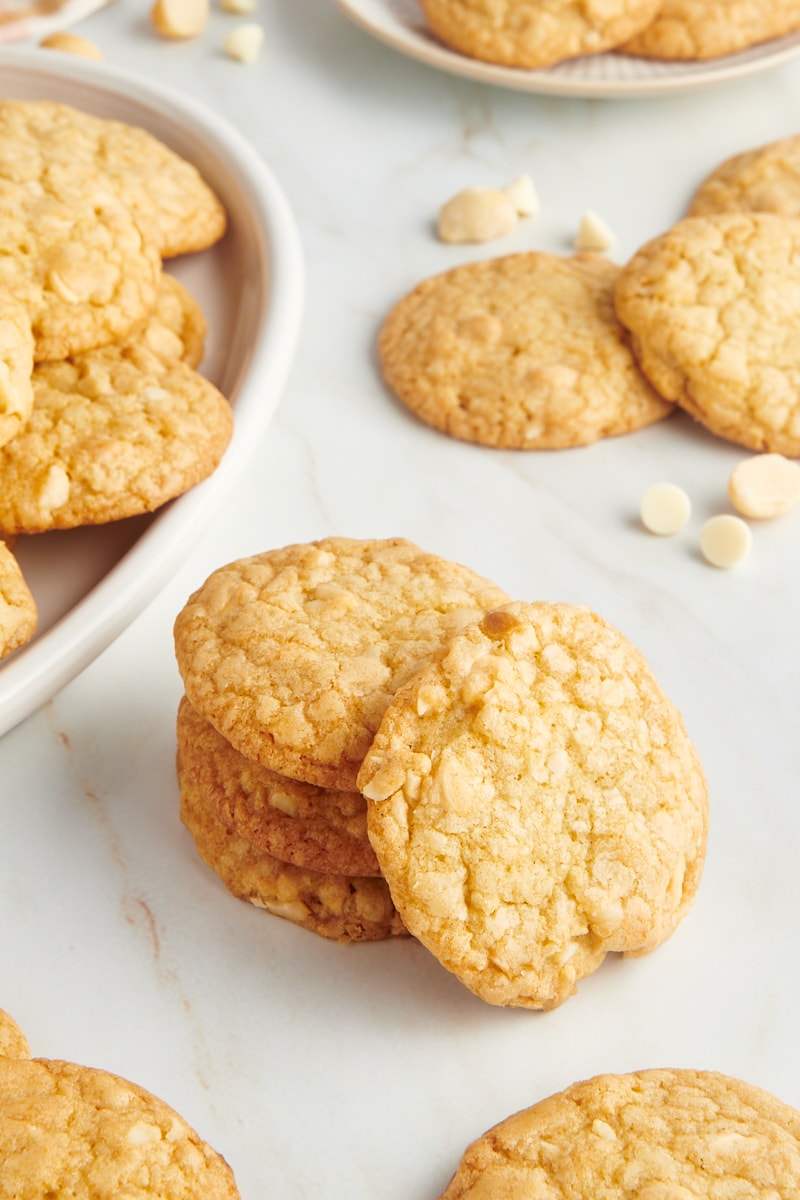 Can I Freeze This Recipe?
White chocolate macadamia nut cookies freeze beautifully. After baking and allowing the cookies to cool completely, place them on a parchment-lined baking sheet and put them in the freezer for about an hour. Once they're frozen solid, transfer them to an airtight container or zip-top bag. Store in the freezer for up to 3 months. You can then thaw the cookies at room temperature or heat them in the microwave before serving.
More Recipes for White Chocolate Lovers