Pineapple Zucchini Bread is a summer baking must! This wonderfully flavorful bread is nothing short of irresistible!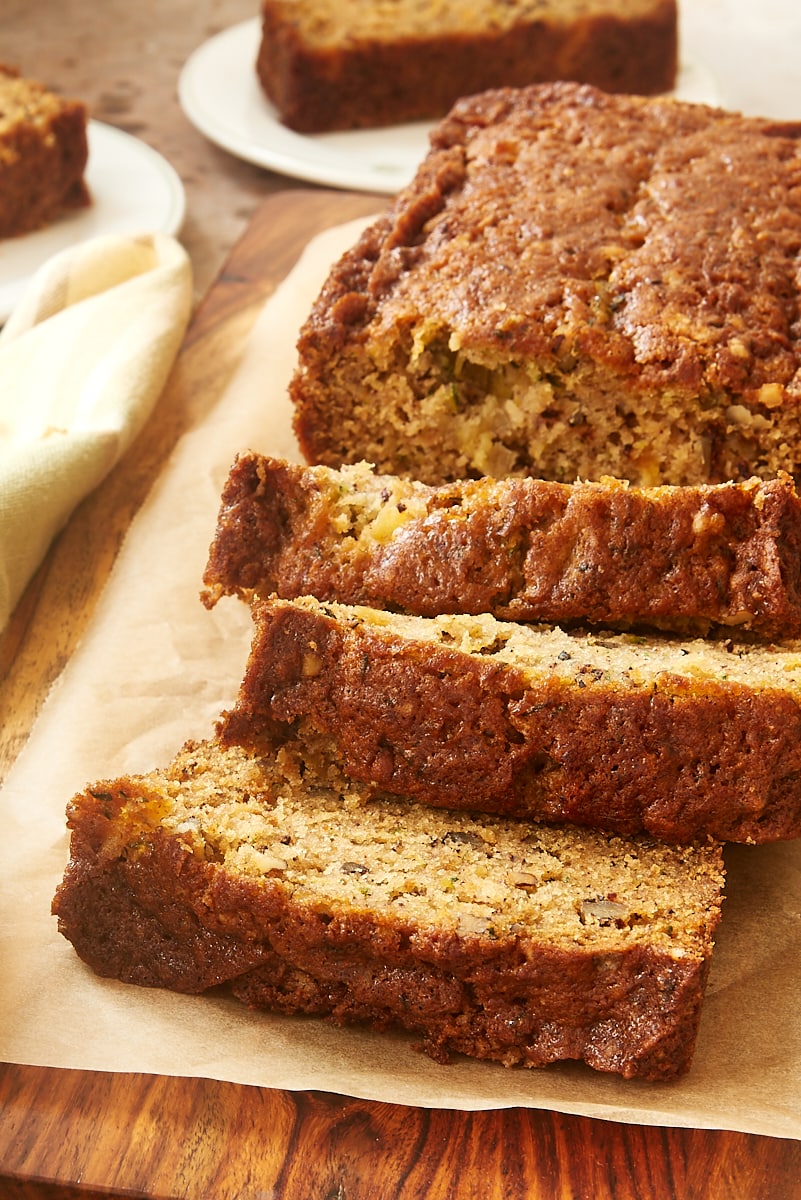 Pineapple Zucchini Bread
It's that time of year when there's an abundance of zucchini pretty much everywhere you look. We eat quite a bit of zucchini but usually as part of dinner. But even if you don't like zucchini, it's hard not to like this wonderfully flavorful bread.

This Pineapple Zucchini Bread is based on my mother's recipe that I'm sure she got from someone else who probably also got it from someone else. Her recipe box was filled with wonderful shared recipes like this one.
I only make a few adjustments to her version, adding brown sugar, a little more cinnamon, and some different nuts. But there's no way I'm baking this bread without the pineapple. To be honest, my younger self always assumed all zucchini bread had pineapple in it, but I've learned that isn't the case. But I do highly recommend it. It adds a little sweetness and gives the bread a richer flavor. It's not a heavy flavor, though. In fact, you might not be able to single it out if you didn't know it was there.
This Pineapple Zucchini Bread recipe makes two loaves so you can share one and keep one all to yourself. Or wrap one and put it in the freezer to enjoy later. Remember, if you want to make muffins instead of loaves, read my tips here.
As much as I love good ol' banana bread, I hold this sweet, nutty, spiced zucchini bread in high esteem. It's great for, well… To be honest, I happily welcome a slice anytime of day. Morning, afternoon, or evening. Warm or at room temperature. It's all good. It's the perfect way to make use of your summer zucchini bounty!
Want more zucchini bread recipes? Try Chocolate Zucchini Bread, Lemon Zucchini Muffins, and Chocolate Chip Zucchini Muffins next!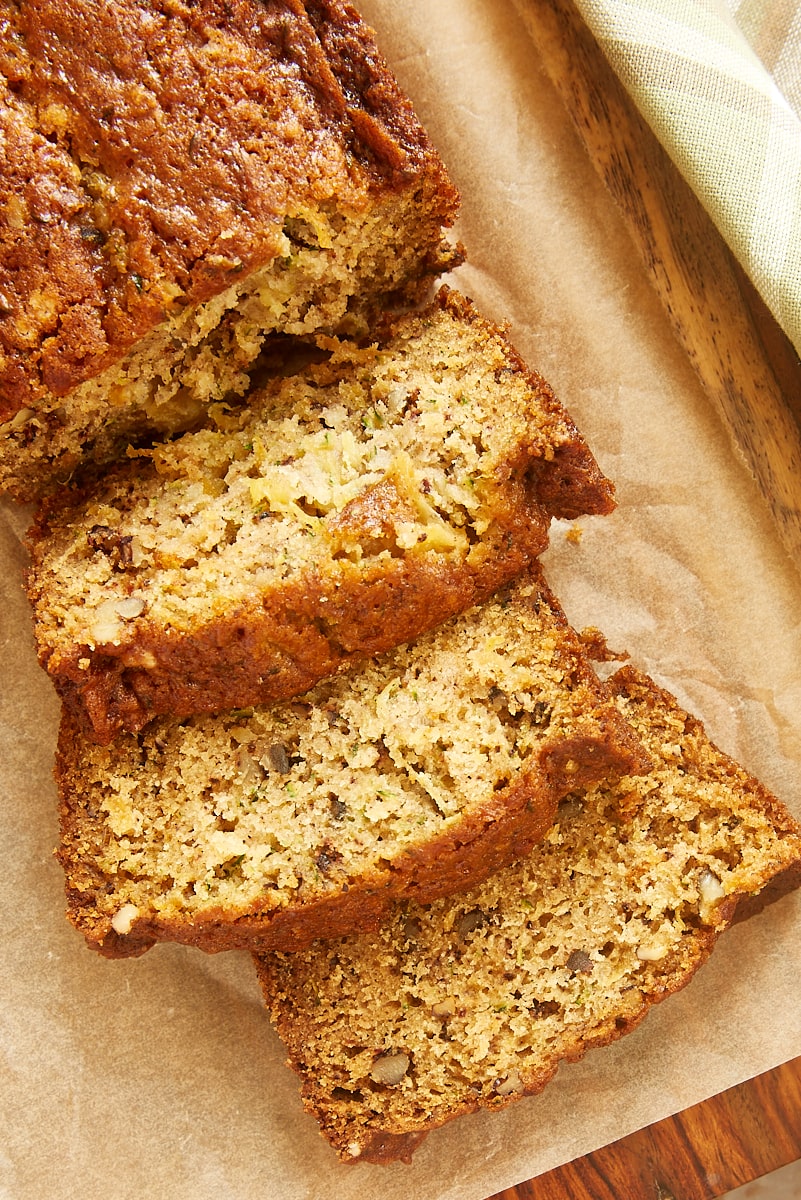 What You'll Need
For ingredient quantities and full instructions, scroll down to the recipe card at the bottom of this post. Here are some helpful notes about the ingredients.
All-purpose flour – Measure by weight for best results. Otherwise, spoon and sweep.
Brown sugar – I prefer light brown sugar for this zucchini bread, but you can use dark brown sugar if you want a more pronounced molasses flavor.
Granulated sugar
Baking soda
Cinnamon – Check that yours is fresh and still has a strong aroma.
Salt
Baking powder – Make sure your baking powder is still effective. Learn more: How to Test Baking Powder for Freshness
Unsalted butter – After melting the butter, allow it to cool briefly so it's still warm to the touch but not hot.
Eggs – Set the eggs on your counter before you begin baking to allow them to come to room temperature. I recommend baking with large eggs.
Vanilla extract
Zucchini – Shred the zucchini with a box grater or a Microplane. You'll need about 2 medium zucchini for this recipe.
Crushed pineapple – Fresh or canned pineapple is fine. If you're using canned, be sure to drain it first.
Chopped nuts – I often use pecans, as that's what I usually have on hand. Chopped walnuts, almonds, or hazelnuts would all work, too.
Should I peel zucchini for zucchini bread?
Whether or not you peel the zucchini is a matter of preference. Left unpeeled, the peel will soften and essentially disappear into the bread as it bakes. Leaving the peel will also speed up your prep time.
If you prefer to peel the zucchini, that's fine, too. Some people don't like seeing any of that darker green color in their baked goods, so removing the peel will help with that. You can use a vegetable peeler to make quick work of removing the peel.
Should I remove the water from zucchini before baking?
You shouldn't need to drain it aggressively unless it seems especially wet. Zucchini have varying amounts of water depending on freshness, so your experience will likely vary from time to time.
For most zucchini, I usually just place a paper towel on top of the grated zucchini to absorb the excess moisture. The zucchini should still feel slightly wet to the touch. Conversely, if your zucchini seems dry, just sprinkle a little water over it after grating.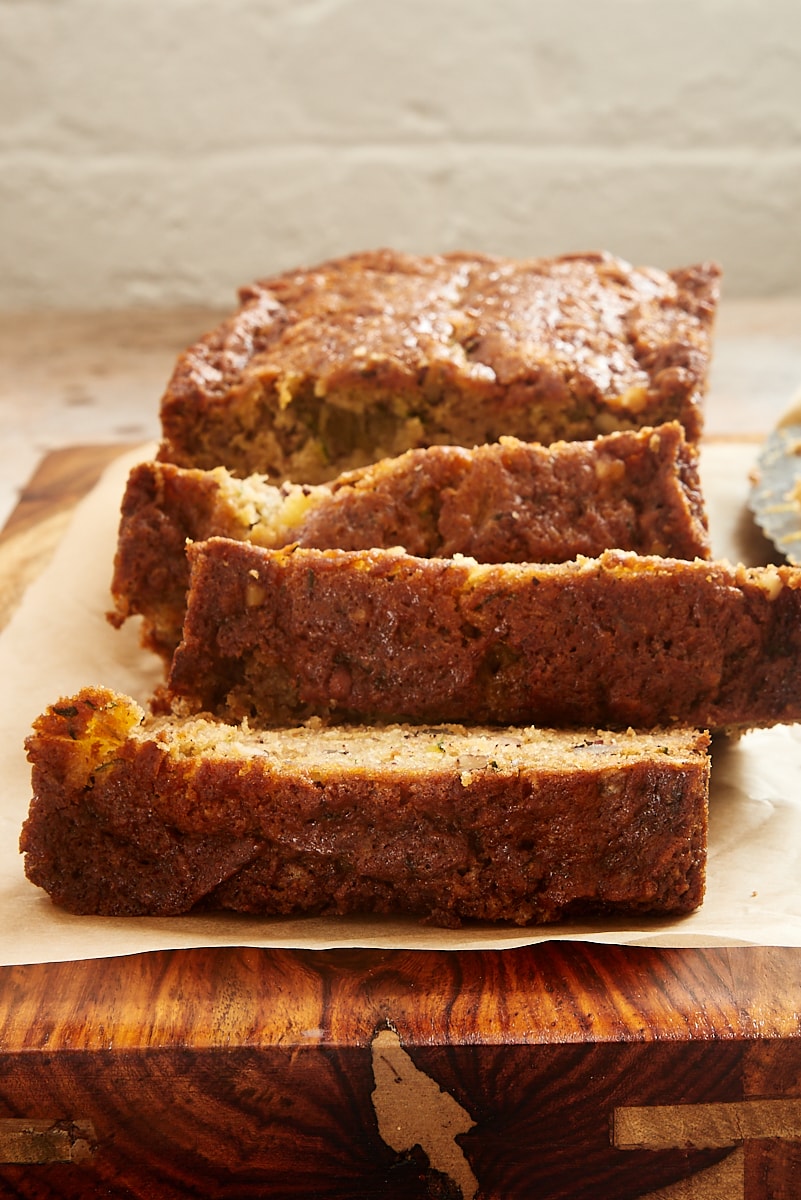 How to Make Pineapple Zucchini Bread
No mixer needed here! Just grab a couple of mixing bowls and a big mixing spoon. You'll have the batter mixed and ready to bake in short order!
Prepare for baking. Heat the oven to 350°F. Grease two standard 9- by 5-inch loaf pans. If you prefer, line the pans with parchment paper and grease the paper. I recommend using a cooking spray with flour, like Baker's Joy or Pam Baking.
Combine the dry ingredients and sugars. Whisk together the flour, brown sugar, sugar, baking soda, cinnamon, salt, and baking powder in a large bowl. Make a well in the center.
Combine the wet ingredients. In another bowl, combine the butter, eggs, and vanilla.
Add the wet ingredients to the dry ingredients. Pour the butter mixture into the well in the flour mixture. Stir to combine, mixing until there are a few streaks of flour remaining.
Finish mixing. Add the shredded zucchini, pineapple, and nuts. Stir just until combined.
Bake. Divide the batter evenly between the two prepared pans, and spread the batter evenly. Bake 50 to 60 minutes. When the bread has browned and a toothpick inserted into the center comes out clean, the loaves are ready to come out of the oven.
Cool. Place the pans on a wire rack to cool for 10 minutes. Then transfer the bread from the pans directly onto a wire rack to cool completely.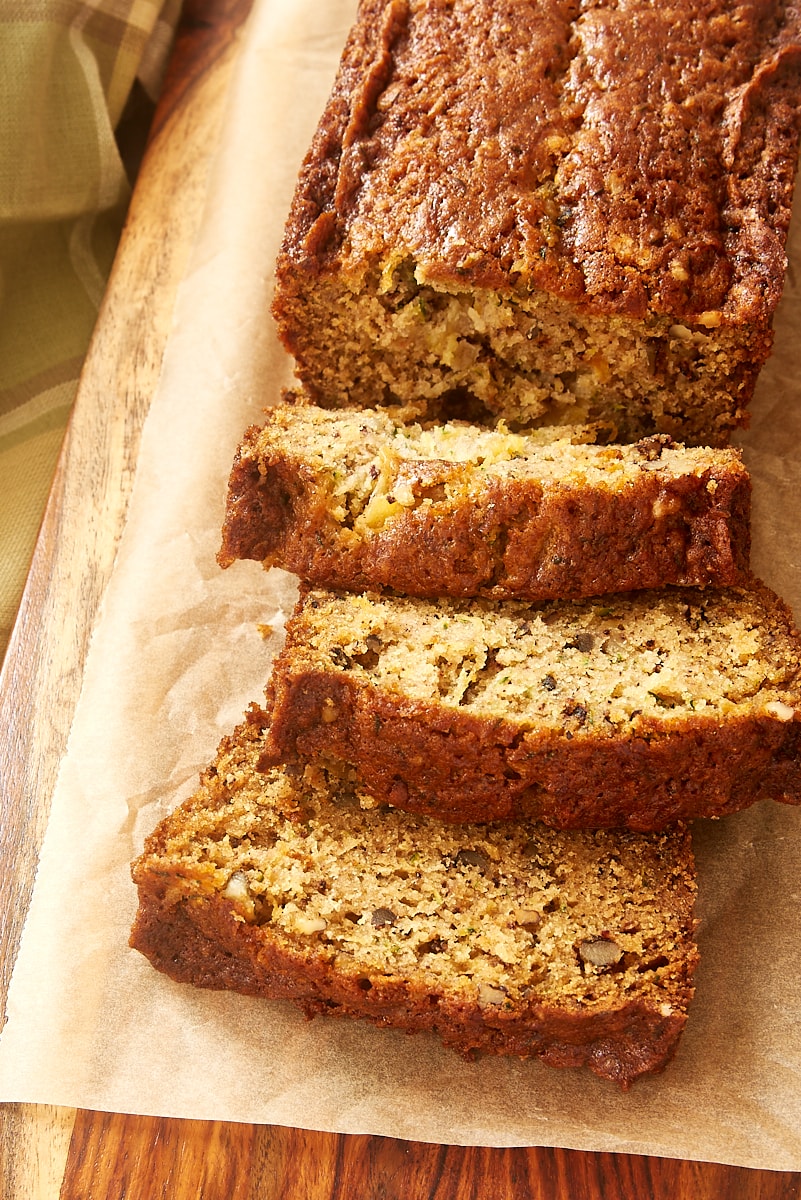 Tips for Success
Don't over-mix the batter. Stir just until mixed, as too much mixing can lead to tough bread. You can even leave a few streaks of flour in the batter. They'll disappear as the bread bakes. For more about this method of mixing, see The Muffin Method.
Use a light-colored metal pan. Your bread will bake more thoroughly and evenly. With a dark pan, the outside may bake faster, leading to an under-baked or sunken middle.
Don't worry when the batter doesn't fill your pans very high. The bread will rise quite a bit as it bakes.
Divide the batter evenly between pans. You can use a scale to be really precise, or use a scoop to divide the batter by alternating scoops between the two pans.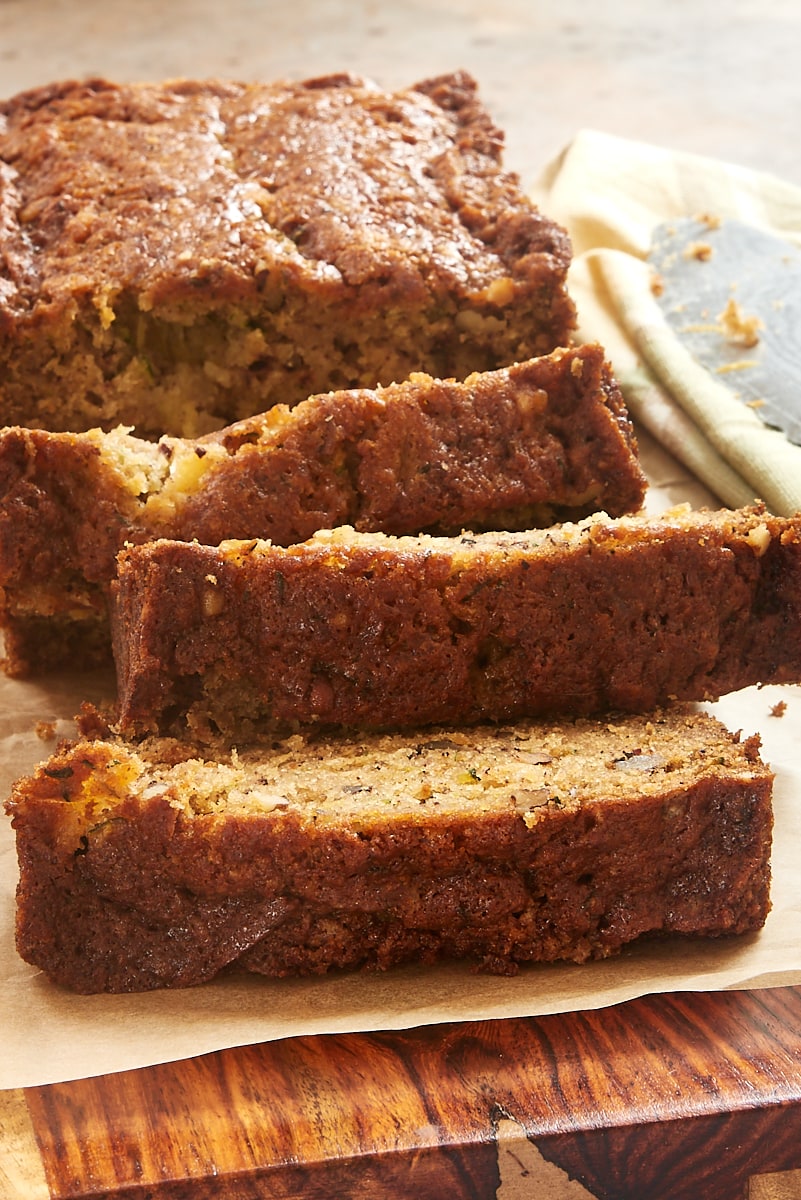 How to Store
After the bread has completely cooled, wrap it well or place it in an airtight container. It should keep at room temperature up to 3 days. To extend that a couple of days, you can store it in the refrigerator, but make sure it's wrapped or stored very well so it doesn't become dry.
Can Zucchini Bread Be Frozen?
Yes, you can freeze this Pineapple Zucchini Bread! Wrap the bread well in two layers of plastic wrap. Then wrap it again in aluminum foil or place in an airtight, freezer-safe container or bag. Properly stored, it should keep in the freezer up to 3 months. Thaw for an hour or two at room temperature, or warm it briefly in the microwave.
More Summer Quick Breads