September 7, 2017
Coconut Almond Chocolate Chip Cookies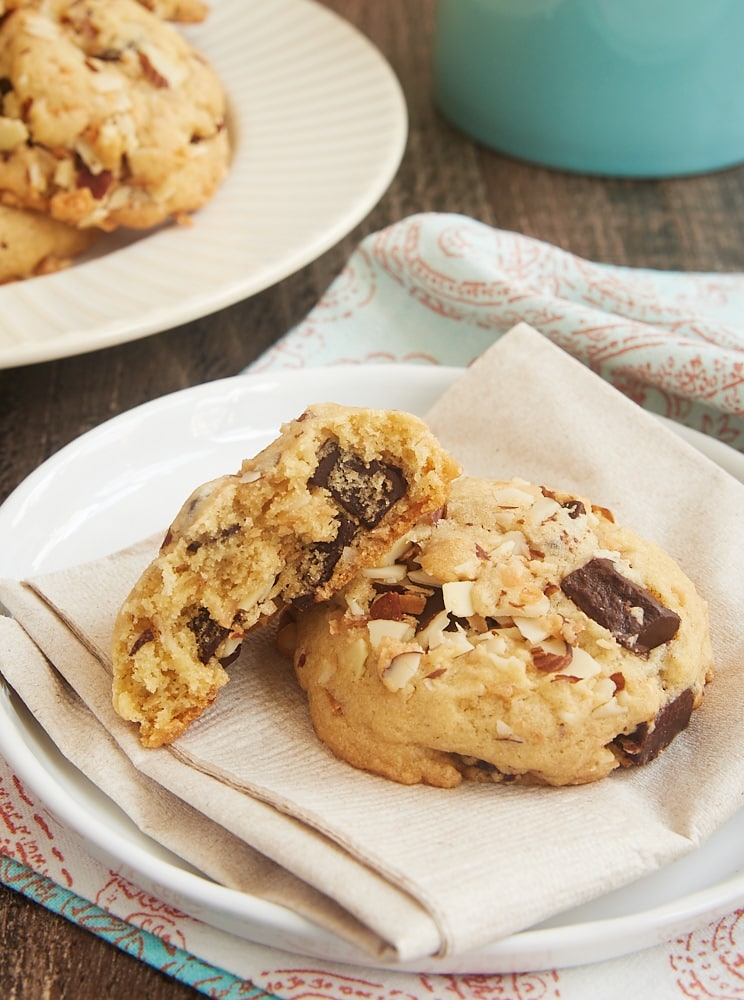 I'm so excited to share these cookies that feature some of my favorite flavors all in one place. We're talking chocolate and almonds and coconut. Who's with me?
At their heart, these are chocolate chip cookies. We all love chocolate chip cookies, right? But let's not stop there. We're adding plenty of toasty coconut and almonds to take them from great to fantastic!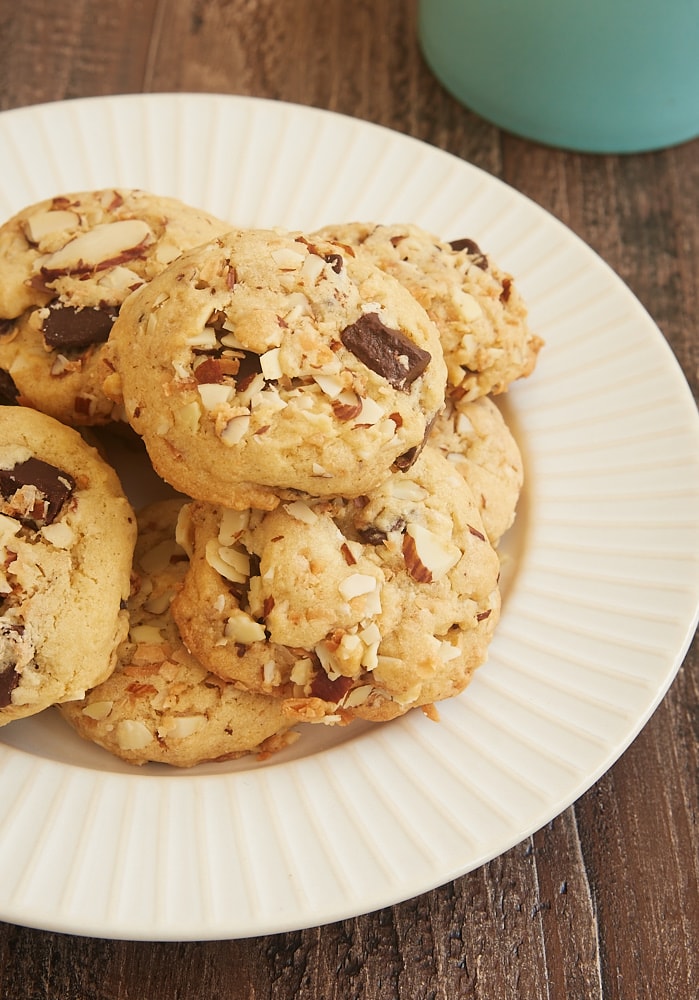 I find that toasting the coconut and almonds is well worth the extra prep time. The flavor that it adds is so, so good. Of course, if you're in a time crunch, you can skip the toasting. The cookies will still be plenty delicious.
I'm not as big a proponent of chilling cookie dough as a lot of people. It's a matter of preference, really. But this dough will really benefit from a bit of refrigerator time. About an hour of chilling will not only help keep these cookies from spreading too much, but it will also enhance the flavor and add a nice chewiness. You can chill the dough longer if you like or if that works better for your baking schedule. If covered, you can keep the dough in in the refrigerator for a few days.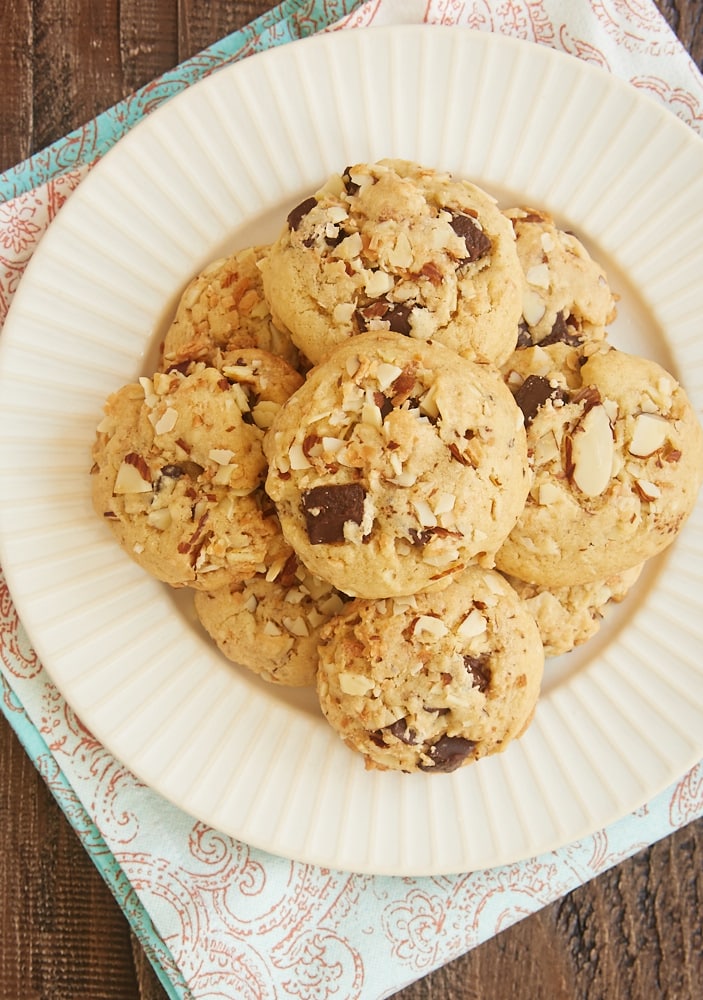 These cookies are soft and sweet and chewy and crunchy and bursting with amazing flavor. They fall into that "dangerous" category for me. I can't have them near me and not want to eat one or two.
If you're a fan of these sweet and nutty flavors, too, then I think you'll agree with me that these cookies are really phenomenal. And if you think they might be dangerous for you, too, then I'm guessing you won't have much trouble finding friends to take some off your hands. Or freeze some dough for those future cookie cravings!
Find more cookie recipes in the Recipe Index.
This post contains affiliate links. If you make a purchase through one of the links, I'll receive a
small commission at no additional cost to you.
Coconut Almond Chocolate Chip Cookies
Yield: about 36 cookies
Prep Time: 20 minutes
Cook Time: 16 minutes per pan
There is SO much amazing flavor in these soft, sweet, chewy, crunchy Coconut Almond Chocolate Chip Cookies!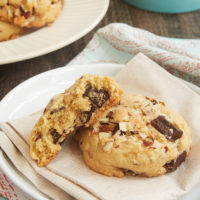 Ingredients:
3 cups all-purpose flour
1 teaspoon baking powder
1/2 teaspoon baking soda
1/2 teaspoon salt
3/4 cup unsalted butter, softened
3/4 cup firmly packed light brown sugar
1/2 cup granulated sugar
2 large eggs
1 teaspoon vanilla extract
1 cup semisweet chocolate chips
3/4 cup sweetened shredded coconut, toasted*
3/4 cup chopped almonds, toasted*
Directions:
Whisk together flour, baking powder, baking soda, and salt. Set aside.
Using an electric mixer on medium speed, beat the butter, brown sugar, and sugar until light and fluffy. Add the eggs, one at a time, mixing well after each addition. Mix in the vanilla.
Reduce mixer speed to low. Gradually add the flour mixture, mixing just until combined.
Stir in the chocolate chips, coconut, and almonds.
Chill the dough for an hour.
Preheat oven to 350°F. Line baking sheets with parchment paper or silicone liners.
Drop the dough by two tablespoon portions onto the prepared pans, leaving about 2 inches between cookies. Slightly flatten the top of each cookie.
Bake 14 to 16 minutes, or until lightly browned. Cool on the pans for 5 minutes. Then transfer the cookies to a wire rack to cool completely.
Notes:
*To toast, spread the coconut and almonds in a single layer on a lined, rimmed baking sheet. Bake at 350°F for 12 to 15 minutes, or until toasted.