Mini Chocolate Chip Bundt Cakes are tiny little cakes with amazing flavor. Serve these for a simple dessert or dress them up for a special occasion!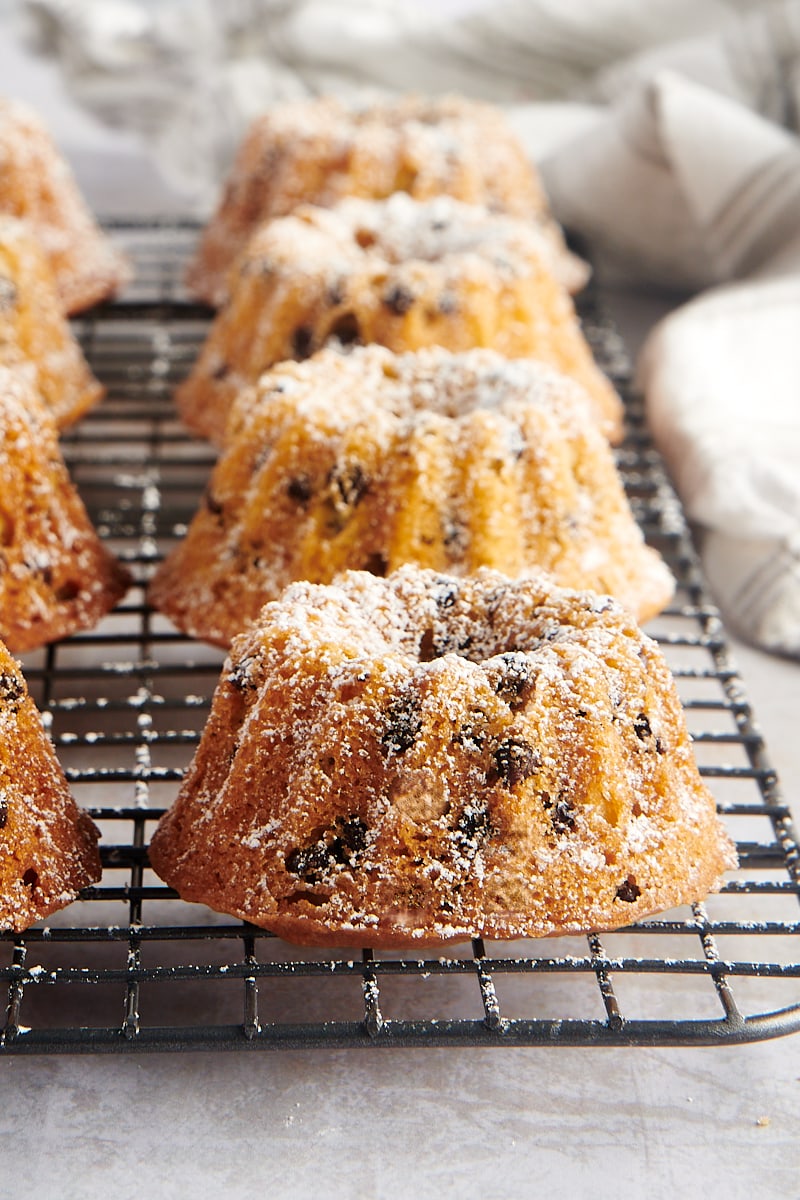 Mini Chocolate Chip Bundt Cakes
I am completely enamored with these simple little cakes and their lovely flavor! They're soft and sweet and really just perfect in my book.
This easy-to-make cake batter is made soft and moist with sour cream. Add some mini chocolate chips to that batter, and you've got one delicious dessert!
I'm always drawn to mini desserts. They're adorable, of course, but they also make serving and sharing so easy. When it's dessert time, there's no slicing individual servings. Everyone gets their own little cake!
These cakes are perfect for a casual gathering or just for a special treat. For something a little fancier, it's easy to dress them up for a special occasion. From a weeknight dinner treat to a holiday party, these Mini Chocolate Bundt Cakes will serve you well!
Looking for a full-size alternative? Try Chocolate Chip Bundt Cake!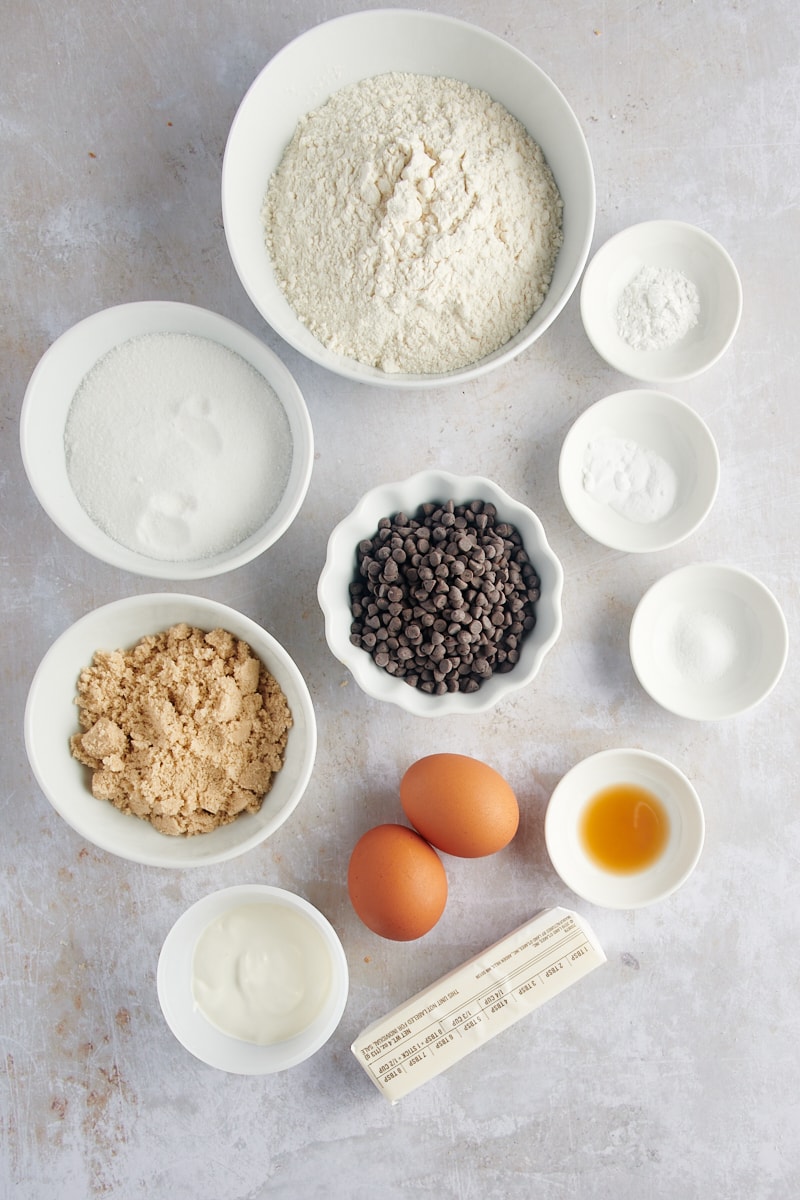 What You'll Need
If you bake with regularity, you will likely have everything you need to make these mini Bundt cakes. See the recipe card at the bottom of the post for ingredient quantities and full instructions. Here are some helpful notes about the ingredients.
All-purpose flour – Measure by weight for best results. Otherwise, use the spoon and sweep method. Learn more: How to Measure Flour
Baking powder
Baking soda
Salt
Unsalted butter – Allow the butter to soften before mixing. Learn more: How to Soften Butter
Granulated sugar
Light brown sugar – Firmly pack it into the measuring cup or measure by weight.
Eggs – Bring the eggs to room temperature before mixing. I recommend baking with large eggs.
Vanilla extract – Almond extract is also a good choice.
Sour cream – This also should be brought to room temperature. Full-fat sour cream works best.
Mini chocolate chips – These little chocolate chips are the perfect size for these small cakes. If you don't have mini chips, you can use chopped chocolate instead.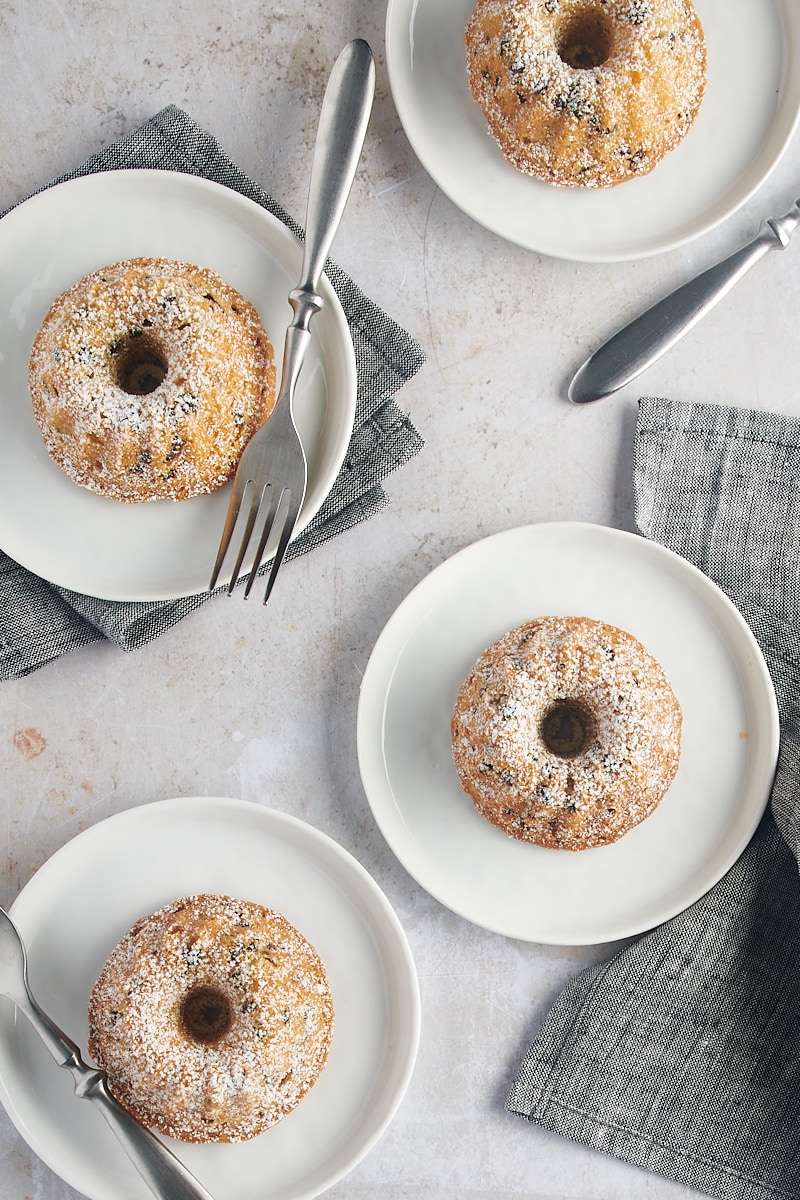 How to Make Mini Chocolate Chip Bundt Cakes
These little cakes mix quickly and easily. Grab your mixer and let's do this!
Prepare for baking. Heat the oven to 350°F. Grease and flour 12 mini Bundt cake cups. (I like to use a cooking spray with flour, like Baker's Joy or Pam Baking.)
Combine the dry ingredients. Whisk together the flour, baking powder, baking soda, and salt in a medium bowl.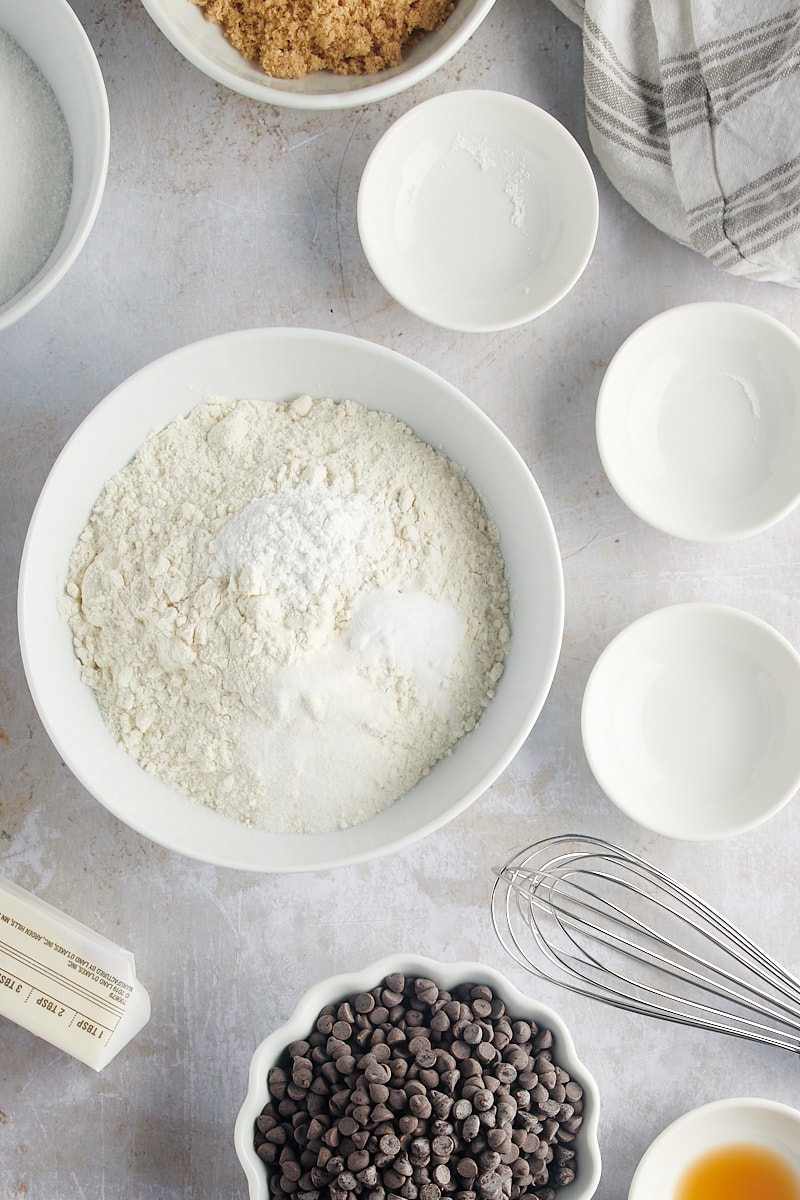 Combine the wet ingredients. Using an electric mixer on medium speed, beat the butter, sugar, and brown sugar until light and fluffy. Mix in the eggs one at a time, and then mix in the vanilla.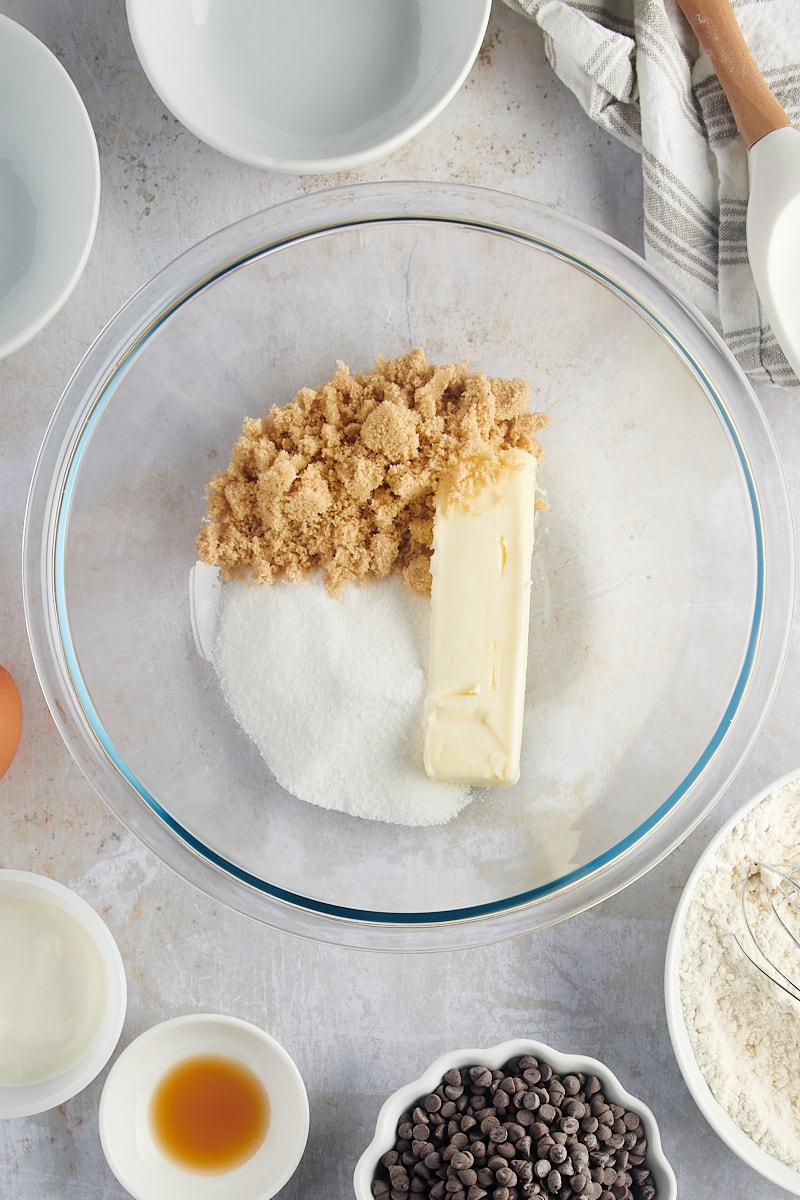 Finish mixing. With the mixer on low speed, add the flour mixture in two portions, alternating with the sour cream. Mix just until combined or a few small streaks of flour remain.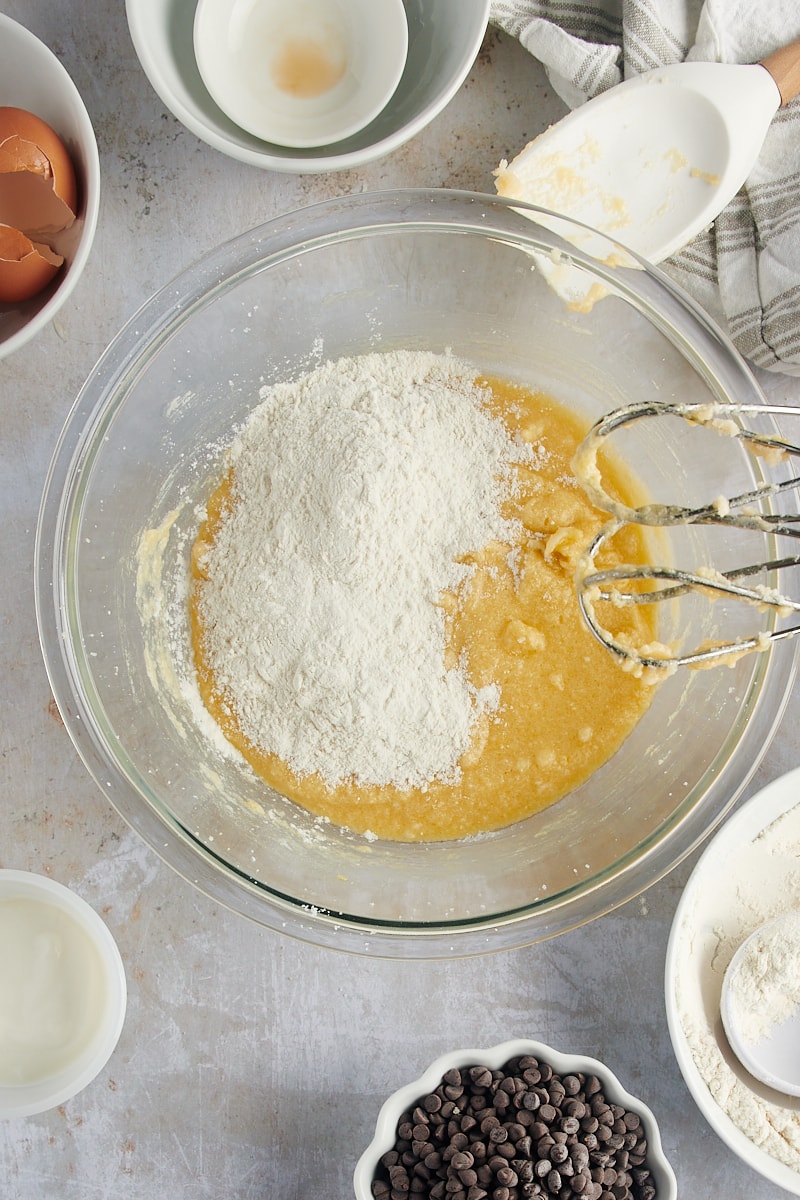 Add the chocolate chips. Gently stir the chocolate chips into the batter.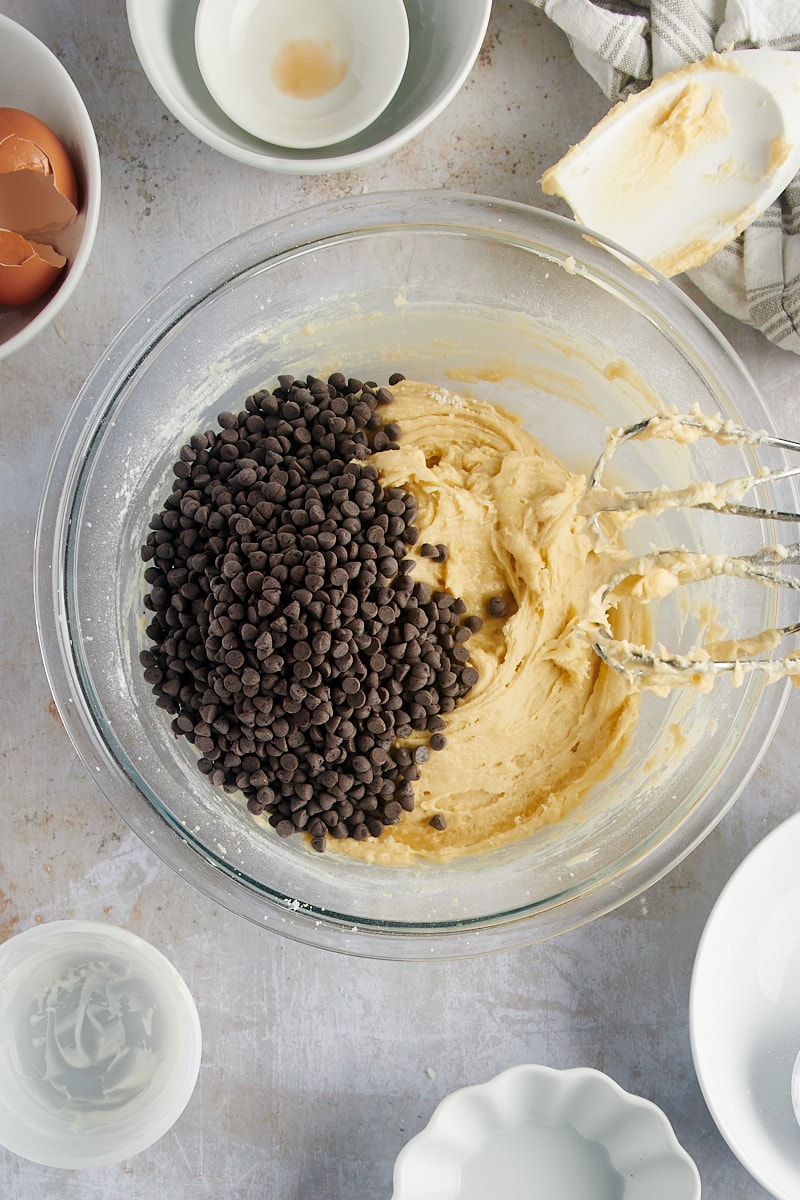 Portion and bake. Divide the batter evenly among the prepared Bundt cake cups. Gently tap the pan on the counter to dissipate any bubbles in the batter. Place the pan in the oven, and bake 16 to 20 minutes. When the cakes are golden brown and a toothpick inserted into the center comes out clean, they're ready to come out of the oven.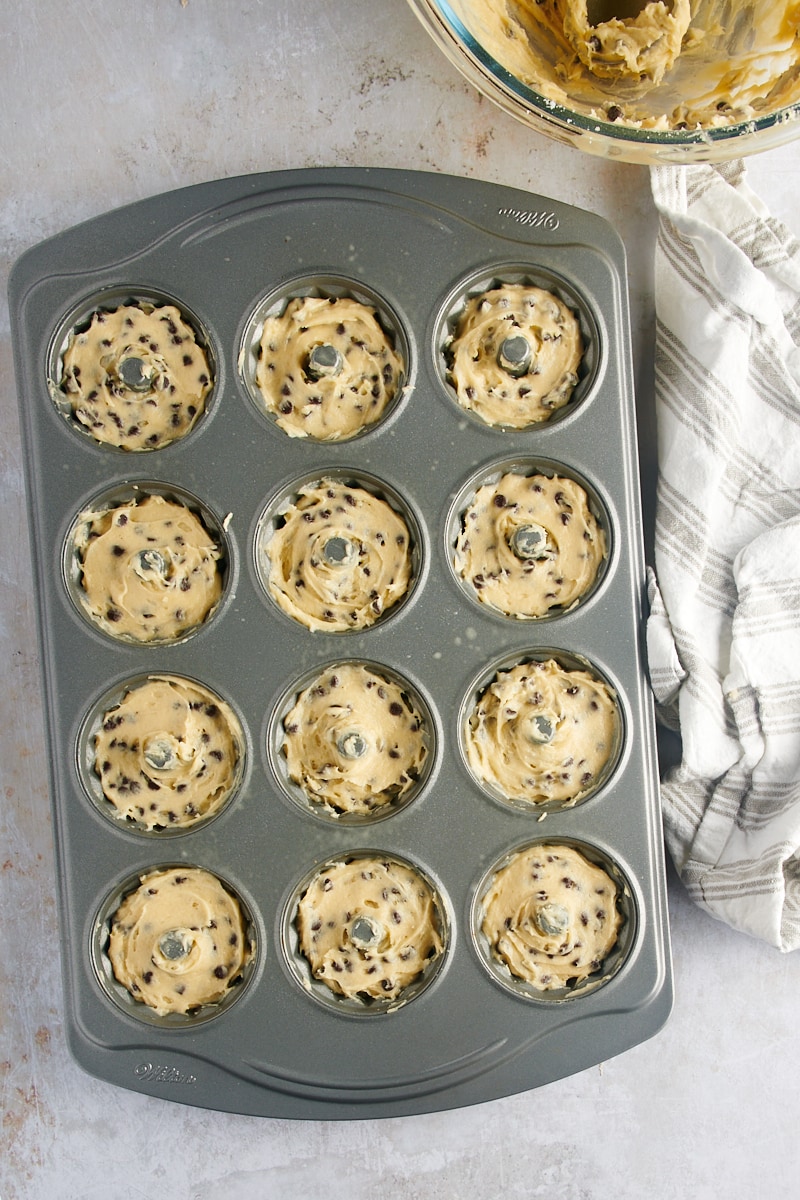 Cool. Place the pan on a wire cooling rack, and allow the cakes to cool for 10 minutes. Then remove the cakes from the pan directly onto a wire rack to cool completely.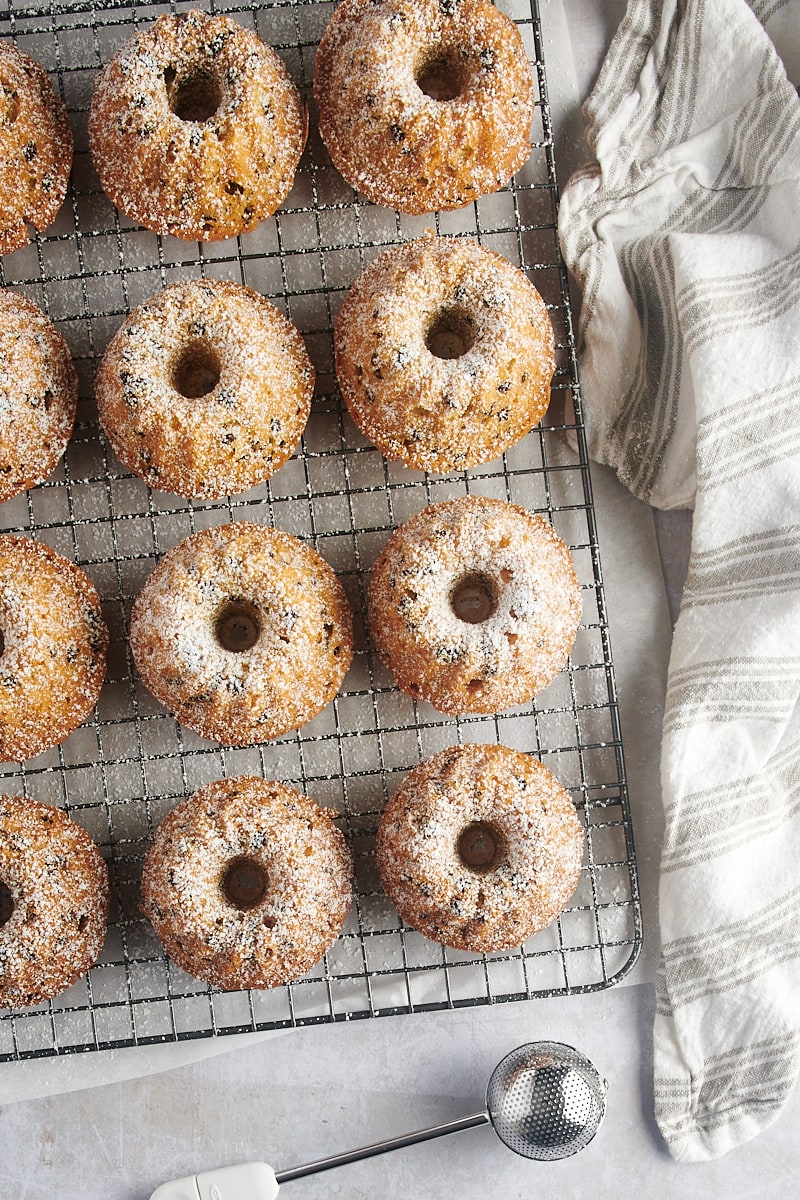 Serving Suggestions
These little cakes are pretty darn good just as they are. If you want to dress them up a bit, try one of these serving ideas.
Confectioners' sugar – For a simple topping, dust confectioners' sugar over the top of the cakes before serving.
Ganache – For more chocolate flavor, add a simple chocolate ganache like the one on my Caramel Pecan Brownie Cake.
Ice cream – Vanilla ice cream is always a good choice, but try some other flavors like caramel, chocolate chip, or cinnamon. Go all out with a drizzle of chocolate sauce or caramel sauce, too!
Sweetened whipped cream – A dollop of whipped cream is a simple topping that always satisfies.
Fresh berries – Serve berries on the side or on top of whipped cream.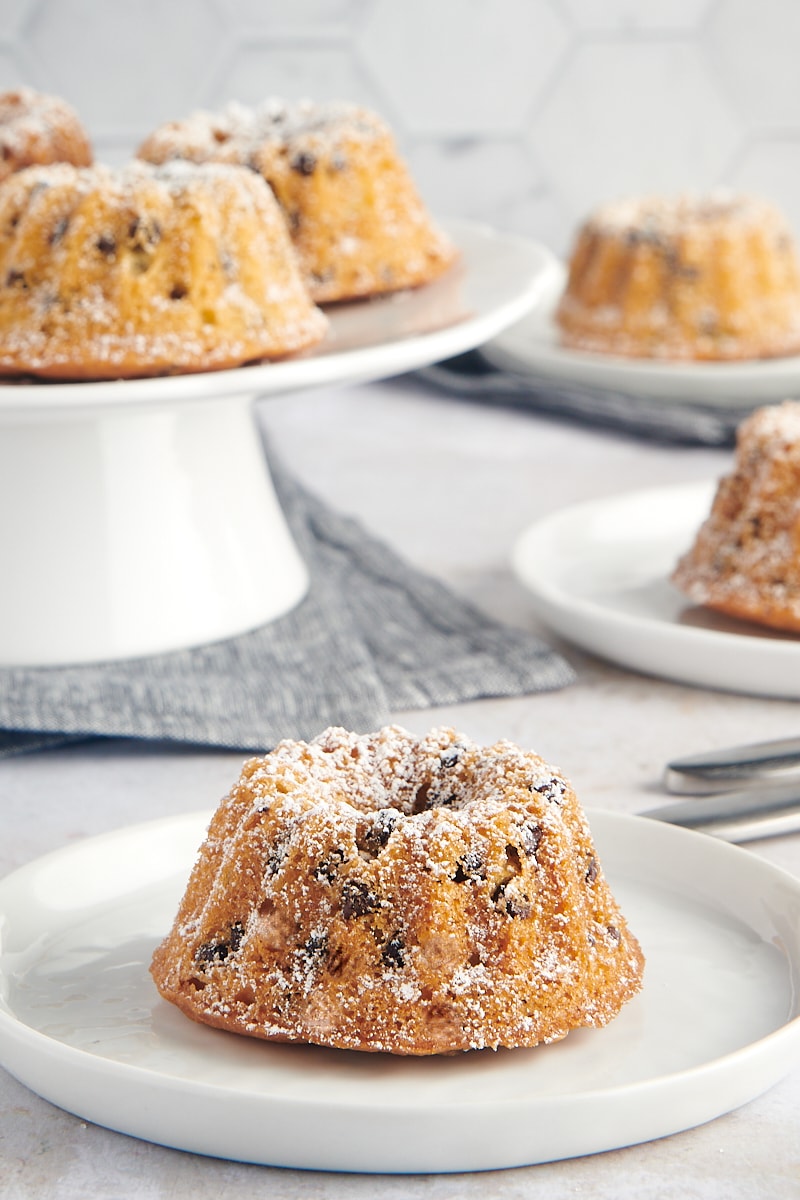 Tips for Success
I think you'll find this Mini Chocolate Chip Bundt Cake recipe to be easy and straightforward. Here are a few tips to help ensure baking success.
Don't over-mix. Too much mixing leads to tough, dry cake.
Use a light-colored metal pan. Your cakes will bake more thoroughly and evenly.
Don't over-fill the pan. I tend to fill these pretty full to get 12 cakes, but you can use a bit less batter per cup to make them a bit smaller. Keep in mind that not all mini Bundt pans are created equally. The pan I use for these has 1/3-cup capacity cups, whereas a Bundtlette pan has 1-cup capacity cups.
Don't have a mini Bundt pan? No problem! Use a standard muffin pan. The baking time may vary, so keep an eye on them toward the end of the suggested time.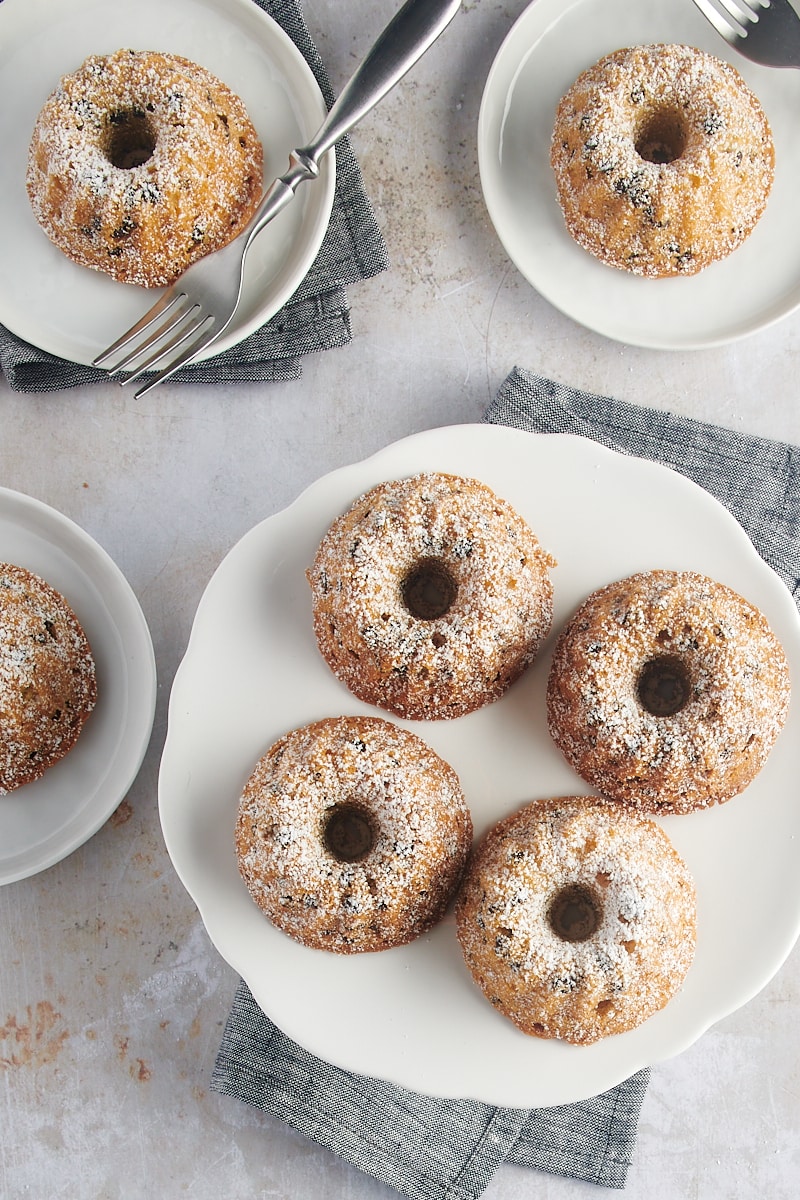 How to Store
After cooling the cakes, place them in an airtight container and store at room temperature up to 3 days. They'll keep a couple more days in the refrigerator, but make extra sure your container is well-sealed or they may become dry. For best results, wait to garnish the cakes until you're ready to serve them.
How to Freeze
Place the cooled cakes in an airtight, freezer-safe container or zip-top bag. For an extra layer of protection, you can wrap each cake in plastic wrap before storing. Properly stored, the cakes should keep in the freezer up to 3 months. Thaw for an hour or so at room temperature, or warm them briefly in the microwave.