The bright, happy flavors of these Triple Citrus Cookies are irresistible! Made with lemon, lime, and orange, these cookies are sure to brighten any day and satisfy your citrus cravings.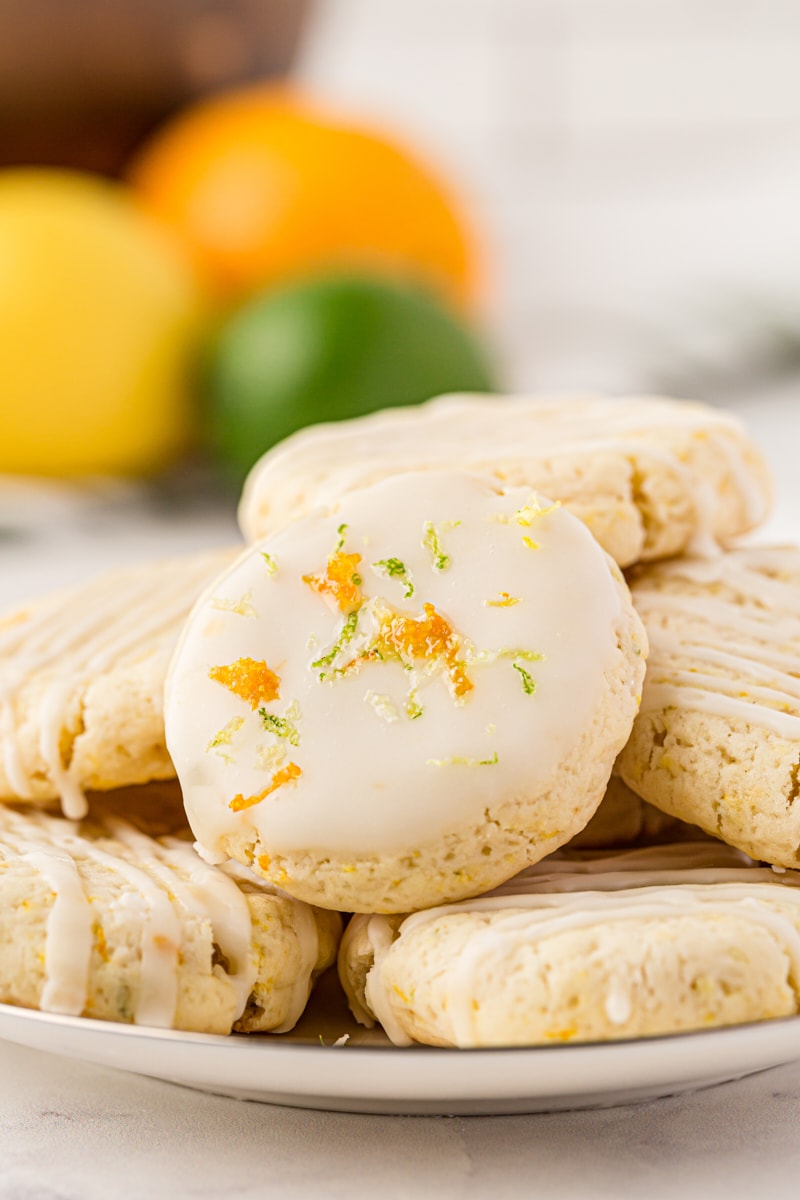 Lime, Orange, and Lemon Cookies
Do you love citrus flavors? I admit it wasn't my favorite in my younger years, but now I simply adore all things citrus. And these simple cookies offer a fresh, vibrant take on cookies with the addition of lemon, lime, and orange!
Not only is there plenty of citrus flavor in the cookies, but they're also topped with a citrus glaze. Seriously, these cookies are a must-bake for citrus lovers!
Get your favorite zesting and juicing tools ready because you're going to want to make these amazing cookies as soon as possible!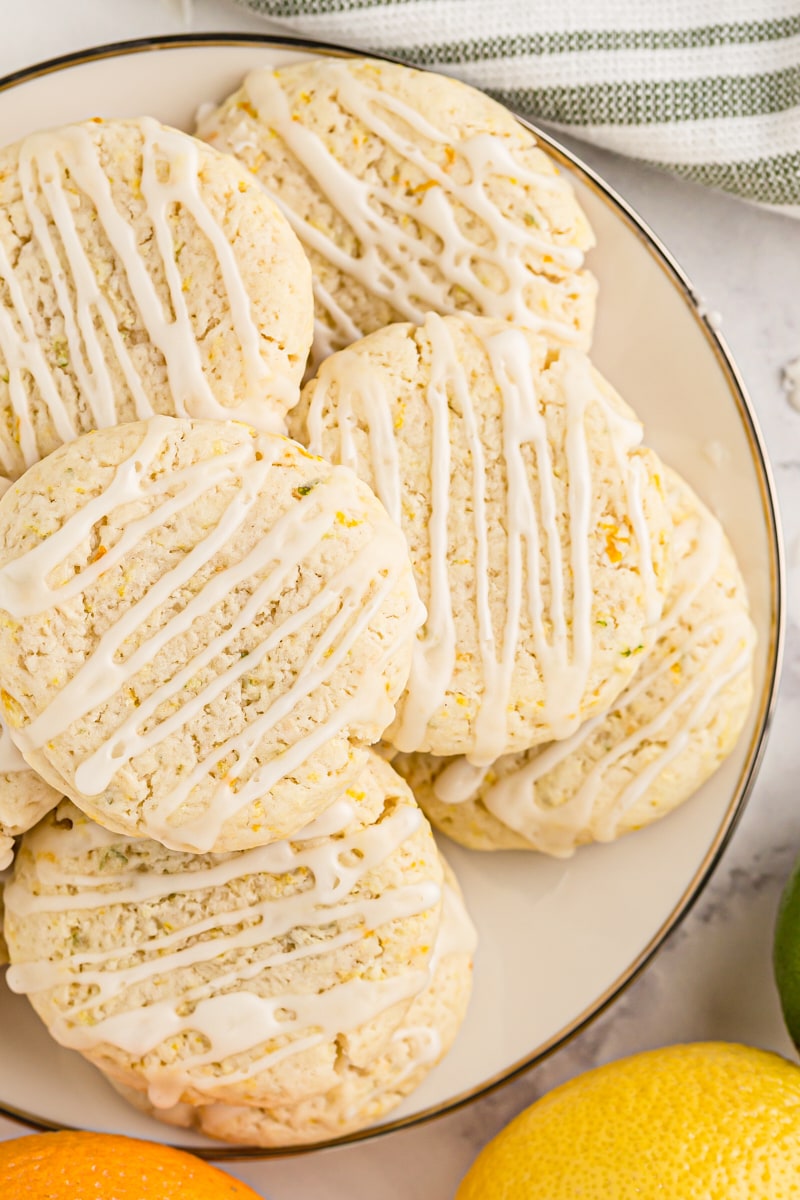 Why You'll Love This Citrus Cookie Recipe
Get ready to fall in love with these cookies! Here are just a few reasons you'll love them:
Bright flavor. All that citrus flavor provides a burst of refreshing flavor that you'll adore.
Easy to make. These cookies and their glaze are a cinch to make. Perfect for bakers of all skill levels!
Simple yet elegant. Besides the layered citrus flavors, the bits of zest in the cookies add an air of elegance. Add more zest on top of the glaze to make them even more eye-catching.
Versatile. Citrus and summer go hand in hand. But did you know that most citrus is actually in season during the winter? That bright flavor is a welcome reprieve from cold winter days.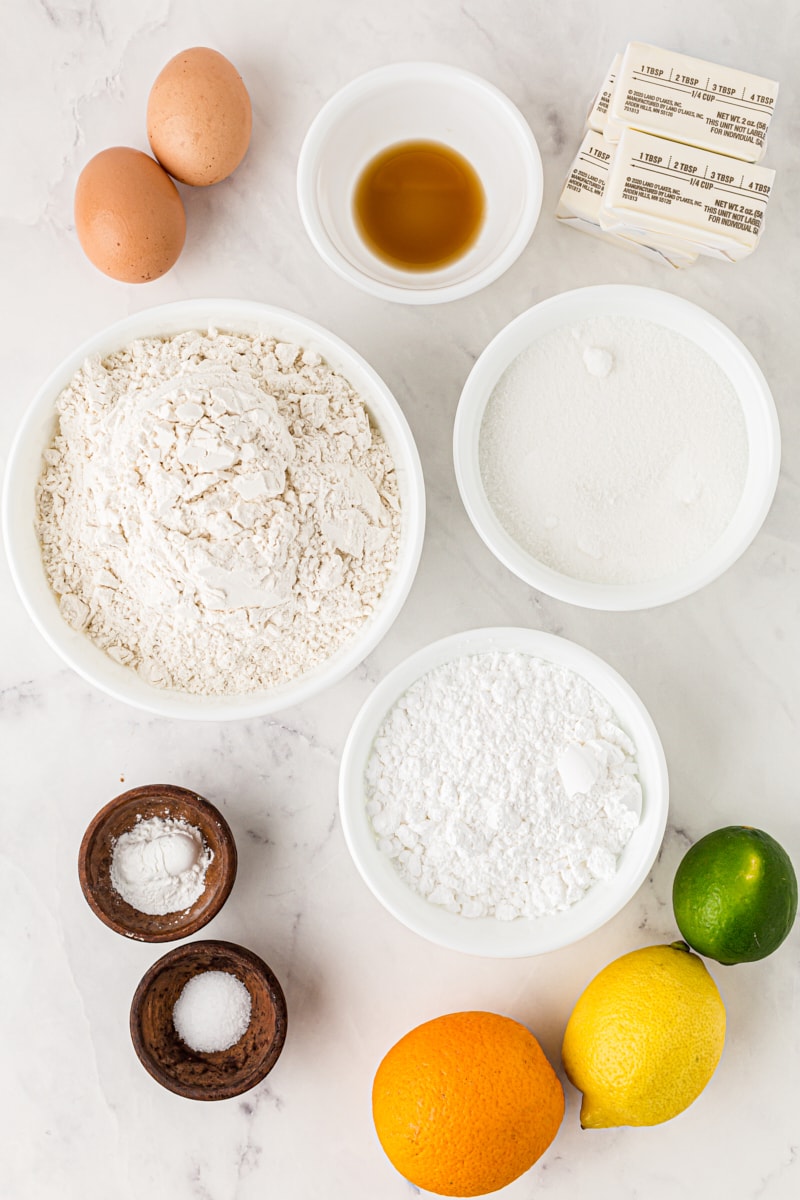 Notes on Ingredients
Let's talk about the ingredients you'll need to make these citrus cookies. Be sure to see the recipe card at the bottom of this post for ingredient quantities and full instructions.
Lemon – You'll need both zest and juice from all three fruits. Using medium-size fruits, you'll need 1 or 2 lemons, 2 limes, and an orange. Learn more: How to Zest and Juice Lemons
Lime
Orange
All-purpose flour – Measure by weight or use the spoon and sweep method. Learn more: How to Measure Flour
Baking powder
Salt
Unsalted butter – Let the butter soften at room temperature until it holds a thumbprint when pressed but is still cool. Learn more: How to Soften Butter
Granulated sugar
Eggs – Set these out along with the butter. I recommend baking with large eggs.
Vanilla extract
Confectioners' sugar – This is also called powdered sugar. For the smoothest glaze, sift the sugar first.
Can I Use Bottled Juice?
For the best flavor, use fresh juice. Not only does freshly squeezed taste better, but you'll be skipping any additives in the bottled versions. However, if you do need to use bottled juice, you can use the same volume as you would for fresh. The same goes for zest; fresh is best.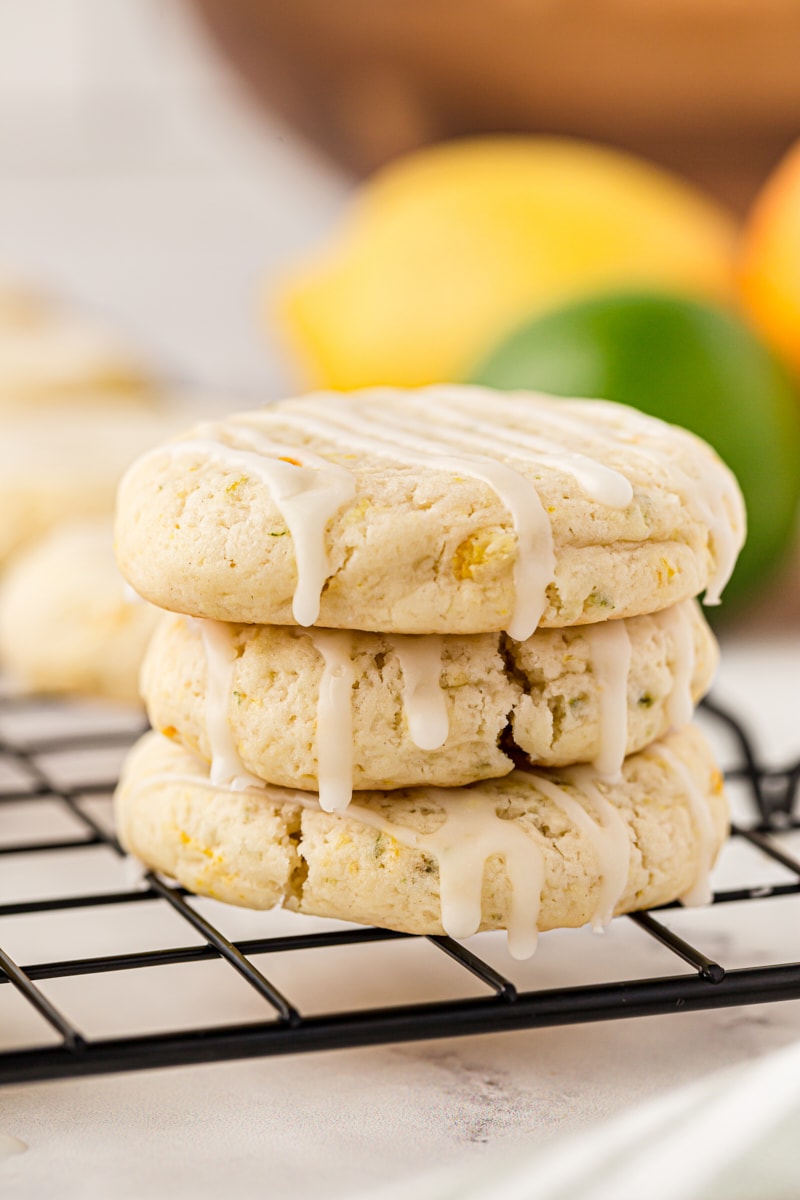 How to Make Triple Citrus Cookies
These citrus cookies mix quickly and easily, making them a great anytime baking project. Here's what you'll need to do:
Prepare for baking. Heat the oven to 350°F. Line baking sheets with parchment paper or silicone liners.
Prepare the zest and the juice. Zest the fruits, and then combine the juice in another bowl.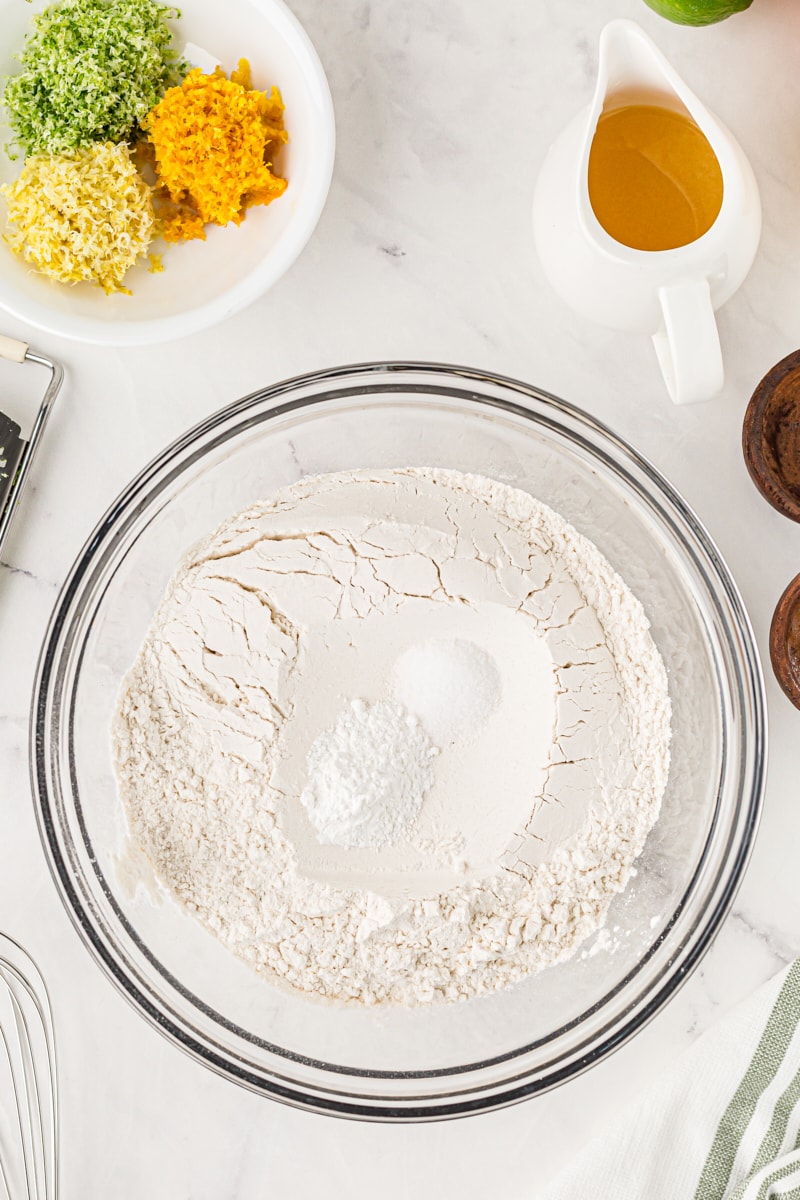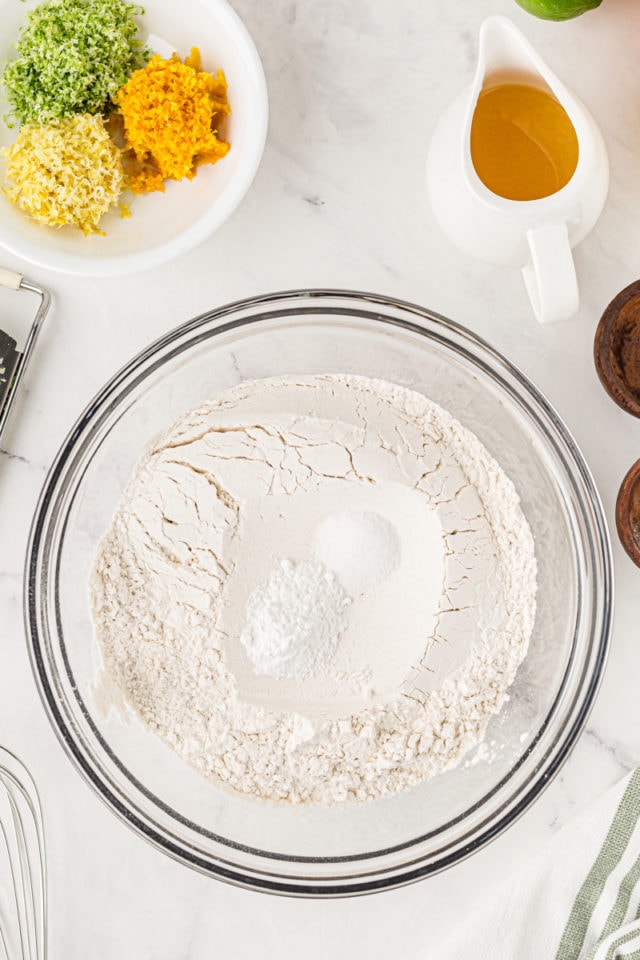 Combine the dry ingredients. Whisk together the flour, baking powder, and salt.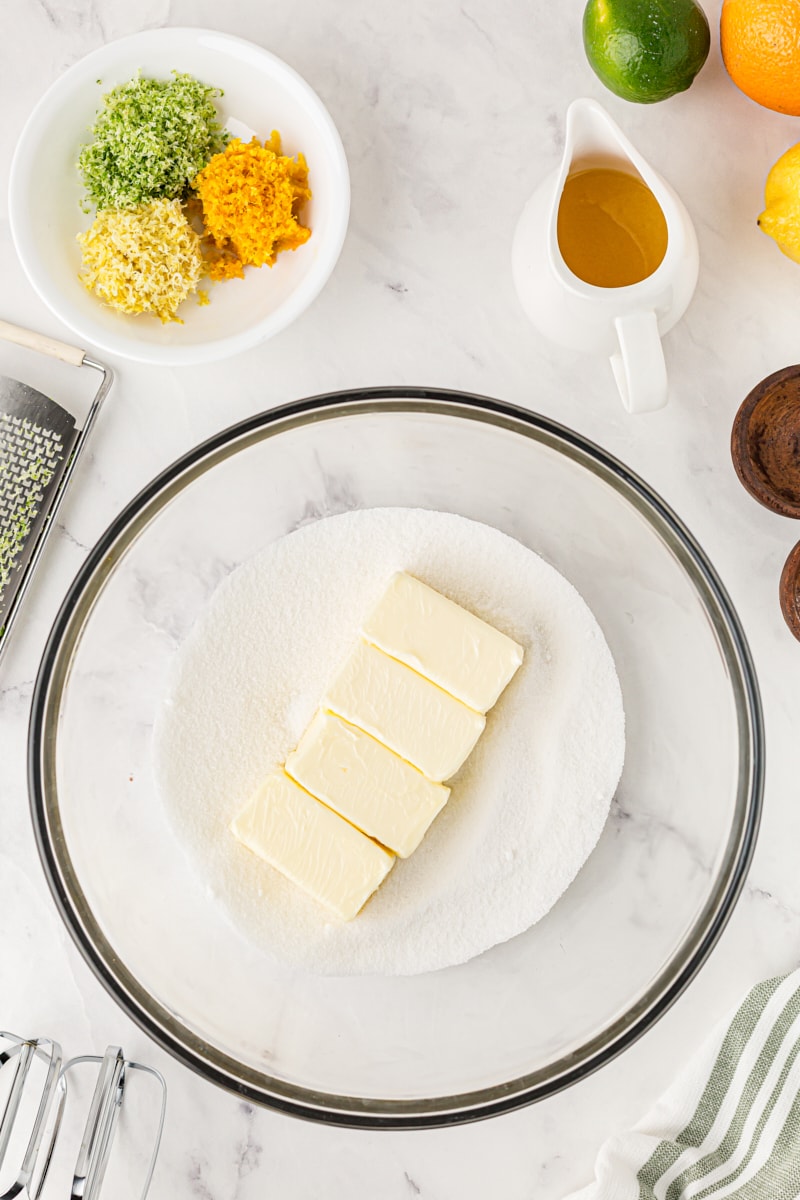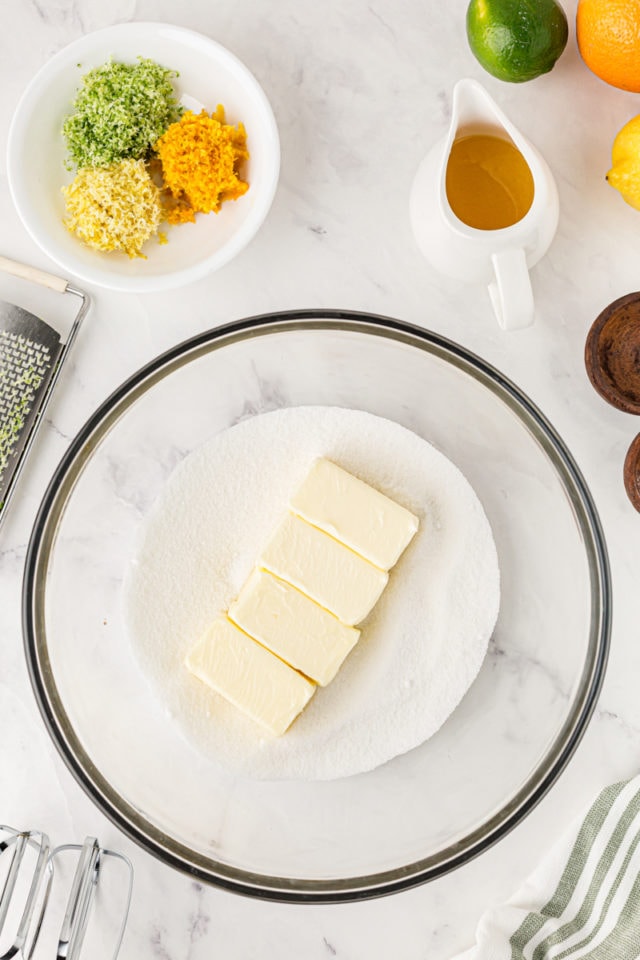 Combine the wet ingredients. With an electric mixer on medium speed, beat the butter and sugar until fluffy and lightened in color. Add the eggs, one at a time, and mix well after adding each. Mix in the vanilla.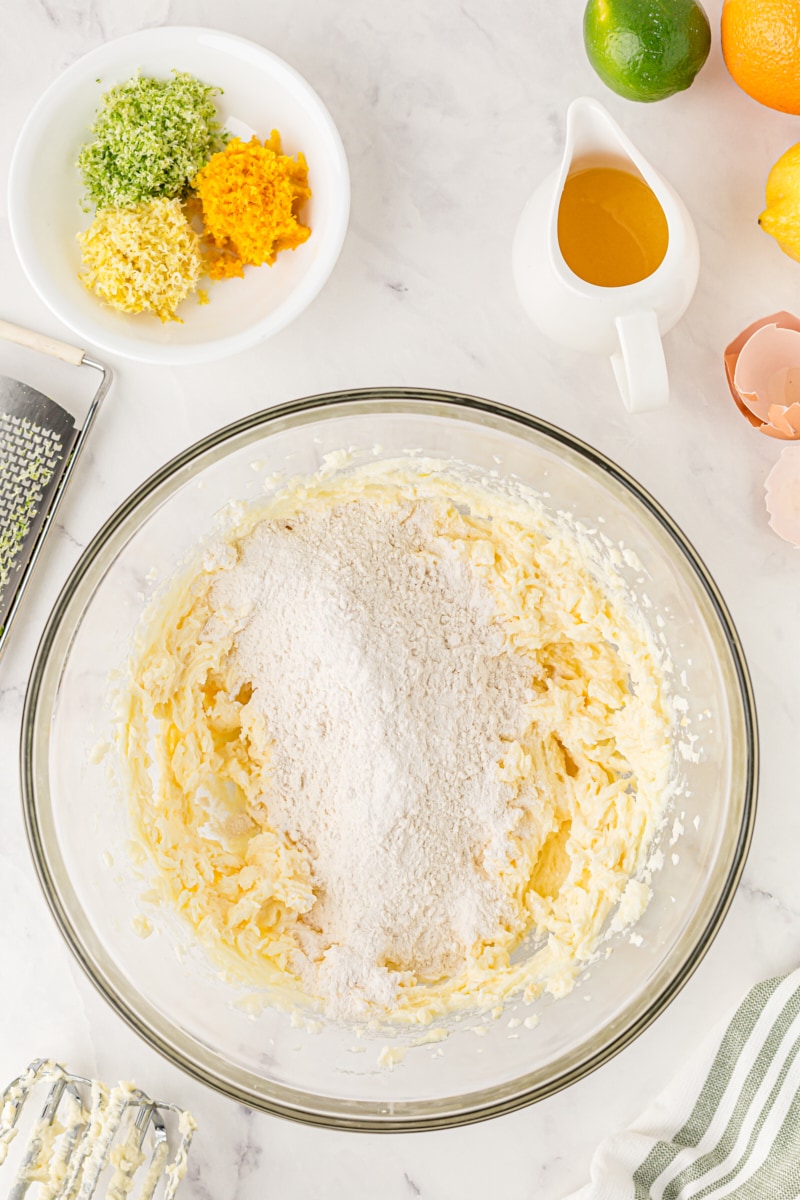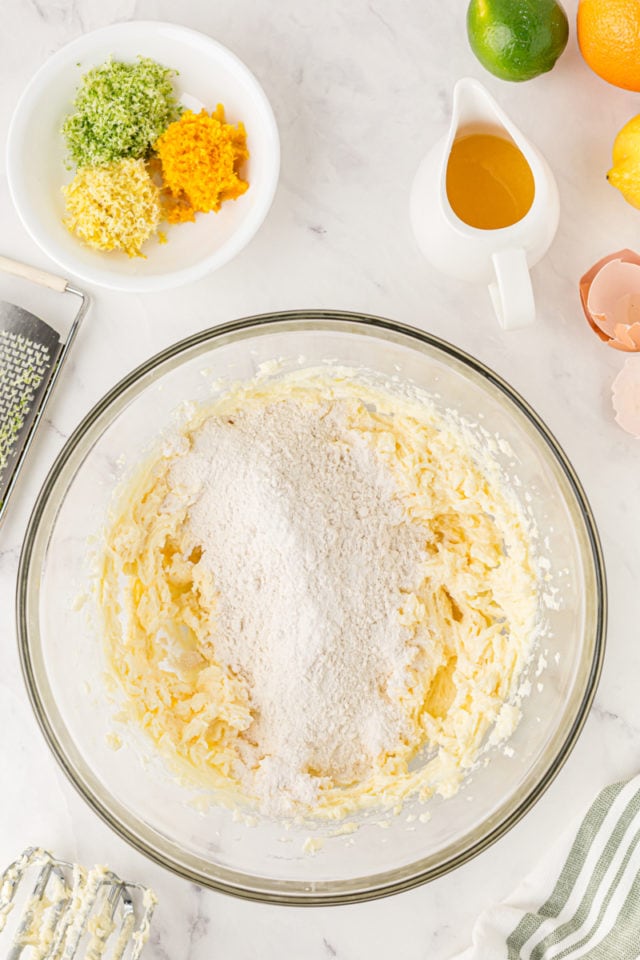 Finish mixing. Gradually add the flour mixture, alternating with the juice mixture. Mix just until combined or a few small streaks of flour remain. Then fold in the citrus zest.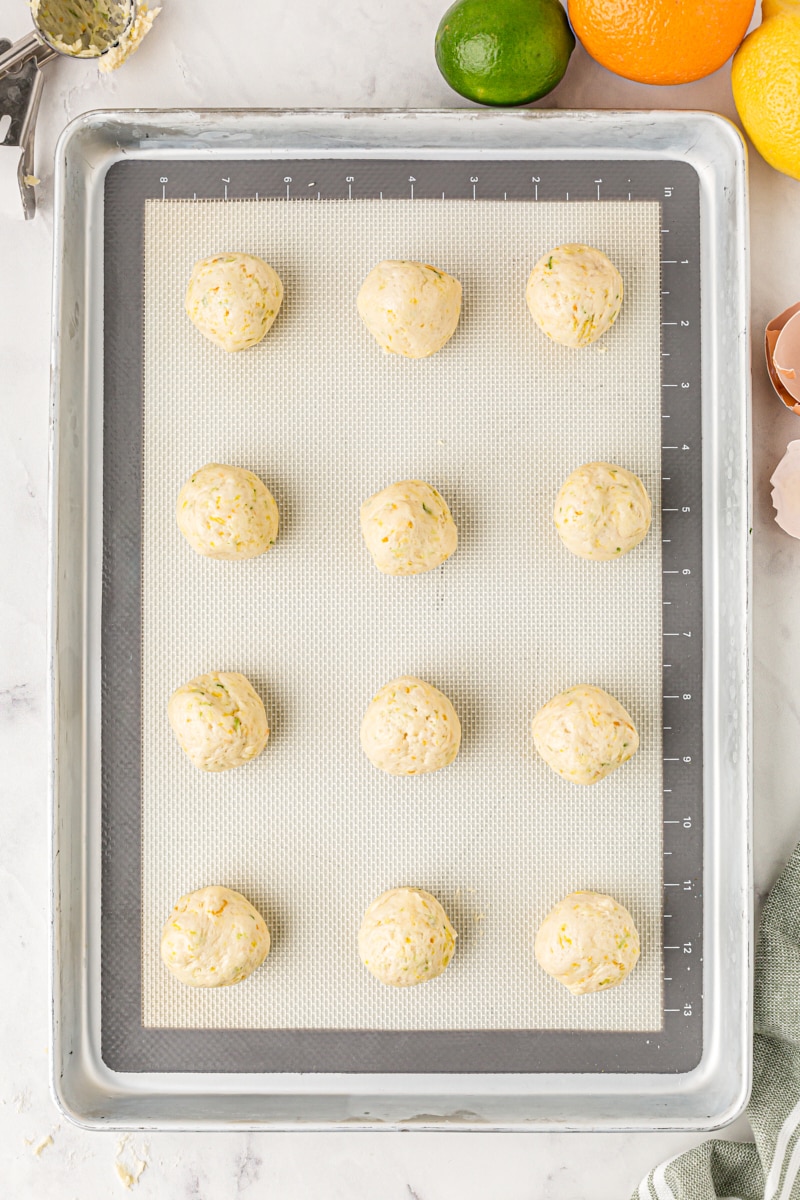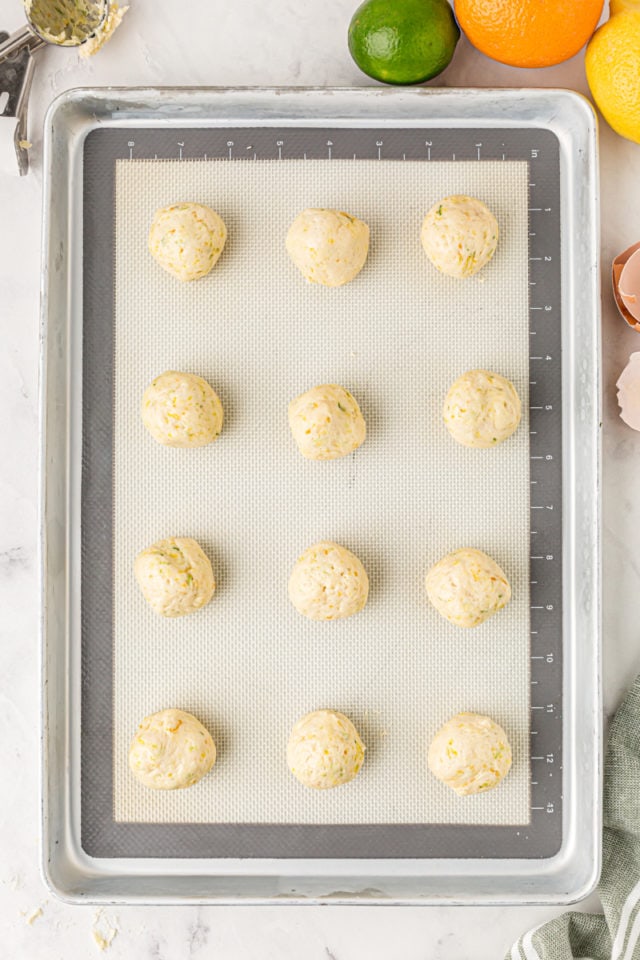 Portion and bake. Drop the dough by tablespoonfuls onto the prepared pans, leaving about 2 inches between the cookies. Bake one pan at a time for 10 to 12 minutes. The edges should be light golden brown.
Cool. Let the cookies cool for 2 or 3 minutes on the pan, and then use the bottom of a glass to flatten them. Transfer the cookies from the pan to a wire rack to cool completely before adding the glaze.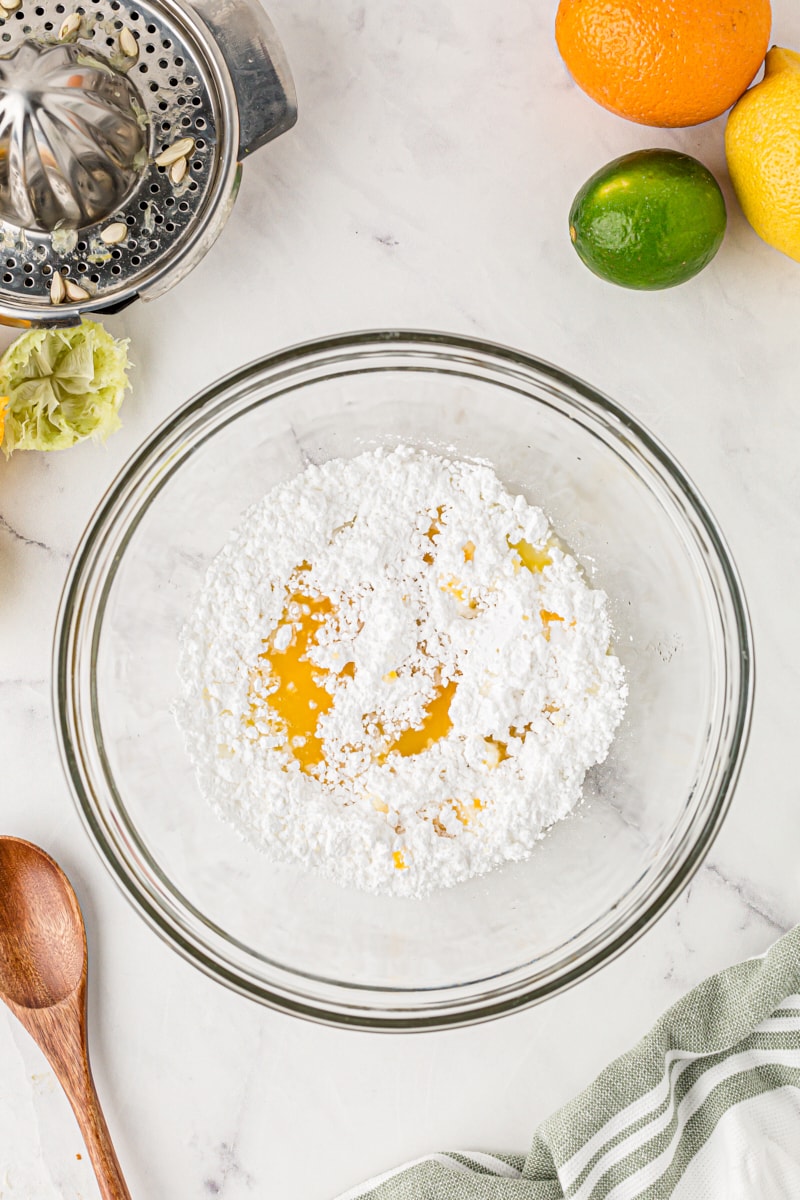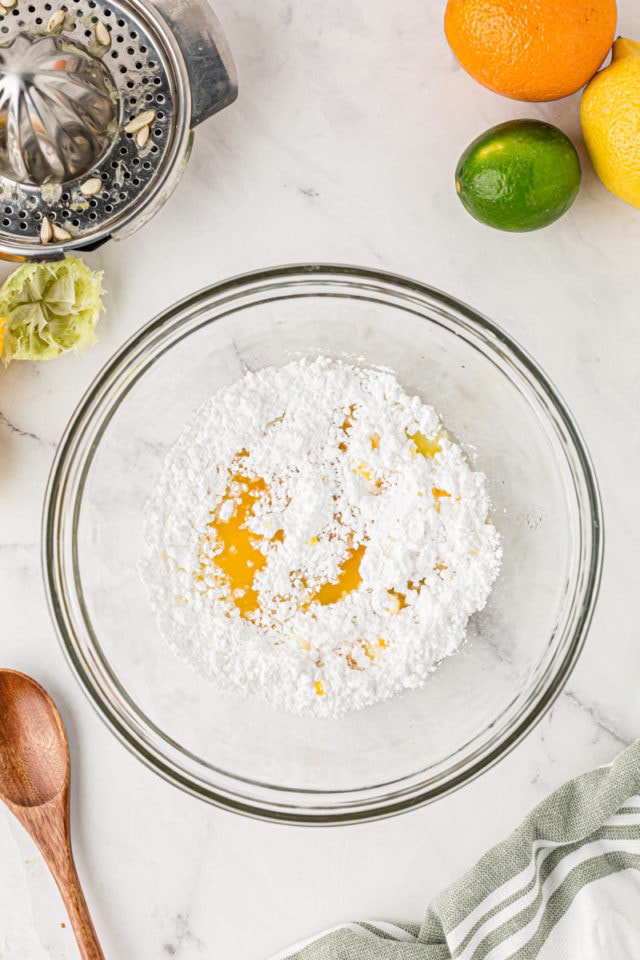 Make the glaze. Whisk together the confectioners' sugar and the juices until smooth.
Finish the cookies. Drizzle the glaze over the cooled cookies, or dip the top of each cookie into the glaze. If you like, sprinkle a bit more zest on top of the glazed cookies. Let the glaze set before serving or storing. That should take 15 to 20 minutes.
Tips for Success
Read through my cookie troubleshooting guide, and then follow these additional tips to help ensure cookie success!
Use fresh zest and juice. I talked about that above, but it bears repeating. All of that citrus is front and center here, so using fresh fruit will give you the best flavor.
Don't over-mix. Too much mixing leads to tough cookies.
Cool the cookies before adding the glaze. If the cookies are too warm, the glaze will melt, so make sure to allow time for letting the cookies cool all the way to room temperature.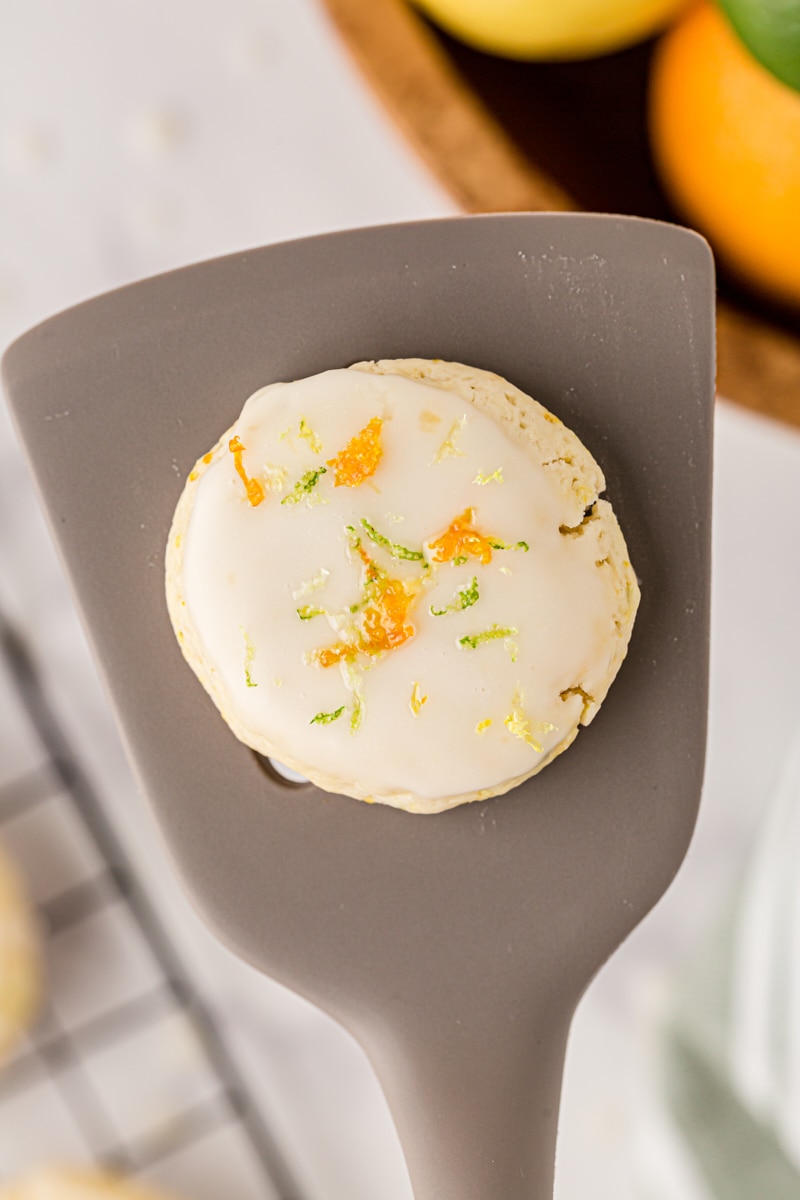 Ideas for Variations
You can easily change the proportions of lemon, lime, and orange in these cookies. Just keep the total amount of zest and juice consistent. For a simpler cookie, skip the glaze and enjoy these cookies unadorned or with just a sprinkling of confectioners' sugar.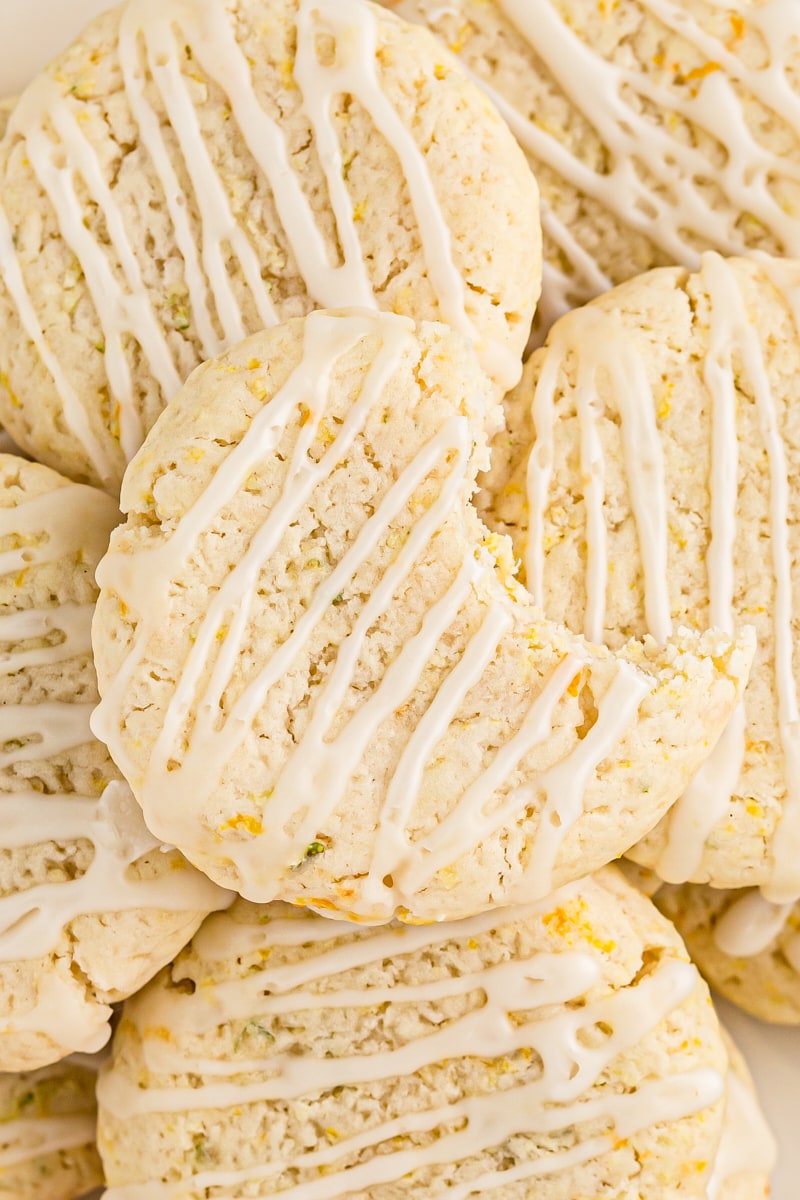 How to Store
After the glaze has set on the cookies, place them in an airtight container. Place waxed paper between layers if you aren't storing them in a single layer. They should keep at room temperature up to 5 days, although they'll be at their best within 2 or 3 days.
Can These Citrus Cookies Be Frozen?
Yes, you can freeze these cookies. For best results, freeze the cookies without the glaze. Place them in an airtight, freezer-safe container or bag. Properly stored, the cookies should keep in the freezer up to 3 months. Thaw at room temperature for a couple of hours before glazing.
You can also freeze the cookie dough to bake the cookies fresh later. Learn more: How to Freeze Cookie Dough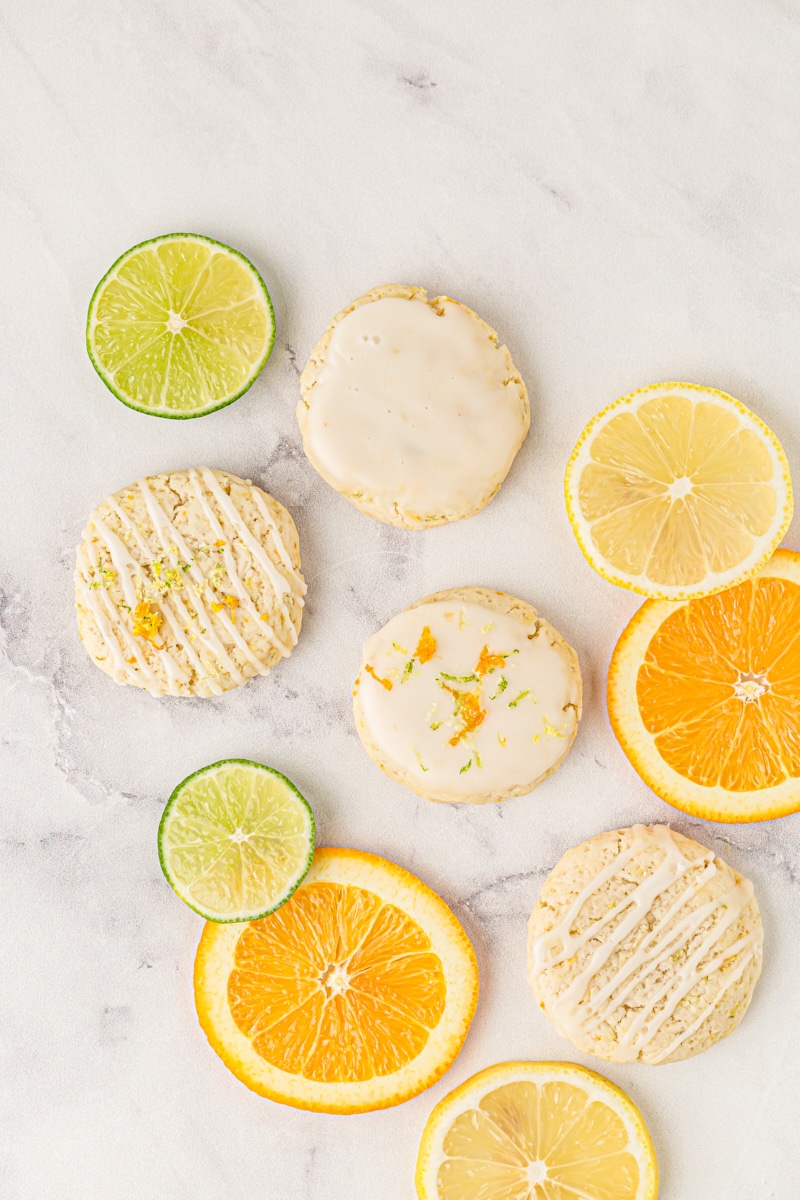 More Citrus Recipes