August 4, 2014
Strawberry-Lemon Sandwich Cookies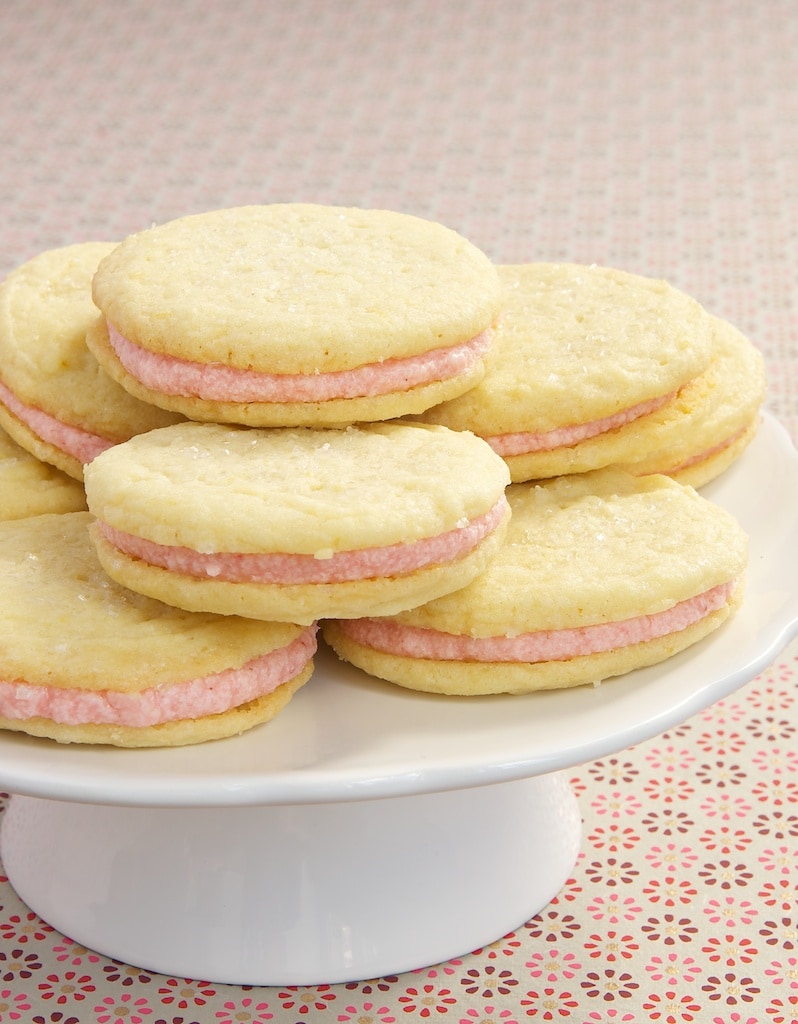 I hope everyone is having as lovely a summer as we're experiencing here in NYC. It hasn't really been hot at all, and I'm actually willing to go outside in the middle of summer. Amazing. Whether it's steaming hot or pleasantly mild for you this summer, these cookies are just the thing to make your summer even better.
These lovely sandwich cookies combine two fresh-tasting favorites – lemons and strawberries – into a soft and sweet treat that's as pretty as it is tasty. I'm not sure I've baked anything this year that looks and tastes more summery than these cookies. They're just so bright and happy, aren't they?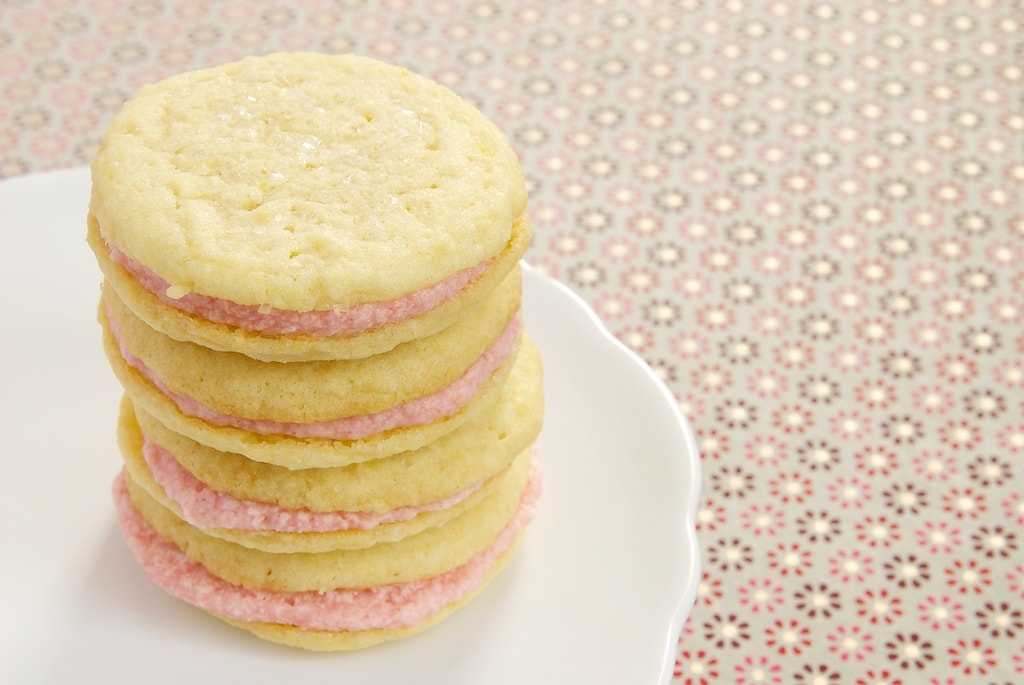 The cookies themselves are all about the lemon. They're soft and just lightly sweet to go along with that tart lemon flavor. Then, the strawberry filling with its wonderful sweetness counters that citrus flavor for a perfectly sweet and tart treat.
I like to serve these slightly chilled on a warm day. There's just something about biting into one of these straight from the refrigerator that's the perfect summer remedy.
For more summer baking ideas, be sure to see my Summer Baking Collection.
Strawberry-Lemon Sandwich Cookies
Yield: 14 sandwich cookies
Prep Time:30 minutes
Cook Time:12 minutes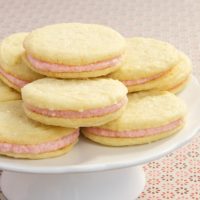 Ingredients:
For the cookies:
1 & 3/4 cups all-purpose flour
1 tablespoon lemon zest
1/2 teaspoon baking soda
1/4 teaspoon salt
3/4 cup unsalted butter, softened
3/4 cup granulated sugar
1 large egg yolk
2 teaspoons lemon juice
sanding sugar
For the filling:
3 ounces strawberries, rinsed, hulled, and coarsely chopped
1/2 cup unsalted butter, softened
2 cups confectioners' sugar
Directions:
To make the cookies:
Preheat oven to 350°. Line baking sheets with parchment paper or silicone liners.
Whisk together flour, lemon zest, baking soda, and salt. Set aside.
Using an electric mixer on medium speed, beat butter and sugar until light and fluffy. Add egg yolk and lemon juice, and mix well.
Reduce mixer speed to low. Gradually add flour mixture, mixing just until combined.
Drop dough by tablespoonfuls onto prepared pan, leaving at least 2 inches between each cookie. Flatten each to about 1/2-inch thickness. If desired, sprinkle each cookie with sanding sugar.
Bake 10 to 12 minutes, or until edges are lightly browned.
Cool cookies on pans on wire racks for 10 minutes. Then, remove cookies to wire racks to cool completely.
To make the filling:
Place strawberries in a food processor or blender. Process until pureed.
Use an electric mixer on medium speed to beat the butter until light and fluffy. Add strawberry puree and mix until combined.
Gradually add confectioners' sugar and continue mixing until combined and spreadable.
Spread filling on the bottom of half of the cookies. Top with remaining cookies so that the bottoms of the cookies face each other.
This recipe was originally developed for Go Bold with Butter, where I am a paid contributor.